Have you ever dreamt of experiencing long-term travel as a lifestyle?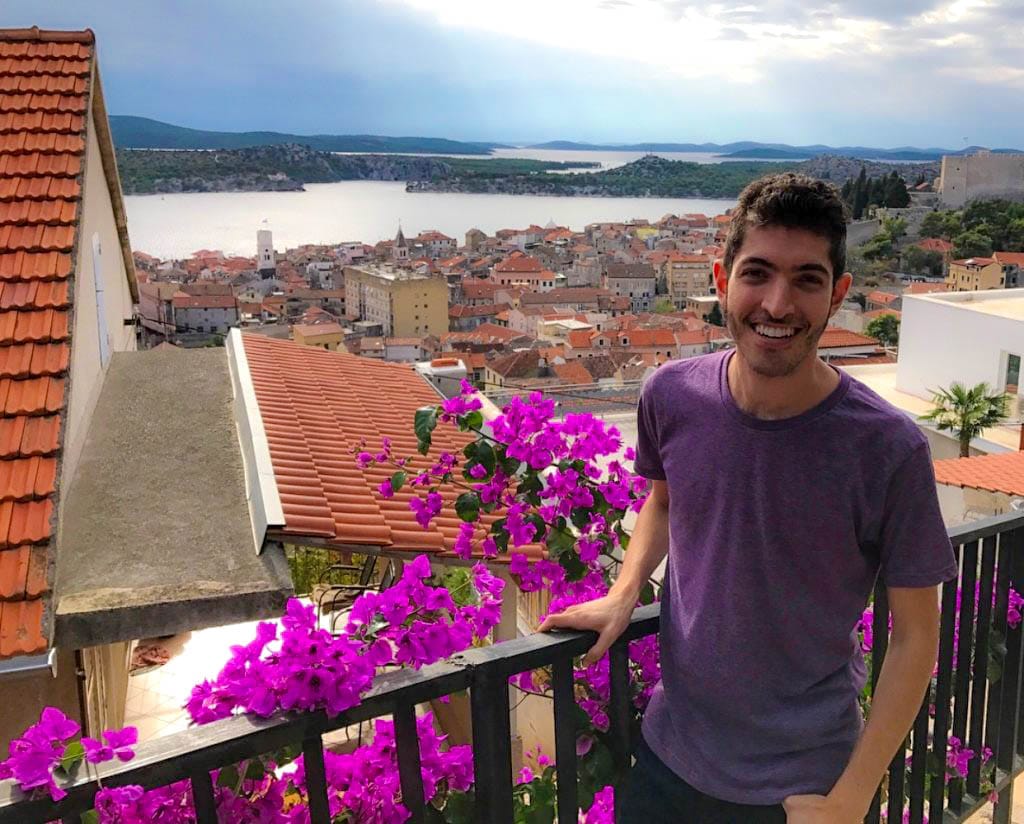 This FAQ includes all of the most frequently asked questions I receive about solo travel, professional travel blogging, and becoming a digital nomad who has spent months living in different countries around the world.
I hope the information helps! You can also submit new questions below!
FAQ TOPICS:
Travel FAQ
WHERE HAVE YOU BEEN SO FAR?
If you'd like to check out my travel map, visit: Where I've Been!
This page lays it all out. In addition to an interactive map of all the places I've been to, you will find exactly which continents I've been on, a list of the countries I've gone to, and even names of many of the most famous cities I've visited! My total list isn't particularly long yet in terms of "country counting," but I'm okay with that. It's true that someday I would like to visit as many countries as possible, but The Rocky Safari blog is about enjoying the journey along the way!
If you take a look at where I've been so far, one thing you will notice is that I really take the time to get to know many of the destinations that I visit. China, Spain, Croatia, Bosnia & Herzegovina, Poland, and Greece are all countries I've traveled for a month or longer!
WHERE HAVEN'T YOU BEEN?
Many, many places! There are still HUGE parts of the world I've never even stepped foot on. Most of my travels so far have been within North America, Asia, and Europe. I've neglected Africa, Oceania, South America, and quite a few other places, but with every intention of going EVENTUALLY. Just thinking about that makes me want to book my next trip right now!
Long-term travel is my favorite way of traveling. The downside to it, naturally, is that it takes longer to visit a long list of places. Still, I'd rather travel deeper than travel quickly because the way I like to travel allows me to have plenty of time to better understand the places I visit.
Between 15 to 30 days in a single country is my average trip length.
WHICH COUNTRY IS YOUR FAVORITE?
Choosing only one country is too difficult. I'll narrow this down to my Top 3.
I had a total BLAST touring cities across China in 2015.
I've been to Aruba 3 times. It's one of the friendliest and most relaxing islands on Earth!
HOW LONG HAVE YOU BEEN TRAVELING?
My first long-term traveling experience was my backpacking adventure that kicked off in 2018. That was my very first solo travel trip spanning several months of consecutive, nonstop travel.
Before that trip, I had gone on shorter vacations here and there. I have always been passionate about travel ever since I was a child; I grew up in a family that shares this passion so I was beyond fortunate to be able to visit a handful of interesting destinations as a child. I'm so grateful for that. This blog was created in 2013 so it does document some of those earlier adventures too.
WHEN DID YOU GO BACKPACKING FOR THE FIRST TIME?
After booking my one-way ticket to Greece, I left a month or two later to kickstart my first solo travel trip in the summer of 2018. I had no idea where my travels would lead me or for how long I'd be gone. It was a pretty crazy time in my life, but I am SO happy I didn't let my fear get the best of me. I needed to clear my head after an emotional breakup and traveling the world had always been a major dream of mine.
To read all of my backpacking posts in chronological order: My Backpacking Stories.
Overcoming Your Fears of Traveling Alone
WHY DO YOU LOVE TRAVELING SO MUCH?
Hahaha, oh, what a loaded question…
I've often asked myself this very same question. I've always had a curiosity to search, discover, and learn more about what I don't know. For that reason, seeing parts of the world that I've never been to really piques my interest. Besides, travel is fun! You can try new foods, learn about different cultures, and best of all: connect with new people. 🙂
I think nature is a beautiful thing, but so are cities! There's so much to see and so much to do out there. I think designing a life that enables me to be able to enjoy, experience, and reflect on this amazing world we all share is something I've chosen to really prioritize.
WOULD YOU CONSIDER YOURSELF TO BE A DIGITAL NOMAD?
I suppose being a 'digital nomad' is the term that would best describe my traveling lifestyle. While backpacking, for instance, I was blogging and doing everything in my power to make money online so that I could afford my travels. I had no real place to call home and I didn't even know where I'd be at any point in the future. So in that respect, yes.
I'm not always traveling 365 days a year anymore so perhaps I am not as nomadic as some other travelers are. However, when I do decide I am ready to take long-term trips, I love that technology enables me to be able to make that possible.
SO DOES THAT MEAN YOU DO NOT HAVE A HOME?
Yes & no. I don't own a home, but I do feel like 'home' will always be back in New Jersey where I grew up. Most likely, NJ or NY is probably where I'll eventually want to settle down.
Shortly after graduating from college, I made the decision to become a full-time traveler. I was moving country to country and life as a digital nomad meant that 'home' was a constantly unpredictable, rotating place. I ended up settling down for a year in Madrid, Spain after finding a studio located alongside one of the most famous streets in the city center right beside Chueca: Madrid's gay-friendly neighborhood.
When the pandemic rolled around at the end of 2019, I ended up leaving Spain and moving back to the United States, where I'm originally from. Since then, I have started asking myself if I would commit to purchasing my own property in America or if I'd prefer to wait things out a little longer so I can try living long-term again in another international destination. I haven't made up my mind on that matter just yet.
My biggest internal struggle is that I do prefer living abroad, but I am also really close with my family members who are all, for the most part, based in the United States. I had so much fun traveling but it came at the cost of missing major life events back at home. Choosing to live somewhere else pulls at my heartstrings a bit because even though life in another country appeals to me greatly, I do not enjoy being so physically far away from everyone I love.
Long-term, I do think I will want to purchase a home somewhere within the United States close to family and friends. Regarding buying and renting, besides making greater financial sense to buy a home, I also can definitely see myself adopting pet birds in the future 😂 and having an apartment or shared accommodation is NOT conducive to raising small animals that scream.
WHICH COUNTRY HAD THE BEST FOOD?
Another tough one! I LOVE eating and I am one of those really adventurous eaters who will try pretty much anything…
With that said, Spain is definitely a very high contender. I loved the black rice paella 'arroz negro', chorizo, and diverse tapas! Spanish culture, in many ways, IS food. Socially, grabbing a drink and some tapas with someone is just a part of life there!
Dating a Spaniard meant I got to try so many authentic Spanish dishes whether they were home-cooked meals or found at the best Spanish restaurants.
Also, China! I loveee authentic Chinese food. Bok choy is one of my favorite vegetables and a lot of dishes in Shanghai included it. Breakfast is my favorite meal of the day and in China, breakfast happens to be viewed as the most important meal so many people will eat a large 'dinner' style meal as their first meal of the day. For that reason, I loved switching up my meal order each day and the breakfast foods were all so delicious!
WHAT WAS YOUR LEAST FAVORITE COUNTRY?
I have yet to visit a country that I truly hated. I don't really even like this question because bad experiences are so subjective. Oftentimes they boil down to things like individual encounters, bad luck, pure chance, timing, or your own mindset while visiting.
In other words, two people could go to the same place at the same time, and leave with totally polarized opinions because there are so many factors at play. That is why I wouldn't want to label any entire country as a place I hated when the reality here is that it would probably be more of a me problem than them.
Anyway… I will say that my visit to Warsaw, Poland in September 2018 was my least favorite trip I've been on… HOWEVER, I did stay there for almost four weeks and by the end of the trip… leaving did feel bittersweet and the city had grown on me. I actually do miss a lot of things from that trip, I had just started it off on a bad note. If given the chance, I would return to Warsaw.
WHERE DO YOU MOST WANT TO VISIT?
Good question! I'll give you my top 5:
I really want to go to India because I love their music haha. T-Series fans, where you at!?! Honestly, this is super random but my top songs on Spotify for the last 3+ years have always been a mix of popular songs from India haha. Also, gajar ka halwa… need I say more?
Next up, Panama and Costa Rica for their wildlife and BIRDS!!! 🦜
Japan because their cities are so futuristic, yet their culture and small villages appeal to me just as much for their serenity! I love sushi, love anime, and I am an avid Studio Ghibli fan so a trip to Japan feels like it's one of those things that just… needs to happen.
Finally, Tanzania because The Rocky Safari wants to experience a real life, African safari!!!
WHICH COUNTRY DID YOU TRAVEL TO FIRST?
I started by traveling to Athens, Greece.
This blog post published in 2018 shares a glimpse into my mindset while I was planning my very first solo trip! You can read that post here: About my blog and my plans for the future.
WHERE ARE YOU GOING NEXT?
I wish I could tell you… I don't know yet.
Making plans during the pandemic has been rather unappealing for me. For the longest time, making plans wasn't even possible because the whole world was in lockdown. Now it seems many countries have reopened their doors and while I personally know many people who have resumed traveling, the thought of traveling internationally with everyone masked, concerned, socially distanced, and at a notably heightened risk of severe illness… it couldn't appeal to me any less right now.
I think I'm going to wait until things normalize a bit. When that time comes, my next trip will probably be booked somewhere in South America.
WHY DO SO MANY STRANGE THINGS HAPPEN TO YOU WHILE TRAVELING?
Strange things have always had a weird way of targeting me… my whole life.
It really has nothing to do with travel. It's just me. My luck, maybe? This pattern was actually what initially motivated me to start blogging in 2013 while I was still in high school! Initially, this blog was intended to chronicle all of the bizarre things that happen everywhere I go. Since I started traveling, those weird things started happening abroad!
For the full list, refer to: My Mishaps & Misadventures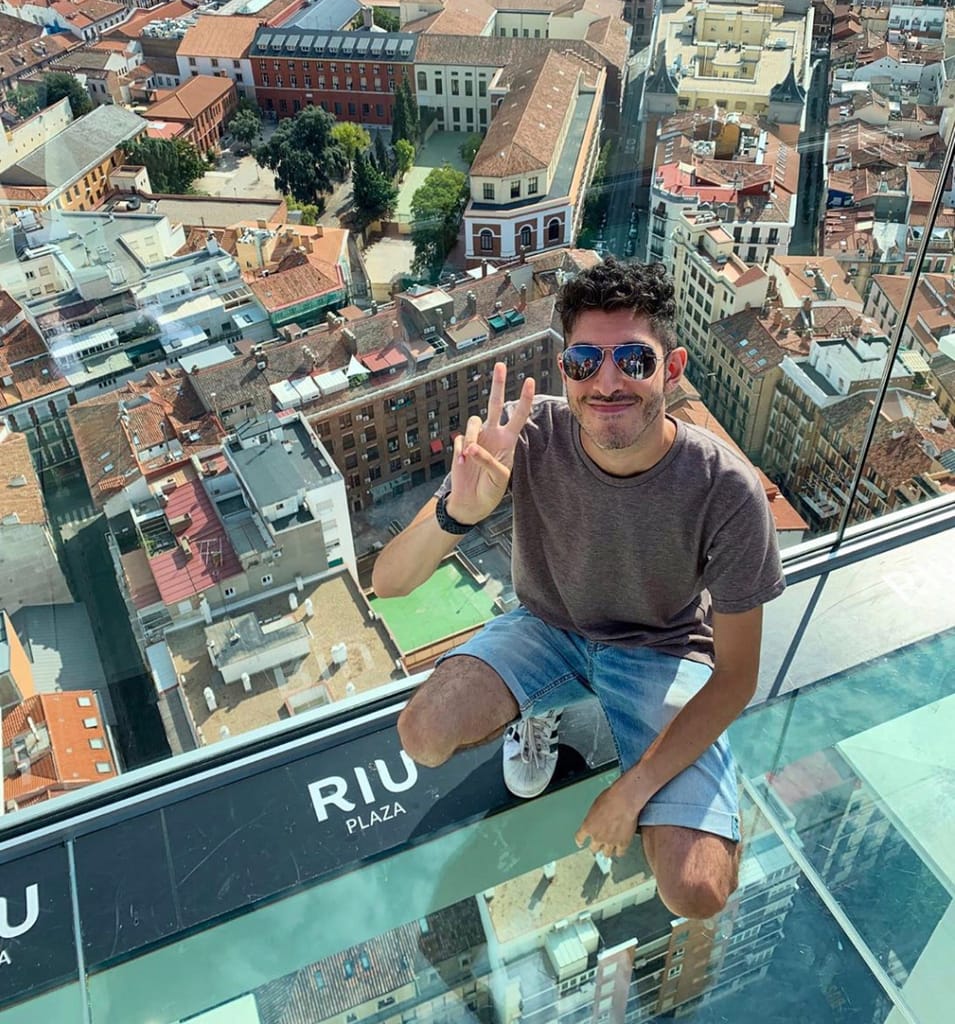 HOW HAS THE PANDEMIC IMPACTED YOUR PLANS?
I have had to cancel trips due to the pandemic. It sucks, but it's so far beyond anyone's control what is happening in the world now. It was probably for the best. I don't want to get sick, nor do I want to risk getting anyone else sick. Fortunately, SO FAR, I have not had COVID and I've been vaccinated against the virus at least three times. Maybe more depending on when you read this.
I hope the world will be normal again soon. I miss the way things used to be.
WHY HAVEN'T YOU VISITED (COUNTRY) YET?
As I mentioned earlier, there are only so many places I could go with the time and funds I have available.
Long-term SLOW travel is A LOT more affordable than moving around quickly. For that reason, I have only gone to as many places as I could manage with the resources I had…
There are still plenty of places left to visit.
DO YOU HAVE TIPS FOR (COUNTRY)?
If I've been there, definitely! The best option is to go to my Destinations page and click around my interactive map and list of places I have been. When you click on any of them, they will direct you to all the posts I have ever published about that place. You will certainly find tips and advice there. You are also welcome to try reaching out to me. I do my best to answer all of my emails and messages, but I receive (literally) hundreds of new ones each week so please understand it is nothing personal if I do not get back to you at first.
WHEN ARE YOU GOING TO STOP TRAVELING?
I am not traveling every single day like I used to, but I do still travel when the opportunity comes up. I don't have plans to stop traveling. Barring another global catastrophe or pandemic, I'd like to get back on a plane soon and go somewhere new.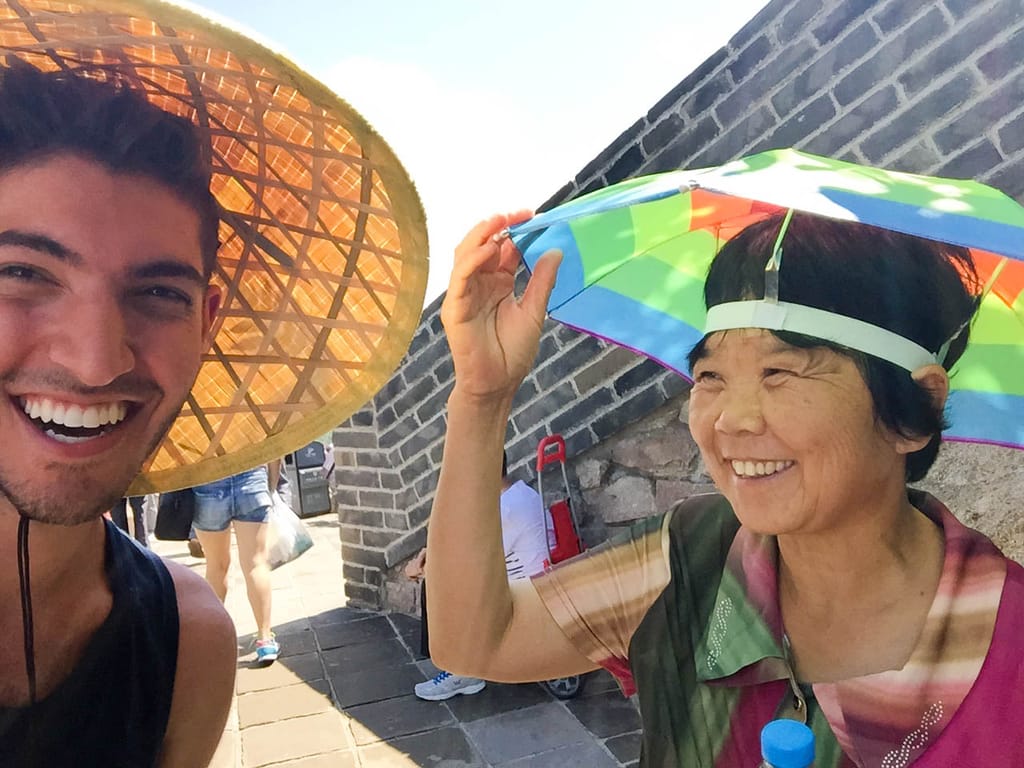 DO YOU WANT TO VISIT EVERY COUNTRY IN THE WORLD?
You could say it is a long-term goal of mine. As I mentioned earlier, I'm not a fan of country counting and I think doing this puts a lot of pointless pressure on travelers to book trips just to say "been there, done that." Really, I do think it would be a nice thing to accomplish someday and I do hope to achieve it eventually, but I'm not in any rush to check off the boxes either.
DO YOU EVER GET LONELY OR HOMESICK WHILE TRAVELING?
Does it happen? Sure! Does it happen often? Ehh, not really.
I am an introvert and it is something I have written about quite a bit on this blog. The good thing about being introverted is that the independence and solitude of solo travel comes more naturally to me. I am able to spend greater amounts of time on the road on my own than most people could and I still feel perfectly fine. In fact, it's when I thrive.
With that being said, I do get lonely on occasion. Being gay kind of feels like the best and worst thing in the world sometimes. It is a part of my identity I've grown to love, but it also makes traveling feel especially lonely at times because you see yourself just there in this heterosexual-dominated world. Finding love in general can be complicated and traveling long-term makes it even more difficult. I do want to find someone special so when I stop and really reflect on that, especially while traveling alone, I begin to feel lonely.
With friends, loneliness happens in some cases, but technology and social media have ultimately helped me remain connected with them even while traveling. I never felt abandoned, isolated, unsupported, or ignored by any of my best friends. I love them and appreciate their unwavering friendship.
On occasion, I would get homesick because I am very, very close with the people I care about. When big life events happen back at home, it makes me feel sad and even guilty for missing them.
SPEAKING OF YOUR LOVE LIFE, HOW DO YOU MANAGE THAT WHILE TRAVELING?
It was never intended to happen this way, but my love life guided a significant portion of my travels over the years.
In college, I met a foreign exchange student from Spain who was studying at my university. We met shortly after he arrived in America, and like some Lizzie McGuire fairytale, we started dating and had this really amazing relationship together. When his exchange ended, I was heartbroken.
My first solo backpacking trip was something I needed to do because I had just recently gotten through this emotional breakup and I needed to just clear my mind, find myself through travel, and learn to exist in my own company again. I was feeling distracted at my job, depressed, and unhappy with the current trajectory of things so I couldn't stay stationary. Something needed to change.
I ended up reconnecting with my ex while backpacking and the following year, I moved to Madrid, Spain to live with him.
Long-distance relationships are a very likely outcome if you fall in love while traveling. In this post, I wrote about why I liked being in an LDR. Don't think they're easy, though. If anything, it was the hardest… most emotional… difficult thing I have ever done. I don't regret any of it but just know: I've warned you.
DO YOU HAVE ANY DATING ADVICE FOR SOLO TRAVELERS?
Dating apps are a great way to find love whether you are traveling or not! Here are some options: Tinder, Bumble, Hinge, OkCupid, and Grindr.
Don't be afraid to go out to try to meet people in person either! I wrote a story about my first time going out clubbing alone when I was in Poland. Whether you're an introvert or a solo traveler, it's worth a read!
DID YOUR SIGNIFICANT OTHER UNDERSTAND YOUR TRAVEL LIFESTYLE?
I know this can be a source of conflict for some couples. Fortunately, my ex and I both loved traveling and went on many trips together. He didn't seem to show much of a desire to travel long-term as I did, but we were usually understanding of what we both wanted.
He was supportive of my wish to travel.
IS TRAVEL SAFE FOR GAY & LGBT TRAVELERS?
Always be aware of your surrounding and do your due diligence before selecting destinations. As much as I say I want to "visit every country eventually," that's mostly the optimist in me speaking and dreaming of a more perfect world.
Realistically, there are some countries I'll most likely never visit due to their views on homosexuality and the fact that it both endangers my life and also is something I would not want to support.
Sadly, there's the risk of harassment no matter where we are (even in places that are deemed to be safe havens for gays…) like Madrid and New York City.
DO YOU ENJOY TRAVELING ALONE?
I don't mind traveling solo. There are a lot of great perks that come with solo travel. You can control your schedule, decide where and when you want to eat, make a point of doing anything you're curious about, you can say no super easily to things that don't interest you, and basically solo travel it's the easiest way to have full control over your trip.
Say you want to stop to look at pigeons for 30 minutes… no one's going to judge you. 😉
With that being said, I LOVE traveling with family and friends. I think both are enjoyable and I don't dislike either option. I traveled with a group of approximately 15 people when I went to China and to this day, that was one of my favorite trips I have ever taken.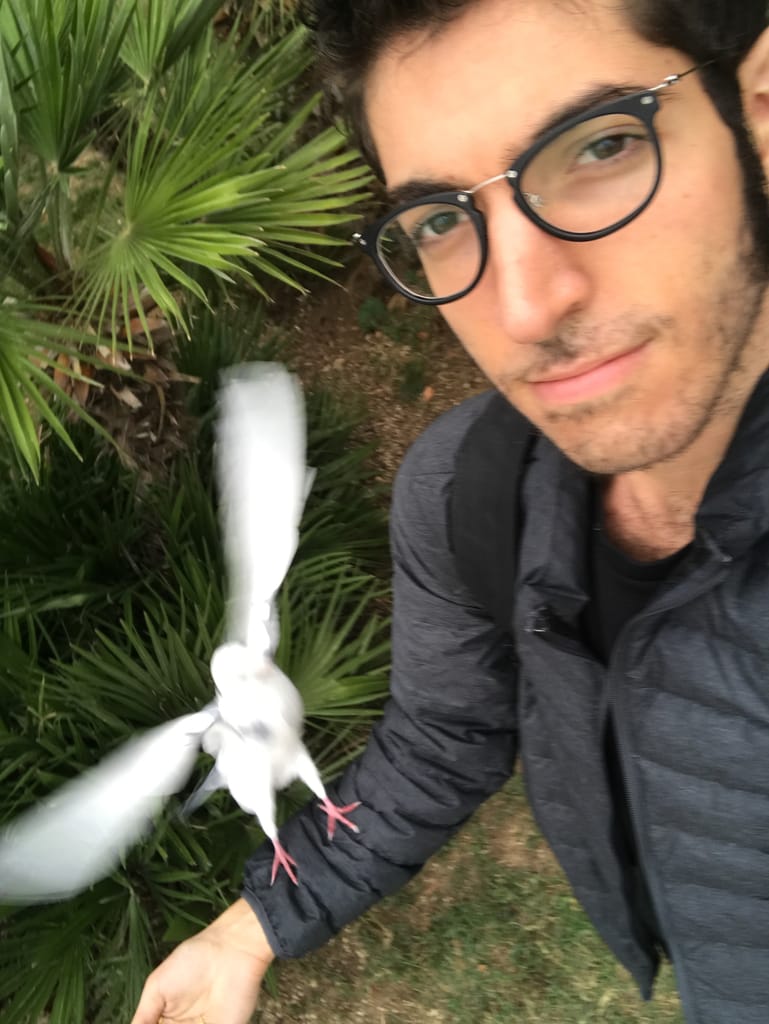 WHAT HAS BEEN YOUR FAVORITE DESTINATION TO SEE BIRDS?
Hahaha, oh I'm sure there are some ABSOLUTELY AMAZING birding destinations out there that I've yet to go and see. I haven't been to many exotic destinations yet with the sole intention of seeing tropical birds.
However, I did intentionally ride a bus for 13 hours to visit pigeons in Bosnia.
ARE YOU A BUDGET TRAVELER?
I wouldn't say I'm a budget traveler because I know other people who take budget travel to the EXTREME. If anything, I'd say I am a frugal and selective traveler. I am very careful with my money, but I don't mind spending it where I see great value in doing so.
If something looks like it is going to be a once-in-a-lifetime experience or just a lot of fun, you can bet I'll do everything in my power to make it happen at any cost.
Fun fact: My trip to China was almost entirely free!
DO YOU TRAVEL WITH TRAVEL INSURANCE?
YES! Always. You can never be 100% certain of what could possibly go wrong while traveling. For that reason, I think 99.99% of people NEED to purchase some form of travel insurance ahead of taking any international trip.
16 Reasons You Need to Buy Travel Insurance
Before backpacking, I purchased travel insurance through SafetyWing. They're a great company. For a more comprehensive policy, World Nomad is another highly reputable travel insurance company. When I applied for my visa to live in Spain, I needed to meet certain requirements and I found a very respectable travel insurance policy that exceeded the visa requirements through Travelex.
HAVE YOU EVER NEEDED TO USE YOUR TRAVEL INSURANCE?
Yes. Twice. Even if I never used it, I'd still continue to purchase it because buying it makes sense. It's like life insurance. You should own it even if you have no intention of needing it or using it. It's for the "what ifs."
I had an eye infection from getting acidic tomato juices in my eyeball at the La Tomatina festival and I had a random bout of tonsillitis while traveling.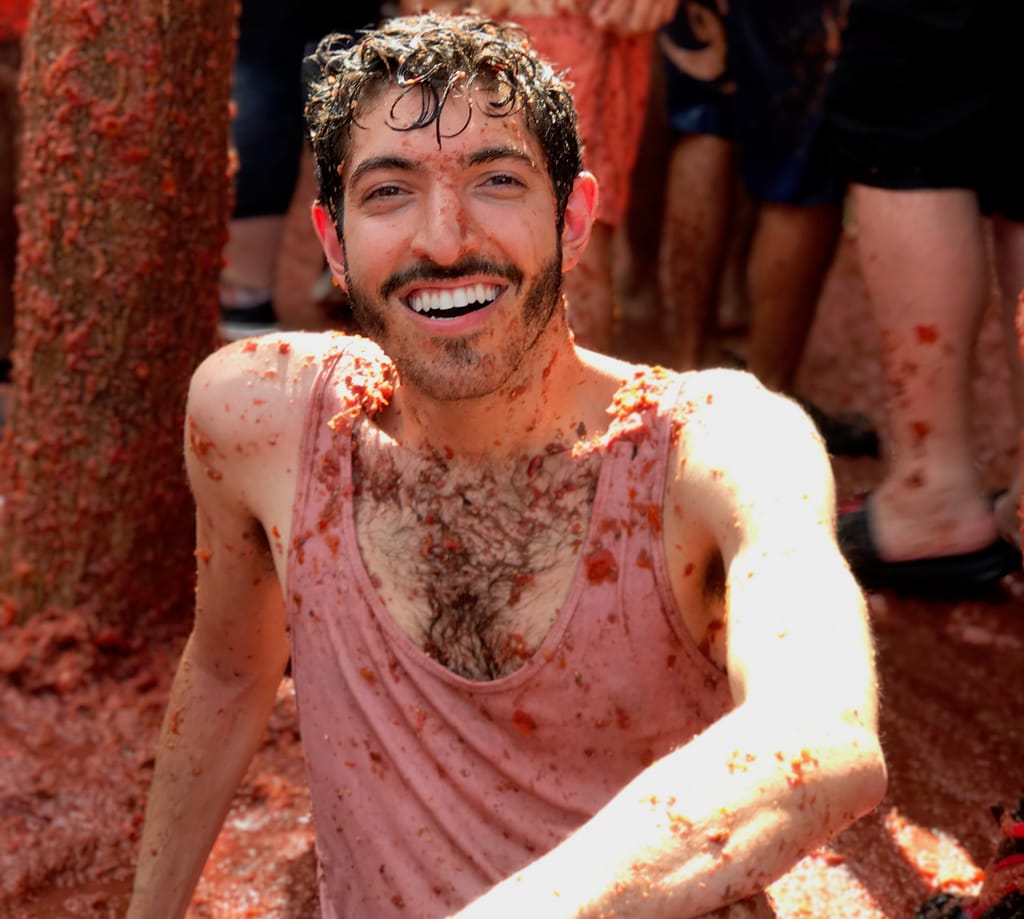 IS TRAVEL INSURANCE EXPENSIVE?
It doesn't need to be. If you're looking for an inexpensive policy, I recommend you purchase from this travel insurance.
HOW DO YOU FIND ACCOMMODATIONS TO STAY IN?
There are tons of options for accommodations and this really decision ultimately depends on your preferred travel style. I know people who swear by hostels, others who experiment with AirBnBs, and others who won't stay anywhere unless it's a 5-star hotel… and those who will couch surf and even sleep outside under a bush for a night.
Seriously, I've encountered people who will do anything.
There are apps like Hostelworld that can help you find a place to stay. Airbnb has gotten so popular that it's very easy to find places on there almost anywhere now. Hotels will almost always be the safest (and most expensive) fallback option.
My preference? Hmm, probably Airbnbs or long-term rentals. More privacy and working as a digital nomad is so much easier with a stable internet connection and a quiet workspace.
WHAT ABOUT LONG-TERM ACCOMMODATIONS FOR WEEKS OR MONTHS?
In Spain, where I lived for around a year or so, I needed to find long-term accommodations. Anything else would have been SUPER expensive or just impractical.
Thankfully, my Spanish significant other knew all the ins & outs. For example, in Spain, there's an app/website called Idealista where people post accommodations that are available to rent or for purchase. I found my studio in Madrid on that website.
My recommendation is that you do a bit of research to find out the name of a website where rentals are posted in your country. Once you find something, communicate with the landlord or property manager online (for example, through WhatsApp) to minimize any language barrier that might happen face-to-face. That's what I did when my significant other wasn't around and I needed to communicate with my landlord. That, or we'd talk back and forth with the Google Translate app – yeah, seriously! It helped a ton!
DO YOU HAVE ANY TIPS FOR FINDING CHEAP FLIGHTS?
I do! You can use my guide on How to Find Cheap Flights! It will teach you exactly how I would find the cheapest flight possible to any destination. It has saved me hundreds, if not thousands, of dollars on airfare.
---
Finance FAQ
HOW MUCH MONEY DID YOU SAVE BEFORE LEAVING?
Realistically, I didn't.
WHAT DO YOU MEAN BY "YOU DIDN'T SAVE MONEY TO TRAVEL" – HOW IS THAT POSSIBLE?
Let me rephrase that. I essentially didn't "save money" with the intention of using it for the purpose of travel. Even though I always knew backpacking was something I wanted to try, the actual decision to start backpacking happened so spontaneously that there was no time to plan for it! I left shortly after graduating from college with whatever money I happened to have.
At that time, I had maybe $1,500 in my bank account and $2,500 or so in savings. Honestly, $4,000 total was not a lot of money to work with at all. Especially when you consider how so many people save upwards of 20K before taking trips of the same magnitude. I'm pretty sure my parents were convinced I was going to end up homeless.
DID TRAVELING LEAVE YOU IN DEBT?
Nope! Quite the opposite. I was able to fully fund my travels without creating any type of debt whatsoever. It was all thanks to blogging and working as a digital nomad.
I charged things to credit cards, but not because I didn't have the funds. I just wanted the points and the rewards. My credit cards were always paid in full at the end of each month. Actually, I found that traveling almost anywhere was less expensive than living in New Jersey – where I'm from.
With that being said, I even managed to pay down my student loans while traveling. I didn't pause them or do anything to defer them.
Thanks to my blog, my students loans are paid off now!
WEREN'T YOU AFRAID TO TRAVEL WITHOUT HAVING A LOT OF SAVINGS?
Actually, I wasn't. If fear was going to stop me for that reason, I never would have traveled as much I did. The fact of the matter is that I didn't have a lot of money saved.
I could have worked for a year or so and tried to save up for the trip I wanted to take, but who's to say what might have happened during that time. I could have gotten discouraged… distracted… or stuck spiraling with anxiety and depression thinking about what could have been if I had just gone for it anyway.
It felt like the universe was telling me to do it… so I listened. I trusted my gut and decided to believe in myself.
Money? Eh, I could always figure that out later. If a job is what I needed, I'd get one. You can always make money. Time is the one thing we can never get back.
SO HOW DID YOU AFFORD YOUR TRAVELS?
I applied for hundreds of jobs overseas to try to find a way to fund my travels WHILE I traveled… the only solution to taking a trip with no savings.
Rejection after rejection, I began to lose hope. Eventually, I discovered a company called VIPKID through a Facebook post and I decided to interview with them. I didn't get hired at first, but I sent an email pleading my case with them asking for a second chance, and the interviewer actually responded back! They gave me a reconsideration interview. That time, I made it and got hired! By teaching English online, I was able to initially fund my travels while also building up my blog.
I once published the post: How to Become a Digital Nomad & Travel the World
That post outlines the whole teaching ESL online gig. Sadly, VIPKID is not what it used to be due to the Chinese government enforcing new regulations so I am not sure how feasible it is as a source of income anymore. I'm glad I did it when I did.
With VIPKID, I was able to make upwards of $4,000 per month.
HOW MUCH MONEY DO YOU REALLY NEED TO TRAVEL LONG-TERM?
You've probably heard at some point that it's possible to travel on $50/day.
It's true. Actually, you can do it on less. With currency conversions and cost of living adjustments, I spent an average of between $32 to $50 a day while traveling.
If you plan to travel consecutively for one whole year without working I recommend saving up around $25,000 before you leave.
If you are going to be working as a digital nomad, then make sure that your income total will amount to a number above the thresholds noted above.
Do note: your individual travel style will SIGNIFICANTLY influence the cost of your travels so you need to consider your personal preferences and be realistic when making these estimations.
If you will have expenses back at home that you don't plan to stop making, you will need to factor those into all of your calculations. (Some examples include a mortgage, car payment, student loan payments, extended pet sitting, etc.)
HOW MUCH DO YOU BUDGET PER MONTH?
$30 to $50 per day is a totally reasonable amount to budget for.
Most of my trips cost between $1,000 to $1,500 per month.
DO YOU WISH YOU SAVED MORE MONEY BEFORE TRAVELING?
Of course. Who wouldn't? The more money you have saved, the more you can do and less you need to work or worry. That doesn't mean I regret going when I did. Money is a great tool and I was frugal and selective enough with mine that I managed to still do what I set out to do with whatever means I had available to me.
DID YOUR PARENTS PAY FOR YOUR TRAVELS?
Nope. I've gone on family vacations with my parents so if that's what you mean, then yes.
However, my year-long trips abroad such as when I went solo backpacking or when I moved to Spain in 2019, then nope. I never once asked my parents for a penny or allowed them to pay for anything. Those trips were entirely funded by me, my blog, and my work.
HOW CAN I MAKE MONEY AS I TRAVEL?
For this, the best resource I can direct you to is my totally free Ultimate Guide to Remote Work. It covers all of the best ways to make money online. If becoming a digital nomad is something you're considering in, you should absolutely look into that page for more information because it lists out so many different ways to make money working from home or online.
Just a few examples: graphic design, software development, social media marketing, consulting, etc.
Location-independent jobs used to be a rarity. After the pandemic, the one good thing that came out of the global disaster has been the normalization of remote work. Now you have SO many MORE options than you did prior to 2020.
HOW MUCH DOES ALL OF THIS TRAVEL COST YOU?
I typically spend $1,000 to $1,500 for every month I'm on the road.
HOW DO YOU MANAGE YOUR MONEY WHILE OVERSEAS?
I opened a bank account with Charles Schwab which was one of the best decisions I made prior to moving overseas. The bank refunds 100% of your ATM fees (at least, that was the deal at the time when I opened my account) so I was able to withdraw cash ANYWHERE, in any country… at no cost!
It was a SUPER SWEET DEAL.
For example: in Spain, I used to withdraw cash monthly from ATMs to pay my rent. Thanks to Charles Schwab, I never paid any fees to get those Euros.
Aside from that, all of my finances are managed online so there's no reason I can't do that from overseas. Paying with credit cards (which are accepted at most places) makes managing your money digitally so much easier.
DO YOU RECOMMEND ANY PARTICULAR TRAVEL CREDIT CARD?
I've always been very selective about which credit cards I use. Right now, I recommend the Chase Sapphire Preferred. If you use my link to apply and you are approved, we are both rewarded with Chase's bonus offers (subject to change)! Visiting the link should redirect you to the most up-to-date offer. Typically, they have generous welcome bonuses, a great points program that rewards travelers, stellar perks at no extra cost, NO FOREIGN TRANSACTION FEES, and excellent customer service.
DO YOU CARRY CASH IN THE LOCAL CURRENCY OF WHICHEVER COUNTRY YOU IN?
Sometimes. In more developed countries, I'm more likely to rely on credit cards and digital payments. For example, while living in Spain, I almost exclusively used Apple Pay!
However, in other countries, credit card payments may not be accepted. In those places, you'll definitely want to have cash on hand. (It's also always a good idea to have some just for an emergency. I never carry a lot just in case of theft or loss.
WHAT DO YOU DO ABOUT TAXES?
I am not a tax professional so I cannot advise on this matter. The best advice here will be advice you get from a certified professional accountant.
You should pay attention to the laws wherever you travel and make sure to abide by them so you don't run into any trouble. If you're a digital nomad who pays taxes within the United States and have been traveling for 330 days or longer within a span of 365 days, I'd suggest asking your CPA about the Foreign Earned Income Exclusion- he or she should be able to let you know if you qualify.
ARE YOU PLANNING FOR RETIREMENT?
Most definitely. Before traveling, I worked for a company where my sole responsibility was helping families prepare for retirement. I used to work with a highly qualified team of amazing financial educators. We provided people with a world-class education on retirement products and products to mitigate risk (such as life insurance.)
DID YOU TRAVEL WITH LIFE INSURANCE?
I wouldn't dare travel without it.
As a past life insurance agent, I'll share this information purely from the standpoint of raising awareness. However, for the most up-to-date information and to determine your suitability for any insurance product, you must seek help from an actively licensed life insurance agent in your state (for US citizen). Consider this explanation to be an overview for entertainment purposes only…
People tend to not understand the true need for life insurance. Almost everyone underestimates their risk of death and all too often people fail to understand what this essential form of insurance offers. I think the name itself deters people and that's really unfortunate.
If I made the rules, I'd rename "life insurance" to "income replacement insurance" because that's one of its main features. Following the death of a policy owner, life insurance can replace the income of that deceased person to provide their lost income to the designated beneficiaries (recipients.)
Basically, if you have loved ones (i.e. husband, wife, parents, kids) or whoever you'd want to financially provide for in the future even if something bad happened to you, you should have your income insured. In other words, you'd want to apply for life insurance.
I don't sell life insurance anymore, but I know people who do. Feel free to reach out.
WHERE WAS THE MOST EXPENSIVE COUNTRY YOU HAVE EVER TRAVELED?
I've splurged on some trips more than others. If you're asking solely in terms of the highest cost of living… is it cheating to say my home country? The United States… Traveling anywhere else that isn't NJ is typically a lot cheaper for me- no joke!
The NJ/NYC area is one of the most expensive places to live.
If you want me to name an international destination: ANY of the islands I've been to.
Aruba
The Bahamas
Saint Martin
Turks & Caicos
Mykonos, Greece
etc.
WHERE WAS THE CHEAPEST DESTINATION YOU HAVE EVER TRAVELED?
Bosnia & Herzegovina.
I also found life in Poland to be very inexpensive.
Travel Blogging FAQ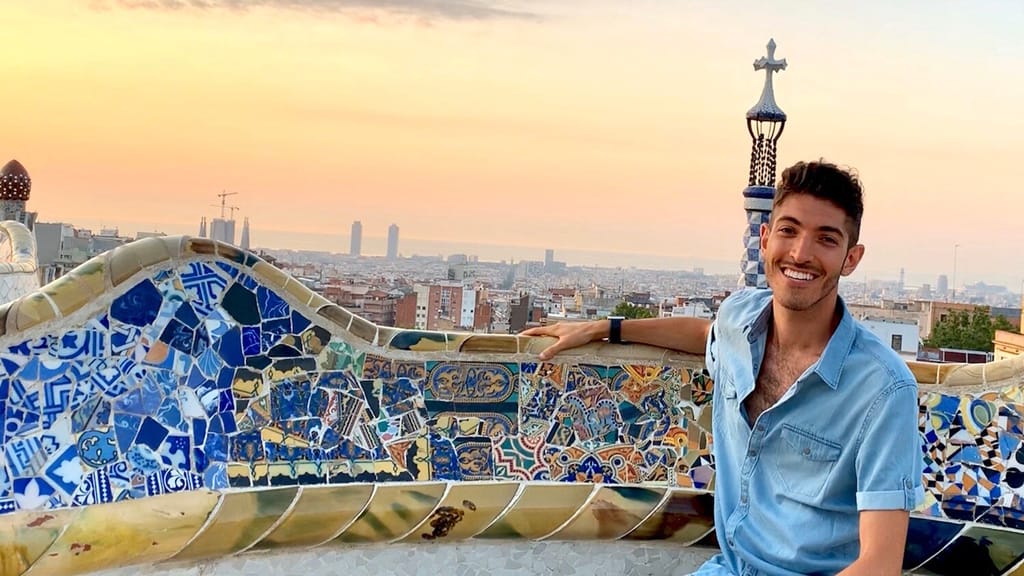 I WANT TO CREATE A TRAVEL BLOG. DO YOU HAVE ANY ADVICE FOR GETTING STARTED?
Definitely! I have a very detailed guide on how to create a blog from scratch. In just 10 steps, you should have it up and running. I know how overwhelming starting something new can feel. Don't worry, my blogging guide is written to be followed by someone who has no prior experience blogging. Just follow the screenshots, instructions, and recommendations and you'll be off to a great start.
HOW LONG HAVE YOU BEEN BLOGGING?
I've been blogging on The Rocky Safari since 2013 and I think my first-ever blog was designed back in 2006! Blogging has evolved a lot over the years, but it's never been so important to have a platform that you own! Don't let blogging intimidate you.
Try it out for yourself. I'm happy to try to help you out if I can. 🙂
HOW DO YOU EVEN MAKE MONEY AS A TRAVEL BLOGGER?
Hahaha, it's pretty crazy, isn't it? I still sometimes have a hard time wrapping my head around how this hobby turned into a full-blown business venture.
The first time I realized the potential of my blog was when I wrote about VIPKID. While backpacking, I'd earn something like $100 for each new teacher who I referred to the platform. When my post about VIPKID went viral, I realized the value of my blog.
Of course, that's just one angle.
My blog produces income in a lot of different ways:
Advertising
Affiliate sales
If I recommend a product as an affiliate and someone buys it, I will earn a commission from the sale. For example, if you shop on Amazon using this link, I'll be compensated for a portion of anything you buy.
Patron / Ko-fi
There are a lot of membership sites where people can pay money to support your efforts! You can offer a service or product in exchange for them or accept the donations. A lot of bloggers make great money this way!
Courses
This is something new I'm branching into in 2022 and beyond.
Coaching
If you're an expert in something, you can offer to coach people and earn income with your knowledge and ability to advise others.
There are so many ways to make money blogging. This is just scratching the surface. The biggest thing I want to stress is that all of these things take work. None of it is easy. Blogging is NOT a get-rich-quick scheme. You need to work it like a job.
HOW LONG DID IT TAKE FOR YOU TO START MAKING MONEY?
I started this blog in 2013 when I was in high school. Making money blogging was not a priority back then. In fact, to be quite frank, I was still just a kid and I didn't even know that making money on this blog was a possibility.
In 2016, I was in college and I decided to migrate this web property to a new self-hosted server so that I had full control over it. That same year, I became an Amazon affiliate and gained the capability to monetize my content for the first time. So 3 years.
HOW MUCH DO YOU SPEND ON RUNNING A TRAVEL BLOG?
It varies, but it's more than you probably think. My blog is highly customized and utilizes a lot of features and services to run the way it does. I am passionate about my blog so I do not mind spending money on it.
Here are some areas where I spend money to keep this blog running:
Content Delivery Network
Premium Plugins
Design Software Subscriptions
Laptop Upgrades & Hardware
Travel Gear
If you think about it, even my travel expenses are also a necessary expense for the blog too. If you add all of these up, the grand total is quite substantial. Regardless, I don't mind spending all this money on my blog because it's my greatest passion and spending money here is a necessary expense in order for the blog to generate money.
At one time, this website was born WordPress.com where you can blog for free. The tradeoff? It generated $0.00 per year while on WordPress.com…
Once I moved to a self-hosting website on WordPress.org everything changed.
DO YOU EVER GO ON PRESS TRIPS?
I haven't actively pursued any press trips to date. I am not opposed to the possibility of taking one, but I also don't know how I'd feel about it. I suspect I'd be curious to try going on one on the basis that it would be a new experience to try out.
I have a page for potential sponsors who would like to get in touch with me: Work With Me.
I've participated in other partnerships and brand deals, but never a press trip.
If a press trip was presented to me that offered value to my readers, I would consider it. (True story: I actually almost got a press trip to a safari in Africa once! I hope that a similar opportunity will present itself. What a dream come true that'd be!)
HOW CAN I FOLLOW YOUR BLOG?
Simply subscribe!
HOW MUCH DO YOU WORK?
I'm always blogging. My blog is my passion. Also, I recognize that the more work I put into it, the more it will grow. I am always looking for ways to improve this blog. Between Google's algorithm updates, the need for fresh content, and my changing taste for design and whatnot, I constantly make upgrades.
Even after the longest day, I'd probably whip out my laptop to blog for just 30 minutes before going to bed. It is something I do automatically and almost religiously.
If I wanted to take a step back, my blog could likely operate on autopilot for a while and I'd be relying on Google to pull its weight, but I don't see any reason to do that.
While backpacking, I worked 3 hours/day, blogged for 2 hours, and usually enjoyed the rest of the day doing other things.
WHY SHOULD I START A BLOG?
Blogging creates a portfolio that you can build upon over the span of your life! Fun fact: when this blog was only ONE year old, it landed me my first job! To this day, I have gotten hired for 3 jobs where my website was cited as one of the main reasons I was hired.
Aside from professional credibility and scaling your influence, blogging is rewarding.
If you are a reflective person, you may find it therapeutic and enjoyable. I find it fun to write stories! With travel blogging, it's like you are keeping an ongoing journal that you can look back on at any point in time to relive your favorite memories.
With the possibility of monetizing your website, blogging is a wonderful way to expand the scope of your career and develop passive streams of income. It helped fund my travels and is one of the best things I have ever pursued.
How to create your travel blog.
---
Submit a New Question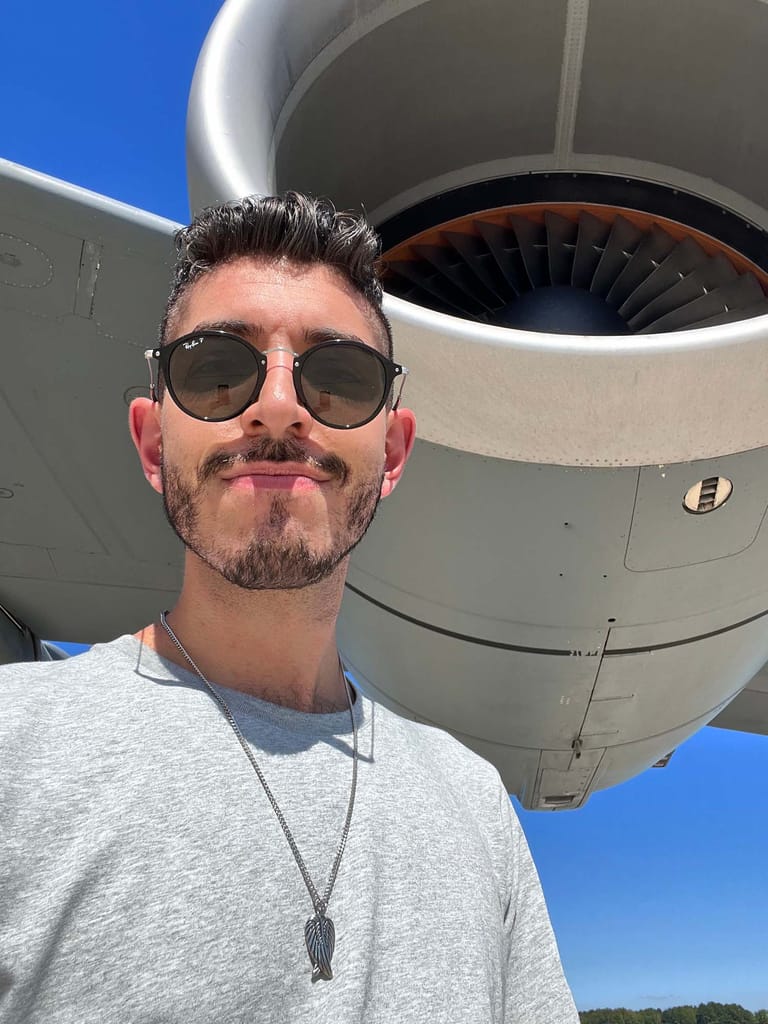 If you have a question you'd like to see appear on this FAQ, drop me an email!