Originally published on August 3, 2020, by Rocky Trifari.
Last updated on August 11, 2023.
Of all the possible marketing channels available to bloggers, email marketing consistently offers the highest return on investment (ROI).
The average ROI for email marketing hovers close to 4,400%. In other words, that means internet marketers make $44.00 for every $1.00 they spend on email marketing, on average.
You may be wondering where you should begin your journey into email marketing.
The most popular email marketing services for bloggers offer different features and operate using different tiered pricing plans.
Most of the email tools available for you to use are great. You just need to decide which one will work best for your email marketing needs.
People who operate sales-driven websites sometimes decide to use Constant Contact. For them, that is a great choice.
For new and expanding bloggers, I almost always recommend using ConvertKit. I'll explain my rationale as we go more in-depth on their platform.
In this article, I'm going to explain why I recommend that bloggers begin using this online software platform for all of their email marketing needs.
If you're wondering how to create a blog, be sure to read that tutorial to learn how to make one. I list everything out step-by-step to make it super simple for you.
Let's get started.
Disclosure: The Rocky Safari participates in various affiliate marketing programs, which means commissions may be paid on select products purchased through this article. These commissions are paid at no additional cost to the consumer and help to support this website. You can read more about my affiliate disclosure in my
privacy policy
.
What Is the Best Email Marketing Software for Bloggers?
In order to choose the best email marketing software for your blog design and readership, you will need to consider a number of factors including:
Price
Reliability
Reputation
Technical support
Customer satisfaction
Template designs
Ease of use
Deliverability
Automation
Cross-platform integrations
Any other features that the success of your blog or website may rely on
Out of those factors, I believe bloggers, in particular, must place a huge emphasis on a given software's average deliverability score.
You want to know if the emails you send are getting delivered to your readers' inboxes. You can decide to use whichever email marketing service you wish, but if your emails are ending up in your followers' Spam boxes, what was the point of even writing that new blog post?
Email marketing is all about successfully sending your unique content to your readers in a time-efficient manner.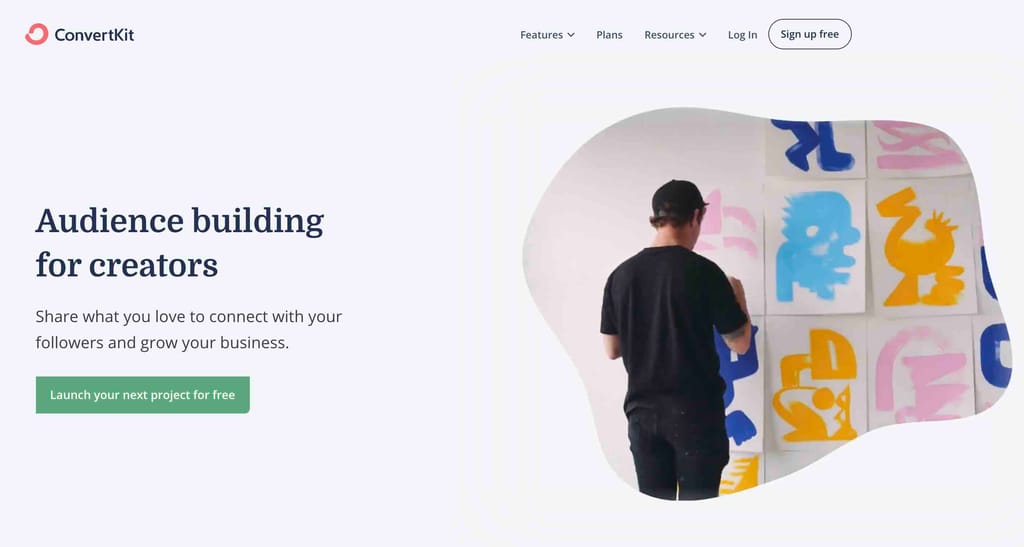 The best email marketing software is supposed to be able to help you design your emails quickly, segment your list, personalize your messages, and view analytics reports.
Most importantly, your platform should do a GREAT job of getting your content inside your users' primary mailbox.
ConvertKit is built by creators, for creators.
ConvertKit Information
Try ConvertKit
Email Marketing ($29/month)
Try their full-service plan for 14 days for free.
Update: ConvertKit launched a new free plan. Once your trial ends, you can choose to use the limited free plan or continue on the full-service plan which includes all of the features I'm going to discuss.
I love when companies are created by professionals from within the same industry they serve because their businesses always know exactly how to recognize unmet needs and fill the gap with new and innovative solutions.
That's exactly what ConvertKit has done for bloggers.
ConvertKit understands our needs and knows exactly what it takes to grow an online following after going through the process of starting a blog.
I pay each month to use ConvertKit on my blog.
Reasons to Love ConvertKit
ConvertKit is a fabulous email marketing service. I'll discuss some of the things I love the most about their software.
Built with Design in Mind
ConvertKit boasts attractive forms. You can design different opt-in forms and landing pages. They offer a large selection of templates. You can customize those templates using both their online editor as well as with standard CSS.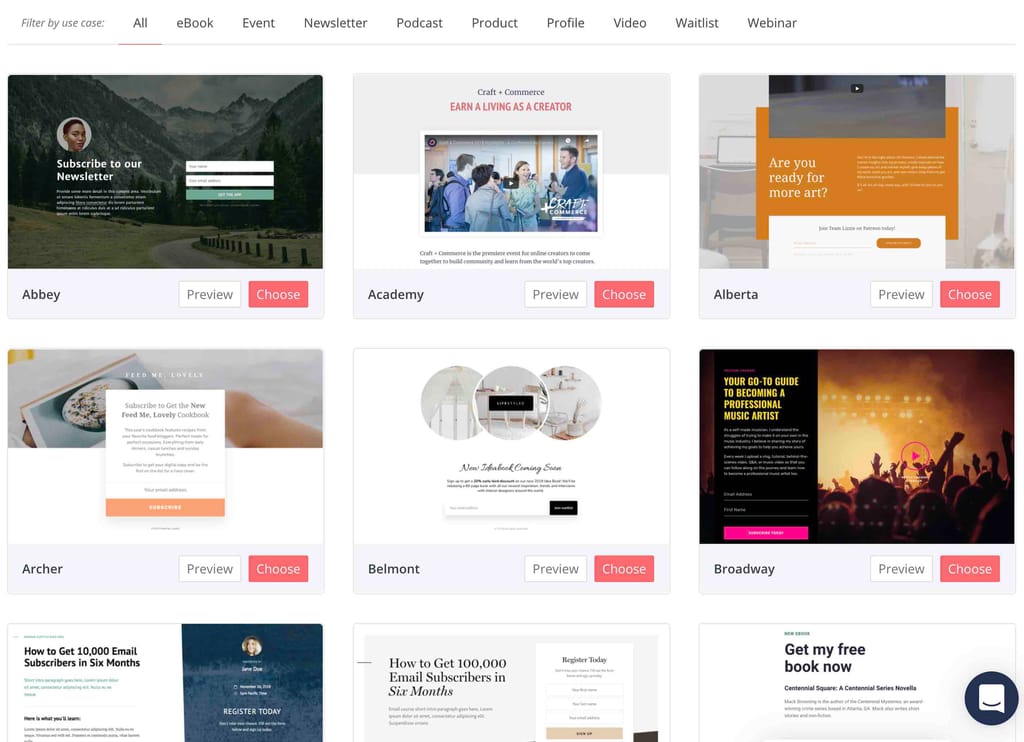 The Best Segmentation for Multi-Topic Bloggers
In order to improve deliverability, ConvertKit wants to make sure your emails get opened.
The best way to get people to open your emails is to only send people content on topics they are interested in. This helps to maximize your engagement.
ConvertKit allows you to create opt-in forms where people can tag themselves and choose which categories they would like to receive emails about.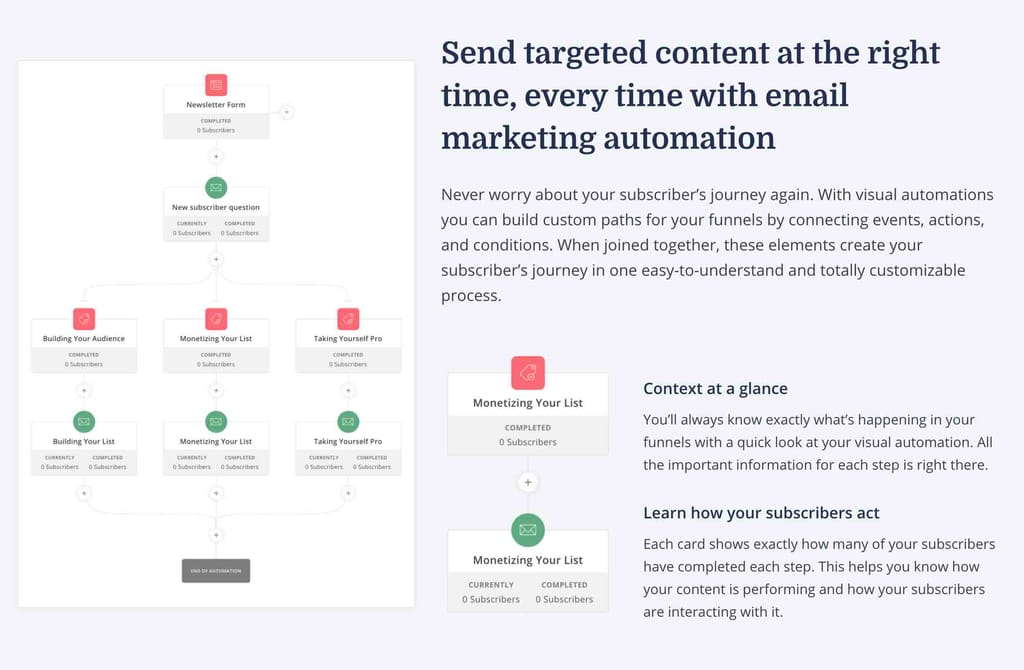 Increase Conversion Rates
Since ConvertKit allows you to tailor your opt-in forms and broadcasts to specific market segments, you will find that you experience higher conversion rates.
People interact more readily with content they are interested in.
You can strategically design opt-in forms with multiple, unique topics for people to choose to subscribe to. This feature is precisely what makes ConvertKit so valuable for multi-topic bloggers.
You can segment your entire readership if you wish to!
Total Automation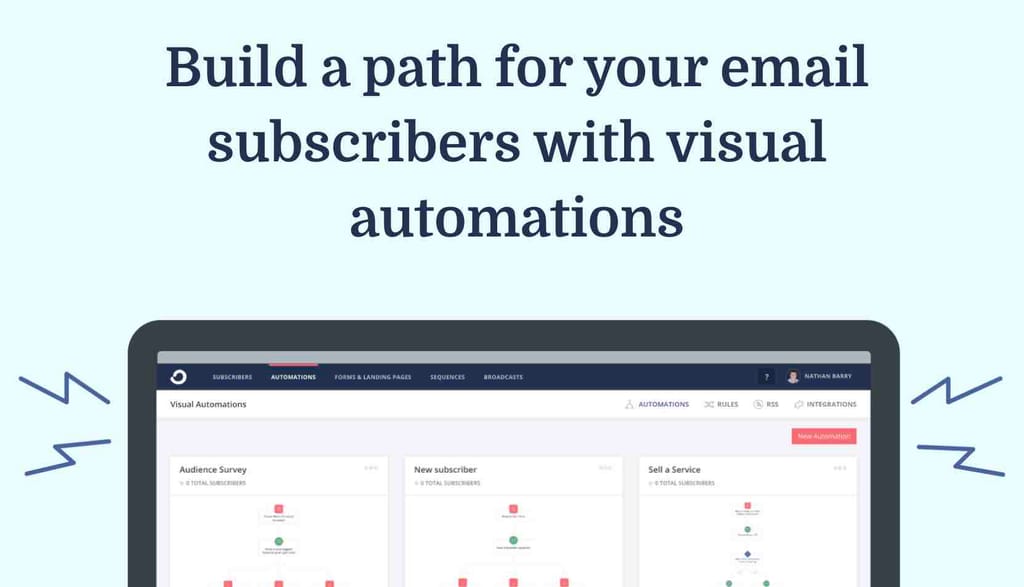 You can use advanced automation to make ConvertKit perform different actions to personalize email funnels.
RSS Broadcasts
Your blog post updates can be sent automatically. I have my blog set up so that anytime I publish a new post, ConvertKit detects the RSS feed update, creates a broadcast, and sends it out to the appropriate groupings automatically!
New Subscriber Alerts
Similarly, I have implemented a system so that if someone subscribes, I immediately receive an email notification to inform me. I like to stay informed about my readership so that was an important value add for me.
High Deliverability Rates
ConvertKit's personalized, text-based emails are extremely effective.
Personalize emails
You have the option to collect people's names and I highly recommend you do! Using their simple built-in feature, you can have broadcasts sent that address each follower by name.
An Example from My Blog
Since emails are kept simple (sorry, no fancy styling with this part, unlike the forms you place on your website!) they are less likely to be flagged as spam.
ConvertKit Launched a New Editor
For as long as I can remember, ConvertKit was strictly text-based. They recently launched a new editor (shown above) which allows SOME styling. (I was able to add a photo!) You should still try not to do anything elaborate, otherwise, you might reduce the deliverability of your emails.
ConvertKit generally sticks to plain HTML without any excessive styling added to it. You can mess around a bit with a handful of supported fonts, text size, images, buttons, and so on… but you're honestly better off doing LESS so MORE people get your email.
The fancier you try to make your mailings, the greater the risk they will never see the light of day.
It sucks, but that's just how the internet works nowadays. Too many spammers have abused sending flashy photo-rich emails with huge, colorful headlines.
*NEW* Sell Digital Products
This is one of ConvertKit's newest features! I was selected as one of their early beta-testers and I couldn't be more pleased to see the addition of an e-commerce solution.
Now bloggers can sell items on their blogs without having to use another service. You can sell an ebook, digital guide, or other virtual product. How awesome is that?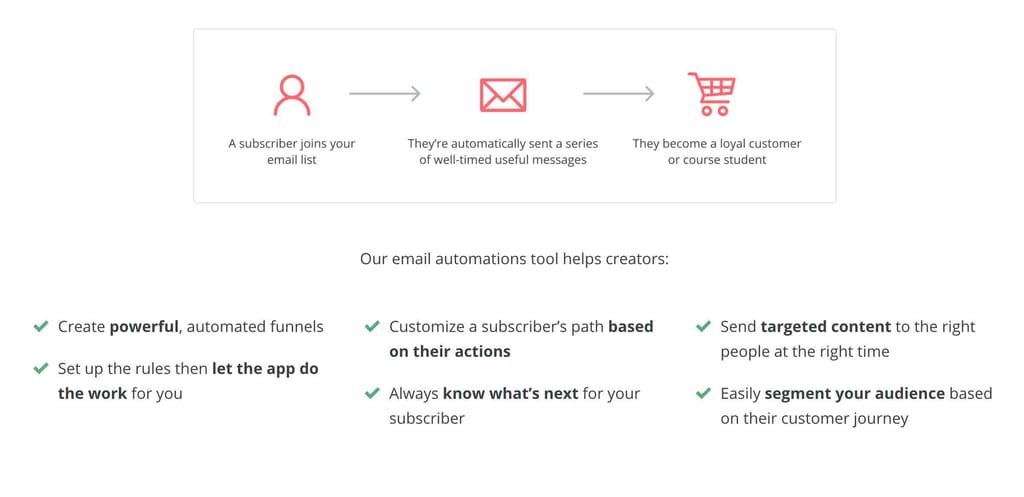 Ultimately, ConvertKit is highly effective for lead funnels.
*NEW* FREE PLAN
In 2020, ConvertKit made a HUGE ANNOUNCEMENT. For the first time in the company's history, it is now possible to sign up for a free plan. Prior to this, you were required to sign up using at least their $29/month base plan.
You can get started using this 14-day free trial and decide from there whether your needs will best be met using the paid plan or the free plan.
Get started with ConvertKit – the best choice for bloggers.
Try ConvertKit
What Is Email Marketing?
Have you ever wondered why bloggers across the web try to collect your email address? You see, email marketing is a way to use email to nurture and develop relationships with the people who follow your blog.
In some cases, the goal might be to convert a reader into a customer. Other times, email marketing simply tries to drive traffic back to a website for views.
At its core, email marketing is a way to reach people. If you want more eyes on your content, it's one of the most effective forms of marketing that a blogger can invest in.
Factors to Consider When Choosing Email Marketing Software
If I had to rank the email marketing features based on how important they were for me when I decided to use ConvertKit, I'd rank them as such:
Deliverability
Interface Simplicity
Automatic RSS Emails
Analytics and Insights
Beautiful Opt-Ins
Segmentation Ability
Ecommerce Support
Email Previews
Pop Up Opt-Ins
Landing Page Support
Of course, there are plenty of other features and factors to consider, but these were the ones I placed the highest level of importance on.
What Advantages Does Email Marketing Software Offer?
Email marketing software is what you use online to send out bulk mailings of emails to your list of subscribers.
Building a list and contacting them by email allows you to reach your audience without having to pay for expensive advertisements on Google, Instagram, or Facebook.
It's the most cost-effective option available to bloggers.
In addition to its attractive return on investment, email marketing allows bloggers to take advantage of features including:
Total Automation
Email Templates
List segmentation
Detailed Analytics
Custom Opt-Ins
Custom Landing Pages
The Benefits of Using Email Marketing Software
Email marketing is absolutely essential if your objective with blogging is to build a loyal following. Bloggers who aim to generate revenue almost always use email marketing on their blogs.
The great thing about email marketing is that you can reach people in one of the few places most people check at least once per day: their email inbox.
When a new reader opts in to your email list, they are showing interest in your content. They're telling you they want to hear from you.
74% of buyers report that word-of-mouth advertising is highly influential on purchasing decisions so email marketing is a natural extension to have that type of an impact on people.
By choosing an outstanding email service, you can send messages in a cost-effective manner and scale up as you need to. Since most plans are tier-based depending on how big your list is, scaling is simple and you can simply pay for what you need.
The benefits of using email marketing software include:
Cost-effective outreach
High ROI ($44 ROI on every $1 spent.)
Easy of use
Automation
Email templates
Landing page and opt-in templates
Customer loyalty
Target and segment readers
Sequences and welcome emails
Subscription incentives and deliverables
Reach readers where their eyes are (their inbox)
Examples of Email Marketing Best Practices
Email marketing isn't as simple as writing up blog posts and blasting them out to a list of contacts.
There are many email marketing standards to be aware of. Once you've gotten started with it, you have to continuously measure your performance to make sure everything you are doing is working.
If you aren't getting the results you want yet, that's okay. It's a process and sometimes it's necessary to implement changes.
These are some of the top email marketing best practices to abide by if your aim is to be successful at it:
1. Never Purchase Email Lists
I never understood why some bloggers try to collect random emails to add to their lists.
The entire point of email marketing is to connect with people who have voluntarily asked to be contacted by you. It is this consensual relationship that makes email marketing so effective!
Healthy open rates are vital and if you are sending mail to a purchased list, your open rates will be so terribly low. You could even get spam complaints and become blacklisted. You don't want that to happen.
Buying a list eliminates trust and is spammy. You don't want to build your blog's brand using those types of tactics.
Under the CAN-SPAM Act, you can actually be fined up to $16,000.00 per incorrect email. You don't want to face severe penalties for a situation that can be so easily avoided.
Everything mentioned here should also be monitored under the guidelines of the General Data Protection Guarantee (GDPR.)
2. Personalize Content
Emails that include your readers' first names will feel much more personal to them than those that either omit names or use a vague phrase like "Dear followers."
Any personal information you collect from people who opt-in to your blog should be used to tailor emails to them individually. You want to personalize as much of it as possible.
Your readers want to feel spoken to. Directly.
3. Craft Creative Email Subject Lines
Subject lines should be concise and grab your reader's attention. You want the subject line to be compelling enough that they take the time to click on it and open the message.
You can take that in two different directions:
1. Create a sense of urgency
2. Bring enough value
If your readers enjoy what you write, the second can be enough. Other times, your subscribers might need a little "boost" to get them to click and read what you send them.
Never forget: entertainment and storytelling are forms of bringing value. People will read your emails if you can deliver.
Your email subject lines should be between 30 and 50 characters long. Some email providers will actually cut off subject lines that are longer than that.
Subject lines should entice the subscribers to act. It's been well-documented that numbers, symbols, emojis, offers, and discounts all increase open rates.
4. Format Your Emails Nicely
While we are on the topic of formatting subject lines, let's also address the email as a whole.
Your emails should be between 500 to 600 pixels wide. Depending on the software platform you decide to use, you might not need to worry about setting this up.
If your emails are any wider than that, you might risk having run too far horizontally where readers need to scroll left and right on their mobile devices. That isn't convenient for the reader.
As a blogger, never make your emails come from a "no-reply" email address. For example, I would never send you something from [email protected]. Set it up as your name or brand name so your readers will recognize it immediately.
As for fonts and design, try not to exceed using more than three different fonts. You want the design to look consistent. In fact, two fonts should be plenty. Throw your logo up top to improve recognizability.
Your main message or call to action (CTA) should be the thing your readers see right away. Don't make it hard to find within the content of your email.
5. Set Up a Welcome Sequence for New Followers
When followers join my mailing list, they're automatically enrolled in a welcome sequence. This is great because it warms them up and helps them get to know me while the reader/writer relationship is still developing.
Email automation is so powerful. You can have these types of automation set up to happen on their own anytime a new reader joins your email list.
I usually recommend spreading these types of emails out over the span of a few days. You don't want to bombard new followers, but you also don't want them to lose interest.
For example, a great first email for bloggers is an introduction with some background information about who you are and why you blog. Then on day 3, you can send more content about the topic you write about. Maybe on day 5, send them some type of e-book or value-add.
You want your readers to always be looking to come back for more.
Email Marketing FAQ
Types of Emails
When you decide to contact your list, you'll generally send one of three different types of emails.
1. Blog newsletters
These are emails that are sent once. You might send this type of broadcast each time a new blog post is published or once a week as a round-up featuring all of your recent content.
2. Transactional emails
When someone buys something from your blog, assuming it's your own product or service, you might be responsible for delivering a virtual product or receipt.
3. behavioral Automations
If you're into fancy email marketing, you might want to set up some of these emails to go out in order to boost engagement. You can have these get triggered by reader behaviors and actions. These include welcome sequences, funnel sequences, cross-sells, and re-engagement emails.
Can I Use an Email Marketing Platform for Free?
Actually, yes! For example, ConvertKit allows you to have a free plan for up to 1,000 people on a list. It's a nice option if you're just getting started.
For bloggers who are expanding, I'd highly recommend using a paid service because it's the only way to scale a list. You need to pay in order to gain access to automation, sequences, subscriber management, and broadcasts in ConvertKit. You get what you pay for.
Steps to Getting Started with Email Marketing
Sign up for ConvertKit.
Create an opt-in form.
Copy and paste the HTML, JavaScript, or short-code into your website to begin collecting emails.
Create an initial email template.
Implement a welcome sequence.
Write high-quality content and use a grammar checker.
You might want to A/B test different subject lines to improve open rates.
Preview emails before sending.
Schedule your emails to send at the best time.
Measure and review analytics over the long term.
When Is the Best Time to Send Emails to Blog Followers?
The best time to send emails is going to depend on your own blogging audience. Only you will be able to determine that information.
In general, it is said that open rates tend to be higher on Tuesdays and Wednesdays. They also say 8 AM and 4 PM tend to be the best times of the day to send messages. You can use those guidelines as a starting point if you're entirely sure yet.
How Can You Optimize Email Campaigns?
Many email platforms offer a way to do A/B testing to see what works best for your readership. This is a fantastic way to improve your results. It helps you understand what works and what doesn't.
Be specific on what variable you are testing, keep everything else the same, test it, and measure the results. If you're going to invest time into creating a test like this, you want to be as scientific about it as possible.
Email Marketing Summary
I hope this article helped you get started with your email marketing journey.
As you can imagine, there are a ton of amazing tools out there to choose from. When you're trying to decide which is best for your blog, it can be a daunting decision. I know how it is, I've been through it all myself.
That is why I like to discuss the products I know, like, and trust. Having used ConvertKit on this blog with complete and total satisfaction, I feel comfortable recommending it.
Get started with ConvertKit – the best choice for bloggers.
Try ConvertKit
What did you think of this guide? Let me know in the comment section below.
If you found it helpful, please take a quick moment to spread the information by sharing it with your friends!