Last Updated on September 4, 2023
You're booking a flight for your upcoming trip and as you fill out the form to buy the tickets, it displays a message asking if you'd like to pay a small additional fee for extended Trip Protection. While that add-on is not quite full-fledged travel insurance, the protection does help if the flight needs to be rescheduled for any reason. While it is great to have that safety net and the intention there is good – those add-ons are no substitute for owning proper travel insurance.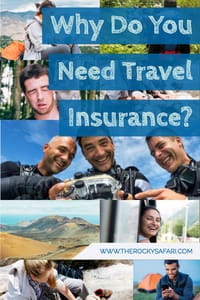 Something you should at least be educated on is the importance of owning travel insurance. Travel insurance is a topic I care a lot about because, as you may or may not already know, I work directly in the field of insurance in my day-to-day career. At one time, I was a licensed insurance agent from the state of New Jersey and I am constantly educating families on the concept and importance of owning different types of insurance policies. Naturally, travel insurance was one of the first things I bought after I booked my long-term trip starting in Greece.
Reasons to Buy Travel Insurance
Insurance is all about minimizing risk in case of the possibility that something goes wrong. Travel insurance doesn't have to be expensive either. While you (and the company) hope nothing happens during your travels, you get to experience financial peace of mind knowing you are covered just in case something does.
Something might, something might not, you simply can't know. That is why you need it! With travel insurance, you are gambling on the possibility that maybe something might happen. That's the very reason why I own travel insurance. Who knows! A disaster while traveling could be financially disastrous. Something like a lost bag can be expensive to replace! Same with computers, gadgets, and other electronics. For a few bucks a day, you can transfer the monetary risk to someone else.
You can get a Free Quote through my partner, World Nomads, using the tool below:
[Note: (09/04/2023) The tool is temporarily unavailable, I hope to have it back soon.)
Bonus – Affordable Life Insurance
If people depend on your income, you must also own a life insurance policy. In my opinion, this is a non-debatable decision because the financial devastation that could occur from the loss of your income is both tragic, affordable, and easily avoidable! While life insurance qualifications and quote range from person to person, I am happy to share that I pay just under $40/month for my own policy. Life insurance can protect your family from financial devastation in the case of an accidental death. You can contact me directly for a free quote on the best life insurance policy to go along with your travel insurance. Note that this is a product that you have to qualify for you – you cannot simply "buy" it so please allow yourself enough time to complete the process.
Even if you already own a life insurance policy, the agency I work with offers A+ rated term life insurance and we are frequently more competitively priced while offering better features and benefits than our competition. In fact, we were the only life insurance company to pay claims made based on terrorism during 9/11. I tend to point that out because my father is a firefighter but I believe it speaks volumes about the moral and ethical standing we take as a company when things go wrong.
Please feel free to inquire or ask me any questions you may have about any of the products listed. You may e-mail me at: [email protected].
While World Nomads offers the best VALUE to most customers, some of my readers are extremely price-conscious. A more affordable option for Travel Health Insurance does exist. See the post linked below for more information.
For affordable Travel Health Insurance geared towards Digital Nomads, see this post!
Like it? Put a PIN on it!
Follow My Blog
SaveSave
SaveSaveSaveSave
SaveSave