Last Updated on March 27, 2021
Most people are turned off by the idea of being in a long distance relationship. The idea of being far away geographically from the person you love is unappealing for obvious reasons. To make any long distance relationship work takes effort and many people think its simply too great of a challenge. After experiencing life in an LDR myself for nearly two years, I'm reflecting on what I liked and what I didn't about the long distance dynamic.
1. Exploring Unfamiliar Lands
I really liked that when I was dating Jorge, we had the opportunity to broaden our view of the world. When he was studying abroad, we both saw parts of the world I never thought I'd get to see myself. A year and a half later, I never could have guessed I'd be traveling through Spain. As much as it pained me to not be able to see him and his family as often as I would have liked, I thought it was nice feeling like I had a substantial reason to visit another place. It reminded me a lot of the stories I'd hear growing up about my grandparents flying to and from Italy with my mom.
2. Getting Messages At All Hours of the Night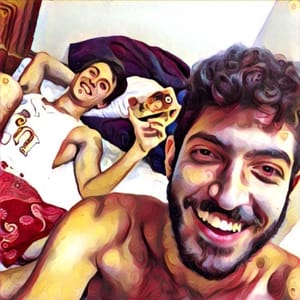 You gotta love timezones. Jorge and I were fortunate that we didn't have such a drastic time difference separating the two of us. We were a total of 6 hours apart with him being the one six hours ahead. We would talk and message each other at all hours of the day with pretty much no time boundaries although I guess my nights and his mornings were more on the quiet side since that was generally when the other person was sleeping. My Apple Watch made keeping track of the time for both of us easy. I made sure it always displayed my time and his time so I always had a sense of what point he was at in his day.
3. Creatively Trying to Communicate
I can't imagine being in a long distance relationship without the aid of the internet. We are so lucky to have apps like "Couple" that are specifically designed for lovers living apart. Jorge and I tried using a few different apps and while the thought behind it was cute, the apps weren't always the most functional. I believe in the importance of sustaining a creative flare for couples trying to keep the love alive. Even that random text or call always feels nice to receive. I know there was almost nothing that made me happier than glancing down at my phone and seeing a new message from Jorge.
4. Figuring Out What the Heck to Get as Gifts
Shopping for someone on the other side of the world is no easy feat. Although it was frustrating trying to figure out what to get at times, I loved the challenge of it all. I remember feeling so determined to figure out new ways to surprise Jorge. I think it was for his birthday when I tried ordering flowers online only to find out I was hitting problem after problem after problem. Which website couldn't be translated to English…. who didn't accept US currency…. such and such a florist couldn't deliver to his address. Yeesh. I decided to reach out to Jorge's sister who then helped coordinate a way to get flowers to him. I'm super grateful to this day that she saved my butt with that one.
5. The Simple Fact That It Happened
Our relationship felt like something out of a movie. My sister once described it as a fairytale and I loved the analogy. As I tried to explain in my post about The Tale of the Princess Kaguya, it actually was my fairytale. Going to college, I never could have guessed I'd meet a guy from Spain and fall in love. Heck, I think its awesome that I did! Some people go their who lives never falling in love and I fell hard. The relationship we built was something I treasured and honestly, the Lizzie McGuire-ness of it all made it so much fun right from day one. Meeting through school, getting to know one another in an unfamiliar place, and then going on adventures together? Everything about it was so exciting! The heartbreak of being away from one another sucked but words can not describe the bliss I felt when we were reunited again.
❤