Last Updated on March 25, 2021
Wishing everyone a Happy Valentine's Day. ❤
For a lot of couples, this day has been filled with cards, chocolate candy, lovely gifts, and romantic dinners. I think our cultural standards cause us to develop high expectations for what a relationship should look and feel like. It becomes easy to feel dissatisfied when our love lives don't exactly align with the examples we compare ourselves to. Valentine's Day is a difficult day for a lot of people for these reasons. Whether you are going through a breakup, fighting with a significant other, experiencing heartache, getting divorced, or searching for a connection, I assure you: you are not alone. I thought I would share a recommendation for a service I found extremely helpful in case it might be of help to you too.
That service is Ginger.io.
Ginger.io offers online, around-the-clock emotional support. Certified life coaches, therapists, psychologists, and psychiatrists are all available through the convenience of your cellphone. They are real humans accessible to you over the internet.
The beauty of Ginger.io is that you can easily get help when you are feeling stressed, anxious or down. When you join the app, you are matched with a team of professionals. If for any reason you are dissatisfied with these individuals, you are welcome to request a change. My first Coach was Sarah and we instantly formed a friendship.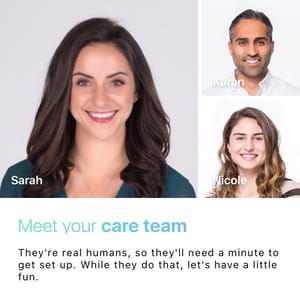 I know so many people who are struggling and dealing with all sorts of trouble. The incredible thing about Ginger.io is that they genuinely take the time to get to know you and understand what you need help with. In my case, at the time, it was relationship-based. Sarah really made me feel understood and offered solid advice to help me transition and recover from my breakup six months ago. I haven't specifically spoken to her in a while now since she left Ginger.io in December, sadly.
What does Ginger.io offer?
Well, that depends on the plan you subscribe to. Initially, they will do a free consultation at no cost to help determine which, if any, of the services would suit you best. From there, it is up to you.
Ginger.io offers unlimited chat around-the-clock with rapid replies, video sessions, personalized self-care, and of course, follow-up and progress tracking. The impact that coaching can have should not be taken lightly. I got relationship help, career advice, and impartial opinions from someone I felt a connection with. All sessions are legally protected by HIPAA and completely confidential.
Do the free consultation. I hope this helps someone.