Last Updated on September 6, 2023
After returning home from Indiana, Jorge and I began preparing for our road trip to Philadelphia, Pennsylvania. We booked a three-day getaway in the heart of Philly's gayborhood. As per usual, we booked through Airbnb since you just can't beat the price. After staying in several Airbnb locations, I have come to believe that the unique homey experience is far superior to that of an equally priced generic hotel room.
By the way, if you use this link to sign up for Airbnb,
you will receive a free $40.00 credit towards your first getaway!
During our drive to Philly, we decided to make a pit stop at Burlington, NJ's Bird Paradise – one of the best & biggest bird stores in the whole world! This was my second visit to the gigantic bird supply store but Jorge had been wanting to see it himself for quite some time.
Besides having such a vast supply of food, cages, toys, and supplies, one of Bird Paradise's greatest distinctions is its unique approach to selling birds. Instead of keeping them all caged up, they actually keep them out in open playpen areas where customers can (after spraying their hands with a disinfectant) actually walk right up to them and handle the birds directly.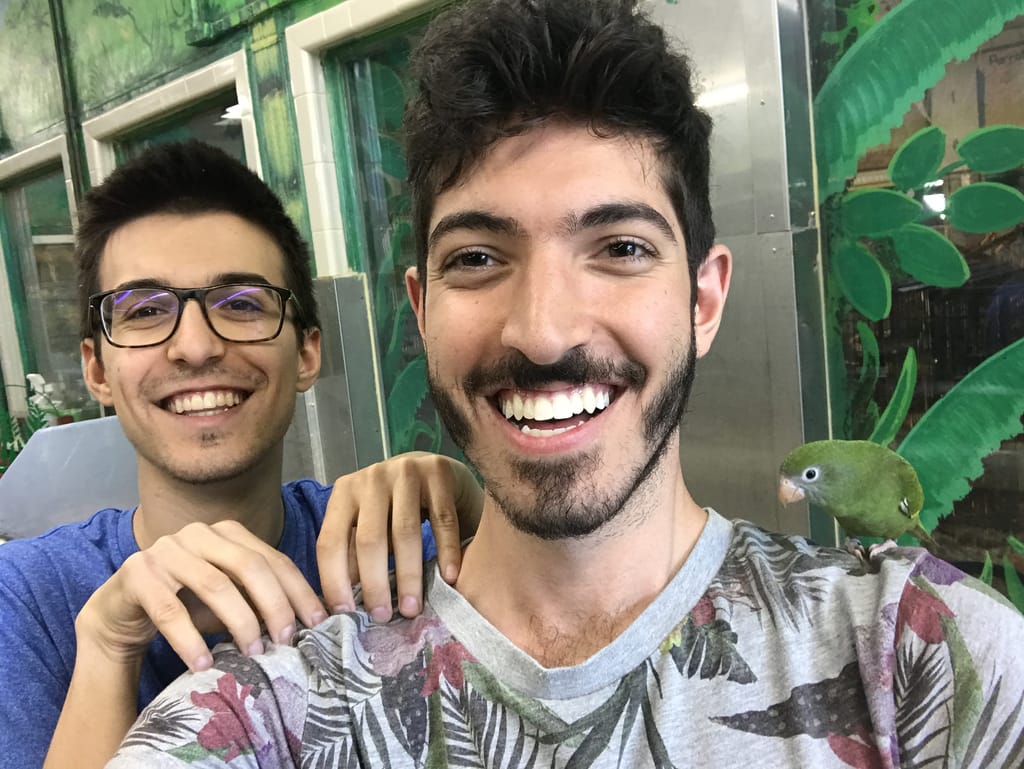 The Canary Winged Bee Bees are by far one of my favorite species they offer. The breeder who raises them does such a fantastic job that the little green guys are fearless. They will literally beg you to pick them up and once they get a grip, they'll make a sprint for your shoulder. It's the cutest thing!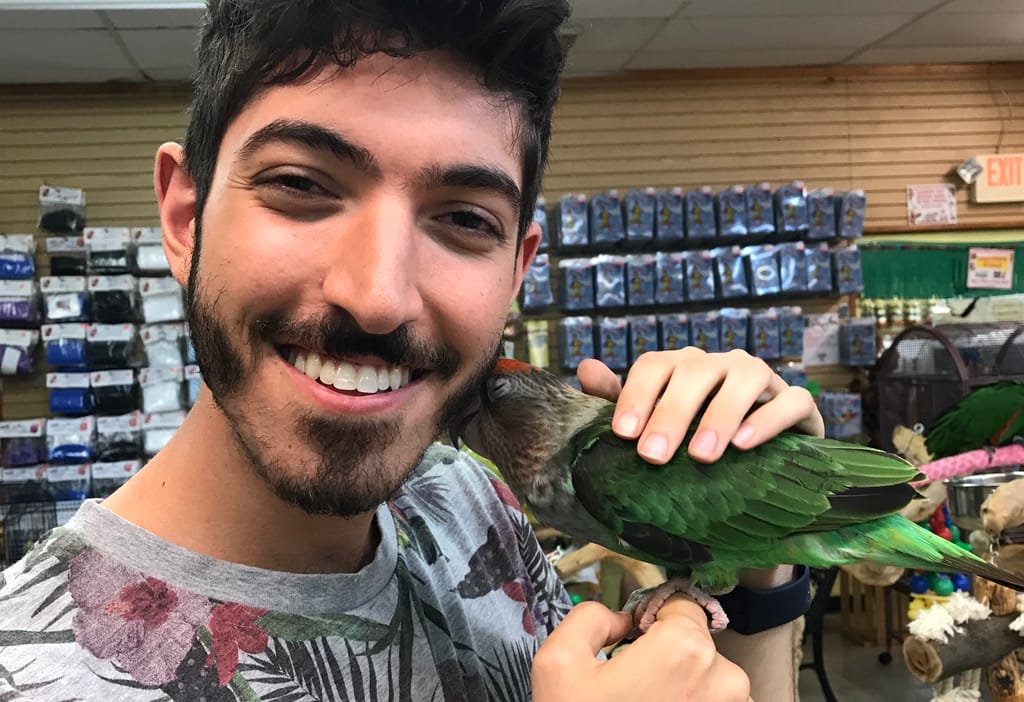 This time, I really fell in love with a species called Cape Parrots. I wasn't familiar with them until this visit. He's the guy photographed above.
Philadelphia's Gayborhood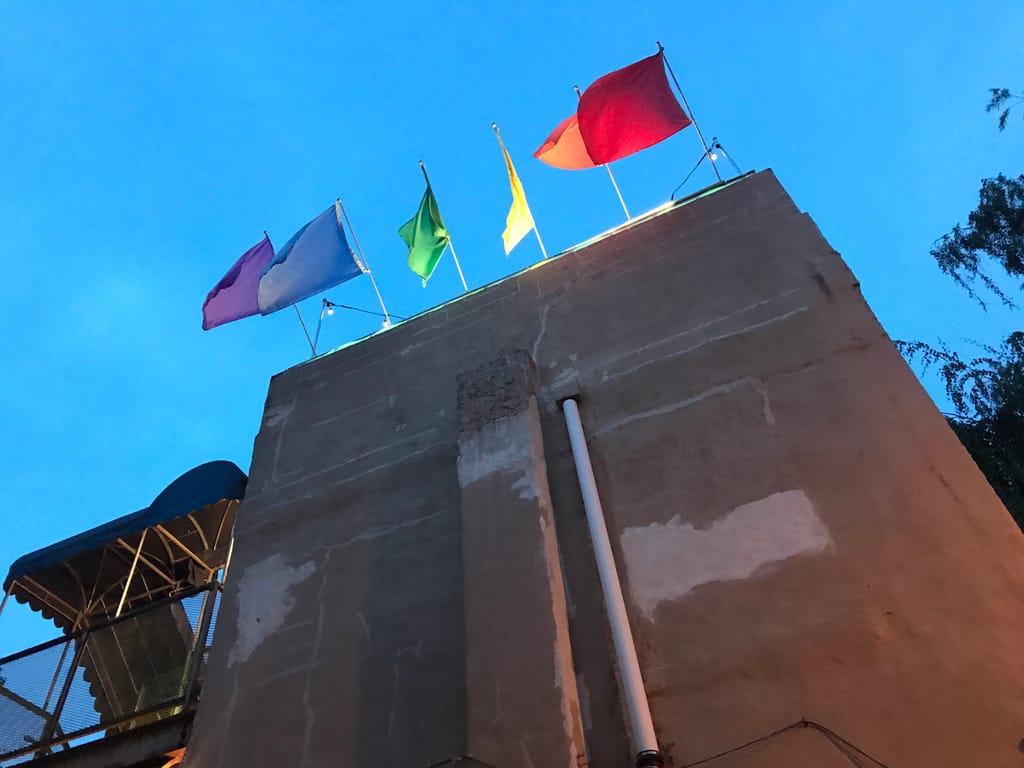 Once we made it to Philadelphia, we settled into our home and went out at night. The gay clubs and bars surrounding us were awesome. If I had to pick my favorite place we visited, it would probably have to be the club iCandy because of the great music and vibes at their rooftop bar.
We also went to a bar that had a drag show. That was quite the performance! I had never seen anything like it before.
Our Airbnb was literally around the corner from the Magic Gardens. We were able to save some money since they offer discounted tickets to students. Of course, I somehow managed to forget my Rutgers ID at home but they were very forgiving and allowed me to show them my online Rutgers portal instead. Once inside, the Magic Gardens was enough to make you dizzy with the utter lack of parallel lines, random turns, and strange passageways. Stones are placed in every direction, bottles are randomly inserted into the wall, as are urinals, figurines, and ambiguous messages.
We couldn't leave Philly without being tourists a bit more. As you might have suspected, we visited the Liberty Bell and Independence Hall – some of the most well-known sites in all of Philly. Going back there gave me flashbacks to when I volunteered with the Chinese Exchange Summer Program a few summers ago.
On our last day, we visited the Philadelphia Art Museum and the Rocky Statue. We checked out the new WILD exhibit by Michael Nichols featuring animal photography. On our way out, we even saw a few famous paintings and took a mandatory Rocky statue photo.
That just about sums up everything we jam-packed into our little 3-day getaway! From there, we went to the Airbnb, grabbed our bags, and made our way to the parking lot so we could begin our road trip journey back home.