Ready To Travel?
---
Find a Cheap Flight Today
Disclosure: This article includes affiliate links that may provide me with a commission at no additional cost to you. You can read more about my affiliate disclosure in the privacy policy. Thank you for supporting the blog.
When the time comes for arranging travel plans, there are typically two major upfront expenses that outweigh everything else:
In order to make travel affordable, one of my passions is helping my readers discover the most affordable flights so that they can travel to their dream destinations without breaking the bank. By helping show you how to make your dollar stretch further, you can reallocate those same funds from your budget to explore more exciting things!
Budget travel isn't about being cheap; it's about being smart!
10 Travel Hacking Tips To Save You Money While Flying
1. Be Discreet While Researching Flights
If you are only doing preliminary flight research, but aren't prepared to pay on the spot, I recommend actually doing flight research as discreetly as possible.
I advise you to use someone else's device or stop by a public library to use a public computer. If that's not possible, open up an Incognito browser and be sure to clear your cookies, history, and temporary files in between sessions.
Booking websites use sophisticated software and if you show too much purchasing intent, the websites will sometimes recognize this and inflate the price to try to get you to pay a bit more. This is especially problematic if you repeatedly look up the same flight over and over again.
Try to purchase your flight in the same session. If you can't, be cautious to reduce the number of times you repeatedly do the same search before checking out.
2. Shop Using the Best Flight Search Engines
I recommend travelers use a travel search engine whenever searching for the cheapest flights.
These types of websites have access to hundreds of airlines, car rental services, and travel agency websites and bring all the options into one place. By forcing competition, they are also usually able to drive the price down which can serve as a great advantage for consumers shopping in the air travel marketplace.
I think these websites make booking easier because they help you find the best deals.
Booking Cheap Flight Resources
Website
Strengths
Discount
Kiwi.com
My preferred way to mix/match flights across airlines.
Current Deal:
20 € ~ $ 23.74 Off
CheapOair
Cheap flights for backpackers and budget travelers.
WORLD24 for $24 off
Google Flights
I enjoy using this for preliminary flight info research.
Expedia
Save when you book a flight and hotel together. Includes all-inclusive properties.
Booking.com
Better for accommodations, good for flights too.
Kayak.com
Search for cheap flights with flexible dates.
Skiplagged
Excellent way to get clever flight deals using Hidden Cities.
My Favorite Ways To Book Flights
Kiwi.com makes it easy to find inexpensive flights going anywhere in the world. I've found the rates to be some of the most competitive. The platform's software is so powerful. You can find connecting flights on different airlines and create a really affordable flight itinerary.
As you can see in the screenshot below, I've used Kiwi.com to book trips in at least five instances. By the time you're reading this, it's very well likely even more trips have been booked on their platform because it is my absolute favorite website to find cheap flights on.
I highly recommend you use my link to give it a try! Even if you aren't sure where you want to go, Kiwi.com makes it easy to discover cheap flights to global destinations.
Try Kiwi.com.
I've even added a discount below!
By combining routes from multiple airlines, you may find airfare prices that are cheaper than booking with one airline alone.
The websites shown above will aggregate most budget airlines in 2021. Out of all the major airlines that fly in the United States, Southwest may be the only one occasionally omitted. If you think there may be additional airlines missing from a specific region, it's always wise to look up regional budget airlines to double-check.
3. Try to Fly at Off-Peak Times
The internet is filled with theories that suggest searching for certain days and times may produce reduced rates due to traveling at off-peak times. While it makes sense that demand may be lower at certain times so the cost should be too, there isn't any set rule on which days or times are cheapest to fly.
It certainly doesn't hurt to look for red-eye flights on a Tuesday just to see… On average, it'll be a bit cheaper to fly on a weekday. Beyond that, it really depends.
My favorite approach is always to look at a month-at-a-glance where you can quickly compare rates over a wide period of time. If my travel aspirations are really flexible, I might even compare month to month and find the cheapest time of year to visit a specific country!
Kiwi.com really makes this easy to see.
Send me an email if you'd like to know more about how this works.
4. Use Credit Card Points to Fly for Free
I'm proud to say that most of the flights I've taken have also been paid for second-hand by using credit card points I've amassed by spending money I already would have spent on other necessities.
Disclaimer: This travel hack is geared mostly toward U.S.-based shoppers who have excellent credit scores allowing you to sign up for a new line of credit.
There are many credit cards that offer sign-up bonuses which provide you with free money in exchange for spending money! If you're intelligent about it, you can pick and choose credit cards that are offering bonuses that only require a nominal amount you'd already spend. Most people can determine what they spend on average from one month to the next. As long as the other won't put you into debt or a situation of financial strain, pick a great offer and claim your card's bonus by putting those free points toward a free flight!
When I left America to move to Spain, I applied for the Capital One SavorOne credit card. The card is focused on rewarding food and restaurant purchases with 3% cashback, but I was okay with that because… honestly… food is one of my biggest expenses. LOL
Aside from that, the Capital One iOS banking app is AMAZING and their sign-on bonus was $200 if you spend $500 in the first 3 months. Honestly, I can't imagine how someone could miss that spending target. It's a great card and you can shave $200 off of your flight or even fully cover a shorter-distance flight! Apply for it here.
The Capital One QuickSilver card is another card I really love. It has a sign-up bonus too!
They're certainly not the highest rewards… but I love banking with Capital One. The Capital One credit cards with the cash bonuses require excellent credit.
If you're willing to take on a bigger spend requirement, some cards from other banks will offer you $500 or even $1,250 or more as a signup bonus! I'll have to go more in-depth on credit card bonuses in another post.
Let me know in the comments if that's something you'd like to learn more about.
5. Choose Budget Airlines… Even If They're Unfamiliar
Certain airlines (cough, cough, RyanAir) are known for having the absolute LOWEST prices. If you're in the United States, you might even think about Southwest.
They cut corners everywhere to make the final price as low as possible.
If you're a budget traveler just trying to go from Point A to Point B, I think it's a brilliant way to save some money while flying.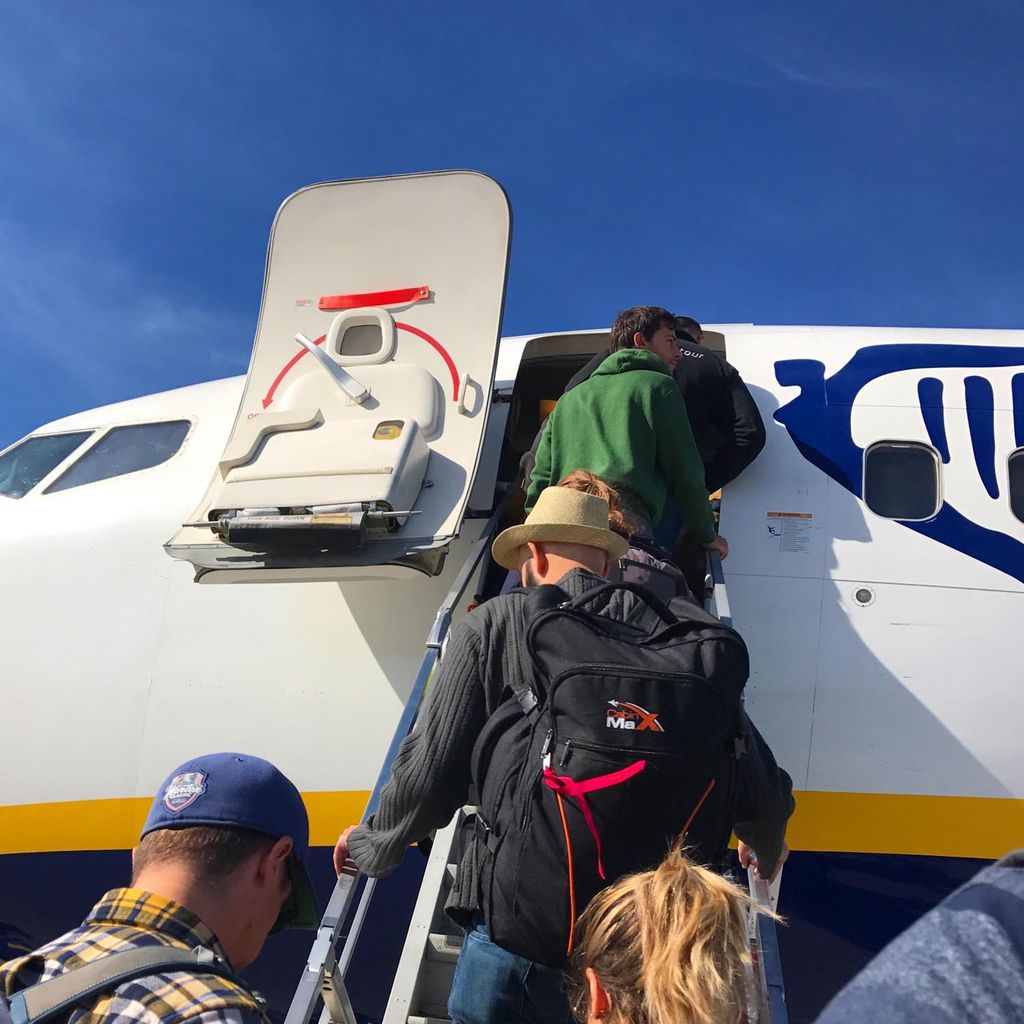 There are a lot of local, regional airlines that offer low prices. I know a lot of Americans wouldn't dare step on a plane unless it was operated by, say, United or a comparable company. The truth is that other airlines are also more than capable of transporting you safely and comfortably at a fraction of the cost.
Also, that's not a jab at United. I love flying with them, but their exceptional service comes at a cost. Many lesser known airlines cost a lot less: especially internationally!
6. Download Apps to Monitor Deals & Sales
Download the iOS app "Secret Flying."
The app will notify you of excellent airfare deals. There are many alternative apps and websites that will do something similar, but I've found that Secret Flying seems to have a really nice notification system set up to show you location-specific deals.
You might see a sweet deal pop up and decide to book a flight when you least expect it!
7. Search For Error Fares
If you get lucky, you might even manage to secure an error fare. From time to time, flight prices are listed incorrectly and if secured quickly enough, they may be honored!
Depending on how big the discrepancy is, you might lock in an UNHEARD OF deal.
If it looks too good to be true, maybe it is… but, maybe it isn't!?
While I haven't personally had any luck with error fares, I do have friends who have successfully booked them and proven it can be done.
8. Prioritize Dates Over Locations When Browsing
Sometimes it helps to flip your mindset when planning travels. This was what I did when I decided to go backpacking. Rather than intentionally choosing Athens, Greece as my first destination, I chose a date for when I wanted to leave to begin my adventure.
With a specific timeframe in mind, I discovered that flights to Athens were quite inexpensive compared to other locations at the time. Since I was traveling on a strict budget, I decided to begin my trip in Greece.
The destination made sense primarily because the numbers made sense.
By making my destination flexible, I was able to shop flights to all sorts of global destinations. The search and discovery process yielded a very low-cost flight and brought me over to a country that I actually now consider one of my favorite places I have ever visited!
This travel method is immensely powerful is you are backpacking and willing to travel absolutely anywhere in the world.
9. If You Know When You Want to Travel, Book Early!
Domestic Flights
For domestic flights, it is usually best to book one to three months in advance.
International Flights
For international trips, I find three to eight months is best.
If you need to book a flight right now, I would recommend avoiding any flights on a Friday or on a Sunday since these are the two busiest days for airlines and prices are usually much higher due to the demand.
These are general rules of thumb but your results may vary.
10. Use Hidden City Ticketing
If you're willing to forego some of the comforts of travel such as taking direct flights, you can use booking tools like Skiplagged to discover connecting flights that have layovers to secure a better deal! The tradeoff is that it will take you longer to arrive at your destination since you may have to stop at one or two other airports along the way.
Hidden city ticketing is a flight booking technique that involves collecting savings by purchasing flights with layovers, but ditching the latter connecting flights and exiting the airport at a connecting airport.
The reason behind doing this is that, oddly enough, sometimes a direct flight will cost MORE than booking a flight somewhere ELSE with a coincidental layover at the destionation you actually WANT to go to.
Be warned, however, that this only works if you DO NOT TRAVEL WITH A CHECKED BAG. If you check a bag, it will travel to your FINAL DESTINATION.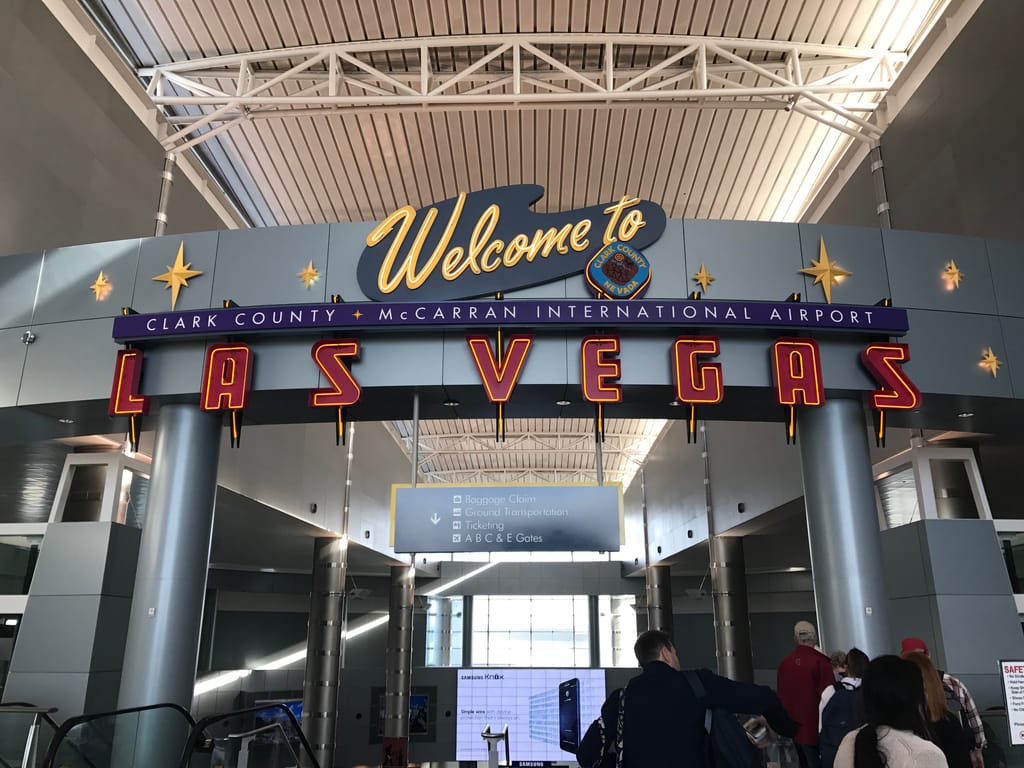 I used this technique to travel to Las Vegas and saved a few hundred dollars!
Please share this resource with others!