Originally published August 14, 2020, by Rocky Trifari. Last updated on April 4, 2022.
So you're thinking about starting a website. Great!
Before you can create one, you need to set up "hosting." The easiest way to explain the concept of a host is to think about it as storage space for your website's files. Those files need to exist somewhere. Hosting is the virtual file space you pay to rent!
There are many different kinds and each has its own advantages and disadvantages.
Choosing a Host
As you prepare to select the best web hosting service to use for your new blog, you will soon realize that there are tons of service providers out there to choose from.
In the beginning, it can be somewhat confusing to try to decide which host to pick. You don't want to blindly choose one company, only to find yourself regretting it later…
Each web host offers its own set of features, performance standards, ease of use, pricing, and hardware infrastructure. Many of these companies also offer unique discounts or savings too.
Considering all of the competition and noise that is out there, hosting companies are forced to compete every day to fight for your business.
How I Can Help
My goal is to help you to understand two main things by the time you've read through this article.
1. How to choose the best web host for your blog.
2. How to save the most money while ensuring you still have a fast, solid, and reliable hosting plan in place.
This free guide will make choosing your host easier by simplifying the selection process by explaining which companies are the best web hosting services for your individual blogging needs.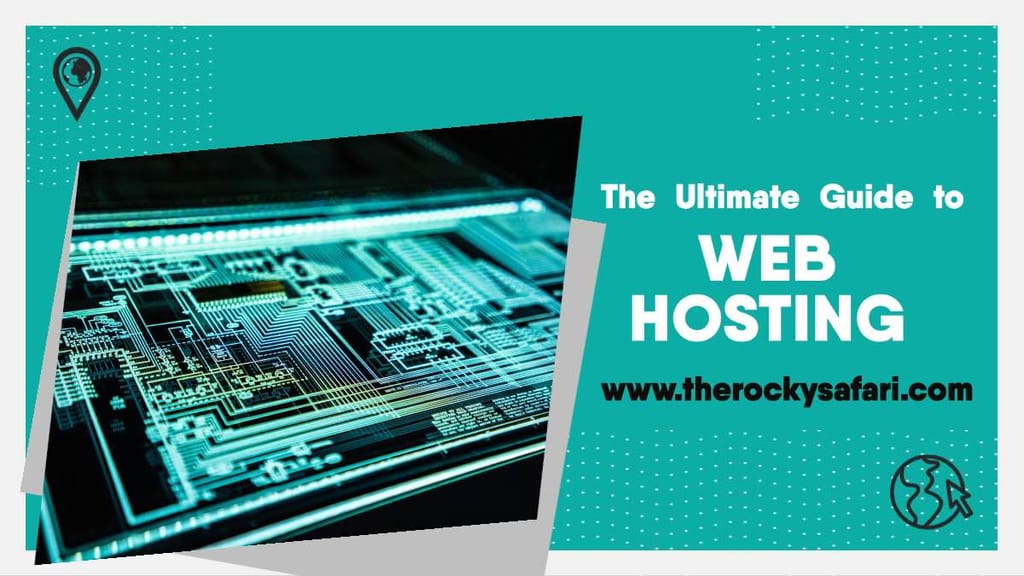 I have been blogging on this website since 2013. While I started this specific blog in 2013, I've also built a handful of other blogs and websites dating as far back as 2006.
In that span of time, I've done it all. I've built sites from scratch using plain HTML, I've used WordPress.org, I've used WordPress.com, I've been on Tumblr, Wix, Piczo, Freewebs, Blogger, LiveJournal, you name it.
In the realm of self-hosted websites, I have personally used a number of different hosts over the years. This website alone has been on five different hosting plans over the years. I've built websites in different places. I've migrated websites. Having gone through quite a bit over the years, I would like to help teach you the best approach upfront to save you the trouble I went through.
It is 2022 and website hosting technology has never been as advanced as it is right now.
Whether you're here to build a multi-topic blog, a personal portfolio, or an online business website, I will help you understand exactly what you need to do to make sure you choose the best hosting for your needs.
Let's get to it.

Disclosure: The Rocky Safari participates in various affiliate marketing programs. In some cases, commissions may be paid on select products purchased through this article. These commissions are paid out at no additional cost to you and help to support this website. You can read more about my affiliate disclosure on my
privacy policy
.
What is the Best Web Host for Bloggers?
Here's the truth. Unless you're already dealing with an established website that routinely sees thousands of page views and high levels of traffic each month, there are plenty of hosts that will work just fine for you.
What to Look For
With that being said, it does remain true that some hosts are better than others. The best web hosting services should deliver on a number of areas including speed, security, uptime, interface, integrations.
My Top 3 Picks
---
For new bloggers who are just starting out, I always recommend Bluehost.
Bluehost is great. They are the #1 hosting platform that I recommend to new bloggers looking to get their feet wet in the world of running their own website or online business.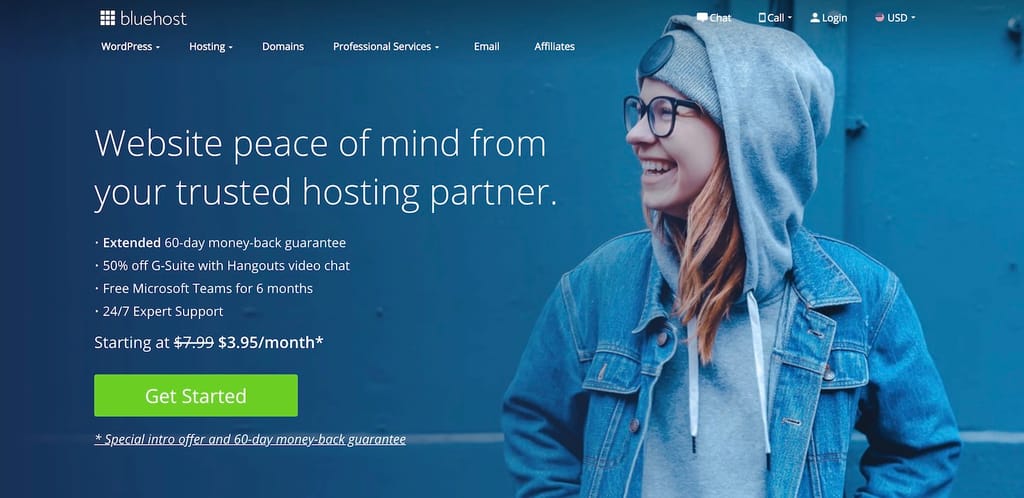 When I first transitioned into starting my own self-hosted blog, I signed up with Bluehost.
(So don't fret, I'm not one of those internet guys who just tells random internet strangers to sign up for services that I actually know nothing about.)
Some of the many wonderful reasons to use Bluehost include:
Free domain with your purchase
Free SSL certificate included
1-click WordPress installation
File Transfer Protocol (FTP)
24/7 customer support
Their plans start at $3.95/month (50.6% off).
They even offer a 30-day money-back guarantee.
Bluehost makes using WordPress easy. Their platform is tailor-made and already powers over 2 million websites around the world.
Getting started is as simple as using their modern interface to sign in, selecting a domain name, utilizing a fast one-click WordPress installation, and picking a theme.
Bluehost has been around since 1996 and they currently run a business with over 750 workers. Their track record touts a 99.99% uptime which means that your website will almost never be down if you decide to host with them.
Considering their average load times are less than half a second, your site will be plenty fast right out of the gate. With my WordPress blog running on their cheapest hosting plan, I was able to get my desktop site soaring.
If you upgrade to one of their higher-tier hosting plans, like their Pro plan, the performance is incredible.
Over the years, I've learned that one of the most important selling points with hosting should be whether or not they offer you integration with some form of a Content Delivery Network (CDN.) In this case, Bluehost integrates with Cloudflare.
In addition to speeding up your website globally, a CDN like Cloudflare can protect you from DDoS attacks and helps to mitigate fake traffic from using your limited resources. By leveraging access to a global network of servers, you can host and deliver content to visitors much more quickly.
Did you know Bluehost is the "official" WordPress.org recommended web hosting platform?
Here is how to get started:
Visit Bluehost.com and click on "Get Started."
Select the plan you want (I started with the Basic plan).
Enter a new domain name or use one you own.
Fill in the account information, plan, and billing information.
Unless you want them, you can opt-out of the add-ons.
Click "Submit!"
Basic web hosting on Bluehost is. a great place to begin. Costing just $3.95/month means you can spend over 50% less and learn the ropes of running your own website!
The Most Affordable Bluehost Plan:
Plan: Basic
Term: 36 months
Total cost: $142.20 (excluding tax)
Savings: $145.44
To create a blog, sign up with Bluehost.
Try Bluehost
---
I've never come across another web hosting company with fans who rave about their hosting company as much as SiteGround's fans do.
There is a reason SiteGround is ranked best in client satisfaction.
With plans starting at $6.99/month, their services are a bit more costly than Bluehost, but OH MAN… their hosting is *AMAZING.*
SiteGround has been around since 2014 and since then, they've built up quite a reputation for themselves. Their company takes great pride in their fantastic customer support. SiteGround even had a 98% client satisfaction rating in a recent survey.
As always, I only blog about products I am familiar with. My blog was previously hosted on SiteGround's servers for 3 years. I used their GoGeek plan and I highly recommend it.
(As I mentioned earlier in my Bluehost review, I also utilized the Cloudflare CDN that came included with the plan so you may be receiving my blog's files from Cloudflare's servers as well depending on your geographic location.)
You can read about why I switched to SiteGround.
In addition to stellar customer service, their performance is absolutely phenomenal. For a long time, one of the greatest draws to using SiteGround was that they stored data on solid-state drives (SSDs) rather than hard drive disks (HDDs). While more costly, SSDs were far faster and more reliable.
More recently, they've started transitioned over to using Google's Cloud infrastructure for shared hosting plans which boosts loading speeds even further while also extending scalability and response times.
SiteGround has absolutely incredible introductory rates. If you want to maximize those introductory savings, opt to sign up for a longer-term like 3 years, rather than just one.
However, you can still take advantage of the same discount by choosing to pay for just 1 year if you want to test it out without making any big commitments.
They have three shared hosting plans.
Their StartUp plan is perfect if you're just beginning. You can sign up for that at a rate of $6.99/month. You may also pay a $14.95 setup fee.
I highly recommend their GoGeek plan if you're looking to transfer a website and step up your website's overall performance. The special introductory cost for that plan is $14.99/month.
The Basic plan includes a free website builder, a free LetsEncrypt SSL, free email accounts, unmetered traffic, free Cloudflare CDN, free daily backups, and up to 10,000 visitors per month.
They even have a custom SiteGround Optimizer plugin that really speeds up your website so it's optimized for their servers.
I can't say enough amazing things about SiteGround. I know the price is a bit higher month to month, but I don't mind paying more for such a high-performance and reliable hosting service.
The Most Affordable SiteGround Plan:
Plan: StartUp
Term: 12 months
Total cost: $62.35 (excluding tax)
Savings: $81.53
To create a blog, sign up with SiteGround.
Try SiteGround
---
Namecheap was founded in the year 2000. They currently manage over ten million domains. You've probably heard of them if you've ever shopped for an affordable domain name. I highly recommend them for domain name purchases because they offer some of the most competitive prices.
Namecheap offers a number of hosting options as well. They have shared hosting plans, reseller, dedicated, virtual private servers (VPS), and WordPress hosting plans starting at rates as low as $2.88/month.
I wanted to include Namecheap because if saving money is your top priority, you can really get an amazing deal by purchasing your domain name AND hosting it with Namecheap.
Their main packages offer free backups, 24/7 support, free website migrations, and a 14-day money-back guarantee.
Out of these hosting options, Namecheap offers the lowest pricing.
This is how to save 56% off during your first 2 years.
The Most Affordable Namecheap Plan:
Plan: Stellar
Term: 24 months
Total cost: $29.76 (excluding tax)
Savings: $37.12
At renewal, the cost for the Stellar plan is $33.88/year which is still an extremely great price for an introductory plan.
To create a blog, sign up with Namecheap.
Try Namecheap
---
What is the Least Expensive Hosting Company?
If saving money is your primary objective, the fast answer is to use Namecheap. Namecheap is one of the three hosting services I recommend and trust the most.
I want to urge you to really consider your objectives and needs. While saving money is always a good thing, you also get what you pay for.
Namecheap is a fabulous company, but I want you to realize that basic hosting plans are meant for brand new websites. If you want to grow and scale a large blog, you'll eventually need a bigger hosting package.
You should also consider that hosting companies will frequently try to wow you with fantastic introductory sign-up rates, but slam you with large renewal fees.
So again, really ask yourself what you're looking for. All three of the companies I recommend will still deliver, but you may find that choosing the least expensive plan is not always the best option long-term.
If the price is your #1 concern above all else, I'd recommend these hosting services in this order:
---
What is the Best Free Web Hosting Option?
I have mixed opinions when it comes to free website building platforms and free hosting services.
First off, full disclosure: I've used almost every free website service in (mainstream) existence and thoroughly enjoyed using each one. This website was originally started on WordPress.com for free and migrated to a self-hosted server later.
Do note: I don't recommend doing what I did with this.
Should You Avoid Free Website Hosting Options?
Starting out with a free service can be great. It allows you to try out blogging if you're unsure whether you will like it or not, without any monetary risk.
However, if you want to grow or scale your website, free options simply do not offer you the type of freedom and flexibility that you need.
With free hosting, you lose out on performance. If you choose to use a random company that offers free hosting, you will definitely need to purchase expensive add-ons or migrate to a paid option as you grow.
It isn't worth the trouble if growth is a part of your vision.
Blogging as a passion project
If this project is just about having a little fun and exercising your writing muscles, okay, sure. You can use any of these services to build a free site:
I've used all of these myself. WordPress.com has an amazing community, although it is worth remembering: you can reach a much larger community through proper SEO practices and expanding your organic reach through search-engines.
The downside to using one of these websites is that you don't own your blog.
Since your blog is hosted on their platform, you're usually limited on what type of content you're allowed to post, how much you can customize the page, you'll usually be restricted with plugin usage, and you typically cannot fully monetize or sell on the website.
In other words, it is difficult to profit from a free website.
Self-Hosting for Free
One step above using free blogging platforms is free self-hosting companies. You'll get the perks of running a website on your own terms (for the most part), just with a bunch of performance-based restrictions.
Ultimately, I don't recommend taking this approach, but if you're a web developer or looking to experiment, you could use one of these free tools to gain experience.
Practice makes perfect, after all.
You'd be much better off choosing a high-quality option like Namecheap and using their 56% off promotional sign-up offer.
Here are the best and most popular free web hosting options I'm familiar with:
000webhost
000webhost is a free version of Hostinger. They have been online since 2007. Unlike some other free services, they do not force users to display ads for their own compensation.
If you'd like, they offer paid plans you can upgrade to later. With a free plan, they provide you with one website, 3 GB of disk space, and 3 GB of limited bandwidth.
---
x10Hosting
x10Hosting.com has been around for over a decade. Like InfinityFree, they tout that they offer "unlimited" disk space and bandwidth. However, reality tells a different story. Inside their High Resource Usage Policy, you'll discover that they actually throttle and suspend accounts that use up too many resources on a free plan.
Compared to other hosting companies, one of their greatest strengths is their average server response time. They have excellent speed scores on numerous tests.
---
FreeHosting
Freehosting.com is great because they offer unmetered bandwidth. They offer 10GB of server space, a free email account, and the ability to link one domain. You have to own your custom domain if you want to use it, but they do offer free subdomains if you'd like to use those.
Their interface is really simple and straightforward. Everything is drag-and-drop based. They have over 170 pre-designed templates. A powerful app installer allows you to implement over 350 add-ons if you want.
The biggest downside to Freehosting.com is the slow server speeds. It's not unusual for the server response to take over 2 seconds on average. Considering how important this is for SEO, I wouldn't advise using this option.
---
Freehostia
Freehostia offers free accounts although their limitations are pretty restrictive. 250 MB of storage space is extremely small and won't be enough for most blogging projects.
Still, if you want, you can use this service and gain access to 250MB of disk space, 6GB of monthly bandwidth, up to 3 email accounts, 24/7 customer service, and a promise of 99.9% server uptime – which is not a bad guarantee for a free service!
---
InfinityFree
InfinityFree is really popular because it offers excellent features for what it is. The last I saw, they had over 350,000 users from the time they opened up back in 2012.
They allow you to operate as many domains as you want and grant you access to up to 10 email accounts. Shockingly, they also include a free DNS service, SSL, and the Cloudflare CDN.
It might seem a bit misleading, but the "unlimited bandwidth" promise is actually rattled with rules and regulations that will severely limit your day-to-day usage.
Fortunately, it is easy to upgrade to a cheap plan for just under $6.00/month, if you decide you'd like to do so.
---
Google Cloud Web Hosting
Although this technically isn't free, Google also offers web hosting for bloggers under a pay-per-use model.
The good thing about this option is that you only have to pay once the site is active. You pay for what you use.
The Google Cloud Platform is a private network that is available in over 200 countries.
Google is heavily investing in the future of cloud computing and hosting. They've already spent more than $30 billion dollars on research and development for cloud technology.
With such an impressive performance outlook, it may be worth considering this option for your website.
---
A Reliable and Fast Host is Worth Every Penny
Alternatively, if you are willing to pay, sign up for SiteGround. I personally use SiteGround's GoGeek plan which, as of 2020, uses Google's cloud hosting infrastructure to deliver the best hosting performance on their phenomenal GoGeek hosting plan. Try it!
---
What is Web Hosting?
If you're anything like me, I know I was super confused about the whole concept of "self-hosting" when I first started to explore what it meant to take full ownership of a blog.
I'm going to share a few graphics I've found that I think really help depict the role "hosting" plays in delivering your website to your readers.
Understanding the Basics
Put simply:
You create content and save it on your host's servers. Servers used to be physical data centers with hard drives or solid-state drives, although they are increasingly becoming functionally virtual entities. Then when people on the web type in or click your domain name, the domain "points" the user to your host, and your host then responds by sending them back your blog's content.
If you find that explanation confusing, this might help simplify understanding the website hosting process: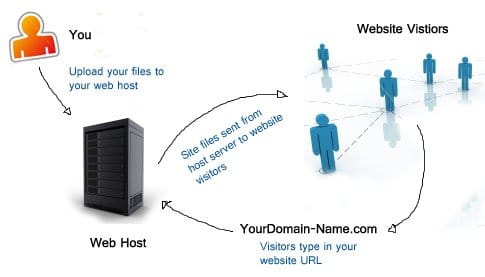 (Source)
Hosting Explained
Your website or blog is really just a bunch of files. You likely have a database with photos and other types of media. Your pages are HTML files, CSS files, and so on.
When you pull that website up inside a web browser, you're really just accessing those files through a folder that is linked to the Internet.
Think of that folder as a "server." It "serves" the content when people try to visit.
When a reader tries to visit your blog, all they need to do is punch in your domain name. Their device connects to the server and a website is displayed through the browser. To create that website, the creator must have both a domain and a hosting account.
You can purchase a domain and hosting separately if you want. The challenge here is that you must be able to edit the DNS records on the domain to point to the correct place. Purchasing a domain and hosting from the same company will allow you to skip this step.
To select the best hosting service for your needs, here are some things to consider:
Your individual hosting needs
Consider server uptime guarantees
Consider server reliability and performance history
Promotional introductory prices vs renewal prices
Platform ease of use
Essential features including FTP and STFP access, .htaccess files, disk space, and data transfer capacity.
Site speeds and page load times
Content Delivery Network support
---
What Are the Different Types of Hosting Plans?
Over the last few years, I have spent a ton of time thinking about the different types of hosting that are out there and which kind might make the most sense for my blog.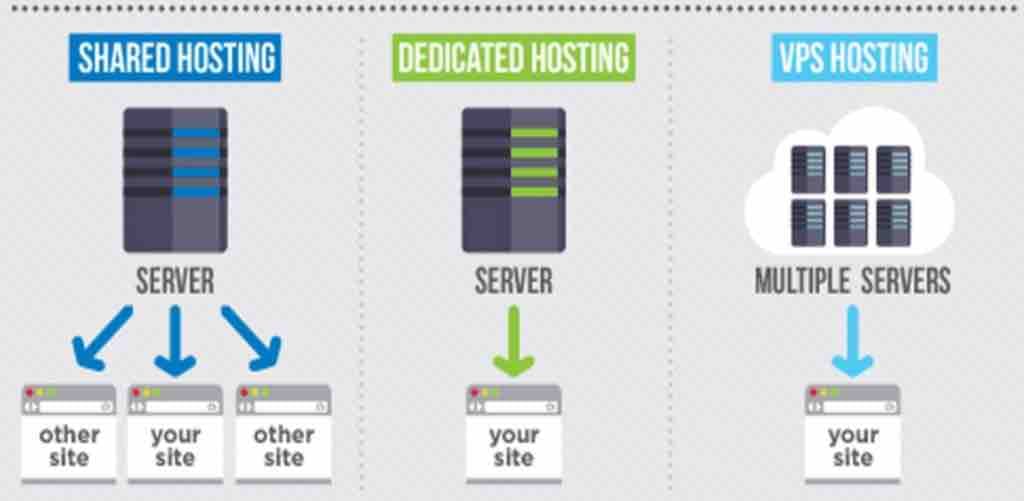 In this section, I'd like to introduce the different types of hosting to you. Then you can decide which one might make the most sense for the website you are creating.
1. Shared Web Hosting
For most new bloggers, shared hosting is the way to go.
Shared web hosting is the most commonly purchased form of web hosting right now. The idea here is that multiple websites can live on one server.
This type of hosting is both popular and cheap because shared hosting allows many websites to share resources provided by a web hosting company.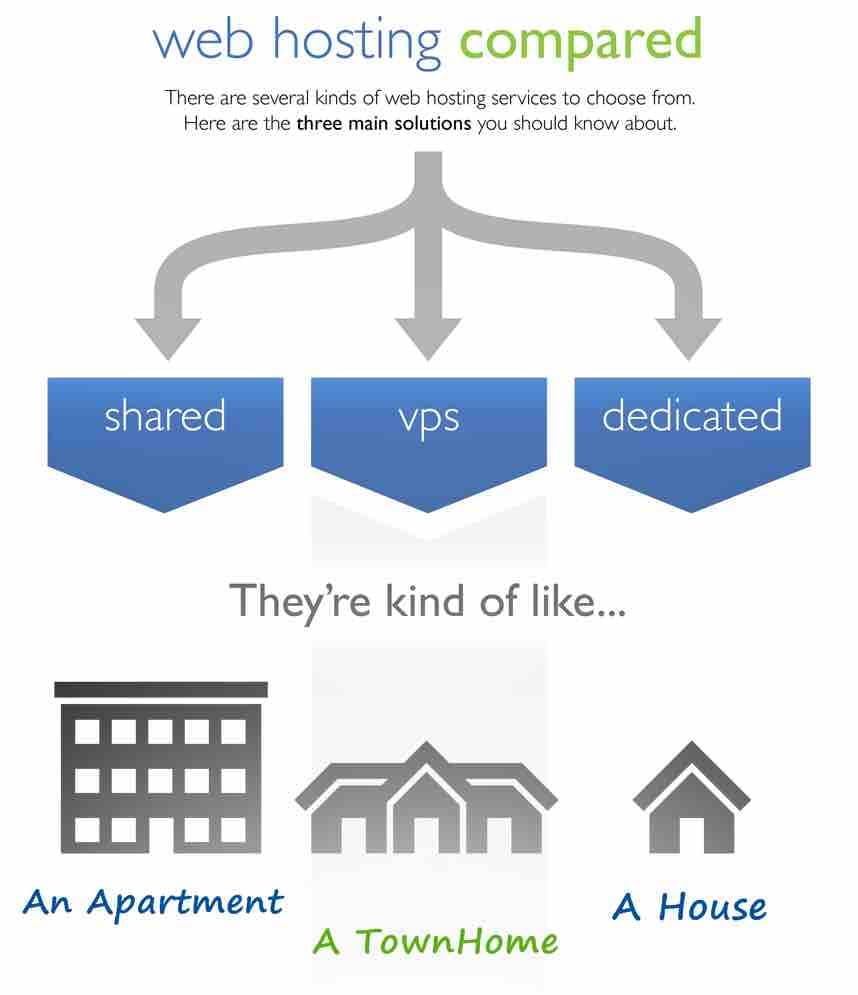 (Source)
On the other hand, shared hosting's greatest strength is also its greatest weakness. A website operating on the same server as a website getting a ton of traffic and overloading the server can have a rippling effect that slows your website down as well.
This type of hosting is perfect for a newer website that does not yet have a lot of content.
Due to the nature of how it is set up, performance may suffer depending on how other websites are consuming the limited resources that are available on the shared server.
Shared hosting can cost anywhere between $1 to $40 per month.
2. Cloud Hosting
Cloud hosting is one of the newest types of hosting. This kind of plan uses a network of virtual servers that all store your files in the cloud rather than in one physical server.
This type of hosting is fabulous for improving security and mitigating DDoS attacks as multiple servers and entry points are more challenging to hack than one, single server.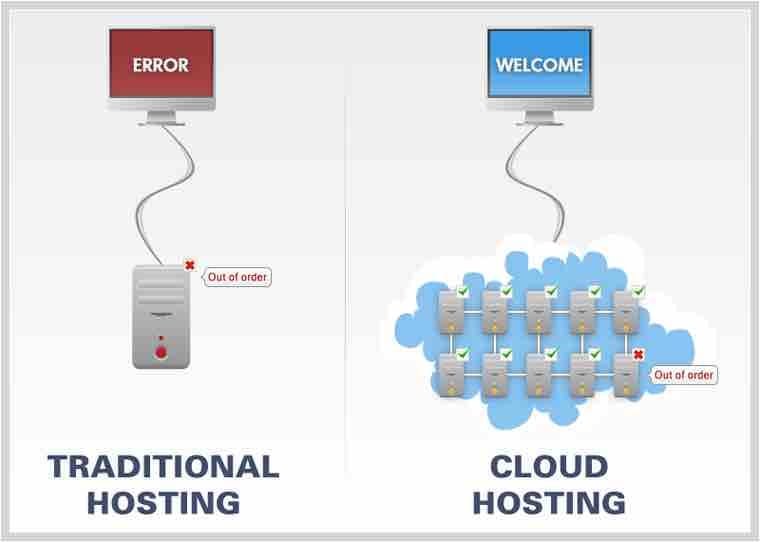 (Source)
Usually, cloud hosting plans will operate on a pay-as-you-go type of agreement. The flexibility here allows them to increase the bandwidth your site receives as your website scales up.
On a normal shared hosting plan, if the server you use goes down, your entire website crashes and goes offline. With cloud hosting across multiple servers, your site will never fully fail or go offline. It adds security and performance gains.
Cloud hosting performs better on average, but it's also still on the newer side so further development will be needed.
Cloud hosting usually costs between $20 to $120 per month.
3. VPS Hosting
VPS hosting is the shortened name for virtual private servers.
With VPS hosting, one server behaves like a series of unique servers. With this type of hosting, you get a dedicated segment of shared server resources so you never have to worry about other websites on your server impacting the performance of your own website.
In other words, you get to purchase a predetermined piece of "space" within a server and there are significantly fewer websites sharing the same server.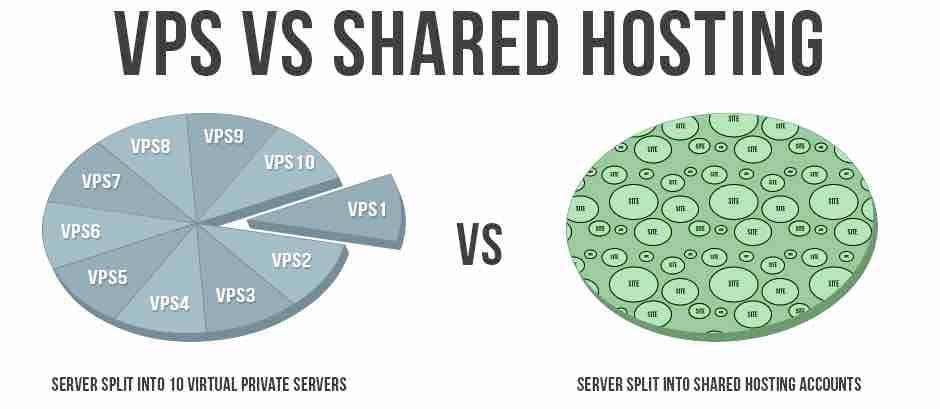 (Source)
For these reasons, VPS hosting can be a lot pricer than a typical shared hosting plan. However, you get a lot of performance gains and resources to work with so your website won't be held back by slow speeds if you're suddenly getting a lot more traffic than usual.
This type of hosting plan usually costs between $30 to $150 per month.
4. WordPress Hosting
A lot of hosts will offer hosting plans optimized to run WordPress. These plans will sometimes cost a little more than the ordinary shared plan due to the optimizations.
If you plan to run a blog or website using the WordPress framework, these types of plans are more desirable.
Managed WordPress hosting is also available through WordPress.com directly.
Through this process, you can set up your website and domain through WordPress.com. The downside to this is that you gain access to a stripped-down version of WordPress. Typically, you will lack the ability to add specific plugins, themes, or advanced settings.
The customizations and permissions are limited to protect the integrity of WordPress.com.
In the world of e-commerce, performance and stability are extremely important. Any trouble in these areas can result in enormous financial losses.
Other companies will offer Managed WordPress Hosting plans. These plans are optimized to run WordPress more efficiently. Of course, you must use WordPress on these plans. The cool thing is that they'll usually offer advanced technical support if you need to troubleshoot plugins!
WordPress hosting plans can cost between $4 and $50.00 per month on average.
5. Dedicated Server Hosting
Dedicated server hosting is one of the more expensive web hosting options. This option provides your website with an entire server. It is your responsibility to manage all aspects of your web hosting.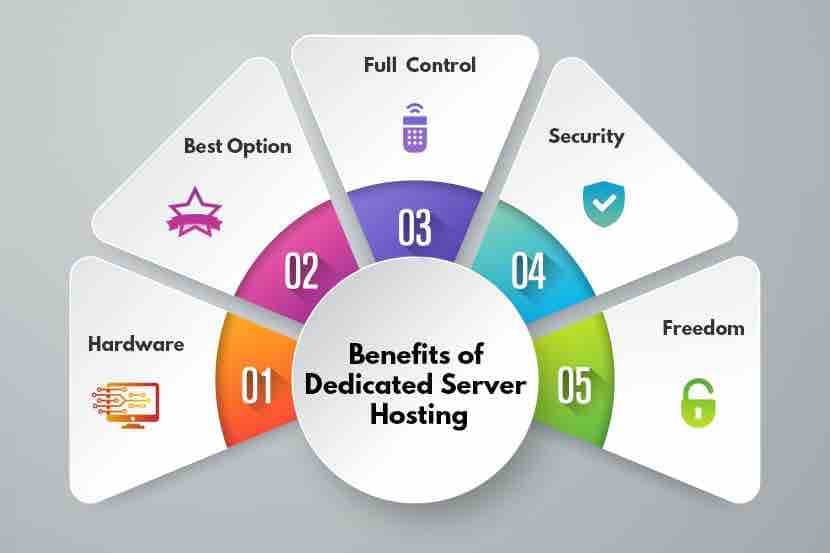 (Source)
For larger websites or businesses, this option provides the greatest amount of control over the hosting infrastructure.
With total control over the server and all of its resources, you can implement extremely customized and complex programs and applications that simply wouldn't be possible on a shared hosting plan.
The biggest downside to this hosting option is that it requires that you be a bit tech-savvy or be willing to hire someone else who is. You need some technical knowledge to manage and operate your own server.
In some instances, you may find yourself facing downtime and in need of a professional's services to correct issues.
Dedicated server hosting plans usually cost over $125 per month.
6. Reseller Hosting
In some cases, you might come across reseller hosting plans. If your objective is to create a new personal blog, you probably won't spend much time thinking about this hosting plan. However, if you're starting up a small to large online business, perhaps you will.
Reseller programs allow developers and agencies to resell white-labeled hosting on plans they own. This enables you to resell hosting to your customers at a monthly fixed cost.
Companies like SiteGround offer these types of plans. Reseller plans usually include some type of management panel, billing software, and auto-generated reports.
Reseller web hosting usually costs between $20 to $80 per month.
7. Colocation Web Hosting
Colocation web hosting rarely makes sense for new website owners. This hosting option involved providing and using your own server hardware. You rent space at a data center and they provide you with security, cooling, power, and Internet connectivity. You will pay rent for your rack space as well as for bandwidth usage.
As I mentioned, while this exists, it probably won't serve as a practical option for beginners unless you're extremely tech-oriented.
8. E-Commerce Hosting
If you're interested in e-commerce, I would recommend taking your website in one of two directions.
1. Pay to open a Shopify store.
This option is great because Shopify is a full-service e-commerce platform. You don't need any additional hosting since it is part of your monthly subscription to open your store.
For formal instruction on how to be successful in e-commerce and Shopify, I recommend enrolling in this program.
2. WooCommerce & WordPress
Unless you use an e-commerce platform to create your store that doubles as both a web host and a store like Shopify, you will need to select a suitable hosting provider for your WordPress-based store. You can use a plugin like WooCommerce for free through WordPress. Since WordPress requires a hosting plan, you can use Siteground to get started.
I recommend SiteGround because they're extremely fast, reliable, and scalable.
Start selling with SiteGround
---
What is the Fastest Website Host for Blogs?
Speed is one of the most important factors when it comes to choosing which web host you should use. A fast website gives you an enormous boost in the potential to rank higher in search engines.
You may find that a particular web host performs well while running your website day-to-day. However, you also have to pay close attention to its performance under pressure when traffic spikes.
A large spike in traffic can crash your website if the server is not properly equipped to handle it.
The server's physical location is another factor to consider with speed. While a Content Delivery Network can help to improve this aspect, you still want to select a primary physical server that is located in the same country as wherever the vast majority of your readers are located.
When it comes to speed, I have to recommend SiteGround. Between SSD hardware, utilizing Google's cloud infrastructure, and including Cloudflare's Content Delivery Network for free, their hosting plans are some of the fastest I've come across while remaining reasonably priced.
---
Website Hosting FAQ
---
What is web hosting?
Web hosting is a service that provides hardware or a virtual environment to store your website files, email addresses, and other content. Hosting environments can either be shared or dedicated so only to be used by your website alone.
---
Which web host is the most secure?
If you're trying to keep your website safe from threats, I recommend you use a secure and reliable web hosting solution like SiteGround or Bluehost. Both services provide excellent customer support and cyber-security.
---
What is a server?
The difference between a server and a web host is that a server is a piece of hardware that stores and handles files in a network. The host is who provides the service and technology to make sure files can be viewed on any internet-connected device.
---
What is a domain?
A domain name (or top-level-domain, TLD) is a leased brand name or phrase that can be used to direct browsers to a specific IP address where specific files can be found.
---
Do I need a domain, a server, and hosting?
If you want to have a website functioning online, you'll likely need a domain and a hosting plan. The server hardware itself is almost always provided under most plans. If you don't want to purchase a domain or a hosting plan, free options exist.
---
Is WordPress a host?
WordPress is the platform that the vast majority of websites on the internet today operate on. It's a fantastic content management system. Unfortunately, you will also need a host and domain name to run a WordPress website.
The exception to this is using WordPress.com, although I do not recommend creating a free blog as a part of a long-term growth blogging strategy.
---
Can I host without a domain?
WordPress.com and other free services will allow you to create a website for free. In this case, your blog will be located at a subdomain or a long-tail domain name. Examples can be found below:
https://www.YOURBLOGNAME.wordpress.com
https://www.tumblr.com/YOURBLOGNAME
Unless this is just a hobby, I don't recommend this option.
---
How many different types of hosting plans are there?
Depending on your objective, there are 8 types of web hosting: shared, cloud, virtual private server, dedicated, managed, colocation, reseller, and e-commerce hosting.
---
Can I host it myself?
Hosting your blog yourself carries a lot of risk and responsibility. Technically, you can, but I don't think you should.
---
Can Google host my website?
Google's cloud infrastructure is gaining popularity as more people explore cloud hosting. If you want to take advantage of this infrastructure, SiteGround actually partners with Google to utilize Google's cloud. Try SiteGround!
---
Can I pay someone else to handle my hosting?
Websites require routine maintenance and updates. There are plenty of companies and agencies out there that will provide these types of services to website owners.
---
How much does it cost to use WordPress?
You can use WordPress.com for free but you will face a number of restrictions including, but not limited to, limited customizations, fewer plugins, and restricted monetization.
If you create a self-hosted website, you can usually find hosting for as low as $1-3/month. For example, Namecheap offers really inexpensive hosting plans for new sites.
---
Should I purchase the SiteLock add-on?
SiteLock is a security tool that serves as a malware scanner. Ultimately, you add the feature on if you'd like or choose a better/cheaper alternative.
---
Is domain privacy worth it?
Ordinarily, anyone can look up your WHOIS data which details all of your sensitive information including your name, contact information, mailing address, and your phone number. If you don't want this accessible, you should pay for this upgrade. Namecheap protects it for free by default.
---
How much does it cost to host a website for one year?
Costs vary depending on the hosting service. Since I primarily recommend Bluehost, SiteGround, and Namecheap, let's dive into what it might cost to host for precisely one year.
Bear in mind, sometimes purchasing a longer-term plan like 24 or 36 months can increase savings.
Bluehost Promotional Pricing: 3.95 x 12 = $47.40
Bluehost Renewal Pricing: 7.99 x 12 = $95.88
SiteGround Promotional Pricing: 6.99 x 12 = $83.88
SiteGround Renewal Pricing: 14.99 x 12 = $179.88
Namecheap Promotional Pricing: 1.44 x 12 = $17.28
Namecheap Renewal Pricing: 2.88 x 12 = $34.56
All prices are shown before tax.
---
Can you upgrade your hosting at any time?
Absolutely. I've done it many times. With Bluehost, I upgraded from their Basic plan to their Pro plan prior to my basic plan expiring. With SiteGround, I also upgraded from GrowBig to GoGeek prior to my plan ending.
It's easier to go with the best plan you can afford right from the beginning. Take it from me.
---
Should I pay for web hosting?
I personally think it is wise to spend money on high-end, fast, and reliable hosting for your website. In my opinion, being frugal and saving is smart, but web hosting is one area I'd readily splurge in because I know how vital it is to positive user experiences.
The benefits of great hosting are enormous.
---
Conclusion (Summary)
Choosing a host for your blog is a decision not to be taken lightly. You want to select a web host for your blog that is secure, reliable, fast, and stellar with customer service.
If you're looking to pinch pennies while still getting phenomenal service, you can use Namecheap. They have really inexpensive plans for beginners.
Bluehost is where I got started. They have a great introductory plan at just $3.95/month. I highly recommend Bluehost and have a tutorial for how to get started with creating your very first blog with them.
SiteGround is the host I recommend to bloggers who want insane speeds, rapid customer service, SSD/Cloud hosting plans, and really the best service you can get for the price you pay.
Much like how Apple has positioned itself as a premium brand in the market, you will have to be willing to pay a bit more to host with SiteGround. While the plans might look comparable, you really get what you pay for. SiteGround delivers on all of its promises and more.
Still, make no mistake. All three of these hosting companies are fierce competitors and should deliver excellent performance as you begin this journey into creating your first blog.
I hope this helped!
If it did, please help someone else out by remembering to share it with your followers.