As you may or may not know, The Rocky Safari started off long ago as a free blog on WordPress.com. As my blog began to grow and gain popularity, I made the decision to migrate over to self-hosting for a whole slew of benefits that come along with having full ownership over your own website. It made the most sense and I sure am glad I did it since my blog now generates revenue. I knew it was a necessary step if I ever wanted to take my blog to the next level.
Bluehost initially pulled me in with their amazing entry-level pricing. I was able to sign up for a 3 year hosting plan for just $1.95/month! How could I refuse such a terrific deal with one of the biggest brand names in the industry? We all know Bluehost!
Soon after signing up, I realized my website was S-L-O-W. Like, super duper slow. My WordPress dashboard was almost rendered unusable after finding out it would require a good five minutes to process ANY button I clicked even in the backend. What a pain! Bluehost tech support (some of the greatest people on the planet) helped me upgrade from Basic shared web hosting to Bluehost shared Business Pro. I paid the difference to upgrade and quickly experienced just how much of a difference it made. My website was SIGNIFICANTLY zippier. Pages loaded quicker. Images pulled faster. My website was finally acceptable.
But acceptable does not equal great.
About a year later, in late-2017, I began to re-evaluate the state of my current hosting plan. I began to think about how my images weren't loading as quickly as I would have liked them to. I noticed the delay after clicking on pages in my menu. I reminisced over the speed my website used to possess when it ran on WordPress.com's optimized servers. Feeling disappointed, I picked up the phone and called Bluehost's sales department. After discussing everything I wanted from my website, they had three recommendations for me.
A. Upgrade to Bluehost Cloud Business Pro Hosting
B. Pay for WP Live Pro – a Mojo Marketplace service that will help me optimize my website.
C. Upgrade to Bluehost Dedicated WordPress Hosting.
While Bluehost's optimized WordPress hosting sounded nice, the least expensive plan began at $40.00/month which was a bit steep for me at this stage in the game. I started thinking more about doing the Bluehost CLOUD Business Pro along with the WP Live Pro service. The downside with all of that? Well, WordPress Live Pro is $150/month for starters. In addition, while it sounds like a very helpful service, they still only provide you with guidance. It is up to you to optimize your website yourself.
That was when I started looking elsewhere.
I called InMotion Hosting and they left me totally unimpressed. After that, I heard a few good things about Siteground so I gave them a call.
Siteground completely blew me away! Instead of standard HDD hosting, Siteground offers higher-end SSD hosting on all of their plans. To experiment, I signed up for an account with Siteground and they performed a full FREE cPanel migration along with extra backend optimizations like multi-level caching, reduction of image file sizes, global CDN support, and an upgrade to PHP7 all at no extra cost to me. I have to admit I am quite happy with the overall performance of my blog now. The version of my site they worked on is currently live. I no longer get messages during speed tests about the server response time being too slow. It seems to be in very good working order.
Although I did love Bluehost's customer service reps (and always will) I do enjoy having such fast response times from Siteground. Calls are answered within 60 seconds and e-tickets are responded to within 10 minutes or less, on average. They have fixed several things for me making website optimization a piece of cake.
For that, I can't thank Siteground enough.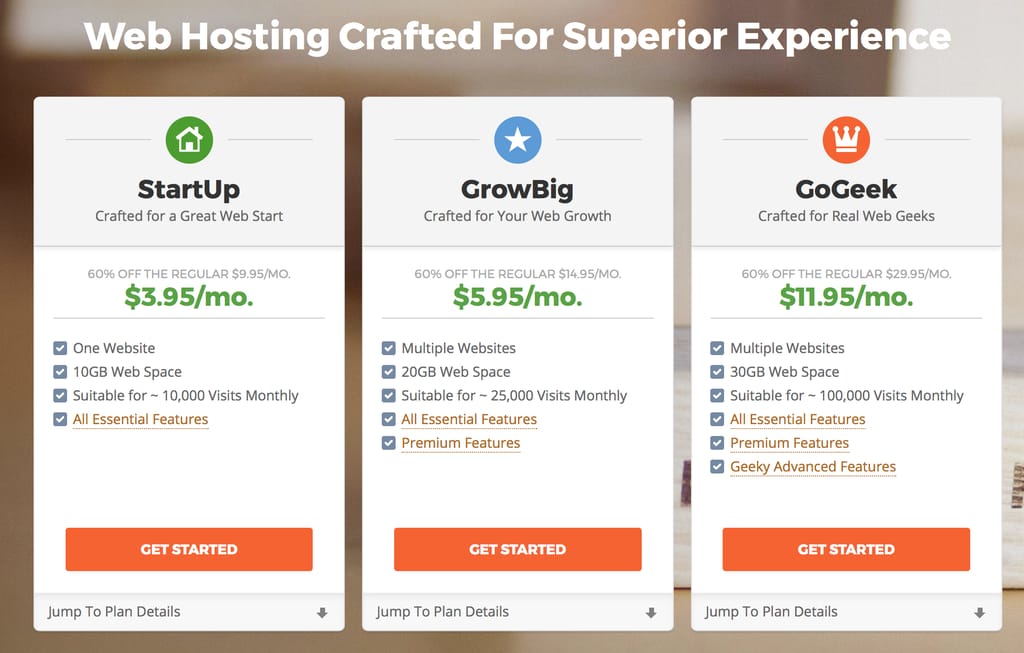 I moved my websites over to their GoGeek plan where they provide the most resources. Depending on the number and size of your websites, you might be able to save some money and start off with a smaller plan while still obtaining similar performance. With their $11.95/month introductory promo, I will actually spend LESS my first three years while enjoying better performance. After that, it will be slightly more expensive than had I chose Bluehost's cloud plan but if my website is fast, I'm ok with that. My websites (I have others) are quite large so GoGeek was most certainly the appropriate transition. No complaints whatsoever.
I struggled to decide between Bluehost Cloud and Siteground GoGeek but the consensus seems to be that Bluehost Cloud isn't really "cloud" and lacks the power that comes from high-end SSD hardware powering Siteground. Even if Siteground's SSD servers were slightly slower, there is no denying that the free software/hardware optimizations they offer are worth their weight in gold.
This post contains affiliate links where I will receive a commission at no additional cost to you. In fact, using my links guarantees you the lowest market prices available. This post reflects my honest opinions on the products and services discussed. The commission earned is used to help keep this website up and running.