VIPKID is a leading Chinese education firm that offers an American English-based online education experience to Chinese students between the ages of 4 and 12.
The company hires qualified teachers with experience in North America to lead 25 minute long one-on-one lessons. As of right now, VIPKID has over 20,000 teachers and around 200,000 active paying students. The company is experiencing explosive growth on both ends.
With a pay scale ranging between $19-$22/hour for entry-level positions and a growing demand for remote jobs, it is no wonder VIPKid is growing so rapidly! With the added comfort of working remotely, VIPKid is a perfect vehicle to support the digital nomad lifestyle.
Using this gig, I was able to travel the world nonstop for two years!
Let me show you how it works.

How to Pass The VIPKid Application Process

When you first sign up, they will ask for some pretty basic information. This is an initial screening that will determine whether or not you have the qualifications required to be a teacher for VIPKid. They are looking for little details like whether you speak American English or British English. Only American English qualifies. Also, you must have at least a Bachelor's degree in order to work for VIPKid. They say only around 6% of applicants are asked to continue to the next step.
Who Can Apply to VIPKid?
Native English Speakers with a North American accent
Experience working with young children
ESL teaching experience or ESL teaching certifications
Bachelor's degree or higher
Fast internet connection
Step 2: The Interview
This is where things start to pick up. At this point, you'll want to start thinking about the smaller details. It is probably a good idea to wear an orange t-shirt to show some brand awareness. If you don't have one (I didn't) then I'd suggest buying one. Be yourself! The interviewers are trying to judge if your personality and character has what it takes to be a successful, energetic, and fun English teacher. The interview itself is extremely straightforward. In mine, they did not ask any questions beyond the material asked on the initial application. They essentially try to verify that your information is correct.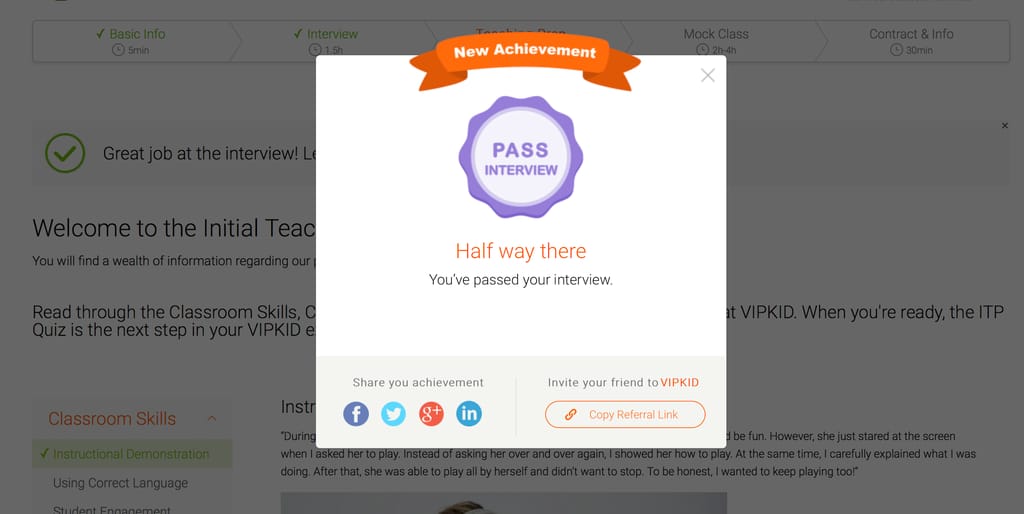 Step 3: Teaching Prep
At this stage, you're going to have to complete a 2-3 hour online course. This is going to teach you everything you need to know about working with VIPKid. The reason this step takes so long is because in addition to a decent amount of reading materials, they also provide very useful videos for you to watch and learn from. They cover TPR (total physical response), incidental language, learning levels, and more. If you have ANY questions, there is a very good chance they'll be answered here.
At the conclusion of the course, they require you to complete a short quiz. You must pass this in order to move on with the process. Don't worry. I failed it the first time I took it but received a passing score on my second attempt. One failure will not disqualify you.
Step 4: Mock Class 1
Don't underestimate the importance of preparing for Mock Class 1. I went out to a Dollar Store and spent $5.00 on materials for my classroom. No one says you have to break the bank getting ready for something like this – in fact, I'd argue you shouldn't. If you already have stuff laying around the house, try to be resourceful. The few items I'd say you can't get by without are letter flash cards, a dry erase board, posters for your background, and maybe a puppet. Precisely the items I bought – all for $1/each!
The first Mock Class is supposed to represent a low level student. This means they barely know ANY English. The Mock Class Mentors are looking to see that you can speak slowly and clearly to them. Eliminate incidental language, use props, and emphasize your TPR. If you can pull that off, you're golden!
Step 5: Mock Class 2
Mock Class 2 was my biggest struggle (although in hindsight, it should have been the easy part.) This is supposed to be a class for a Level 5 student meaning that they are a very high-level speaker. They can speak English well and have a large vocabulary. I seriously misjudged the "student" in my second Mock Class and still treated them like a low-level student. I should have ditched the monkey (older kids don't want that stuff) and asked more questions. The goal is to have the student speaking more than you. I was doing too much teaching and it negatively affected my score on this section. Learn from my mistakes. Prompt and ask more. Talk less. Treat the Mock Class Mentor like an older, more mature kid. It should feel more like a conversation.
Step 6: Contract & Info
If you do all of this successfully, you're set! You'll receive your final contract and begin your teaching career with VIPKID!
Sometimes teachers mess up and do not advance onward. You may be CLOSE but the only thing that matters is if you were close ENOUGH! Were you? Luckily, for people who do well in their Application Process overall but don't quite make it 100% there, VIPKid offers an extra step to help you get into the classroom. Since I had a rough Mock 2, this was the path I went down. (Everyone else must wait six months before reapplying.)
Step 7: Schedule a New Teacher Kick-Off Meeting
The Kickoff Meeting is a two hour long Zoom session with a VIPKID teacher who explains the ins and outs of working for VIPKid. It was very easy to follow since they basically review information you learn in Step 3: Teaching Prep. They basically remind you of how everything works in case you've forgotten and show you the Teacher's Lounge also known as "The Hutong." At the end of the session, they explain that you begin by teaching 5 Trial classes. If parents provide positive feedback based on the trial classes, you are then allowed to begin teaching Major Courses. The alternative to all of this is redoing your failed Mock Class but that might be treading in shallow water if you fear you could make any of the same mistakes you made the first time.
Step 8: Submit Documentation
Once this is complete, you are allowed to submit legal documents, sign your contract, and upload your profile bio, video, and pictures!
Step 9: Teach Your First Class!
Step 10: Decide You're Going To Do This!

My VIPKid Application Timeline
If you're wondering how long it takes to become a VIPKid Teacher, this is what it looked like for me.
Applied to VIPKID on August 15, 2017.
Application accepted and invited to interview on August 16, 2017.
Interviewed on August 17, 2017.
Mock Class 1 on August 20, 2017.
Mock Class 2 on August 21, 2017.
Account Temporarily Put on Pause on August 22, 2017.
Invitation to Schedule a New Teach Kickoff Meeting on October 26, 2017.
Kickoff Meeting on October 29, 2017.
Signed official VIPKID contract on October 30, 2017.
Still teaching in 2020 and traveling the world.
Currently coaching new applicants on how to get hired.
If you use my referral link to sign up for VIPKID, I will offer you direct & personalized coaching to help you out every step of the way. Don't go through this all alone when you can have someone help you out at no additional cost to you!
Feel free to leave any questions in the comments below. I hope you will submit your application now. 😀
SaveSave
SaveSave
SaveSave
SaveSaveSaveSave
SaveSave
SaveSave
SaveSave