When I found out my family wanted to visit me in Spain, I began drafting the best 2-Day Travel Guide: Madrid Itinerary I could possibly think of to introduce them to Madrid.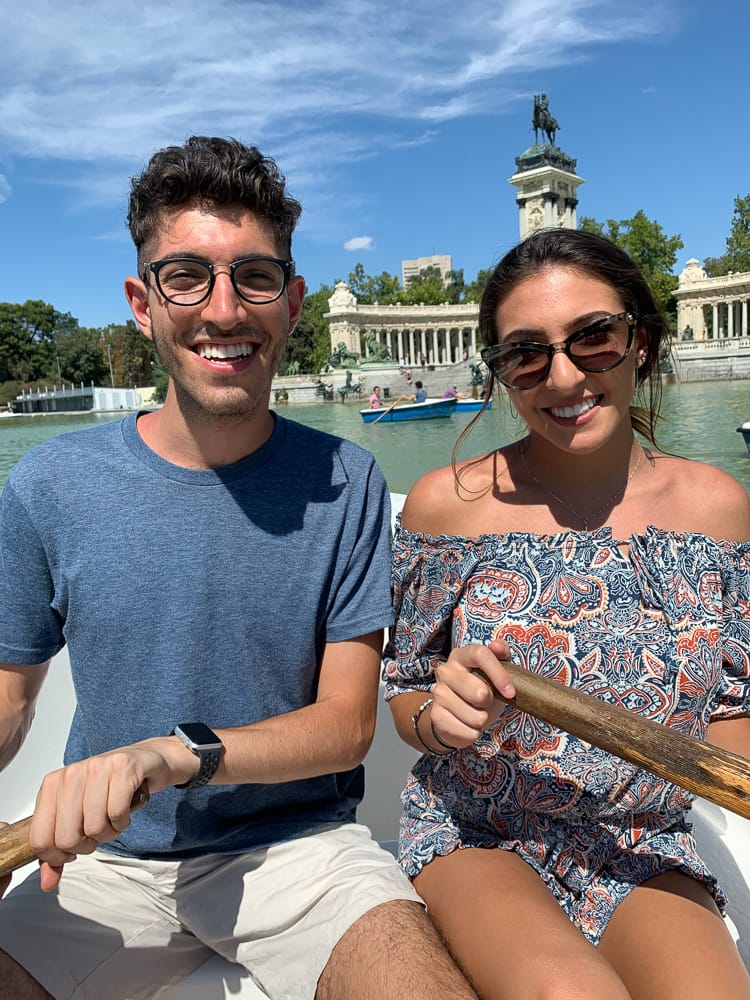 At the time, I was living as an expat in Spain with no plans of ever leaving.
In this post, I'll be sharing the travel guide itinerary I created for the trip both my parents and sister took to meet me in Madrid!
HOW TO SEE MADRID, SPAIN IN TWO DAYS
My family had a total of 7 days in Spain. I scheduled 2 of their 7 days in Madrid!
Here's how to tour Madrid in 2 days!
MADRID TRAVEL GUIDE: DAY 1
MADRID-BARAJAS AIRPORT
(AEROPUERTO ADOLFO SUÁREZ-MADRID BARAJAS)
My family flew direct from the USA to Adolfo Suárez Madrid-Barajas Airport. I took Madrid's Metro Line 8 from the city center to meet them for their arrival at 12 PM.
From there, I suspected they'd be tired from their long day of traveling so I hailed an Uber to quickly and conveniently transport the 4 of us back to the city center where they could take a quick siesta, see my studio apartment, and then kick off their first-ever tour of Spain!
FUENCARRAL STREET
(CALLE DE FUENCARRAL)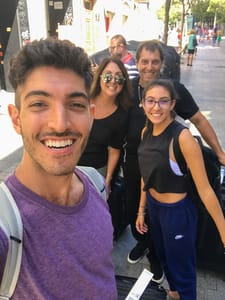 In my family's case, they were visiting to see my home in Spain. I lived in a studio on one of the most famous streets in Spain: Fuencarral Street. (You can check it out in this post!)
Even though we started their trip here because they wanted to see my studio, Fuencarral Street is a destination on its own that I'd recommend to anyone visiting Madrid!
My family spent an hour at my studio and then walked this street for 1 hour.
THE ROYAL PALACE OF MADRID
(PALACIO REAL DE MADRID)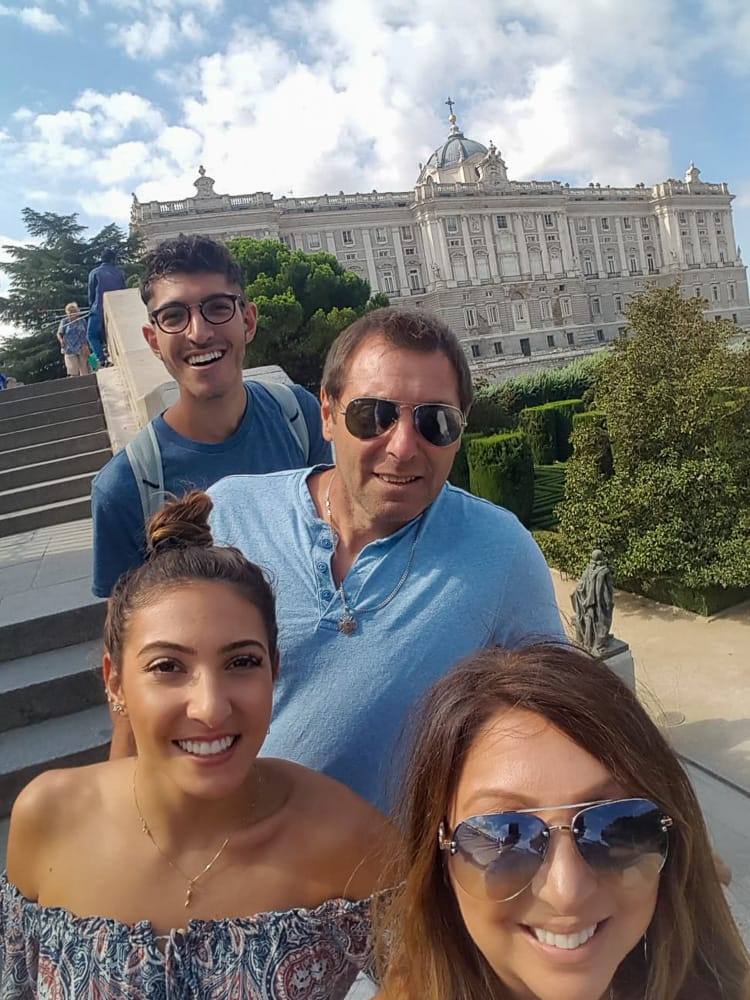 The Royal Palace of Madrid is one of my favorite attractions to see in Madrid.
The Palace is incredibly beautiful and full of history. The outside architecture is so majestic while the inside will leave you astounded by how regal its design is.
You can easily spend a few hours here if you go inside and do the guided tour. My family had a lot to see and didn't want to wait the long line so we admired the palace from the outside while also spending time at the next stop on this list!
THE ROYAL PALACE GARDENS
(LOS JARDINES DEL PALACIO REAL)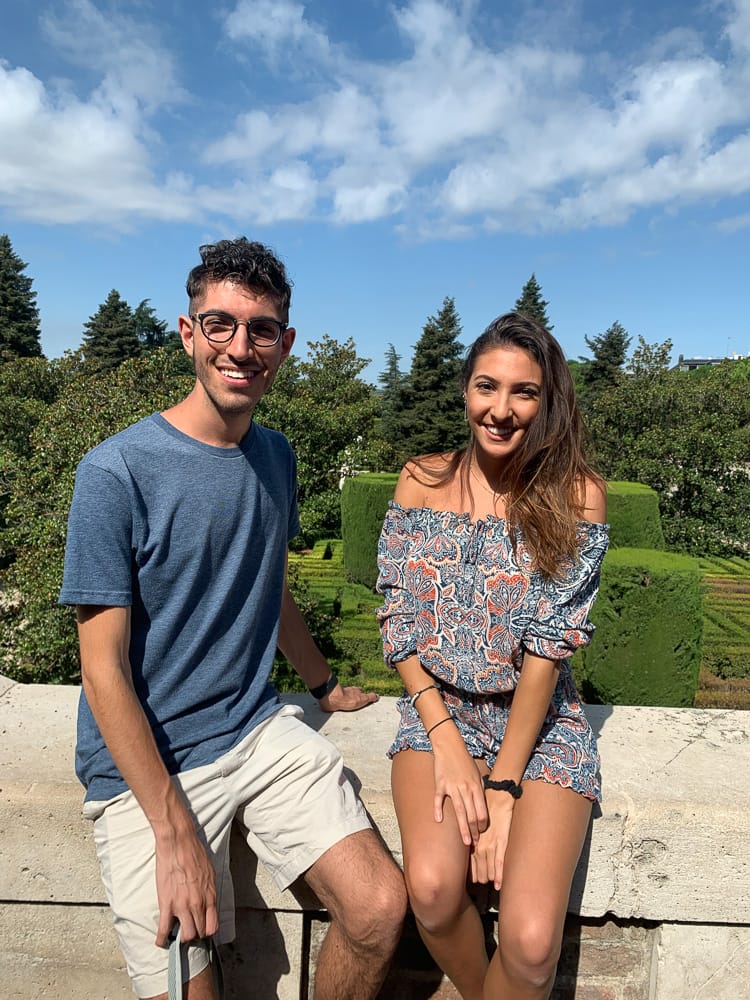 The Palace's surroundings consist of some of the most amazing gardens I have ever seen. They are so intricately designed and meticulously maintained.
If you are a nature lover, you'll surely appreciate a peaceful visit to the Royal Palace Gardens.
VISITING THE FRIENDLY SPARROWS IN MADRID
(LOS PAJARITOS CON SEÑOR PÁJARO)
Okay, this may not be the most typical item to include on an itinerary, but I knew I had to include it on ours.
Since I earned the trust of some wild birds in Madrid, I wanted to introduce them to my family.
In the video above, you can see my dad and my sister trying to hold my sparrow friends.
We spent half an hour enjoying the fresh air and saying hello to the little birds! 🐦
TEMPLE OF DEBOD
(TEMPLO DE DOBOD)
Are you interested in visiting an Egyptian temple that was transported from Egypt to the center of Spain?
You can learn more about the Temple of Debod in this post where I wrote about it!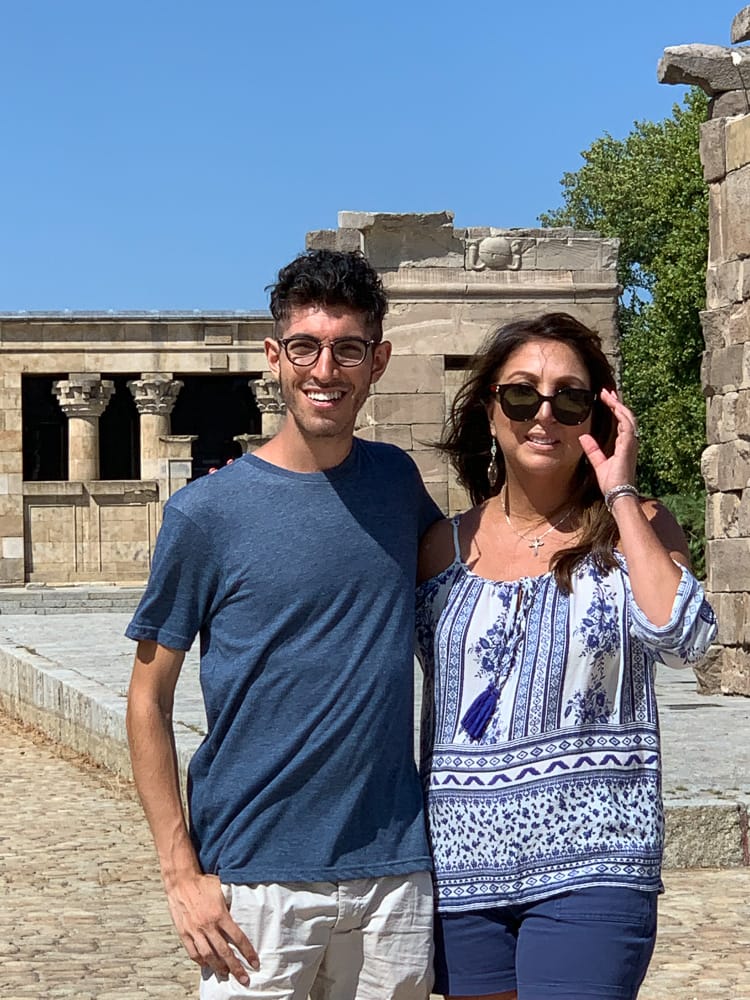 When I was traveling with my family, I added this to our itinerary!
We didn't go inside this time, but it was still interesting to explain to them its historical significance as we walked by it.
TAPAS!
(SMALL SPANISH APPETIZERS)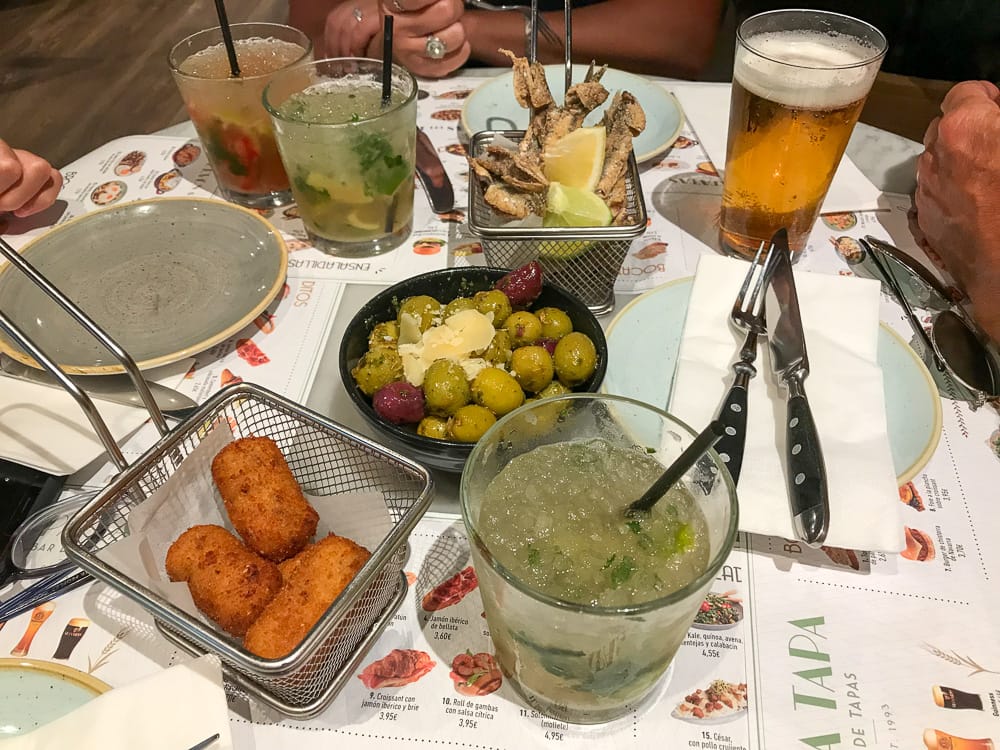 At this point in the day, we needed a tapas break! We went to none other than Tapa Tapa: one of Madrid's most popular tapas bars!
They tried popular Spanish foods like croquetas, boquerones fritos, and had some refreshing mojitos and tinto de verano to pair.
For me, the food was one of the best aspects of traveling in Spain!
THE GRAN VÍA
(GRAN VÍA)
Another famous street you need to visit in Madrid is the Gran Vía.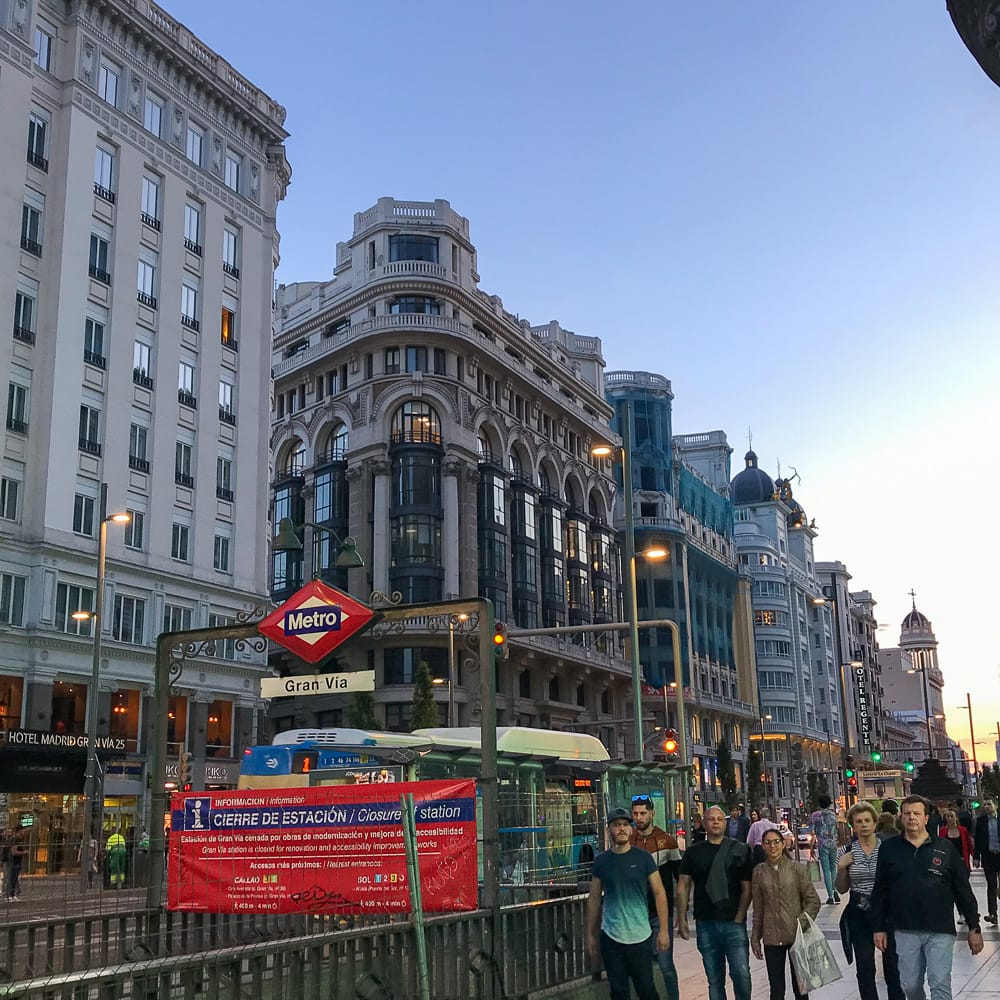 Back when my family visited, the central Gran Vía metro stop was closed for reconstruction. Since then, the construction has finished and the station reopened. The newly renovated metro station is really nice!
You can easily to get to Gran Via from most of the major Metro lines.
Along this busy street, there's no shortage of interesting shops to visit and small stores and bars to browse.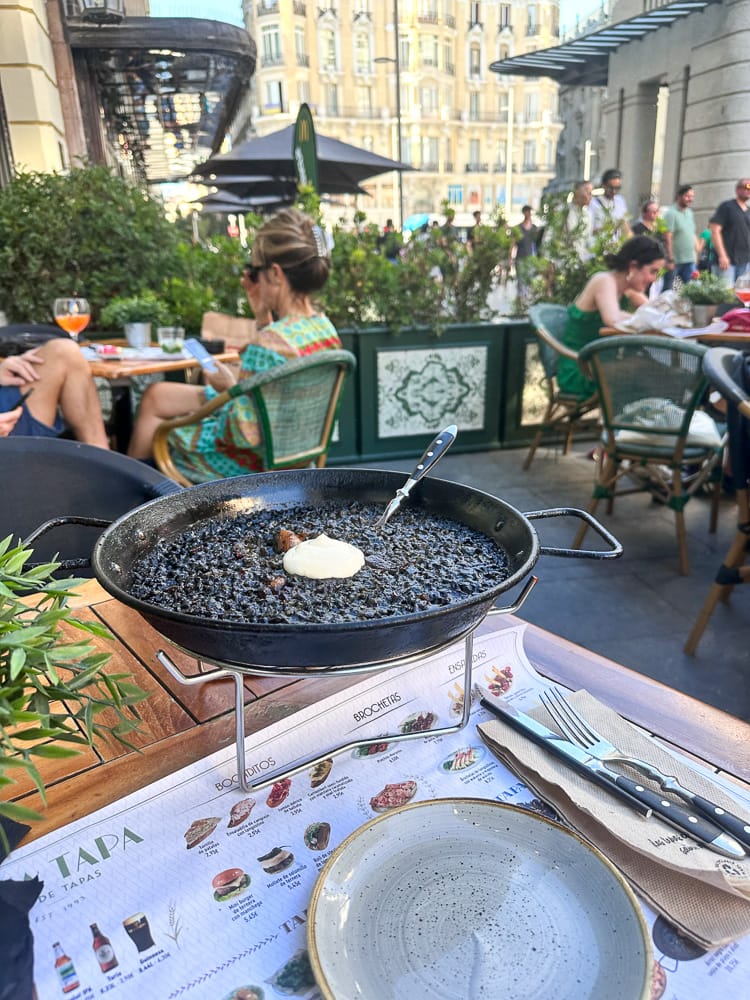 My home was on Fuencarral Street right off of Gran Vía so this street was very familiar territory for me; an area I loved to walk around aimlessly while just taking in my surroundings.
THE METROPOLIS BUILDING
(EDIFICIO METRÓPOLIS)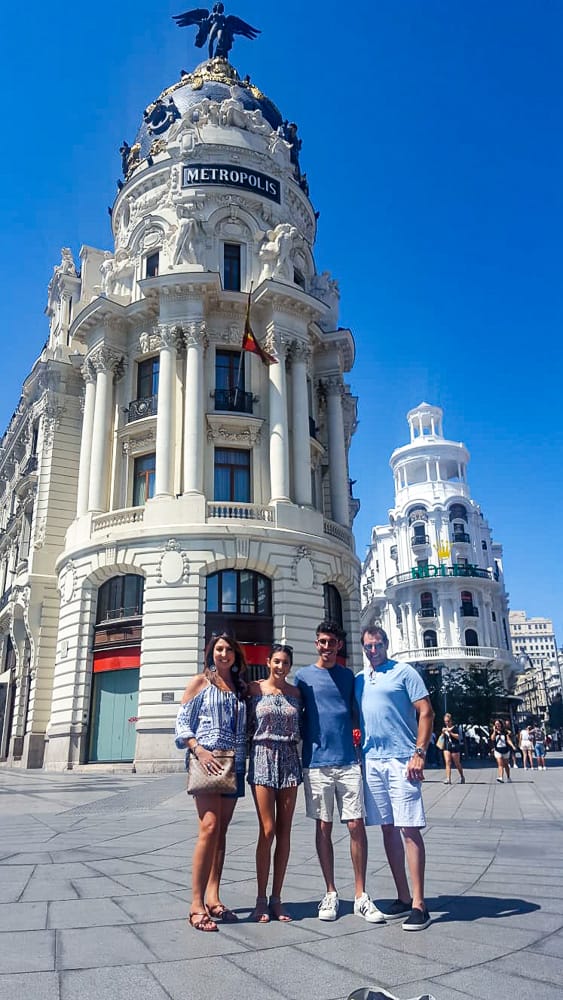 At the corner of Gran Vía and Calle de Alcalá you will find the iconic Metropolis Building.
This building is famous in Madrid. We snapped a photo together here while on our walk to the next stop!
EL RETIRO PARK
(EL RETIRO)
We walked through El Retiro which is one of the biggest parks in Madrid.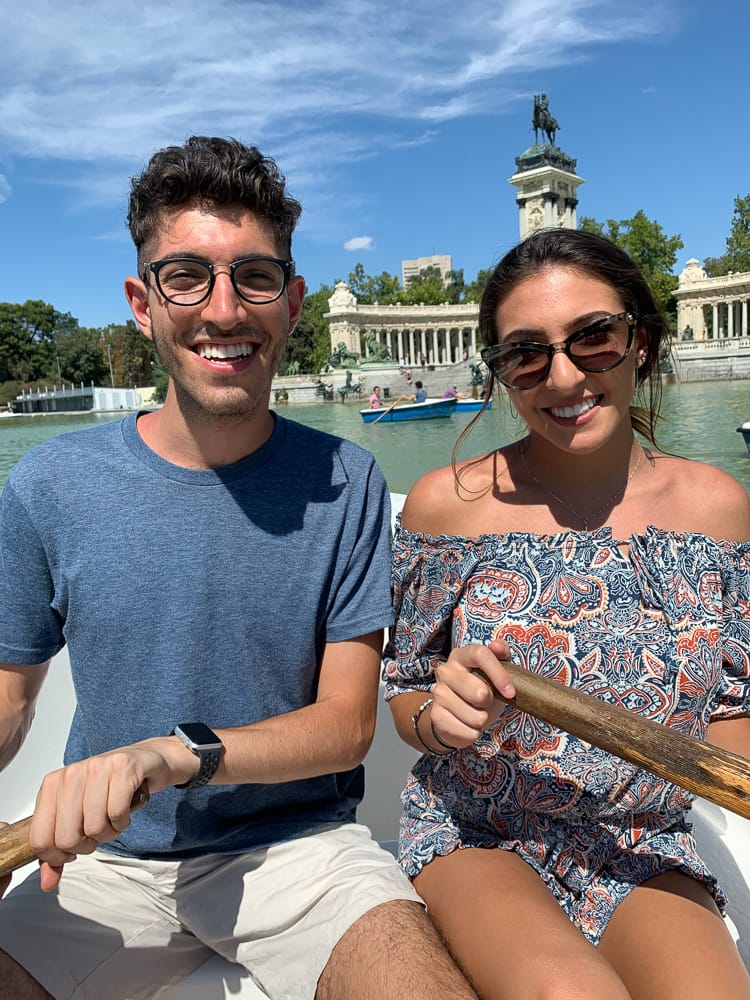 Ninth stop: El Retiro Park
We had amazing weather that day so we also decided to rent a paddle boat for an hour and spent some family-bonding time out on the water.
I have to say, I think this was the highlight of the day and remains one of my fondest memories.
THE CRYSTAL PALACE
(EL PALACIO DE CRISTAL)
Within El Retiro, you will find Madrid's Crystal Palace.
This 19th century glass conservatory is famous in Madrid. If you'e already going to El Retiro, you can't skip a visit to the Crystal Palace.
---
From here, we had dinner together and then went back to their hotel room. My family saw a lot in one day and they arrived in Spain that same morning. By this point in the evening, their jet lag was setting in and I believe everyone needed some rest.
---
MADRID TRAVEL GUIDE: DAY 2
On Day 2, my family woke up feeling rejuvenated and ready to see whatever else I wanted to show them during their last 24 hours in Madrid.
CHOCOLATE & CHURROS AT SAN GINES
(CHOCOLATERÍA SAN GINÉS)
In Spanish tradition, chocolate with churros is typically eaten for breakfast.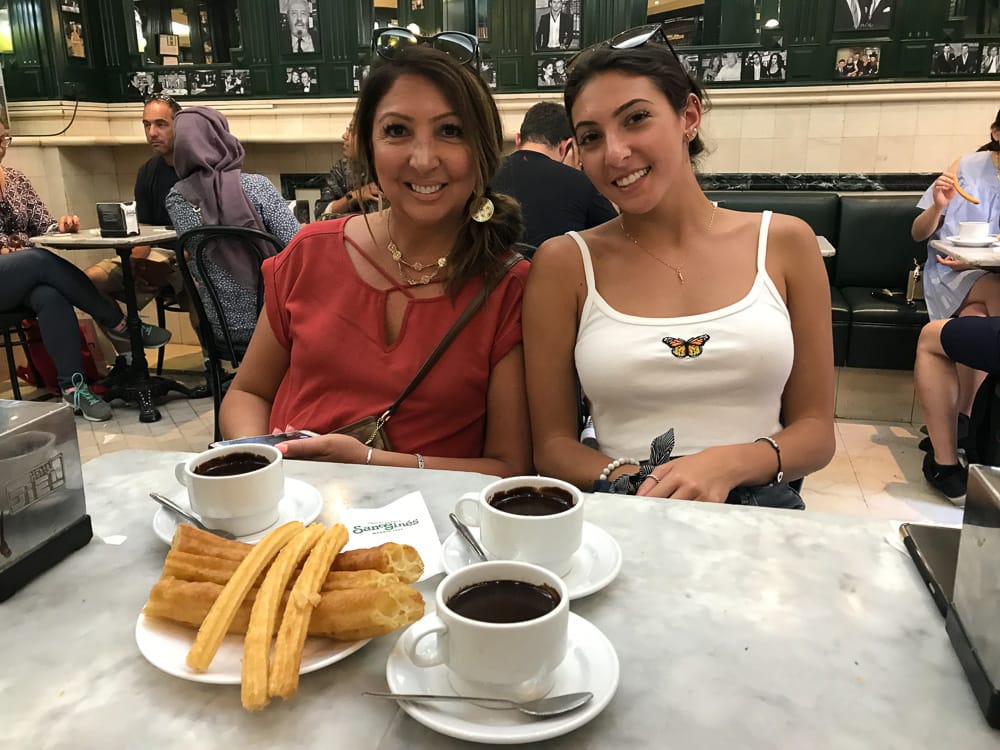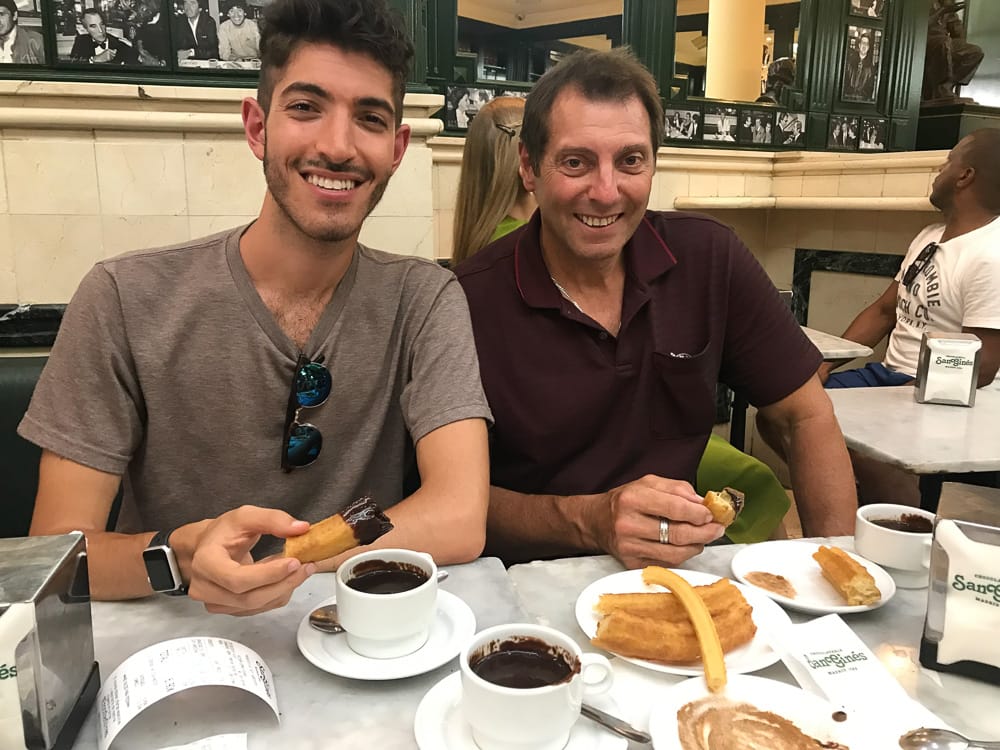 I took my family to Madrid's most famous Chocolatería: San Ginés.
There, they sampled delicious melted chocolate with a variety of churros and porras!
Many Americans don't know what porras are. I prefer them more than churros!
VISIT MADRID'S TOWN SQUARE
(PLAZA MAYOR)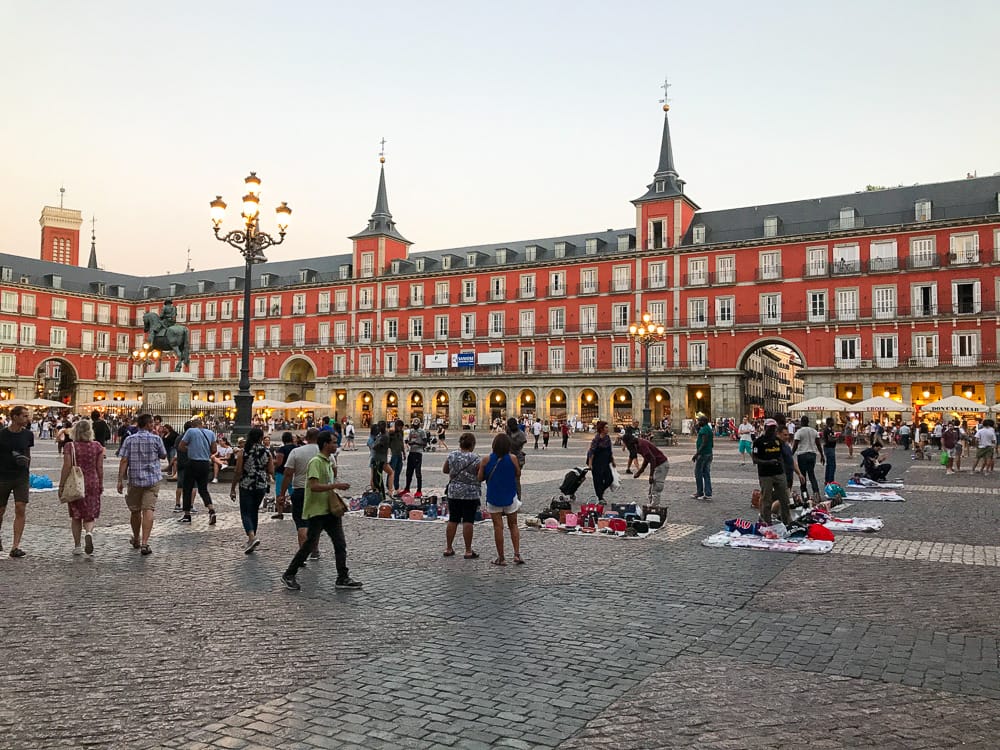 Plaza Mayor is one of Madrid's most famous squares and it's not far from San Ginés.
(A 2-minute walk).
My family liked this plaza so much that we came back in the evening to have dinner here at one of the lovely restaurants with outdoor dining. We ordered sangria, paella, and more.
SOL: MADRID'S "GATE OF THE SUN" SQUARE
(PUERTA DEL SOL)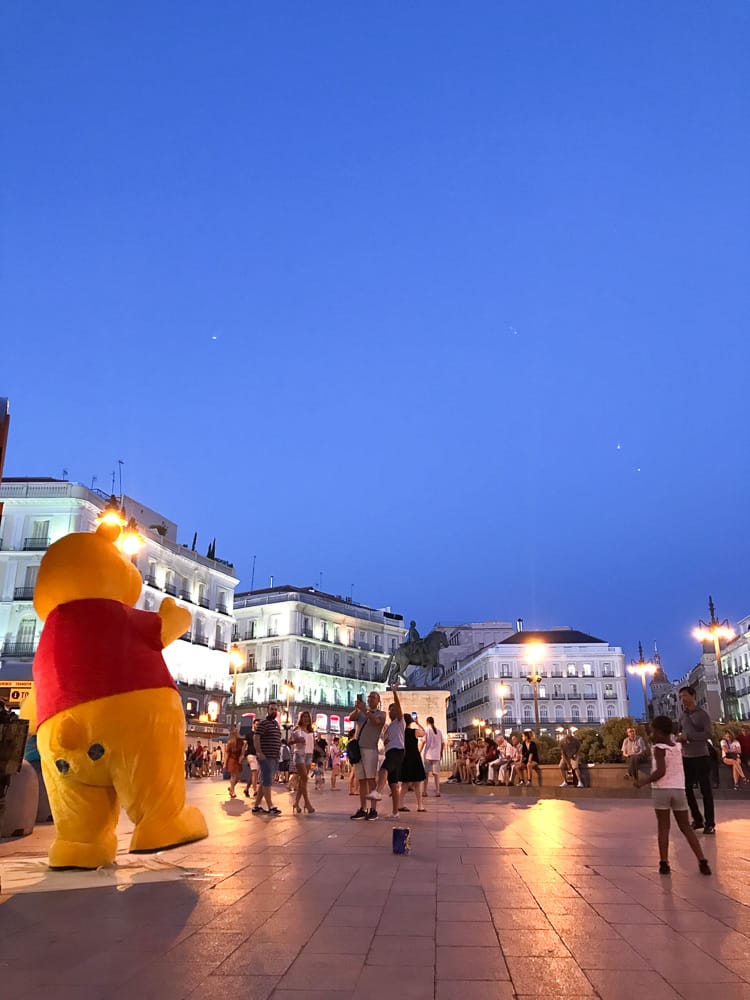 Another short walk away, you will find Sol.
(A 4-minute walk).
Sol is another popular city square in Madrid.
It's an open area with little coverage from Madrid's intense sun. There's not necessarily much to do here, but this is a pretty area to walk around and it connects you to a lot of other places.
Remember to look at the famous Statue of the Bear and the Strawberry Tree.
VISIT THE CHUECA NEIGHBORHOOD!
(CHUECA)
Chueca is a lovely part of Madrid's capital. It's known for being LGBT-friendly and it's essentially Madrid's most famous gayborhood.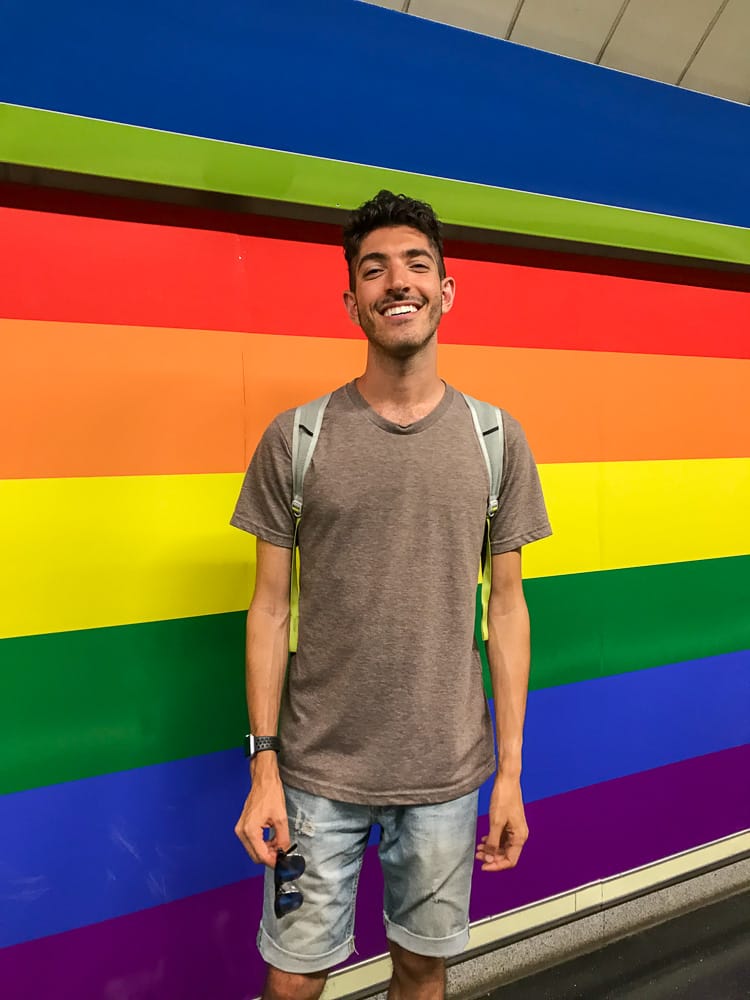 Chueca welcomes all people and is home to the famous San Antón Market. There, you can grab a bite to eat from any of the market-style vendors selling tapas or head straight for the rooftop to enjoy a cocktail from the bar!
Chueca's metro stop is lined with pride rainbows all year to celebrate the city's inclusivity.
VISIT MADRID'S FLAGSHIP PRIMARK STORE
(PRIMARK)
Before the Birmingham Primark location opened in 2019, Madrid was known for having the largest Primark in the world.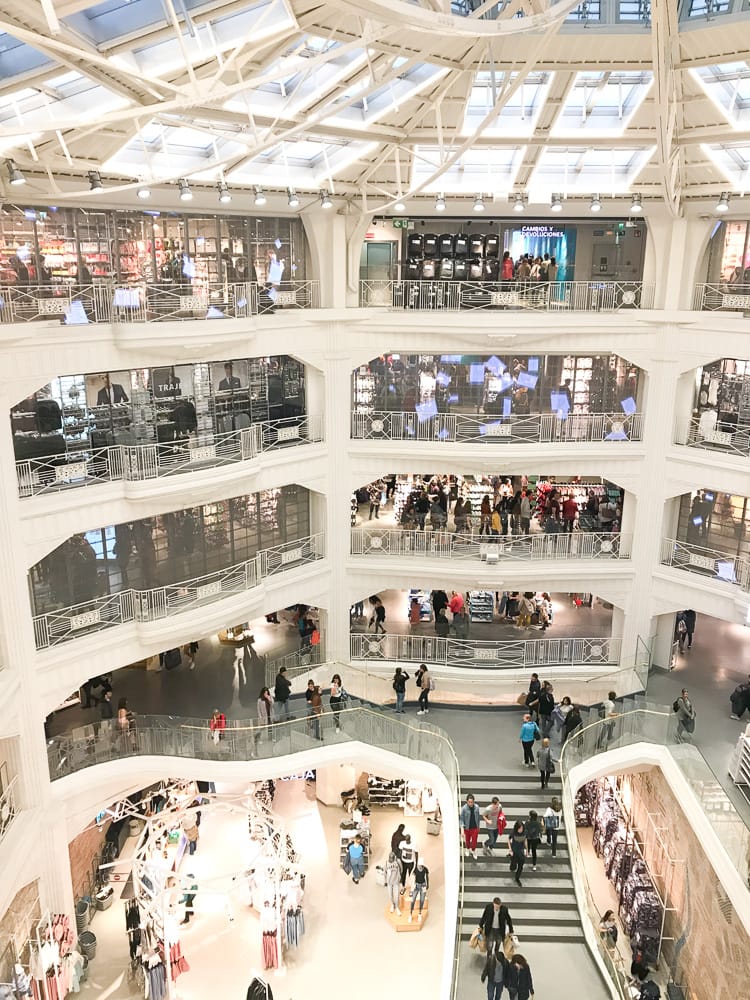 Even though it doesn't hold that title anymore, Madrid's store is a massive one and still deserves a visit! You never know what interesting and inexpensive bargains you may find while shopping at Primark.
You'd think they were giving away free stuff with the way people constantly flood into this store.
HOTEL RIU PLAZA ESPAÑA ROOFTOP
(HOTEL RIU / FORMERLY EDIFICIO ESPAÑA)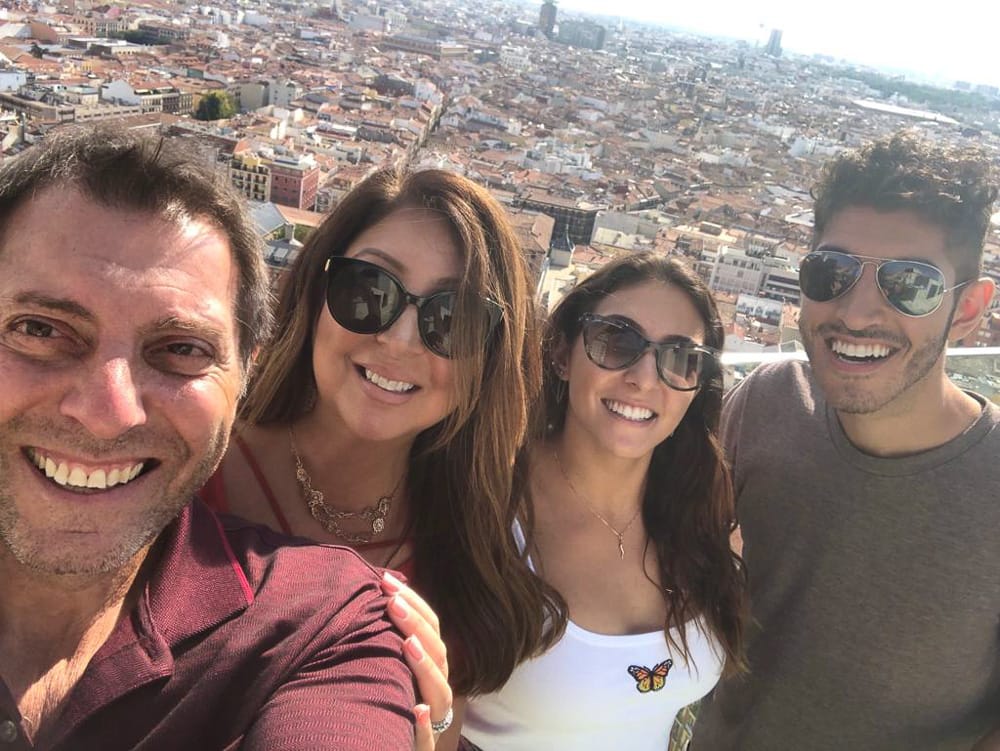 From here, we went to my parent's new hotel. They booked a room at the RIU which had just opened at the time! (It literally just opened. It was the RIU hotel's opening week!)
We were some of the first guests to stay there when Edificio España finally reopened!
From the hotel, we enjoyed the remarkable views of Madrid from the glass viewing deck as well as priority access to the lovely rooftop bar and pool area.
---
DO YOU HAVE EXTRA TIME IN SPAIN?
My family saw a lot in 2 days and at this point, we all wanted to relax and enjoy the hotel's amenities as well as each others company.
---
For the extra adventurous traveler, you can occupy extra time on Day 2 in the following ways:
Visit The Prado Museum
Respectfully visit Religious Places of Worship
Take a Hop On/Hop Off Bus Tour
Learn the history of Madrid on a Free Walking Tour
---
Here's some other ideas if you have at least another 24 hours or more in Spain!
VISIT BARCELONA
(BARCELONA)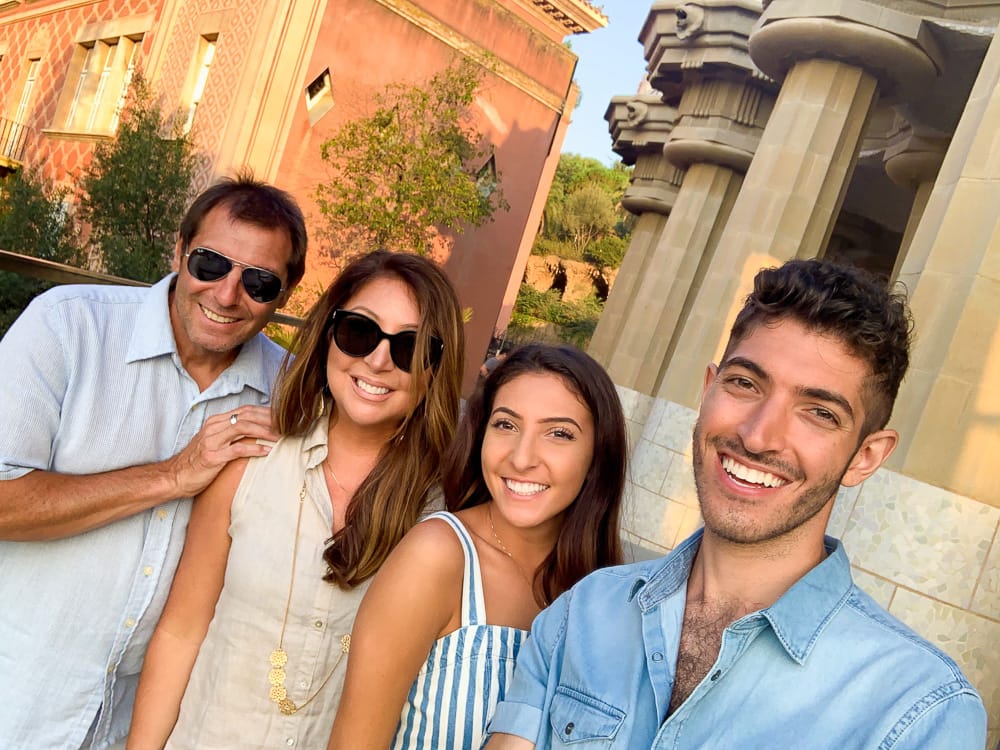 Visit Barcelona! It's a hugely popular city in Spain that many tourists visit. If you enjoy art, architecture, and/or spending time at the beach, I'd really recommend the city to you.
(Note: This was how we spent some of my family's extra time in Spain! Coming soon.)
TAKE A DAY TRIP TO A NEARBY CITY
(TOLEDO / SEGOVIA / ALCALÁ DE HENARES)
From Madrid, you can easily travel to any of these 3 nearby cities for a quick day trip!
1. SEGOVIA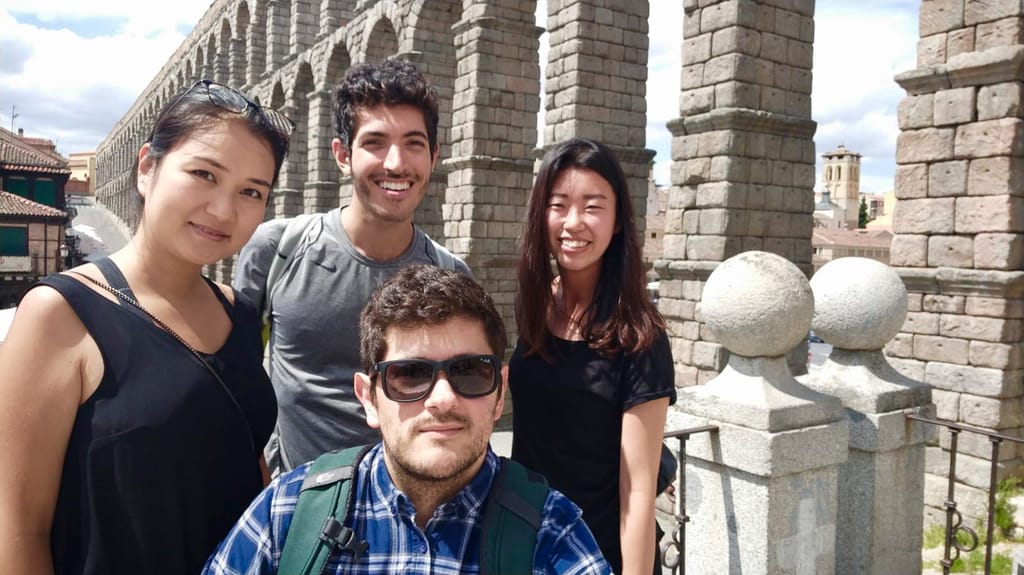 Read about my visit to Segovia, Spain:
2. TOLEDO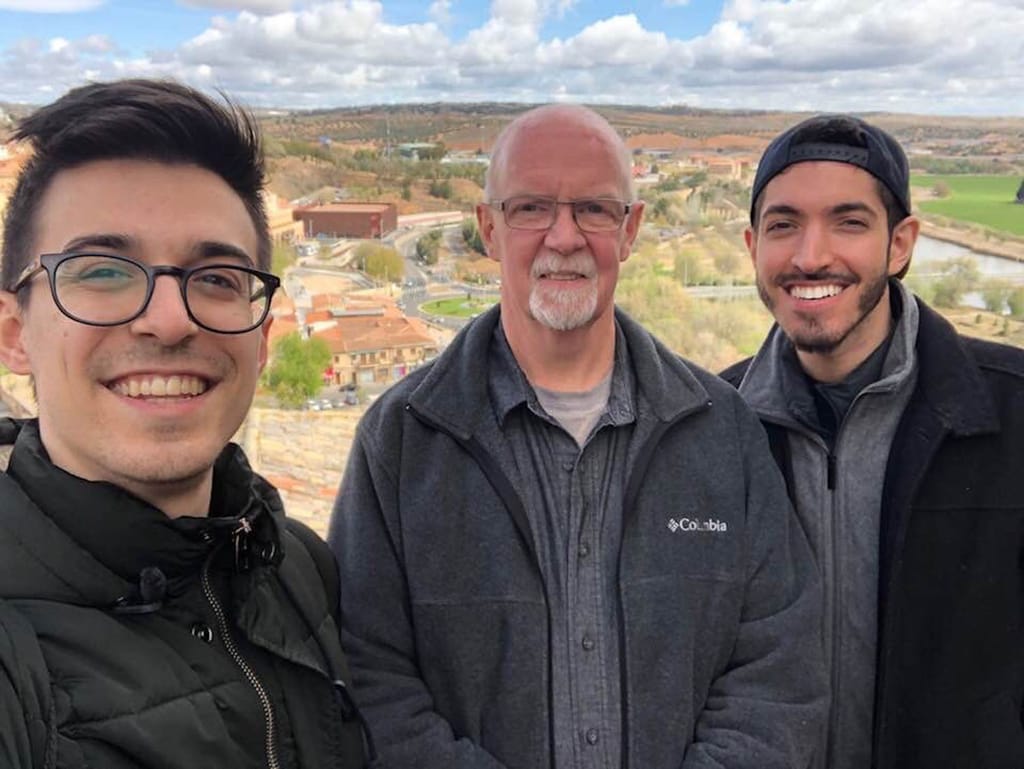 Read about my visit to Toledo, Spain:
3. ALCALA DE HENARES
Read about my visit to Alcala de Henares:
---
SAYING OUR GOODBYES
(HASTA LUEGO)
Saying our goodbyes until the next time was difficult. Especially as I watched their taxi drive them away to leave for the airport.
Being away from family is probably one of the greatest challenges that comes with life as an expat.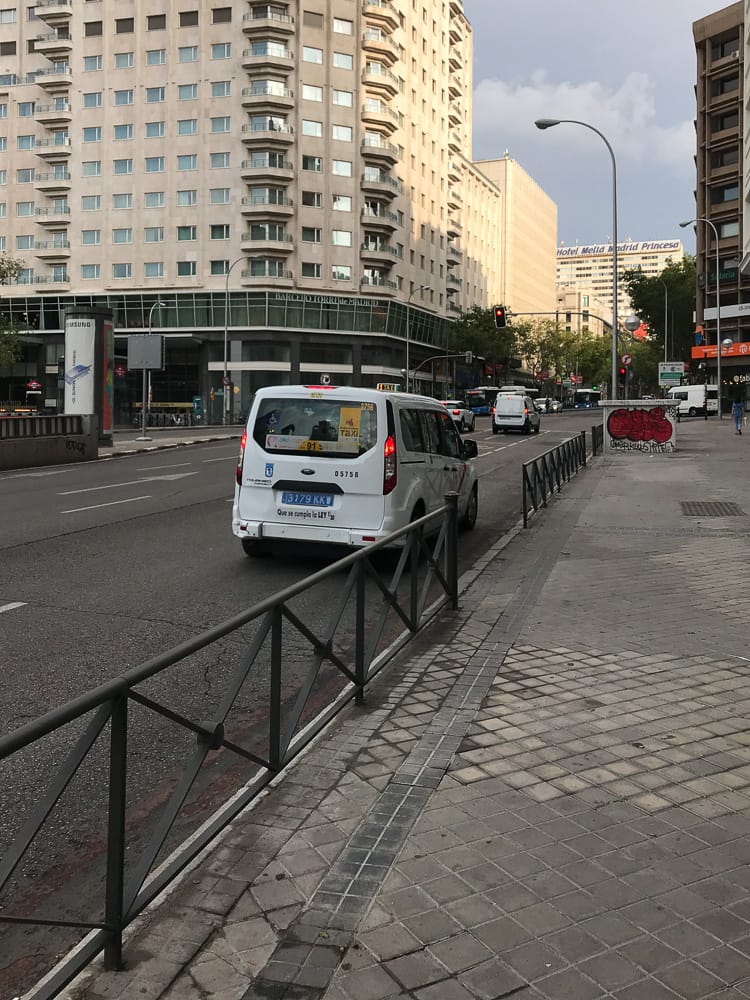 I can't express how grateful I am that my family made such a big effort to visit me in my home overseas. It touched me in such a major way to see them in Spain and I'll forever be grateful to have these memories with them.