Last Updated on March 27, 2021
Our time in Madrid may have been limited but that didn't stop us from setting out to see as much as possible before we'd have to leave!
Among the many places that we visited in Madrid were a few destinations whose beauty stood out above all the rest. In this post, I have uploaded photos from 4 of the top places in Madrid that I felt were absolutely stunning to see and experience during my trip.
Here are 4 incredible FREE places you really should definitely visit in Madrid!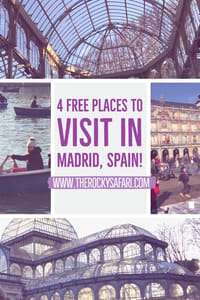 El Retiro Park
Buen Retiro Park was one of the most relaxing places we escaped to while in Madrid. At the center of the park was a huge pond where you could pay to rent a little rowboat and hang out on the water. Jorge and I wished to try it ourselves but the line of people waiting was crazily long. Instead, we sat on the steps near the park's famous statue photographed above and enjoyed the relaxing guitar music of a man who was playing nearby.
The Crystal Palace
While at El Retiro, we took a short walk to the famous Crystal Palace. The Palacio de Cristal, as the Spaniards call it, was originally built in 1887 to exhibit flora and fauna from the Philippines. The architect, Ricardo Bosco, designed the building to be made almost entirely of sheets of glass set in an iron framework. The structure was designed in such a way that it could be re-assembled at another location but has remained at its original site and is now used for art exhibits.
Plaza Mayor
The Plaza Mayor (or Main Square) is a central plaza in Madrid. It is located very close to Puerta del Sol, another famous plaza in Spain. Jorge and I had a blast walking around here. Vendors were selling interesting items and souvenirs. Many people were shopping in preparation for the upcoming holidays. At night, the border of the plaza was illuminated with lights making it even more beautiful than it already was.
The Prado Museum
Finally, we set out to visit Museo del Prado: the famous Prado Museum. We were originally going to wait until 6 PM to enter with free admission but the line of people waiting for free tickets (literally) wrapped around the Prado. Thankfully, Jorge and I managed to get in at 5:45 PM with free student tickets that I am confident many of the likely-to-be-students waiting in that long line probably had no idea about…
The museum was lovely- we saw several famous paintings inside. Sadly, after a certain point, we agreed to leave because we just couldn't walk anymore. Our legs were exhausted from doing so much all in one day!