Last Updated on March 25, 2021
Have you ever heard of BlaBlaCar? In the same way, so many Americans turn to Uber for a quick Lyft when they need to get somewhere but can't drive themselves, BlaBlaCar is an online marketplace for carpooling. BlaBlaCar connects passengers with drivers who are willing to help others get to the same destination with the trade-off that the passengers agree to share in the cost of the journey by paying a predetermined fee.
BlaBlaCar is a service available in 22 countries, many of which are all in Europe. The list of countries includes Spain, Portugal, France, Italy, Belgium, Czech Republic, The Netherlands, Poland, the United Kingdom, Russia, Ukraine, Germany, India, Turkey, Hungary, Croatia, Serbia, Romania, Slovakia, Mexico, Brazil, and Luxembourg.
Notice that the United States of America is not on the list.
BlaBlaCar has specifically stated in the past that it has no intentions of expanding into the U.S.A. for (lack of) profitability reasons. With so many lifestyles and economic differences in America, I think they believe that so many Americans already have their own working vehicles that the demand would likely be far less.
I think another part of the challenge is that as Americans, we are already used to driving everywhere we need to go, gasoline is less expensive than it is in Europe and affordable mainstream taxi-service apps are already established.
I'd be willing to guess most Americans don't give much thought to their carbon footprint before stepping foot into a car anyway so I can't say I disagree with BlaBlaCar's decision to exclude us.
While packing our bags to leave Madrid, Jorge suggested we take a BlaBlaCar to the lovely city of Cuenca, Spain!
It would be much cheaper than taking the train – less than half the cost!
Upfront, I had some reservations about using the ride-sharing service. For the same reasons I try to avoid using Uber as often as possible, I was just as apprehensive about trying out BlaBlaCar. It really boils down to my lack of trust and faith in peoples' driving skills. I'm sorry, I mean no disrespect to drivers but during my four years of college, I would frequently look out the window while riding on the bus and I learned one thing: EVERYONE TEXTS AND DRIVES.
I have always had a strict rule that I do not touch my phone while driving. I kind of assumed no one else did either… until I started watching other people while riding buses in college and that was when I realized that that couldn't be any further from the truth about what actually happens in reality.
We hear it over and over again that texting and driving is one of the leading causes of motor vehicle accidents. I wish I could wrap my head around why people do it anyway. That's a tangent I can go off on another day.
Essentially, I voiced my concerns to Jorge about riding for so many hours with some stranger who we don't know and we discussed all of our options. Besides the literal safety aspect of being passengers in another person's car, we also had to consider that as a gay couple we could face other challenges as well. We decided that it was probably* safe since the driver had only positive reviews on the app. That was when we committed to taking a BlaBlaCar and paid for our seats in the selected car (which actually turned out to be a large van!)
When the van arrived at the set meeting spot, I was a bit caught off guard. I'm not even quite sure how to explain it but the van had a very hippy, nonconformist vibe to it. I'm almost inclined to liken it to the Mystery Machine from Scooby-Doo… if you know what I'm talking about.
The driver had a mohawk, wore large beaded bracelets, and had a van fully decked out with dream catchers, voodoo dolls, tapestries, and quilts.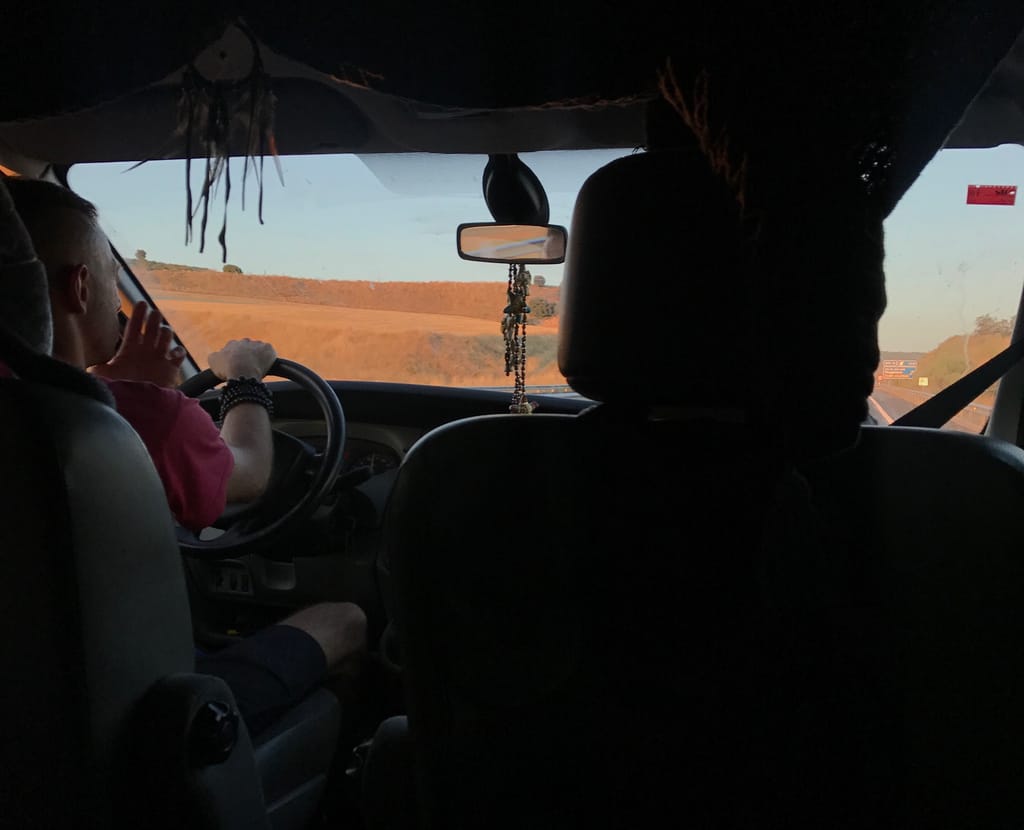 There were two ladies already inside the van. The ride was going to be over two hours long and both Jorge and I hoped we'd be able to sit together but that wasn't going to be the case. I hopped into the backseat while Jorge grabbed the passenger seat in case the driver needed help with anything. No sooner after we'd sat down inside the van, police officers had us surrounded.
They were all speaking in Spanish and I was feeling very nervous about the whole situation. I just wanted to ask Jorge what was happening but the cops were asking a bunch of questions to the driver, to Jorge, and to the ladies. I was so confused. Had we just entered the van of a criminal? Was this BlaBlaCar actually an attempt to flee the country? Was BlaBlaCar actually illegal? Why were we getting in trouble with the police!? What could possibly be wrong??
The sad truth is… I still don't exactly know what happened that day. They asked for ALL of our IDs and required me to give them my passport when they found out I wasn't from Spain like the rest of them. Thank goodness I had my passport on me. I wonder what they would have done had I not been carrying it on me. Shortly after, they returned everyone else's Spanish IDs but kept my passport.
They continued to look through it. The police kept us waiting for quite some time! I genuinely started to think they were looking at all of my passport stamps from Italy's Fiumicino airport when I crossed border control a solid 4 times in one day while trying to enter the Schengen Zone. After they "cleared me," they brought back my passport, apologized for the interruption, and told us we were free to go.
The girls sitting beside me explained that what had happened was a bit disrespectful because it was essentially profiling the driver based upon his appearance. Since he looked suspicious, they decided to investigate under the assumption that they'd find something suspicious. They retold a conversation that took place between the driver and the Spanish police and it went something like this:
Police: Have you ever been convicted of any crimes, sir?
Driver: No.
Police: …Really?
Hopefully that paints a pretty good picture of the whole encounter. As far as I could tell, our driver was genuinely a great person. Unconventional, yes. But I tend to like that about people. He wanted to get to know us and make our ride as enjoyable as possible. Our driver's punk appearance led the police to think he was up to something sketchy so they investigated him thinking they'd find trouble. Of course, they played it off as a "routine check" once they had realized none of us had done anything wrong.
View this post on Instagram
Once we were free to go, we began our two-hour-long journey to Cuenca, Spain! The driver had the BEST musical playlist I think I've ever heard and it turned out to be such a pleasant ride. I think it was actually my most positive "carpooling/ridesharing/Ubering" experience – ever!