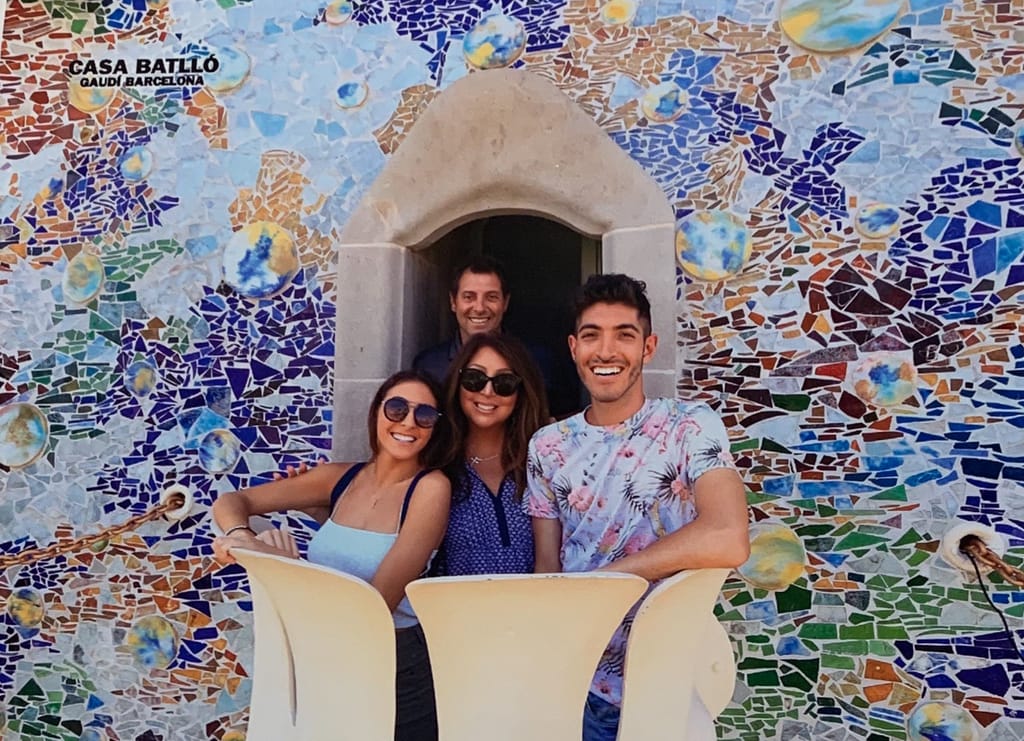 Anything created by human beings is already in the great book of nature.

Antoni Gaudi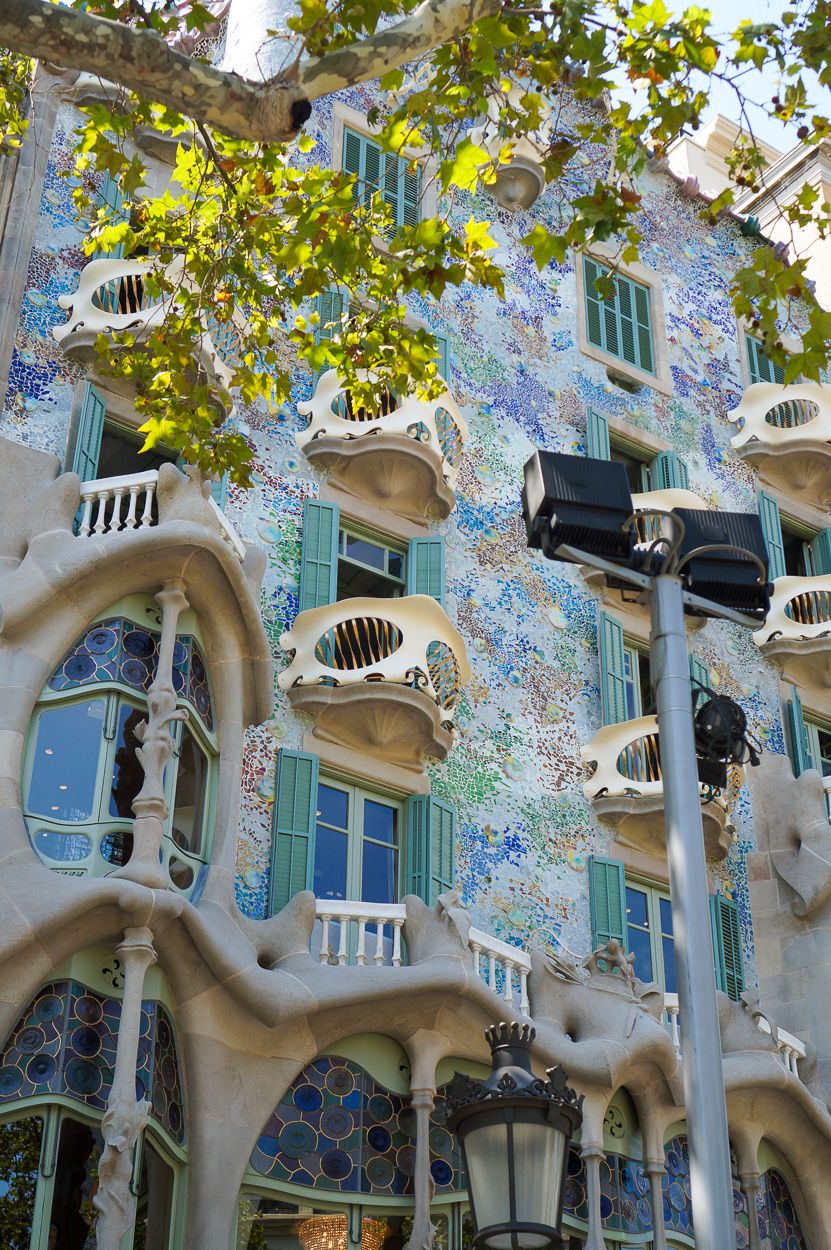 Casa Batlló is a mystical, maritime fairytale-like building located in the center of Barcelona.
With its vibrant ocean-inspired architecture, it's hard to miss.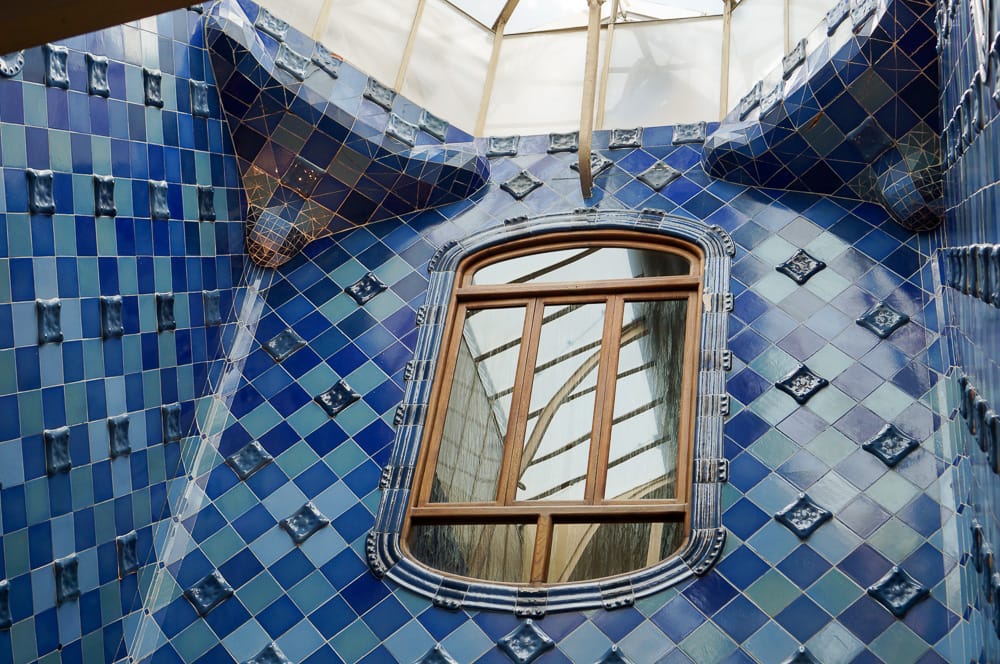 Casa Batllo is one of Spanish architect Antoni Gaudí's famous UNESCO-listed projects.
THE HOUSE OF BONES
Casa Batlló goes by many names: The House of Bones, The House of Yawns, and The House of the Dragon.
The local name for the building is Casa dels Ossos which means "House of Bones." This name comes from its visceral, skeletal qualities.
From the outside façade, the house looks like it was constructed with skulls and bones from marine life. In fact, the "skulls" are balconies, and the "bones" are supporting pillars.
The "House of the Dragon" nickname is also linked to the building's design, namely the rooftop, as you'll see later in this post.
IS CASA BATLLÓ WORTH VISITING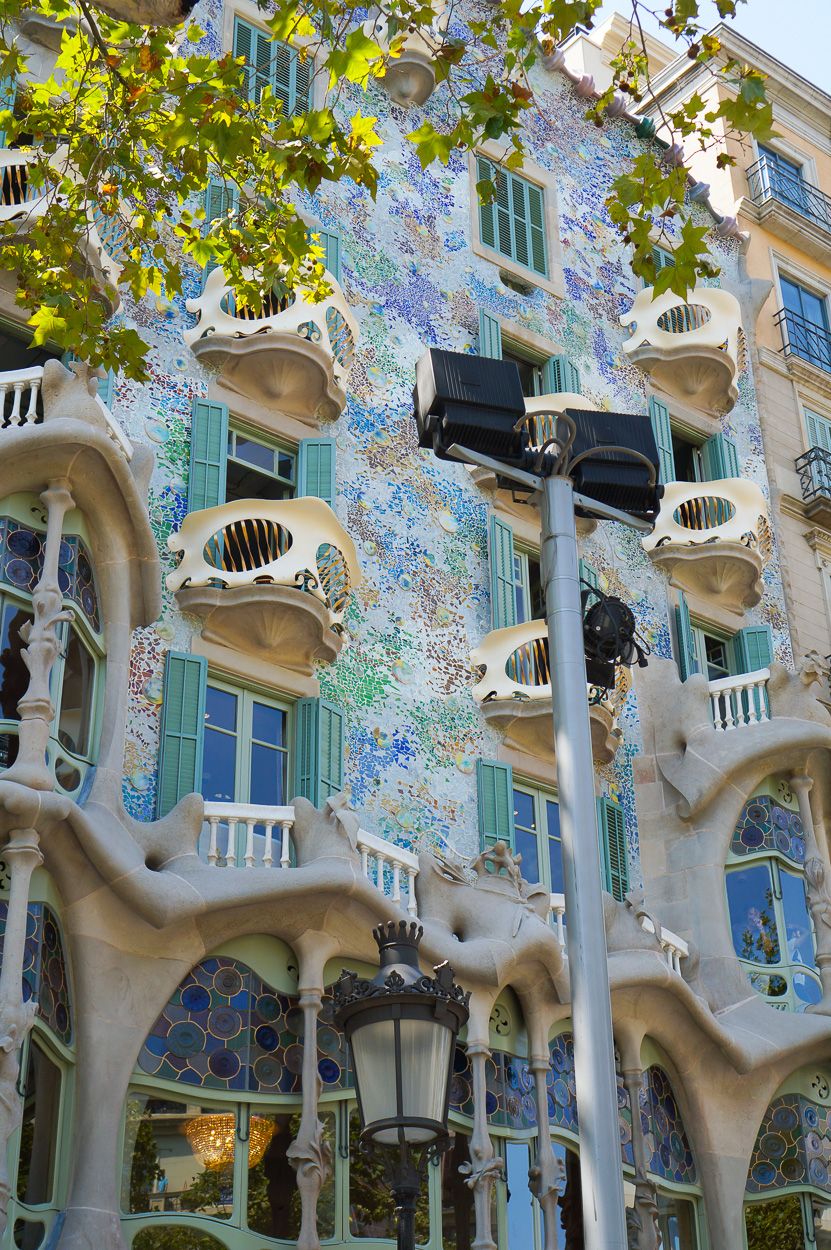 In this blog post, I'll share my first-hand experience after I visited Casa Batlló in Barcelona, Spain with my family. This review is based on our actual experience while visiting.
MY REVIEW AFTER VISITING CASA BATLLÓ WITH MY FAMILY
If you are planning a trip to Barcelona, I think it would be a mistake to skip Casa Batlló.
It's truly a work of art. If you're a Gaudí fan, in my own opinion, Casa Batlló is the project with the most interesting story behind its inspiration.
CASA BATLLÓ'S HISTORY
You may be surprised to discover that Casa Batlló was a controversial project. During its construction, the flashy house was widely viewed as "undesirable" by locals.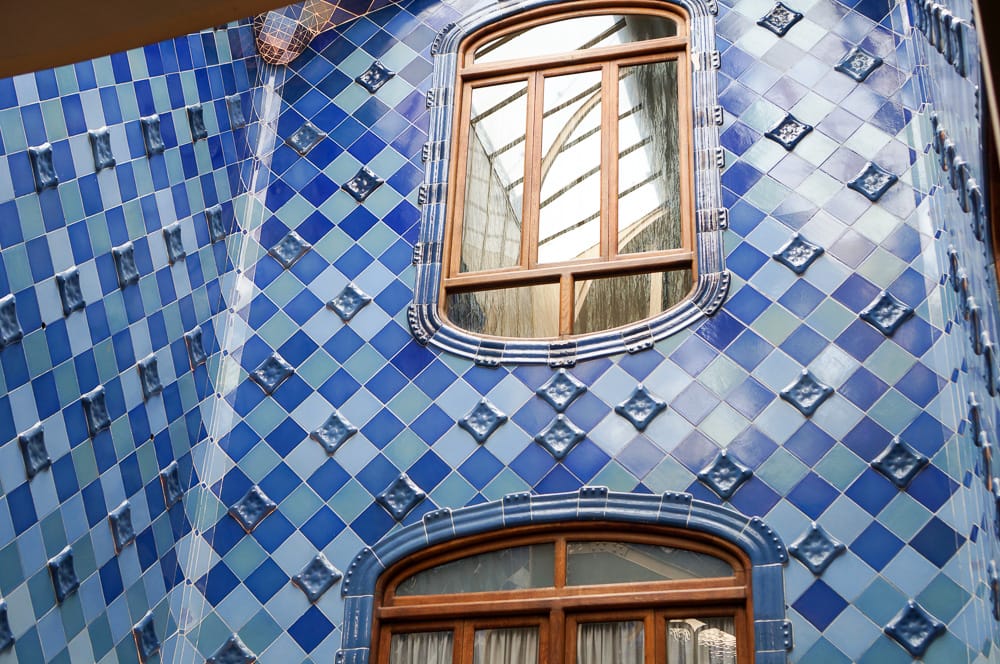 Here's a fun fact: Casa Batllo is named after its second owner.
The building was first commissioned in 1977 by Lluís Sala Sánchez. It was unremarkable and resembled every other building from its time period.
In 1903, the undesirable building was bought by Josep Batlló because of its centralized location. He hired Gaudí because of his success with designing Parc Güell and asked him to come up with a risky plan!
WHY WAS CASA BATLLÓ BUILT?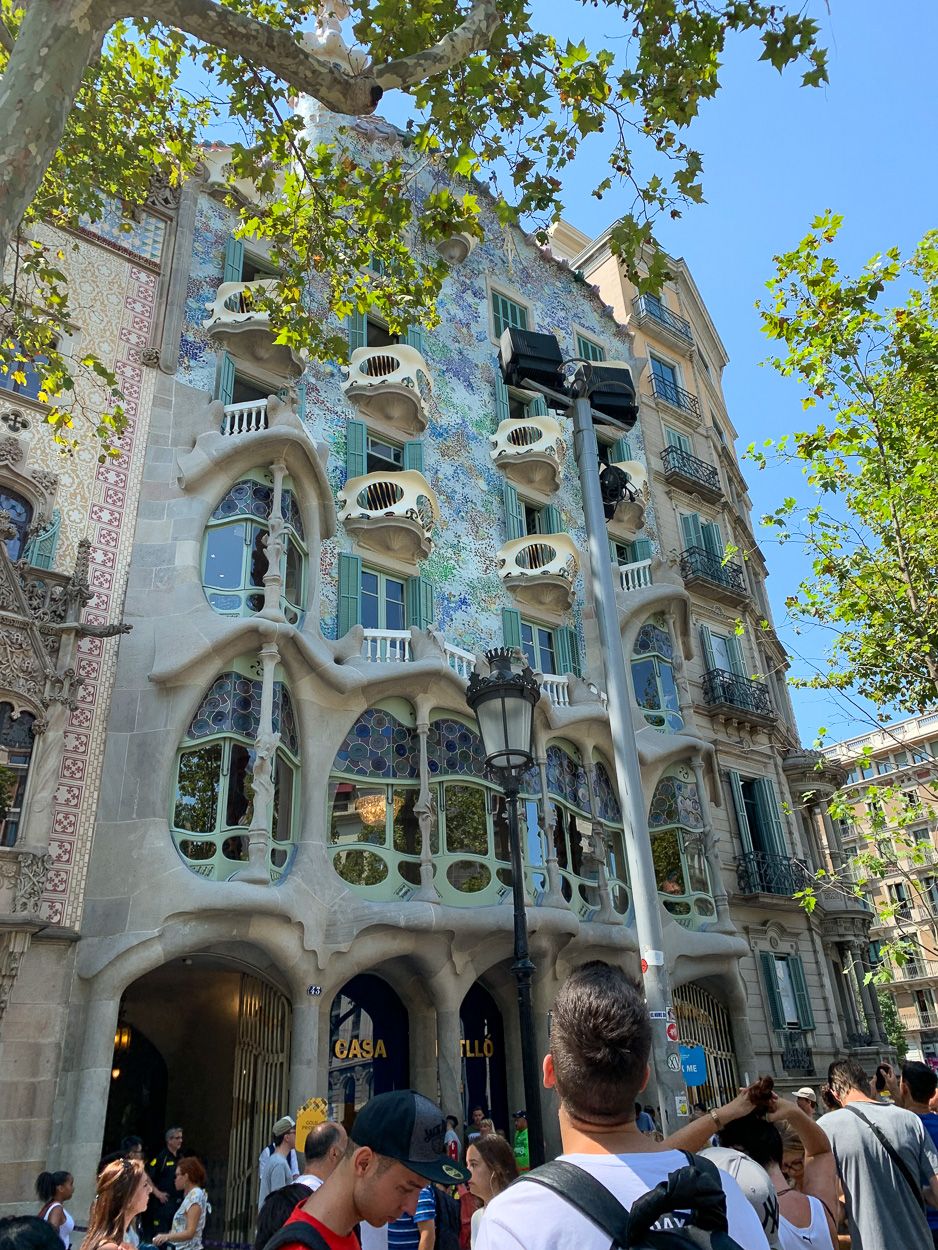 Josep Batlló was so unhappy with the original design that he wanted to demolish the building so something more out-of-the-box could be built.
Gaudí convinced Josep that demolishing it was unnecessary; a renovation was sufficient.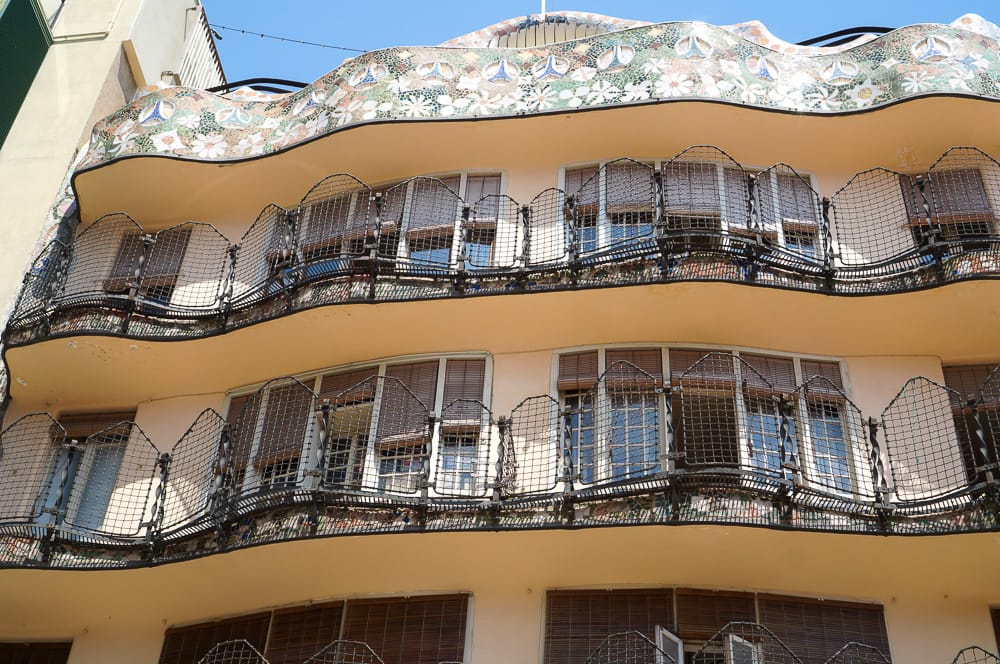 Gaudí submitted plans that same year and the building was fully refurbished by 1906.
Later that year, the Barcelona City Council nominated Casa Batlló as a candidate for that year's Best Building Award. Shockingly, the award was given to another architect despite Gaudí's impressive work. 😕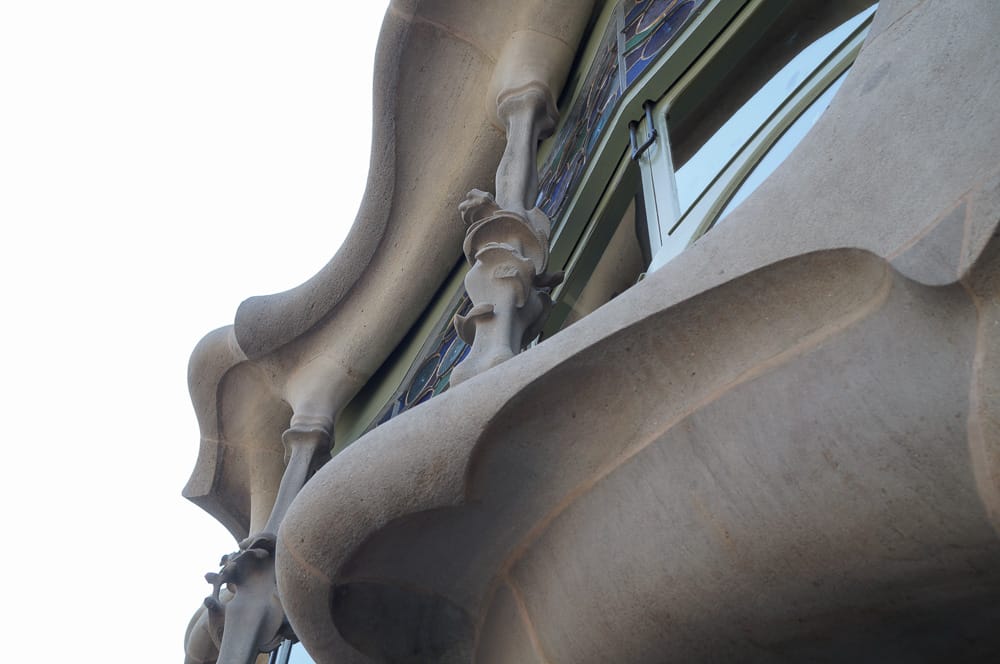 The building is a stunningly original work of art and is well worth the visit!
THE EXTERIOR FAÇADE
To design the exterior façade, Gaudí oriented himself very closely to nature.
The Main Façade of Casa Batlló faces Passeig de Gràcia. The design features an atmosphere of marine life with every shade of blue found at sea.
The lower portion of the façade was Josep's home on the Noble Floor where he lived with his family. He rented out the apartments on the upper levels. That portion is iconic for its eight balconies that resemble "masks" or "skulls."
INSIDE CASA BATLLÓ
Inside Casa Batllo, you'll feel like you're under the sea.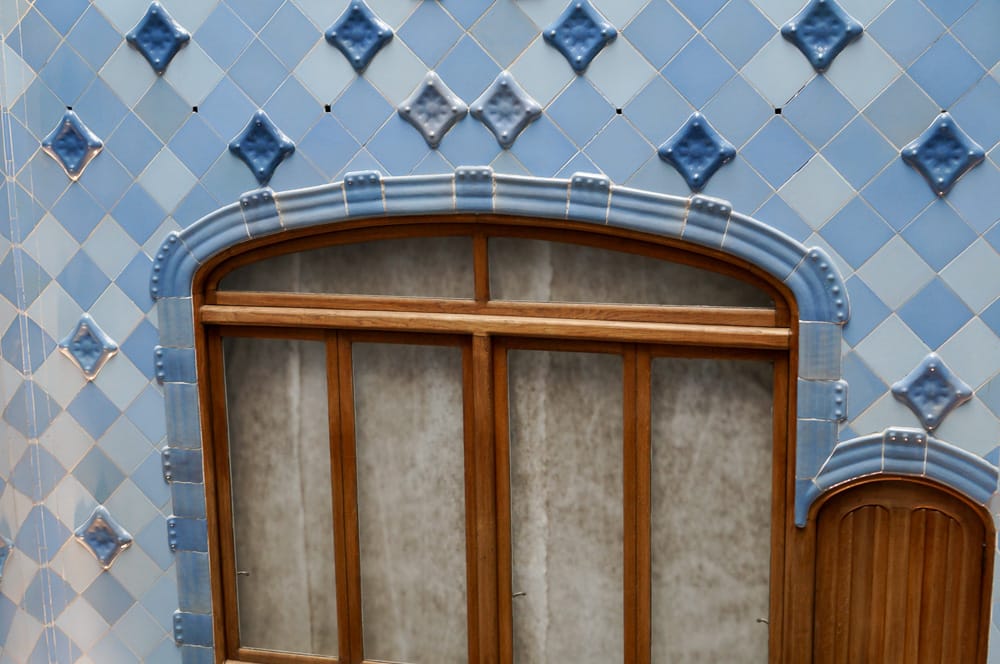 The building is made up of 7 floors: the ground floor, the first floor, four more floors, and the attic.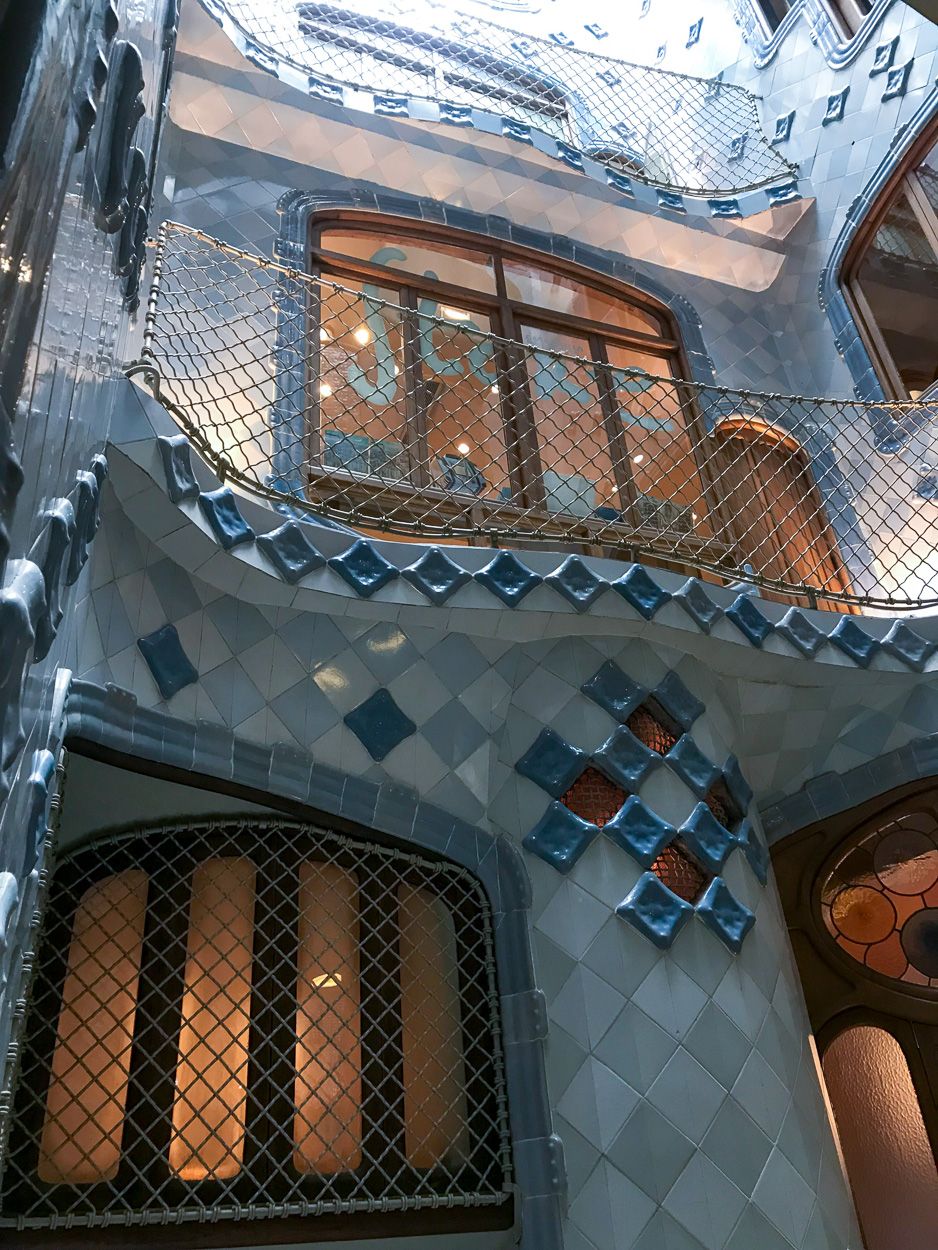 In a style only recognizable as a unique mix of Modernism and Art Nouveau, Gaudí played with organic shapes to make visitors feel like they were walking through a light-flooded, colorful fairytale house.
From my personal experience, I believe he succeeded.
A GLIMPSE INTO HOW THE ORIGINAL OWNERS LIVED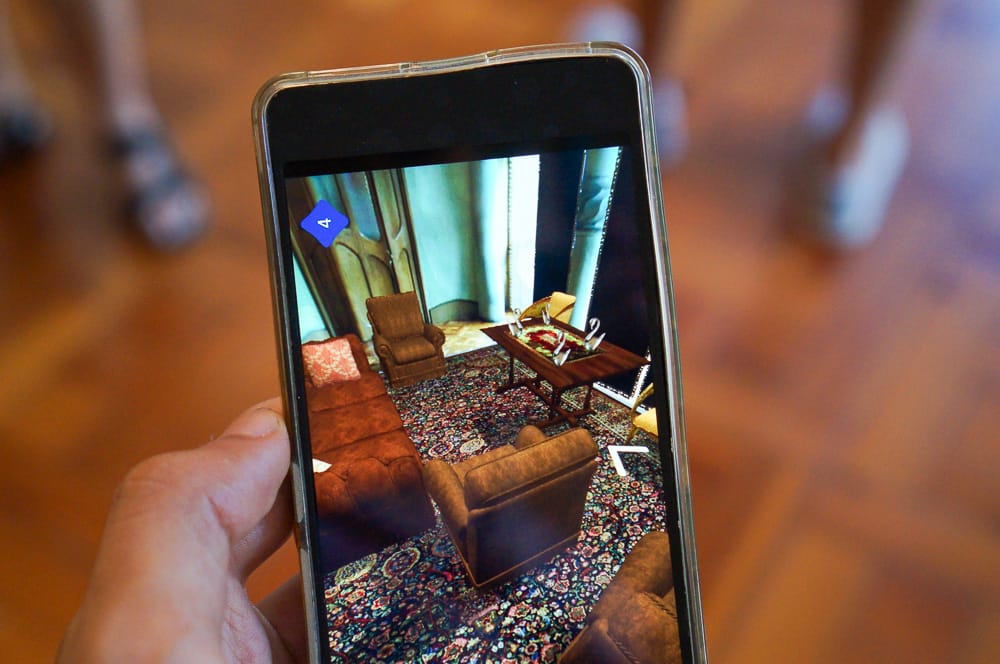 One of my favorite aspects of touring Casa Batlló was the immersive audio guide that implemented augmented reality and other special effects.
(Note: If you have epilepsy or any sensitivity to special effects, you may struggle with portions of this tour in real life.)
THE AUDIO TOUR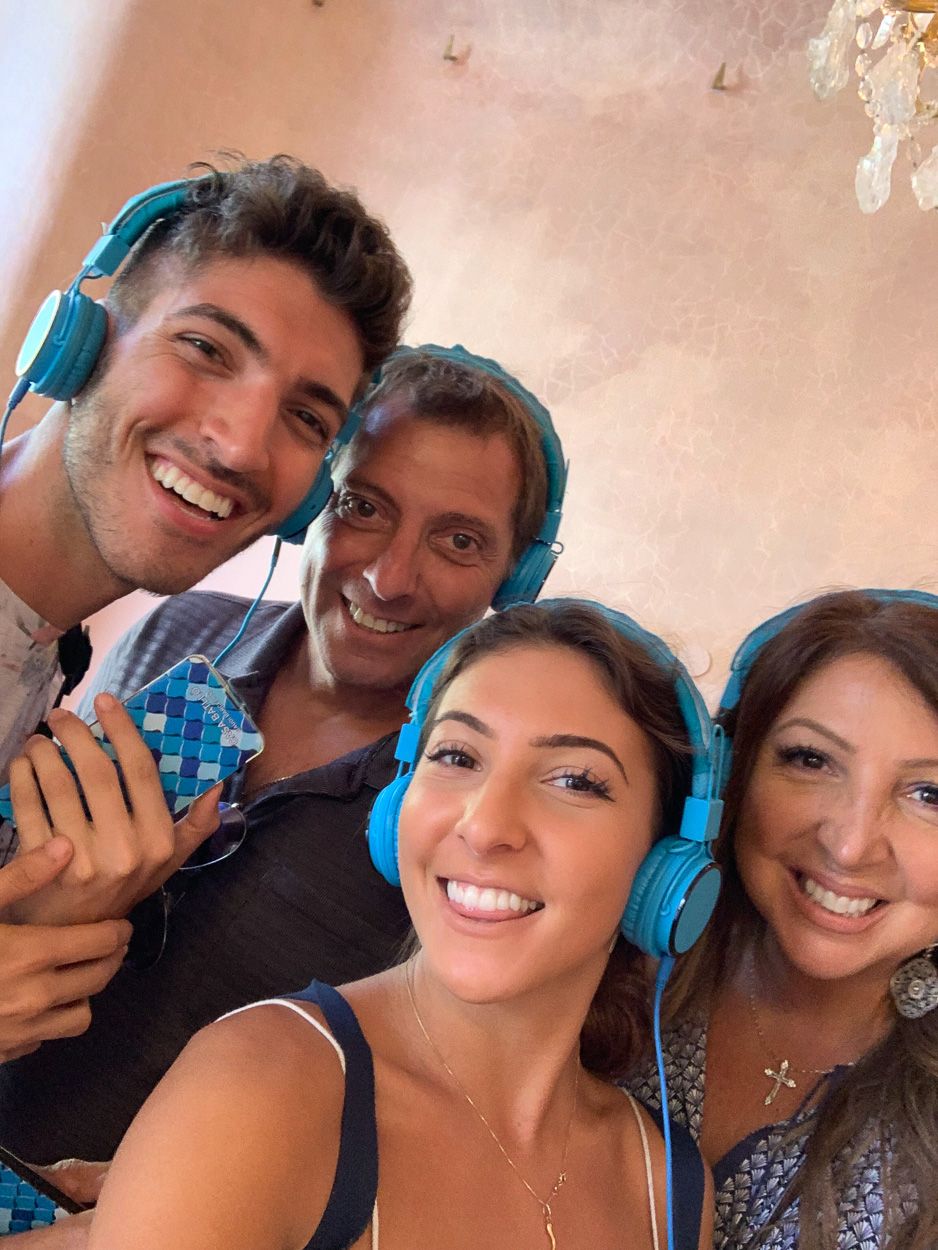 Here is the mandatory family selfie we took at every Gaudí attraction we toured together. 😉
The first floor was built as the owner's apartment. It was so interesting to see how the custom app expanded on what we could see in person.
In this part of the house, the stained glass windows were so beautiful.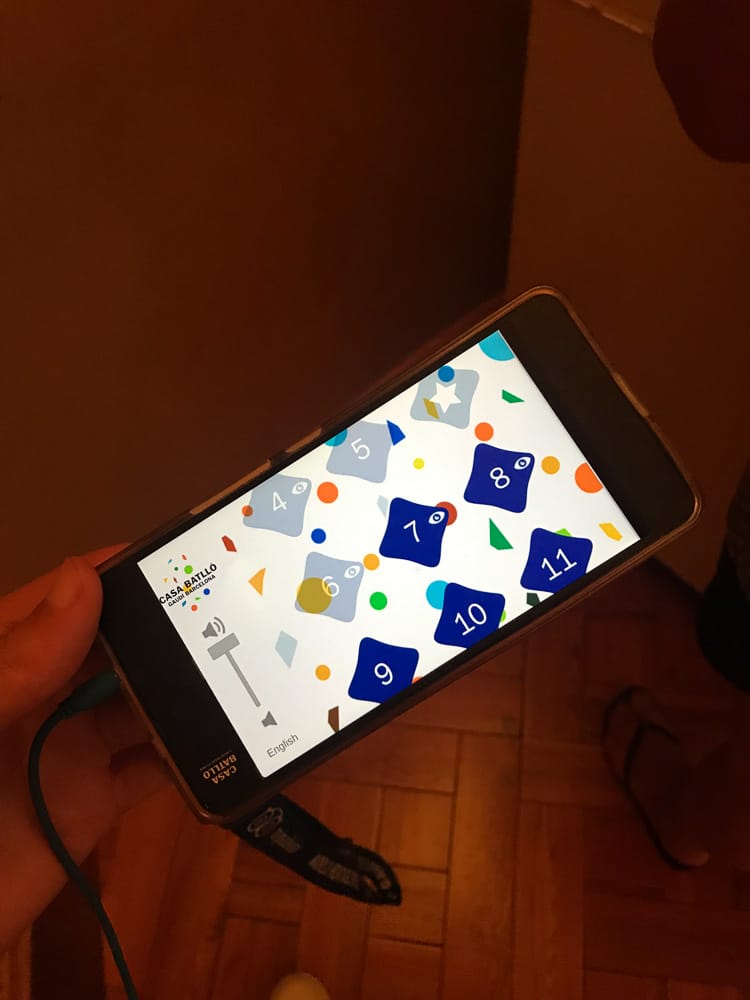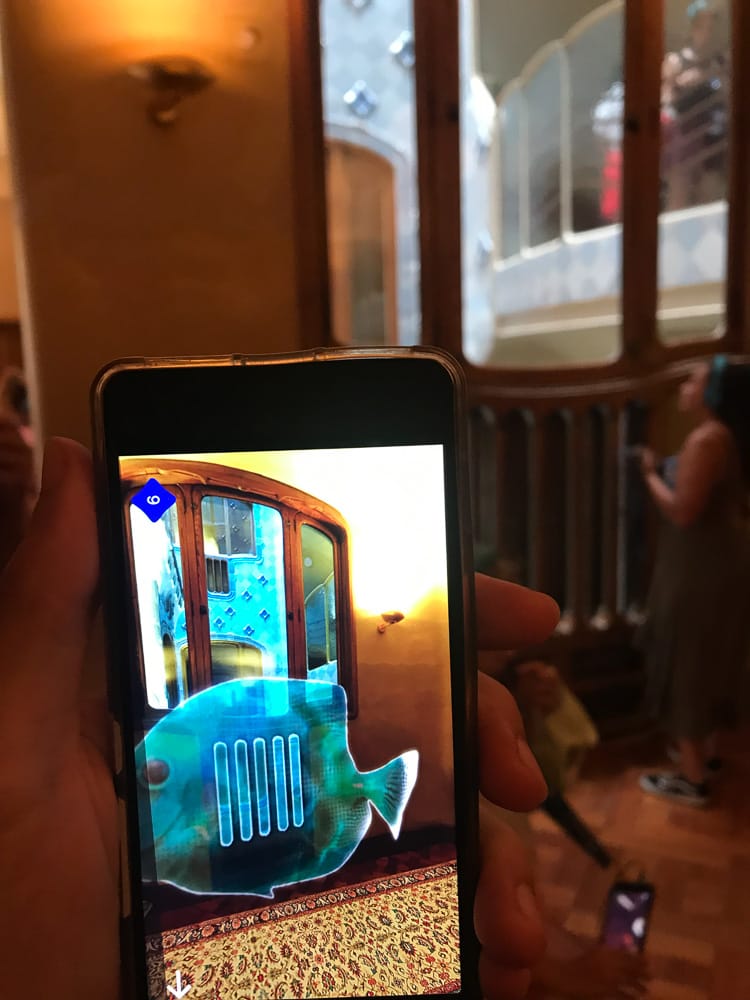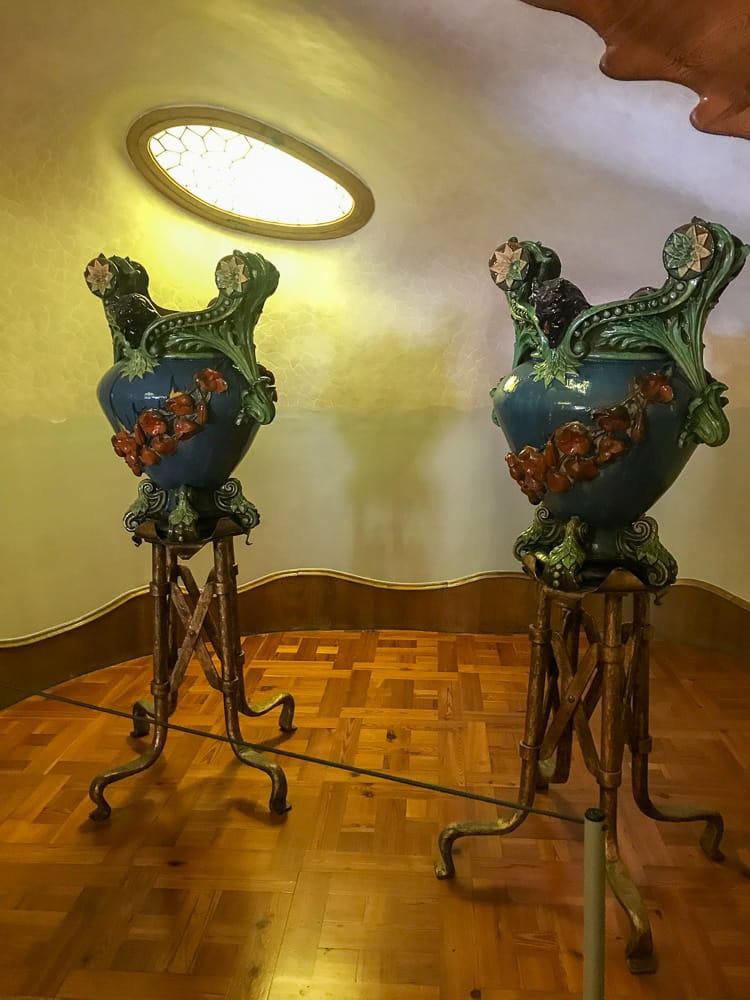 THE ENTRANCE HALL
This area leads to the Batlló family's private entrance hall. It was designed to evoke an underwater environment with skylights that resemble turtle shells.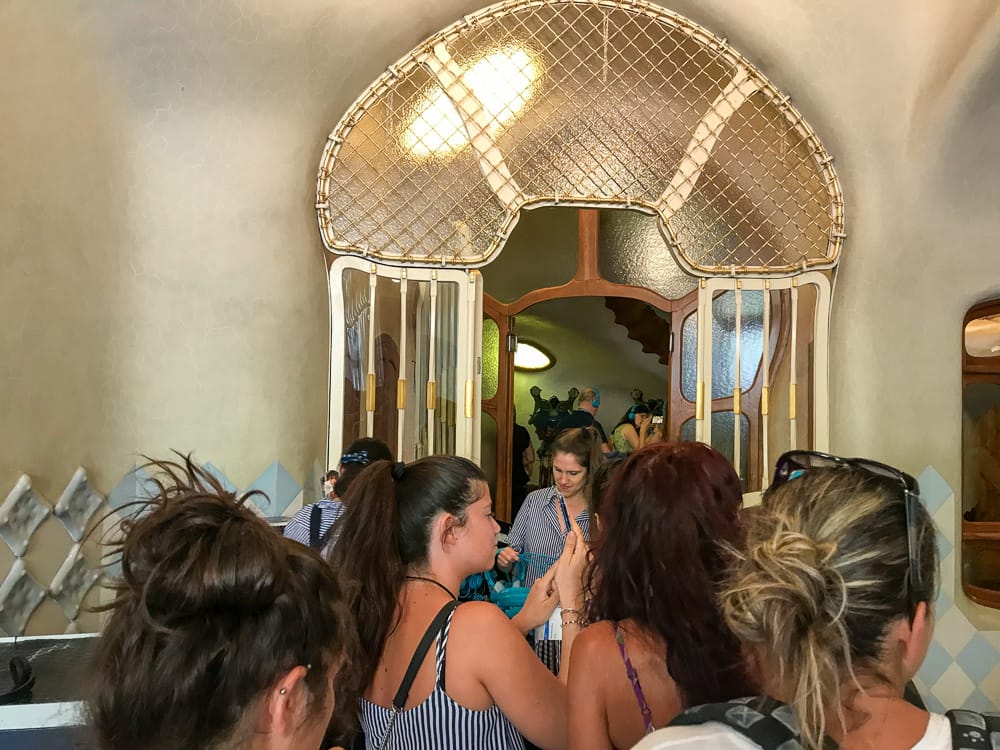 THE LIGHTWELL
The lightwell is a fundamental part of the house that distributes the air and light that enter through the main skylight.
Glass walls, like the one shown below, were utilized here because they allow light to pass through them while also creating the sensation of being underwater!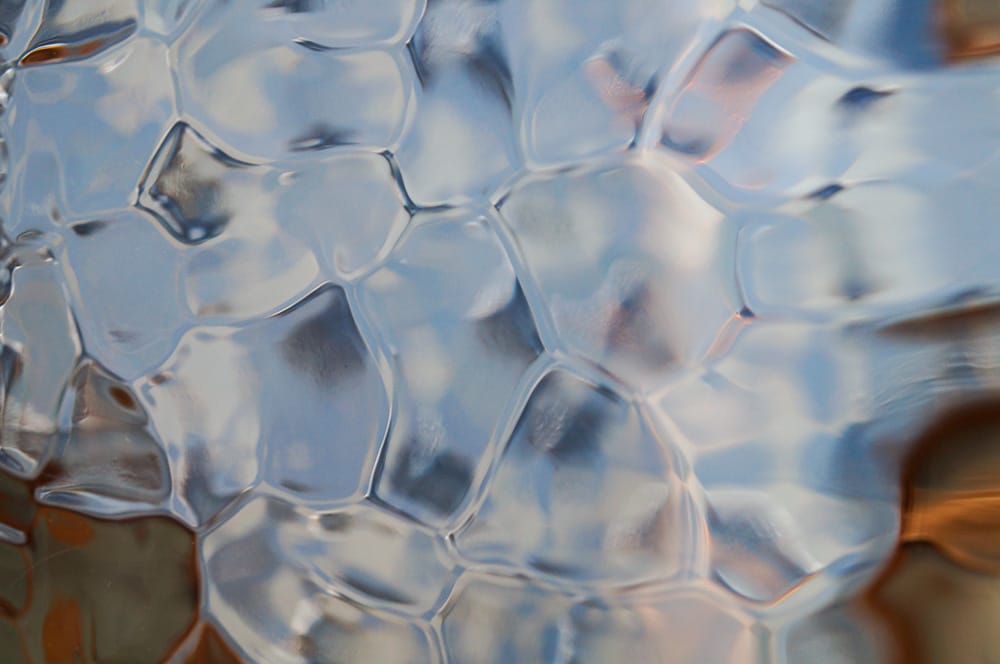 Gaudí purposefully made windows larger as you descend down the building to allow more light to enter.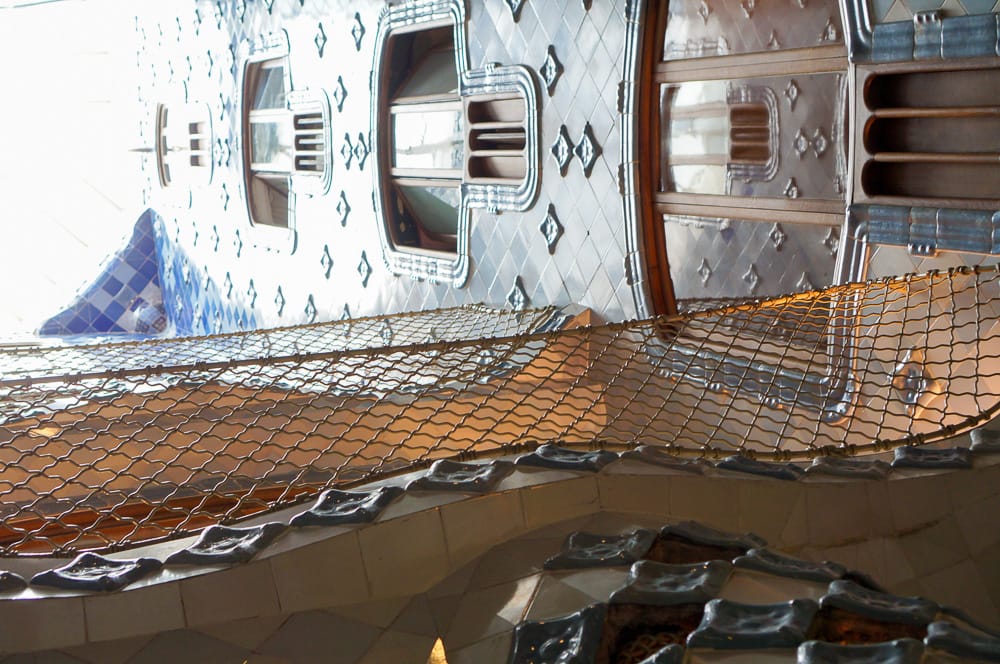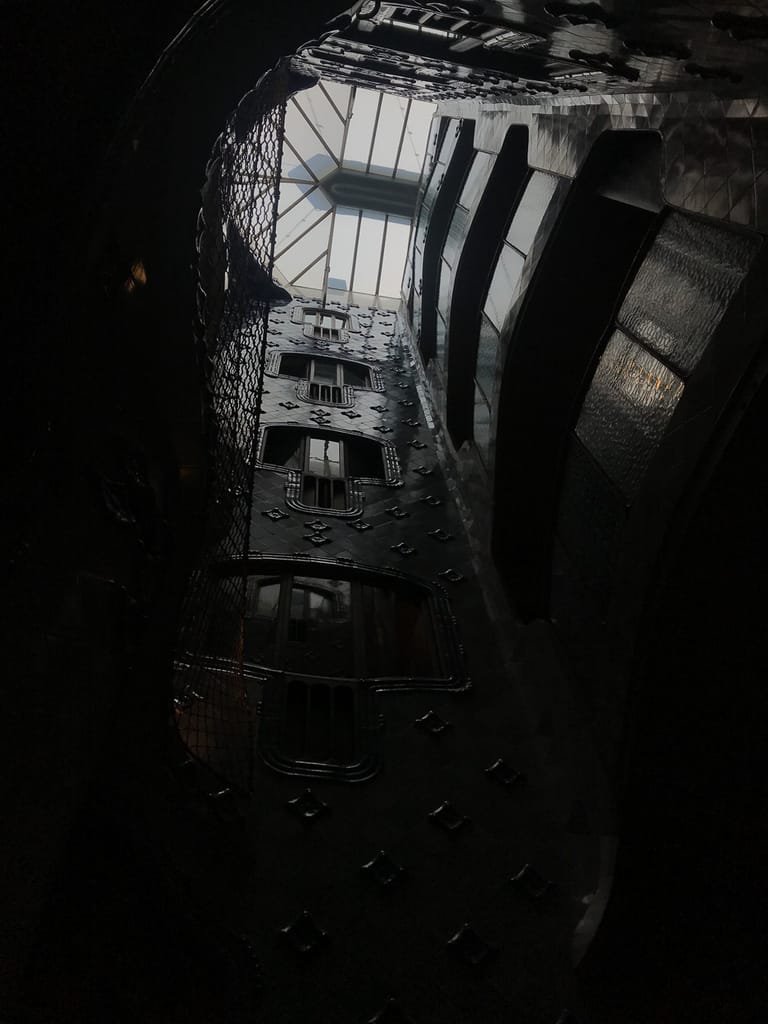 NOBLE FLOOR AND MUSEUM
This is the very heart of the house and represents the maximum expression of modernism.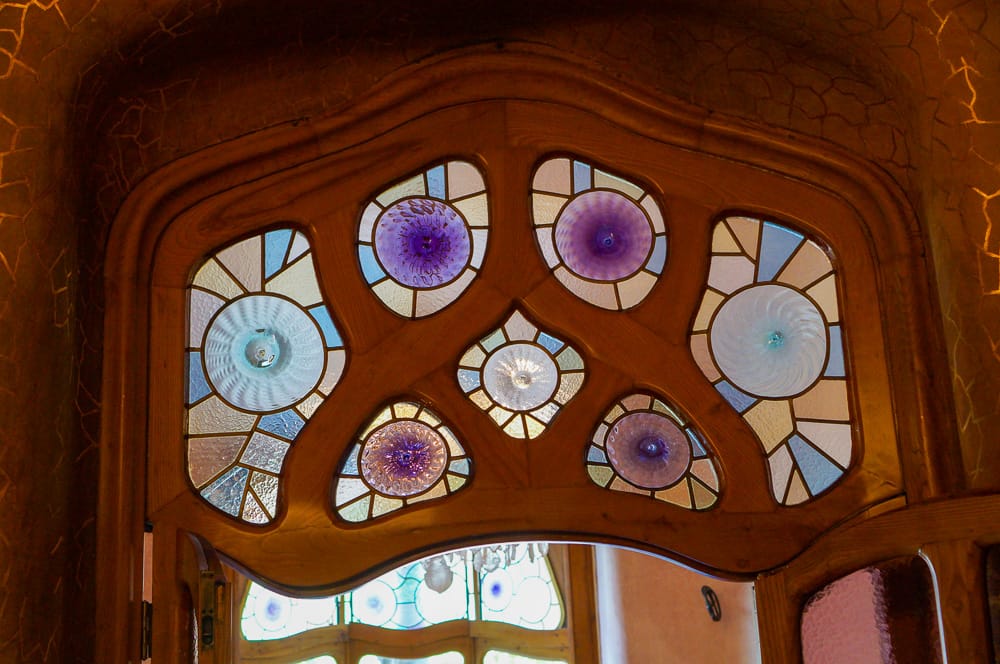 These stained glass panes symbolize the strength of the sea.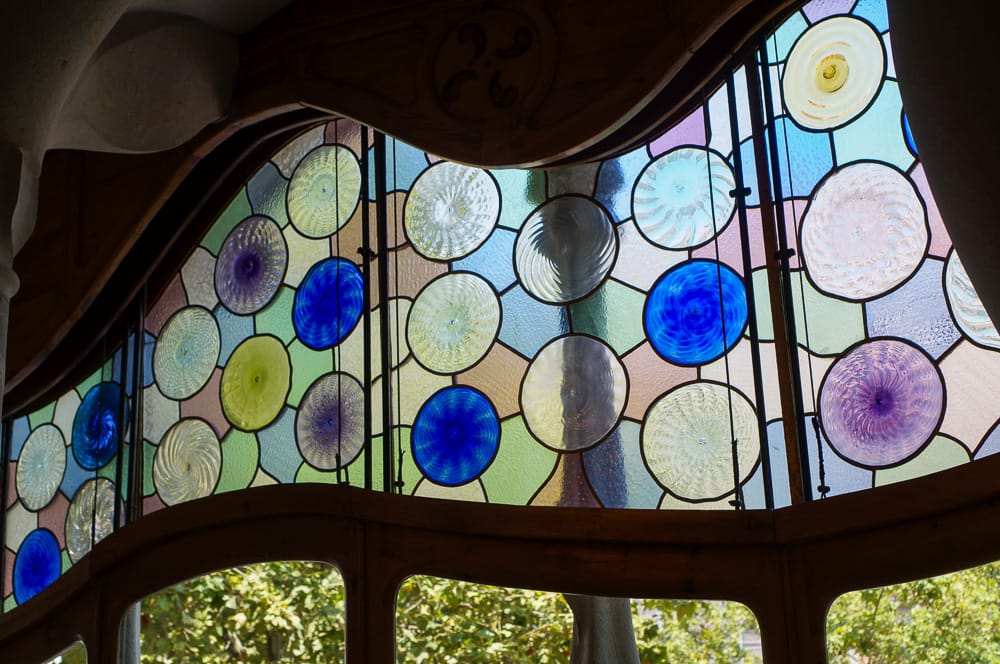 My favorite part of this area was the strange mushroom-shaped fireplace.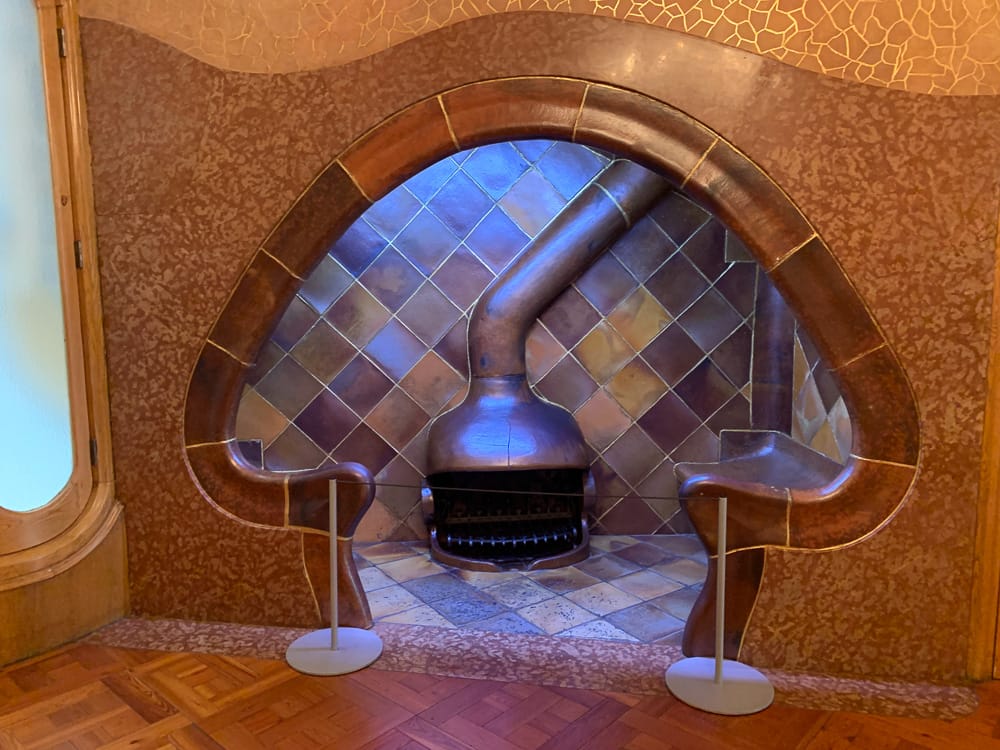 THE COURTYARD
The Courtyard is linked to the Indoor Garden.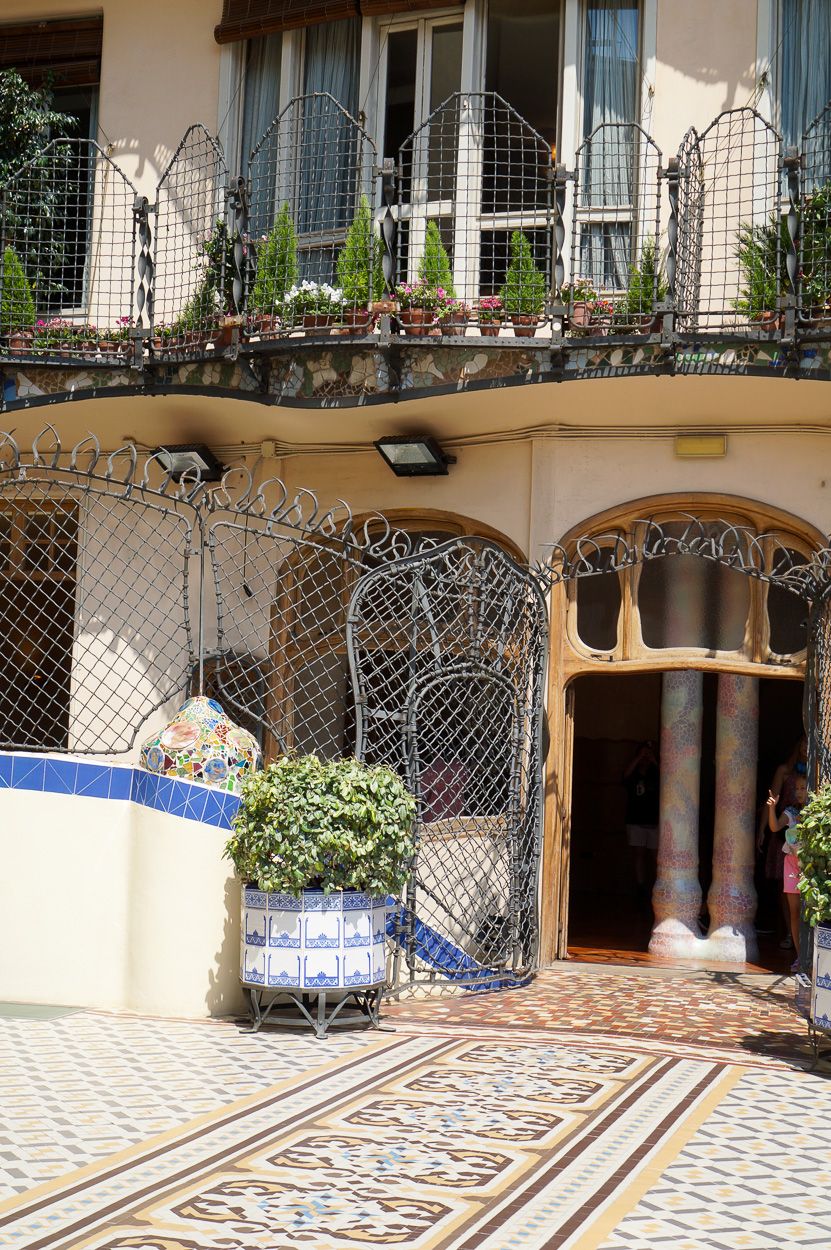 Gaudí decided to also renovate the Rear Façade of the building. He added wavy balconies and iron railings. You can see these in the photo I took below.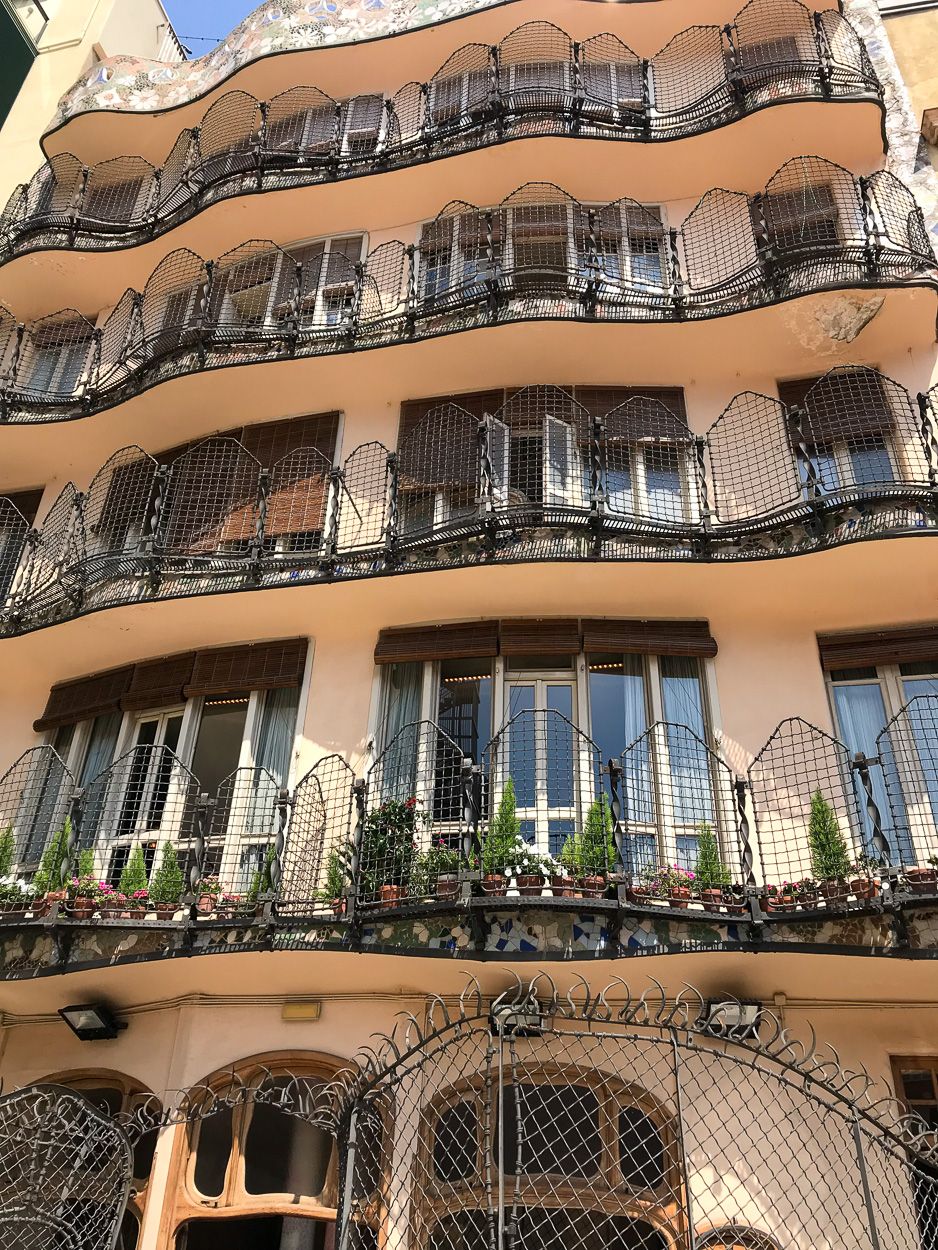 Around each floor, Gaudí applied the trencadís technique which later became one of his trademarks.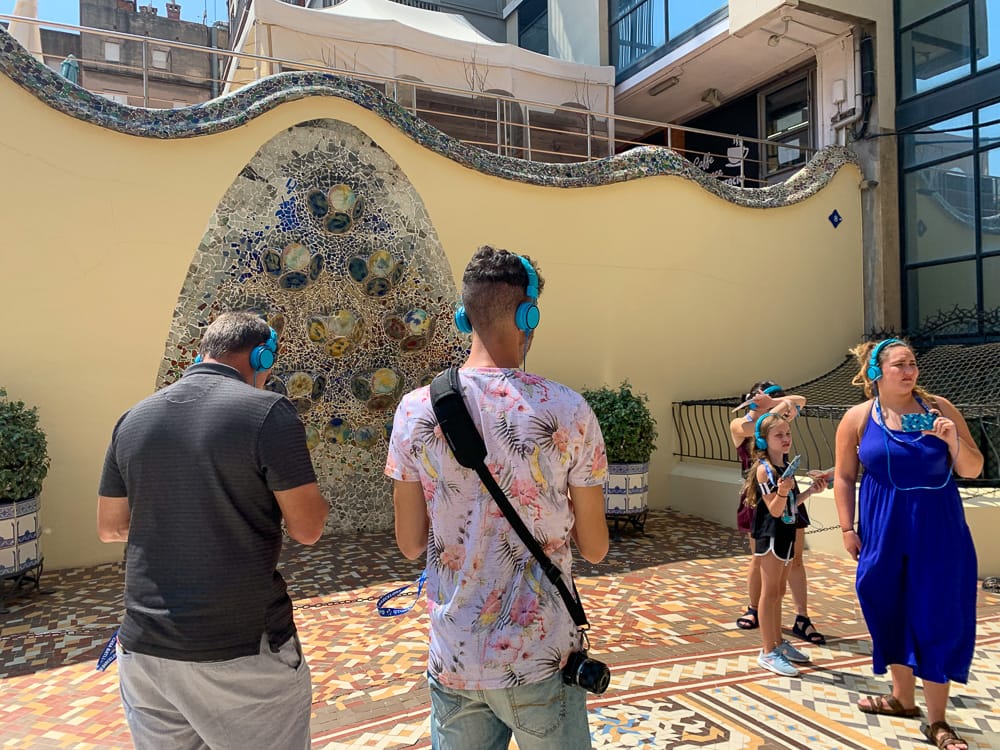 THE LOFT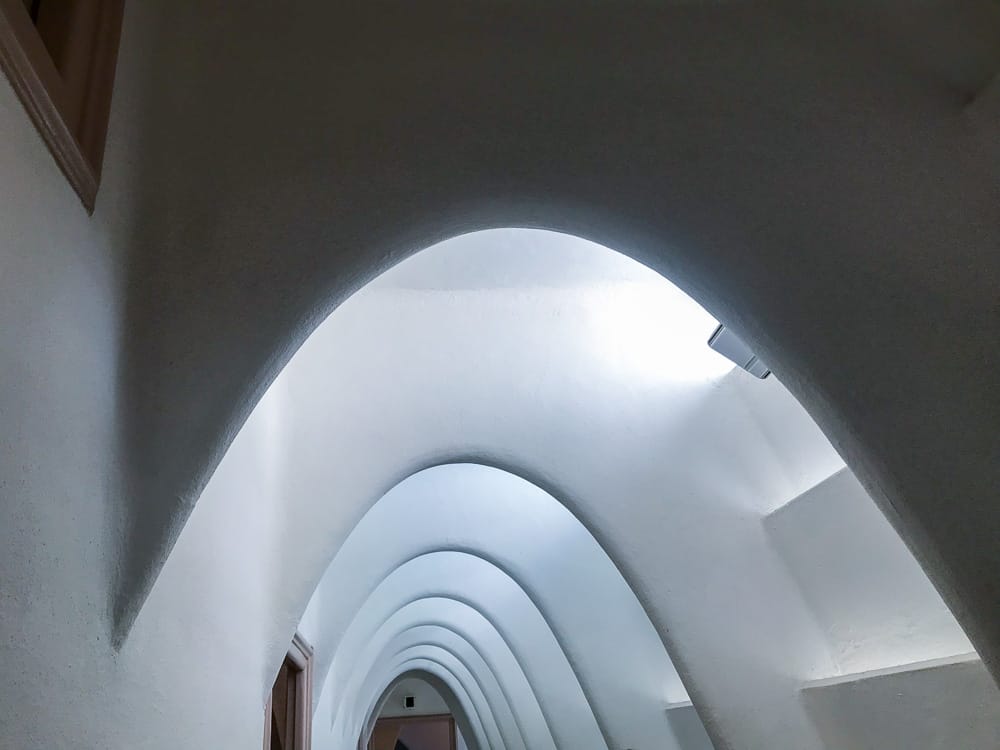 This was a really unique space. Free from all the color that fills the rest of the house so vividly. The Loft is made of 60 catenary arches.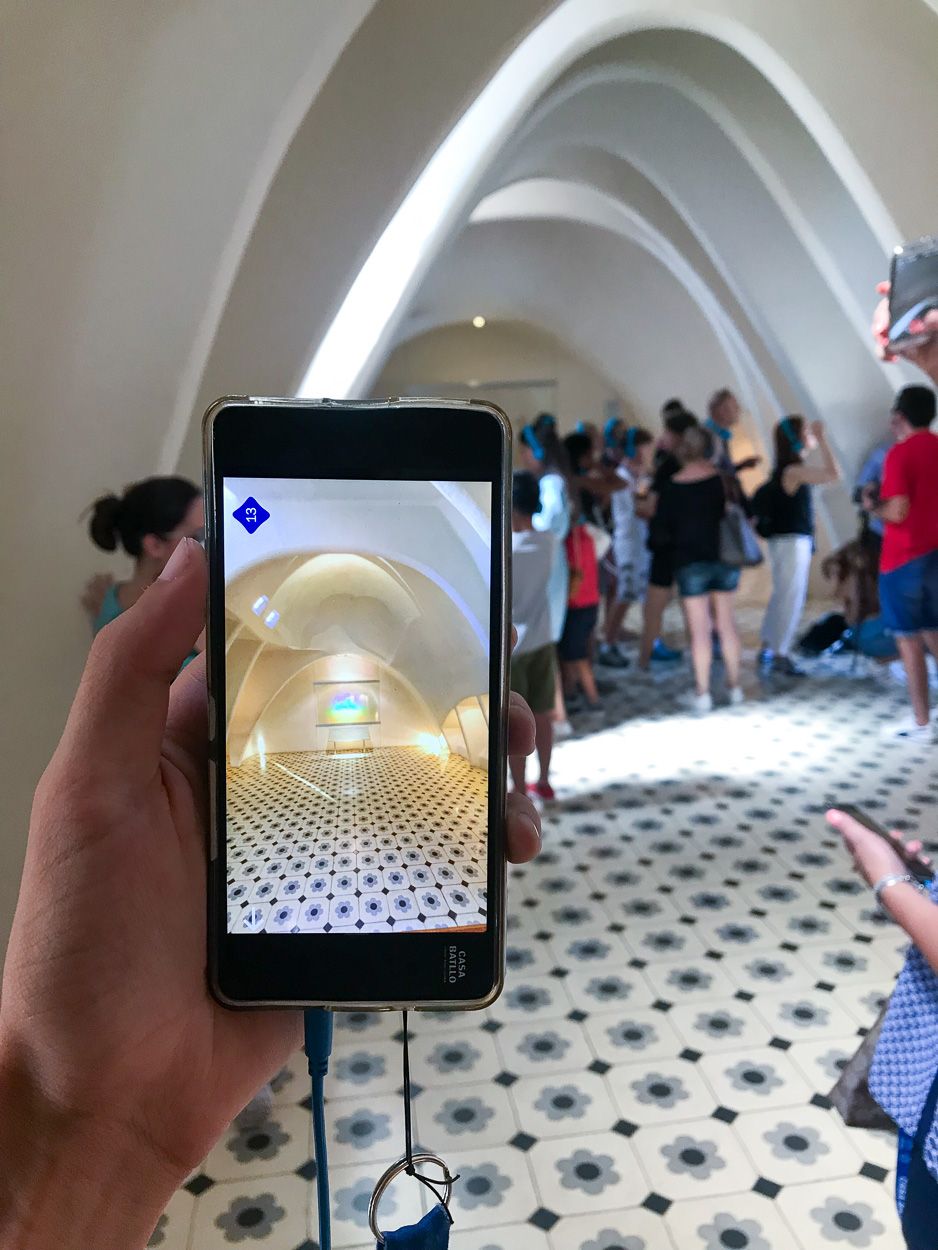 Gaudí wanted to emulate the ribcage of an animal with this design.
THE CASA BATLLÓ ROOF TERRACE
At last, time for the DRAGON!!! 🐉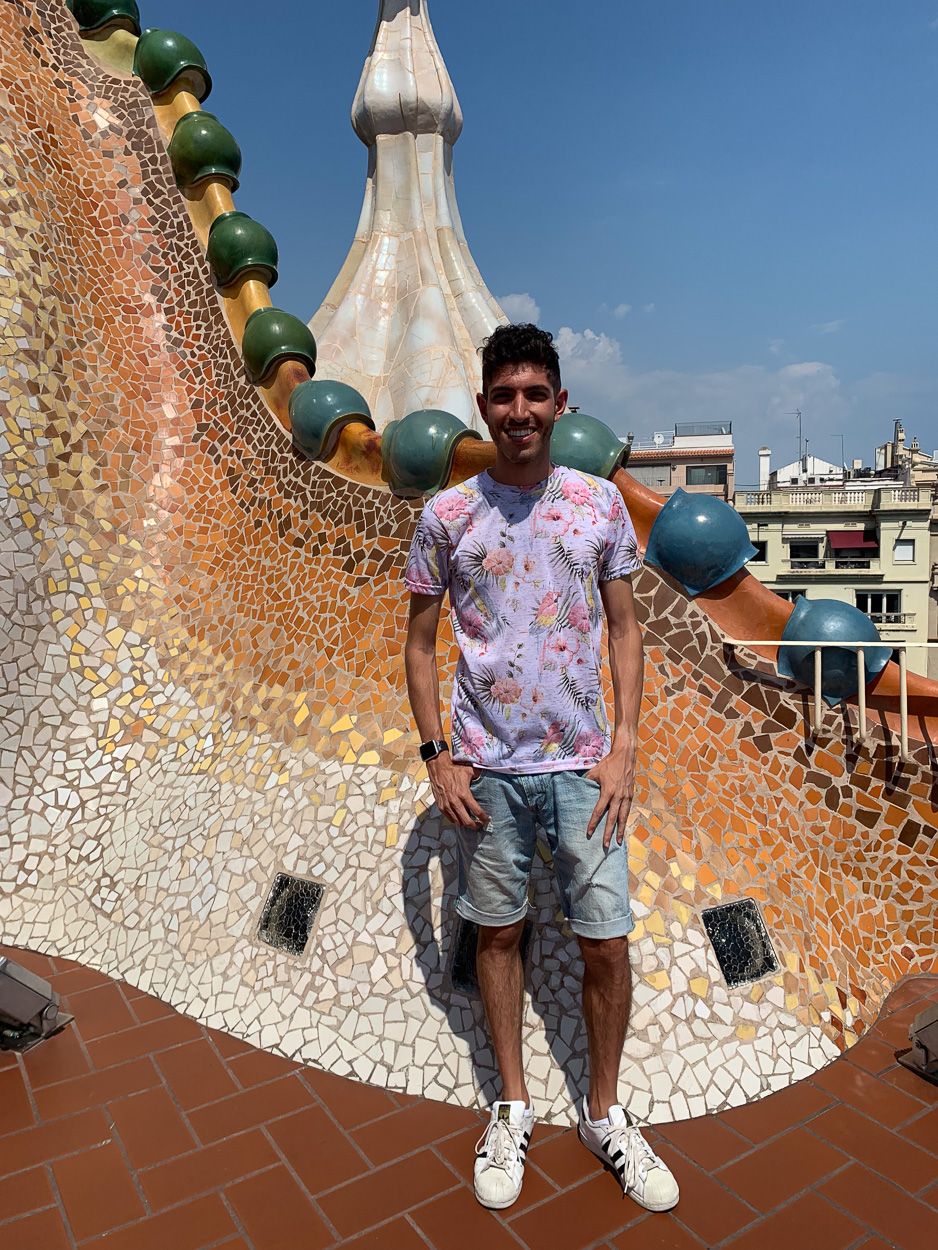 The roof terrace is where you can see the famous dragon's back. In these photographs, my sister and I are posing near the spine.
Mosaics are a popular theme in Gaudí's works. If you enjoy this detail, just wait until you see Parc Güell in my next blog post!
Gaudi's influences from nature and religion are easy to see!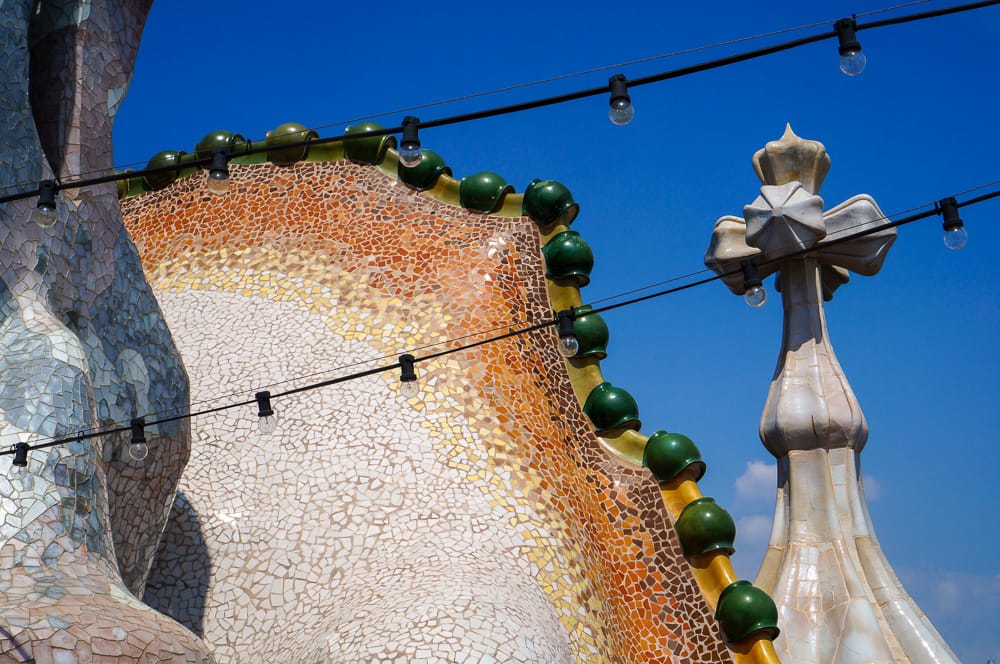 The roof's design is based on the Legend of Saint George.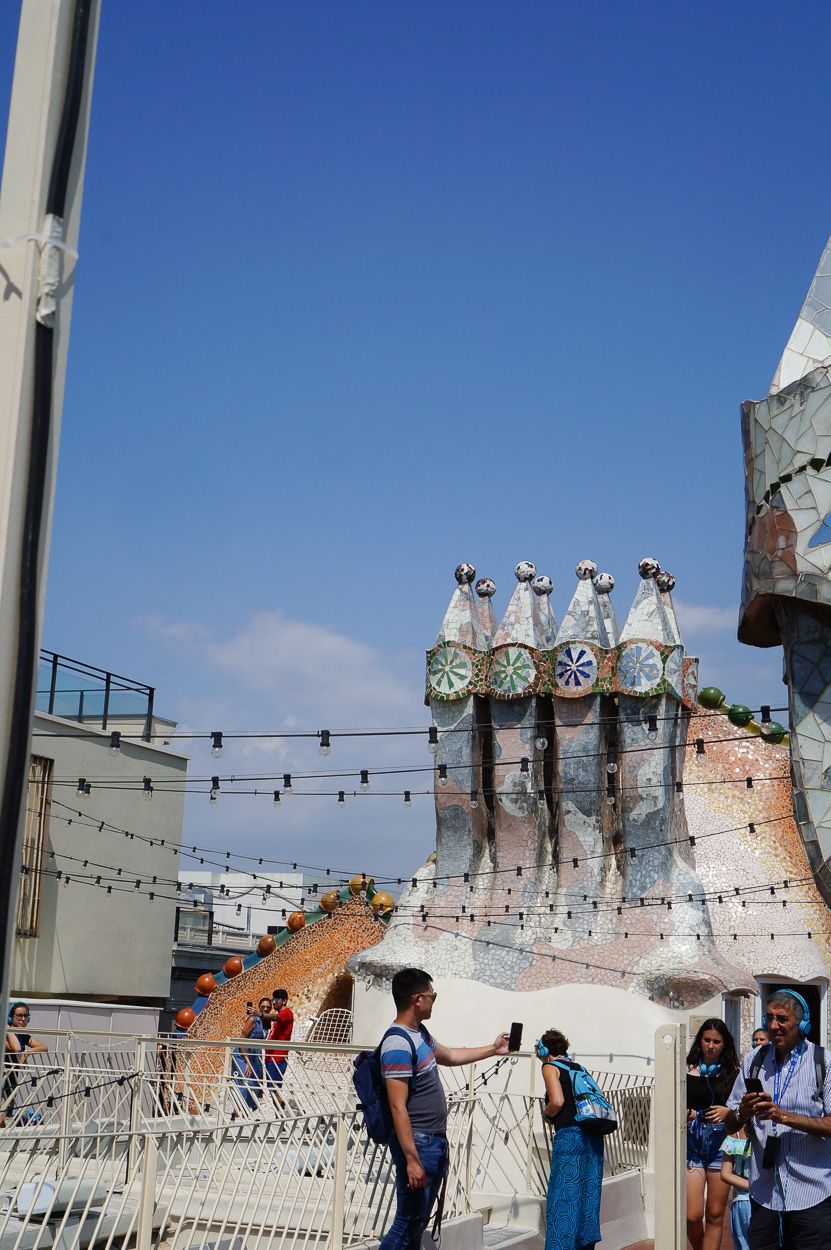 Saint George is the patron saint of Catalonia.
Keep your eyes peeled for the back of the dragon pierced with Saint George's sword, the balcony of the princess, and the skeletal remains of the dragon's victims.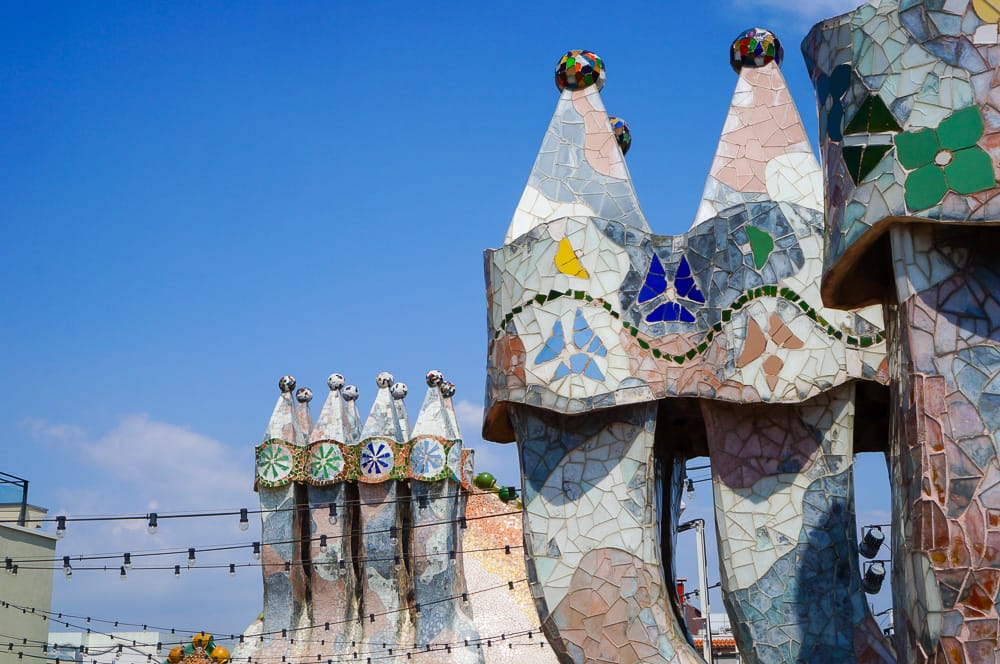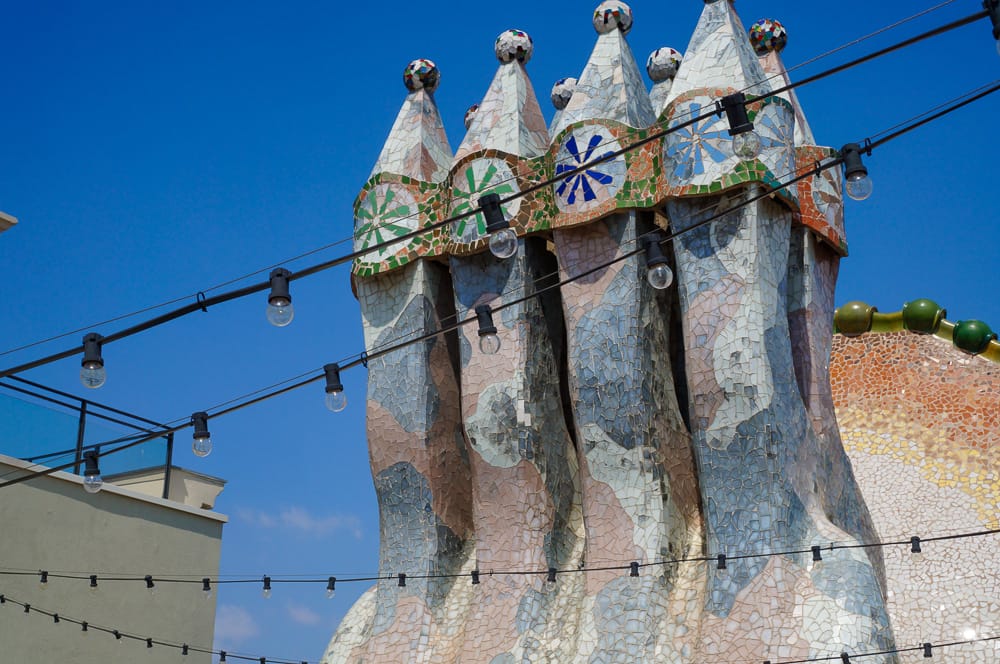 CASA BATLLO FREQUENTLY ASKED QUESTIONS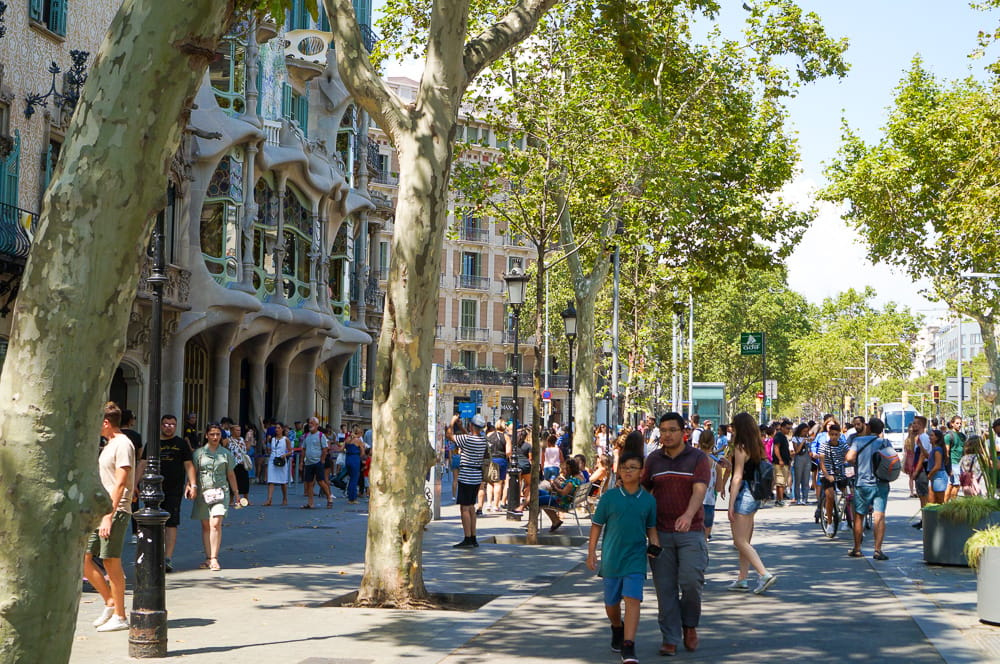 WHERE IS CASA BATLLO LOCATED?
Casa Batlló is located in central Barcelona at:
Passeig de Gràcia, 43, 08007
Barcelona, Spain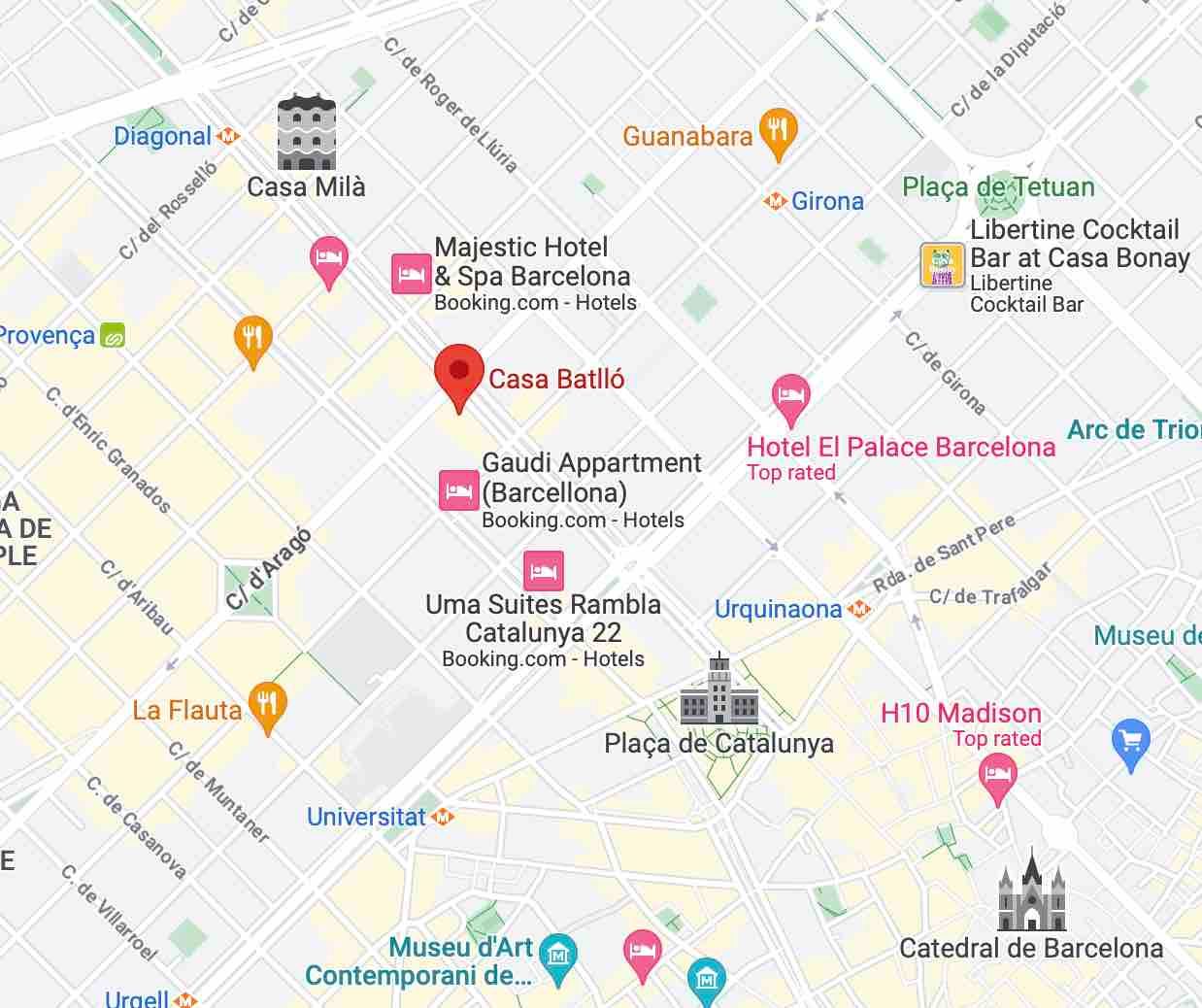 HOW DO YOU GET TO CASA BATLLÓ?
As you can see above, Casa Batllo is in a very centralized area. It is within walking distance of Casa Milà, the Cathedral of Barcelona, and Plaça de Catalunya.
Passeig de Gràcia is a very easy area to travel to.
By metro, you can take L2, L3, and L4.
If you want to use OMIO to book transportation by train, RENFE trains stop at Passeig de Gràcia station. FGC stops at Provença Station.
As for the bus, your options include H10, V15, 7, 22, and 24. Of course, there are many tourist buses you can reserve that will most likely stop right at Casa Batllo as well.
HOW MUCH DOES IT COST TO ENTER CASA BATLLO?
Prices may vary depending on availability and how early you book your ticket(s). Casa Batlló recommends purchasing your ticket online in advance to secure the best rate.
You can purchase your tickets here.
Note: Shop online because ticket prices at the counter cost 4 euros more per ticket.
Discounts are available for students, children, and the disabled.
WHAT ARE CASA BATLLO'S HOURS?
For General Visits, Casa Batlló is open between 9:00 AM and 8:00 PM.
The last entrance option is 7:15 PM.
HOW LONG DOES IT TAKE TO TOUR CASA BATLLÓ?
When selecting the time, remember it takes 1 to 2 hours to complete the entire tour of the house.
It takes an average of 1 hour to complete with a Blue ticket. Silver and Gold visits take longer: 1 hour and 15 minutes on average.
IS THE AUDIO GUIDE INCLUDED?
Yes, it is free. It's included in the standard price of admission.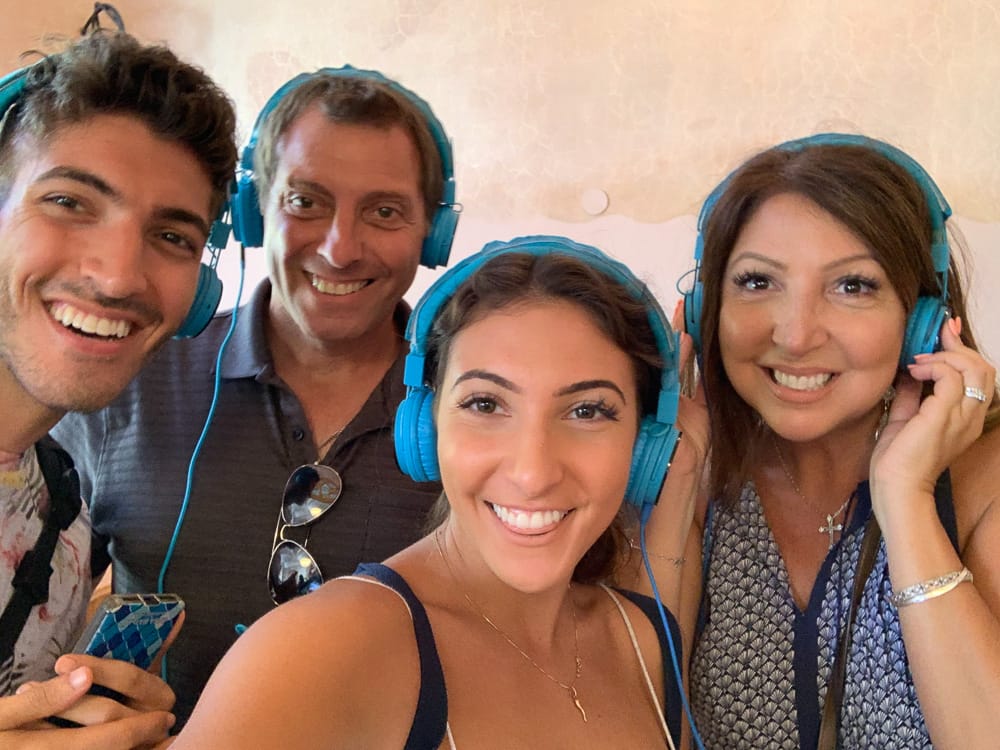 I HOPE YOU ENJOYED THIS INSIDE LOOK WITH PHOTOS OF CASA BATLLÓ
Many people pass by Casa Batlló and stop simply to admire its facade. The design is so attention-grabbing that there are people standing or sitting in front of it day and night, summer and winter, rain or shine. If you've never been, I highly recommend you go!
If you enjoyed this, you can also read about Gaudí's Casa Milà and La Sagrada Família.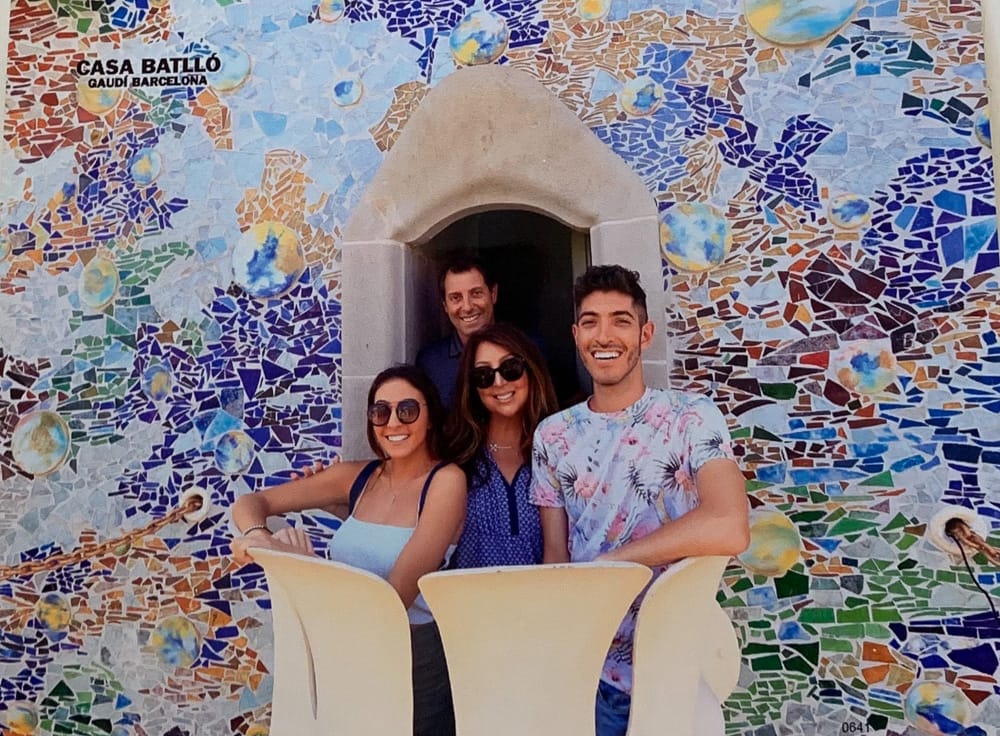 My family and I visited La Sagrada Familia when we were traveling in Barcelona. This Sagrada Familia Travel Guide will …