My family and I visited La Sagrada Familia when we were traveling in Barcelona.
This Sagrada Familia Travel Guide will walk you through our first-hand experience visiting the largest unfinished church in the world and what we learned from touring it.
WHAT IS LA SAGRADA FAMILIA?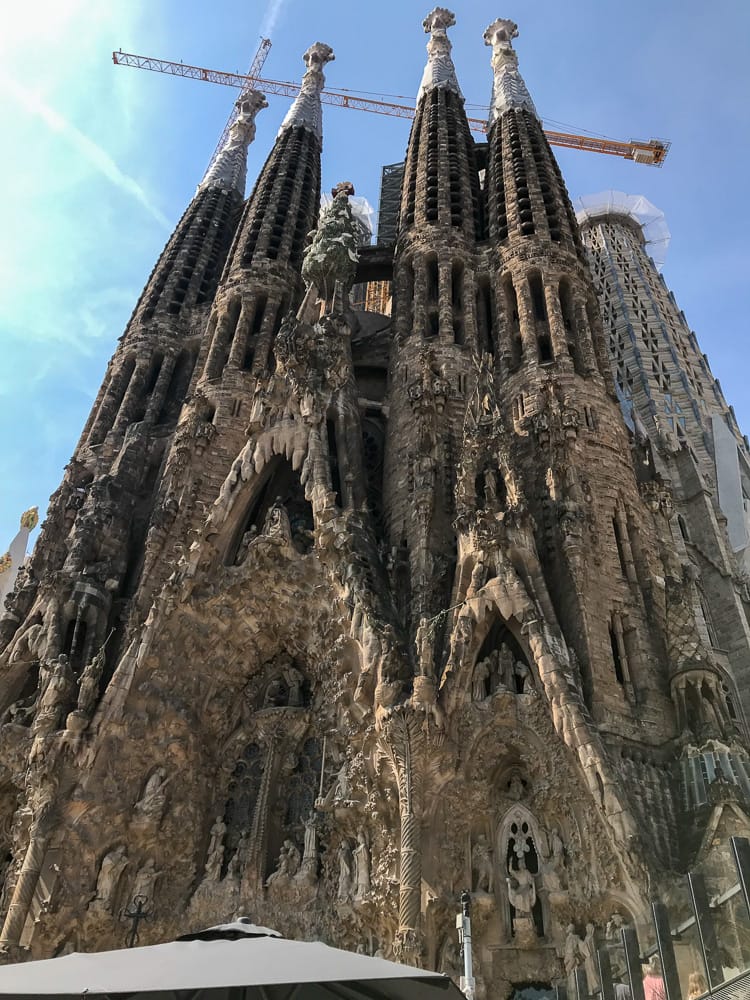 La Sagrada Família is the largest unfinished church on Earth. Designed by the famous Spanish designer and architect Antoni Gaudí, the Sagrada Familia is one of a kind.
VISITING LA SAGRADA FAMILIA: TIPS & INFORMATION
HISTORY OF LA SAGRADA FAMILIA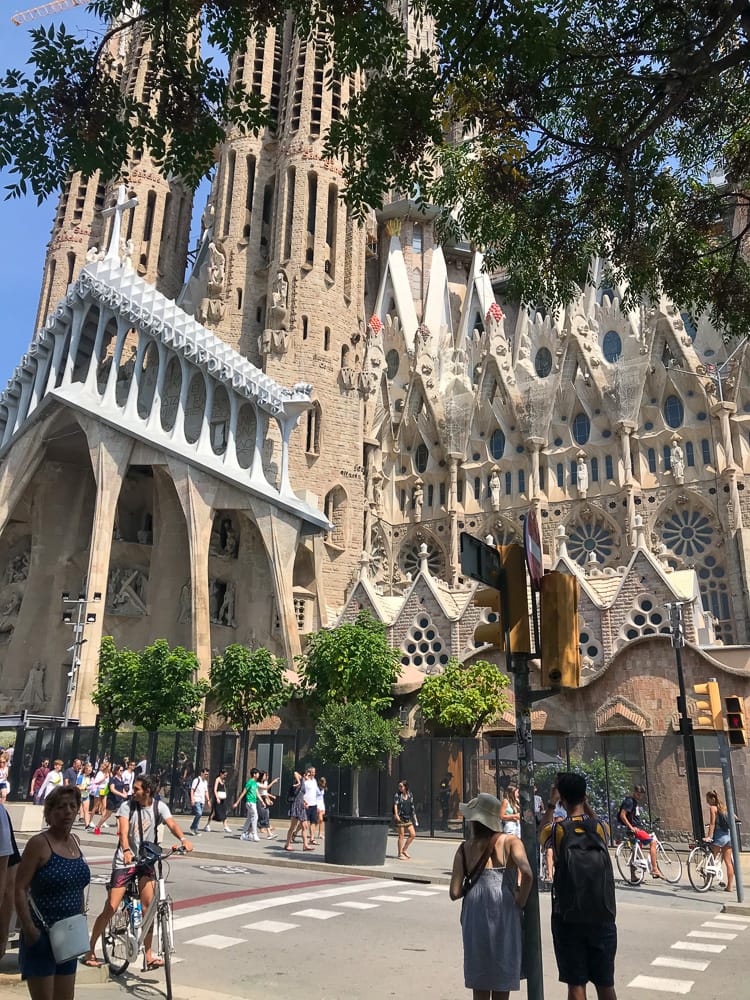 1. LA SAGRADA FAMILIA IS A UNESCO-LISTED SITE
Art critic Rainer Zerbst once noted, "It is probably impossible to find a church building anything like [La Sagrada Familia] in the entire history of art."
The Sagrada Familia is one of seven UNESCO-listed Gaudí properties in Barcelona: Parc Güell, Palacio Güell, Casa Mila- La Pedrera, Casa Batlló, Casa Vicens, and the Crypt in Colonia Güell.
2. LA SAGRADA FAMILIA IS FAMOUSLY UNCOMPLETE
Construction of the eye-catching Sagrada Familia began in 1882 and has continued for over 140+ years since then.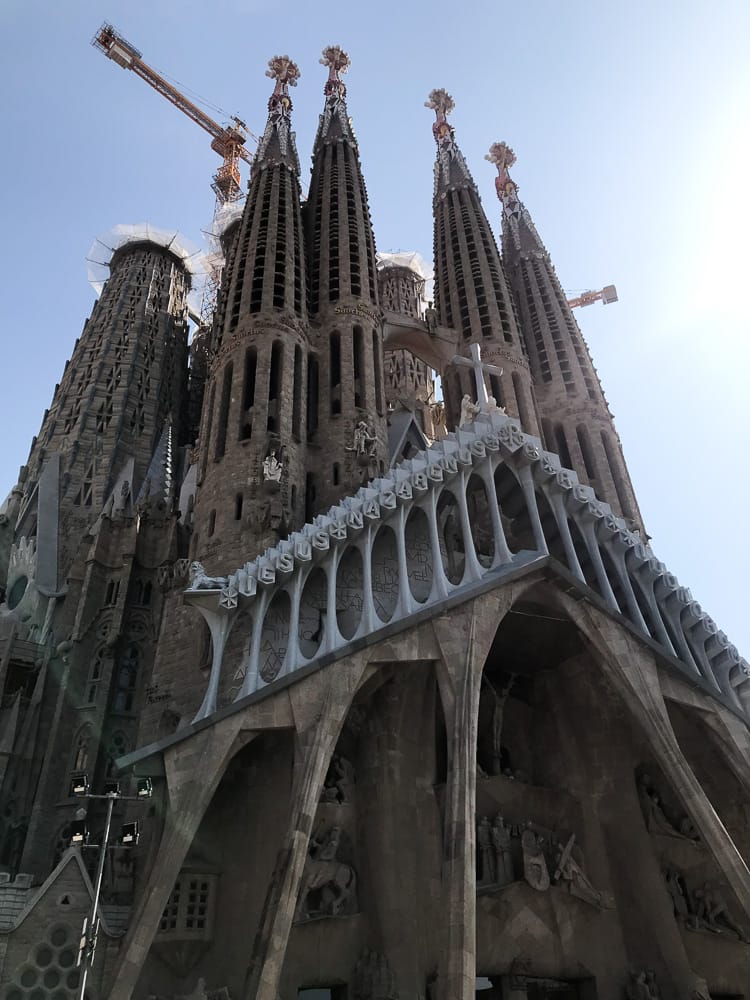 Gaudí, at the age of 73, impressively was still working on the Sagrada Família when he was tragically hit by a tram in 1926 and died.
Today, his architectural vision survives him with the continued construction of the Sagrada Familia he so passionately pursued.
3. WHEN WILL LA SAGRADA FAMILIA BE FINISHED?
Believe it or not, the Sagrada Familia is expected to be completed in 2026, the centenary of Gaudí's death.
At the time of writing, it's believed it will be finished 3 years from now!
It's incredible to think we are just a few years away from seeing Gaudí's vision fully realized!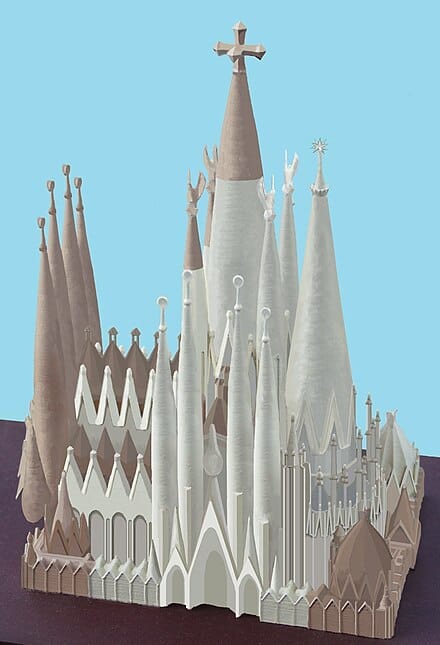 In the model above, the remaining parts that still need to be built are shown in brown (As of 2023).
As you can see, the highest point is still awaiting construction. Once complete, the tallest spire will reach a height of approximately 566 feet once again redefining Barcelona's skyline. (And by request of Gaudí, one meter shorter than God's creation: Montjuïc Mountain.)
We'll all have to go back to see it in its final form!
EXPLORING LA SAGRADA FAMILIA
Gaudí's Magnum opus: his masterpiece, the Sagrada Família, is one of the most awe-inspiring man-made structures you'll ever see.
1. THE REAL NARRATIVE IS TOLD ON THE OUTSIDE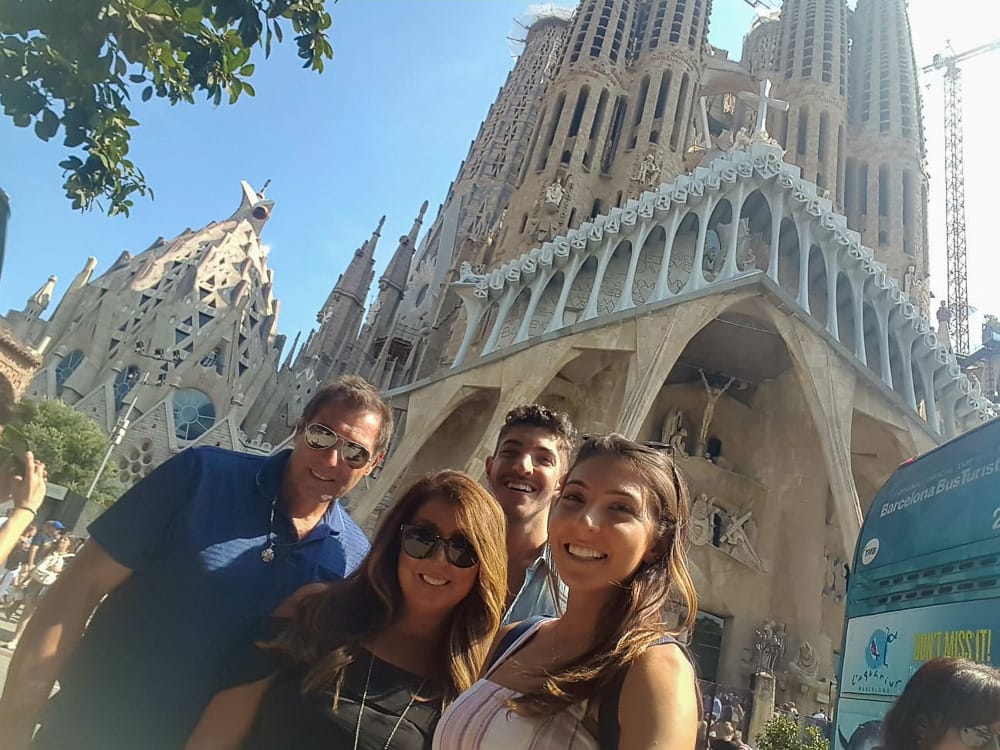 Where Spanish gothic style and modernism combine, we find none other than the one-of-a-kind Sagrada Familia. Intertwined in this fascinating building's architectural style is a story told through its very design.
While most churches portray beliefs through statues and sacred artwork, the Sagrada Familia conveys this story through impressive facades: the Nativity Façade, the Passion Paçade, and the Glory façade.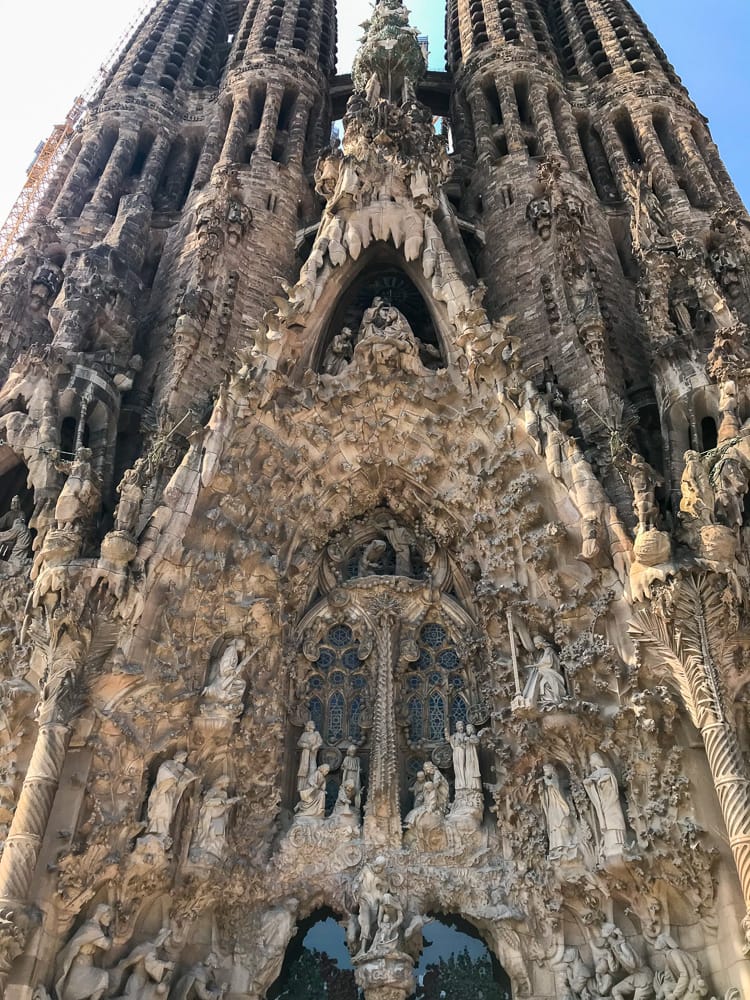 I recorded the video above to show you how grand the Nativity façade is.
2. EACH INDIVIDUAL TOWER IS SYMBOLIC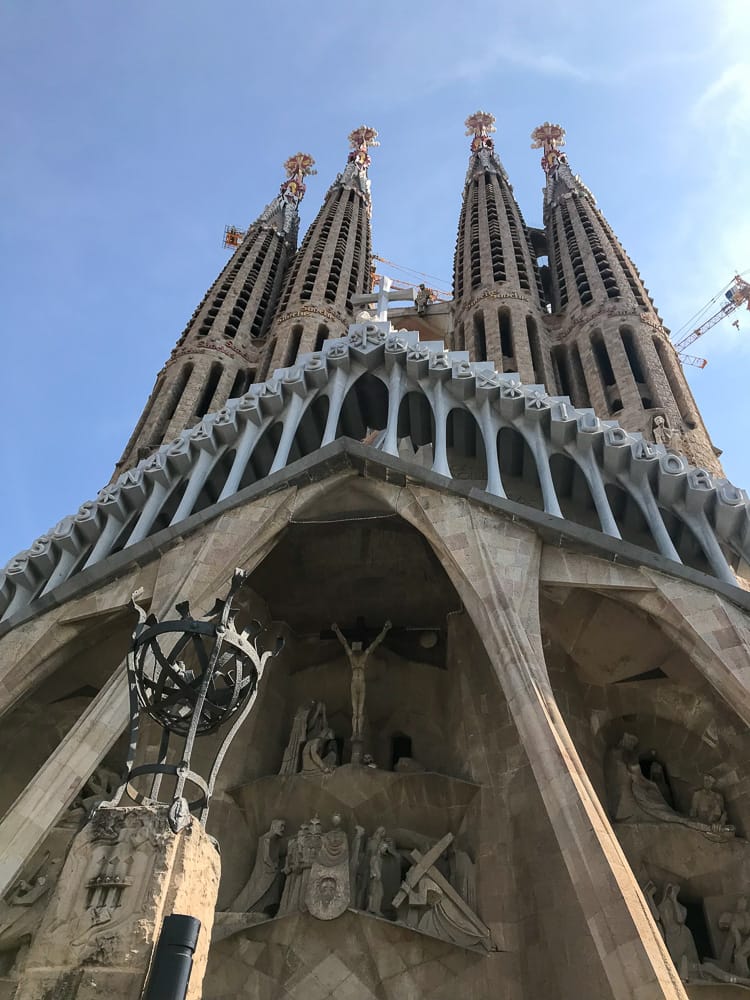 Gaudí envisioned there being a total of 18 towers: with each one having a specific significance!
12 of these towers are positioned on the three façades. Each one is dedicated to one of the Twelve Apostles. At least 8 of these towers have been completed so far with the other 4 nearing completion.
The remaining six central towers are dedicated to the Four Evangelists, the Virgin Mary, and Jesus Christ. In November of 2022, they finished 2 of the 4 Evangelist towers. The other two will be completed this year. The tower of Jesus will be finished last in 2026.
3. THE INSIDE OF THE SAGRADA FAMILIA IS SPECTACULAR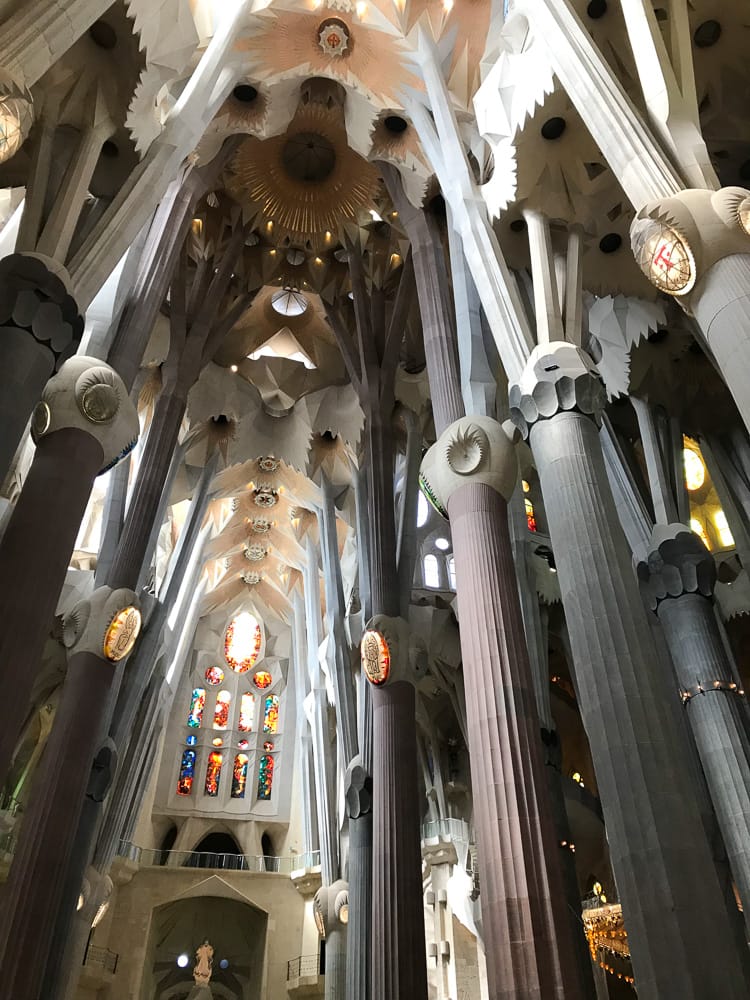 If you couldn't already tell, Gaudí was no fan of conventional ideas.
In place of traditional Gothic-style buttresses are huge columns of basalt and red porphyry. These columns are shaped like trees and branch out as they make their way up to the ceiling.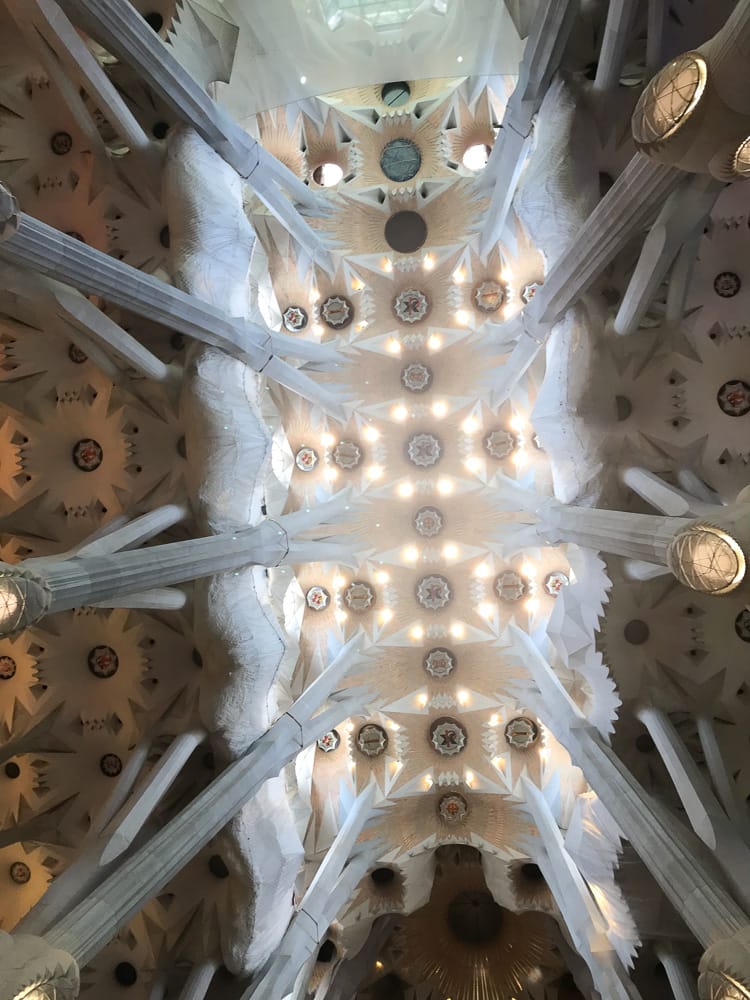 As a nature-lover, these tree-inspired columns were my favorite aspect of the Sagrada Familia's design.
INTERESTING FACTS ABOUT LA SAGRADA FAMILIA
To get the most out of your visit, it's important to do some research ahead of time. In this section, I'll share some interesting facts.
(Also, make sure you do the free audio tour when you go! We learned a lot from it.)
1. WHO PAID FOR THE CONSTRUCTION OF LA SAGRADA FAMILIA?
With a structure of this magnitude, you may wonder where funding comes from.
You may be surprised to learn that the Sagrada Familia is not funded in any way by any government or church. Private donations fund the majority of the cost (hence the project's slow progression) alongside proceeds from tourists like us paying to visit!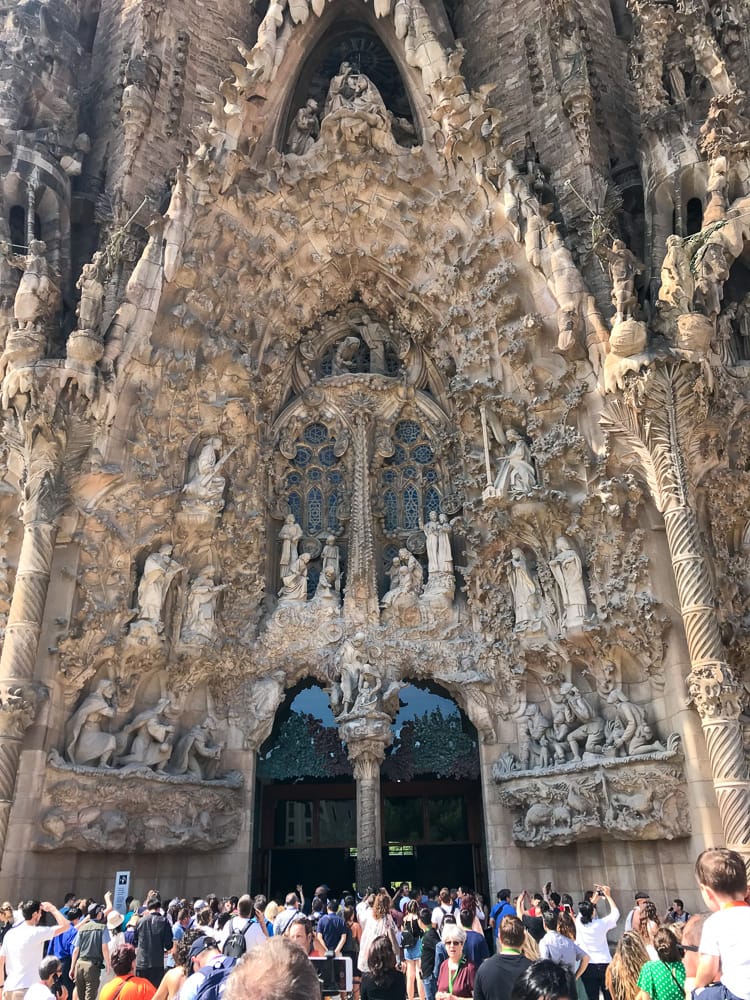 2. LA SAGRADA FAMILIA IS A CONSECRATED SPACE
La Sagrada Familia was consecrated as a basilica by Pope Benedict XVI in November 2010. With that, it is considered a functioning Roman Catholic church.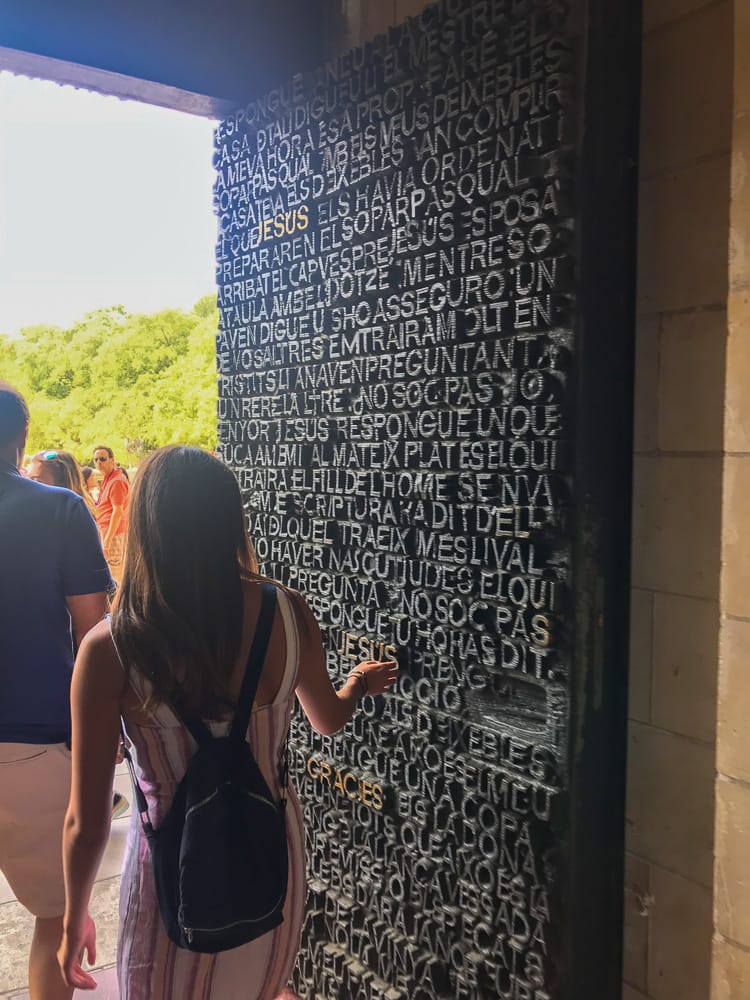 Mass is held every Sunday morning at 9 AM and Saturday night at 8 PM.
3. LA SAGRADA FAMILIA IS

NOT

A CATHEDRAL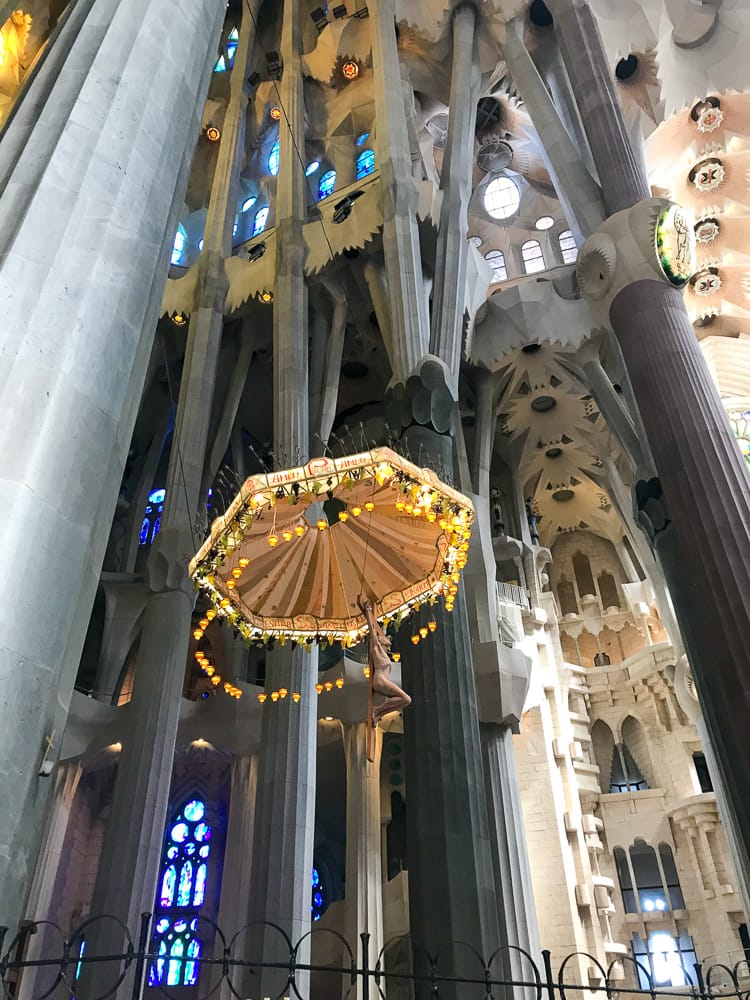 The Sagrada Familia is not the cathedral church of the Archdiocese of Barcelona. That title belongs to the Cathedral of the Holy Cross and Saint Eulalia (AKA The Barcelona Cathedral).
4. LA SAGRADA FAMILIA IS THE RESTING PLACE OF GAUDÍ
Antoni Gaudí is buried in the Sagrada Familia. He is one of only two people to be buried there. He is joined by Josep Maria Bocabella i Verdaguer who initiated the construction project.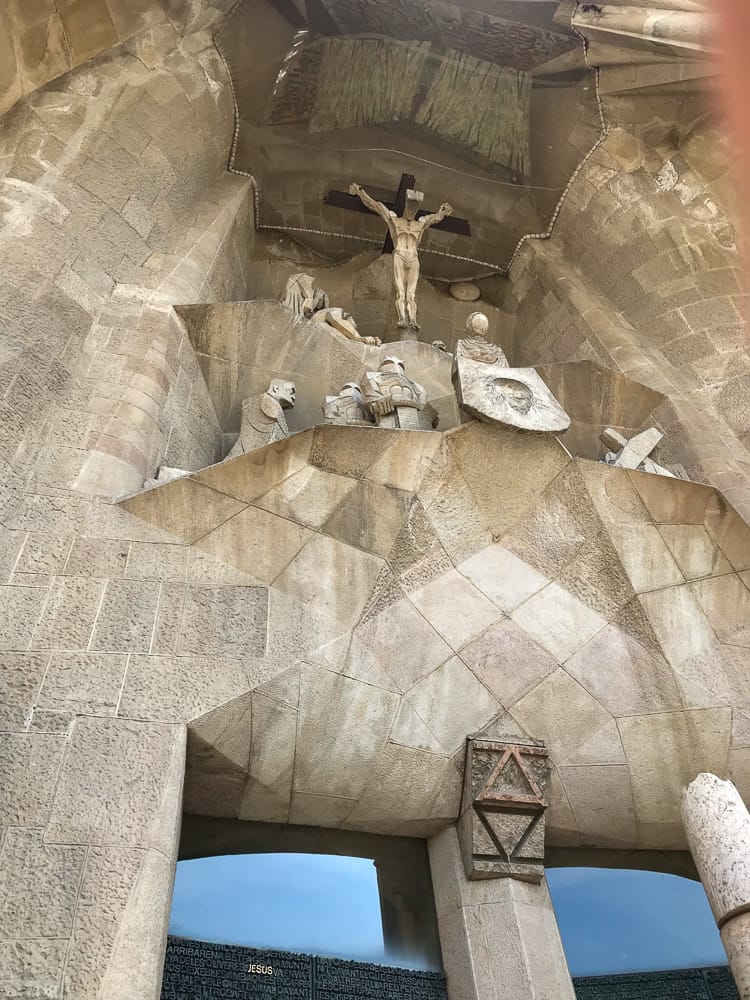 5. THE BASILICA IS CONTROVERSIAL
The central debate is whether the completed basilica will ever truly reflect Gaudí's true vision. The reason this is difficult to settle is that Gaudi's plans were burned in the Spanish Civil War. His ongoing work is based on conjecture.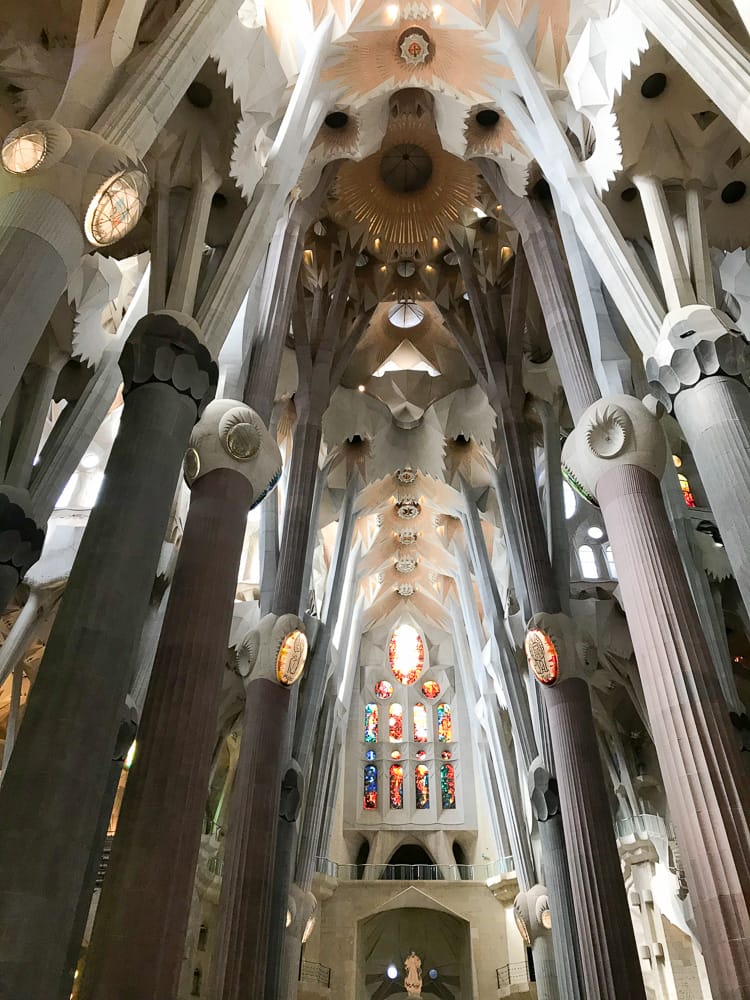 6. TO REACH COMPLETION, RESIDENTS WILL NEED TO MOVE
Another problem adding to the challenge of completing this project is that about 1,000 families may be forced to relocate.
LA SAGRADA FAMILIA FREQUENTLY ASKED QUESTIONS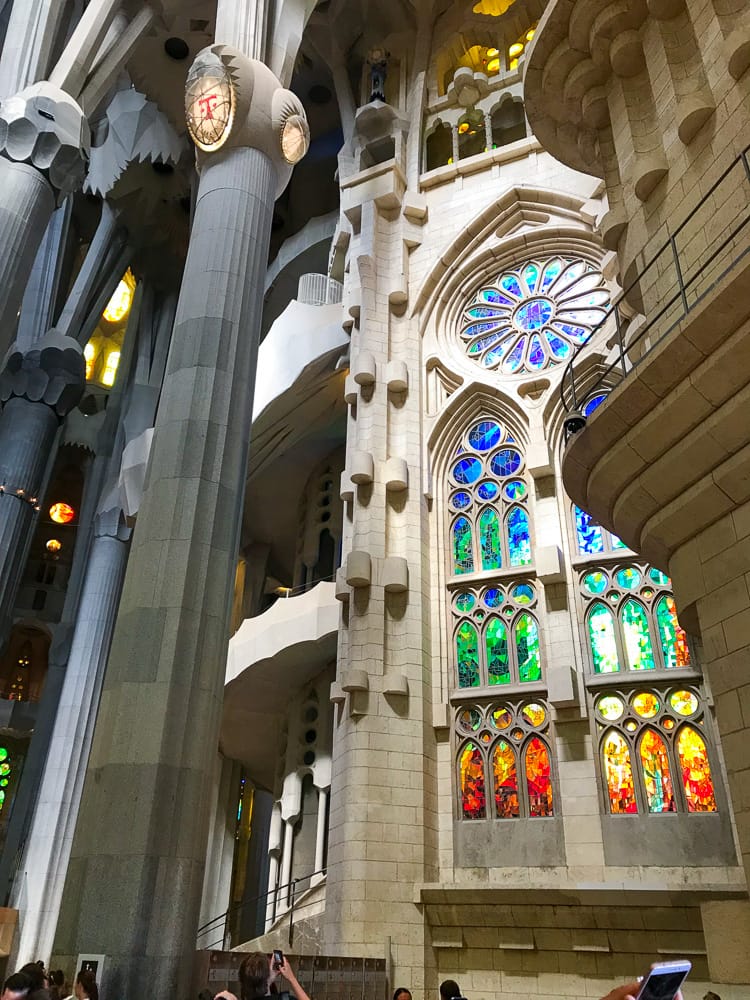 WHERE IS LA SAGRADA FAMILIA?
The Sagrada Familia's address is:
C/ de Mallorca, 401, 08013 Barcelona, Spain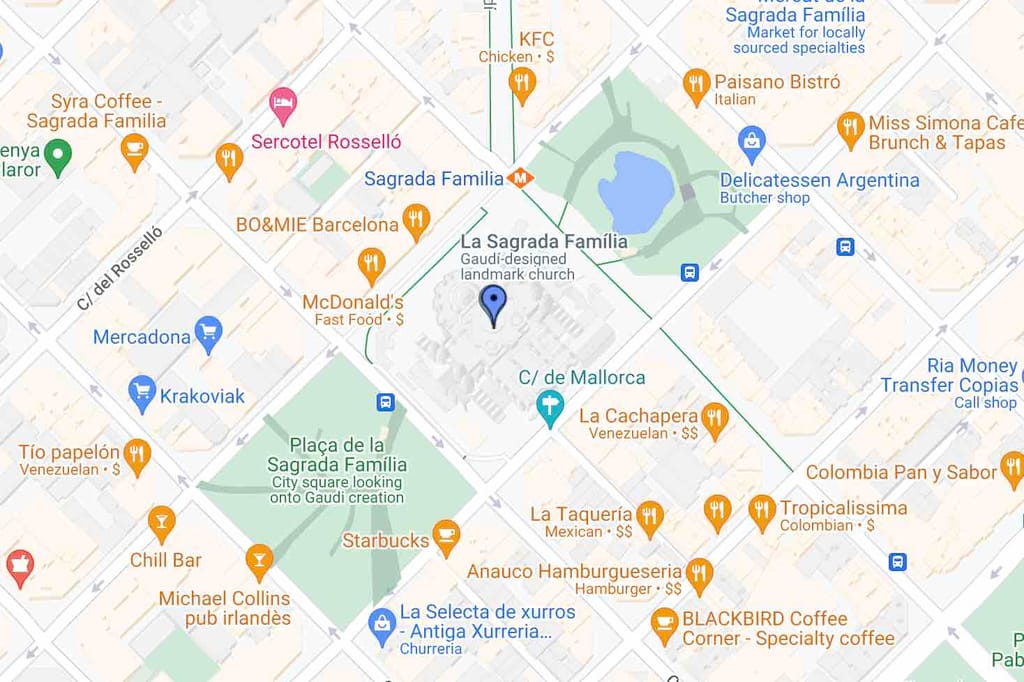 HOW DO YOU GET TO THE SAGRADA FAMILIA?
Public transportation in Barcelona is a breeze. The Sagrada Familia is a 30-minute walk from Plaça de Catalunya.
The location is served by Barcelona's efficient metro system (L2 and L5). There are also many buses that stop nearby. Your best bet is probably checking Google Maps from your accommodation to see which route is best.
If that's not your jam, you can hail a taxi!
WHAT ARE THE SAGRADA FAMILIA'S OPERATING HOURS?
The opening hours can be found here.
Typically, the hours are as follows:
November, December, January, and February

Monday – Saturday 9:00 AM – 6:00 PM
Sundays 10:30 AM to 6:00 PM

March & October

Monday – Saturday 9:00 AM – 7:00 PM
Sundays 10:30 AM to 7:00 PM

April, May, June, July, August, and September

Monday – Saturday 9:00 AM – 8:00 PM
Sundays 10:30 AM to 8:00 PM
WHEN IS THE BEST TIME TO VISIT?
Late afternoon is the best time of day to visit La Sagrada Familia. I'd recommend booking your ticket an hour or two before sunset.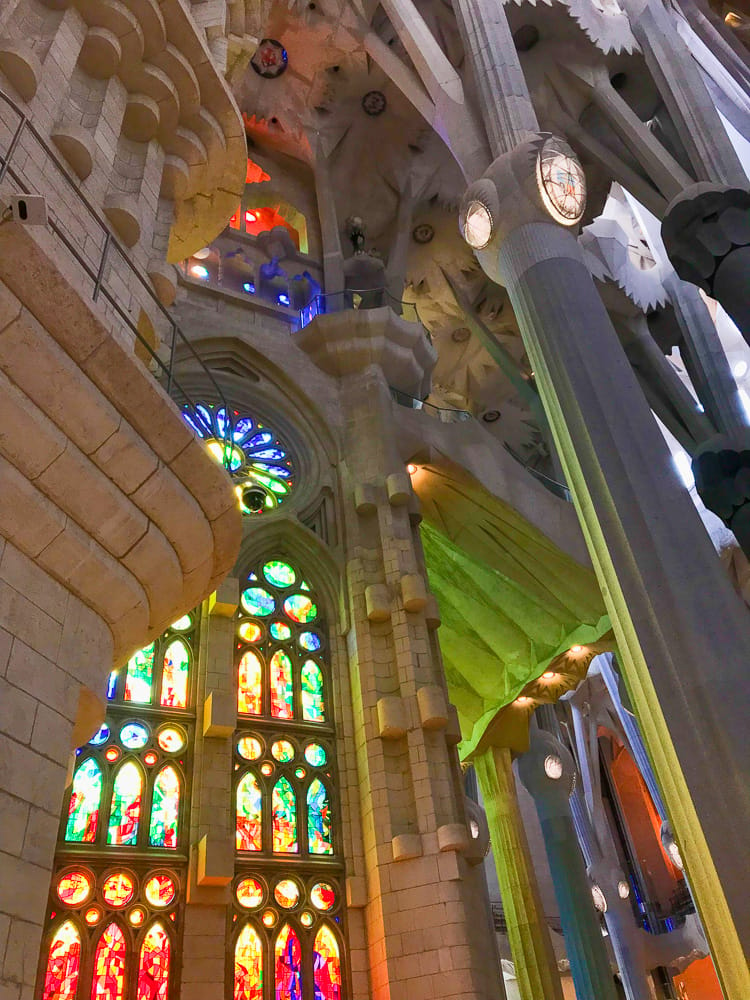 Visiting while there is still daylight ensures you'll get the full effect of seeing the stained glass windows illuminated inside of the church.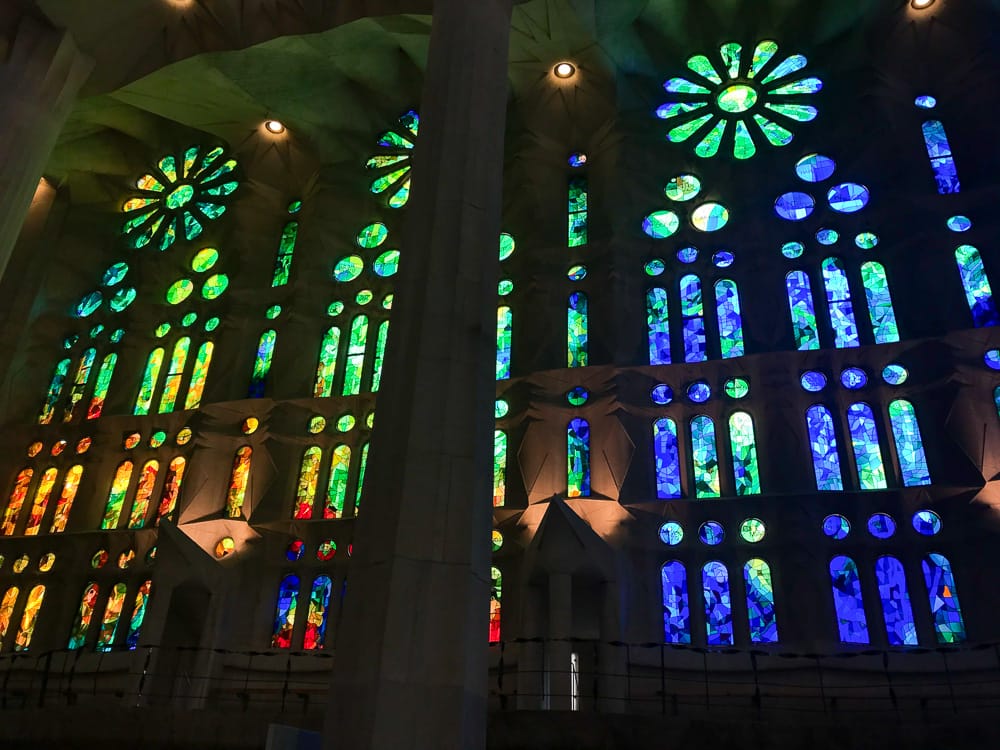 IS THE SAGRADA FAMILIA OPEN TO THE PUBLIC?
Although it did close down during the pandemic in 2020 (after my visit), the Sagrada Familia has since resumed normal operation. Visitors are welcome to buy tickets to visit.
HOW MUCH TIME DO YOU NEED FOR THE SAGRADA FAMILIA?
I would recommend allocating at least 2 hours. You could spend hours taking everything in.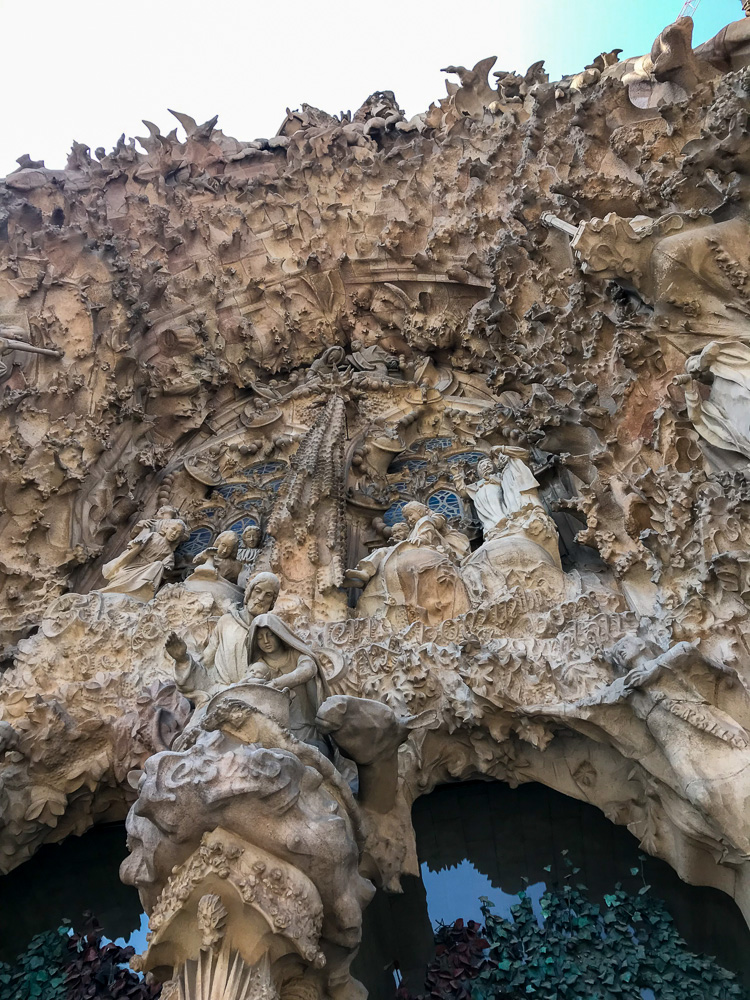 WHAT IS THE DRESS CODE?
As it is a Catholic church, visitors must dress appropriately. Dress respectfully. (Avoid short pants, see-through clothing, hats, swimwear, etc.)
We dressed casually, but tried to keep the look clean!
SHOULD YOU BUY TICKETS IN ADVANCE?
It's advisable to buy the tickets in advance if you already know the dates you'll be visiting.
You can purchase tickets from the official Sagrada Família website.
While not necessary, if possible, it's best to purchase tickets two months in advance.
HOW MUCH DOES IT COST TO VISIT LA SAGRADA FAMILIA?
Prices are subject to change so consult the official website for current information. However, at the time of writing this, the general entry ticket costs 26 euros. (With a guided tour, it costs 30 euros.)
CAN YOU VISIT THE TOWERS?
You absolutely can, but they require a special ticket.
(Note: I did not buy the upgraded ticket to visit the towers.)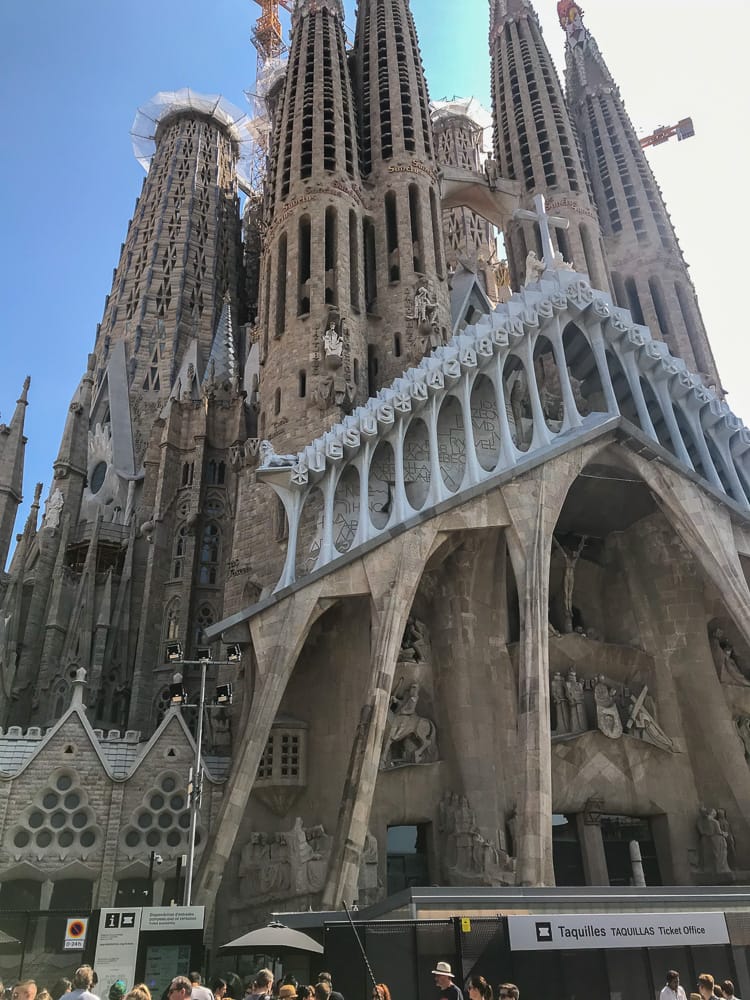 Prices are subject to change so consult the official website for current information. However, at the time of writing this, the self-guided tower ticket (with Sagrada Familia entry) costs 36 euros. If you want a guided tour, the ticket costs 40 euros.
IS THERE AN AUDIO TOUR?
Yes! I'd highly recommend following along with it too!
ARE PHOTOGRAPHS ALLOWED?
We hope so!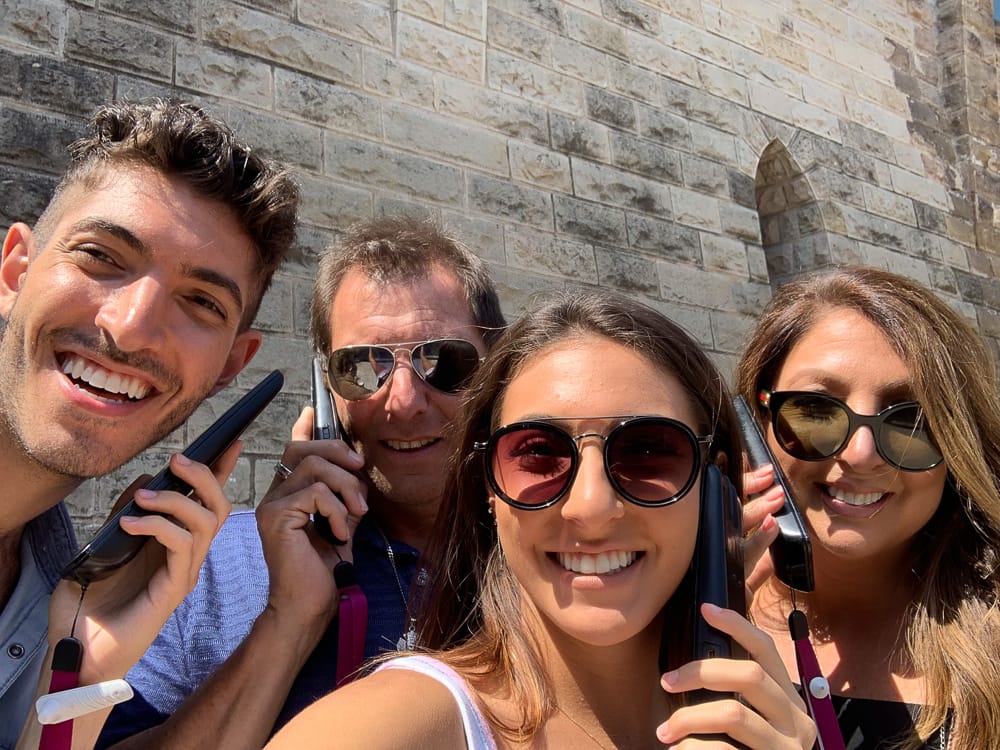 Joking. 😋 Photography is absolutely allowed. I recommend a wide-angle lens for your camera if you're going to try to capture a photo of this structure. I didn't own it at the time, but my favorite wide-angle lens in my camera bag right now is the Sony GM FE 14mm F1.8.
It would have been perfect for photographing the Sagrada Familia.
DO YOU RECOMMEND VISITING?
ABSOLUTELY. This church was one of the most fascinating structures I've ever walked within. The outside was mesmerizing and the inside had my jaw on the ground as I took in the rainbow stained glass windows and tall tree columns of support.
In fact, part of me wants to return to Barcelona in 2026 to see this project through to its completion!
I would undoubtedly recommend adding it to your itinerary.
PinRedditShareMore My family and I visited La Sagrada Familia when we were traveling in Barcelona. This Sagrada Familia Travel Guide …