Figuring out how to get from Point A to Point B can be one of the most daunting aspects of traveling in a foreign country.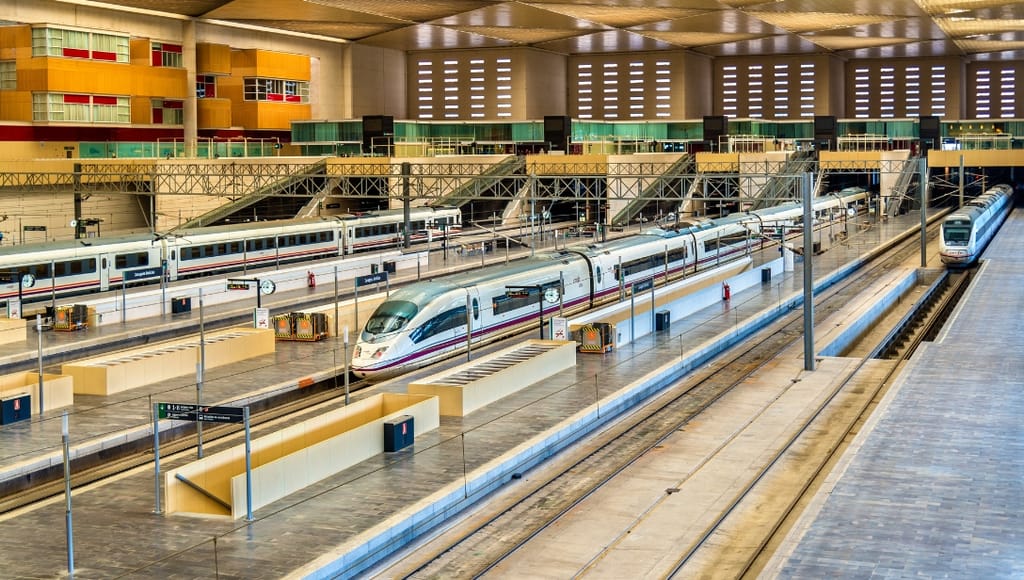 Fortunately, when traveling between Spain's two most popular cities, there are plenty of excellent transportation options available! All of them will get you there with the main differentiating factors boiling down to cost, comfort, and speed.
I'll do my best to guide you through determining which route would be the best choice for you.
First, I'll break down the main transportation options that are available and then I'll share details about what my family did when we were traveling together from Madrid to Barcelona.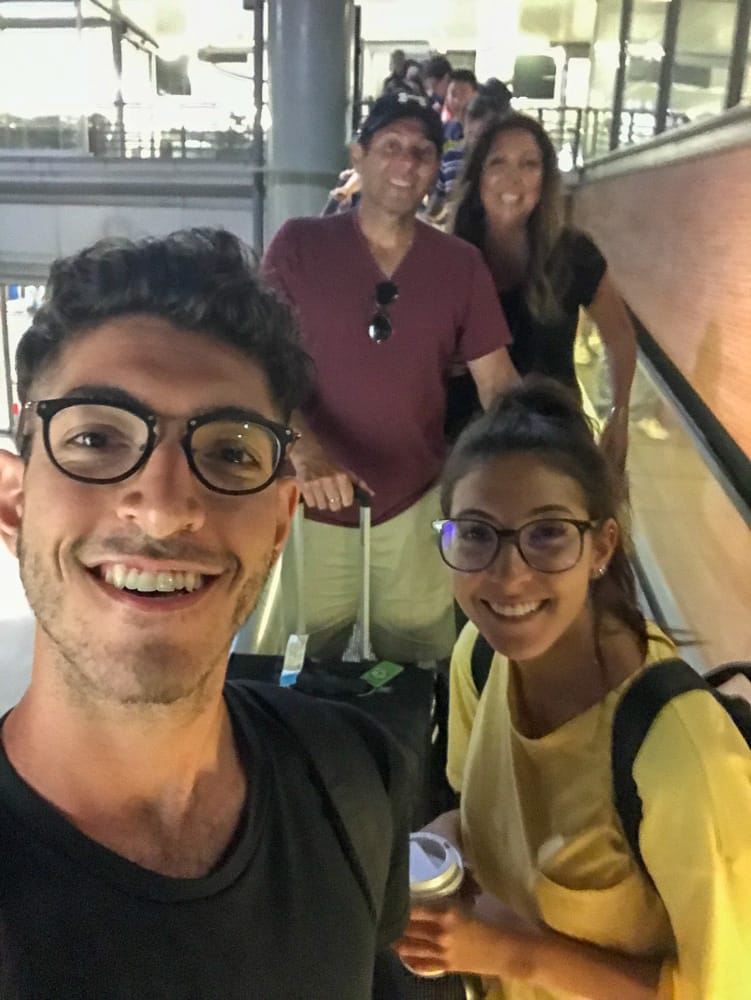 HOW TO TRAVEL FROM MADRID TO BARCELONA
If you are planning a trip to Spain and have been wondering how to spend the time you have available, I have plenty of recommendations.
In a prior blog post, I wrote about how to tour the city of Madrid in 2 days.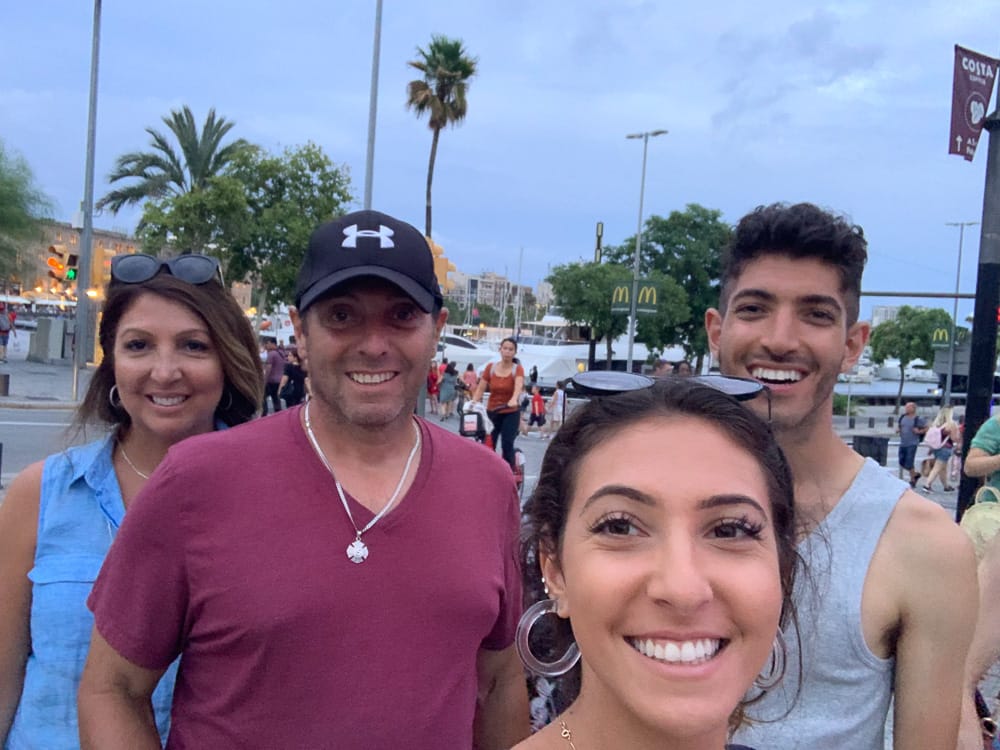 In this post, I'll be explaining how to travel from Madrid to Barcelona: another excellent destination to add to your itinerary for Spain.
THE MOST POPULAR TRANSPORTATION OPTIONS
High-Speed Train
Flights
Bus
Ride-Sharing
Drive
Navigating public transportation in Spain is very manageable so there's no need to worry. As an English speaker, I found it fairly straightforward. Many signs are in both Spanish and English.
---
THE BEST WAY TO BOOK: OMIO
One of the best ways to travel between Madrid and Barcelona is by taking a train.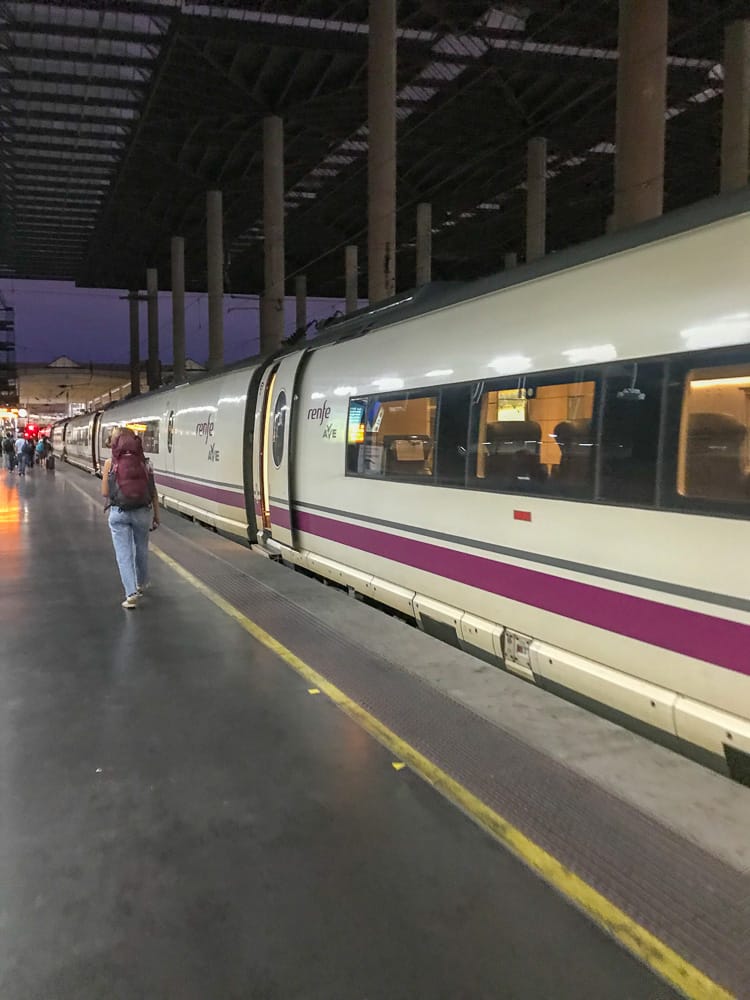 It's possible to make this scenic journey by train in approximately 3 hours.
In my opinion, this is the best option. You can enjoy all of the amenities onboard while traveling comfortably and safely.
Remember to use great tools like Omio or Rail.Ninja to find your optimal route.
The average ticket price ranges from 45 to 130 euros.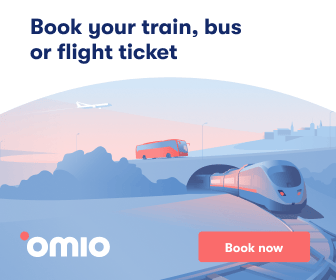 ---
THE BEST WAY TO BOOK: EXPEDIA
If time is of high concern for you, flying takes half as much time as the high-speed train. A flight from Madrid to Barceloan is about 1 hour and 20 minutes.
The average one-way ticket for this route costs between 50 to 60 euros.
(Of course, there are also immeasurable factors with airports that could add to the total travel time including airport security, the possibility of airline delays, waiting around at baggage claim, etc.)
Still, some people may simply prefer the experience of flying. Not to mention, you can use credit card points to book a cheap or free flight!
---
THE BEST WAY TO BOOK: OMIO
The journey takes between 7.5 to 8 hours. Of course, if the cost makes sense for you and you don't mind sitting for a longer ride, you absolutely have the bus option too!
Personally, I do not recommend traveling to Barcelona by bus.

Admittedly, this is probably the least expensive option if you're looking to use mass transit.
The average bus ticket for this route costs between 26 to 30 euros.
---
THE BEST WAY TO BOOK: BLABLACAR
I've had mixed experiences using BlaBlaCar while traveling around Spain.
This is a really inexpensive way to travel long distances. Here's the premise: people will post that they're driving from Point A to Point B. You can message the driver, meet them at a designated meeting spot, and pay for their gas!
It's sort of like hitchhiking? Except it's planned ahead digitally and you compensate the driver for their fuel.
---
THE BEST WAY TO BOOK: CAR RENTAL THROUGH EXPEDIA
You can rent a car and drive yourself. If you are confident in your abilities driving in another country, this is a great option. You could rent a one-way rental car for 15 to 30 euros.
THE BEST WAY TO BOOK: UBER
You can also hire a taxi or Uber for private transfer but that will cost substantially more. (The fare will be in the hundreds.) This is the most expensive way to go so this decision ultimately depends on your budget.
MY FAMILY'S JOURNEY TO BARCELONA BY HIGH-SPEED TRAIN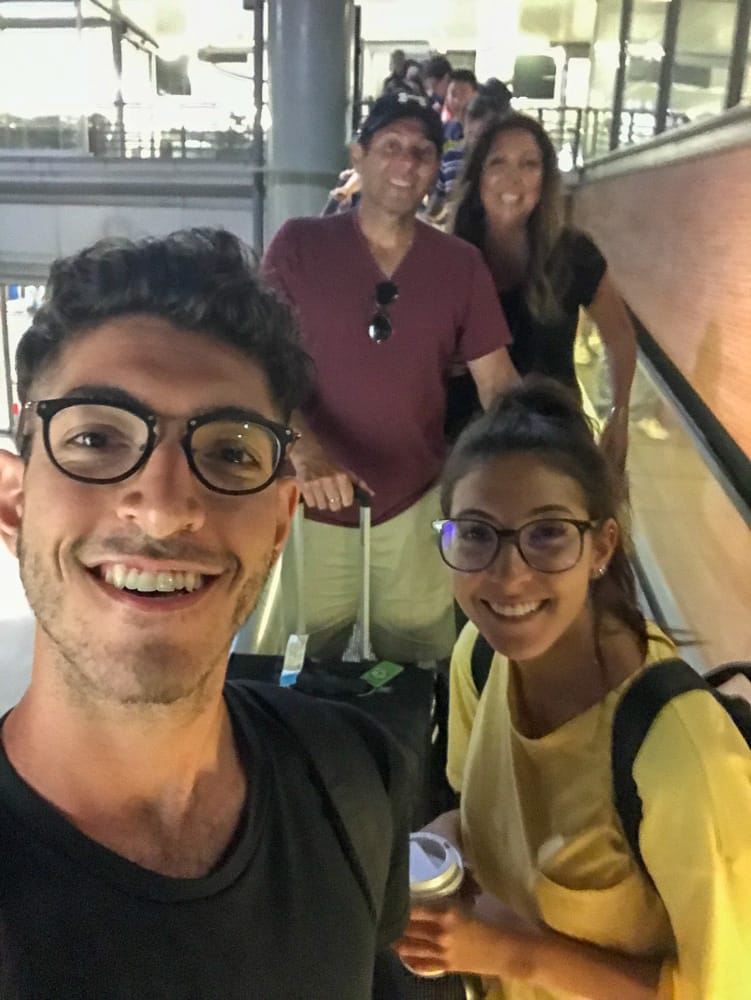 We booked tickets using Omio to take the train from Madrid to Barcelona.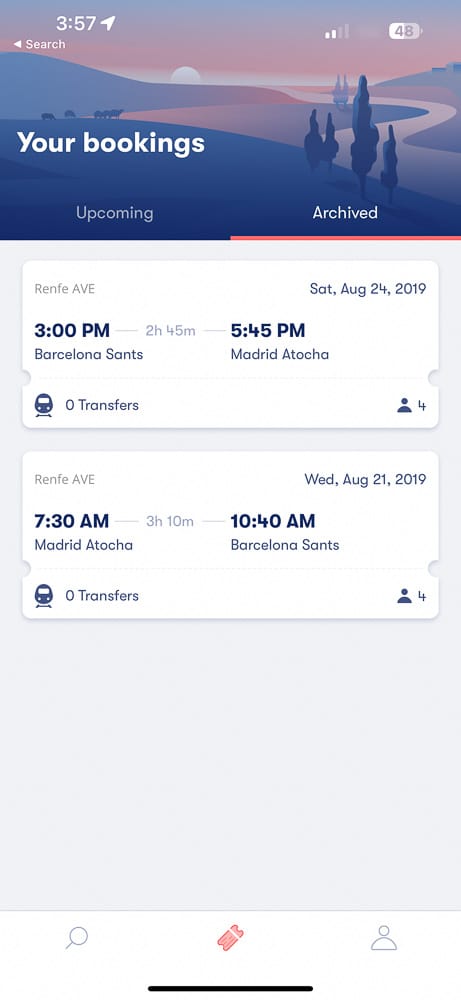 We enjoyed riding on one of Spain's high-speed trains!
In 2019, Renfe was the best way to go and I'd argue it still is. Historically, I have recommended them because that's the train travel company I've used most often while living in Spain.
Their prices are a very competitive option where comfort meets affordability with the extra bonus of being a high-speed train for significant time savings!
However, KKDay pointed out in a blog post from 2022 that a newer option has joined the railroad scene: OUIGO. They are competitive both in terms of price and speed!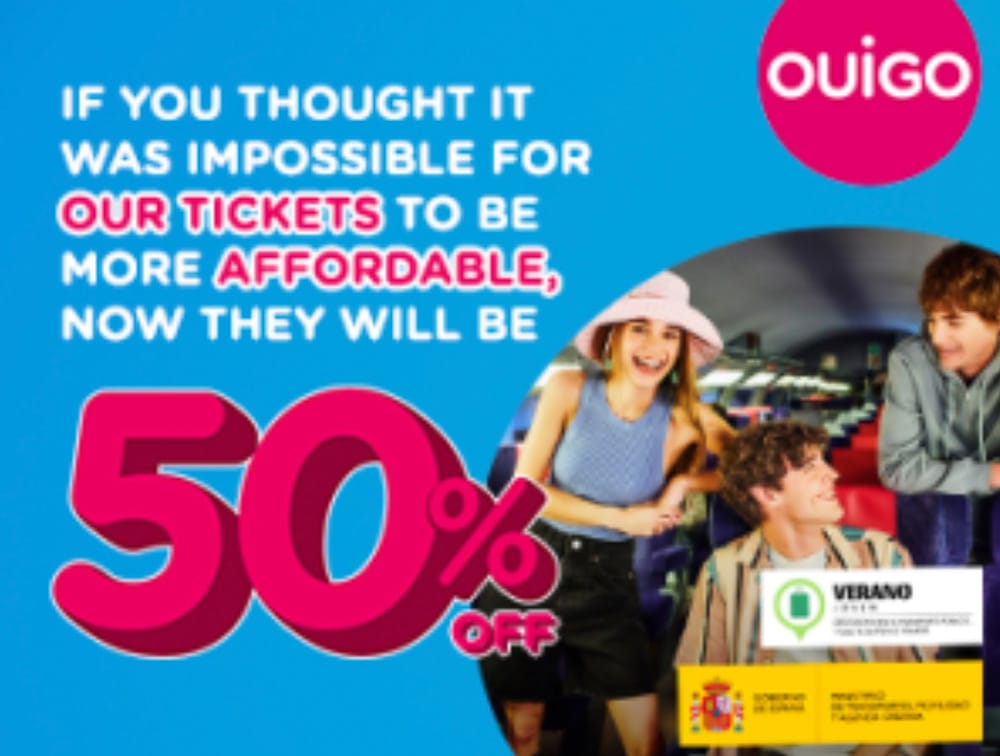 OUIGO's routes are more limited and I haven't been on their trains yet, but I have heard many good things online.
Beginning in May 2021, OUIGO now has high-speed services in Spain between Barcelona, Valencia, Madrid, and more recently, Albacete. Many additional routes are expected to be introduced.
You can compare routes with different trains while using a service like Omio that shows you all of the available options! I'm sure you can't go wrong either way.
EXTRA TIPS
Book in advance if possible
You can find better deals if you book early
High-speed trains can vary in the exact speed so double-check the duration!
"Coches en silencio" means noise is forbidden in these sections of the train
Train station security is much faster than airport security
I hope this information was helpful. Have you made the journey between Madrid and Barcelona before? Which route did you take? Let us know down below in the comments!