Last Updated on March 25, 2021
I have proof that destiny exists. Destiny is the only plausible explanation for how I found myself in Spain at just the right time to participate in the world's largest tomato food fight. I believe I was destined to attend Spain's La Tomatina Festival in 2018. What other explanation could there be for how/why I ended up in Spain during the exact month the annual festival is held in? I had never even so much as heard of the festival prior to going to Spain so trust me when I tell you there was zero planning taking place in advance.
I wish I could say I was that organized but that wasn't the case. This was destiny, plain and simple. Jorge and I were meant to attend La Tomatina this year.
The two of us were already traveling through Spain during the month of the event. We had just visited Cuenca. Prior to discovering La Tomatina, our preliminary travel itinerary was ALREADY bringing us in the SAME direction as the festival. Not even just the same direction. We were already headed to the same city! I mean, really… how much more could the stars align for us to go to this thing!?
My Tomatina story all began one quiet summer night while I was laying down in bed alone. Since we didn't have WiFi in the city Jorge and I were in, I booted up my 4G Teppy global mobile hotspot so I could check Instagram and see what people back at home have been up to. On Instagram, a sponsored advertisement came up and I learned about a festival called La Tomatina.
The thumbnail was intriguing so I clicked on some video and I was SUCKED INTO 30 SECONDS OF TOMATO INSANITY. I can't find the exact video anymore but I watched some promotional video for Tomatina 2018 where they showed massive mobs of people throwing tomatoes everywhere. Chaos and tomato-warfare ensued. At the end of the video, they showed an animation of the official event route using a cheaply-animated picture of a tomato sliding across a map of Buñol, Valencia. With that one scene, I was sold on the whole event. Jorge and I would 100% be going to La Tomatina 2018.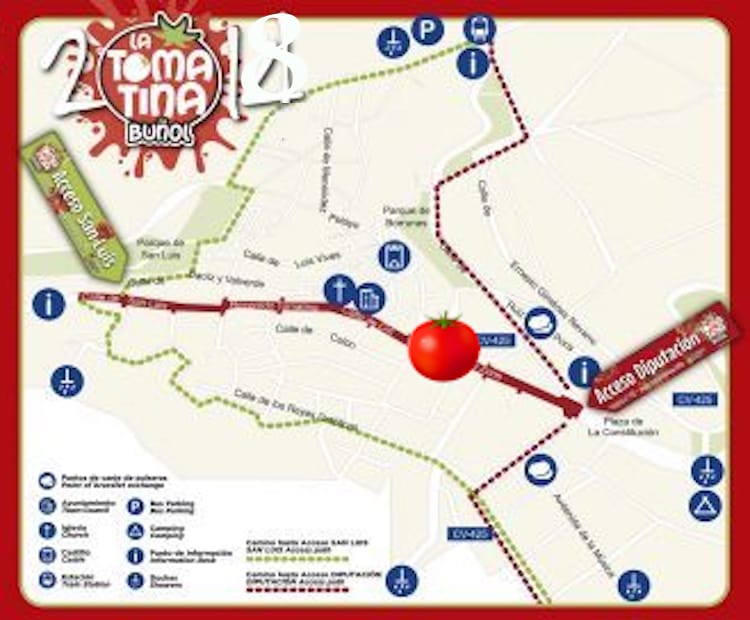 "JORGEEEEEE!!!!! COME HERE!!!!!!!!"
I held my phone out so he could watch what I'd just found on Instagram. Together, we watched the high quality cinematic production finishing with the tomato thumbnail that trails 1 second behind the line it is supposed to be sliding in front of. After seeing that animation, he, too, was sold on attending the festival this year. We were both going.
As though I was fulfilling some sort of tomato prophecy, I could feel some force guiding my fingers as I clicked all the way through to the final check out screen where I purchased 2 tickets for the 2018 La Tomatina Tomato Festival.