The former "Edificio España" building is one of Madrid's most famous skyscrapers and I managed to explore the rooftop after it reopened for the first time in over 12 years!
Following the completion of its construction in 1953, the skyscraper held the title for four years of the Spanish capital's tallest building standing at 384 feet tall.
Today, it is the 8th tallest building in Madrid and remains an iconic part of the city's skyline.
WHAT HAPPENED TO EDIFICIO ESPAÑA?
This building has had a ROUGH history.
In 2006, Edificio España was abandoned after having been a luxury hotel, shopping center, and office space during its heyday.
Santander Bank acquired it in 2008 but the global recession caused its plans to be put on hold. Then it wasn't until July of 2014 that Edificio España was sold to Dalian Wanda Group for 265 million euros.
However, only two years later, the Chinese conglomerate backed down from its own plans leaving the iconic building, once again, closed and inaccessible to the public.
THE GRAND REOPENIGN OF EDIFICIO ESPAÑA
After 12 years of sitting vacant, the famous RIU Hotels & Resorts took it over!
The Hotel Riu Plaza España celebrated its grand opening in August of 2019 the same week my family was visiting me in Madrid!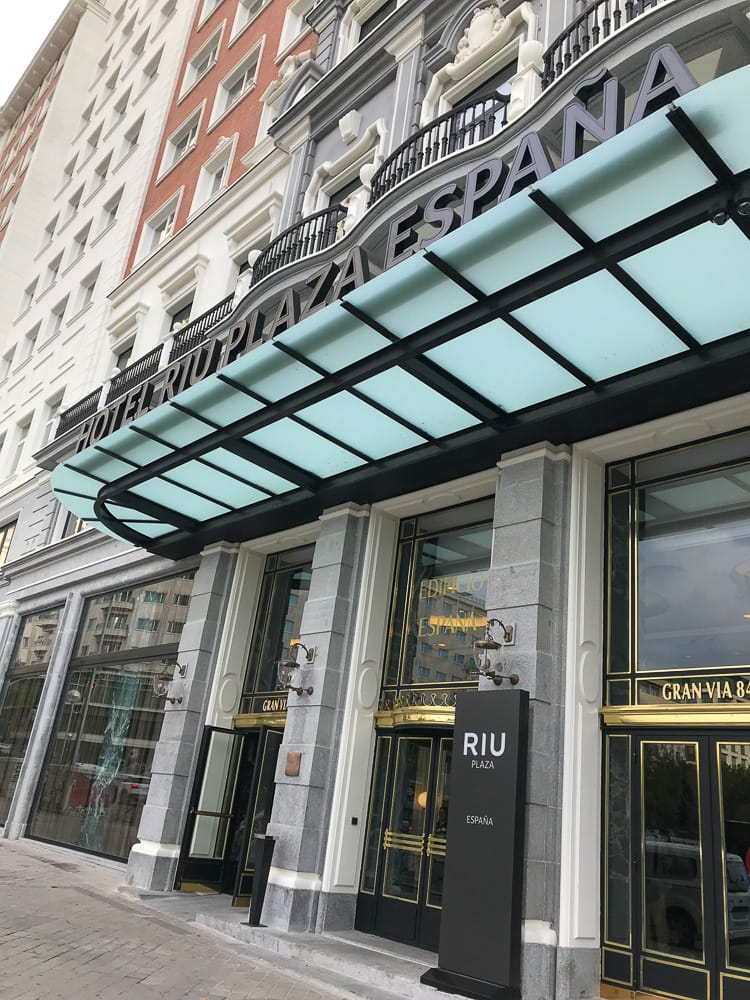 And guess what, we scored rooms there during the RIU's grand opening!
(Booking.com had an amazing deal!)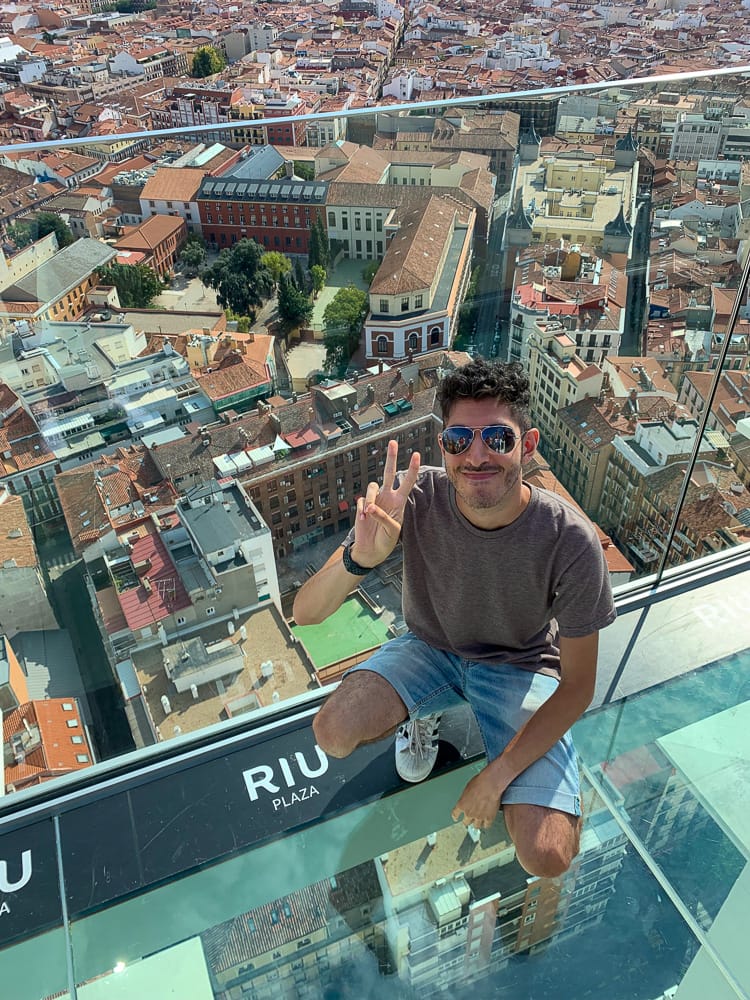 Hotel RIU Plaza España is the RIU's first urban hotel in Spain.
The resurrection of a 27-story skyscraper built in 1953 that closed for 12 whole years only added to the historic significance of this grand reopening!
EXPLORING THE NEW RIU PLAZA ESPAÑA
Hotel RIU Plaza España's new layout features 585 hotel rooms, a rooftop bar and lounge with a 360-degree view, and commercial space across its lowest 3 floors.
During the RIU's renovation timeframe, the hotel didn't anticipate accepting reservations until September, but doors opened earlier than planned and my family got in!
On TripAdvisor, Hotel Riu Plaza España is rated 4.5/5 stars.
Staying as a guest at this 4.5-star hotel not only gets you access to incredible rooms, but you also are given priority access to the 360 degree rooftop bar!
THE 360º ROOFTOP BAR
Considering it was the grand opening, having priority access to go to the rooftop was amazing. By the evening, the queue waiting to go up to the 27th floor where the rooftop bar and viewing decks are located was wrapping around the building.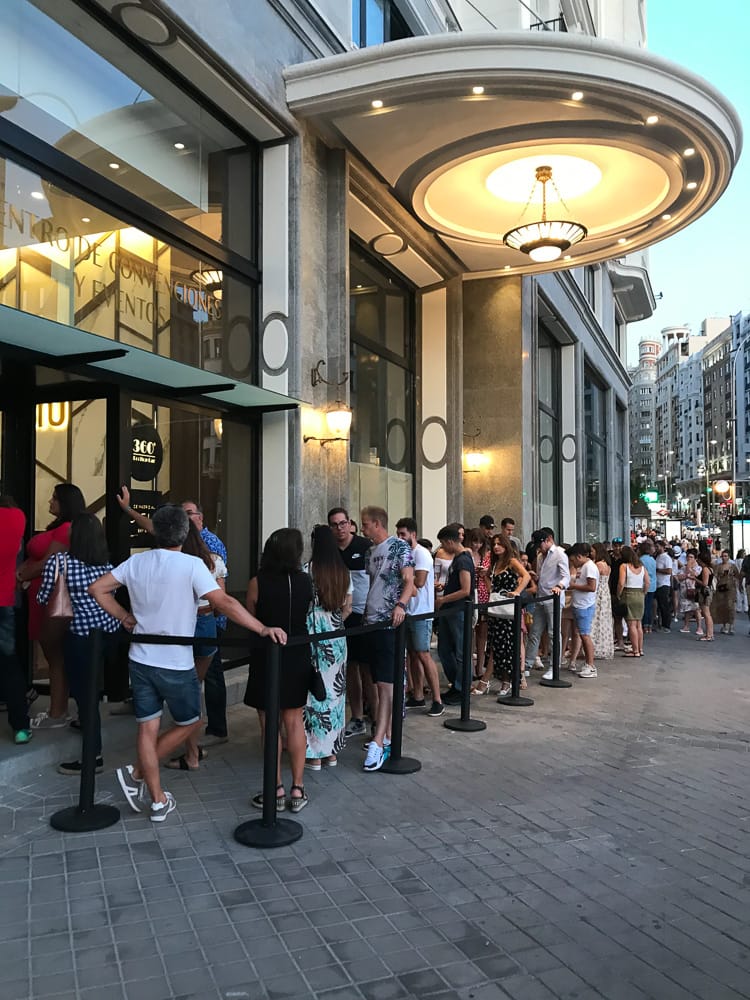 We definitely felt very "VIP" being escorted to one of the six inner elevators where a simple tap of our room key illuminated the option to visit Floor 27.
There is normally a 10 euro entrance fee in the evening, but it is waived for hotel guests.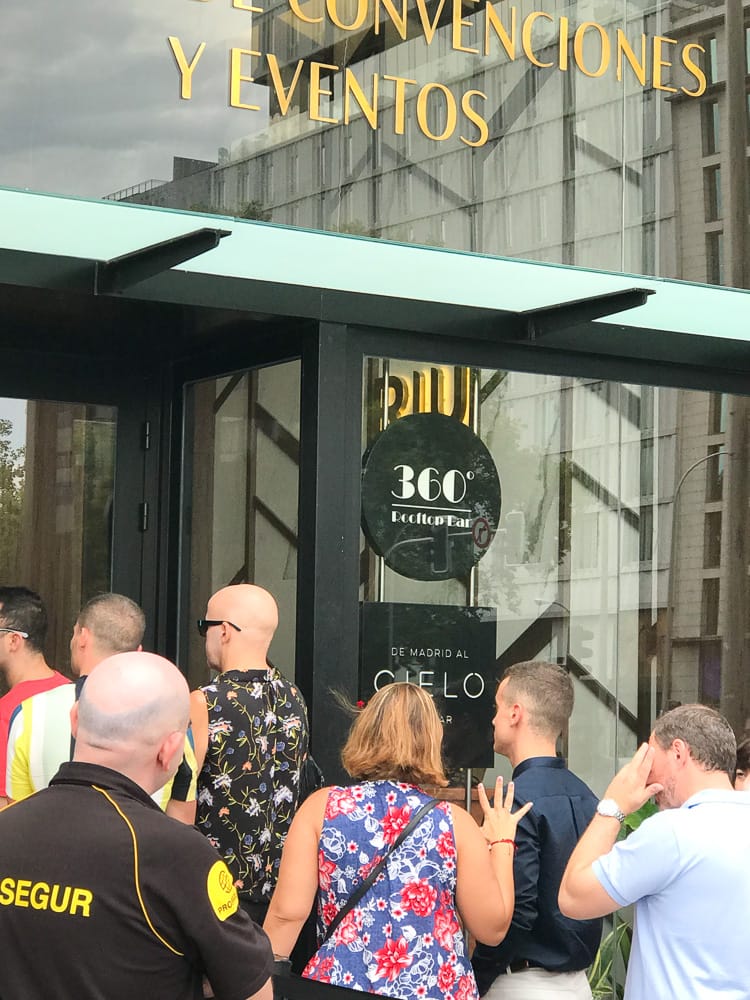 Skipping that line alone felt like it made being a guest at the RIU worth it!
The 360º Rooftop Bar is a spacious, modern, and multi-level rooftop terrace equipped with tabled and front-row bar seats.
We grabbed a quick drink from the bar and ordered croquetas: a popular Spanish tapa!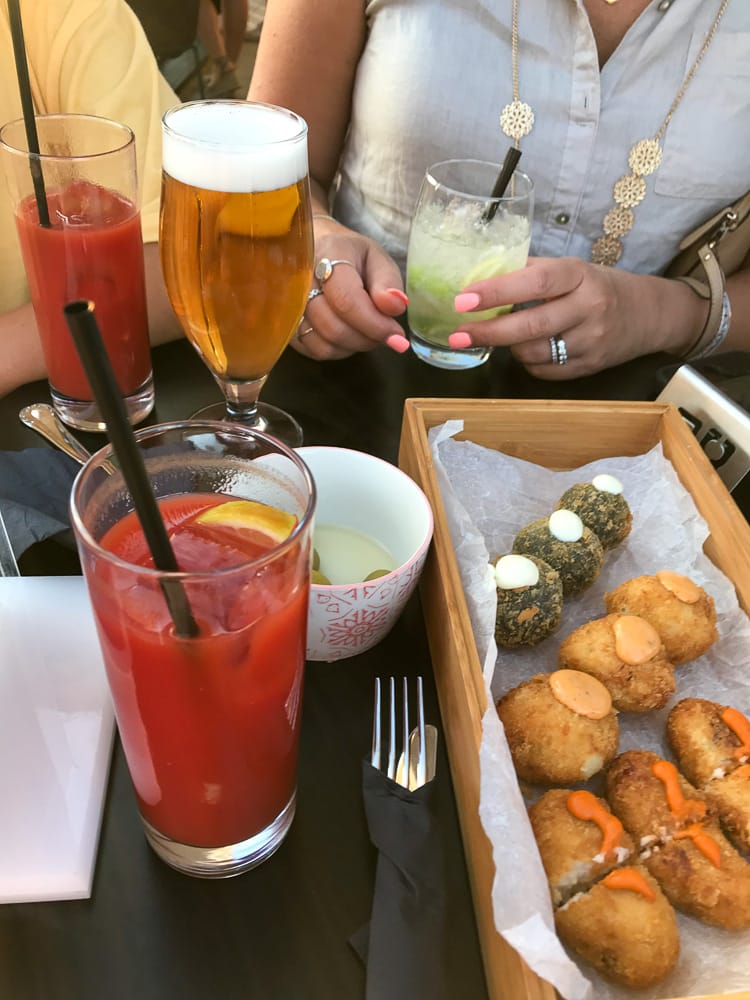 The rooftop bar gives you the chance to discover Madrid from an extraordinary standpoint.
THE PANORAMIC VIEW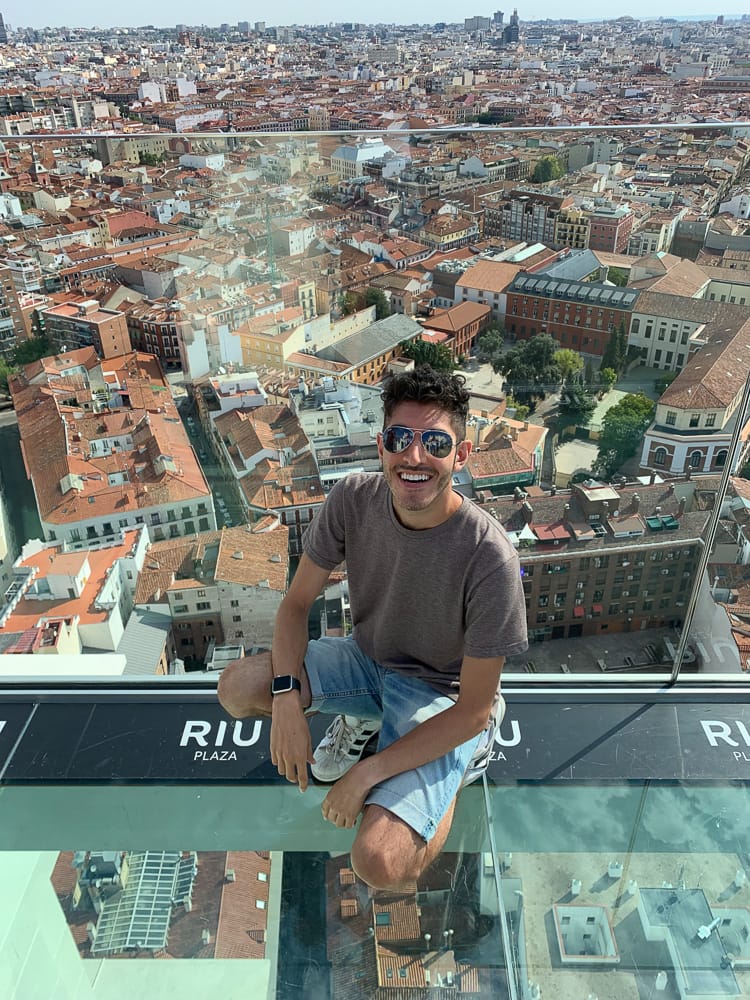 Feeling brave? You should visit the spectacular glass walkway stretching from one wing of the building to the other.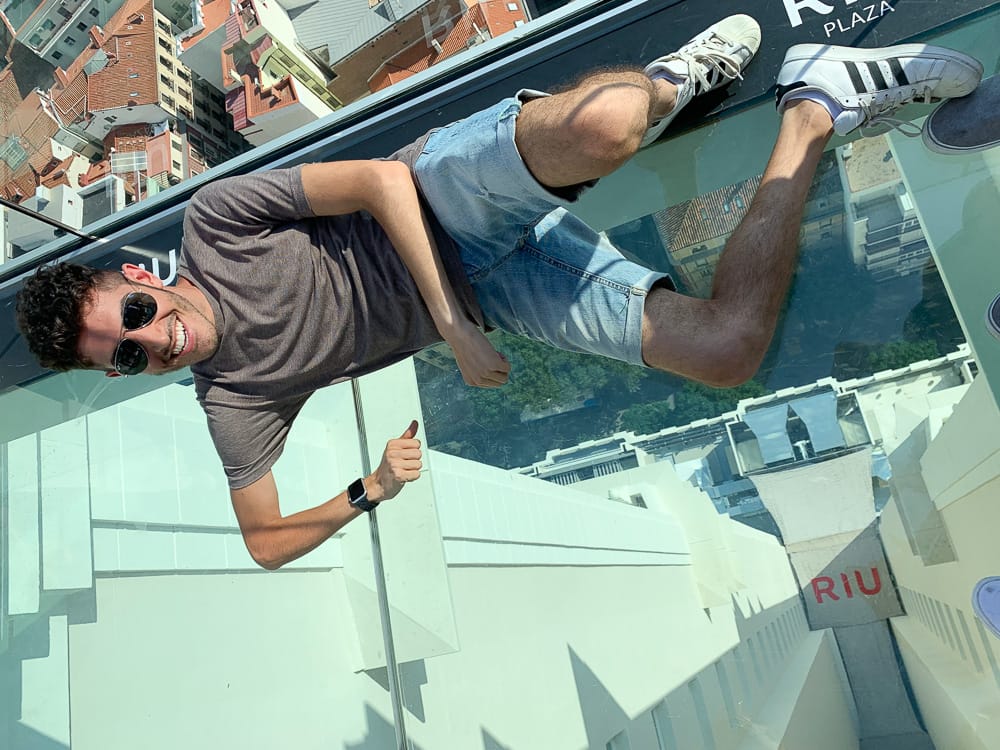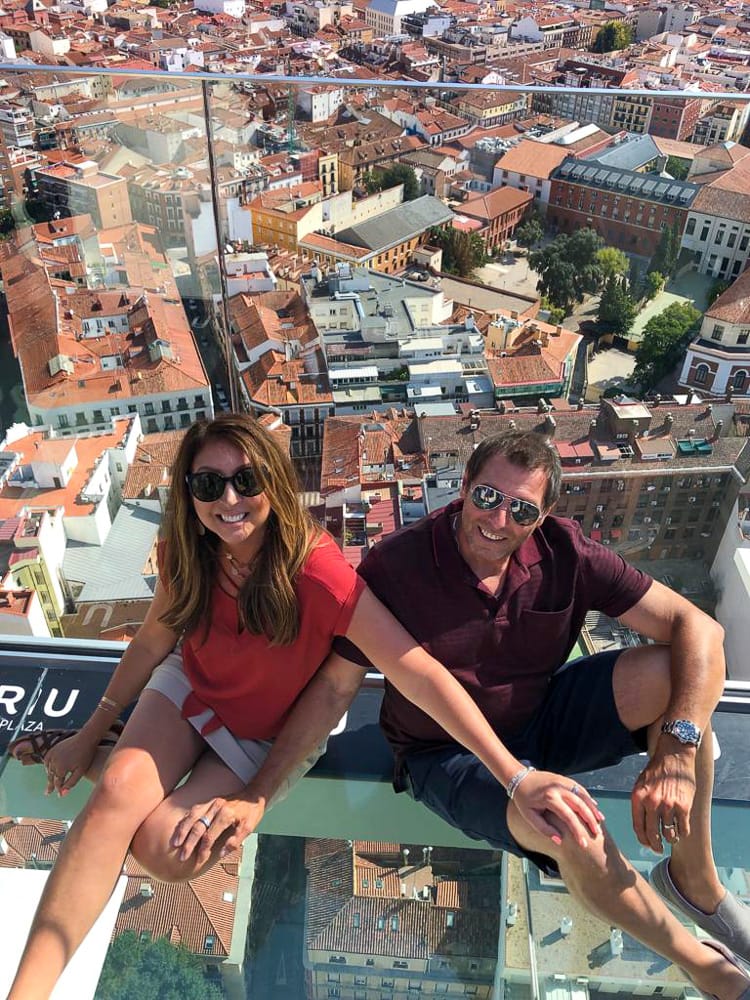 From here, all of Madrid is at your feet. You can look up, look down, spin in a circle and see Madrid from just about every angle.
The glass bridge is constructed 100 meters (328 feet) up in the air!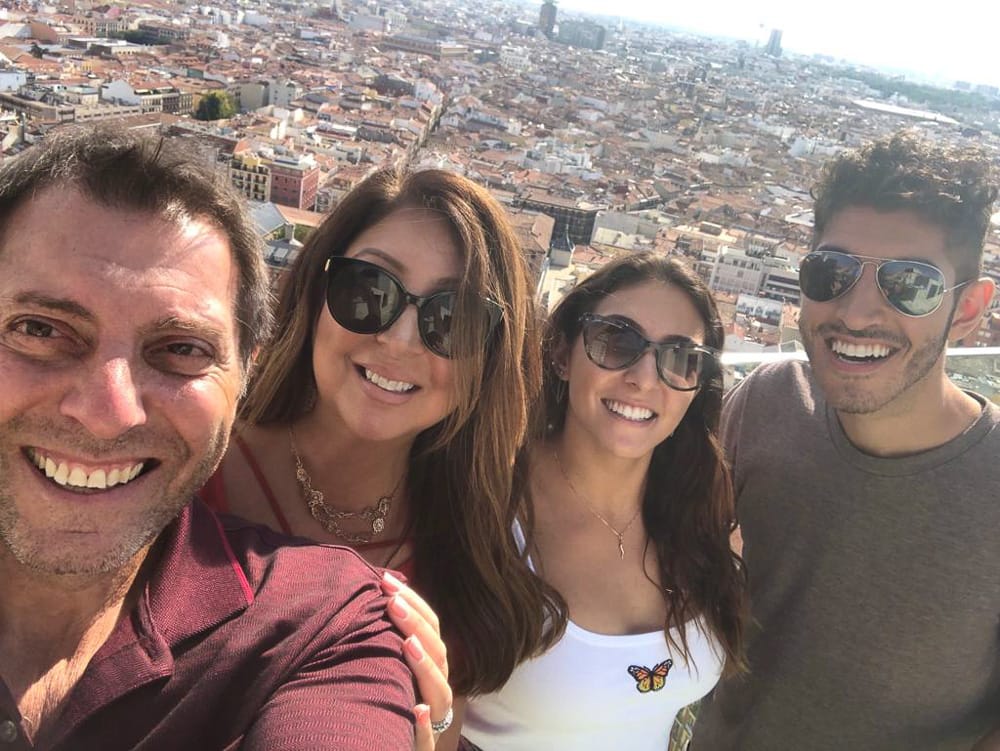 It was a breathtaking view and so cool to see the Royal Palace from this perspective!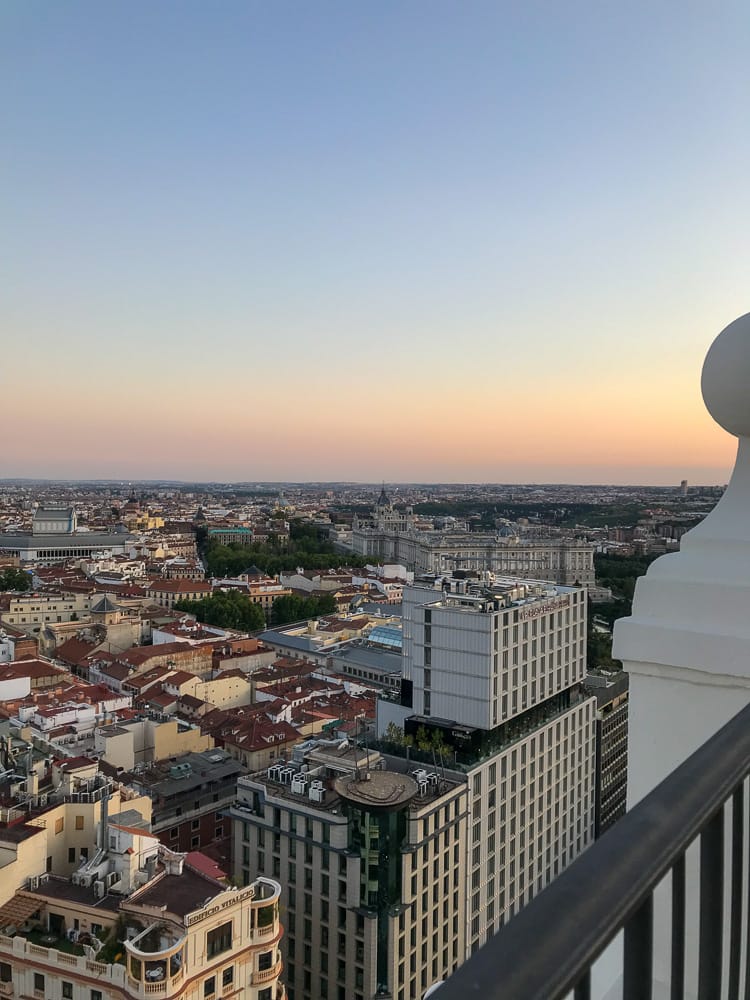 By the time we left, the sun had set and I could see the Royal Palace fully illuminated.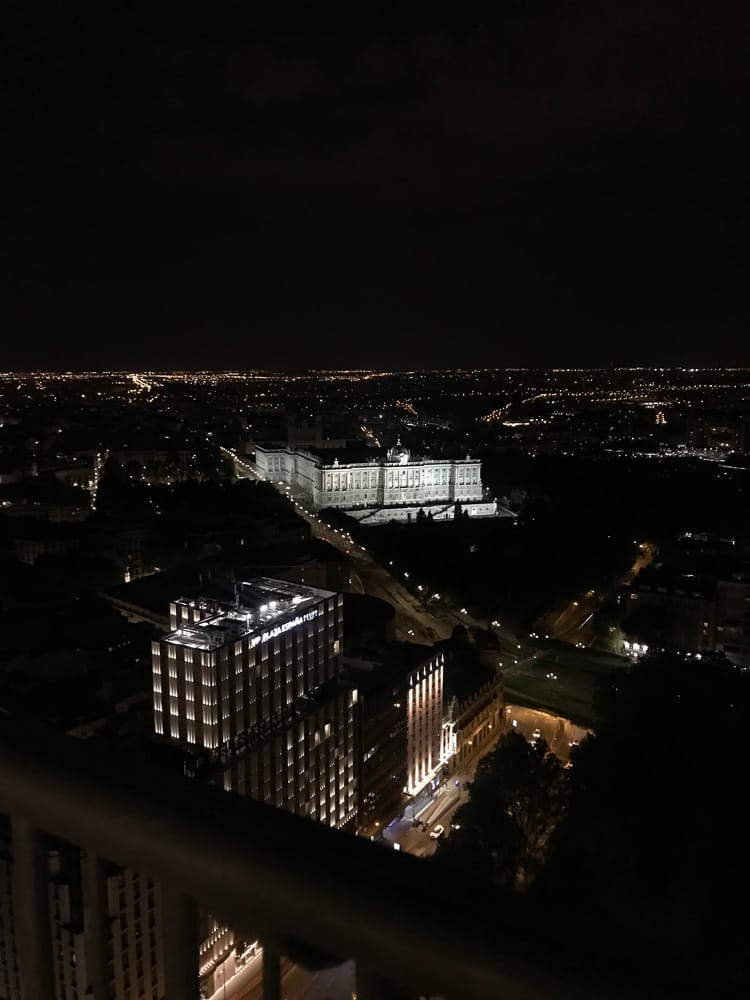 THE SEASONAL OUTDOOR POOL
The hotel's seasonal outdoor pool is also up on the rooftop!
It looked so inviting and I'm sure it must be incredible to swim there in Madrid's peak summer season. The sun in Madrid is no joke.
It was mid-August when the hotel was having its grand opening so the pool was not being used since we were having cooler weather by that time in the year.
THE VIEW FROM OUR HOTEL ROOM
Speaking of cooler weather, if you travel to Spain in August you should expect sparse thunderstorms here and there.
We had one the night of our stay. Here is a photograph I took that shows our room's view as well as a burst of lightning from the storm that took place that evening.
Glad we weren't on the rooftop for that one!
THE HOTEL ROOM
Although Edificio España's historic building features 20th-century Spanish architecture built in the Neo-Baroque style, the RIU's interior rooms are much more modern!
Rooms include free Wi-Fi! The beds were comfortable. I had no complaints!
Here was a video I took of the view along with a glimpse of the room.
(Please don't mind the messy bed!)
AN UNFORGETTABLE BREAKFAST BUFFET
The breakfast buffet at Madrid's RIU rivaled the notable breakfast buffet from the Myconian Kyma in Greece.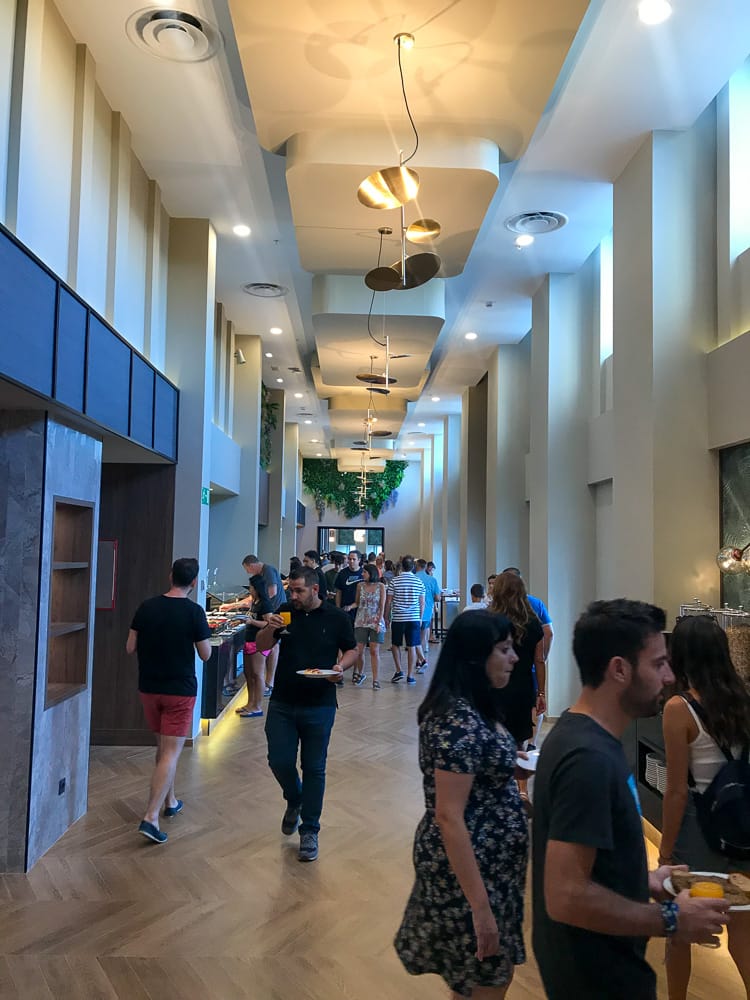 It was so expansive, I couldn't believe what a wide variety of foods they had!
Here are two videos of a walk-through I filmed:
I was happy my family could once again try traditional churros and porras with chocolate.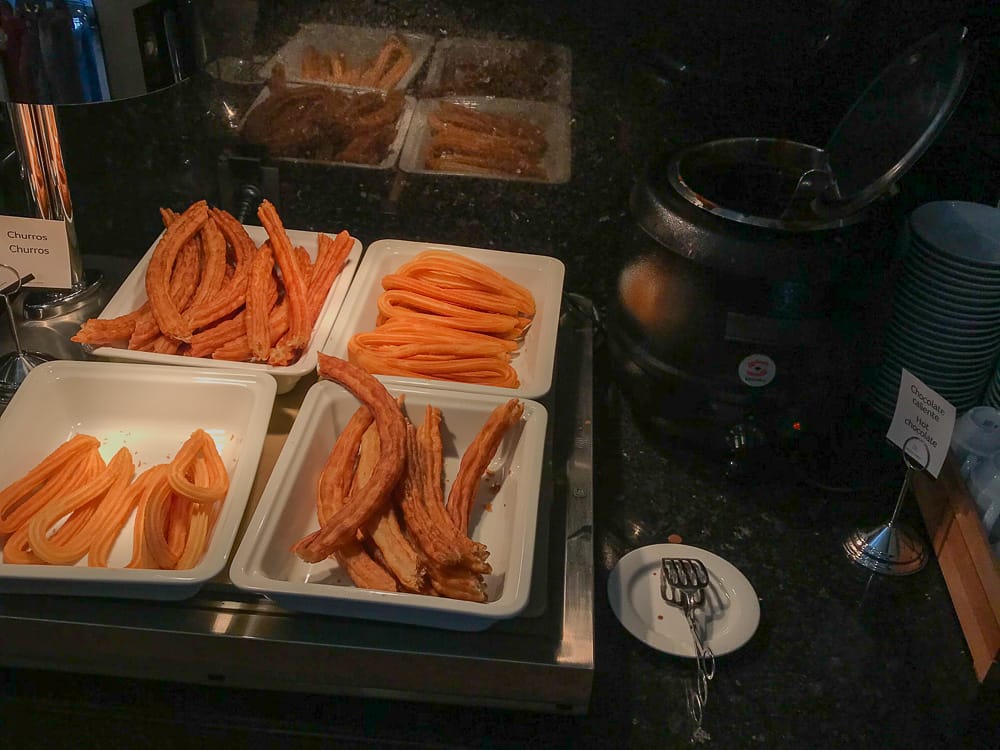 COMMERCIAL SPACE: FLAGSHIP STORES
Back when I visited, the RIU's commercial spaces were still evolving into what they are today. For that reason, I was unable to visit them at the time!
In 2022, the RIU became home to a new flagship Zara store!
This Zara location is now touted as the largest Zara store in the world making it a must-see!
HOW IS THE LOCATION OF HOTEL RIU PLAZA ESPAÑA?
RIU Plaza España is conveniently located only 12.5 miles away from Madrid-Barajas Adolfo Suárez (MAD) airport making it an excellent choice for business travel as well as traveling for leisure.
It is centrally located in the Plaza de España section of Madrid. This is a just steps away from Gran Via and a short 15-minute walk away from Puerta del Sol.
In my post about the Temple of Debod in Madrid, I made mention of Spain's (controversial) plans to improve and renovate the entire Plaza de España area. This ultimately happened in 2021.
From what I have heard in 2023, Madrilenians seem to be happy with the changes!
You'll love the location. It's hard to beat it.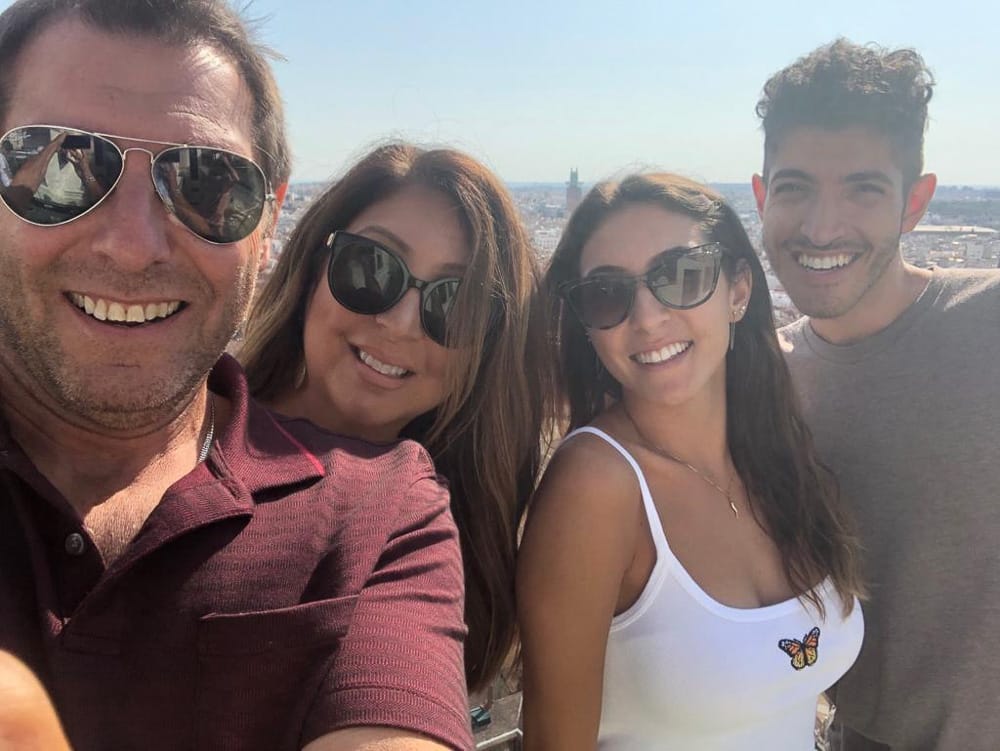 If you've stayed at Hotel RIU Plaza España before, let us know what you thought of it!
---
Traveling somewhere new?