Last Updated on August 25, 2023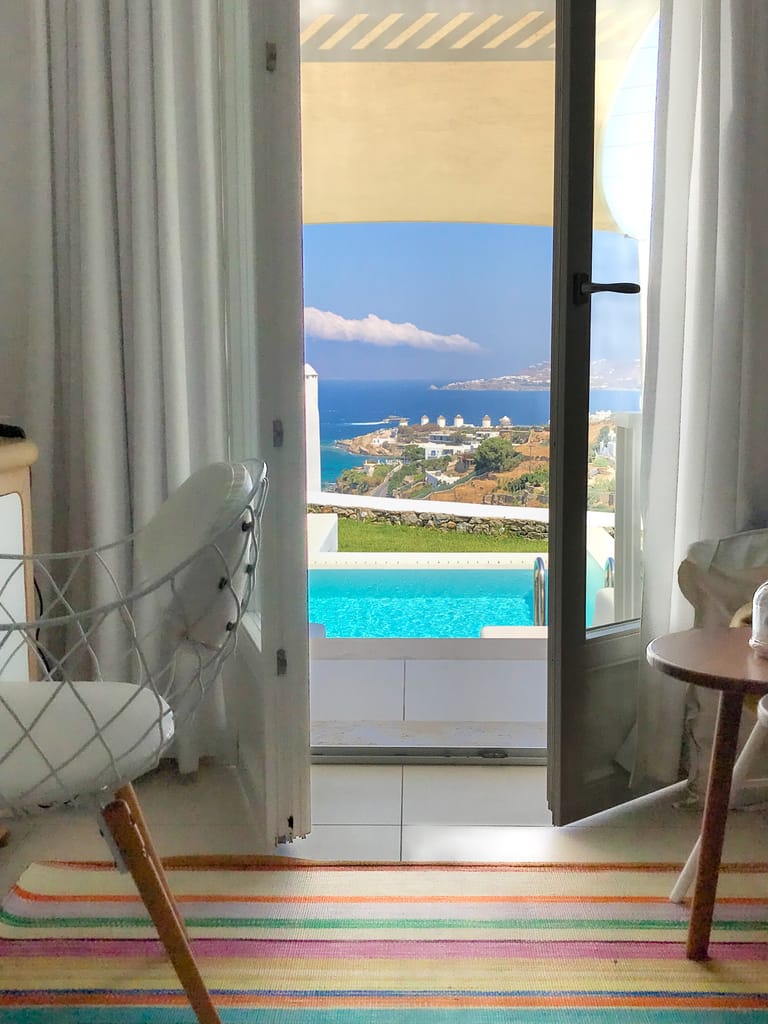 The Myconian Kyma Hotel in Mykonos was one of the most impressive hotels I have ever been to. It was all thanks to my sister and her significant other at the time for making it possible for me to third-wheel (kidding) with the two of them.
KYMA: HORIZON SUPERIOR ROOM
They booked the Horizon Superior Room with a Sea View & Private Pool at the Myconian Kyma Hotel in Mykonos.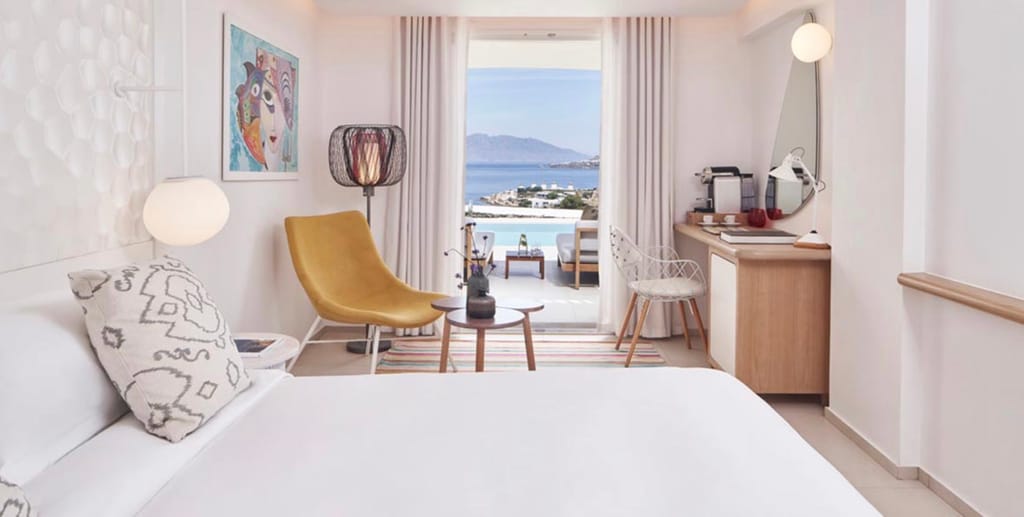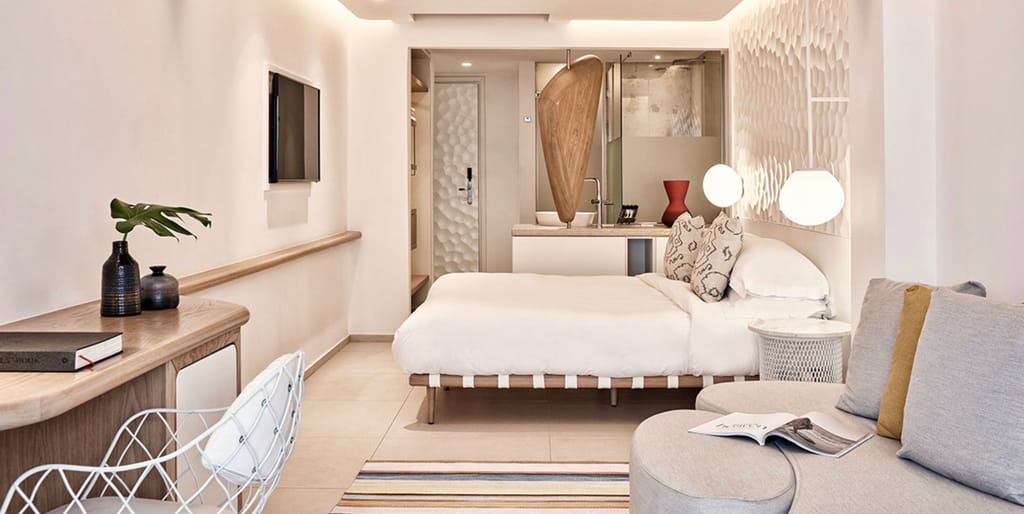 Designed with a king bed and a sofa bed, the room can sleep two comfortably with space for up to three guests.
Here's a side-by-side comparison of my $300 pauper room at Marcos Beach Hotel compared with my sisters $5,250 room. Where would you rather stay?
The private pool attached to the hotel room was everything.
No children splashing around. No noise. Just the three of us. We didn't even have neighbors.
Here's a video of the view:
The room had a view looking out over Little Venice and the famous Mykonos Windmills!
You can see the windmills positioned right above my sister's head in the photo below!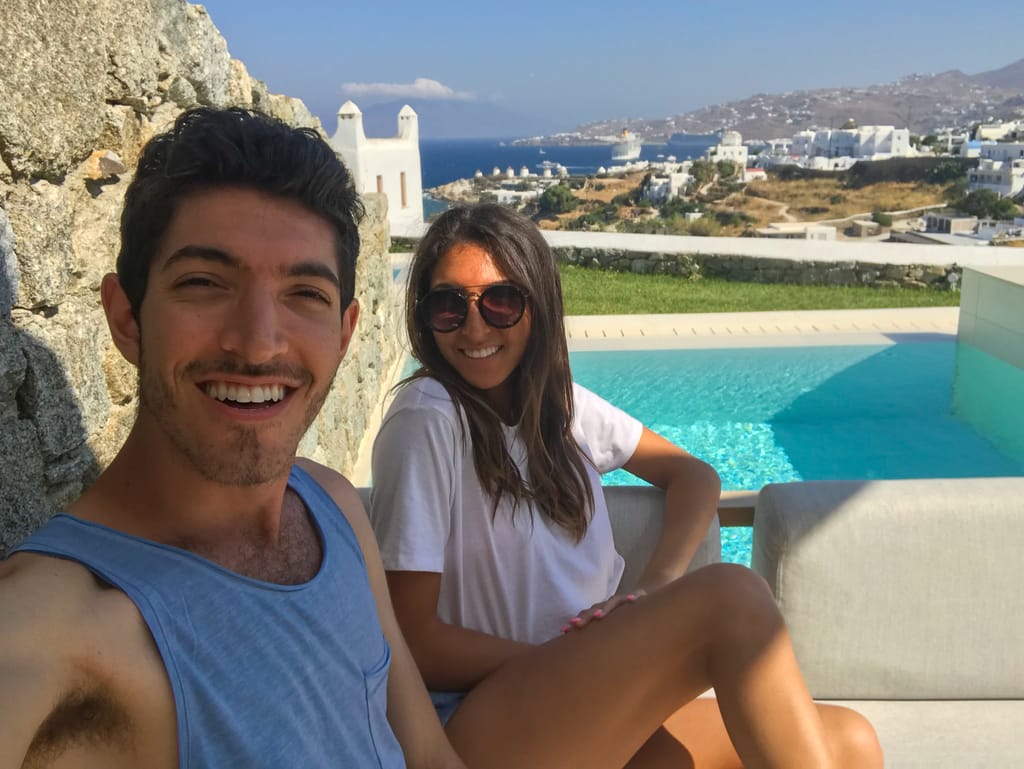 It's not often you find a hotel that is as exceptional as this one was in almost every way. I guess it's fair to expect excellence from a hotel where the rooms cost approximately $750.00/night.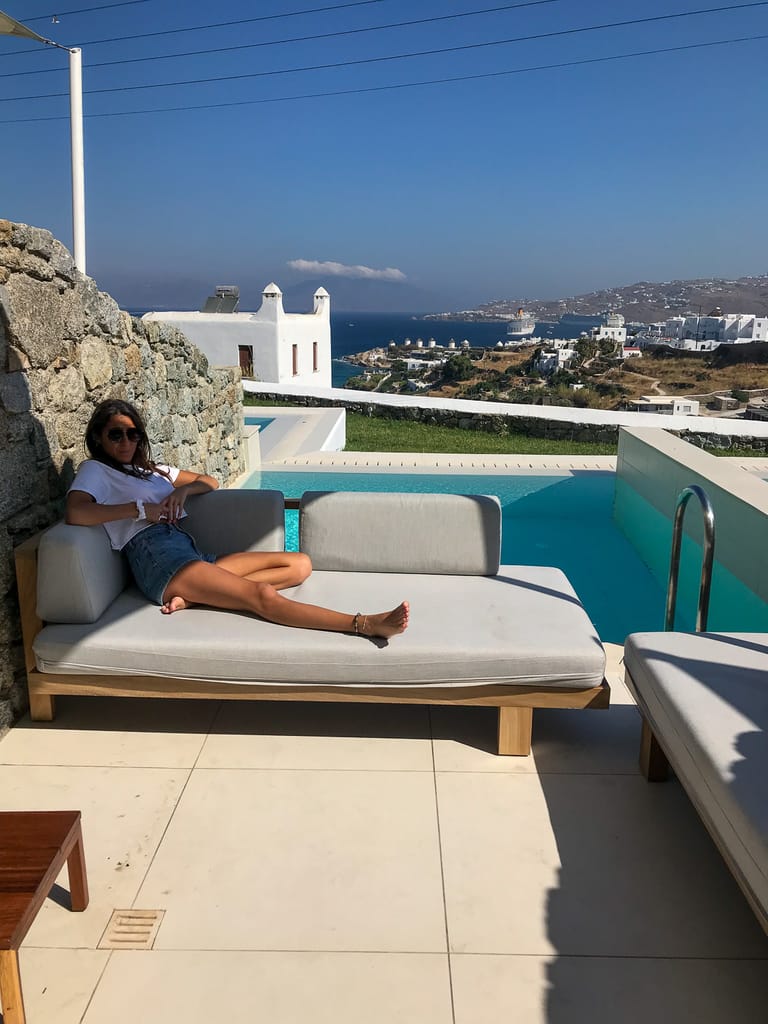 I only spent 3 nights in Mykonos for the meetup with my sister but being at the Kyma Hotel really made me wish I could have extended my trip to the full week my sister spent there!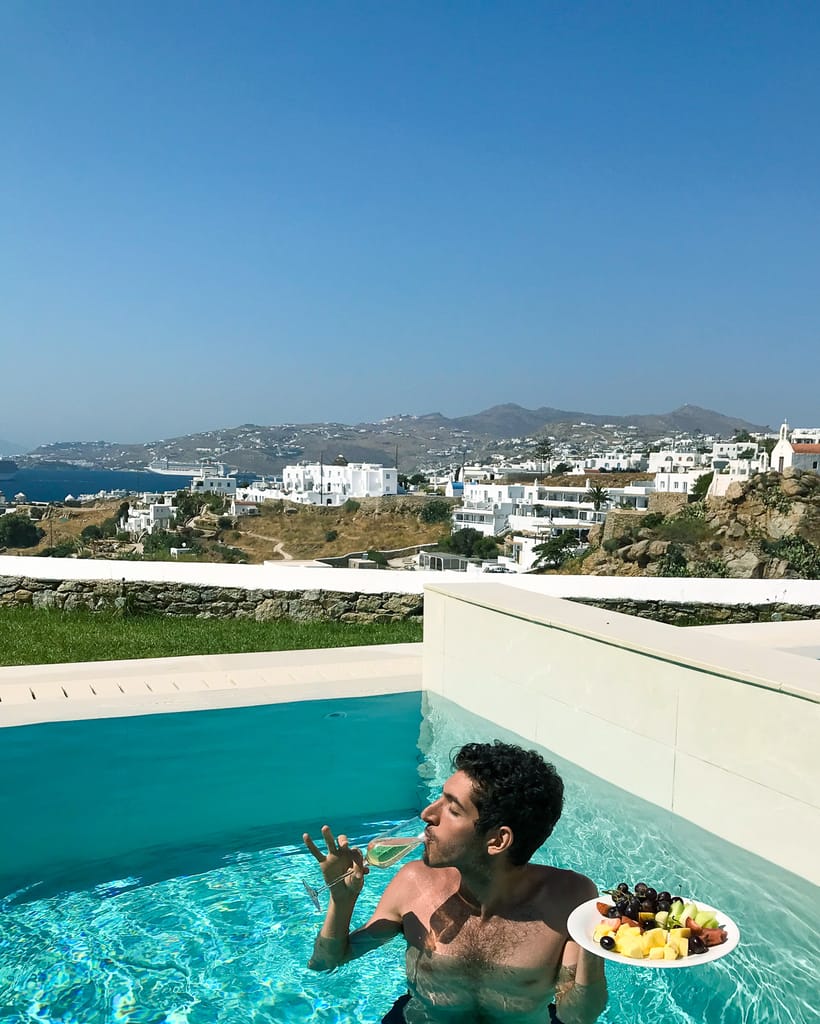 Since time was limited, we kicked vacation-mode into high gear right away.
We popped open a bottle of champagne to celebrate our reunion while being together on a Greek island! Room service brought us a platter of fresh fruit to enjoy and into the private pool we went.
It was so surreal. The Kyma really made us feel like we had found paradise on Earth.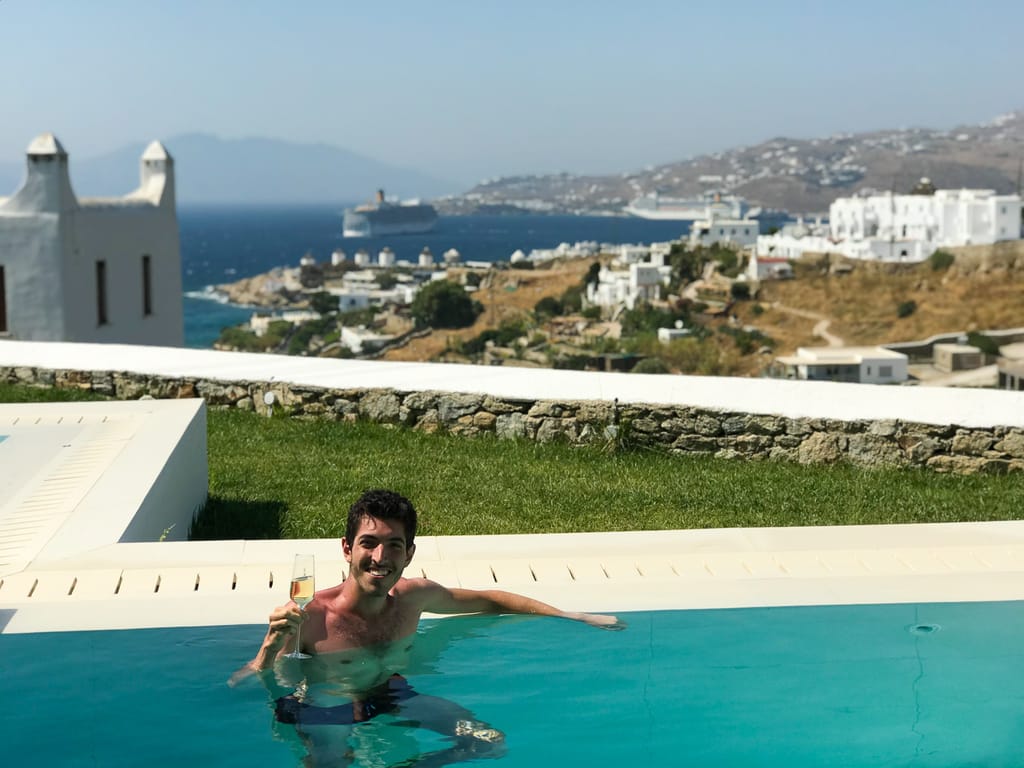 The weather in Mykonos was incredible. Summer sun with the constant island breeze.
When we weren't chilling in our private pool, we would go down to the main pool. Not many people were swimming there either so at certain points, I even had the huge pool all to myself too!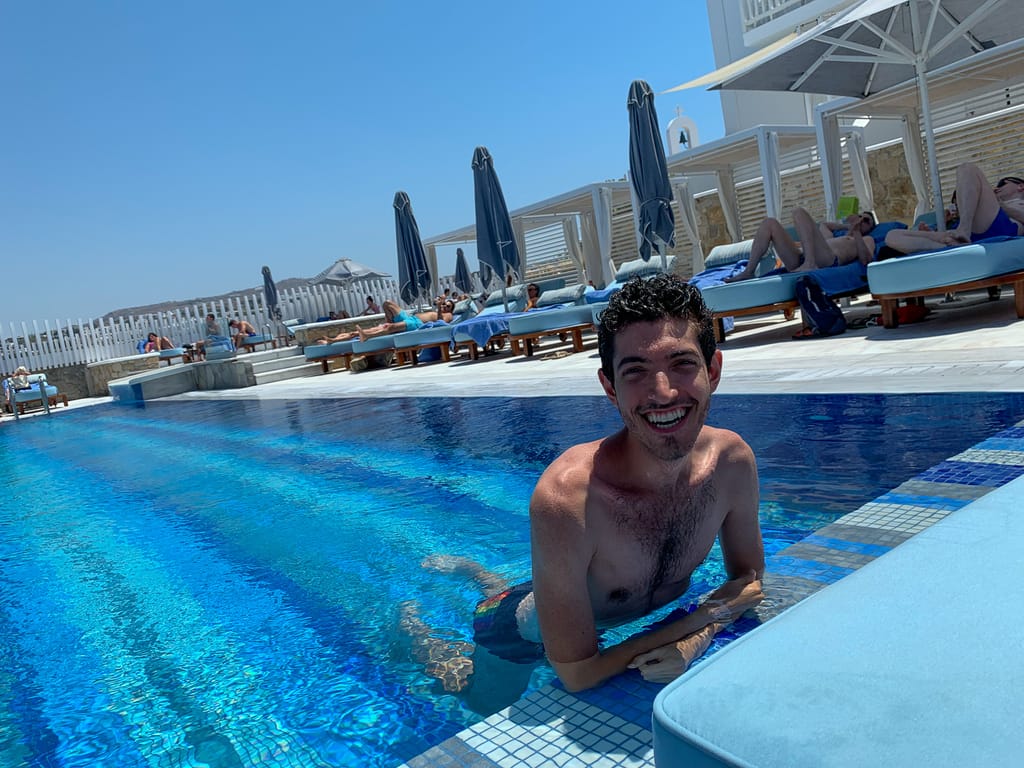 I was pretty excited to debut my gay pride Addicted swim-shorts.
They were blue with a rainbow on the back pocket. To me, they felt very "Mykonos" so I bought them for the trip.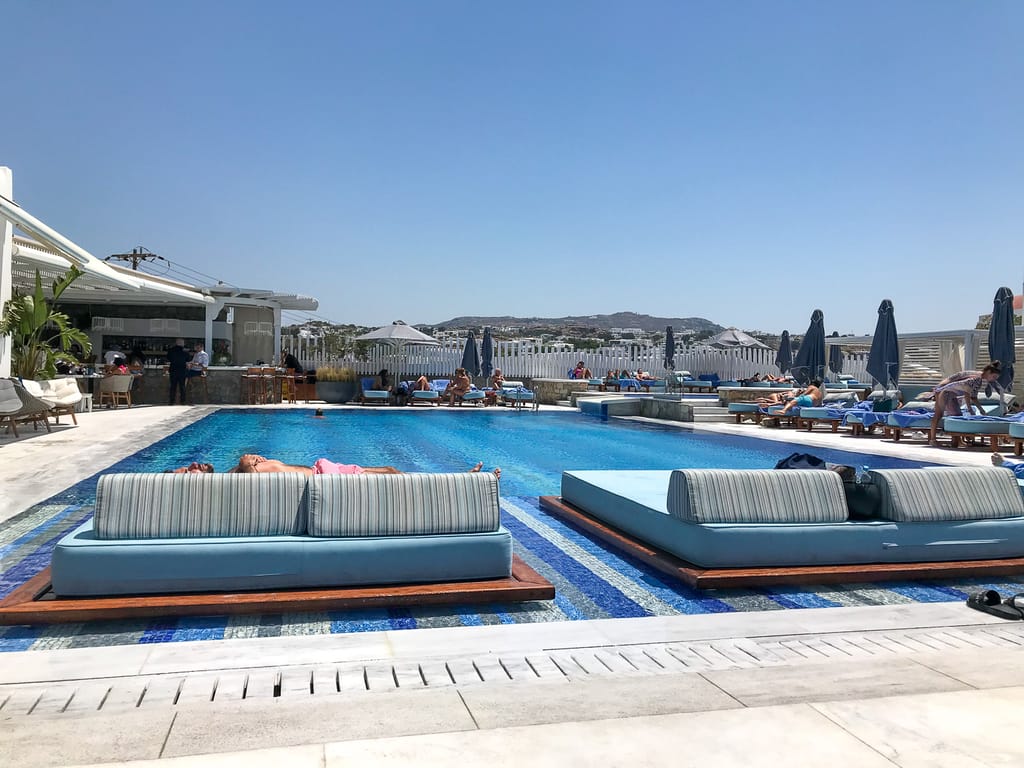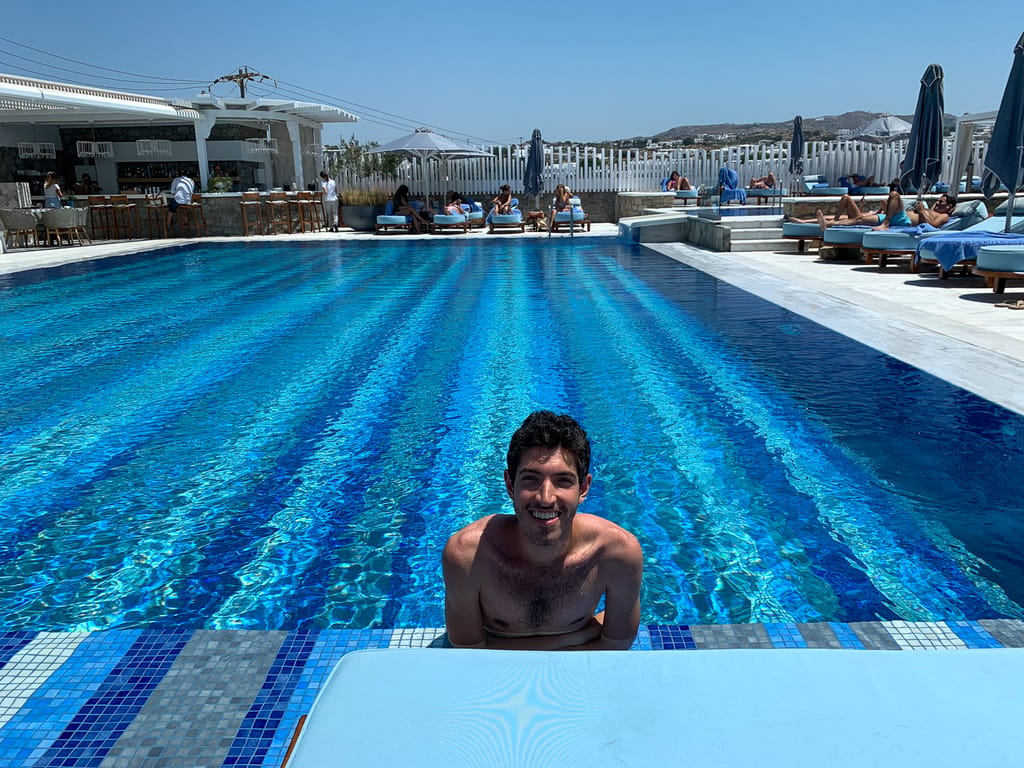 Tongue-in-cheek, I wondered if I might find my future husband on the gay-friendly island, but I had no such luck. 🥲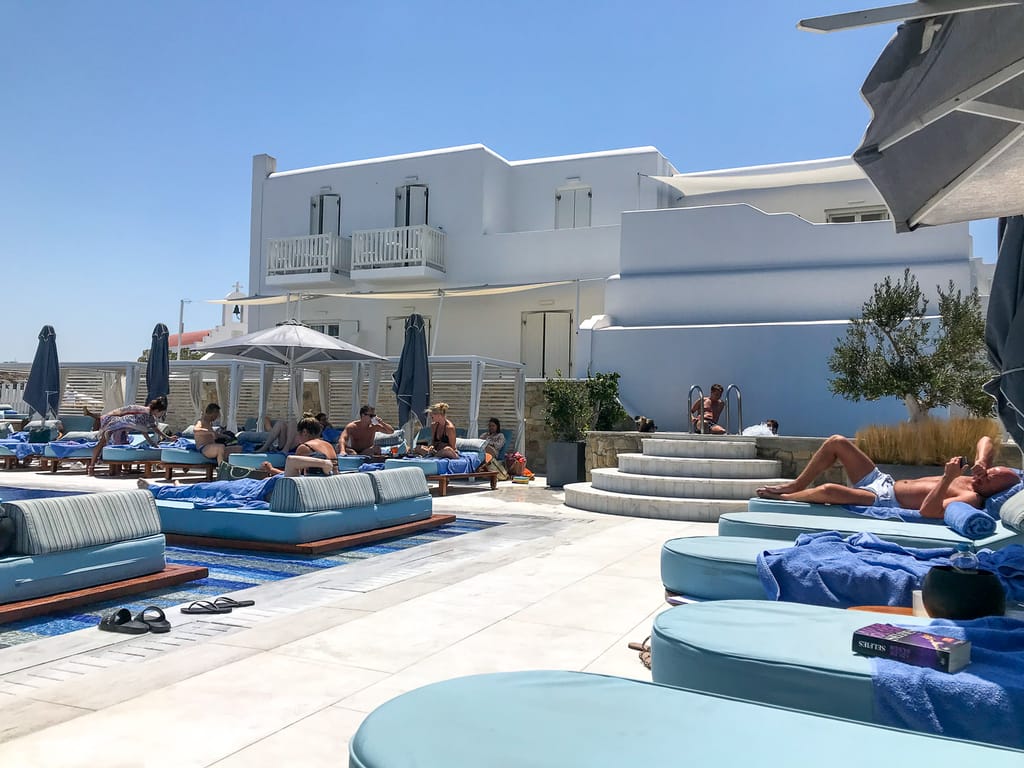 As the trip went on, I really began to settle into my new (but temporary) Island Life.
I went full-on tourist and bought this traditional Greek shirt to make my Greek fantasy even more of a reality.
Spending time in Greece with my sister was exactly what I needed. It was the main reason I was in Mykonos to begin with.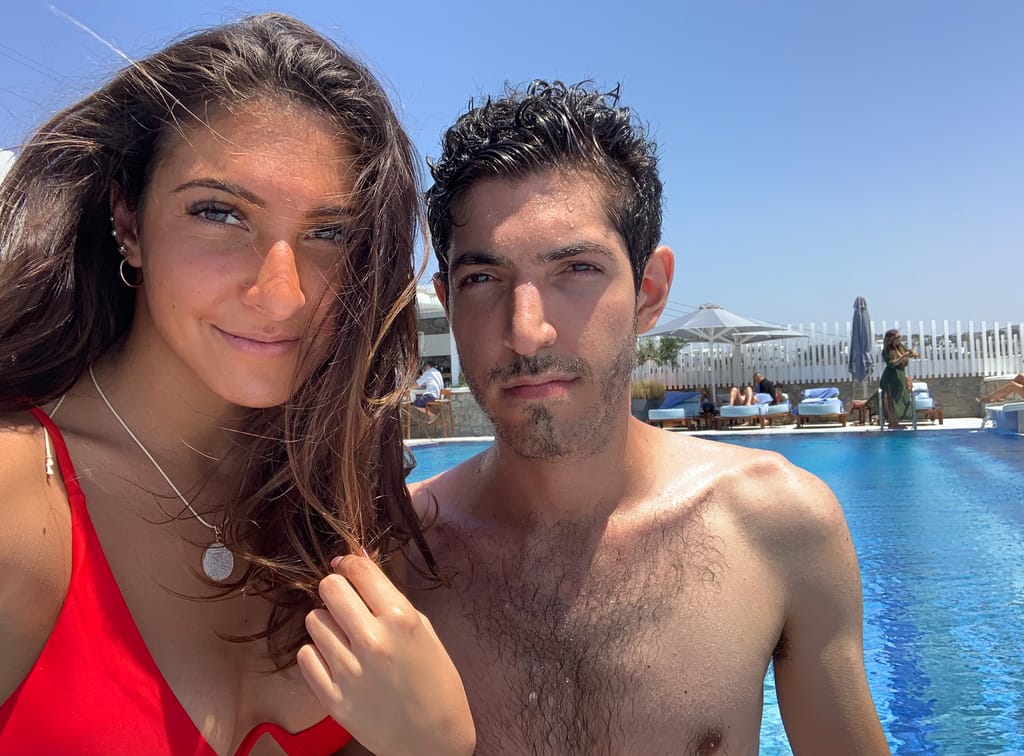 One of my favorite memories from our stay at the Myconian Kyma was the free breakfast.
I have never seen a hotel offer such a spectacular free breakfast buffet.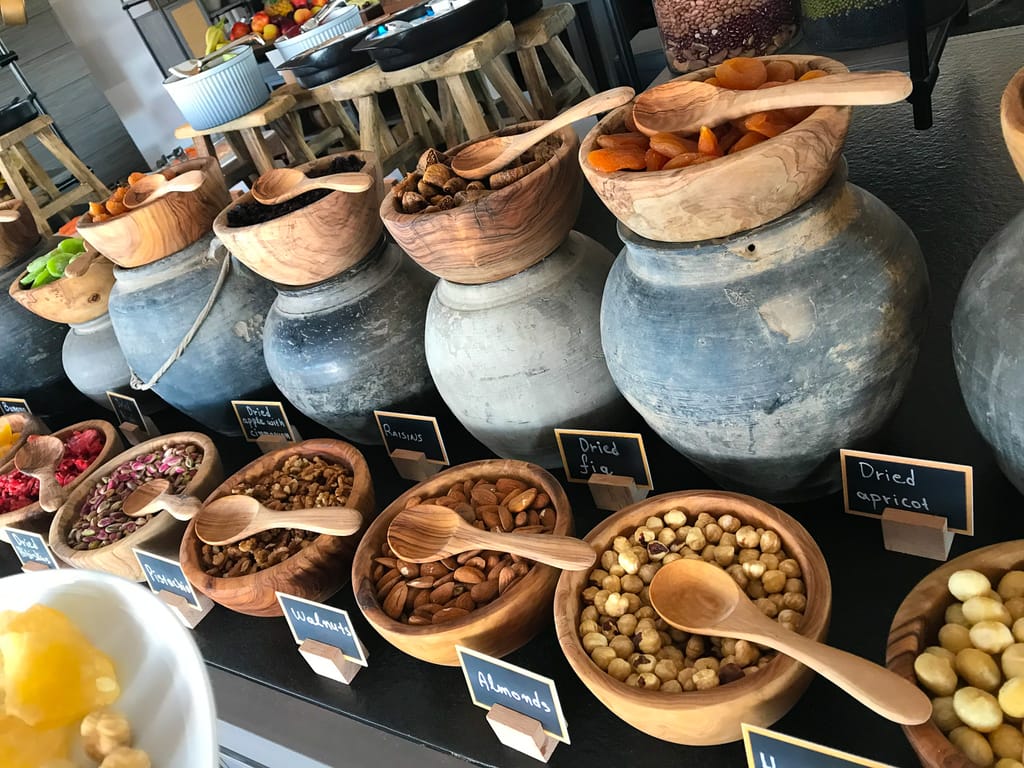 Each morning, I'd make my plate of nuts, dried fruits, eggs, and whatever else I wanted. They had the most expansive selection of dehydrated fruit I'd ever seen.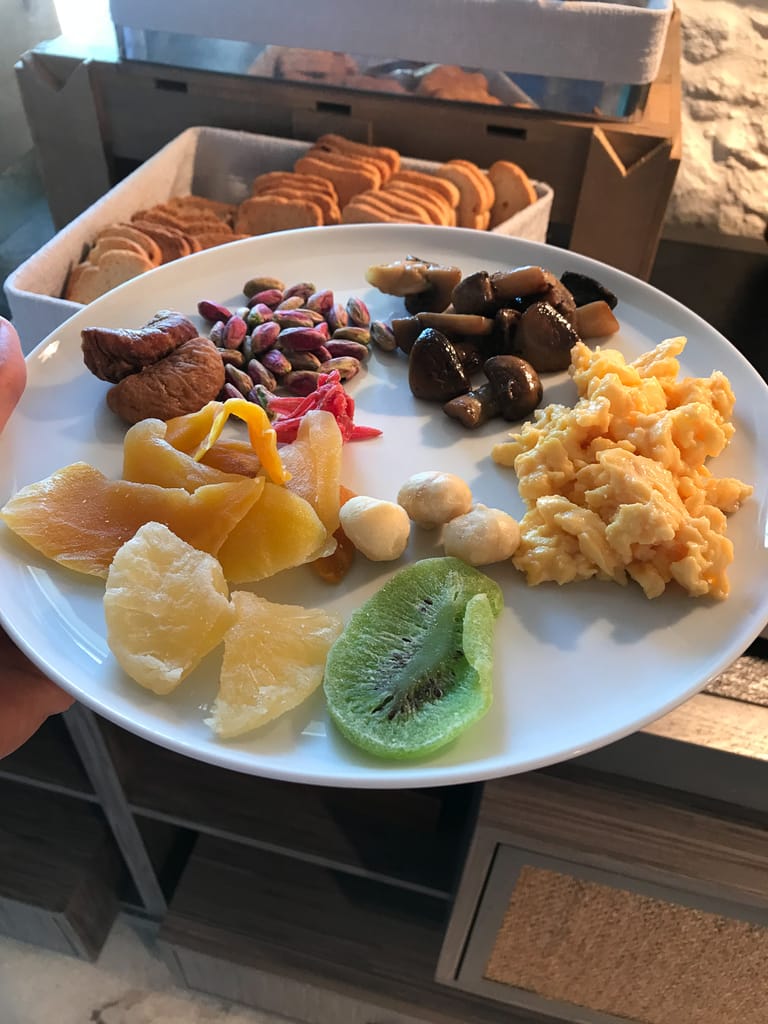 This trip was the first time I had ever tasted dried hibiscus. 🌺
Oh my goodness, I had no idea hibiscus flowers could be so delicious.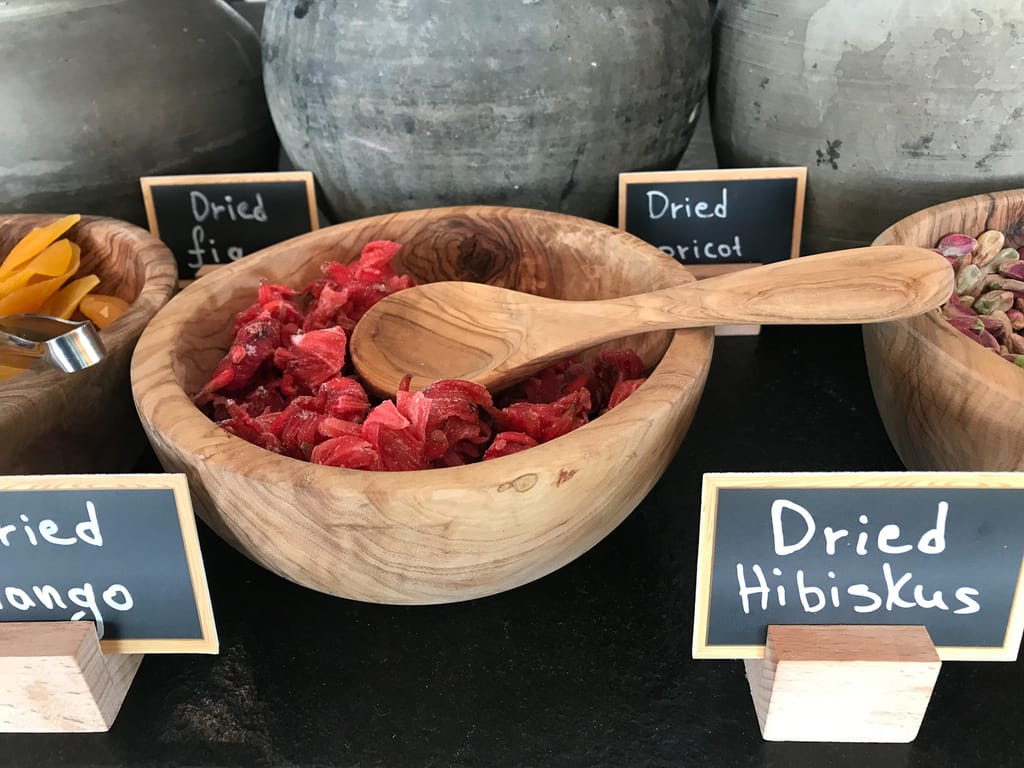 Another highlight was the REAL honeycomb.
I felt like I was scooping my honey straight from the hive!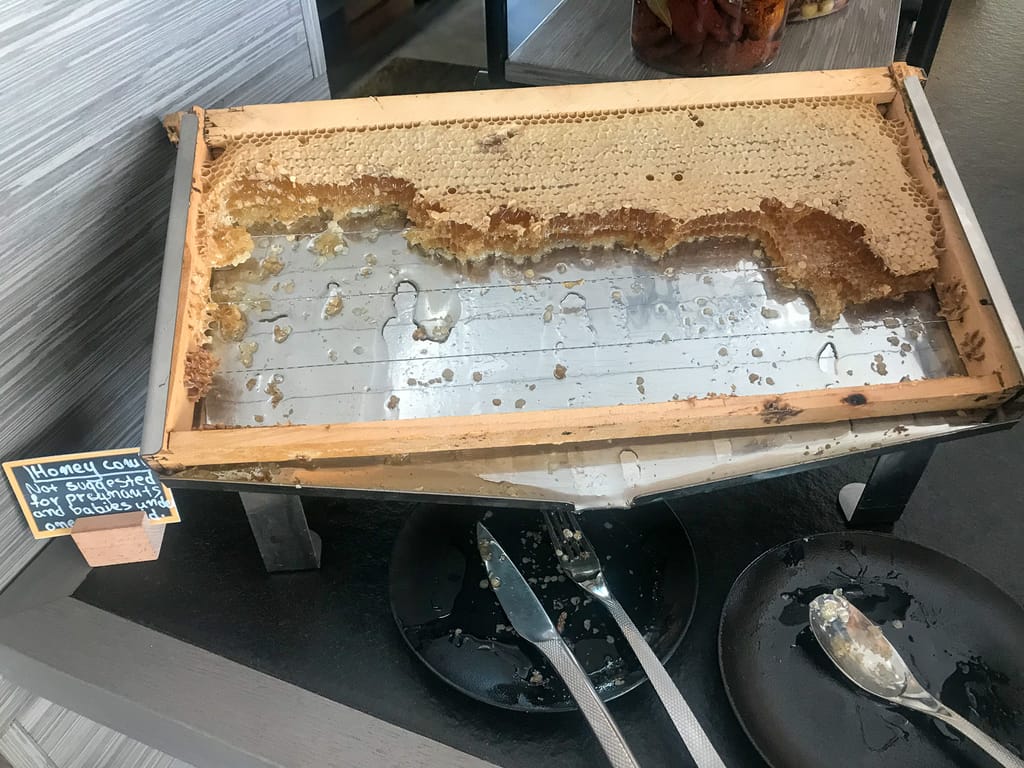 The fresh unprocessed honey made for a real treat to add my tea. (What would a vacation be without a cup of hot green tea?) 🍵
It was delightful.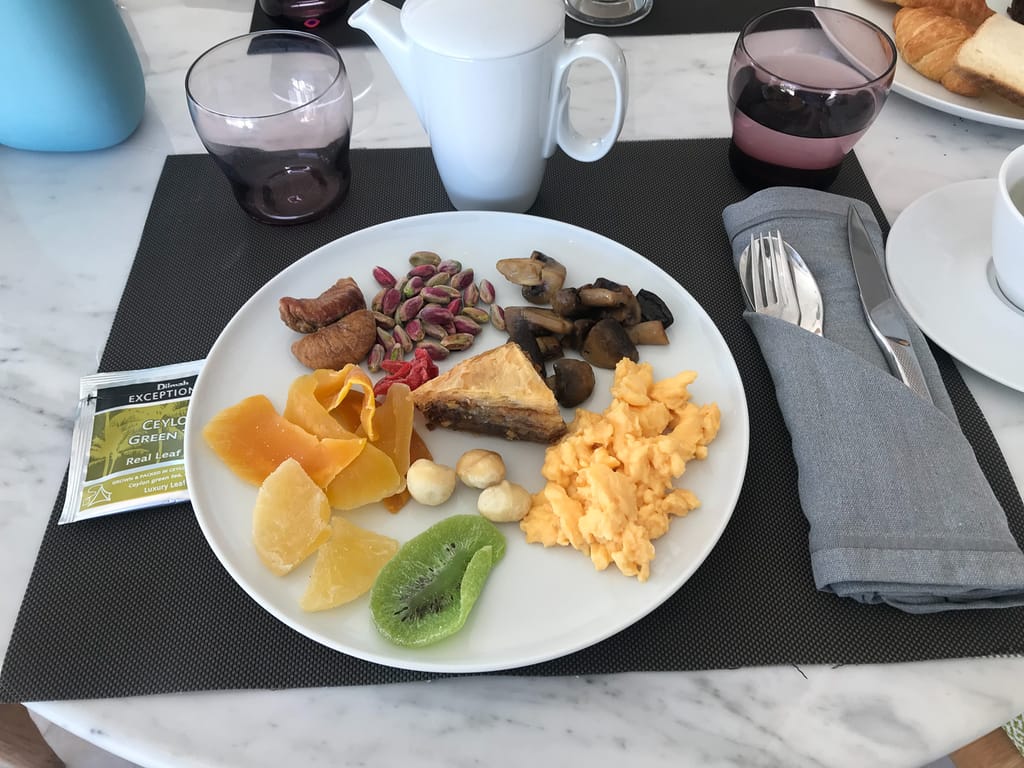 We'd sit at pool-side tables and enjoy our breakfast together each morning.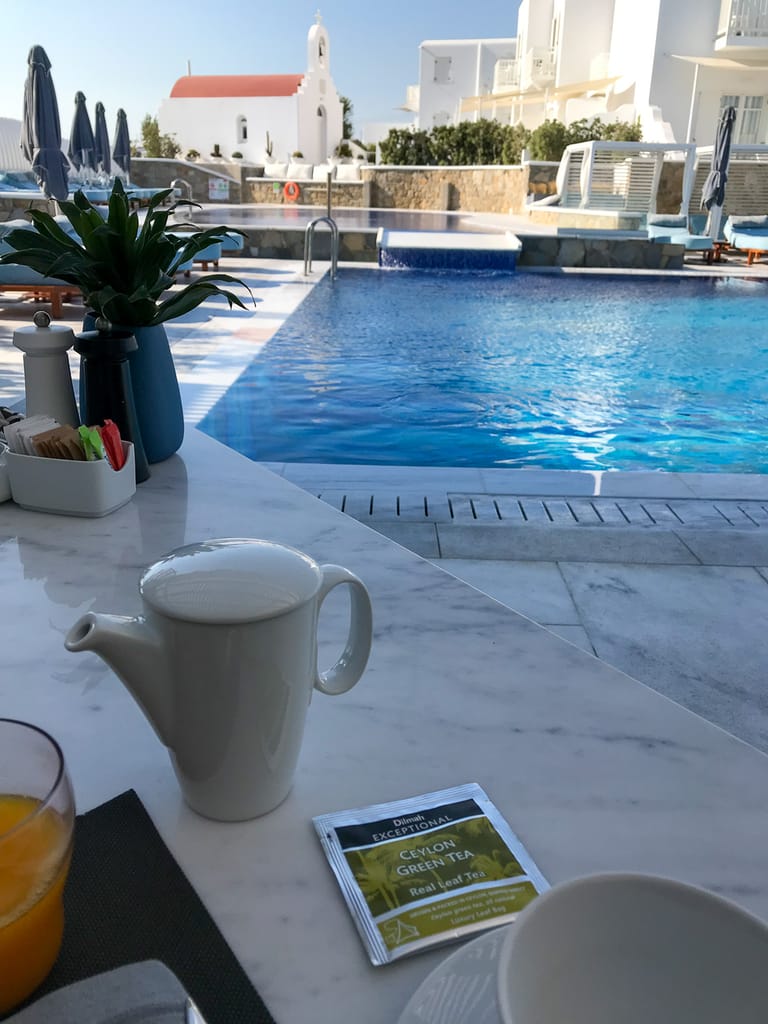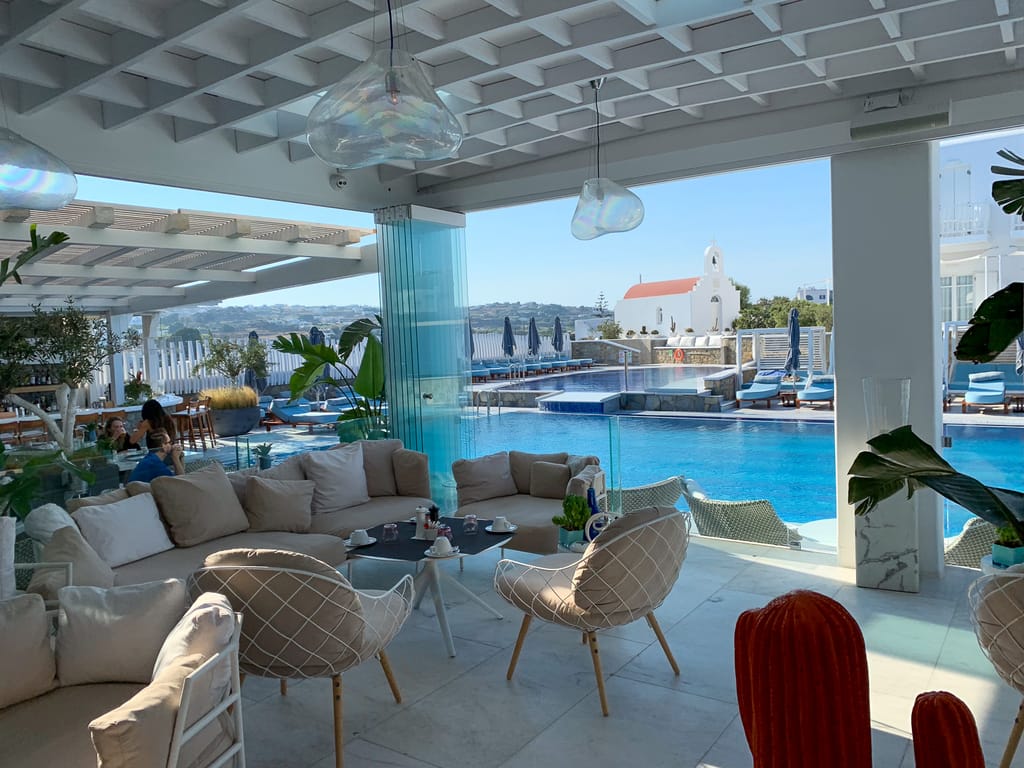 If this post hasn't made you hungry yet, I bet the room service will!
Since the hotel room was so beautiful and the purpose of our meetup was for us to be together, we frequently ordered food in.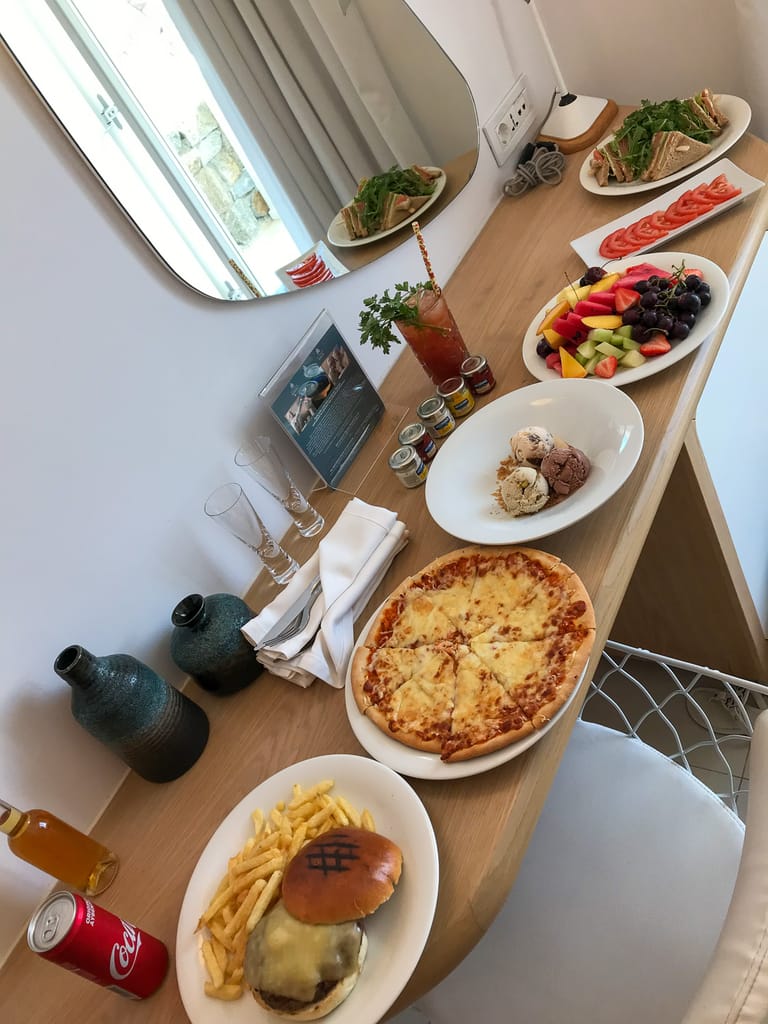 My personal favorite was the salmon, cream cheese, and arugula sandwiches which I must have reordered at least three or four times.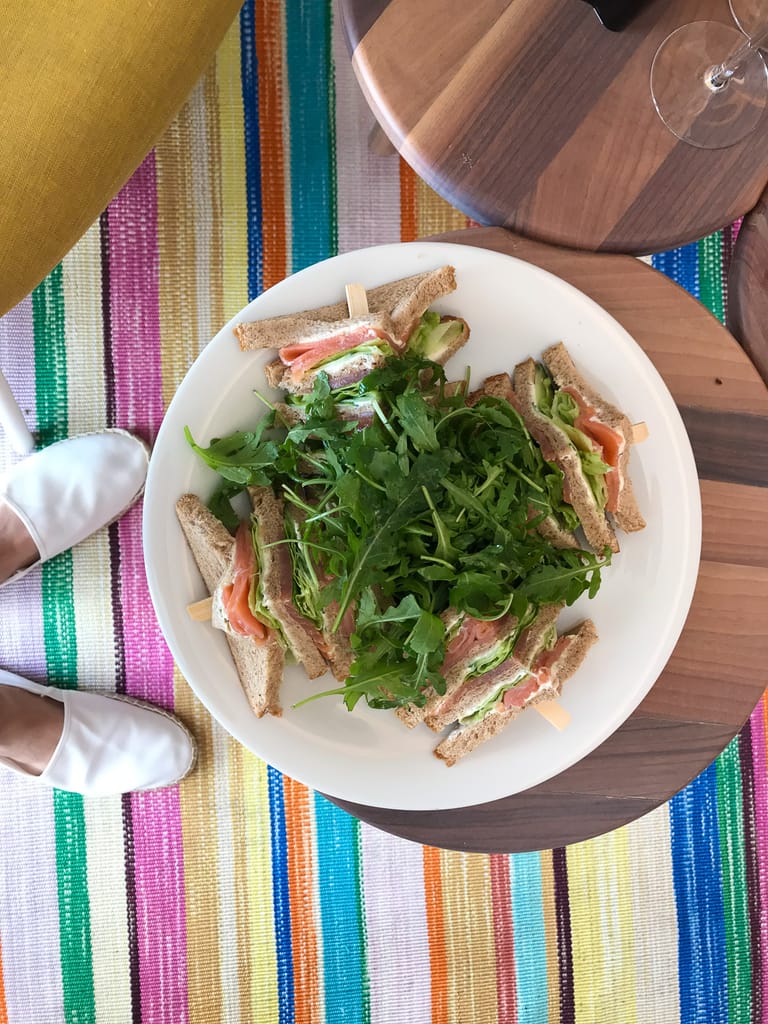 They also had very good build-your-own Greek gyros!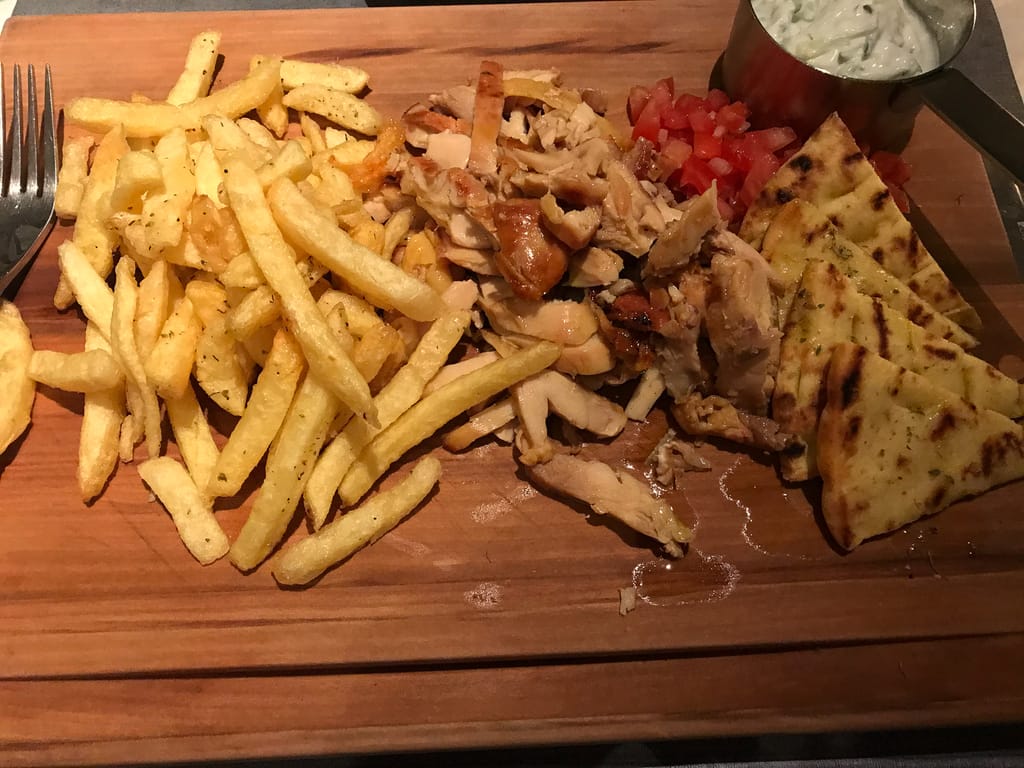 Although we thoroughly enjoyed the convenience of eating on property, we certainly weren't limited to it.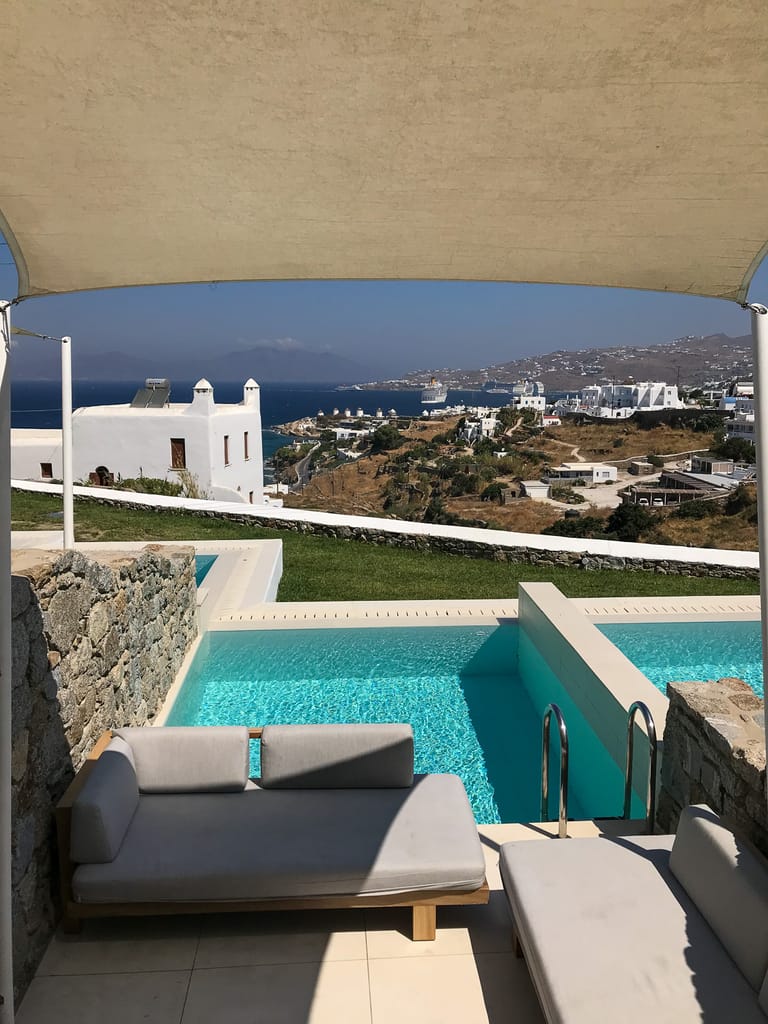 One of the best perks about staying at the Myconian Kyma and this section of the island in general was its close proximity to the Old Town. It was within walking distance! That was not something I could say the year before when I stayed at Paradise Beach Resort which was located on the south side of the island.
The trade-off? The south side is where a lot of the parties are at.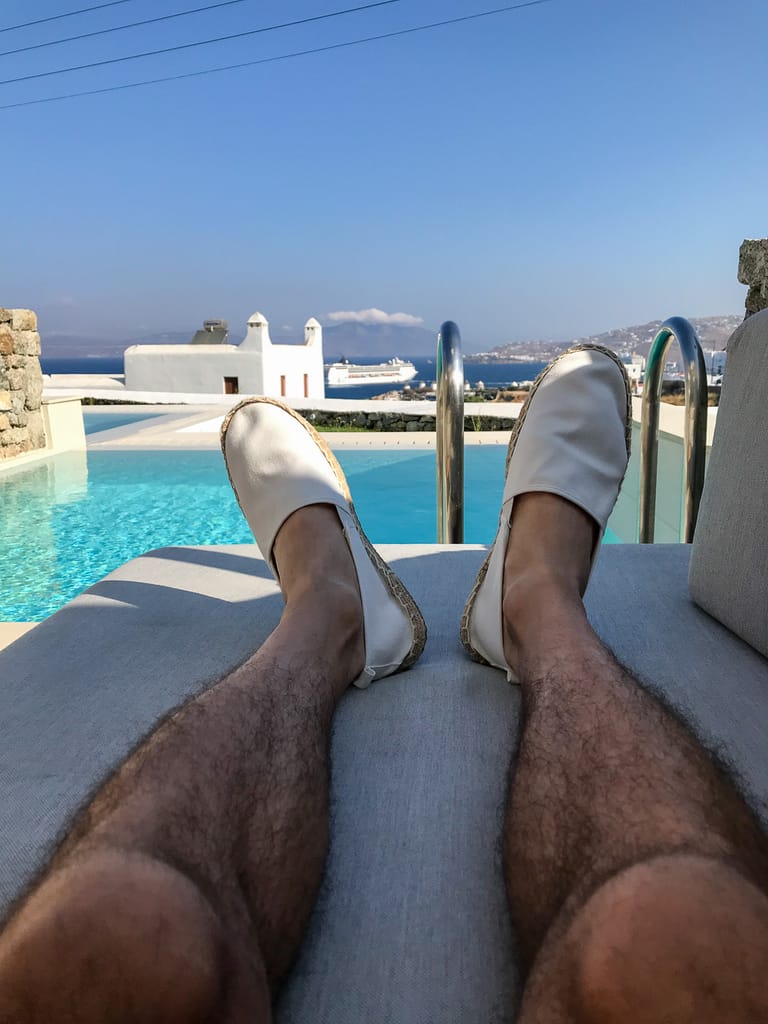 When we weren't wandering through the Old Town together, I enjoyed sitting by our pool, putting my feet up, and getting lost in my book.
My sister went on a tour of the island one afternoon so I hung back to soak up one of the most incredible views I'd ever seen in my life. To be gazing out over Little Venice, it really felt like I was dreaming.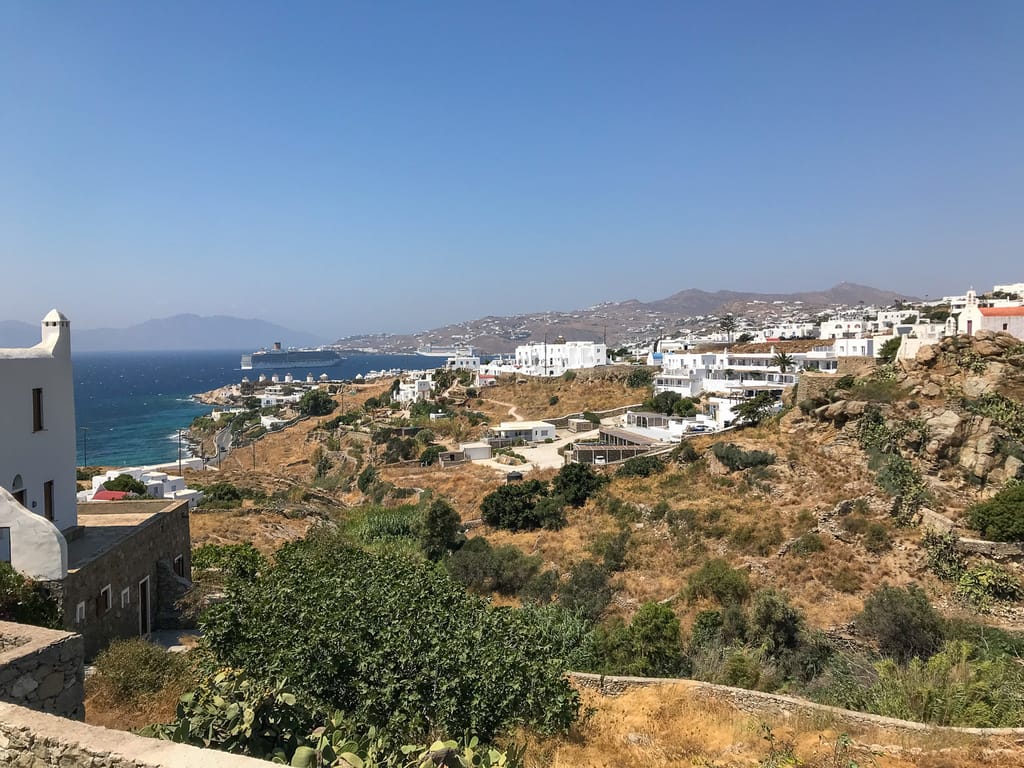 The Kyma is a prime example of all around excellence. Location, hospitality, amenities, and even design.
Overall, the Myconian Kyma is a very fresh and lovely hotel that offers a balance of Greek Cycladic white luxury and contemporary aesthetics with a funky spin.
In terms of hospitality, I can't say enough great things about it and their amazingly thoughtful and gracious staff!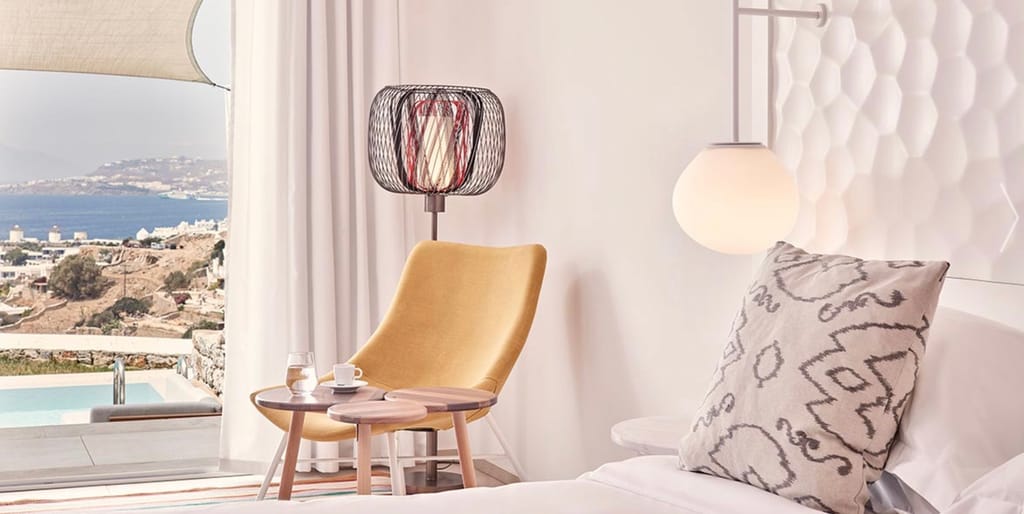 With its Cycladic architectural design and small pops of pastel color, the hotel has a ton of character. The amenities are high-tech, meticulous, and luxurious. The property's location is fantastic and the premium rooms offer dazzling views of the Aegean Sea!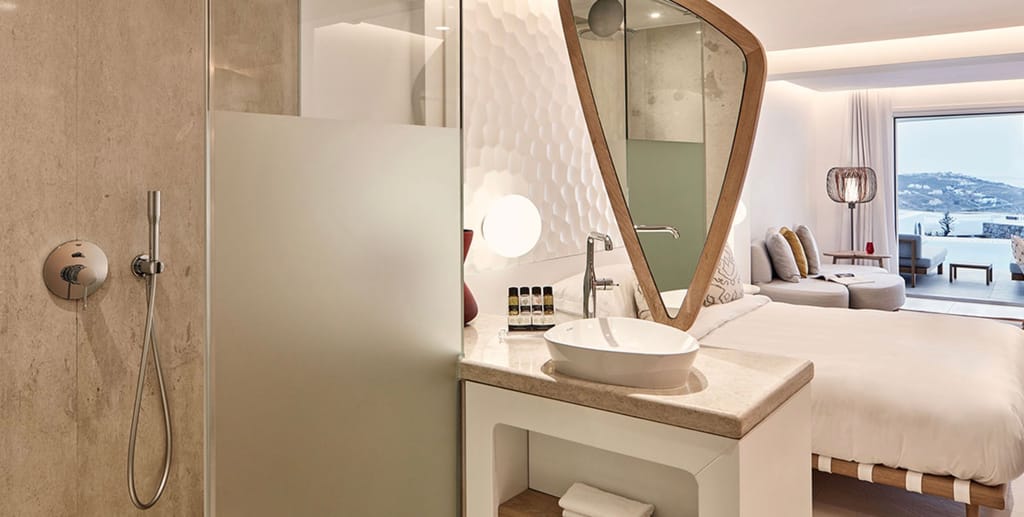 Part of the Myconian Hotel collection, the five-star luxury Myconian Kyma Hotel is sure to exceed expectations and leave a lasting impression on all guests who decide to stay here.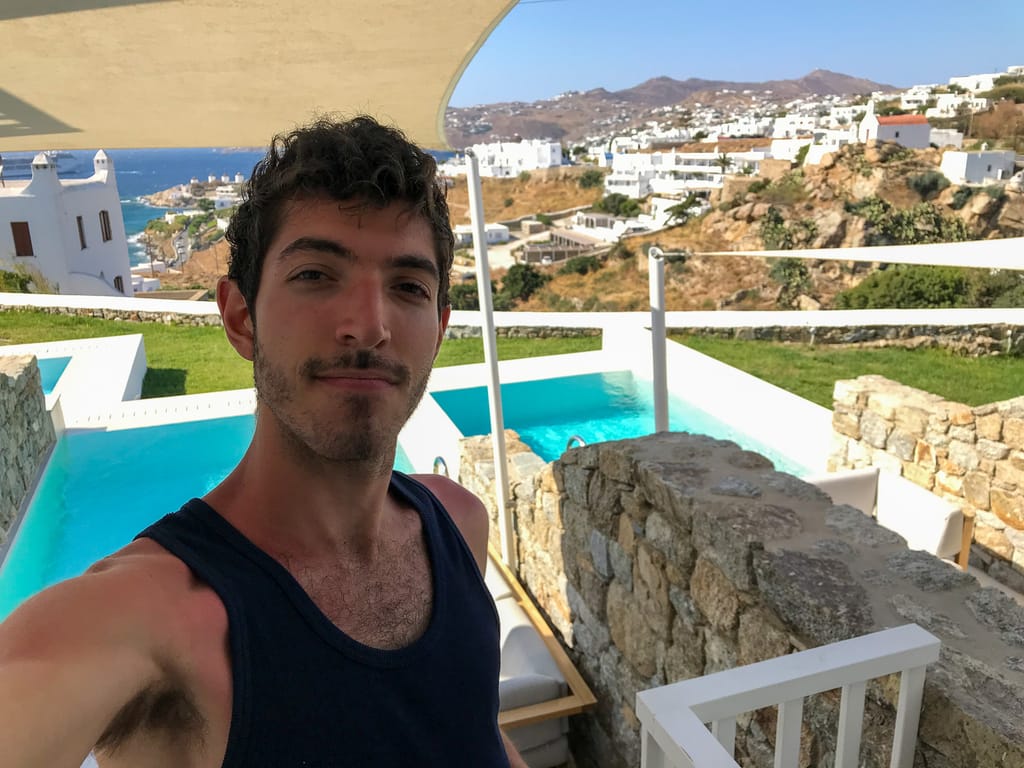 If you're considering booking, the rates for the Myconian Kyma are competitive on Booking.com.
Choose Kyma- you won't regret it! I certainly hope to return someday.