Last Updated on June 19, 2023
In case you want to visit a Greek Island like Mykonos but have financial constraints or time constraints (or both) I've put together a post sharing how my boyfriend and I maximized our time together on the island. You can ultimately create a trip to Mykonos in anyway you wish. It can be as extravagant or as cost-effective as you're willing to do it. That's up to you. I'm here to share what we did and what I observed. These suggestions are a combination of my own experiences and take-aways as well as recommendations that came from the locals in Greece!
Super Paradise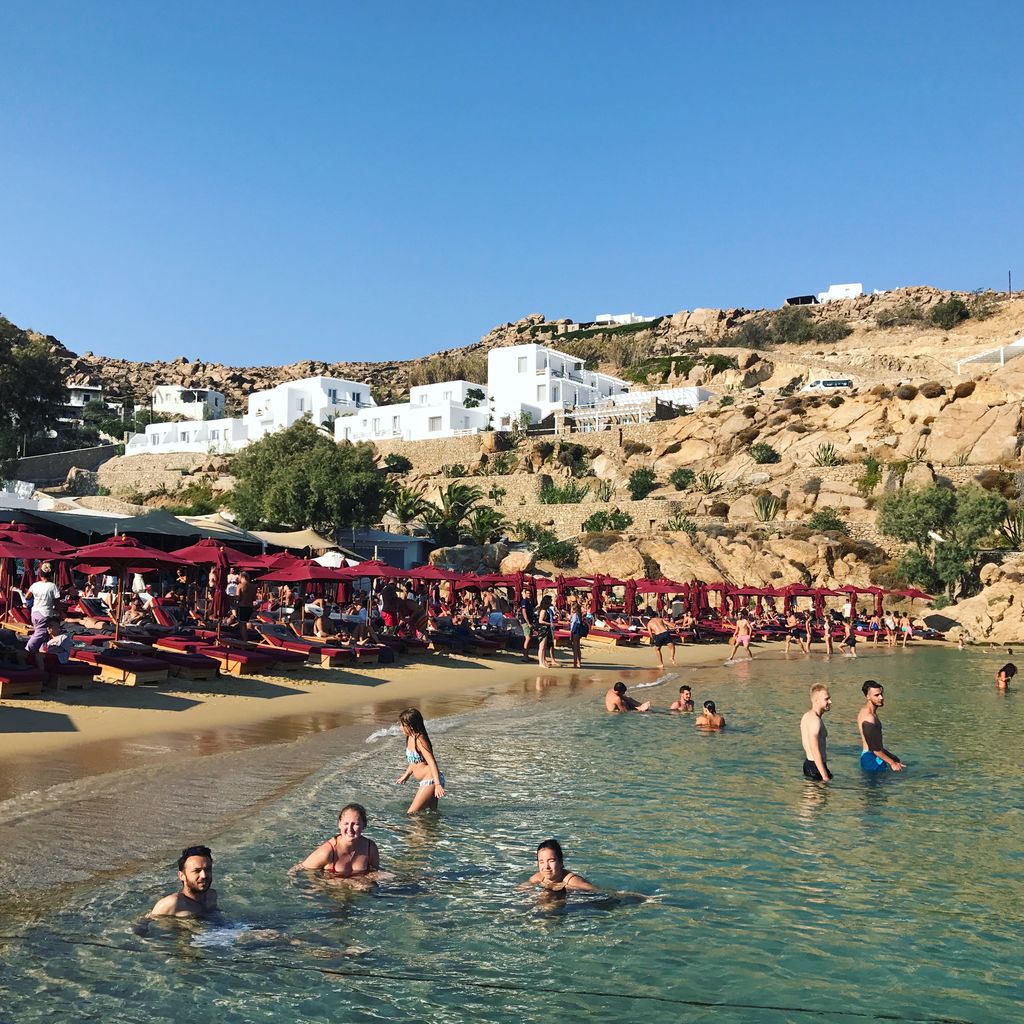 Super Paradise Beach is one of the best gay-friendly beaches on the island. We booked our trip last minute (the night before) and THOUGHT we got a room at Super Paradise Beach but it turned out that we got a hotel at Paradise Beach and they are NOT the same thing – despite having incredibly similar names! Who knew!

Thankfully, the two beaches are beside one another. They are very easy to travel between. Walking isn't really an option and taxis are hard to come by. The best method to go back and forth between the beaches is the water taxi. It runs very frequently. The cost was 10 Euros per person for a roundtrip ticket.
Hot Spots To Check Out:
Jackie-O Mykonos
The free seating area at the center of the beach (You'll pay to sit everywhere else.)
Paradise Beach
Paradise Beach itself is gorgeous. Stunning, really. Just don't stay at the Paradise Beach Resort. (Unless you're really trying to travel on a budget. Then, okay. Fine. But you've been warned!!!)
You would be much better off staying at the Tropicana. It is located right beside the Paradise Beach Resort but has nicer lounge chairs, towels, and cabanas. The staff is also much friendlier. On our second day, we were so fed up with Paradise Beach and their staff that we walked over to the Tropicana resort and paid 30 Euros for 3 of their front-row lounge chairs.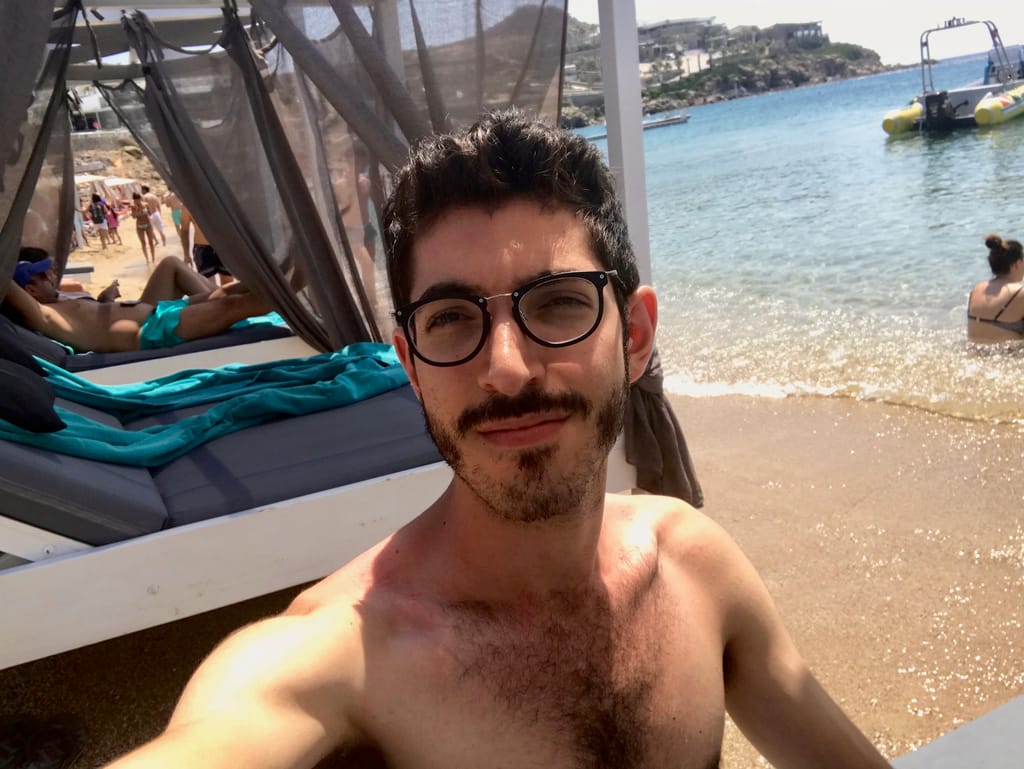 You do have to pay to sit on just about any of the chairs and cabanas in Mykonos. I guess that is something very typical throughout Europe that I wasn't used to as an American. The cost was 10 Euros per lounge chair. In our case, we had to buy 3 chairs even though we were only 2 people because they're sold in bundles. The bundle of 3 chairs was the only option left for front-row seats and we wanted to be up close to the water. Sometimes you have to splurge a little, you know?
Both resorts have EXCELLENT nightlife. As the day goes on, it only gets crazier and louder. You can dance starting around 5 or 6. From that point, you can party for a solid 12 hours straight. Things finally start to fizzle down around 6/7AM.
Admittedly, Paradise Beach is geared more towards a primarily straight crowd. I don't think gay men would feel particularly uncomfortable partying on the premises but it might not have the nightlife you're necessarily looking for. Jorge and I spent only a little bit of time here but we ultimately left to go somewhere else where we'd feel more comfortable and have a better time together.
Cavo Paradiso
Cavo Paradiso came to me as a recommendation from a local living in Athens. Coincidentally, it was located VERY close to where Jorge and I were staying. Cavo is incredibly accessible if you stay at Paradise Beach. After going, I would highly recommend Cavo Paradiso as a hot spot for both gay and straight travelers. It is such a fun and open-minded environment. We felt totally safe there. It was AMAZING. Great music, a beautiful club, a fantastic indoor/outdoor sound system, an insanely great crowd of people, really good times. I had so so sooo much fun.
Cavo Paradiso has been voted one of the top 25 nightclubs IN THE WORLD. I can't believe I got to go there with Jorge. What an experience!!! Offering a pool-side dance floor, Cavo has an amazing view of the sea and a state-of-the-art sound system. The inside of the club looks really cool! The pool really makes it stand out. For the record, you can't swim in the pool. From the photos I saw, I think I imagined it as a place where people might jump in and hang out but that's not the case. The pool appears to be there purely for the aesthetic… Anyway, Cavo is expensive but WORTH IT.
We planned ahead and purchased DISCOUNTED entrance tickets from a PR. Even then, the cost was still insanely expensive by our standards haha. It was 30 Euros per person just to enter. The normal entrance fee that most will pay is even higher. Oh and that doesn't include a drink. It was easily the most expensive club I've ever gone to in my life. Yikes. You can expect to pay another 20 Euros per drink. Budget traveling or not, Cavo Paradiso was one of those things we couldn't pass up. You know how it goes. When in Mykonos…
Little Venice, Mykonos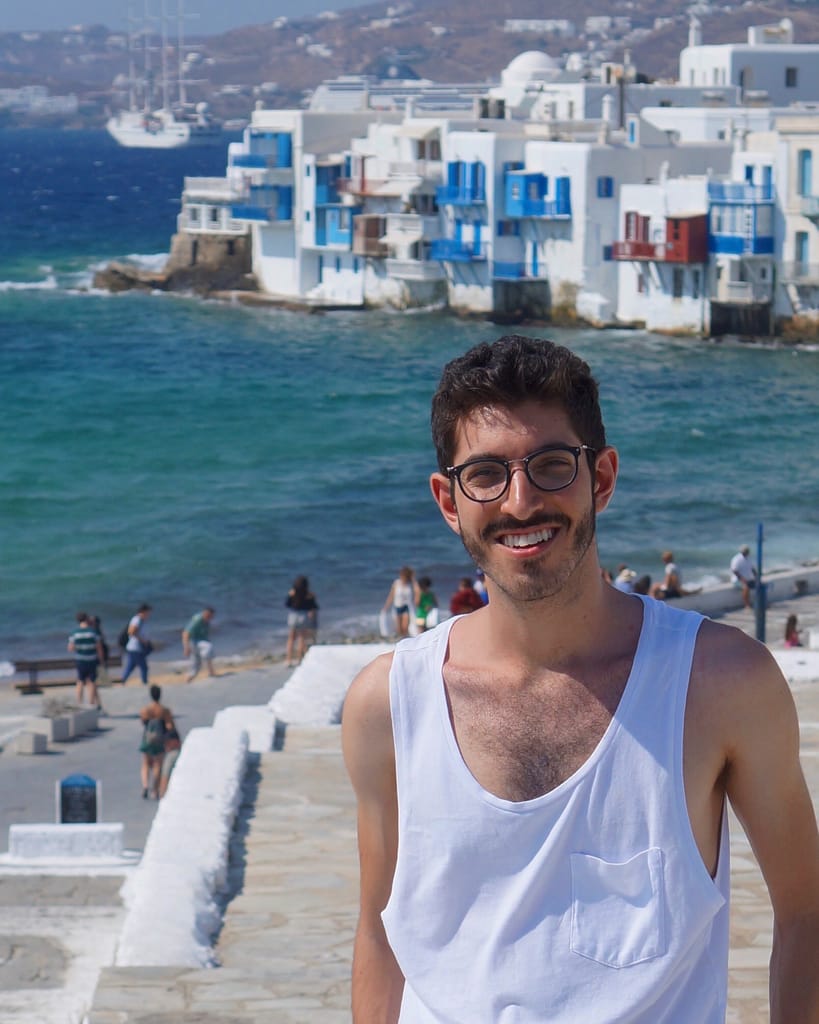 After leaving Paradise Beach to head back to the pier where our ferry would be, Jorge and I made a stop at Little Venice, Mykonos, Greece. It was adorable! The city is small but it has all of the cute, white, ice cube-like buildings that you might see in magazines or on Instagram. We saw the famous windmills and enjoyed a beautiful view of a city surrounded by water.
I'm sure Little Venice has a lot more to offer than I possibly could have seen in just a few hours but I'm happy we got a decent glimpse of it!
Until next time, Little Venice!
Want More? Other Gay Friendly Recommendations
For a slightly older crowd that may be traveling with more money and flexibility, I have a few other recommendations that might be of interest. These are very luxurious gay-friendly resorts that have been recommended to me by people within the community.
SantAnna Mykonos
ELIA Village Mykonos
Nammos Mykonos
Some people might try to say that the entire island of Mykonos is gay-friendly. While that holds a degree of truthfulness because of the community's prevalence across the island, I wouldn't say it paints a full picture. Not every resort on Mykonos is "gay friendly" just for being there. That's a drastic oversimplification of reality and it fails to recognize that some resorts in Mykonos actually take measures to make gay couples feel more welcome. For example, the resort I stayed at with my boyfriend upgraded us to a "bigger room" with 2 separate beds. I presume this was done because I was traveling with another man and they assumed we would be more comfortable sleeping apart than sharing a small bed with my "bud." The impact is in the small details. Furthermore, I didn't see all that many gay couples at Paradise Beach. There were a ton at Super Paradise Beach though! On that note, ANY of the spots I've recommended above – especially Super Paradise- should be excellent destinations for gay men looking to travel to Mykonos.
Like this post? Please share and pin it on Pinterest or Reddit!