Casa Mila, also known as La Pedrera, is sometimes overshadowed by Gaudí's more famous projects like La Sagrada Familia or Casa Batlló. If you're on the fence about whether or not Casa Mila is worth visiting, I say it's a cant-miss in Barcelona.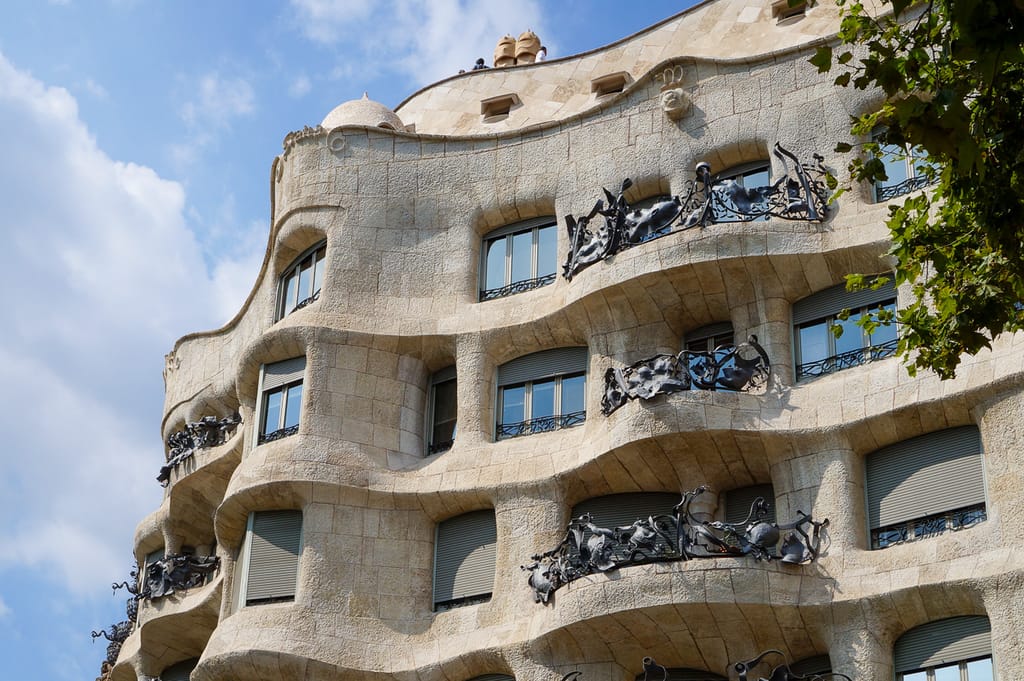 I'll be totally honest: my family had already been planning on visiting the famous Casa Batlló before we even arrived in Barcelona, but we weren't too sure whether or not we wanted to visit Casa Mila.
It's not that we thought badly of Casa Mila, we just weren't aware of its… existence. (Hides face in embarrassment.) Casa Mila is not nearly as famous as Casa Batlló, especially to foreign tourists.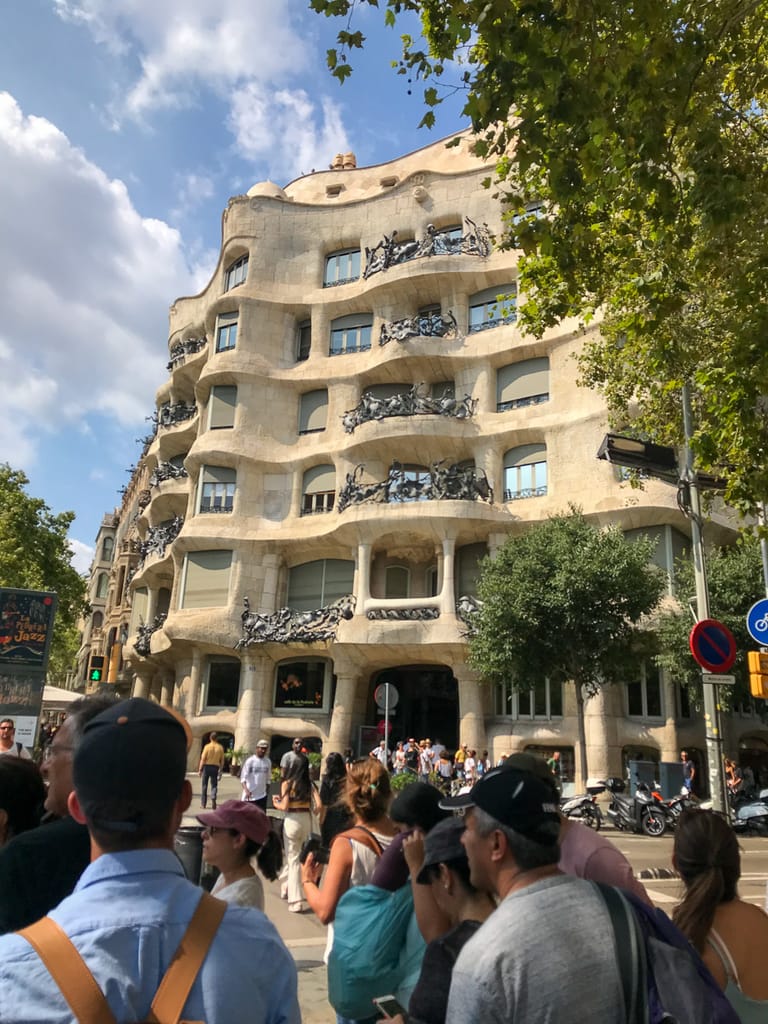 After some hesitation, my family ultimately decided to tour Casa Mila because after La Sagrada Familia and Casa Batlló, we couldn't get enough of Gaudí's creativity and we wanted to visit all of his most significant works.
In this overview post on my blog, I'll share my first-hand experience after touring Casa Mila in Barcelona and share with you a glimpse into what you can expect to see there.
IS CASA MILA WORTH VISITING?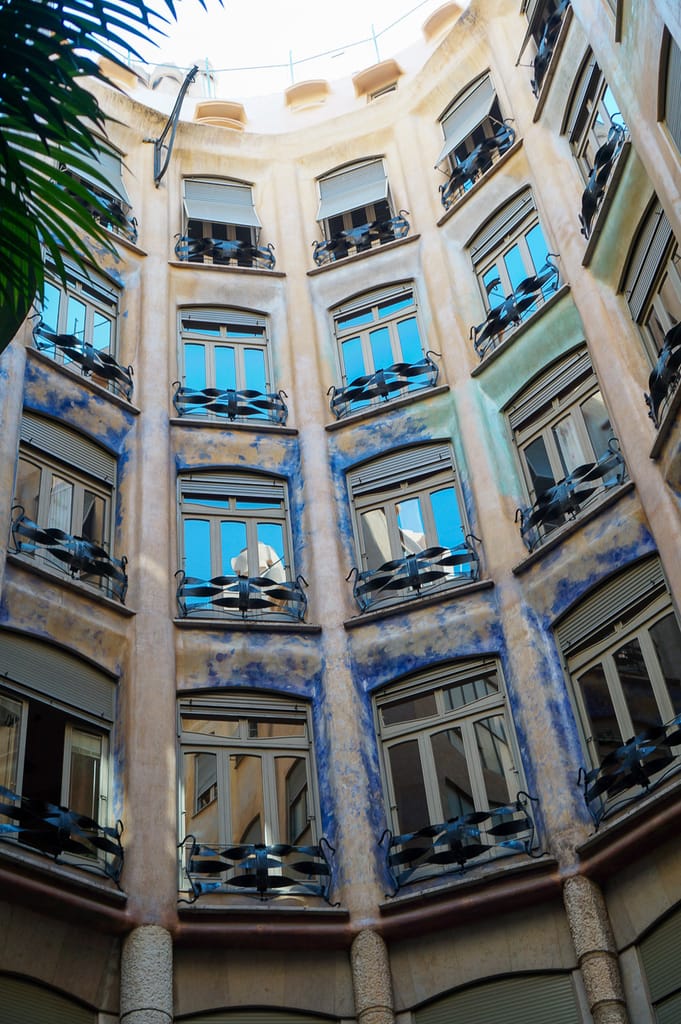 Nature was Gaudí's source of inspiration for his Casa Milà masterpiece.
This was one of the aspects I enjoyed the most about Casa Mila while interpreting his architectural design decisions.
The alternative name "La Pedrera" means "the stone building" as it resembles a stone quarry.
It was later named after the Mila Family, the original owners of the building.
Included in the price of admission is a free audio guide. I recommend following along with it, you can learn a lot about your surroundings.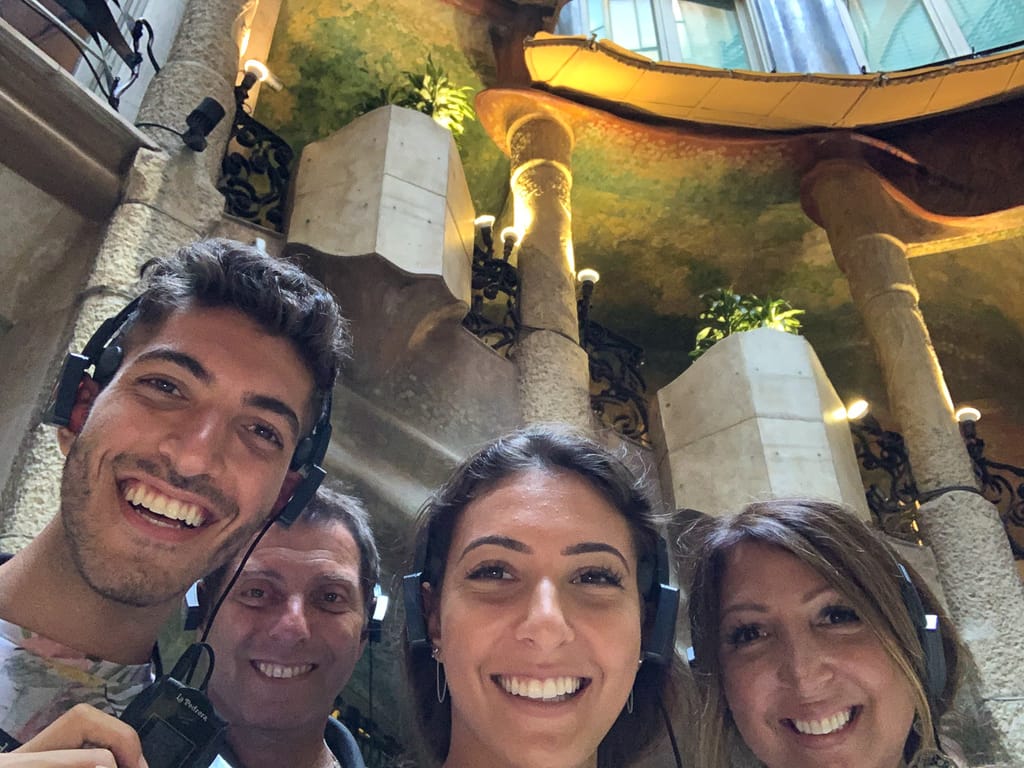 (Haha, yes, we took an audio guide "selfie" together at each of the Gaudí attractions we visited.)
CASA MILÀ LA PEDRERA HISTORY
Casa Milà is a modernist building that was designed by Antoni Gaudí and completed in 1912.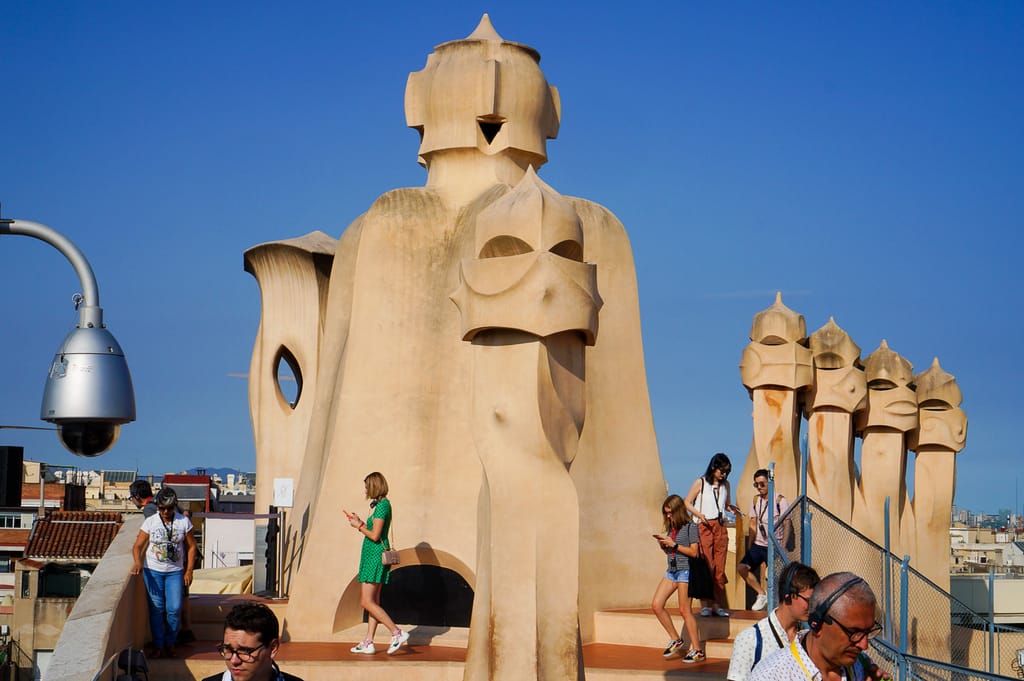 The building is famous for its unconventional appearance with its rough, hewn-stone façade and divergence from the accepted architectural styles of its time.
The building is now used as a tourist attraction and museum.
My favorite aspect of the outside façade was the 32 twisted balconies which complement the self-supported stone façade.
They are lined with functional and decorative iron railings made of twisted and curved scrap metal, iron plates, bars, and chains.
INSIDE CASA MILÀ
A GLIMPSE INTO HOW THE ORIGINAL OWNERS LIVED
The audio guide walks you through Casa Mila's interiors as you discover the design behind Gaudí's last civil architectural project.
I enjoyed how the tour allowed us to get an inside look at what the apartments looked like.
They had plastered ceilings, handcrafted wooden floors, windows of varying sizes, cement tiles, and other ornamental elements.
The stairways were reserved as service entry points. The main access to each apartment was by elevator, aside from the first floor where Gaudi created a prominent staircase. This was all done on purpose.
Gaudí wanted everyone who lived in the flats to know each other. Therefore, there were only elevators positioned on every other floor so people living on different floors would intermingle and meet!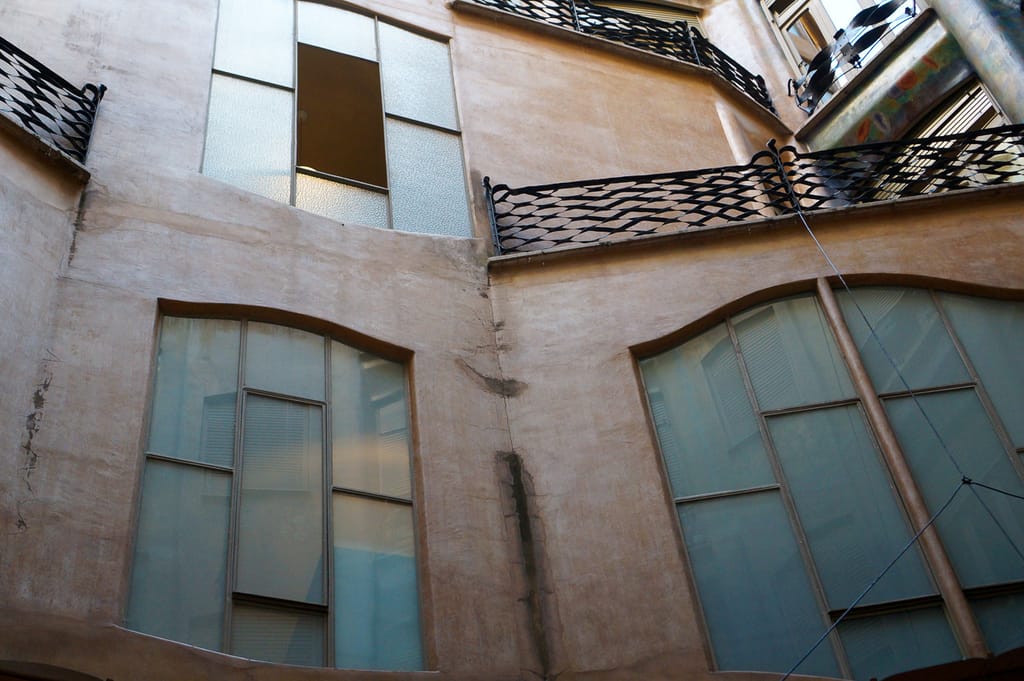 Isn't that clever?
What some might view as a major inconvenience nowadays was, at his time, a purposeful decision to foster a greater sense of community.
As the tour continued, we got to see different rooms like the kitchen, bathroom, and so on.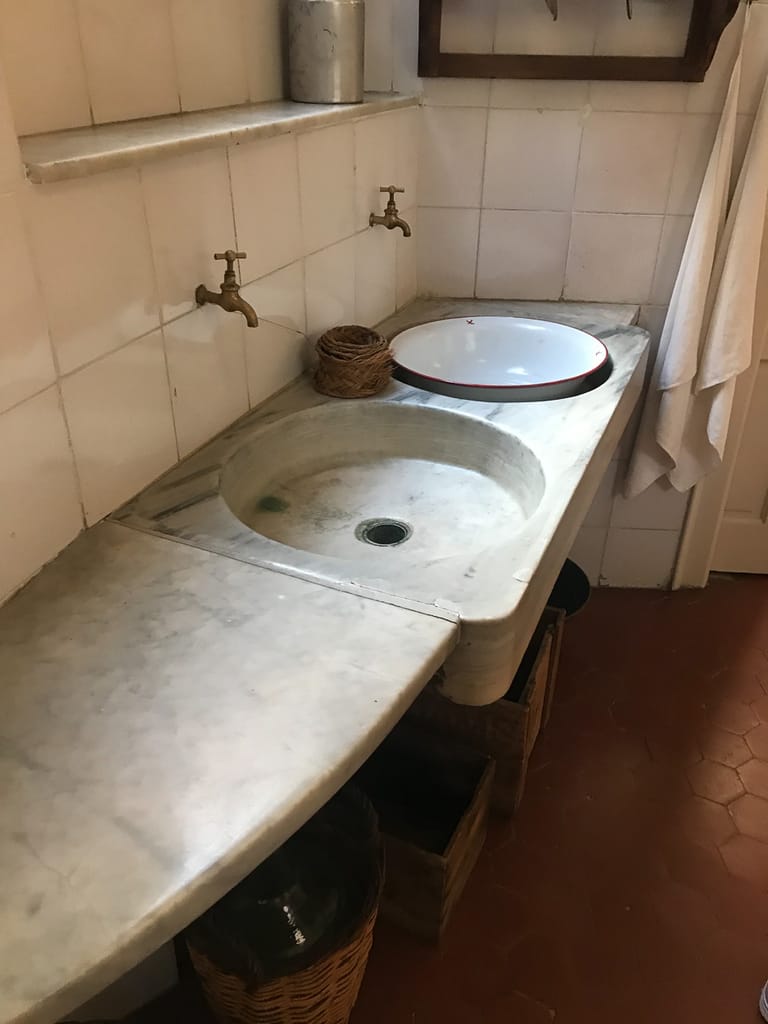 A MUSEUM OF GAUDÍ HISTORY
In the attic, there is a museum exhibit devoted to Antoni Gaudi and all of his most famous projects.
We walked along 270 catenary arches made of thin brick.
This exhibition not only featured Casa Mila, but actually, it actually covered all of his creations! For this reason, we were glad we visited Casa Milà after the other Gaudi attractions, and not before.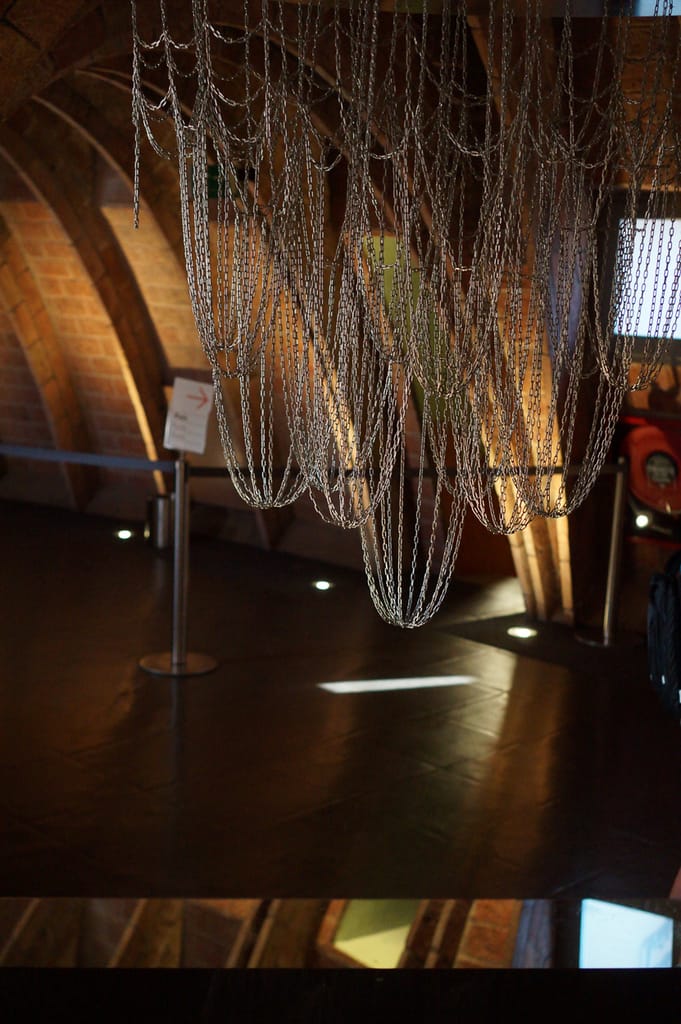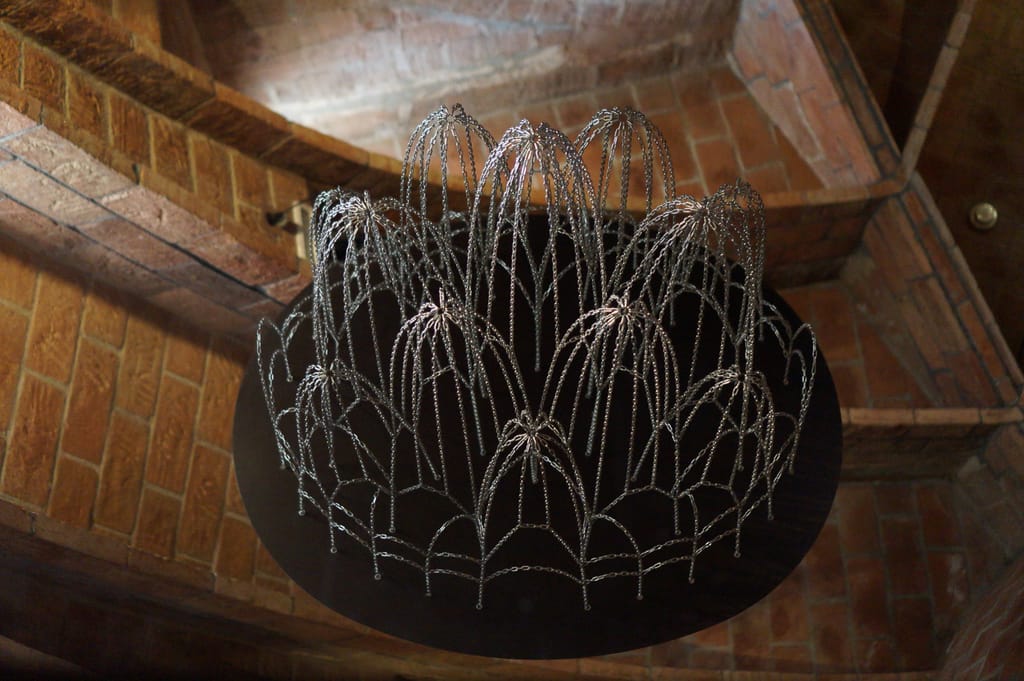 The main message throughout this exhibit was clear: everything Gaudí designed served a function.
There were no coincidences or thoughtless decisions in his designs.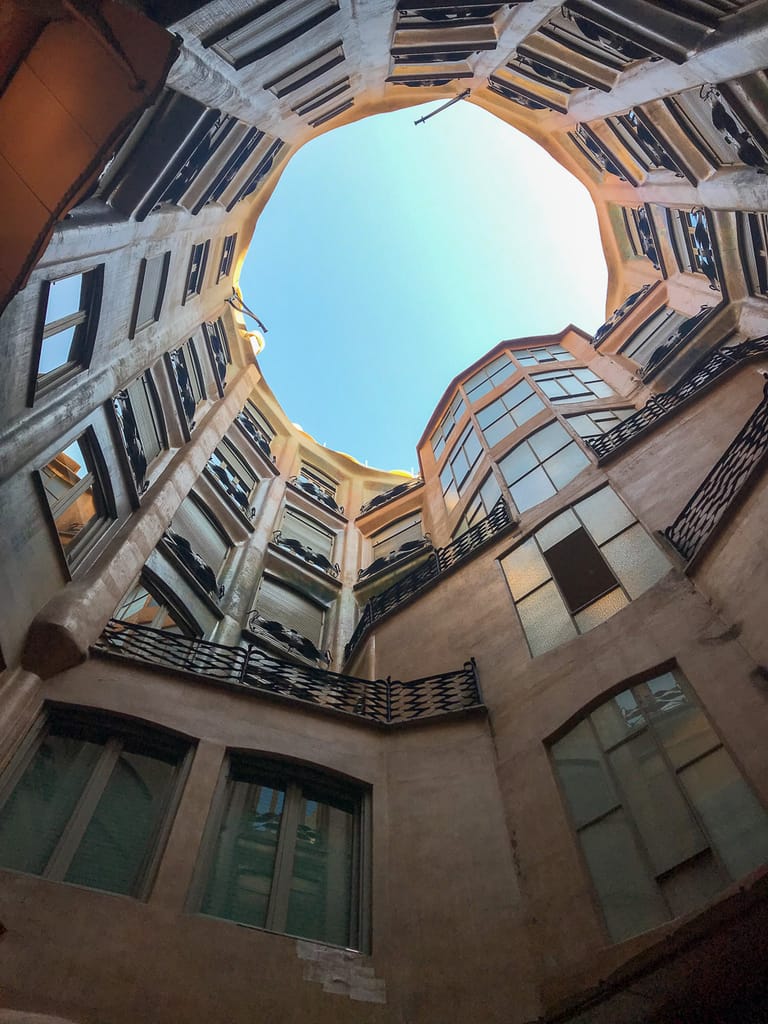 Another key moment: from the entry patio, you could look up toward the roof and find natural light pouring in illuminating inner windows, even at lower levels.
THE CASA MILA LA PEDRERA ROOFTOP
For me, one of the most memorable aspects of Casa Milà was the rooftop which is crowned with fans, chimneys, and skylights- all covered with lime, broken marble, or glass.
A BIRD'S-EYE VIEW OF BARCELONA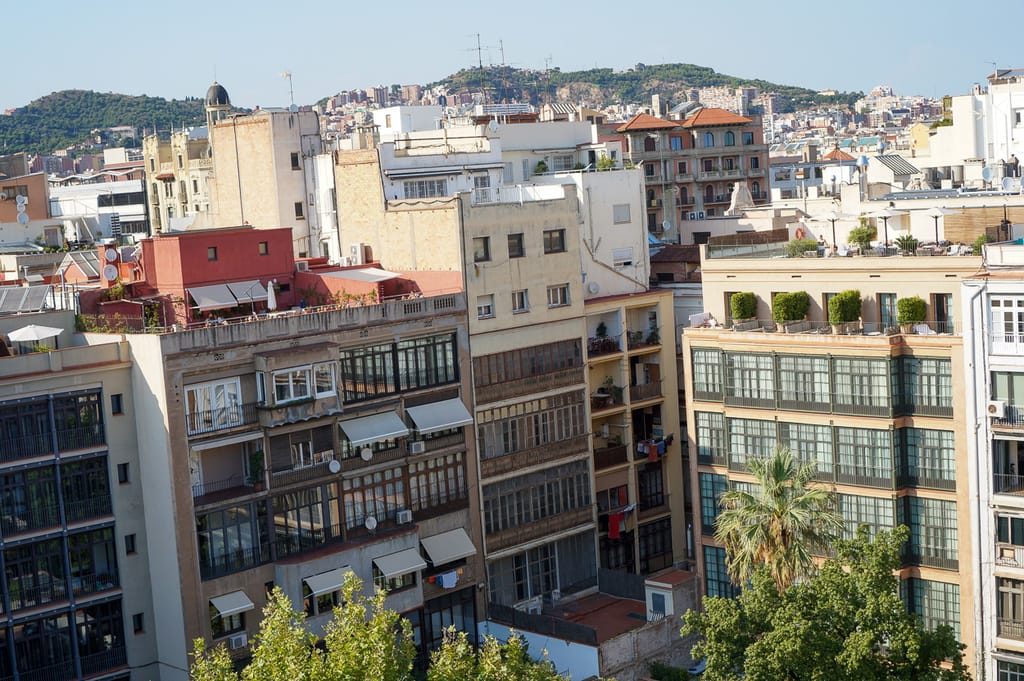 By the time we made it to the building's rooftop, it was the peak of that day's summer heat so don't mind all of my awful squinty photos. (Here's your reminder to pack sunglasses!)
It was amazing to see how subtle details like the chimneys were made into a central focus by converting them into sculptures.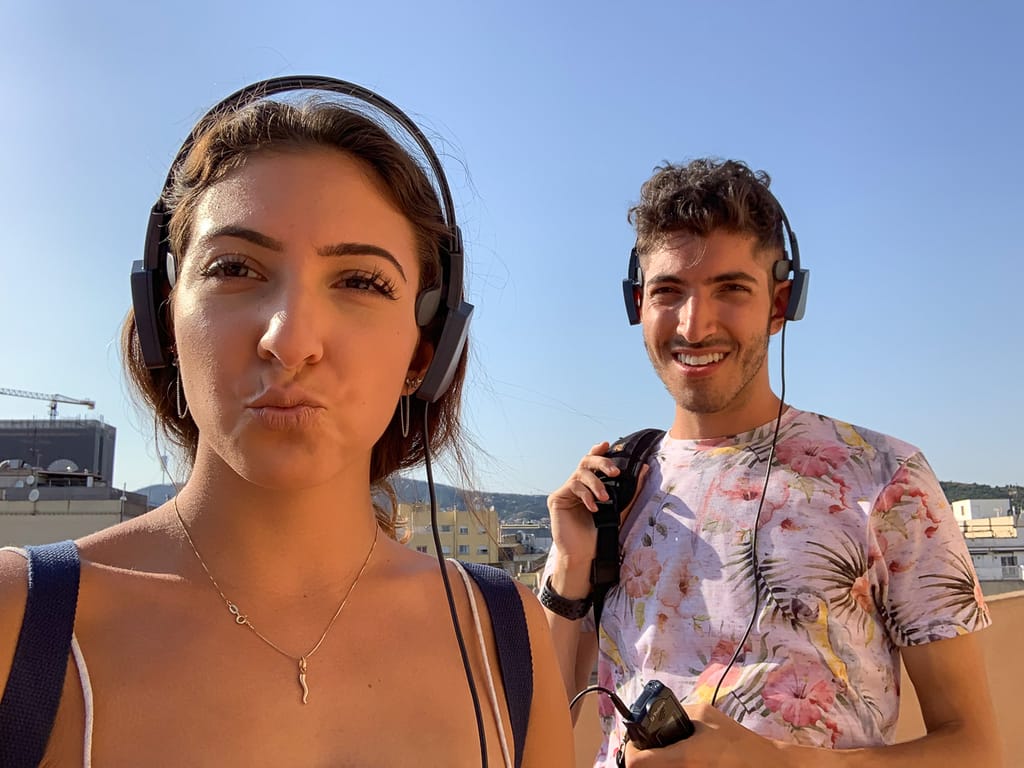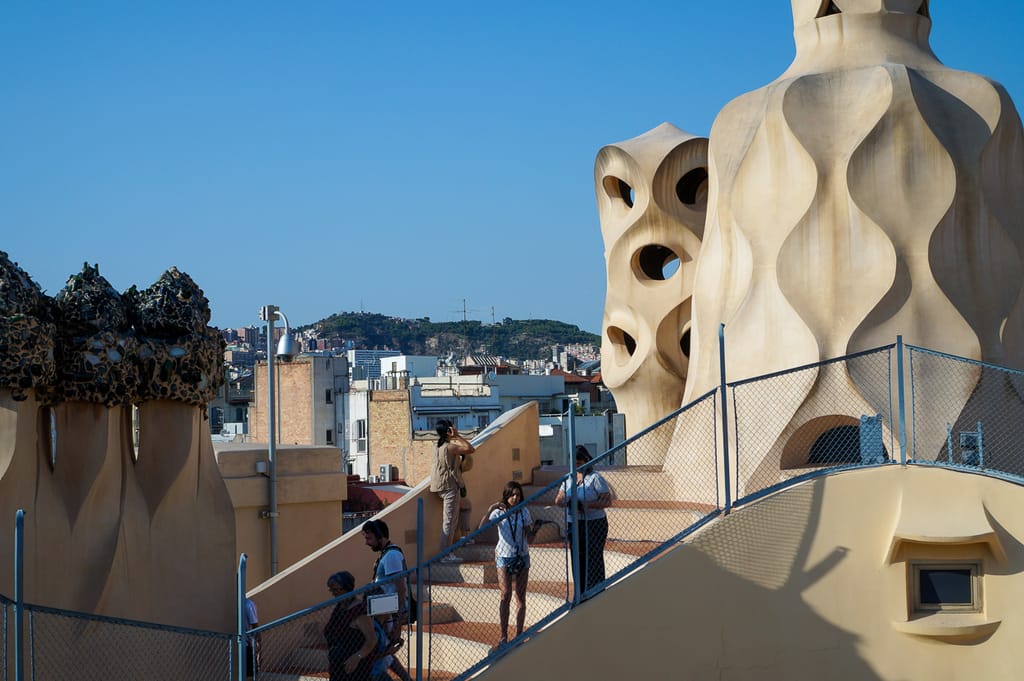 Here's another detail I thought was brilliant.
From this position in the photo below, Gaudí positioned the opening so La Sagrada Familia would be the focal point. Gaze out into the distance and you'll see it!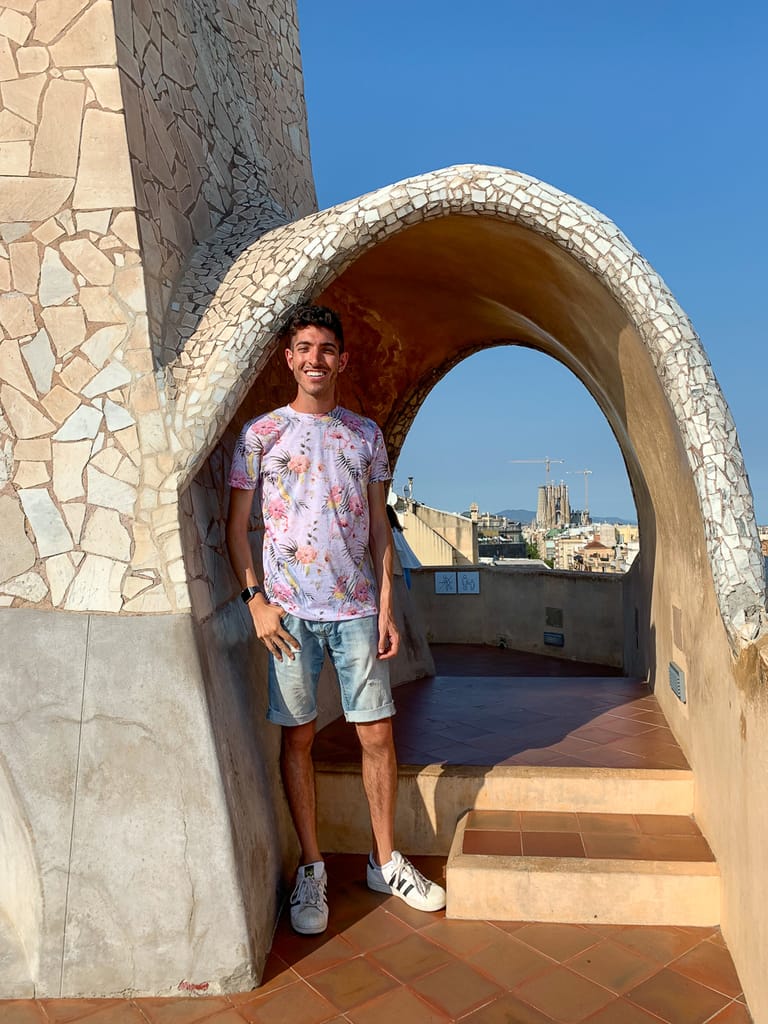 Gothic architecture is what inspired Gaudi's chimneys.
With their helmet-like features, they almost resemble warriors or guardians of the building.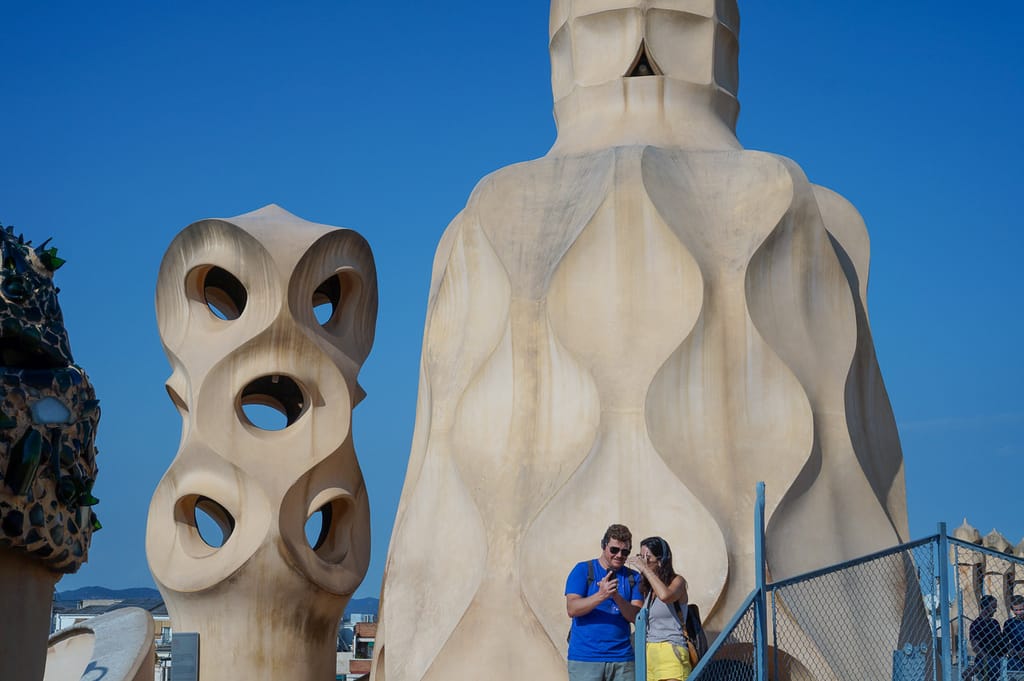 It is said some of the decorative glass pieces were handpicked by Gaudí after the celebration following the inauguration of the building.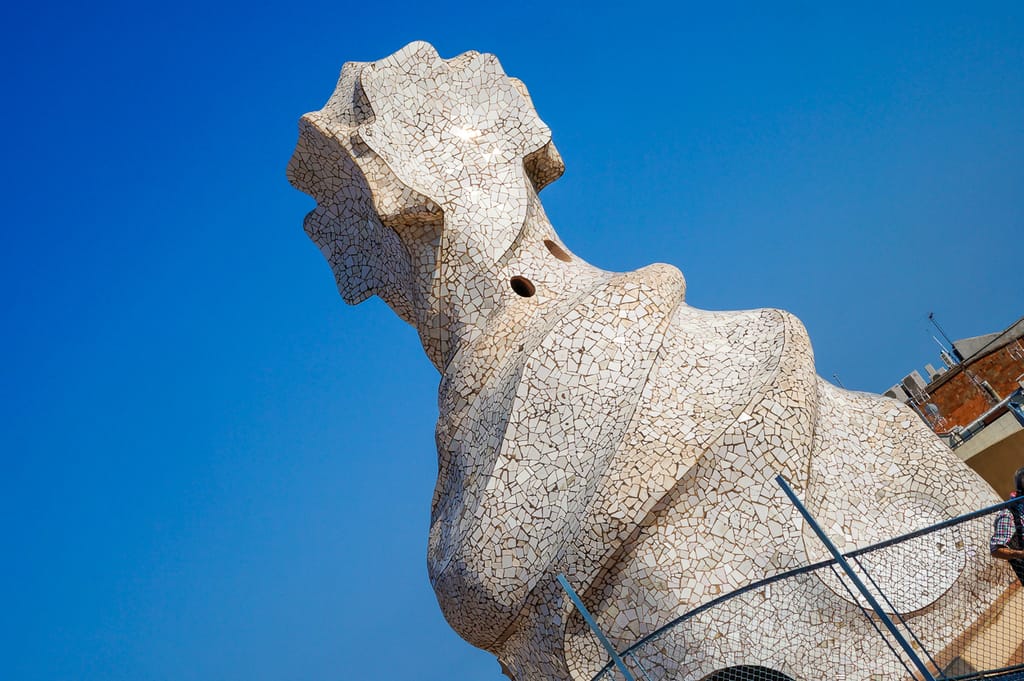 CASA MILA FREQUENTLY ASKED QUESTIONS
WHERE IS CASA MILA LOCATED?
Gaudí's Casa Mila is located in Barcelona at this address:
Passeig de Gràcia, 92
08008 Barcelona
Conveniently, Casa Mila is only a short walk away from Casa Batlló. It's totally feasible to do both back-to-back on the same day. We went to Casa Mila immediately after touring Casa Batlló.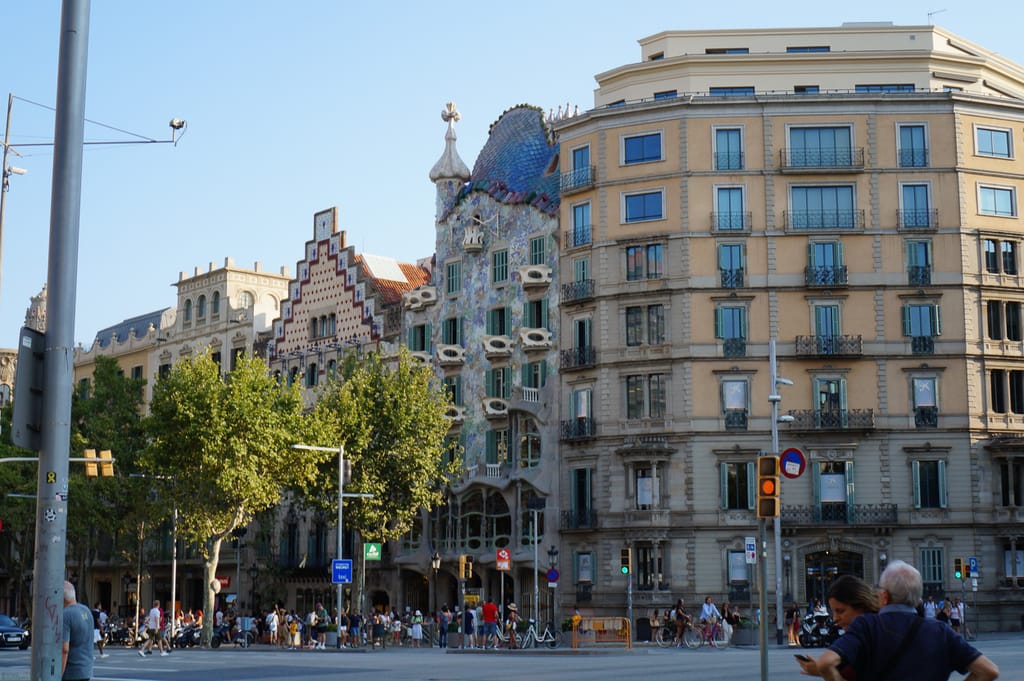 WHAT ARE CASA MILA'S HOURS?
Casa Mila is open from 9:00 AM to 8:00 PM.
The last entry slot is 7:00 PM. I'd recommend going earlier than the very last opening slot though!
The tour is self-paced, but on average it will take between one to two hours to complete.
HOW MUCH DOES IT COST TO ENTER CASA MILA?
General entry tickets (at the time of writing) cost 25 euros.
Children ages 0-6 can enter for free. Kids 7-12 years old have discounted entry for 12.50 euros.
Casa Mila offers a variety of discounts (student discount, disability discount, senior discount, etc.) as well as a wide variety of entry packages (La Pedrera Essential, Full Experience, Night Experience, Open Date, Virtual Experience, Sunrise, The Unseen Pedrera, among others.)
For a full list of entry packages and current prices, visit the official Casa Milà website.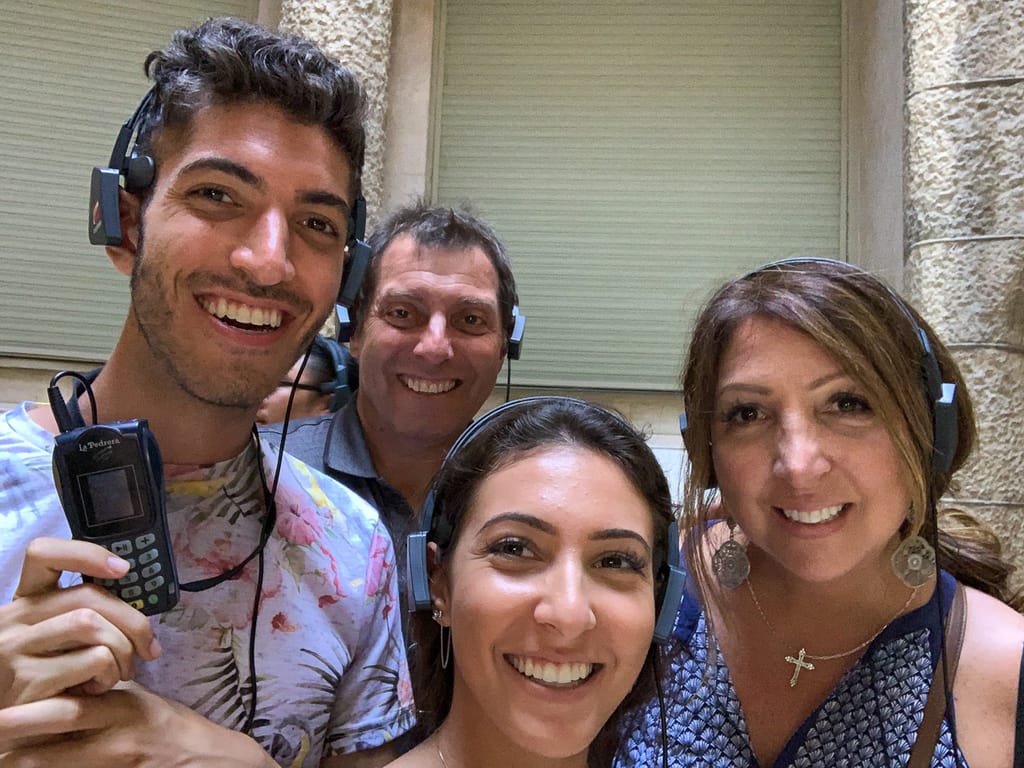 Have you ever visited Casa Milà? How did you think it stacked up against Gaudí's other works?
My family and I visited La Sagrada Familia when we were traveling in Barcelona. This Sagrada Familia Travel Guide will …