Last Updated on March 27, 2021
Another semester, done! What a great feeling it was to turn in my last exam Monday morning knowing that I have but one semester left until I qualify for graduation. Insane, isn't it? And what a semester it has been!
I officially finished my major in psychology when I turned in my final research paper for Abnormal Psychology Lab. I also made a huge dent in my minor this semester by taking four core entrepreneurship classes all at once. The last 15 weeks have been action-packed between learning about marketing, finance, accounting, and business. On top of school, I threw nearly 30 birthday parties total for kids living all over the state of New Jersey every Friday, Saturday, and Sunday.
As busy as it may have been, I have no regrets about the work I took on this year. My friendships, old and new, helped support me through a major transition year in my life. Exactly 18 weeks ago, a person I care so deeply about was torn out of my arms, forced to return home to his home across the world, in Spain.
I never knew sadness like I did in the days and weeks that followed.
There is no particularly good way I have found to prepare for the emotional battle that follows being separated from the person you love. Frustrated and confused after that unforgiving divide, I asked the universe why it had to be this way. Why us? Life together for the year we dated was so wonderfully comfortable. I coped with my boyfriend's departure by believing in a destiny. A belief that the universe wanted us to finish college strong, to focus on earning good grades, and to get our working lives in order. Why else would the world do this to us?
I do not know what the future has in store for us. It seems even know, we are still super confused about what comes next. All I know right now is that my parents are sending me to Spain as a Christmas gift and I'm freaking out as the time nears. In a short while, I'll be on my merry way meet Jorge.
This is honestly the best gift I could have ever asked for. My heart is racing! I can't fathom that I'm actually seeing him again!! AHHHHHHHHHHH!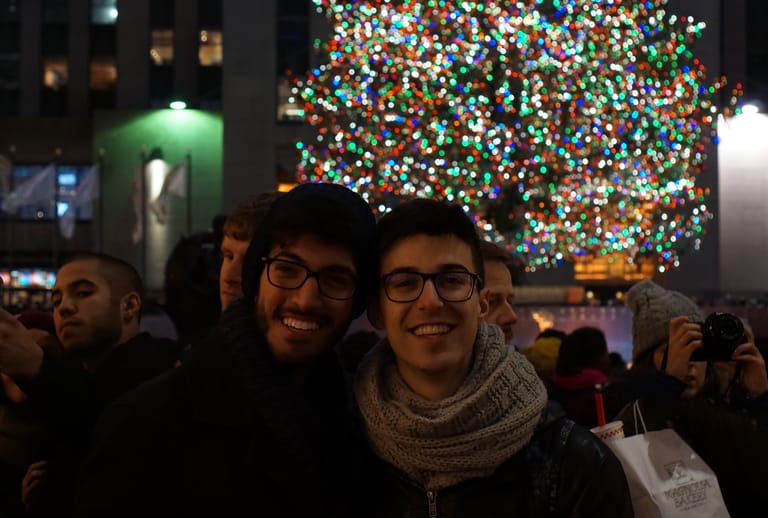 I am looking forward to sharing stories about our travels together in Spain! ❤