One particularly vibrant and exotic bird has been making its presence known across Spain.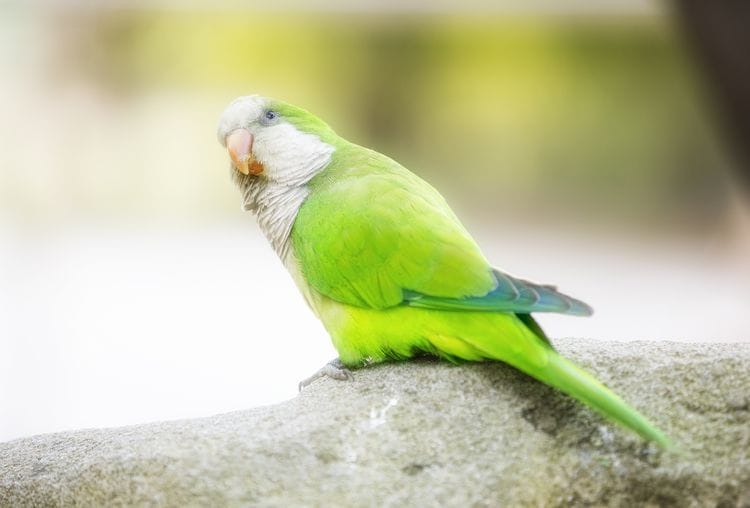 Locals and tourists alike may wonder where all of these green parrots in Spain have come from!
In this post, I'll share the story of how Madrid got invaded by these colorful parrots, share some interesting facts about their species, and tell you about my interaction with one special quaker parrot in Madrid!
A MISPLACED AND MISUNDERSTOOD WILD BIRD
WHERE DO QUAKER PARROTS COME FROM?
The Quaker Parrot is native to South America and was first introduced to Spain by humans only a few decades ago.
Now the South American Quaker Monk Parakeets are conquering Spain.
They may look cute, colorful, and chatty: a likely reason behind their prolific popularity in the pet trade, but they are also infamous for their shrill squawks and ecosystem destabilization.
QUAKER PARROT STATISTICS
WHICH SPANISH CITIES HAVE THE MOST QUAKER MONK PARAKEETS?
Madrid and Barcelona are Spain's two urban areas with the most monk parakeets. The birds seemed especially comfortable in Madrid where I lived.
In reality, the monk parakeet can now be found all over Spain!
Another blogger from MappingSpain cited seeing them in Seville too!
HOW MANY QUAKER PARROTS ARE THERE IN SPAIN?
According to El País, in 2015, a total of 20,000 quaker parrots were counted across Spain by one ornithologist group.
WHEN WERE QUAKER PARROTS INTRODUCED INTO SPAIN?
While their numbers have grown exponentially in recent years, they were first detected in Spain in 1975.
The green birds were brought into Spain in cages as entertaining pets only for some to have escaped or been released giving the birds their first glimpse of how beautiful life in Spain can be!
6 INTERESTING FACTS ABOUT QUAKER PARROTS
QUAKER PARROT FAQ
1. WHERE DO QUAKER PARROTS GET THEIR NAME?
Quaker Parrots go by many names: quaker parrot, quaker parakeet, monk parrot, monk parakeet, or even Quaker Monk Parakeet.
The scientific name is Myiopsitta monachus.
2. HOW LONG DO QUAKER PARROTS LIVE?
The average lifespan of a Quaker parrot is 20-30 years.
3. DO QUAKER PARROTS TALK?
Quaker parrots can become excellent talkers.
They have a remarkable ability to mimic human speech!
4. ARE QUAKER PARROTS SMALL BIRDS?
Quaker parrots stay relatively small.
5. WHAT DO QUAKER PARROTS EAT?
Quaker parakeets require a healthy, balanced diet: seeds, buds, fruits, nuts, berries, and blossoms.
6. WHERE DO QUAKER PARROTS COME FROM?
The parrots are native to South America.
Monk parakeets can be found in Argentina, Paraguay, Bolivia, and southwestern Brazil.
WHY ARE QUAKER PARROTS ILLEGAL?
It may surprise you to know that I had never seen this popular pet bird species in real life before until I moved abroad to Spain.
Why? Well, in my home state of New Jersey, Quaker parrots are illegal!
I used to want to have a pet Quaker parrot of my very own!
Sadly, Quaker parrots are illegal in New Jersey unless you have a permit.
Many US states have made Quaker parrots illegal because they are viewed as agricultural threats! This is said to pose danger to farms.
Quakers reproduce easily. One female can lay 5 to 12 eggs per clutch which then hatch 24 days later. A breeding pair of Quaker parakeets can produce up to six clutches per year. This is how colonies can grow so rapidly.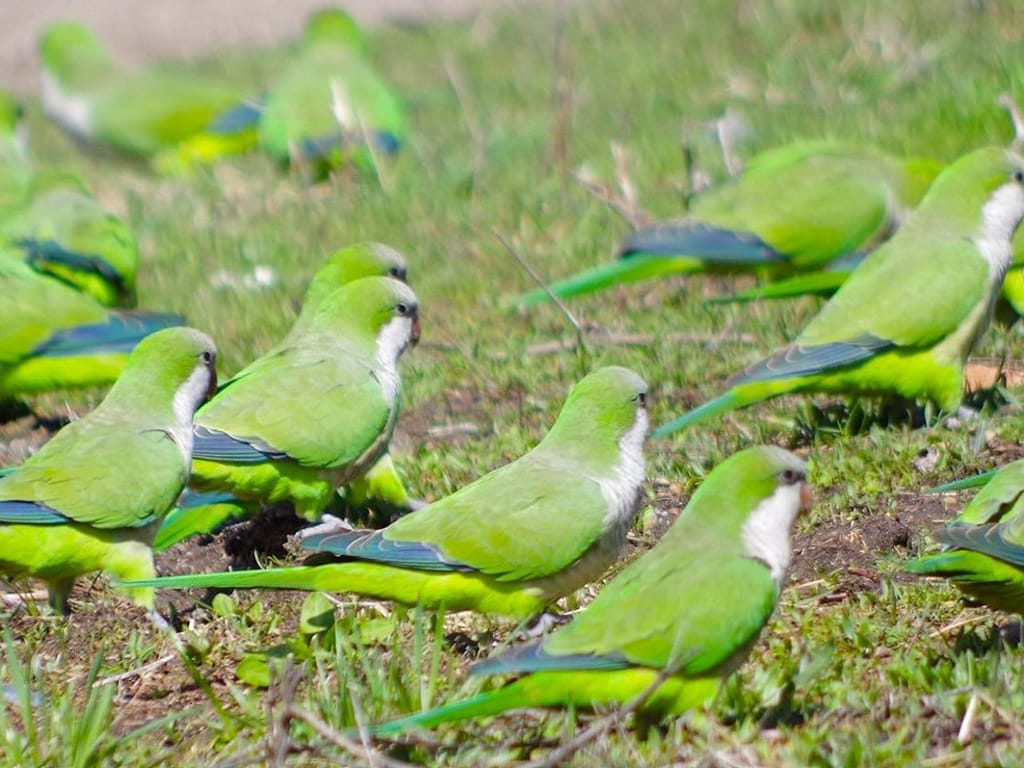 Some say the large communal nests they build can pose a fire hazard as they're frequently found near utility pole transformers. Even nests in trees are said to pose a safety risk because they theoretically could fall on someone sitting or standing beneath it.
WHICH U.S. STATES HAVE FERAL QUAKER PARROT COLONIES?
The invasive species is now present in at least 16 of the United States of America's states: Illinois, Michigan, New York, Connecticut, Rhode Island, New Jersey, Delaware, Virginia, Alabama, Florida, Louisiana, Texas, Colorado, Oregon, and California.
ARE THERE FERAL QUAKER PARROTS IN EUROPE?
In addition to Spain, the Quaker parrot's European range now includes Slovakia, Czech Republic, Austria, Germany, Italy/Sicily, the Netherlands, Belgium, and France.
WHICH U.S. STATES ARE QUAKER PARROTS ILLEGAL IN?
Monk parakeets are illegal in California, Connecticut, Kentucky, Pennsylvania, Georgia, Hawaii, Rhode Island, Tennessee, and Wyoming. New Jersey states it is illegal unless you obtain a permit. In New York they are only legal if they have an ID Band. In Ohio, their wings must be clipped. In Colorado, they are illegal unless purchased before 1990.
WHAT IS HAPPENING TO THE QUAKER PARROTS IN SPAIN?
While living in Spain, I remember reading this horrible headline and being so upset with the decision of how the capital chose to handle their "quaker parrot problem."
You can watch a video about the quaker parrot controversy here.
I believe the culling of quaker parrots in Spain is horrible.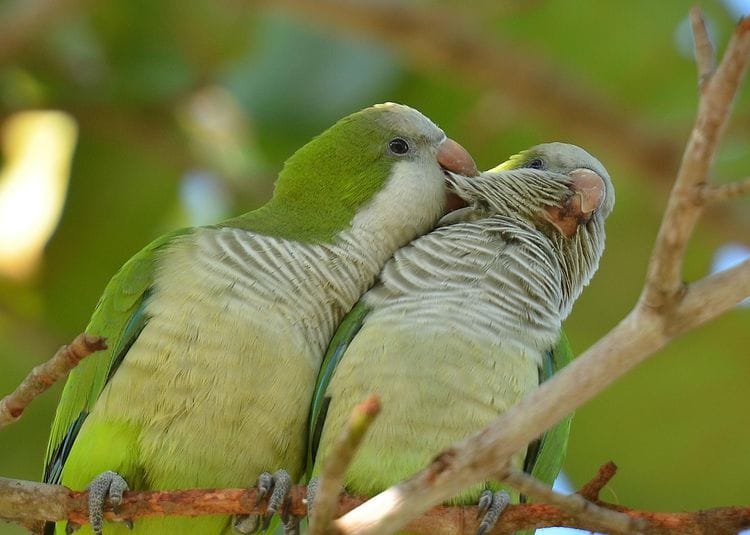 This "solution" of shooting birds and destroying nests is not unique to Spain. New Jersey also kills quaker parrot colonies and destroys their nests during breeding season.
In New Jersey, parrot advocate Alison Evans-Fragale told NJMonthly.com, "Most people are for the birds," and explained how she has spearheaded a drive to have the birds delisted as a potentially dangerous species. (A cause I support!)
Any quaker parakeet living today in Edgewater, New Jersey has also been born there.
You can learn more about this on Edgewaterparrots.com as well as in Defending the Parrots of Edgewater by The New York Times.
FACT VS. FICTION
WHAT PEOPLE THINK IS TRUE:
These birds are often cited as being illegal for the following reasons:
Agricultural threat to crops
Invasive threat to native birds
Noise concerns
Safety concerns
Health concerns
This PDF from the Department of Agriculture shows all of the claims in-depth.
WHAT IS ACTUALLY TRUE:
Quaker monk parakeets are not migratory birds. They are actually surprisingly sedentary. Young quaker parrots learn from their parents how to participate in the colony and expand on the same nesting area they were born in.
To date, there is no definitive proof these birds pose a significant threat to agriculture or to native birds. In fact, these birds are known to share their nests with native birds such as rock doves, mourning doves, and owls!
Quaker parrots have even been documented sharing their communal nests with squirrels and mice.
Quakers are very social parrots!!!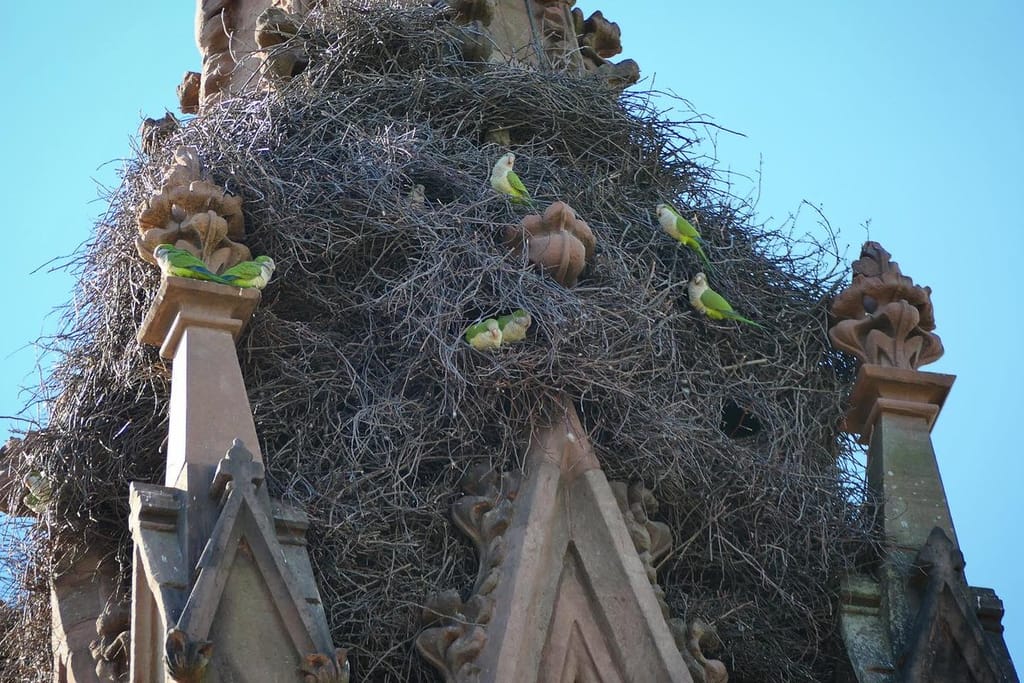 They primarily eat berries and it was proven that many farmers blamed Quaker parrots for crop damages for insurance purposes.
Ultimately, these birds are exceptionally intelligent, loving, and social. I think their species is deeply misunderstood by the masses. Since their true impact is minimal, I do wish communities were more tolerant especially in places where humans are the reason they were introduced in the first place.
(Oh, and they shouldn't be illegal!)
THE QUAKER PARROT I MET IN MADRID
In May of 2019, I saw my first Quaker parrot in real life while exploring Madrid.
Like any other day, I stopped during a walk to feed feral pigeons as I so often do when I'm traveling.
Birds are amazing: they're intelligent, comforting, and so friendly.
I've always enjoyed listening to the soft "coo" pigeons make while feeding. This particular sunny morning in May, I was feeding a flock of pigeons in Spain when I heard a strange screech.
I didn't recognize the sound of it and I hadn't ever heard this bird call before.
I recorded the quaker parrot's squawk over the pigeon coos in this video:
To my surprise, when I looked up, I saw a bright green parrot sitting up in the tree staring down at me!
Immediately, I recognized this bird's species. I was so surprised to see a quaker parrot in the capital of Spain. I suspected it may have been an escaped/released pet; I had no clue back then that there were feral colonies living across Spain and even throughout Europe!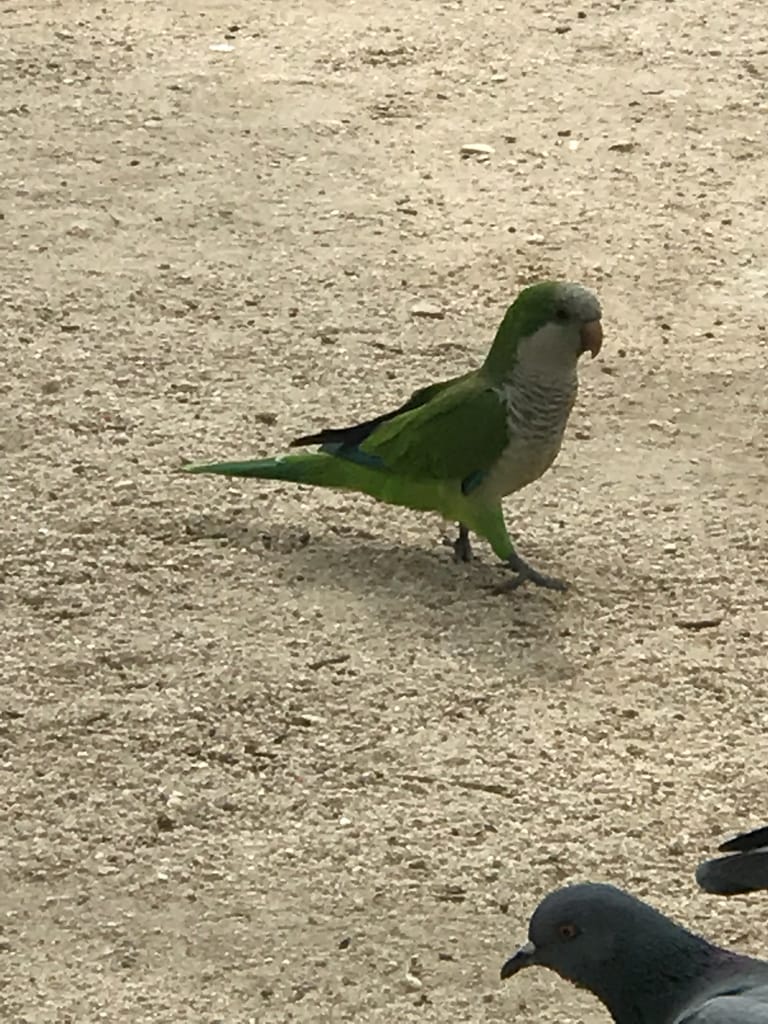 In typical bird-whisperer fashion, I began trying to lure the quaker parrot near me.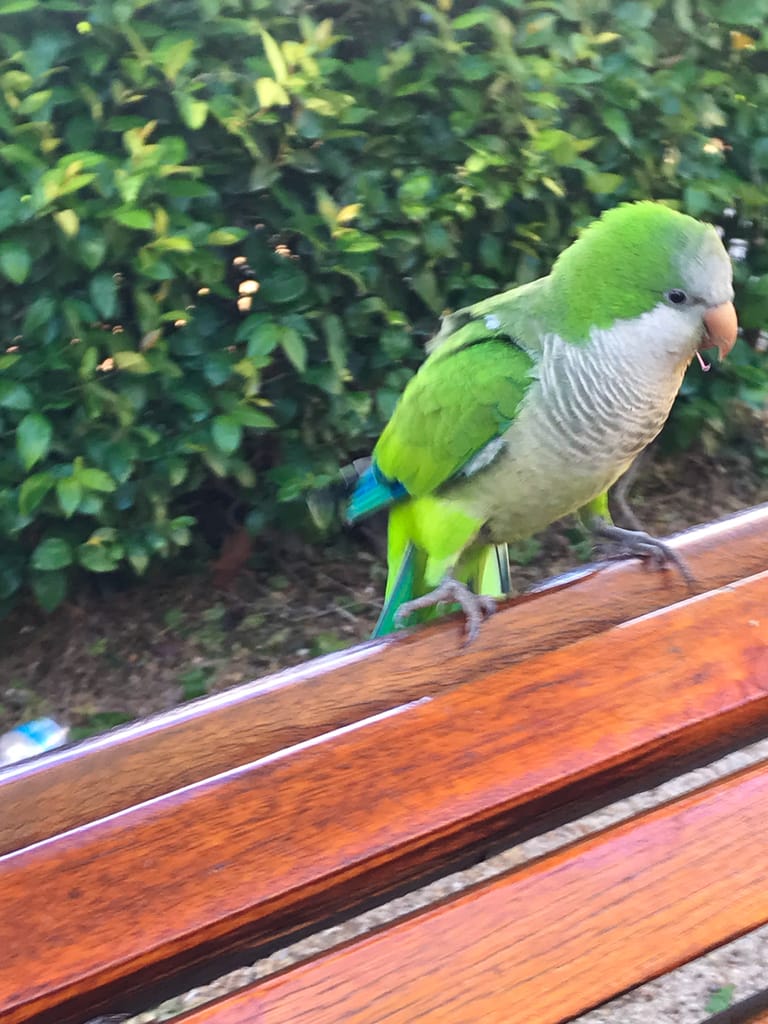 Parrots are very smart. I assumed if I continued to feed the pigeons (who I'd already established trust with over the span of months) I might be able to convince the parrot too!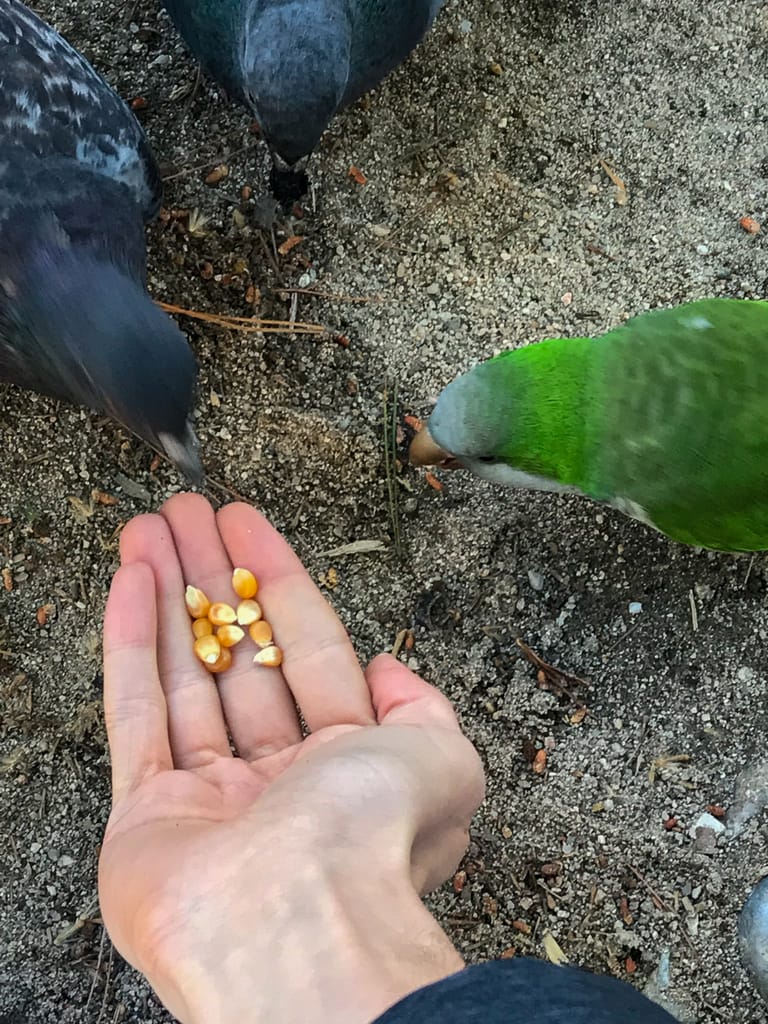 In little to no time at all, this parrot was fully converted to pigeon. 😁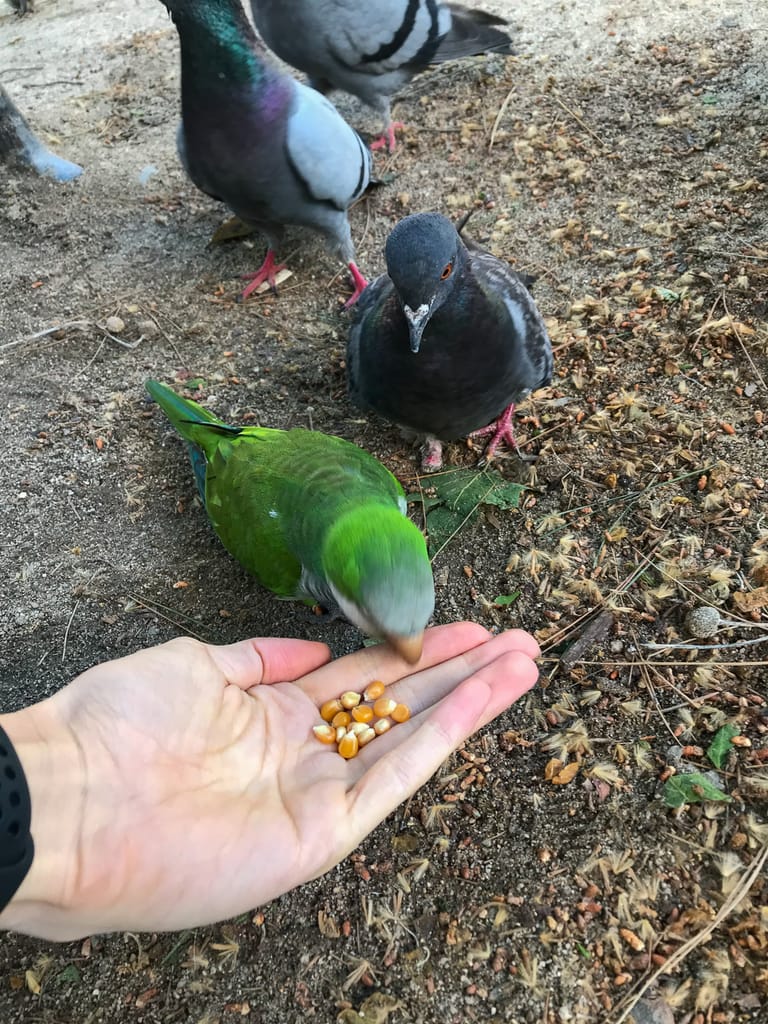 I offered the curious bird whatever food I had since he was showing interest in it.
As seen in the video below, he had a bit of a tough time securing any bread because the pigeons and sparrows really did not want to share with the green-colored newcomer.
Once he got some, he flew up to his tree branch and proceeded to show off as he ate the food using his legs as hands (a skill only parrots are capable of thanks to their zygodactyl feet!)