For FOUR years now, you've seen photos floating around on my blog of me holding a handful of little house sparrows. ❤️
You've waited long enough to hear their story so in today's blog post, we are going to talk about the friendly sparrows from Madrid!
WHY ARE THE SPARROWS IN MADRID SO FRIENDLY?
First-time visitors to Spain's capital city may wonder, why are the sparrows here in Spain so friendly!
They didn't start out this way.
While certain bird species (i.e. pigeons, sparrows, crows, etc) living in cities are usually accustomed to close human encounters, for one particular flock of birds in Madrid, the full scope of this answer is a bit more nuanced.
The answer dates back to the summer of 2019 when I was living in Madrid.
After leaving Spain at the end of 2019 to return to the United States because a past relationship of mine didn't work out, I was in a very sad mental space.
Combine that disappointment with needing to say one final goodbye to all these incredible, tiny birdies I befriended and you can see how this whole scenario could make for a massively depressing and heartbreaking situation.
I needed a lot of time to process all of my emotions. I can't tell you how many times I tried to write this post during the pandemic. Thinking back to my days in Spain took a lot of courage and self-forgiveness to revisit.
That's why so many of my Madrid posts weren't published until recently.
This post tells the story of how I became known as "Señor Pájaro" (Mr. Bird) in Madrid.
I just adore these birds.
It's why I have them all over my blog!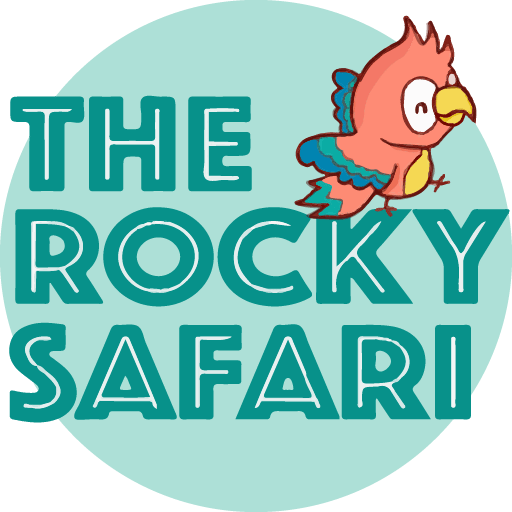 PIGEONS FROM CROATIA
I've previously written about the pigeons I befriended while backpacking in Croatia.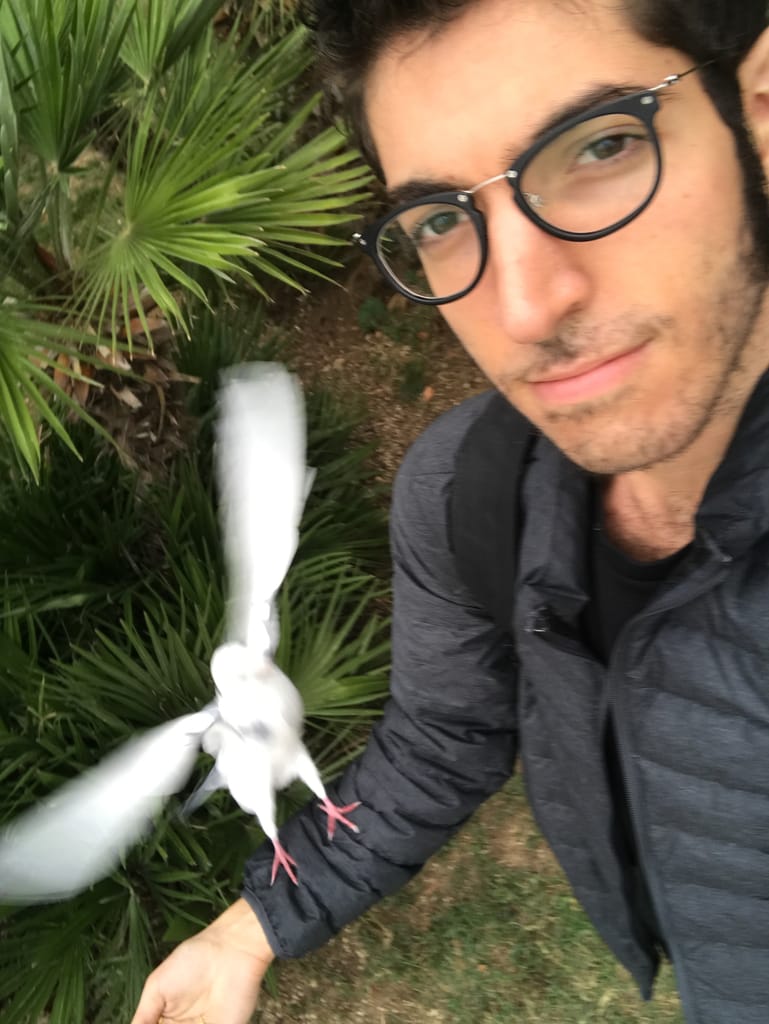 I befriended this flock in Zadar, Croatia after nursing an injured pigeon I named Belle back to good health.
PIGEONS FROM BOSNIA
I have even traveled to foreign countries solely for the purpose of seeing wild birds.
One time, I literally traveled to Bosnia & Herzegovina just to see their pigeons.
I rode on a bus for 13 hours to visit the pigeons at Bascarsija in Sarajevo.
Average and ordinary birds are my jam. Vibrant and exotic birds can be a ton of fun too, but it is the birds most comfortable around humans that I really love to be around.
SPARROWS FROM SPAIN
The everyday, common house sparrow is no exception.
When I moved to Spain in 2019, I quickly bonded with a wild flock of house sparrows.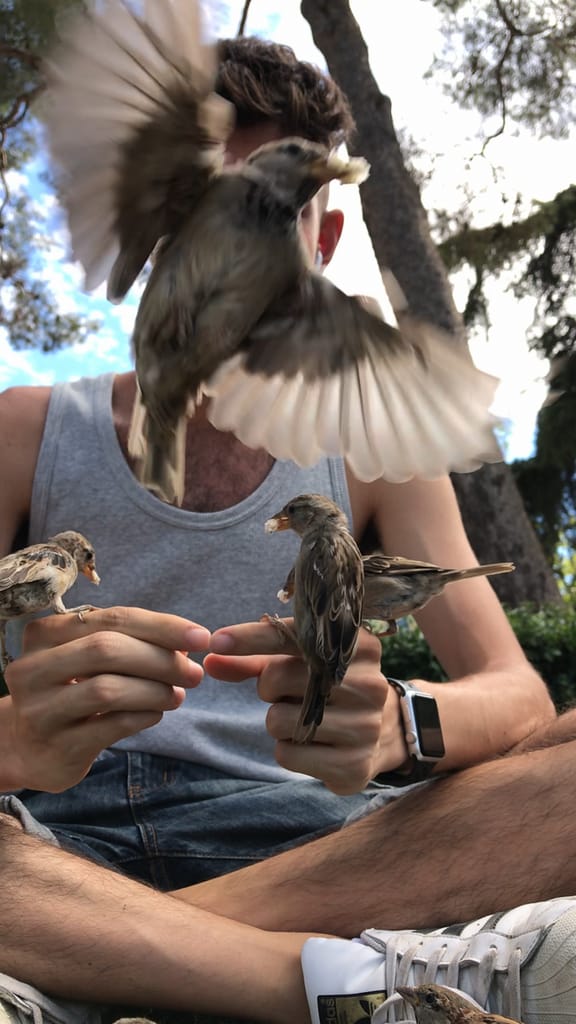 Visiting these birds became part of my daily routine soon after moving to Madrid.
As soon as I moved to Spain, I bought some bird seed while grocery shopping at Mercadona. I kept this on hand in my backpack at all times.
I never travel anywhere without something in my backpack to feed to wild birds. Preparation is key!
Early on, I learned how to distinguish male sparrows from female sparrows.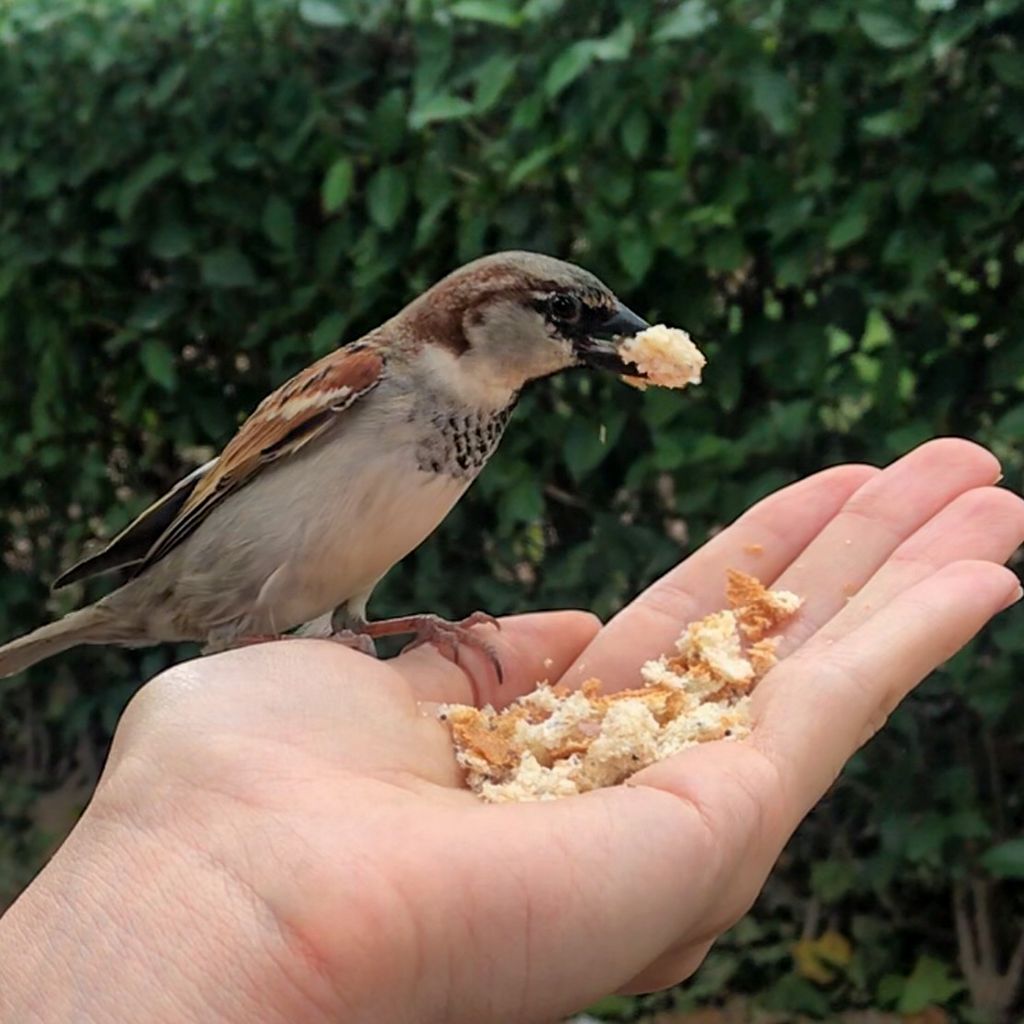 With mature birds, it's all about their coloration. Male sparrows are darker and have the iconic "black bib." Females are light brown and more neutrally colored.
While feeding my local flock of sparrows, feral Quaker parrots started showing up! They're bright green. Other species of birds would turn up from time to time too.
They say a bird in the hand is worth two in the bush. So what do they say about this?
What started as 1 bird, soon became 2…
2 became 3…
3 became 4…
4 became 5…
5 became 6…
Before long, I had been accepted by the entire flock of sparrows!
The way they'd chill on and around my shoes always made me smile.
(Note: At this point, I'd known these birds for months.)
I felt honored to walk with the birds. Earning their trust was something I valued and treasured.
(Oh and yes, we really walked together!)
Here is a video:
All living things share the Earth and somehow it's been normalized for people to have nearly no interaction with outside species.
I never understood why so many people crave that separation.
Speaking of animals people generally hate, this silly pigeon saw the sparrows having all the fun and decided to join the party. I had to record it!
Human civilization has further isolated us from other species and in modern times, I'd even say from one another.
With this climate crisis, birds are in danger and they need our help!
Humans do what humans want, even at the expense of animals and their natural habitats.
We need to protect birds.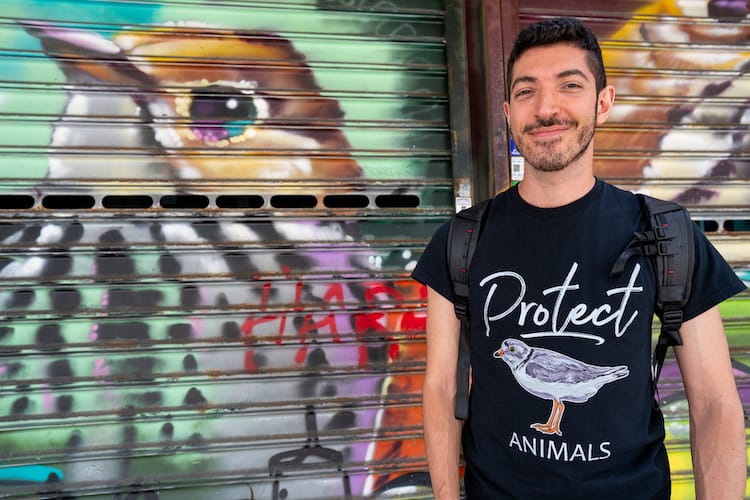 BECOMING SENOR PAJARO
Since I was very consistent in visiting my flock daily, I used to run into the same people each morning (dog-walkers, commuters, runners, the elderly, etc.)
One morning, a man walking by saw the birds all flying up me and shouted, "Buenos días, señor pájaro!" (Good morning, Mr. Bird!)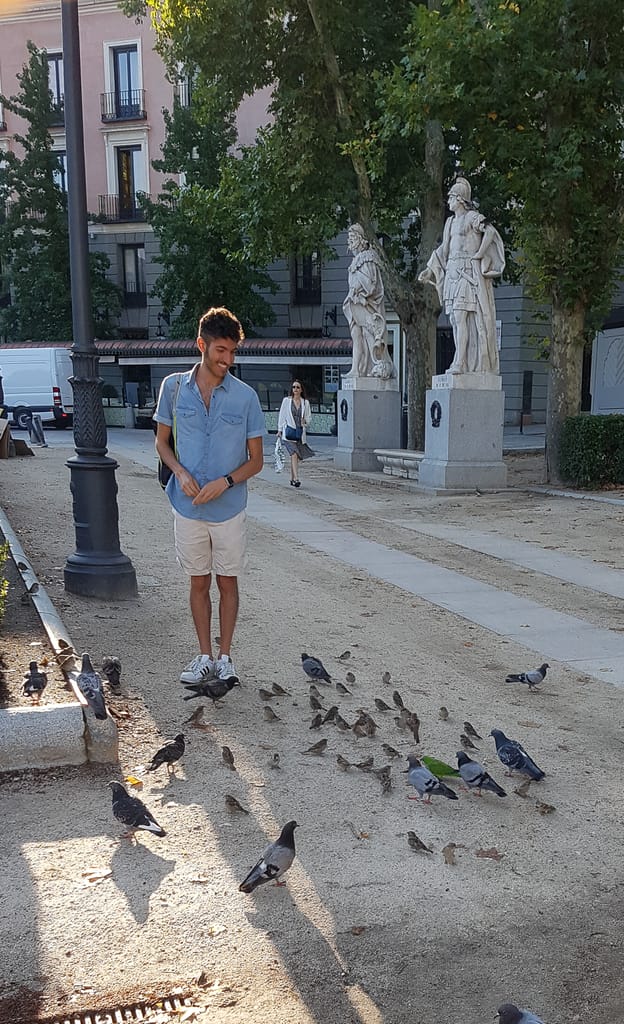 When he saw me another day, his eyes lit up and he shouted, "Ay, señor pájaro!!!!"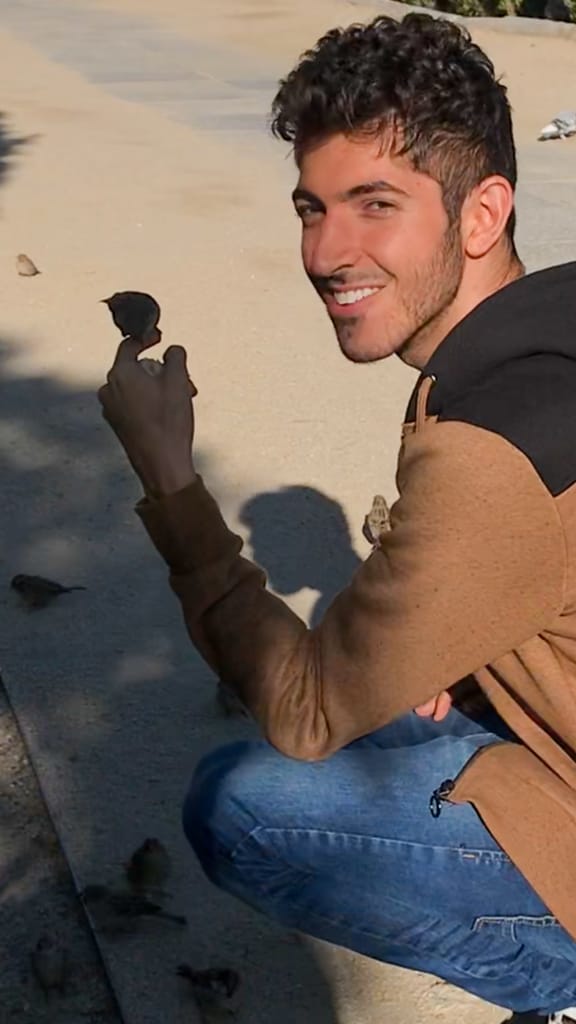 With birds literally flying out of trees and landing on me (video below), it didn't take long for the nickname to catch on.
The sparrows I bonded with were loved and adored by so many.
I wholeheartedly loved them, but I was also well aware of how silly we were at times.
Teaching sparrows to bounce. (Video)
Then we learned jump and flap! (Video)
They even practiced learning manners like line up and wait-your-turn.
(Video)
They were improving their skills every day!
INTRODUCING BEST FRIENDS TO BIRD FRIENDS
Friends and family saw the work I was doing with these wild sparrows and joined in on the fun!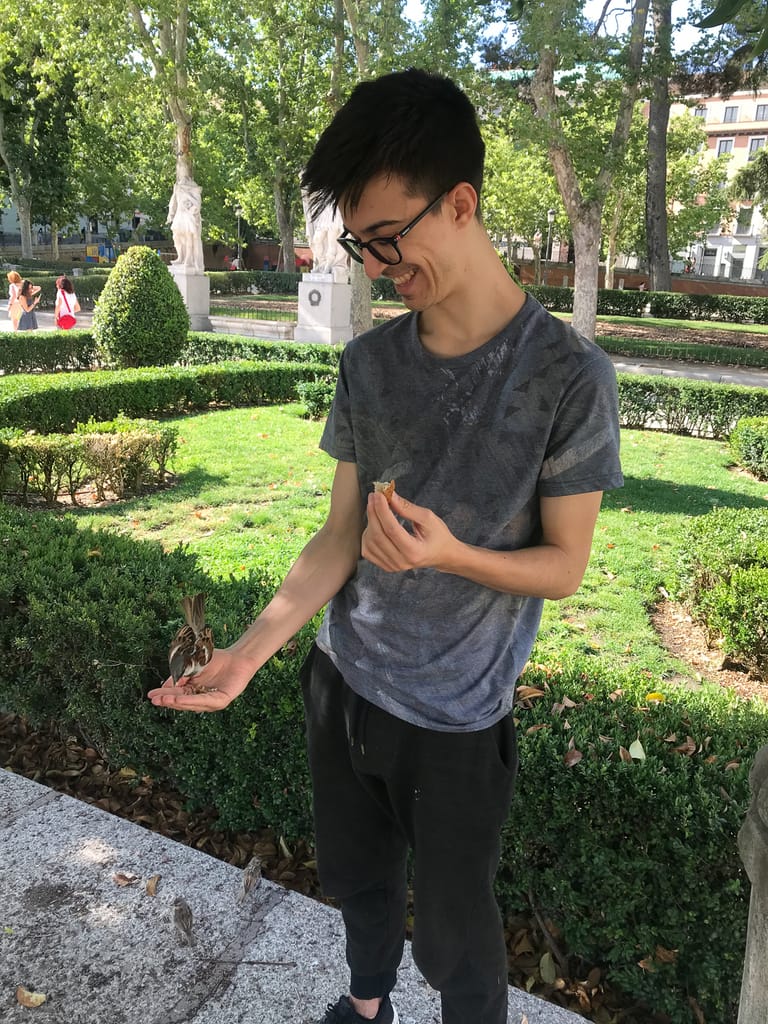 Anytime someone visited me in Spain, they'd ask to see the birds too.
These special acrobatic birds even helped me make new friends!
A QUICK WHOLESOME FRIENDSHIP STORY:
Heather (left) saw me feeding the birds one random day and sat down next to me to talk to me about them! We ended up becoming close friends and later hung out with her friend Pablo whose family invited us over and made us homemade paella!
It's all thanks to the birds!
THE PAPARAZZI
On that note, a lot of people approached me because of the sparrows.
Not everyone was looking to chat (in fact, oftentimes talking wasn't an option or was limited due to language barriers) but many people would just come up to me and take pictures or videos of me with the birds.
This one instance of my "paparazzi" was caught on video making it extra comical:
I am grateful for the wonderful humans I got to connect with thanks to these birds.
MEET BIG HEAD: MY FAVORITE SPARROW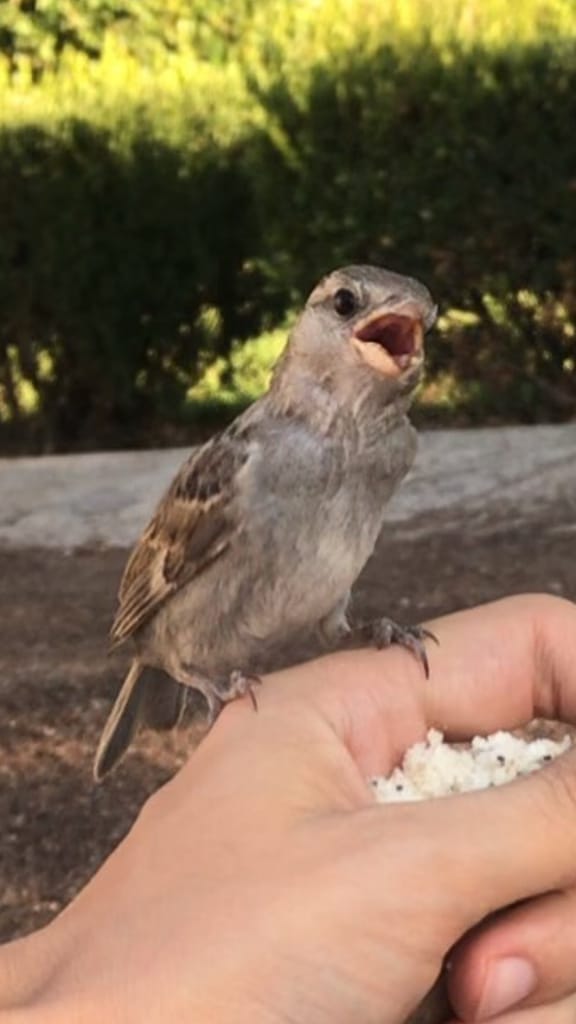 Big Head was an extra special sparrow. She hatched in May of that same year.
Her head had a unique shape (hence my very creative name) so I was able to differentiate her from the rest of the flock.
Since I saw her from Day 1, the level of trust she had in me was unmatched!
SAYING GOODBYE TO THE BIRDS
I felt so blessed to know these birds. They were not just random, wild animals. I knew them and they knew me.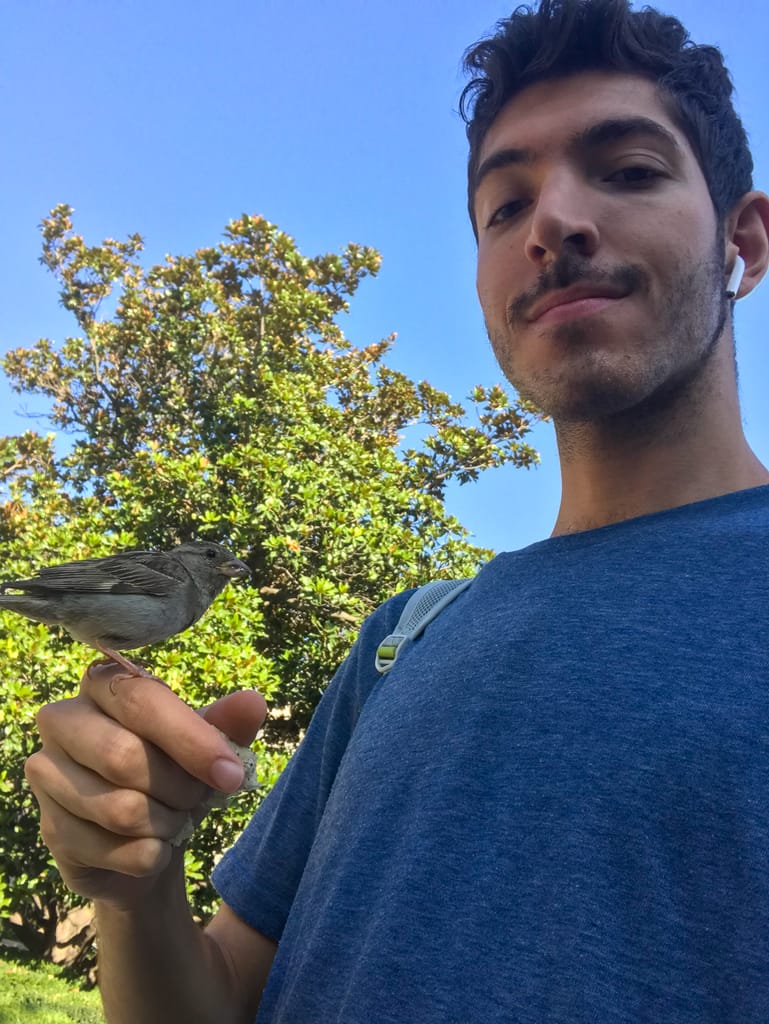 Even this summer, four years since I've lived there, I periodically catch myself thinking back wondering if the sparrows from Spain might still remember me.
Will their trust in humans fade away or persist over time?
In the wild, most house sparrows live for 3-5 years but they can live as long as 13 years!
What would happen if I went back to Madrid?
Is Big Head still out there somewhere?
THANKS FOR READING! 🐦
If you liked this, be sure to check out all of my wildlife posts from The Safari!