Last Updated on September 16, 2023
This year, American Express opened its first Centurion members club inside one of New York's newest skyscrapers: One Vanderbilt.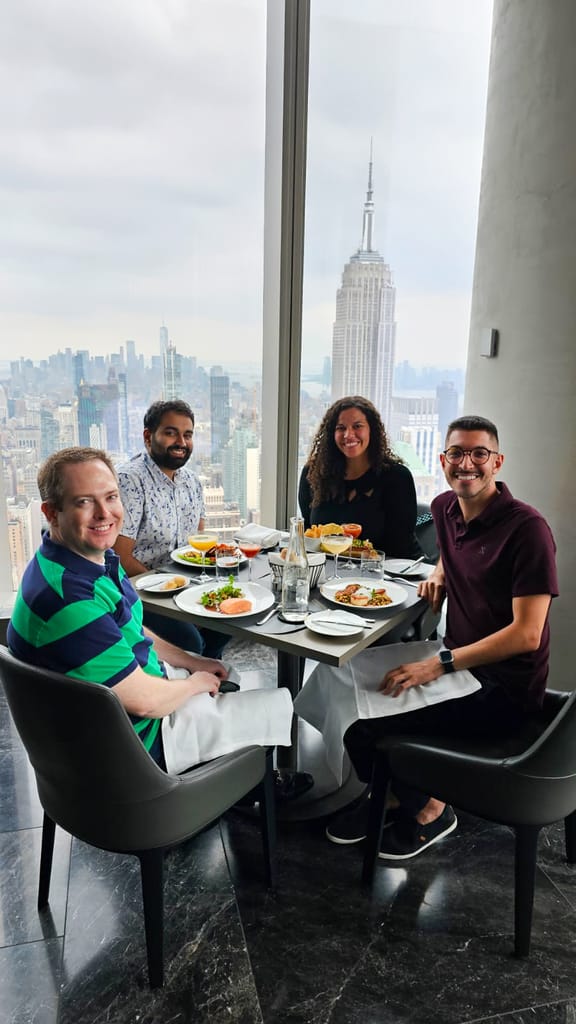 WHERE IS THE CENTURION NEW YORK LOCATED?
One Vanderbilt is a 93-story super-tall skyscraper at the corner of 42nd Street and Vanderbilt Avenue in the Midtown Manhattan neighborhood of New York City.
One Vanderbilt's location is very close to Grand Central Station and Bryant Park.
In case you didn't know, this remarkable skyscraper is one of the city's newest; it opened in September of 2020.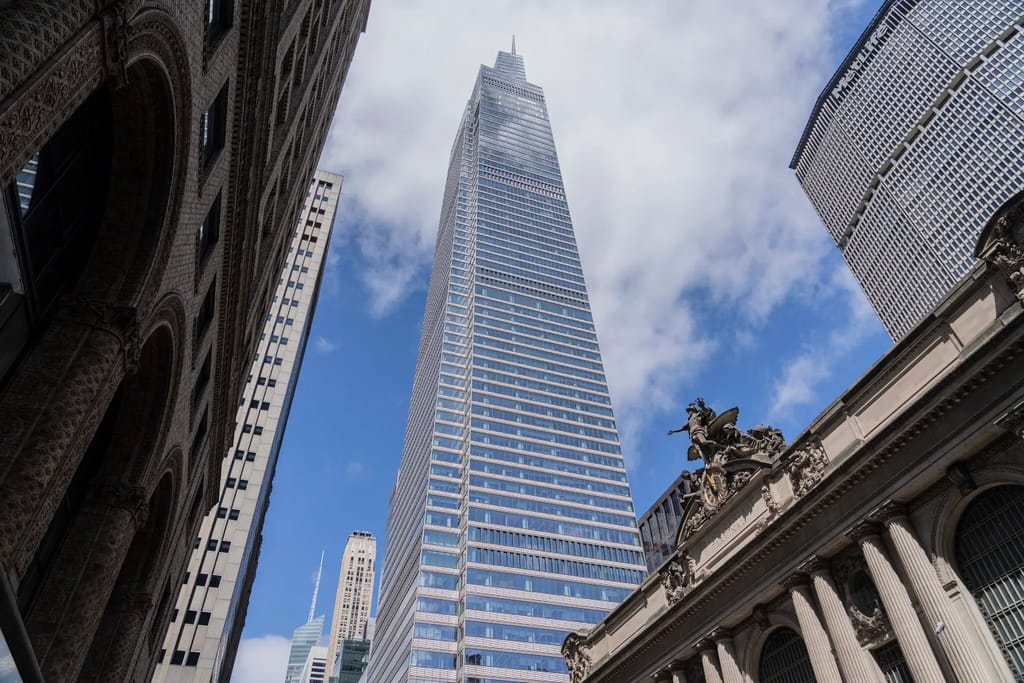 WHEN DID THE CENTURION NEW YORK OPEN?
13 months later, the SUMMIT One Vanderbilt observation deck opened. The SUMMIT is Manhattan's fifth and newest observation deck overlooking the city.
Then, this year in March 2023, the Centurion Club in New York City opened its doors giving special priority access to American Express cardholders.
On Friday, I had the opportunity to visit the new Centurion alongside three friends whom I have met through a travel club known as the Traveler's Chill Lounge.
HOW TO GET A RESERVATION AT THE CENTURION
While the lounge space is named after the famous invite-only Centurion black card from American Express, the Centurion lounge is actually open to everyone.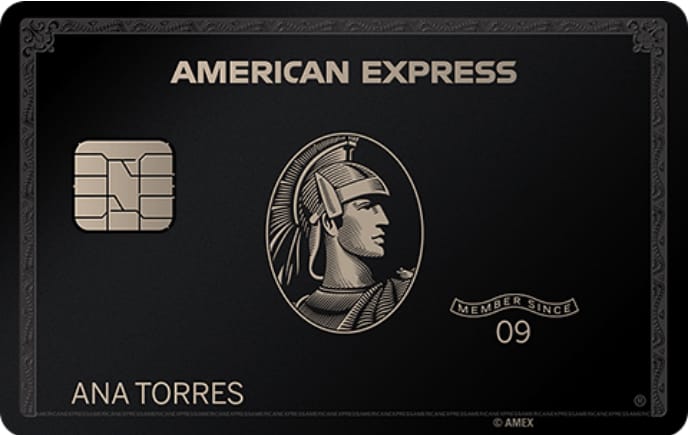 American Express cardholders can access the Centurion New York with an advance reservation via Resy (American Express owns Resy). Those who hold a Centurion Card receive priority access and expanded availability with reservations. Amex Platinum cardholders can use the concierge services to book appointments too.
A few weeks back, we scheduled a 1:00 reservation to have lunch together there.
WHY VISIT THE CENTURION NEW YORK LOUNGE
Amex has opened pop-up lounges for card members in the past. However, the Centurion New York will be the issuer's first permanent club outside of an airport.
The Centurion has far fewer reservations released for members of the general public although it's very much possible for almost anyone to visit!
AN HONEST REVIEW OF THE AMEX CENTURION NEW YORK AFTER VISITING
You may have read a lot of controversial criticism about the new Centurion Lounge online. One reviewer called the place "soulless," but is it true?
I'll share a review of my experience by taking a deeper look into what the Centurion New York had to offer.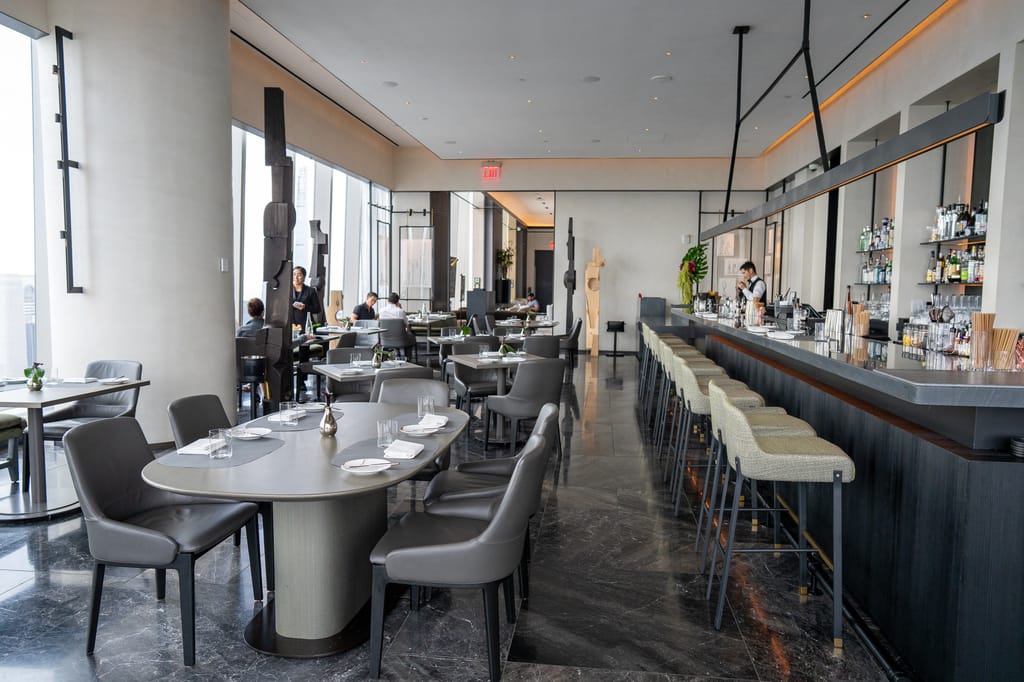 There are 3 sections within the Centurion: the Salon, the Studio, and the Gallery.
The Salon takes walk-ins only. It's perfect for snacks, small bites, coffee, or tea.
The Studio is the main bar with signature and handcrafted cocktails. It's accessible by reservation or walk-ins when availability permits.
The Gallery is designed for an opulent dining experience. Carefully curated menus are put together for lunch and dinner with breathtaking views of New York City.
THE CHECK-IN PROCESS
HOURS
The Centurion New York is open 11:00 AM to 10:00 PM.
9:30 PM is the last seating opportunity for The Gallery.
10:00 PM is the last seating opportunity for The Studio.
CHECKING IN
Upon entry, your entire party must check in together at the designated welcome desk with government-issued IDs.
From there, your group will be escorted to an elevator that is programmed by staff to take everyone directly to the 55th floor of the 93-story One Vanderbilt building.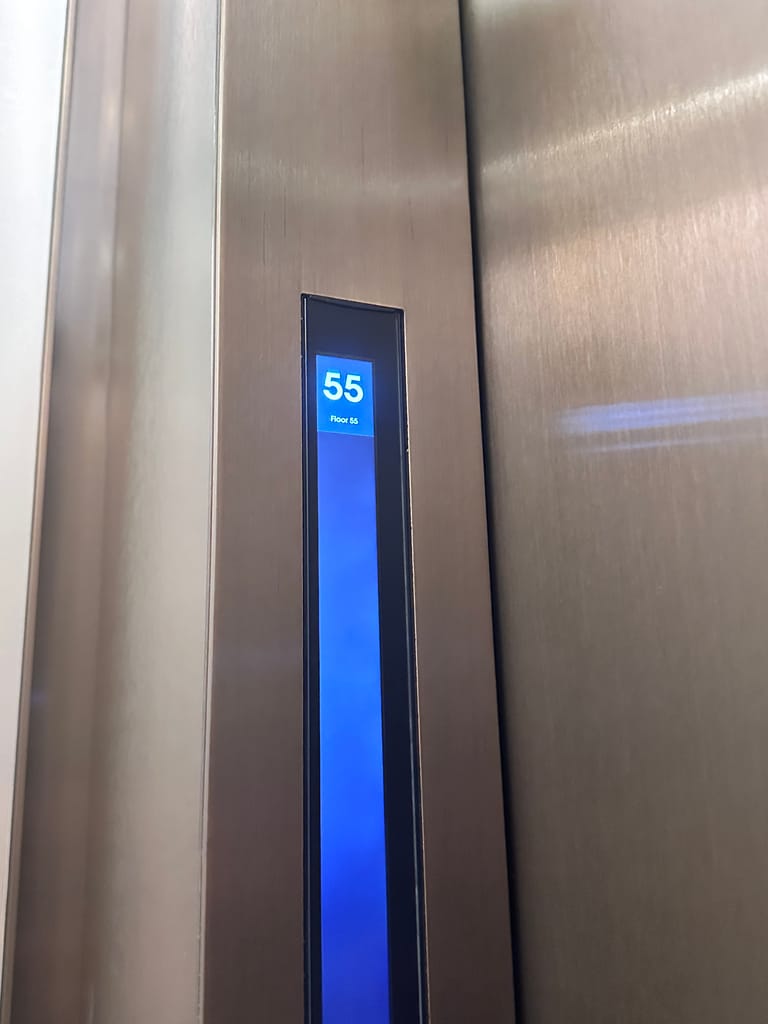 From the moment you step out of the elevator, you feel like you are entering an elite establishment as you proceed past the Centurion Club name proudly imprinted atop the tiled floor.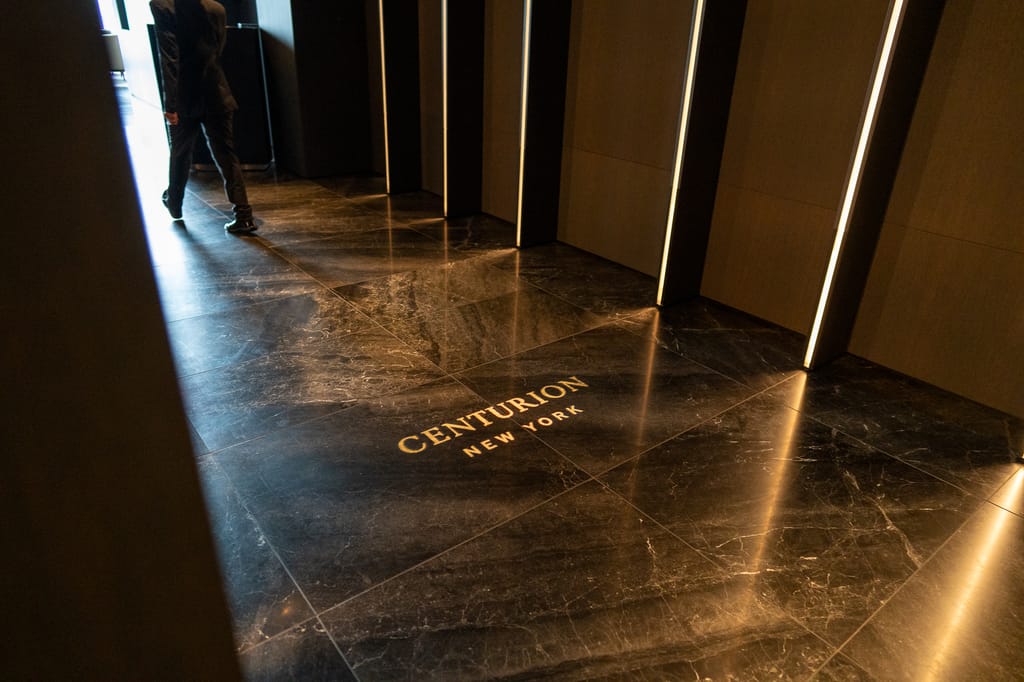 The Centurion-branded experience is an exclusive space with luxurious amenities in the heart of New York City. It resembles a high-end social club or lounge with food and cocktail prices to match.
HOW IS THE FOOD?
I had such a blast sampling different starters, main courses, desserts, and cocktails.
I started by ordering myself an Atelier followed by a Manhattanhenge. I also tried my friends Wildfire and Clover Club.
Of all the Centurion cocktails I tried, the atelier was my favorite with the dark rum, amaretto, benedictine, cardamom, and pineapple.
They brought delicious bread out with carefully sculpted butter. We also ordered Fairytale Eggplant a la Plancha to share.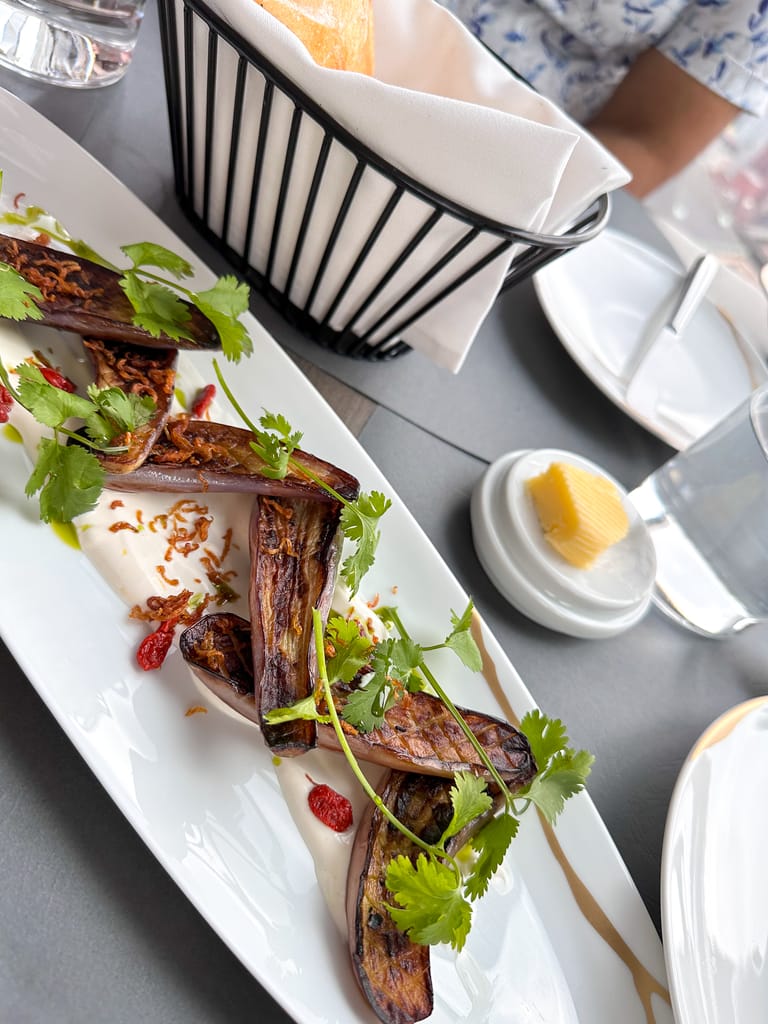 For me, the highlight was the Imperial Wagyu Top Sirloin Tartare which was prepared table-side and had a nice spicy kick to it.
For a main course, I ordered the Caramelized Sea Scallops. They were fantastically cooked and the presentation was exquisite.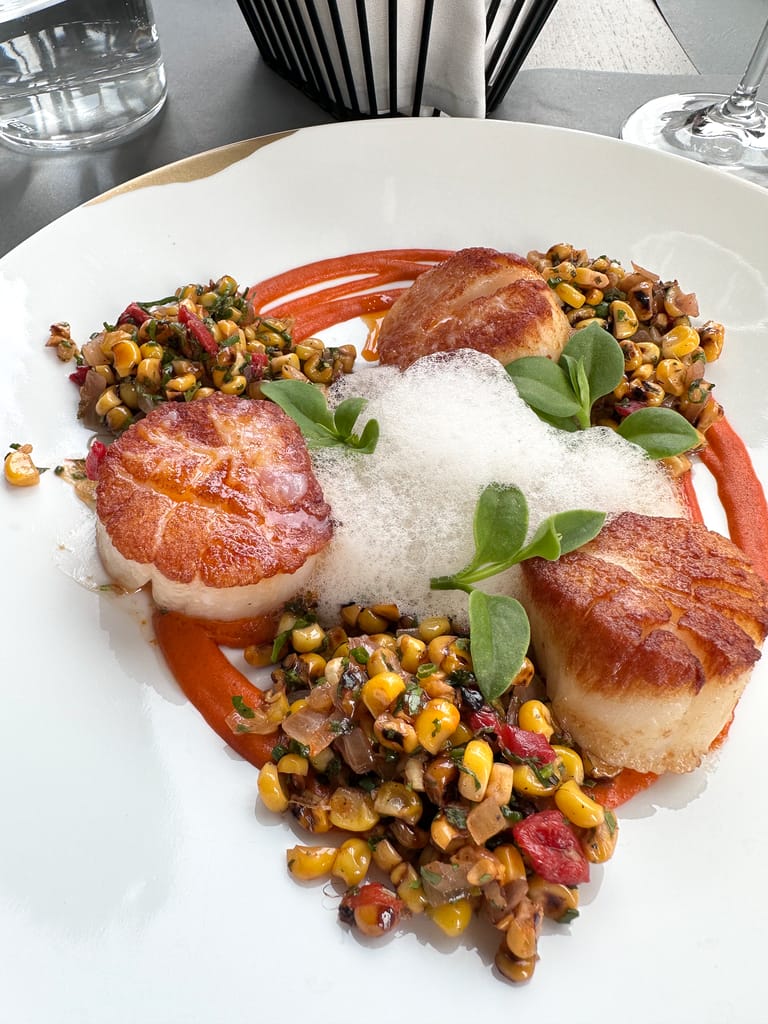 Before eating, we all broke off small pieces to sample each other's main courses so I was also able to try some of the Lobster Roll, Seared Porcelet, and Wild King Salmon.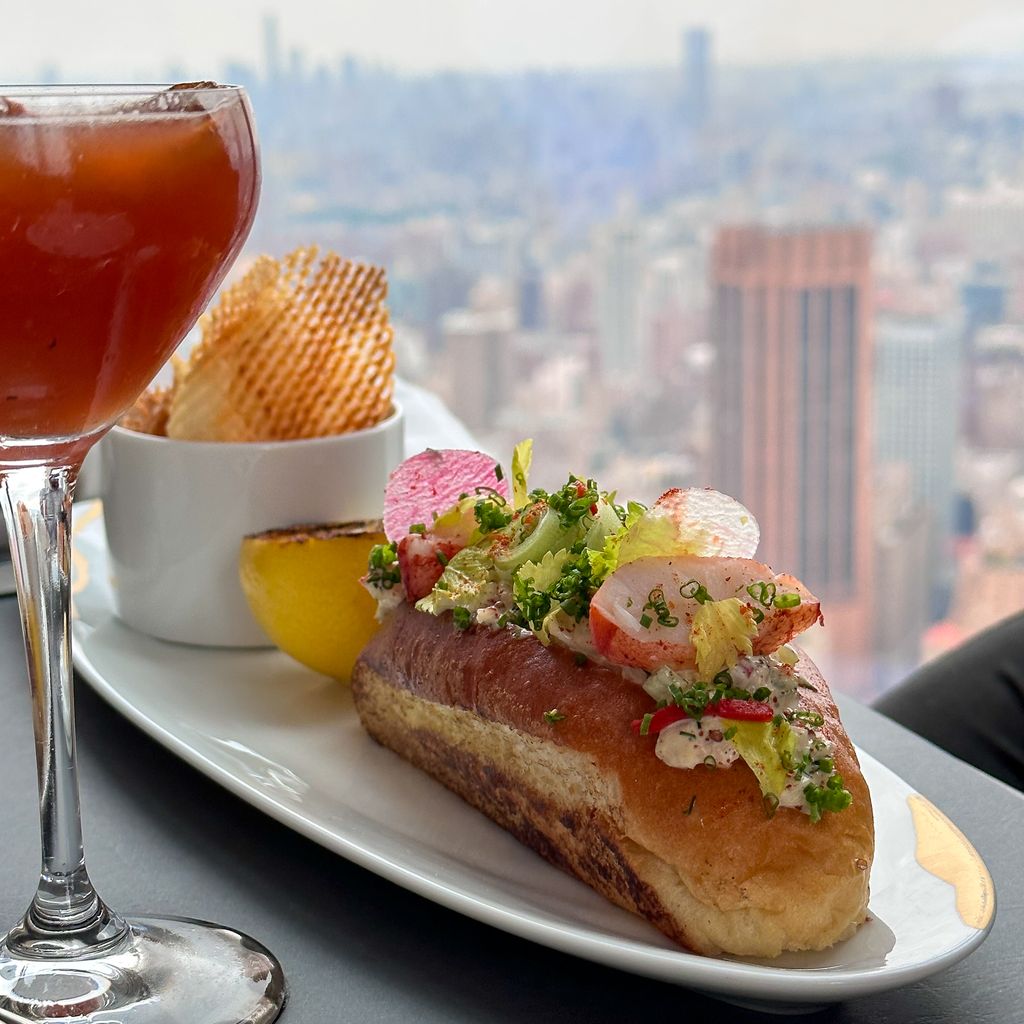 The menu changes every few months. In a review by Turning Left for Less, I noticed the entire menu was different from the one I had when I visited.
For dessert, my friends ordered the Sidamo Coffee & Tahitian Vanilla Chou and the Mango & Passion Berry Cheesecake. I tried a bite of the cheesecake and it was very good!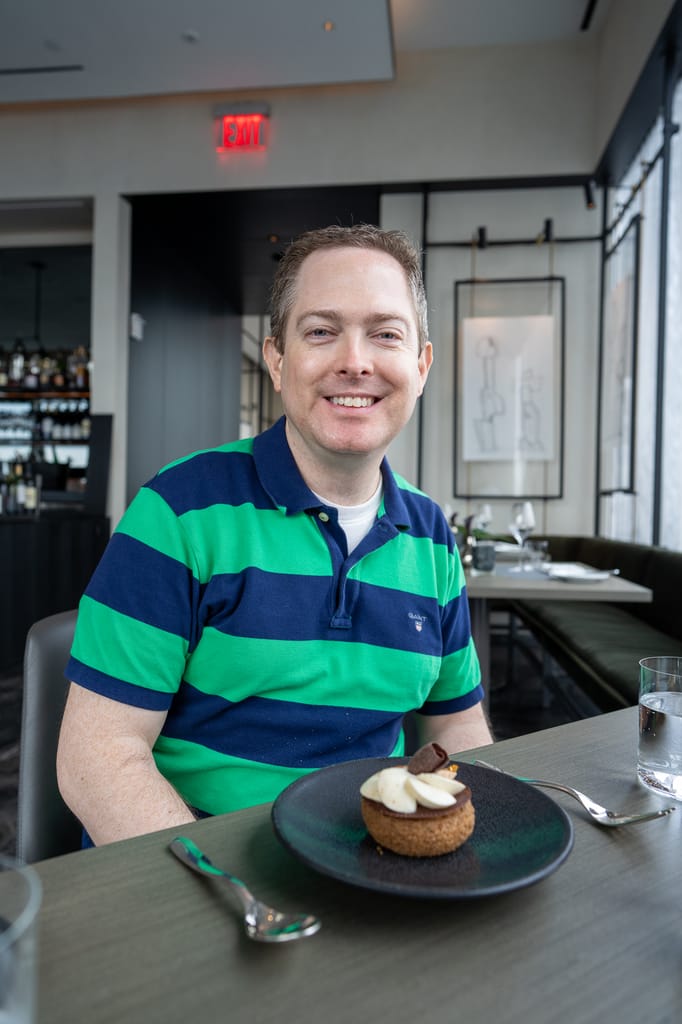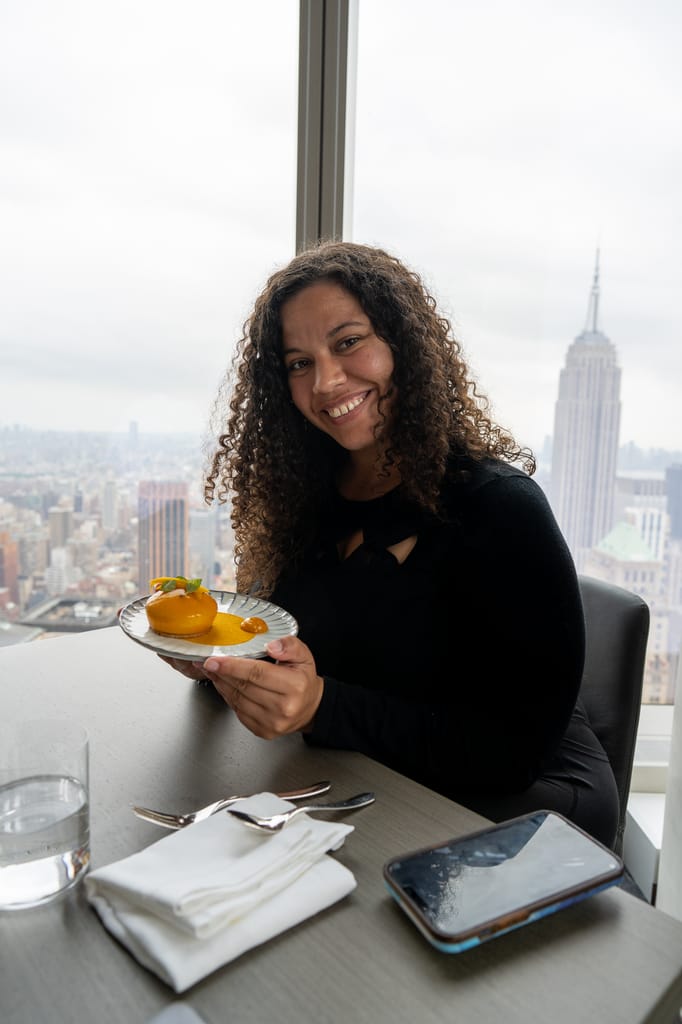 The presentation was so nice for every single thing we ordered!
The formal dining menu is $165/person. There is a three-course tasting menu and a five-course tasting menu for dinner.
Since we were ordering off the general menu for lunchtime, our meal wasn't quite so expensive but it wasn't far off in terms of price after all things considered.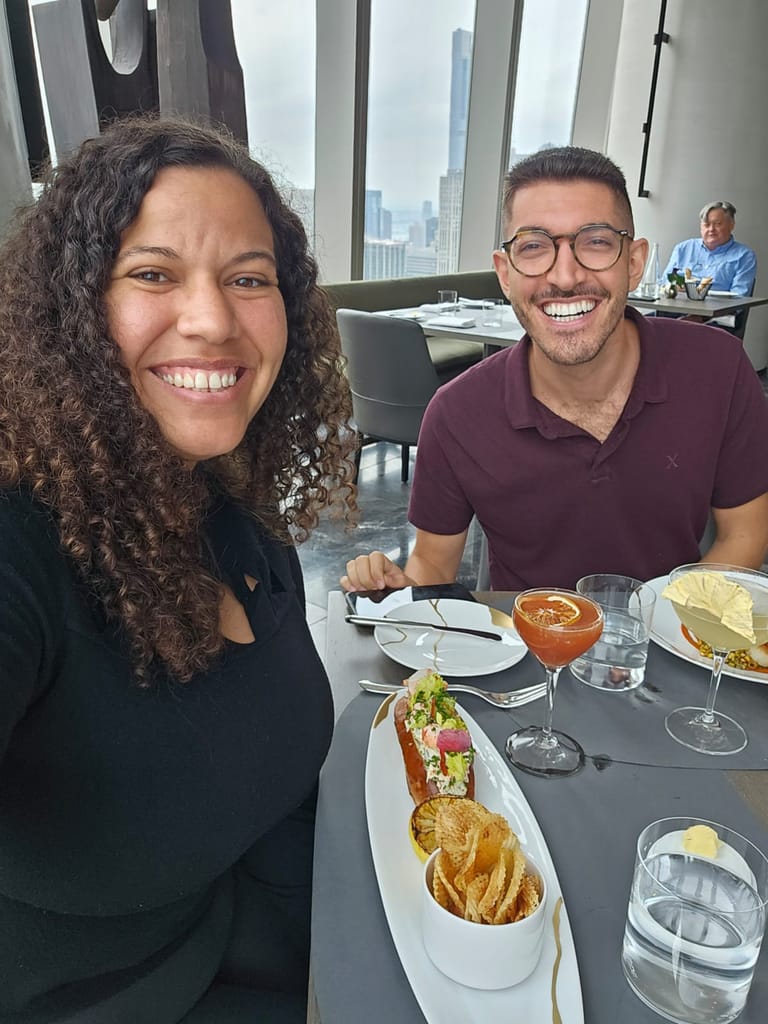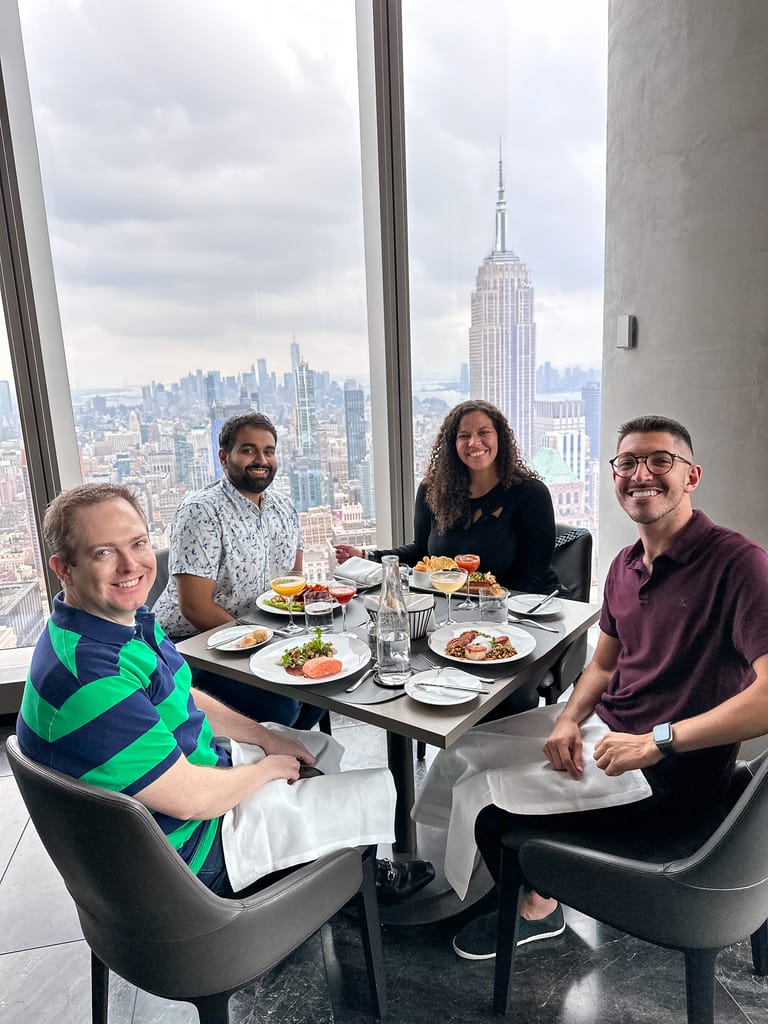 Overall, I loved the food and really enjoyed my experience dining at the Centurion!
HOW ARE THE VIEWS?
The Centurion Club may not be as high up as the SUMMIT One Vanderbilt observation deck, but it still has a killer view of New York City's Empire State Building and Chrysler Building.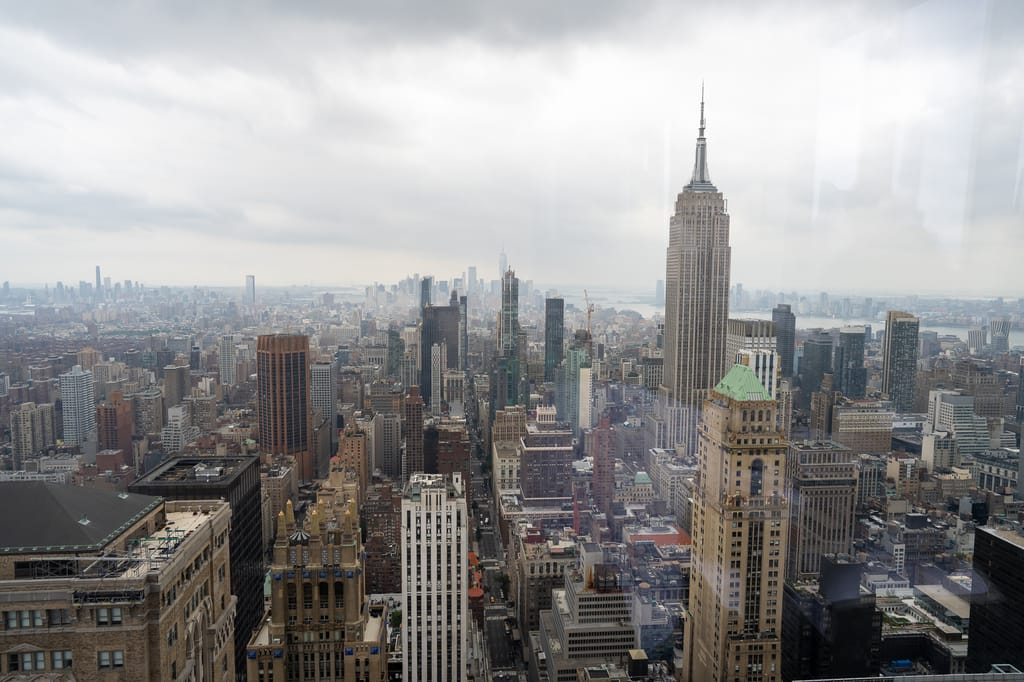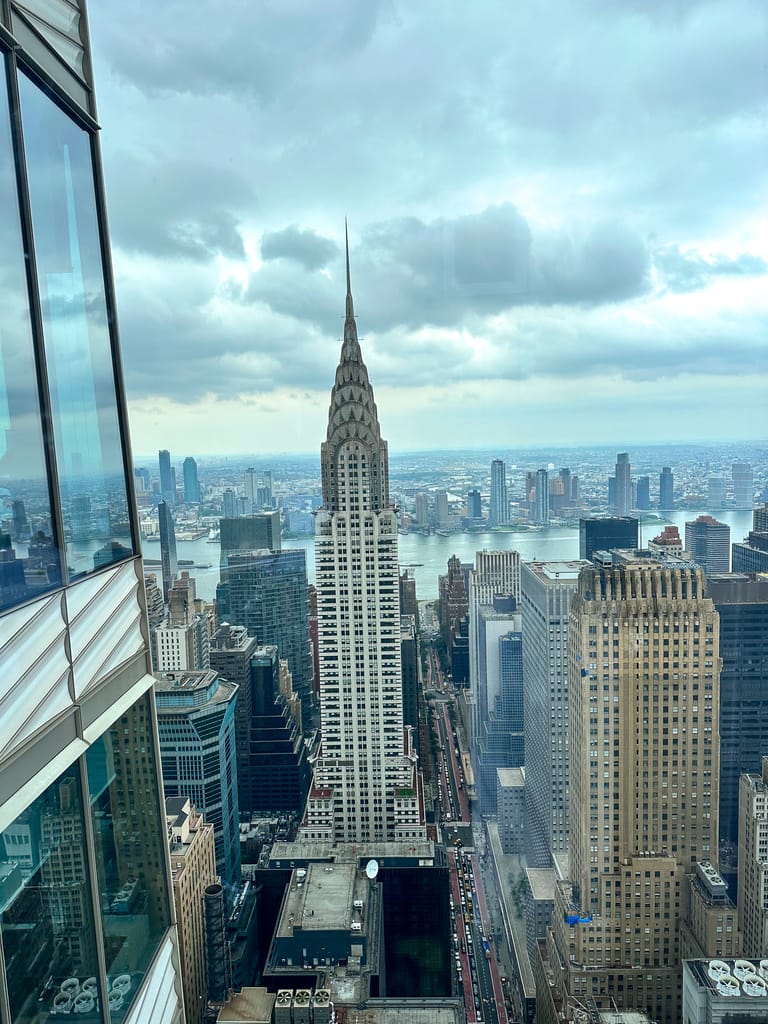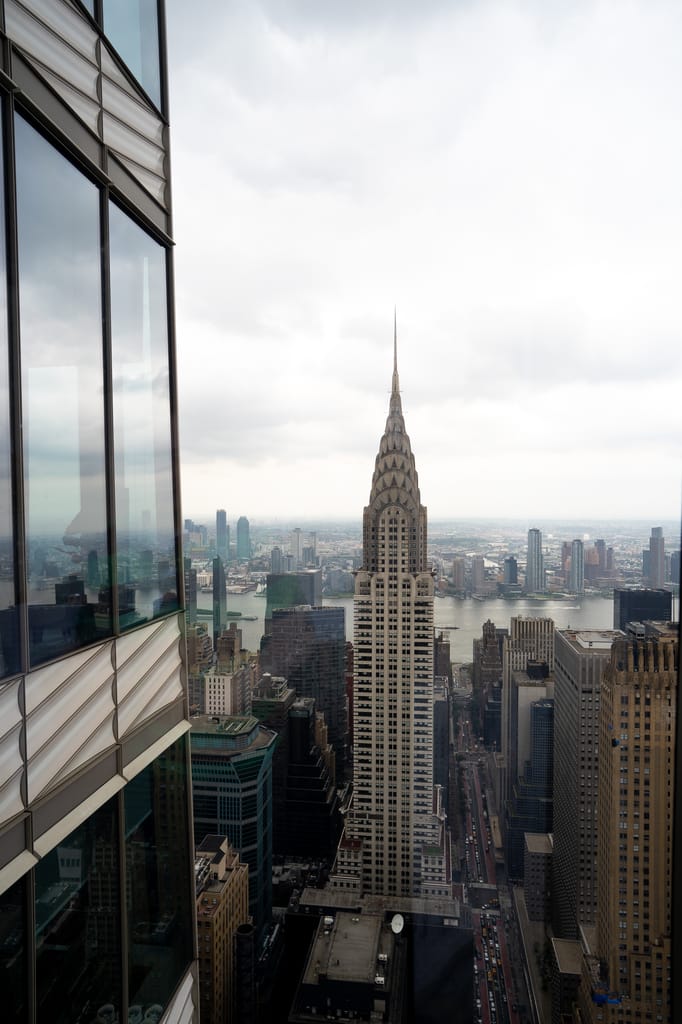 DOES THE CENTURION HAVE A DRESS CODE?
The Centurion has a dress code that is enforced. They reserve the right to refuse access to any patrons who are not dressed in accordance with it.
They ask patrons to dress in smart, chic attire. Gentlemen are encouraged to wear jackets for the dinner service. Lunch is more casual: collared shirts are required.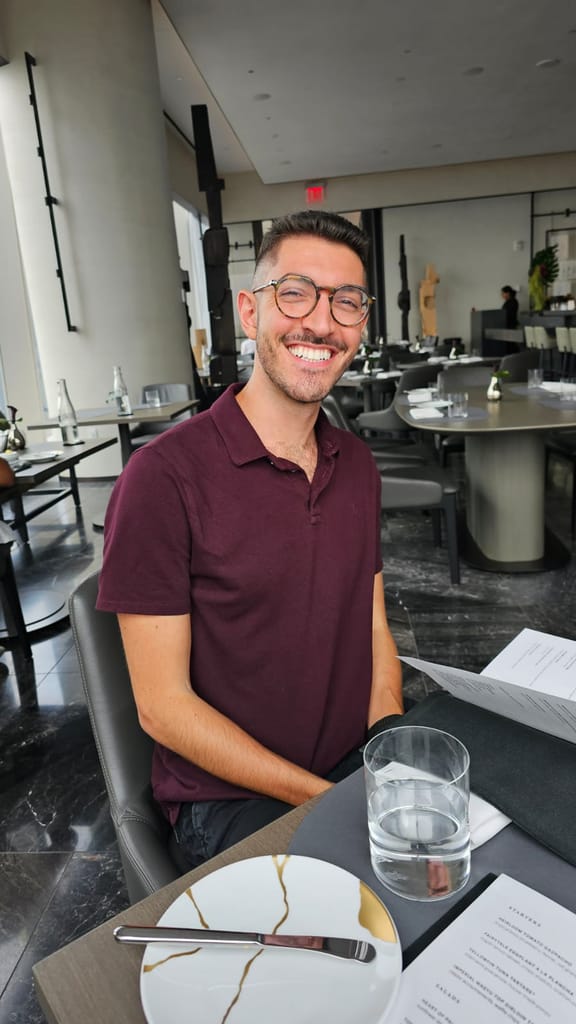 I wore a collared polo shirt, black chino pants, and black slip-on loafers. For lunchtime, it was fine. For dinner, I think I would have gone the route of a button-down shirt with a jacket.
Improper attire includes athletic clothing, leisure wear, tracksuits, casual t-shirts, sweatshirts, sandals, flip-flops, hats, and any other inappropriate or offensive clothing.
CAN YOU BRING A LAPTOP TO WORK FROM THE CENTURION?
Absolutely. During my visit, I saw patrons working from their laptops while seated at tables.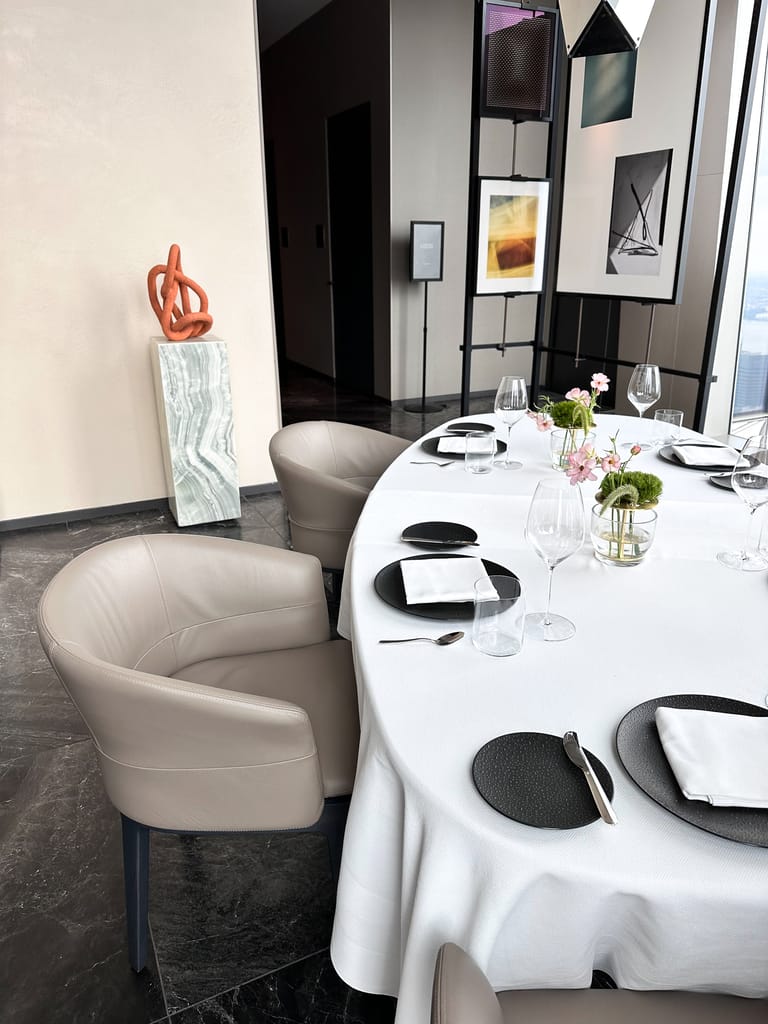 For those of you who work remotely, the Centurion asks that you limit the use of laptops, cell phones, and tablets after 6:00 PM in the dining areas.
Cell phones should be kept silent to be respectful to other patrons.
I wasn't made aware of this at the time when I visited, but I see their website also says photography is discouraged. Oops!
CAN YOU BRING GUESTS TO THE CENTURION?
Members must accompany their guests while visiting the Centurion New York.
For dining reservations, Centurion Members are permitted up to 5 guests.
For walk-in access, Centurion Members are permitted up to 3 guests.
Children under the age of 13 are not permitted inside. Kids under the age of 17 are not permitted inside after 5:00 PM.
WHAT PAYMENT METHOD OPTIONS ARE AVAILABLE AT THE CENTURION?
Payments must be made using an American Express card or cash.
Other credit cards are not accepted. Also, for anyone wondering, you cannot use Membership Reward points to pay either.
HOW DO RESERVATIONS AND CANCELLATIONS WORK AT CENTURION NEW YORK?
BOOKING A TABLE
US Centurion Members can make reservations using the dedicated Centurion New York mobile app or via the Membership Services team. Reservations are open for booking 30 days in advance.
Platinum cardholders can also call the concierge to make a reservation.
In my opinion, I suspect the limited availability may be somewhat artificially constructed to keep the club feeling more "exclusive." I have read a lot of stories online about people struggling to get reservations. However, when it was time for our reservation, we were one of the only tables there.
CANCELLATIONS
Centurion New York asks you to please cancel at least 48 hours ahead of your reservation if necessary. Under 24 hours prior to your reservation, a $100 cancellation fee will apply per person.
CONCLUDING THOUGHTS
Overall, I felt like the Centurion layout was thoughtfully designed to take advantage of its stunning skyline views. The food was delicious and matched my expectations ranging across taste, price, and portion size for a New City City establishment of this caliber.
My visit was pleasant. In a city full of choices, I'm not entirely sure when I will return again. However, I think it's worth experiencing at least once if you are a cardholder with an interest in going! The views alone make the Centurion stand out from the competition.
Note: Special thanks to my friend Kamyar for arranging these lunch plans for all of us to enjoy!