Last Updated on March 25, 2021
I find it really cute when airlines serve food associated with the places you're flying to or from. When I flew into Italy's airport in July, passengers were given the most adorable airplane-sized salads with miniature bottles of Italian extra virgin olive oil. Once Jorge and I left Greece to fly to Spain, we were both given complementary classic Greek yogurts. It had a side compartment filled with honey that you could mix into the yogurt. I never knew honey and yogurt were such a good combination until I tried it on that flight! Mmm.
Thank you, Aegean Airlines for expanding my horizons.
The flight from Greece to Spain was quick. After landing in Madrid, we set out to find the AirBnB that Jorge booked. Our plan was to stay together in Madrid for about a week. After that time, we would travel east towards Valencia making a few stops along the way.
We dropped off our belongings and went straight to one of my favorite restaurants in Spain.
We ordered a bunch of delicious tapas. I love tapas because places that serve them usually offer such a vast selection of choices: small salads, fish, meats, burgers, you name it. You can get anything, really. Hot or cold! Tapas are like an appetizer but you have the choice of different portion sizes so you can get slightly larger ones if you're feeling a bit more hungry- or tiny ones. They're so flexible and I think that is a huge part of the appeal!
We were both so excited to eat so we ordered a bunch of different tapas. Some were new to me and others I had already tried when I was in Spain with Jorge two years ago. Spain's food is some of the most delicious in the world so I was ecstatic to be tasting it again.
Compared to Greece, the food in Spain is noticeably more expensive. This inflated pricing was most likely magnified because we were in Madrid, the capital of Spain. However, Athens is also the capital so that's important to consider as well. I wouldn't say there was a huge price difference (it never caused any undue stress to me as a budget-minded traveler) but the higher price tags on food were consistent and visible so do be mindful of that. It was easy to pick up on the price distinction since both Spain and Greece use the same currency: the Euro.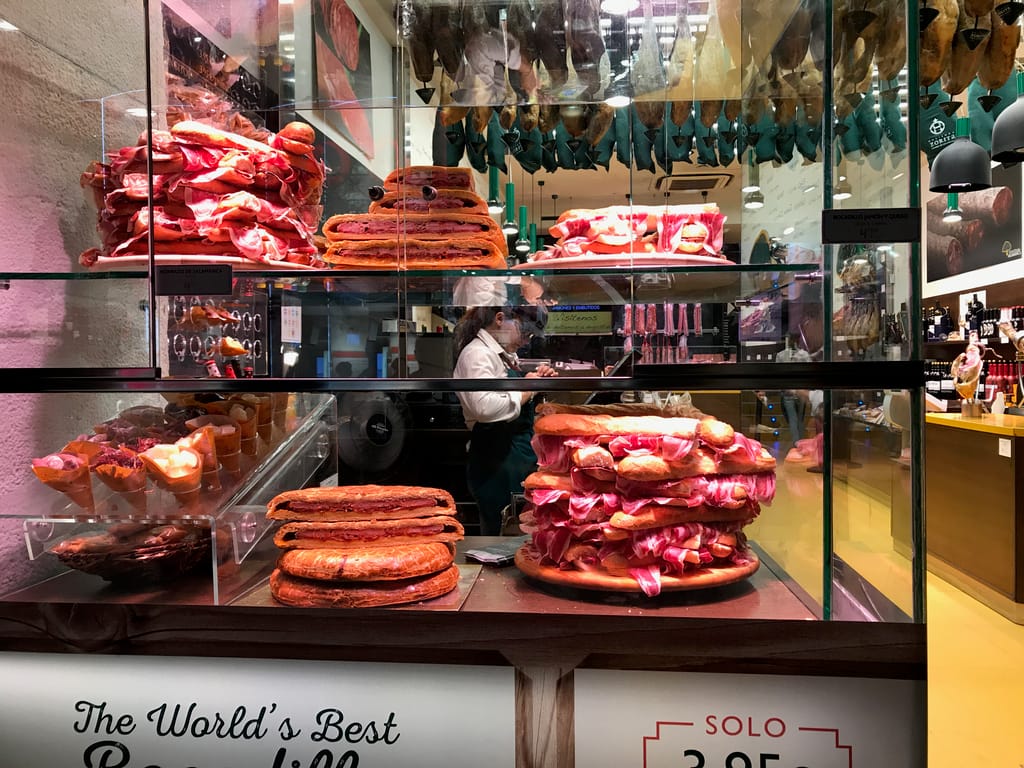 The affordability of traveling in Spain depends a lot on how and where you eat. There are some very high-end restaurants that will charge you a premium but they usually offer superior food and cultural experiences which may be worth splurging on at times.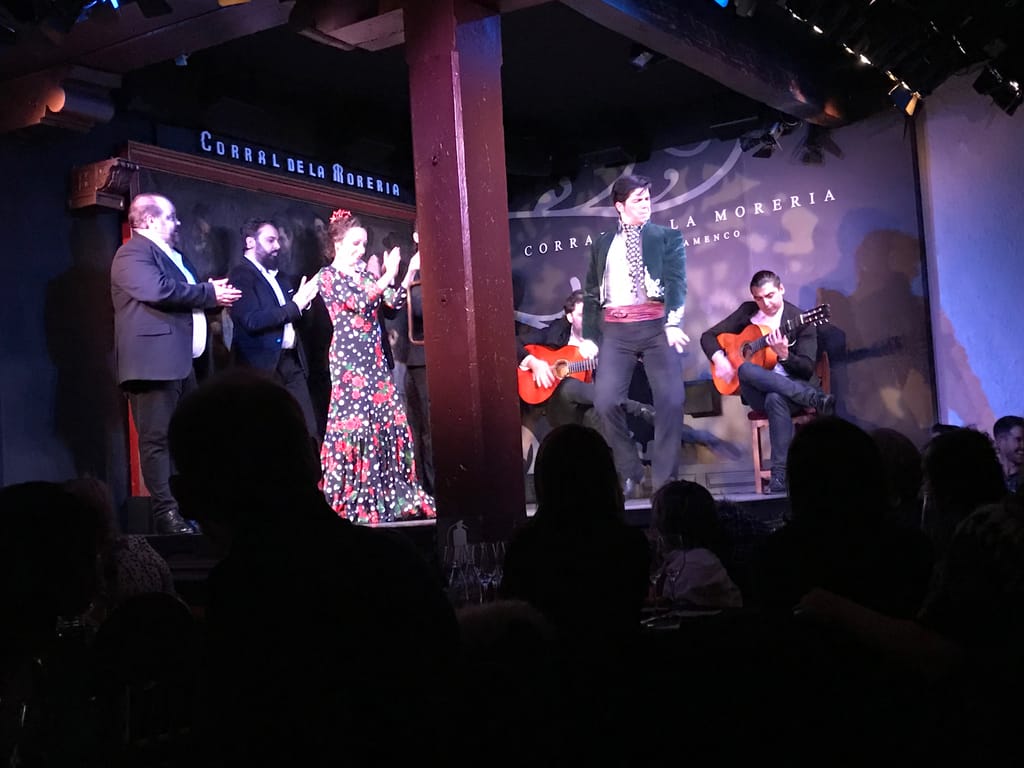 For example, one memory I have from my first trip to Spain is that Jorge's parents treated the two of us to two amazing dinners. One was at a fancy flamenco restaurant called Corral De La Moreria and another was at the high end Ático Restaurante which looks out on the famous Grand Via. Both dinners were unforgettable experiences that I enjoyed more than anything. If you have the budget to go somewhere like that, please do.
On the flip side, you can get by in Spain with random inexpensive meals and a bunch of 3 Euro jamón sandwiches for lunch to save some more money. Really, it can be done. We both made it work haha. No matter what your working budget is, there is a tapa waiting just for you.
For the truly price-conscious traveler, in Spain, they even sell jamón flavored potato chips! While I wouldn't recommend allowing too many chips into your diet since they aren't good for you, you have got to try JAMON chips while you're in Spain. Super cheap & super tasty. Besides, where else in the world can you try such a thing!? Grab 'em while you can.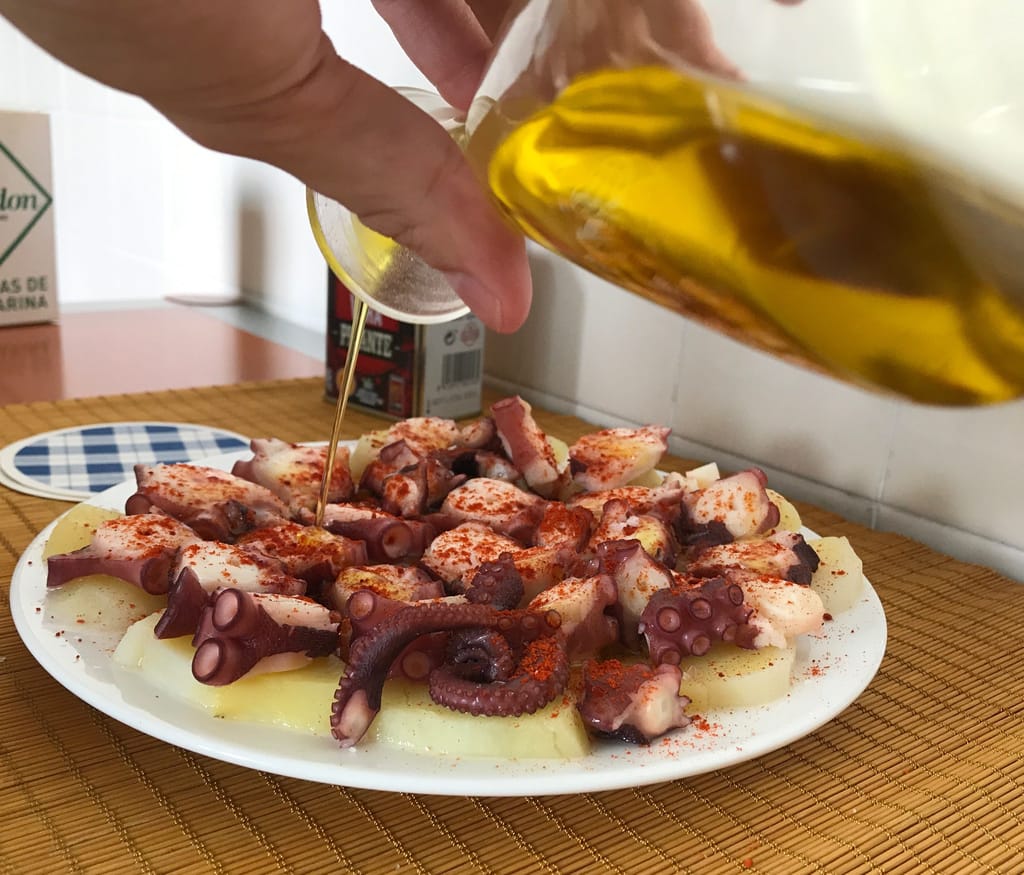 Of course, the best way to save money is to cook for yourself. While I was in Greece, I'll admit I ate out a lot. This was both because the food there was cheap but also because I simply didn't know how to cook so there weren't many alternatives. Once I started traveling with Jorge, we spent a lot more time cooking together and I began to learn. Jorge is actually a chef so I like to think I gained a few skills just from being around him. We spent a good amount of time cooking together and preparing different meals in Spain. That was fun, cost-effective, and delicious!