Last Updated on March 27, 2021
Imagine spending an entire year constructing enormous, colorful, and ornate sculptures of grand-scale intended for the public to enjoy over the course of 19 days before burning them down into the ground. That, my friends, is a snapshot of what happens behind the scenes in preparation for the famous Fallas celebration in Valencia, Spain.
Let's talk about Fallas.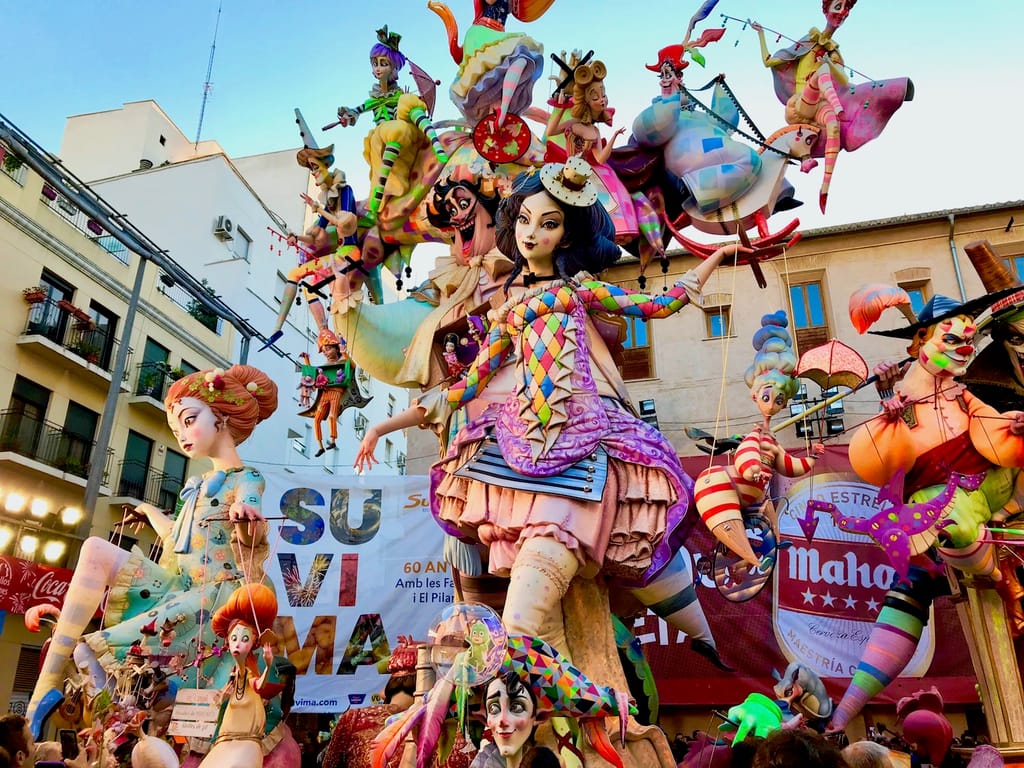 You might also know (or see) this festivity as one called "Falles." That is how its name is written in Valencian. In traditional Spanish, you're more likely to see it referred to as "Fallas." Either is acceptable so for the purpose of this post, I will use the latter.
I Wished To Someday Attend Fallas
Ever since Jorge and I first started dating, Fallas was a celebration I wanted to see with my own eyes. Jorge would show me photos of the fallas and tell me stories about all the celebrations and festivities that surrounded the event. In 2016, we both missed Fallas since that was when Jorge was studying abroad in the USA with me. In 2017, I missed Fallas since I was still studying in college. In 2018, I was far too busy preparing to take off on a long-term backpacking trip come the summer time to travel anywhere else any earlier. At last, this year, I finally made it to Fallas in Spain!!!!
What's a Falla?
During Fallas, Valencia is lined with these massive sculptures. These are what the Spanish call a "falla." Back in the Middle Ages, these started as piles of junk that were burned after the winter to celebrate the arrival of spring. Then the Valencians started having fun with it and began dressing the junk with clothes and drawing faces on it in satire. With Valencians' great sense of humor, Fallas has become what it is today.
Some Facts About Fallas
From the 1st to the 19th of March, Valencia is transformed for Fallas. This is a huge festivity that combines tradition, satire, and art. You see, "falla" literally translates into English as "failure," or, "faults." Many of the sculptures (for lack of a better word in English) are sculpted and built to emphasize satirical views of larger failures in politics, society, and so on.
Related: Can You Eat the Sidewalk Oranges Growing in Valencia?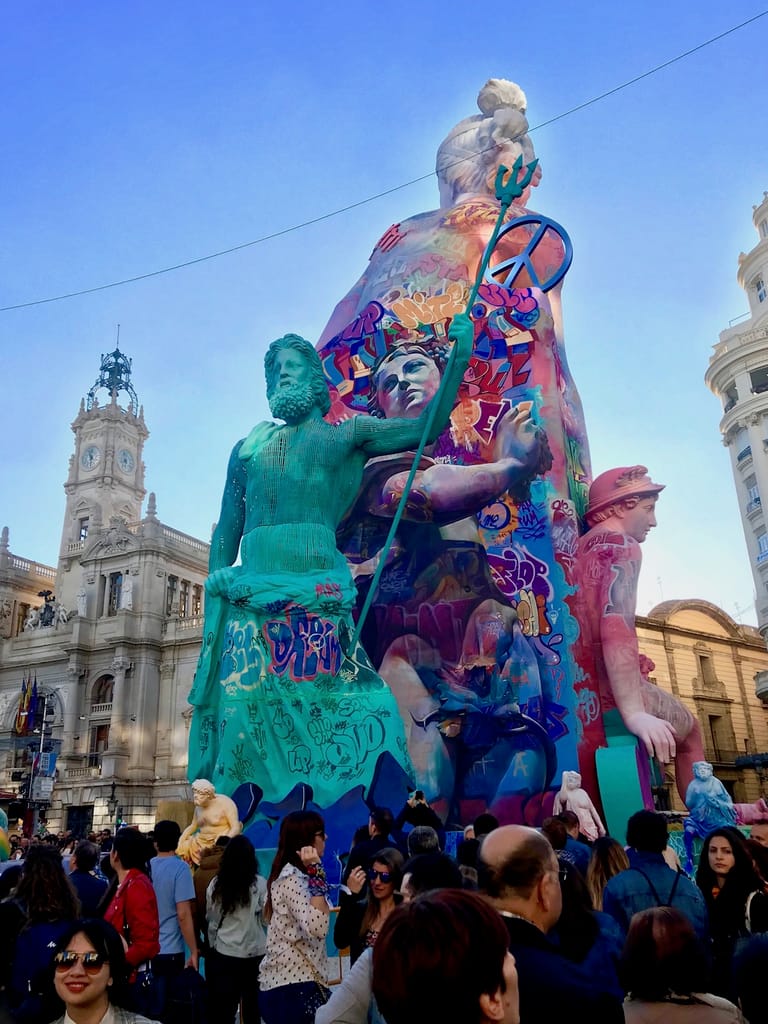 At the City Hall (Plaza del Ayuntamiento) stands the Falla del Ayuntamiento. This was the most enormous falla to behold. After talking to Jorge, it seems its design was likely meant to draw attention to the growing issue of vandalism with monuments and historical sites.
My Experience at Fallas
Even though Fallas stretches throughout the first 19 days of March, Jorge and I weren't able to travel from Madrid to Valencia until March 16th. Still, the timing of our arrival was great because the artistas falleros (the professionals who build the falla) aren't required to have their falla finished until the morning of the 16th at which time they must be complete and ready for judging.
Fallas is a Contest
They have various categories (depending on the available budget) through which each falla is judged. Fun fact: each falla is built entirely with the funds of donations from the people living in the general area (to be clear about the perspective here, we are talking about each street corner basically having its own falla. They're everywhere. A cluster of buildings within a neighborhood will come together to donate the funds for their own falla.)
Arriving for the Daily Mascletàs
We arrived to Madrid with Fallas in full swing. As soon as we exited our BlaBlaCar (yes, we used the service again and didn't almost go to jail this time), we found ourselves right in the center of Valencia – a great spot to observe the mascletàs (firecracker barrages) which happen daily at 2PM near Plaza del Ayuntamiento. The gunpowder explosions are so loud you'll feel them in your chest. They say it is important to keep your mouth open a little to avoid damaging your ears since the explosions can reach 120 decibels!
Valencia was PACKED with people. My claustrophobia was kicking in a tiny bit.
The Fallas Tradition
Between the upbeat music and falleras (traditional dancers), the kids throwing fireworks everywhere all day long, the religious ceremonies, the wild street parties, the fallas burning down in flames, and the tasty paellas and other traditional Valencian seafood platters, Fallas seriously has something for everyone. For the weekend I was there, I had the time of my life.
How cool is that placement?
How Are Fallas Made?
Nowadays, making fallas is a multi-million Euro industry. I mentioned earlier that each falla is built from the funds of donations from the Valencian citizens. That is true. Fallas are highly sophisticated works of art created by professions. They have to be engineered ever-so-carefully so that they burn strategically. They are designed to collapse safely. How incredible is that?
Some fallas cost more than 600,000.00 Euros to make. For one! Of course, not all of them are that expensive but I read somewhere that Valencia has more than 750 individual fallas during Fallas. That's a lot of money invested into this celebration! When you consider that the figures end up getting burned each year, I find that absolutely fascinating.
The falla is made with a paper-mache-like process on a wooden carcass. It is sanded and painted. Many fallas are so large that they are never seen in their entirety until they assembled during the actual days of Fallas.
The Burning: Cremà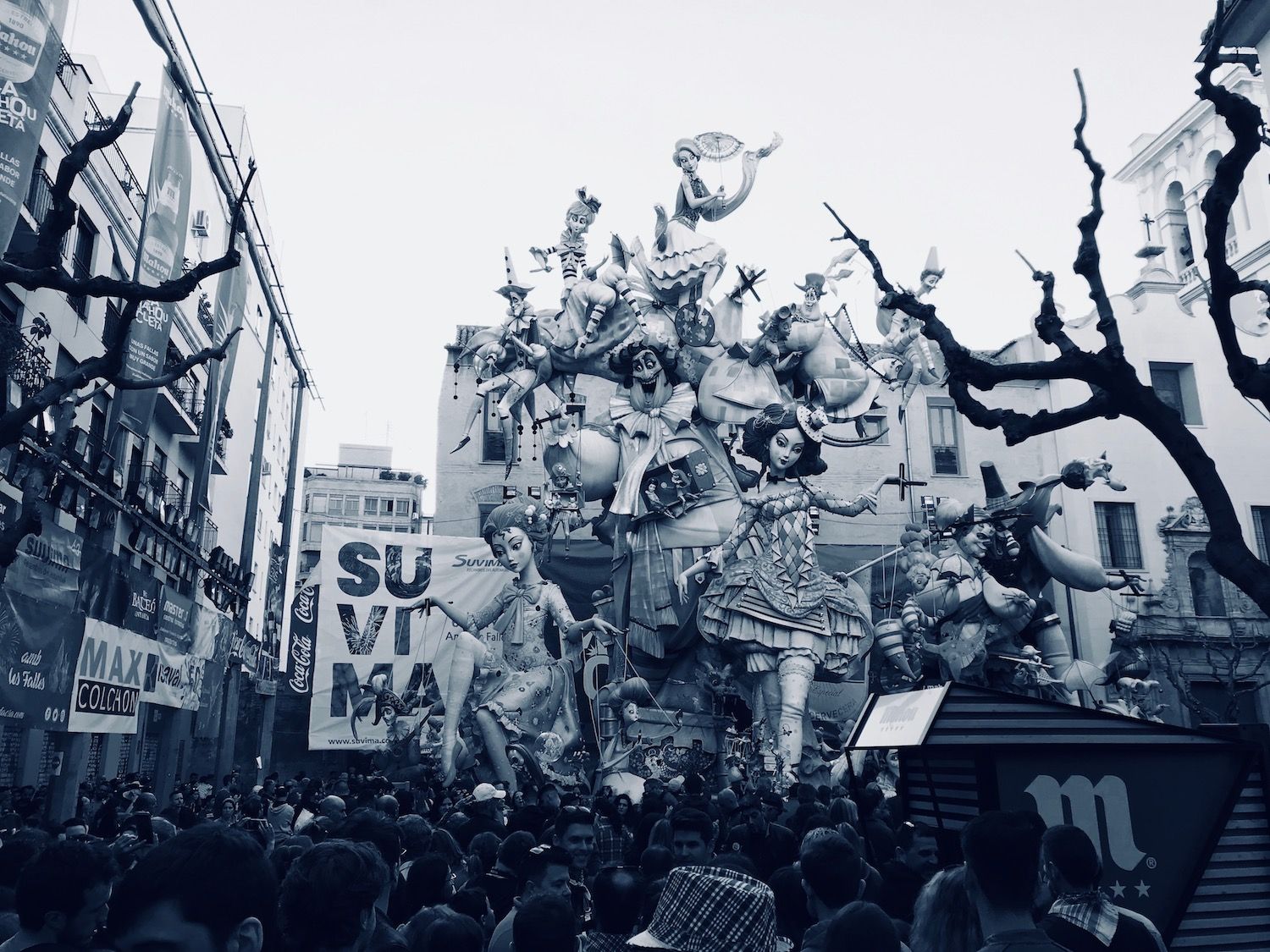 Of course, on the final day of Fallas, EVERYTHING GETS BURNED. Each falla is set on fire. The city prepares itself with firefighters and whatnot who immediately begin to hose down surrounding building to protect them from the immense heat that is produced by the burning structures.
When Do The Fallas Burn?
There are two kinds of fallas: a falla and a falla infantil. The latter is a smaller falla specifically made for children. Usually each community makes two fallas. One of each.
Since kids shouldn't stay up as late, the falla infantils are burned at 10PM so kids can enjoy the flames before going to sleep on the final night of Fallas. The large fallas are burned starting around midnight on March 19.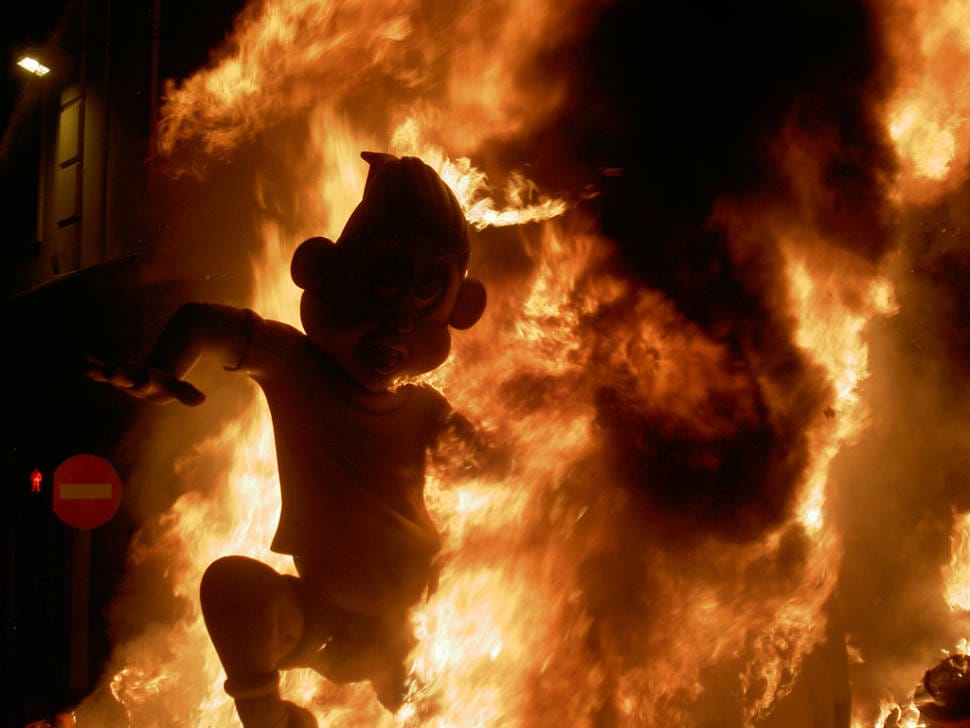 From the looks of it, the whole thing is both terrifying and awesome at at the same time.