At the end of each year, I put together a collection of my favorite posts from the previous 12 months. This has been a tradition I've carried on since I first started this website back in 2013. In my 2018 Year-in-Review, I touch on some of my greatest highlights from the concluding year which includes topics like how I traveled around Europe for nearly half of 2018, what I learned during that stretch of time, and updates on my relationship with my Spanish boyfriend who I met a few years ago through an international study abroad program at my university. Enjoy! Wishing you a happy and healthy New Year!
January 2018
In January, The Rocky Safari celebrated 5 great years of being online!
February 2018
March 2018
Explore The Backpacking Chronicles
April 2018
Overcoming Your Fears of Traveling Alone: As I cross off each passing day in my daily planner, I can feel the anxiety setting in more and more. Come July, I'll be traveling all by myself to another country…" Read More.
May 2018
The Samurai's Garden was the best book I read in 2018.
Check it out for yourself!
June 2018
Please don't travel abroad without travel/health insurance. With the company I recommend, a policy can cost as little as $37/month!
July 2018
How to Make Money While Traveling
August 2018
September 2018
View everything I packed in my backpack for my trip abroad! – My Packing List
October 2018
November 2018
December 2018
Subscribe To Receive New Posts
If you made it this far, thanks for taking the time to check out my favorite posts from 2018! There are others which you can find on my Complete Archive. Hope to connect and keep in touch with you in the new year. Feel free to leave a comment, shoot me an email, follow along by e-mail, or reach out in any other way. Hope you have a healthy, prosperous, and joyful New Year in 2019! Cheers! 😀

Like This? Please Share It!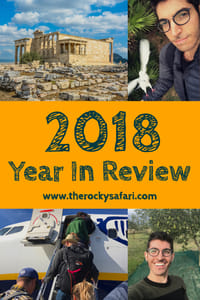 [tmm name="31310″]
Follow My Blog