Last Updated on March 25, 2021
A lot of people ask if you can really make money working with an online company like VIPKID. As one of their newest ESL teachers, I am writing this post to share with you what my first month has been like with them. When I first got hired, I felt ecstatic to be working for VIPKID. It sounded like the perfect supplement to my income. One month later, I'm just as excited today as I was on Day 1, if not even MORE so!
During my first month with VIPKID, I have completely fallen in love with my new online teaching gig. The student-teacher relationships I've developed with my students are very real even though we're countries apart. Thanks to technology, anything is possible.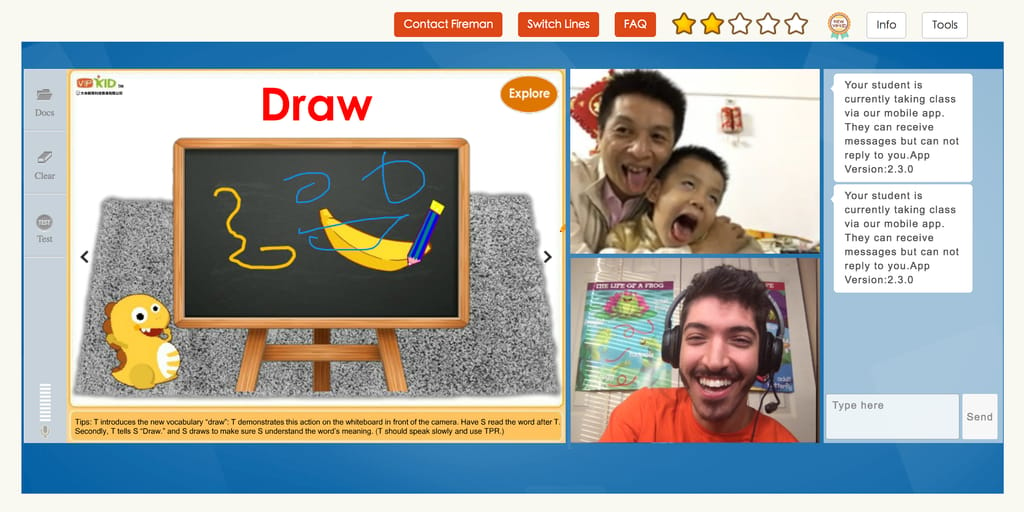 Class can be such a blast! Meet Kobe. He is one of my most frequent students. I teach him about three times a week. Whenever I see him and his parents, my day is instantly made brighter. Kobe and his family bring me much happiness. He was one of my first students I ever taught online and I couldn't be any more thrilled that he joined VIPKID becoming my first regular student. I've taught him 10 times now!
You might think teaching in a virtual environment is limiting but I assure you, we have plenty of chances to be silly and have fun with our students. I have one kid who loves hamburgers. To him, everything is hamburger, hamburger, HaMbUrGERRR! I'll ask what number he sees in a picture. I'll signal for him to speak. He'll shout back, "HAMBURGER!!!!" Since he clearly loves hamburgers, I now embrace it and give him hamburgers as a reward for getting questions correct.
I know many new teachers stress themselves out worrying over proper preparation before each lesson they teach. This is one thing I haven't had much of an issue with so far. If I'm being completely honest here, I actually do very little preparation outside of class! I wake up five minutes before class starts, I throw on my orange t-shirt, pick up my headphones, and jump right into my classroom. Instructions for each slide are at the bottom of the screen so I quickly glance over them as I read the content on the slide aloud slowly to the student. Making class fun is easy – draw, be silly, make weird noises. The kids love all of that stuff. It doesn't need to be complicated!
Of course, not everything is all fun and games. I've had classes where the students are so tired and low on energy that teaching for the full 25 minutes feels like FOREVER. These are the hardest classes to complete since you have to be EXTRA smiley and enthusiastic. If you let it get to you, you run the risk of having the parents watch the recorded playback thinking their child was bored and distracted because of you.
My parent feedback average has been pretty good! Right now, I'm rocking a solid 5 Apple rating with nearly 20 reviews listed! I did receive 1 dissatisfactory 3 apple review but I contacted VIPKID to challenge it and they promptly invalidated it deeming it inaccurate. The parent claimed to be unhappy that my audio & the video wasn't in sync though I'm fairly certain it was their weak network connection causing most of the problems they complained about.
NOW TO DISCUSS VIPKID PAYMENT STUFF!
So how much money can you make working for VIPKID part time?
In November 2017, my first month with VIPKID, I earned a total of $1,173.00 working just over 40 hours this month.
I am excited about this extra income considering the freedom that came along with earning it. Bear in mind, I didn't work much the first half of November. In my first 7 days, I averaged just one or two trial classes per day while they determined whether or not to fully hire me. Even though this is considered a fast start for new teachers, that phase cut into what I could have made this month with regular bookings. Things really started to pick up for me around mid-November. Hitting the extra incentives before the end of the month also helped boost my final payment total.
Here is my VIPKID income breakdown.
$220 from Trial Classes ($8/class or $10/class if they were short notice)
$696 from Major Courses ($8/class or $10/class if they were short notice)
$111 from the Participation Incentive (additional $1/class for classes you showed up to)
$111 from the Finished Class Incentive (additional $1/class for teaching 45 classes or more)
$35 from New Student Sign-Ups ($5 per Trial Student who joins VIPKID because of you!)
Total: I made an extra $1,173.00 in my first month working for VIPKID!
I taught for a total of 2,550 minutes this month (42.5 hours) earning just over $27/hour.
This is based on working 10 hours per week with VIPKID.
VIEW OTHER VIPKID INCOME REPORTS!
I am happy to provide free coaching to new applicants. Use Referral Code: 046YQ3.