Last Updated on August 7, 2023
Have you heard my latest VIPKID news update?
The end of April marked the completion of my sixth month teaching English online to kids all across China. That means my first contract is OVER. Teacher Rocky has OFFICIALLY completed his first full contract teaching ESL online with VIPKID. Six full months' worth of lessons, supplemental payments, paid student no-shows, prop shopping, and everything else that comes along with this sweet gig.
Towards the beginning of April, I logged onto my Teacher's Portal and encountered this message.
It basically said, "Your contract is about to expire. Let's renew it right away!"
I was so relieved to see the message early on in the month! I knew my contract was ending soon and I was starting to worry about how smooth the transition would be over to my second contract. I was hoping I could keep teaching and earning extra income without having a lapse in my schedule. Thanks to the way VIPKID handled it, the process was seamless.

Renewing my teaching contract was as simple as typing my name into a box and clicking SUBMIT. The VIPKID contract is a basic agreement that covers expectations, compensation, and requirements. Of course, the word "contract" implies a binding agreement but as independent contractors, we have a lot more freedom than you might think. We can work as much or as little as we want, chose which hours we work, and take off time whenever we wish. If you start teaching and decide VIPKID isn't for you, you're free to leave at any point. The contract spans 6 months but that doesn't mean you're obligated to work for the full six months. If you don't open any time slots, you won't be booked. If you're thinking about trying out VIPKID, apply here to work for them.
April was filled with really special teaching moments. A few of which I wanted to share! Moments like the first time Teacher Rocky got to teach a Student Rocky!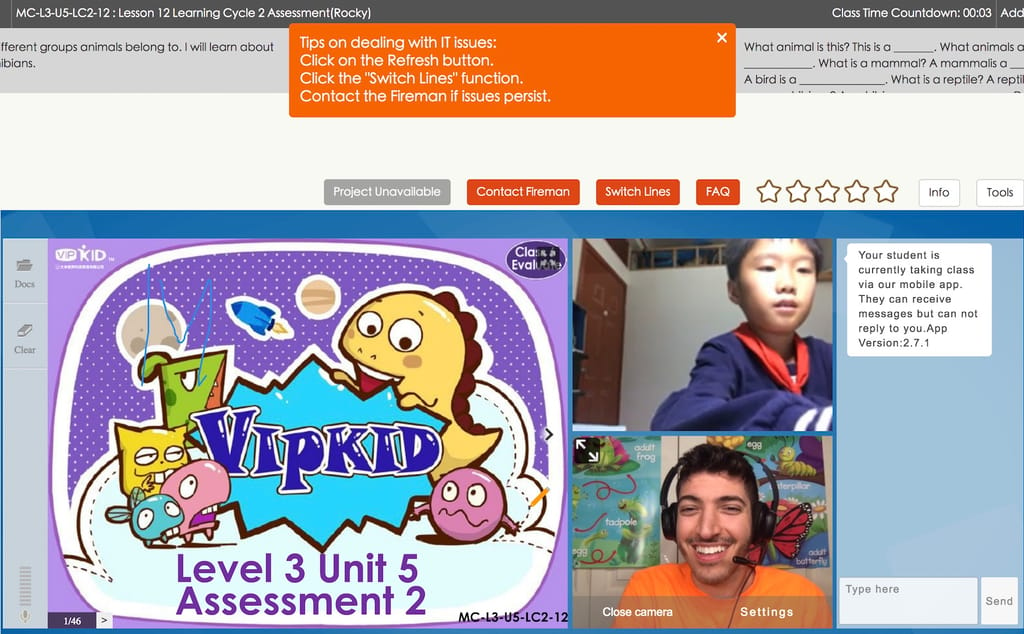 … and the SECOND time Teacher Rocky got to teach a Student R o c k y! I've probably met more Rockys from China than I have from America now.
As my students get to know me, they realize more and more how much I love to give them stars. Some of my regular students went and got big, bright, yellow stars to match the ones I use to award them. As we celebrate their successes in class, I hold up my star for them and THEY HOLD UP THEIRS FOR ME. "TEACHER ROCKY, YOU GET A STAR!" My heart melts.
HERE IS MY VIPKID MONTH 6 INCOME BREAKDOWN.
April 2018: $1332.00
$34 from Trial Classes ($8/class or $10/class if they were short notice. $4 for cancellations.)
$1034 from Major Courses ($8/class or $10/class if they were short notice)
$132 from the Participation Incentive (additional $1/class for classes you showed up to)
$132 from the Finished Class Incentive (additional $1/class for teaching 45 classes or more)
$0 from New Student Sign-Ups ($5 per Trial Student who joins VIPKID because of you!)
$0 from the Additions/Deductions.
Total: I made an extra $1,332.00 in my sixth month working for VIPKID! (See: Income Reports)
I taught for a total of 62 hours this month earning roughly $21/hour.
This is based on working around 15 hours/week with VIPKID.
I highly recommend VIPKID to anyone who is looking to diversify and open new income streams! Give it a shot. Message me for other options on how to earn extra income on a part-time basis. I have a lot of tips on different ways you can go about doing this while still working other jobs and careers in order to make more money and I am happy to help you find the best option that makes the most sense for you.
I am happy to provide free coaching to new applicants. Use Referral Code: 046YQ3.
Check out the other VIPKID Income Reports I've released.