Last Updated on June 1, 2021
I was approved to become an Amazon Influencer last week! In 2017, I was originally accepted as an "Amazon Associate" which is what Amazon calls members of its affiliate marketing program. That same year, Amazon also quietly launched its Influencer Program.
The two programs are quite similar, but they're not the same. Being an Amazon Influencer is essentially an extension of the Associates program. It allows you to open up an Amazon Store!
A shop for your personal brand.
[Disclosure: Amazon links on this website are usually affiliate links which means The Rocky Safari may earn a commission should you decide to make a purchase.]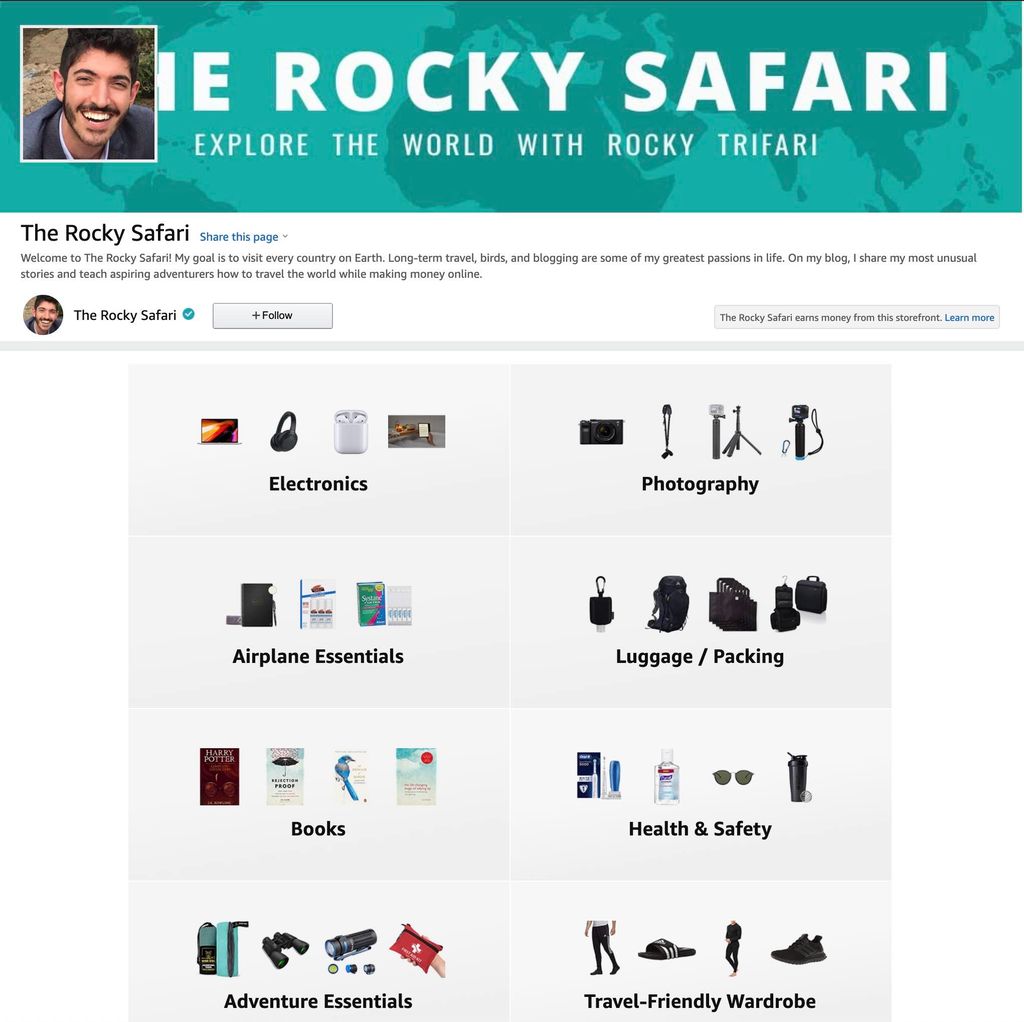 The Amazon Influencer Program is different from the Amazon Associate Program that you are probably more familiar with.
The Influencer program is newer and more selective than their Associates program. To be accepted into it, Amazon has much stricter requirements. Applicants must have a large number of followers, a growing audience, and high engagement in order to qualify.
So for that, thank you!
I am so grateful to all of you and beyond excited about being able to create more helpful content through participating in the Influencer Program.
I have been wanting to create a shop page for many months now and this is the first step I'm taking toward being able to create something of the sort. As an Amazon Influencer, I am given a vanity URL to an Amazon page that showcases my favorite products.
You will be able to easily access this page using the new "Shop My Backpack" button in the right sidebar of my website if you're using a desktop computer.
The Amazon Influencer Application Process

Anyone can signup to become an Amazon Associate. It is a bit more challenging to become an Amazon Influencer. To become one, you must first apply on their website or be invited by Amazon.
In order to qualify, you are required to have an active following on either a Facebook, Twitter, YouTube, or Instagram account. Amazon looks at the number of followers you have as well as the quantity and quality of your audience engagement. They also like to take a look at the types of things you post about.
If you do not qualify for the program the first time you apply, don't worry. The eligibility requirements may change over time and you are welcome to try again in the future.
Once you are successfully accepted as an Amazon Influencer, you'll receive your own customizable page on Amazon with a vanity URL. You can use this to showcase products you love and wish to recommend to others.
The direct link to my Amazon shop is: www.amazon.com/shop/therockysafari
If you're wondering why you'd want a vanity URL, the most simple explanation is that custom URLs are easy to remember! Having a memorable link makes it easy for followers to find again in the future. It is a lot better than standard affiliate links which tend to include cryptic codes or even randomly generated IDs within them.
Amazon Influencer shops generate referral fees from qualifying purchases. Your profile on it can be set up to include social links back to your social media pages and website too!
To apply, you can visit this link: https://affiliate-program.amazon.com/influencers
During your sign-up process, make sure to select the social media account where you have the most significant and largest influence on your followers.
Amazon provides very helpful guides with tips that can help inspire you on how to share your links on social media channels along with your website. Of course, always remember to include proper disclosures to uphold high ethical standards and to comply with regulations.
As an online content creator, I am so excited to see what comes of this partnership in the future. I believe the Amazon Influencer Program has a lot to offer everyone: shoppers, brands, readers, and sellers alike.
If you run a blog, I encourage you to sign up for it!
Here's a link to the guide I put together to help you with that:
If you're looking to join the program, you'll find I walk you through the steps in great detail.
The purpose of this guide is to explain what the Amazon Influencer Program has to offer, how you can make money online with it, and what steps you should follow if you want to try to get accepted into it.