Last Updated on September 16, 2023
The following post was written by Peter Minkoff. Peter is a LGBT lifestyle and travel writer. With Pride season right around the corner, it won't be long before Pride celebrations start to take place all across the world. In Peter's guest post, he discusses how to pack for your first Pride. Enjoy!
Guest Post by Peter Minkoff
---
Yes, black and white are totally in fashion now, but let's focus on something more colorful now. What about the most colorful? Gay Pride! These must-attend events are organized all over the world – some are excellent, some not so much, but suffice it to say that they're all super fun. However, no matter where you're going, either a different city or a totally different country, having all the essentials with you is of the utmost importance. If you're a newbie, you might think that you just have to bring anything that you would to a regular trip, but this is where you'd be wrong. Gay Pride is something totally different. Take a look at the following list, as we will tell you exactly what the things you need to have with you are.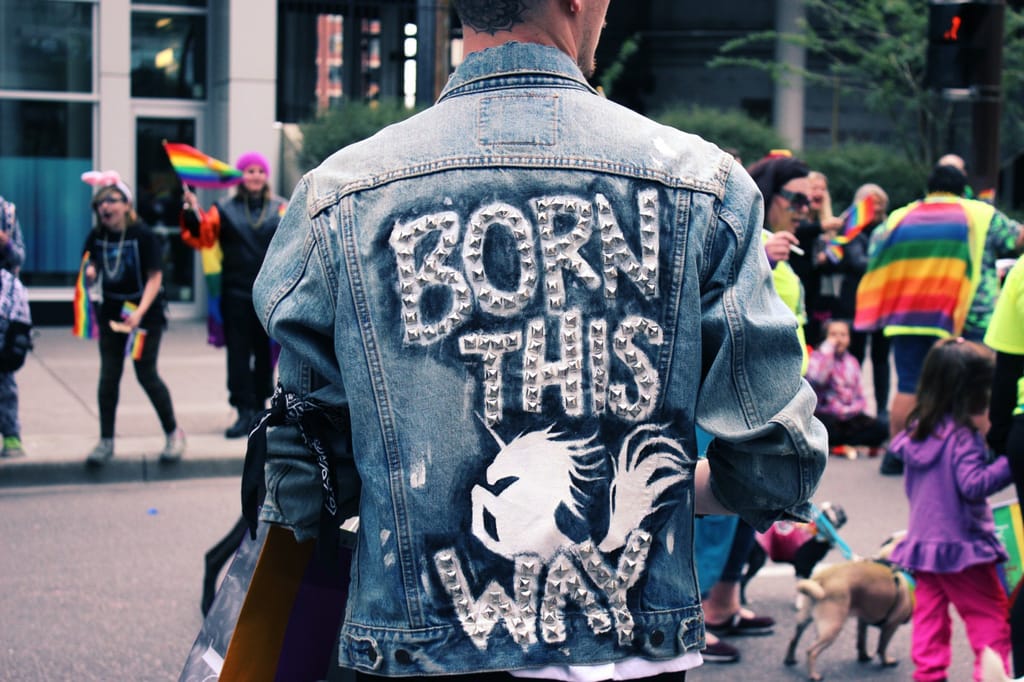 The Essentials
Having all the necessities with you is the most important thing. No matter if you're going to Berlin, New York City or Australia, make sure that you have all the documents with you (passport included if you're going to be leaving your country). As far as clothing is concerned, you definitely need to make a plan of all the outfits you will be showing off at Pride. By doing so, you will save so much time (and nerves) when the actual day of Pride comes. Also, there might be some accessories that you cannot forget because your outfit depends on them. For example, if you're going to be a sexy ship captain, forgetting your captain's hat is a big no-no. Finally, make sure that you bring anything you need from the cosmetics department. Pack all the moisturizers, crèmes and body lotions.
Comfortable Shoes
As you will be dancing and walking most of the time (hopefully occasionally kissing a handsome stranger), having comfortable shoes in your suitcase is the most important thing. The best option would be New Balance shoes, as they are both very comfortable and very popular. That way you will get the best of both worlds! You definitely don't want to get blisters over the course of Pride, and you have to do everything in order to avoid that. Many make the mistake of wearing nice, but uncomfortable shoes to Pride so they end up being barefoot which is certainly not sexy in this context.
Good Underwear
Yes, taking someone home after Pride is really important, but we're not talking about that now. While you'll be walking amongst hundreds of handsome (and less handsome) gays, your underwear will be visible at some point, so you better equip yourself with good and sexy underwear. If you add the first thing on the list, having good underwear seems like a must, doesn't it? If you want to be bold and fabulous, you can hit your favorite underwear shop and get yourself something edgy and sexy. Somebody will definitely see your underwear (especially if you strip during Pride which is definitely a big experience), so it would be best to avoid the embarrassment of having poor underwear.
Accessories
Another thing that you have to think about are all the accessories that you want to take with you for your trip to your first Gay Pride! Make sure to put headphones on the list, as the journey can be daunting and tiresome, and you don't want to spend it silently watching through the window. Moreover, don't forget Gay Pride accessories, such as rainbow flags, badges, glitter and all the sexy see-through t-shirts you might wear there. Why not have those nipples, arms and abs be seen? If you want to dress up as a character from your favorite sex fantasy, put the equipment that you need on paper (depending on the outfit, of course!)
Condoms
Last, but (believe us) not least – condoms. Yes, you will be able to purchase them there, but it's always better to have them with you just in case. Even though you might not necessarily use them for their purpose, you never know when you will want to make balloons that you will carry around. But who knows, maybe you'll be using them for their intended purpose.
These are the most important things that you need to take with you, but don't forget your party mood. Pour glitter all over your body, work those ass and arm muscles if needed, and be sure that you will have the party of your life!
---
Peter Minkoff is a travel writer at GayRepublic and Men-Ual blog from Antwerp, living Between Europe and Australia. Follow Peter on Twitter!
SaveSave
SaveSaveSaveSaveSaveSaveSaveSave
SaveSave
SaveSave