Last Updated on September 29, 2023
While doing some marketing inside of The Home Depot I passed by their Halloween decoration section and began to think about how it was at this same point last year I was just beginning my journey working for Mad Science. What a blessing it has been to work for such a fantastic academically-focused company. It is so evident that Mad Science makes a noticeable difference in kids' lives. You see the way their faces light up at the mere mention of the brand's name. Mad Science embodies fun. Mad Scientists are the ones who go into schools and birthday parties to light things on fire, blow things up, and perform crazy "unpredictable" chemical reactions all in the name of science!
Most of my memories working for Mad Science stem back from throwing Halloween-themed parties simply because I did so many of them early on in my career! I was just getting my feet wet and it was when I made the most mistakes. (Let's not forget the little dry ice incident….) I mean, who could possibly forget the horrid witch whose face I would melt in such a terrifying way that sometimes the kids would literally SCREAM as I was pouring acetone over her eyes and mouth. Halloween felt like the best time for a Mad Science party because it was so natural and easy to blend in spooky storylines with the fire and chemical experiments we normally do.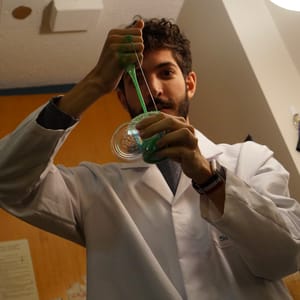 How It Happened
The fact that I ended up working for Mad Science began to feel more like fate than anything else. Everything happened so perfectly. I saw they had a booth at a Rutgers Job Fair and recognized the name from when I had a Mad Science birthday party of my very own! Check this out – it's my 7th birthday party invitation!
Honestly, my party was lotsa fun. I had such a great time that I remember it very vividly to this day. I remember being amazed by everything the scientist showed me. I wondered how everything he did worked. I wanted him to explain it all to me. I wanted the materials so I could redo the experiments over and over again. When I grew up, I wanted to become a scientist. And an artist. Those were my two things.
Those same experiments I watched in awe on my 7th birthday would later becomes the same ones I learned and traveled around the state demonstrating to kids of all ages every weekend a full 14 years later. Talk about going full circle!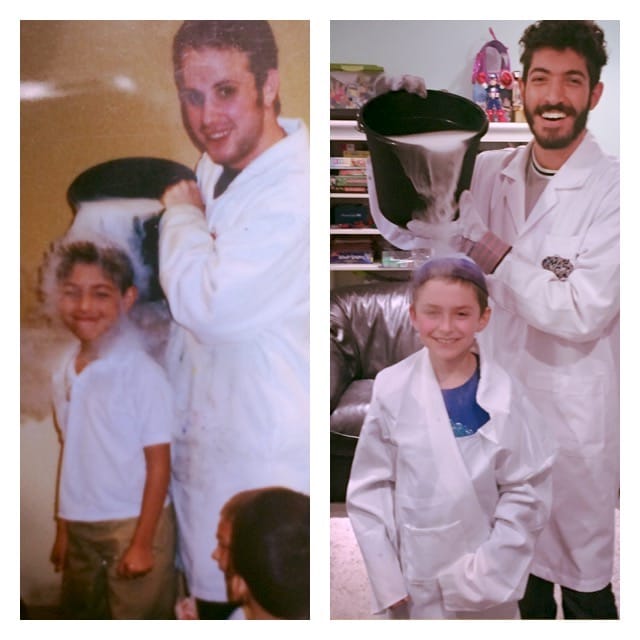 What I'll Miss the Most
The one thing I will miss the most about working for Mad Science is the kids. I will openly admit I went into the job very nervous I would not be able to relate or connect with the little ones. I worried I would lose control of them or find myself unable to hold their attention for the full 45 minute duration. I never expected to feel so positively at the end of it all. I had such a wonderful time working with the little scientists-in-training that I now miss sitting down on the floor with them as we learned the process of making silly putty. There was something so beautiful about their excitement towards science and their eagerness to learn alongside their friends and family.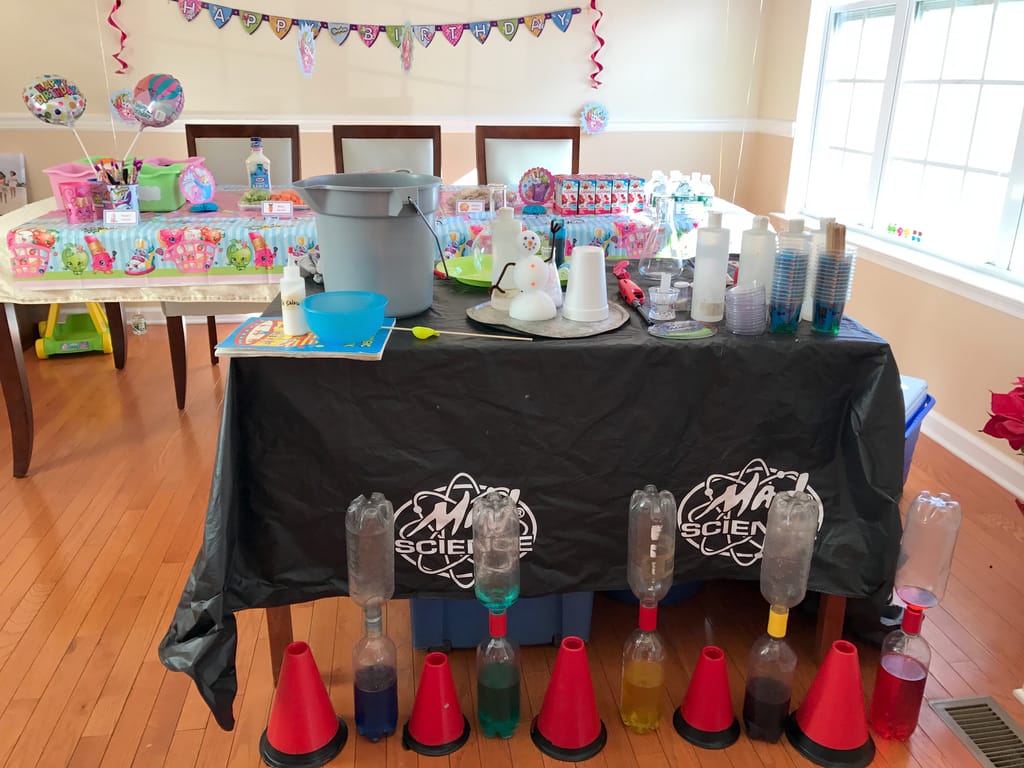 I will never forget all of their smiles as I made flash paper vanish in the blink-of-an-eye. The laughter at the notorious kid who would spill the oozy-gooey slime we spent 10 minutes mixing. The screams from the little ones as I brought about "summer" (the same acetone used on the witch) causing poor Olaf to melt. Oh what fun we had!
Heck, my Mad Science equipment even made its way over to Rutgers where I held a SLIME program in my Residence Hall! Everyone made multi-color glittery slime while we discussed the topic of diversity. Definitely a highlight of my senior year of college.
One of My Best Parties
At one of my favorite parties, I walked in on a group of YOUNG WIZARDS who were ready to learn! Every kid was wearing a black wizard's cloak. It was hysterical. My table had the Sorting Hat and crystal ball ready to go. I set up shop and began to make magic happen before their very eyes. (Just kidding, we actually began by discussing some of the differences between magic and science.)
I couldn't get over how well this family pulled off the Harry Potter theme. I mean, come on, they even
had candles floating from the ceiling!!!! How much cooler can it get? Even the table set up looked like something right out of the movie.
The food selection was simple but so fitting because of the theme. It looked incredible once it was all set up. I was so impressed by what this kid's parents put together for him. Being a part of all of this extra stuff makes the party job even more fun. I put in a lot of energy and effort because I was passionate about making sure every kid I encountered fell in love with science. I hoped they too would hope to one day become a scientist. I got especially lucky after I finished this party because I earned what was one of the best tips I ever received. (It was over $100!!!)
Thank you, Mad Science.
Mad Science helped me break out of my shell. I feel I impacted kids' lives in the same way they once affected mine. From birthday parties to large shows, I spoke and acted out in front of audiences of all sizes and age groups. I was doing crazy things I never would have expected from myself. It makes me sad to think I probably won't be doing anything Mad Science-related in the future but now is my time to move onto other new things. I have some big things in the works that will be requiring my full time and energy. I do hope to work with kids again in the future. Whatever ends up happening, I will be sure to carry my passion for learning, having fun, and teaching others into my future endeavors.
Revolving Rocky is hanging up his lab coat for what may be the last time as he begins to take his next steps in his journey through life.
SaveSave