Last Updated on July 28, 2023
Disclosure: This article includes affiliate links. This means I may receive a commission at no additional cost to you if you decide to make a purchase. To learn more about my expectations and philosophy toward fair reviews, you can visit my page for partnerships. You can read more about my affiliate disclosure within my privacy policy.
In 2018, I purchased a pair of Jet Black eyeglasses from Warby Parker called Moriarty.
Those frames were my favorite glasses I'd ever owned. While traveling, I received quite a few compliments regarding them from random people at the most unexpected of times. Those glasses were so different from any other pair I had ever seen before.
Their style and uniqueness really made them stand out. They were easy to recognize because of how unusual they were. I recall approaching 2 or 3 strangers who I spotted wearing Moriarty while out and about. It was a nice way to break the ice and bring a smile to a stranger's face by pointing out that we both wore the same specs.
Fun fact: Moriarty was worn on television by drag queen Aiden Zhane on RuPaul's Drag Race Season 12!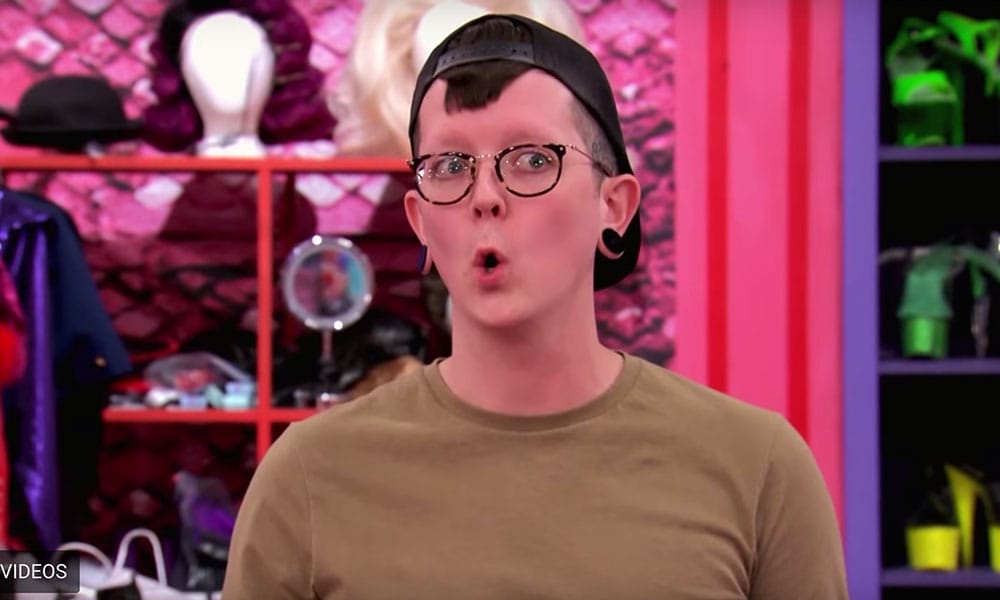 Moriarty frames from Warby Parker were very comfortable to wear and I enjoyed their style. The glasses were built from both metal and acetate. They featured thin metal arms and a rounded black acetate frame, finished with a silver accent lining the top.
To say I loved those glasses would be an understatement.
Then, in October 2019, I came across some VERY SAD NEWS.

Warby Parker had stopped manufacturing Moriarty.
How did I find out? I was trying to re-purchase my glasses in a tortoiseshell colorway known as Burnt Lemon Tortoise.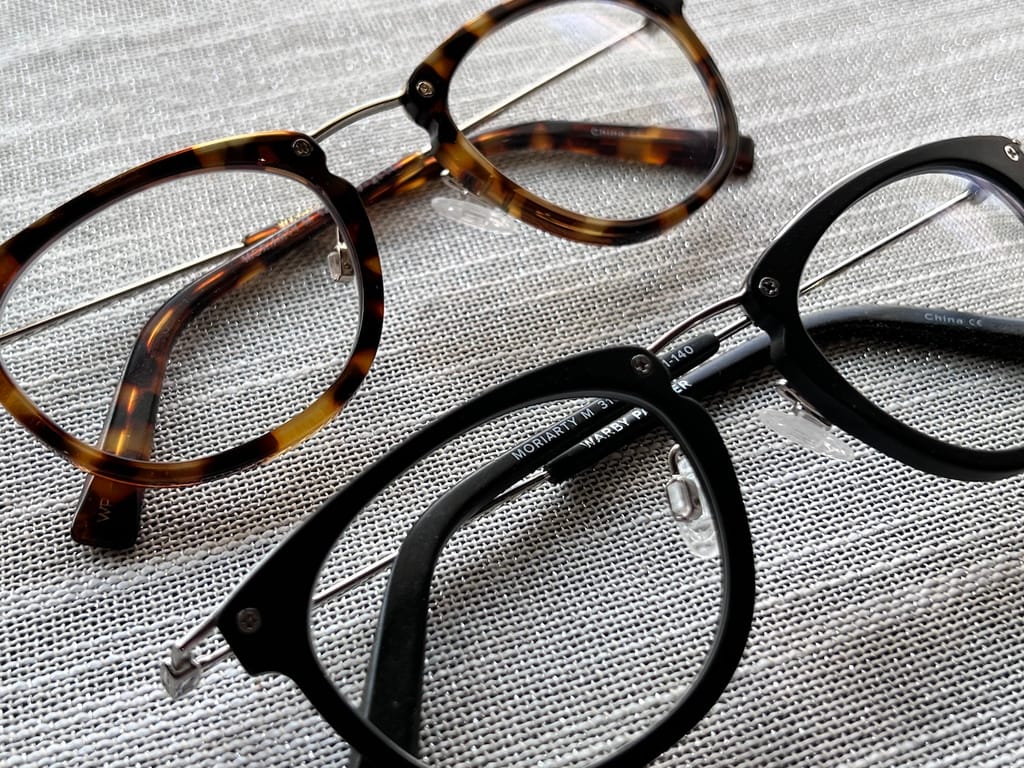 When I realized that I could no longer buy my glasses, my priority switched to preservation mode and I wanted to buy another pair of Jet Black Moriarty just in case something happened to the pair I normally wore.
I am not exaggerating when I tell you I scoured the internet to find those glasses.
I contacted Warby Parked begging them to bring back those glasses.
I was so invested in them that they even directly spoke to me in one of their official videos about the glasses on YouTube.
Click play, you'll hear — "Hi Rocky!"
I tried and I tried, mostly to no avail. I had all but given up on them.
Out of the blue, I tried looking them up a month or two ago when I decided I finally had to get new eyeglasses. My old Moriarty frames had reached the end of their life and I was going to need a new pair of glasses. What they'd be, I had no idea.
I was shocked to see that Moriarty has officially RETURNED to Warby Parker— and not only that, I'm low-key convinced that the memo on their website is directly referring to me.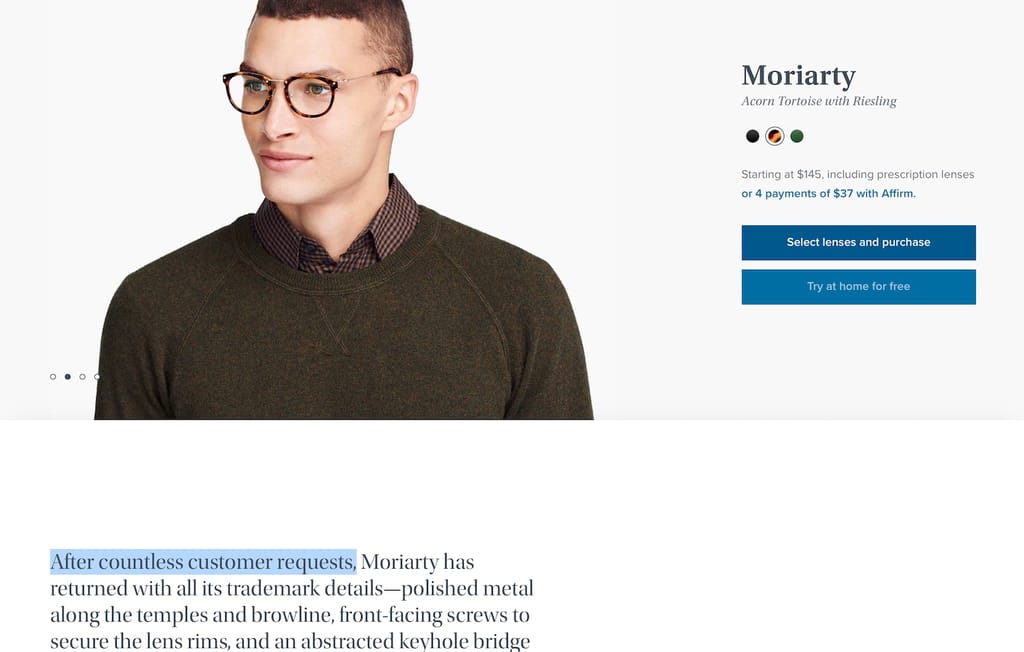 Why? Because, personally, I find it hard to imagine that anyone was as relentless as I was about bringing back these glasses. Hahaha.
Whether it was my incessant messaging or truly millions of people sending emails, I don't care what the reason for their return was. It's simply the fact that they've brought those glasses back that makes me smile.
My request to Warby Parker from 2019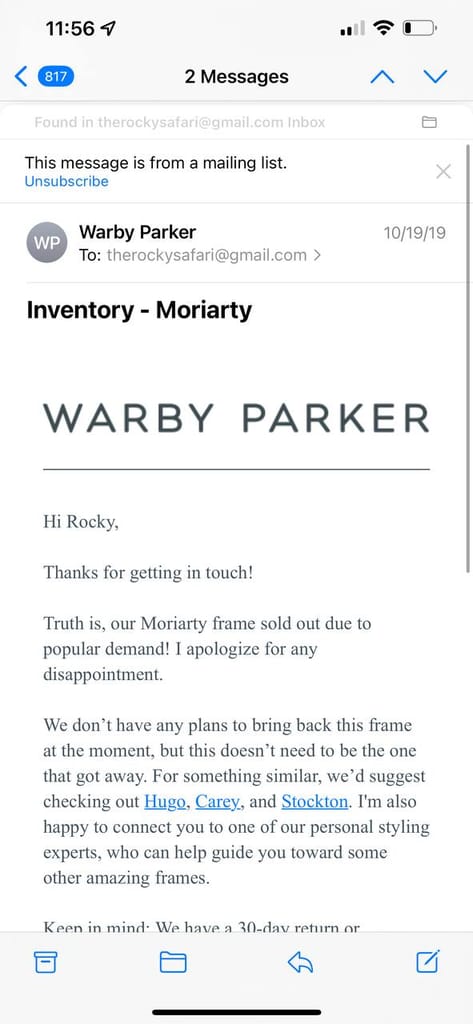 My request to Warby Parker from 2021
There were definitely a few other messages and emails that I haven't saved here. Naturally, it would be hypocritical of me to not purchase the glasses after working so hard to get them to bring them back.
On March 19, 2022, I reordered Moriarty in Jet Black AND Acorn Lemon Tortoise.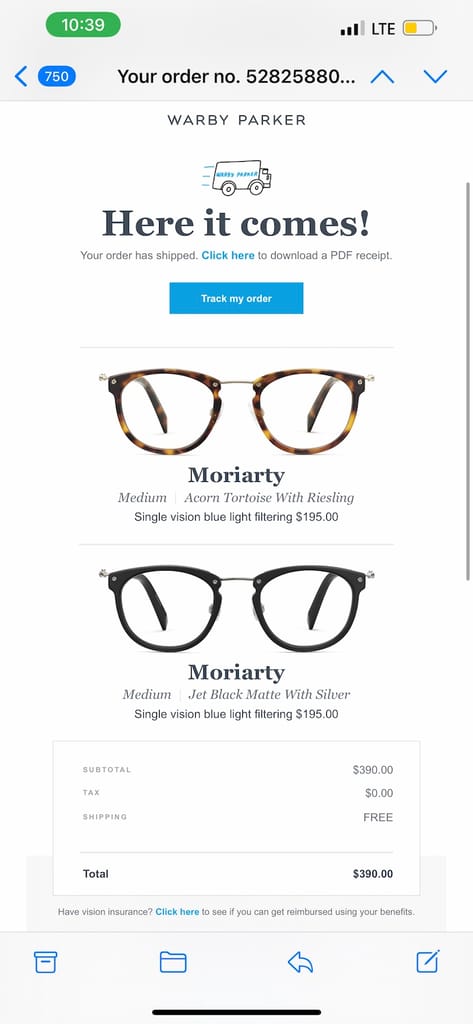 The first thing I noticed was that the glasses were slightly different from the originals. In 2018, Moriarty was manufactured in Italy. In 2022, the new version is manufactured in China. The quality is not drastically different, but I did experience a quality-control issue with my order.
The Burnt Lemon Tortoise frames were perfect. I was happy about that because they were the glasses I set out to buy in the first place.
The Jet Black frames had a slight defect. Sadly, I ended up needing to return them.
It's a subtle detail and it may be hard to notice from this photo but the silver metal lining the top of the frames was lifting up from the acetate on one-half of the glasses.
In the end, I ended up deciding not to request a replacement of the Jet Black and to retune them, keeping only one pair- the tortoiseshell. I was planning on also getting a different pair of glasses so I would own more than one style.
Unlike my original order, I also did the Blue Light blocking upgrade for the lenses. The blue light filter turned out to be rather subtle. Given the choice to redo my order, I think I would have opted out. I preferred the normally clear lens because the blue light filter adds a more prominent reflection/glare when people look into your eyes. It also interferes with photographs and selfies which can be equally as frustrating.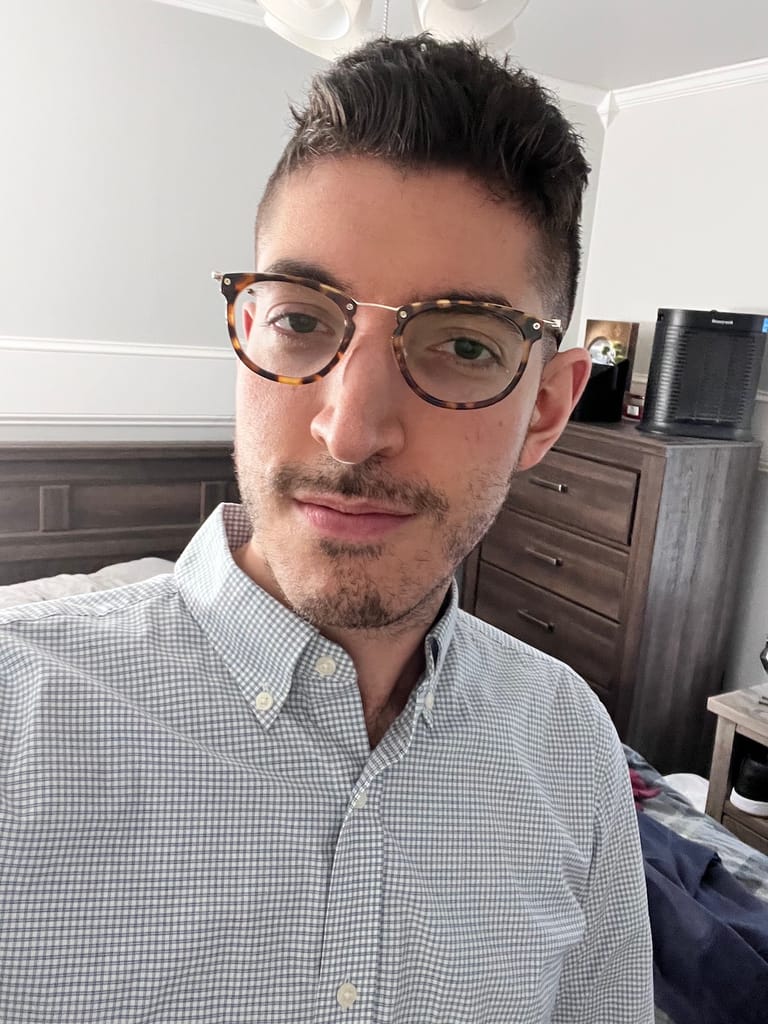 In the end, I am beyond thrilled that they've decided to bring back my favorite frames.
Special Offer:
In addition to prescription eyewear, Warby Parker now sells contact lenses too!
With a prescription, you can buy most of the popular brands straight from their website.
In January, I went to visit my ophthalmologist and asked if I could sample a number of different brands of contact lenses.
I sampled:
Acuvue Oaysis Dailies

Total Dailies 1
Acuvue Moist Dailies
After a few days of using each, I came to the conclusion that I preferred the Acuvue Oasys contacts the most. Usually, you can ask your optometrist for samples to see what works best for you.
Of all the places I've tried shopping to order contacts, Warby Parker seems to offer the best pricing with their current offer of 15% off your first order.
If you're a frequent (or total) contact lens wearer, I believe it could make sense to place a one-time order for a year's worth of lenses.
Dailies are expensive, but I find them so much better than weeklies and monthlies. I used to use both.
If you'd like to purchase contact lenses from Warby Parker, you can do so here.
First-time customers can get 15% off their first order of contacts by shopping with Warby Parker!
Affiliate Disclosure: *I was compensated for this post. This post also contains affiliate links, and I will be compensated if you make a purchase after clicking on my links.