The food in Croatia was one of the best parts of my visit. I thoroughly enjoyed so many of the dishes I sampled during the month I spent living in Zadar.
When I first arrived in the country, I honestly had little idea of what to expect from Croatian cuisine. I suspected there might be a large seafood presence given the country's close proximity to the sea but beyond that… it was all speculation.
Now that I've tried various Croatian dishes, I wanted to put together a list of the 5 most memorable foods I tried during my visit.
5 Foods To Try In Zadar
1. Truffle Gnocchi
On my first night in the country, I watched a YouTube video about Zadar which mentioned one specific restaurant in Zadar's Old Town called Konoba Skoblar. The traveling couple from YouTube hyped up the truffle gnocchi dish so much that I knew I had to add it to the top of my ever-expanding list of places to go and foods to try while traveling in Croatia.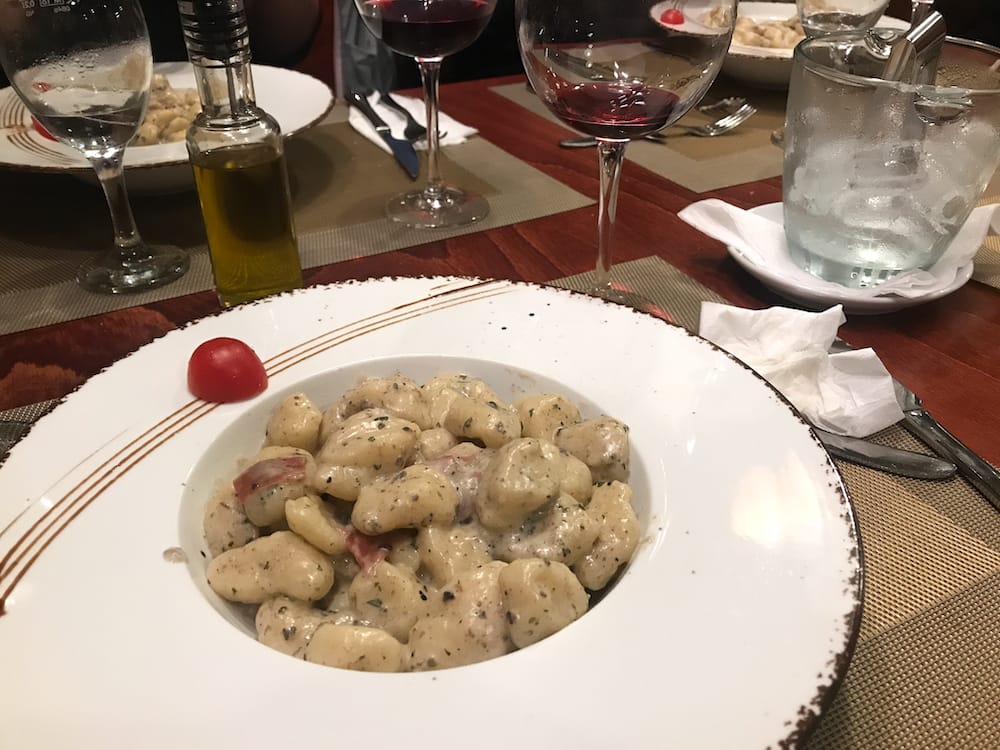 Early on during my stay, I made a point of going to the Skoblar to try their truffle gnocchi dish.
The gnocchi did not disappoint. I love truffles so I thought the creamy, cheesy, mushroomy gnocchis were really delicious. 🙂
10/10 would recommend!
2. Black Risotto
Black risotto is something you must try while in Zadar. If you're reading a menu in the local language, look for "crni rižot".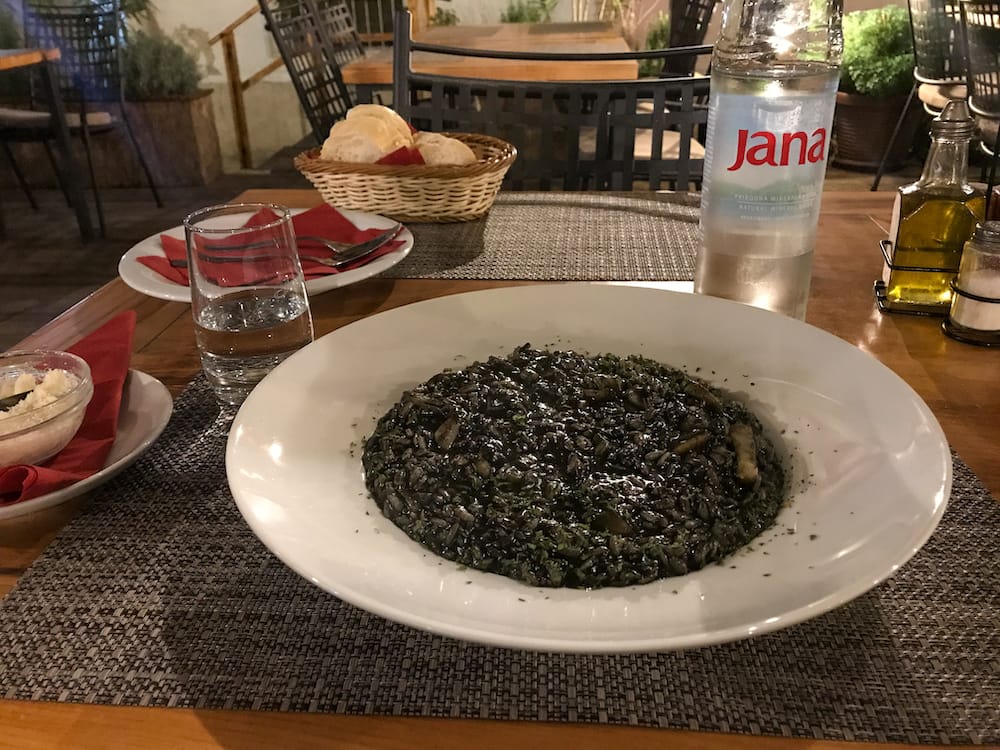 My #1 favorite food from my time living in Spain was a Spanish dish called arroz negro or "black rice." It's a black paella with seafood and sepia ink which is a sea creature not too different from a squid.
The main difference is that arroz negro is typically a bit drier; the rice found in the Croatian risotto was a lot moister in comparison. I prefer the Spanish dish, but I was SO happy to see this entre in Croatia that I probably ordered it at least once a week.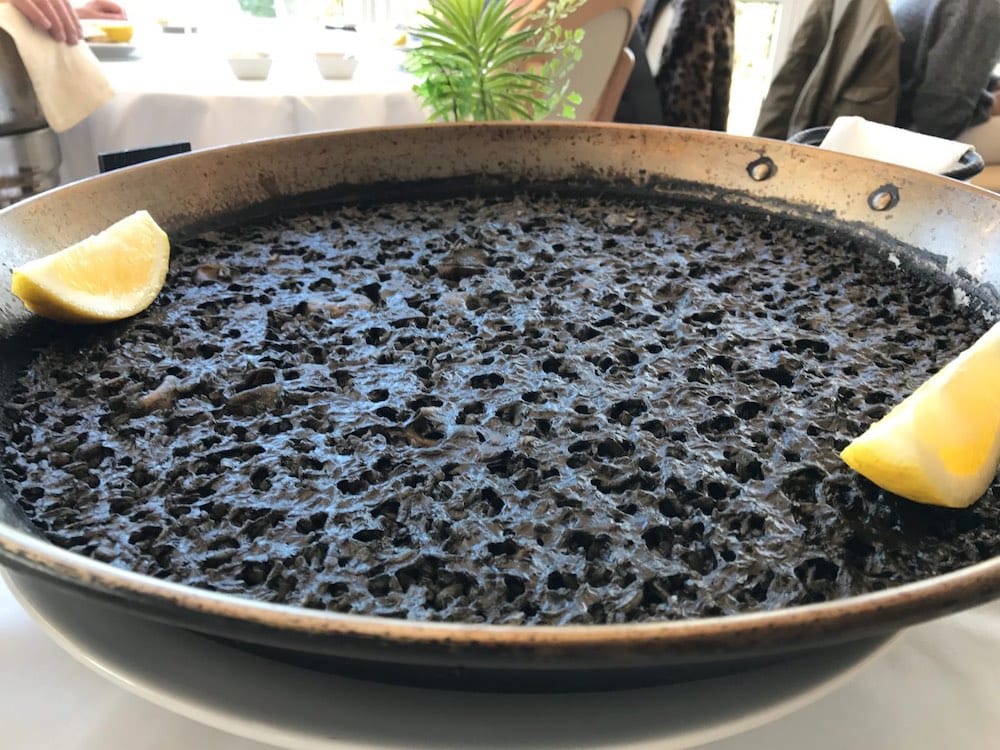 Perhaps it is not the most visually appealing dish, but I really, really loved it which is why I was absolutely thrilled to find a very similar dish that existed in Croatia.
The best place I found to order this from in Zadar was the KONOBA Karuba.
Warning: This WILL turn your whole mouth black.
Do not order on a first date.
3. Seafood Risotto With Truffles
At the 4 Kantuna restaurant in Zadar, I decided to order a different type of risotto. Instead of one containing black ink, I chose to get risotto with Adriatic shrimps and truffles. (I was on some sort of a truffle-kick in Zadar, apparently.)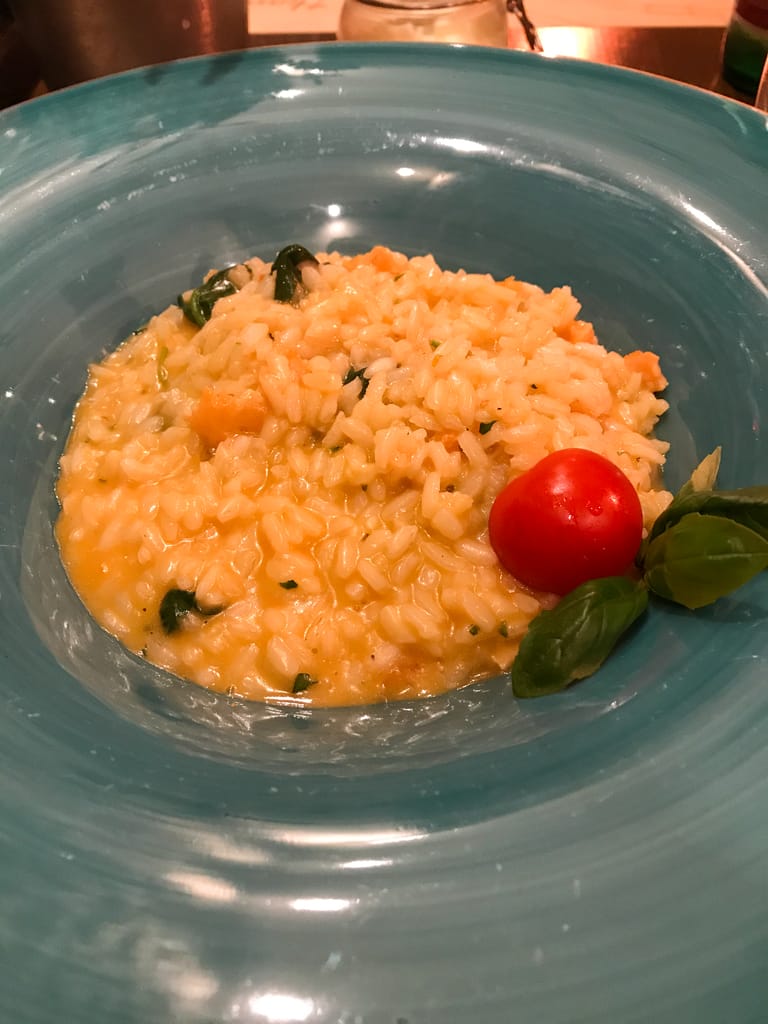 This tasted really good too. The seafood tasted really fresh and the sauce was light. It went well with a garden salad and a glass of white wine.
The Motovun forests of Istria, Croatia contain some of the highest concentrations of truffles in the world. Even though Croatia's truffles are not as well known as Italy's, many people say Croatia's have a stronger aroma. They're also significantly less expensive than Italian truffles.
One multi-course meal with a generous amount of truffles would cost half of what it would cost if ordered in Italy! If you enjoy truffles, you can save a lot of money just by dining in Croatia!
4. Grilled Chicken & Vegetables
Grilled chicken with vegetables was a dish I often ordered in Zadar, Croatia.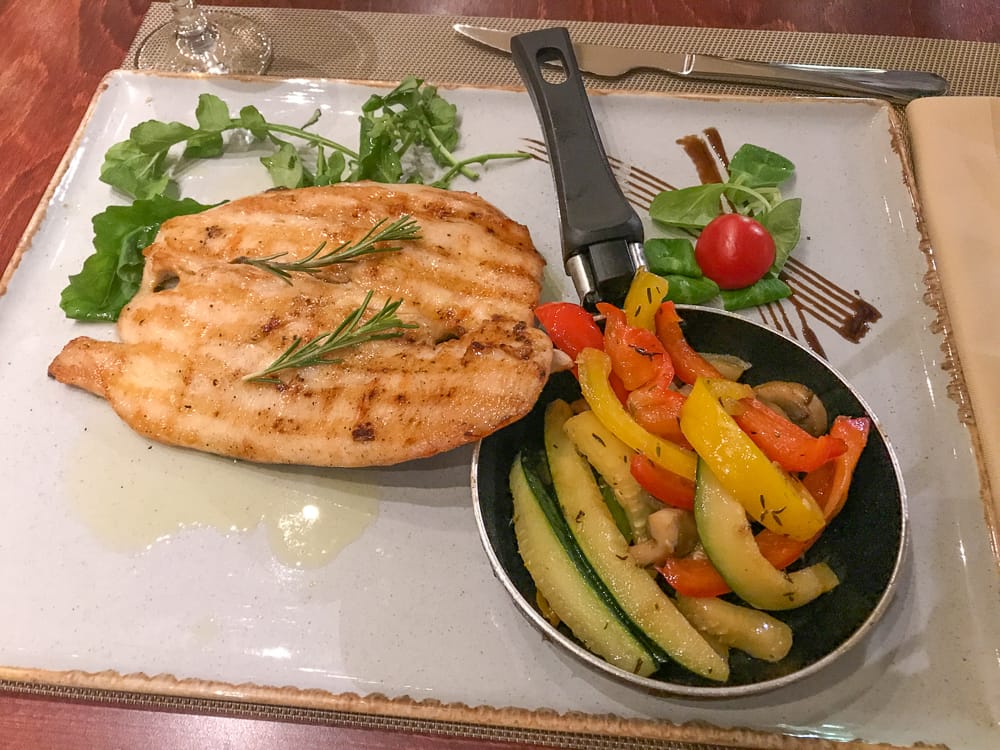 At the Konoba Skoblar, I oftentimes returned to order this simple dish. Even though this is not necessarily anything specific to the region, I thought it was a really healthy, simple, and nice platter the way they prepared it.
If you're in Zadar and stopping by the Skoblar restaurant, it is worth ordering! The meal is very affordable and the chicken tasted great.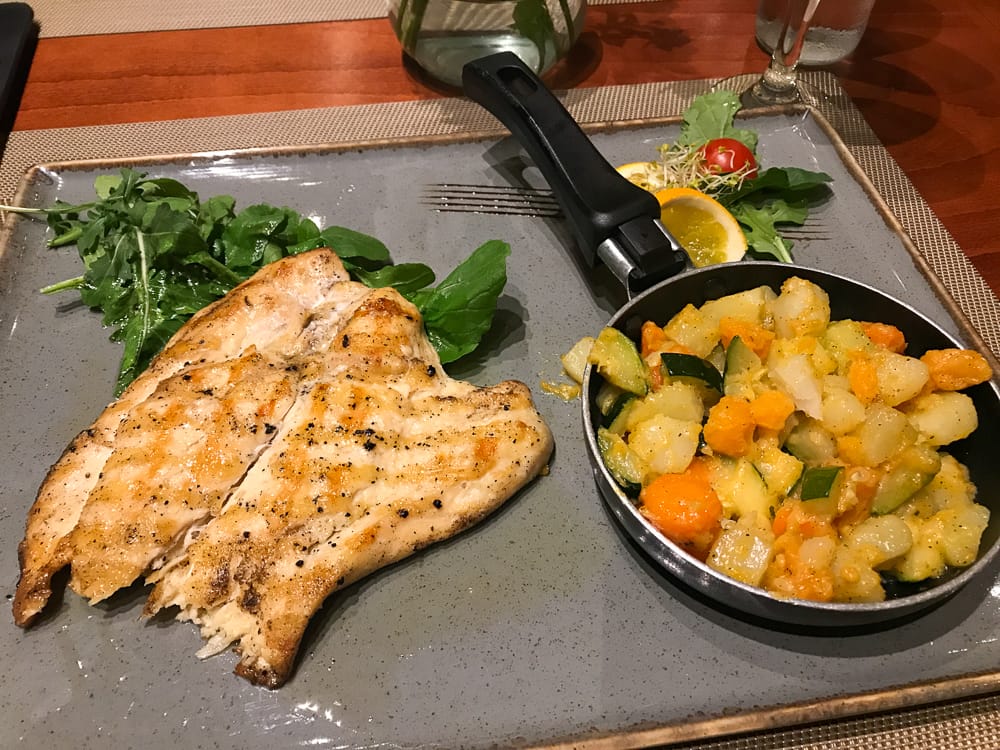 There's definitely a bit of variation from one cook to the next because even during the month I spent in Zadar, this platter would oftentimes come out with different sides depending on the day. I'm not sure if there was a specific reason for the slight variation. I suppose different chefs at the Skoblar just prepare the dish differently.
Paired with a small glass of Croatian rakija, you'll enjoy this meal a lot.
5. Apple Strudel
My fifth recommendation falls more into the "dessert" category, but I wanted to include it nonetheless. I saw many apple strudels sold in cute, little bakeries lining the streets of Zadar's Old Town.
Apple strudel, strudel od jabuka, is a traditional Veinnese strudel. It is a popular pastry in Austria, Bavaria, the Czech Republic, Italy, Croatia, and many other countries in Europe that once belonged to the Austria-Hungarian Empire.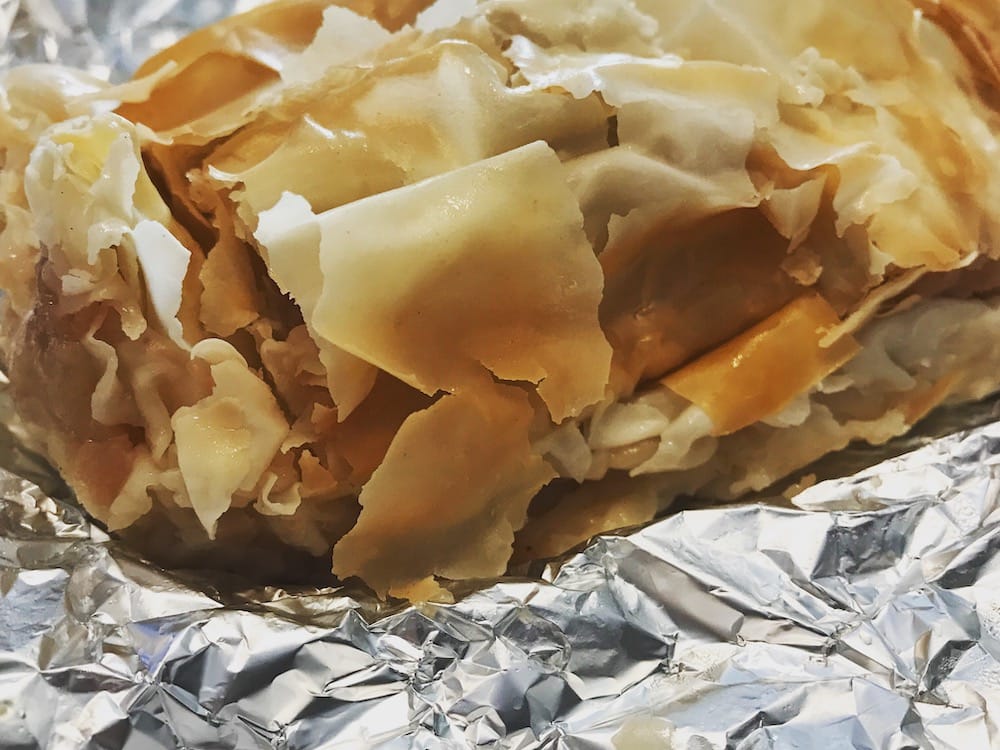 I was gifted a homemade apple strudel made by a local Zadar resident. It was the most delicious thing I had tasted in a long time.
The outside was flaky and broke apart with a nice little crunch. The inside was filled with a natural, sweet apple filling that you could tell was fresh. The woman who baked it explained to me how she doesn't like to add sugar while baking which made me even happier to hear because I am anti-added sugar. Instead, the sweetness was simply from the apples baked inside. It was so good!
---
Bonus: 5 Other Foods To Try in Zadar
---
The next five things to try are sort of silly, but I wanted to mention them just because they are, indeed, memorable which is essentially what this list of the best foods from Zadar is all about.
6. Street Pizza
Sometimes a quick slice of pizza is all you need. One afternoon, I was rushing to visit my pigeons from Croatia so I grabbed a quick slice of ham pizza from a street vendor.
I took a big bite. My teeth sank in and a moment later, I almost spit out the whole thing!
My pizza tasted just like cardboard.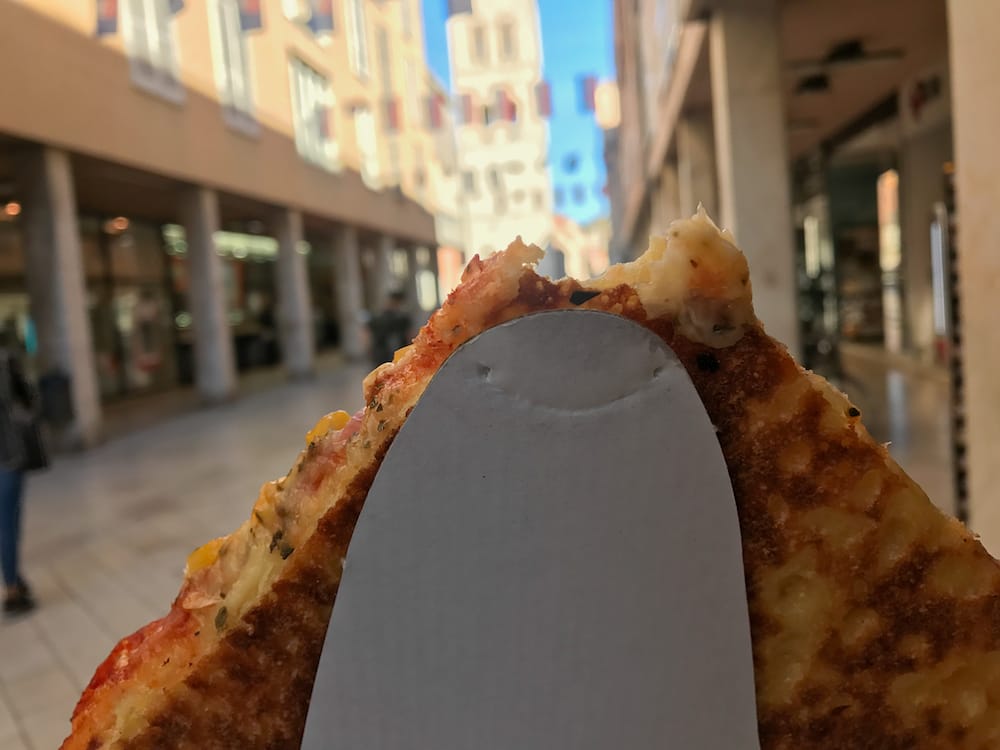 As embarrassing as this is, I looked down and realized that there was a cardboard holder underneath my pizza that I never noticed. I was in full-blown chomp-mode and bit right into it without noticing the slice was on a holder.
That was when I realized my pizza tasted like cardboard because it literally was.
7. Schär Gluten Free Bread & Olive Oil
I am fortunate to be able to eat products containing gluten. Still, for whatever reason, I decided to purchase gluten-free Schär bread while living in Zadar.
This brand of bread tasted really great. What's even more strange is that the bread ONLY tasted this way in Zadar, Croatia. I tried it in Spain, Poland, and other European countries. I analyzed the ingredients and noticed that it actually changes depending on the country you are in!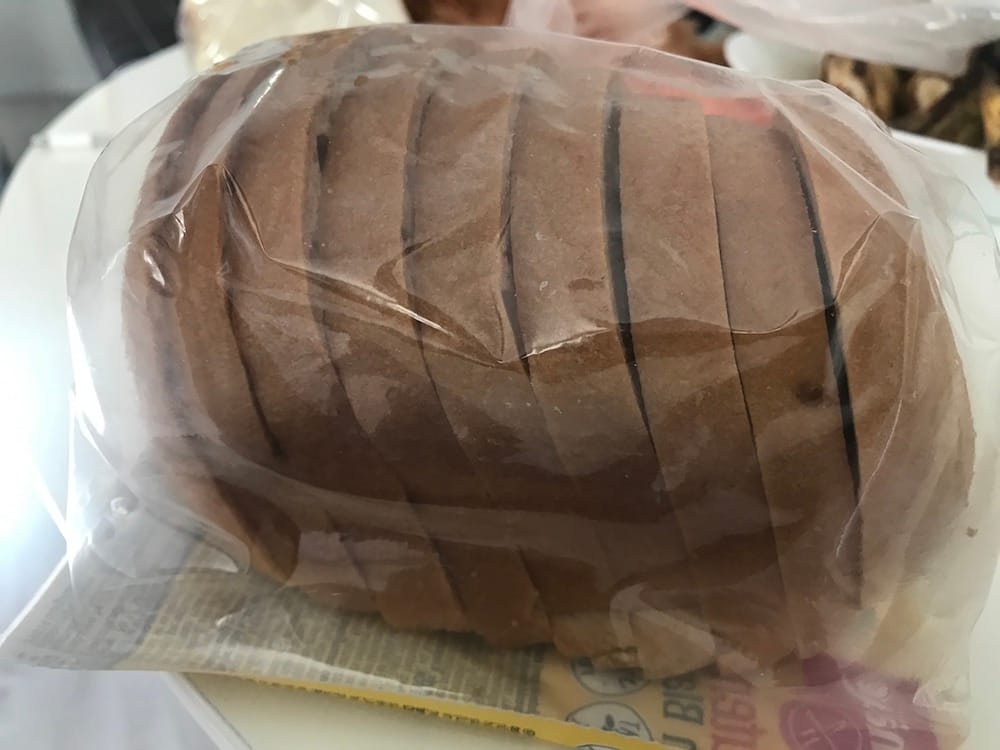 You have to try it in Croatia specifically. With some locally-made olive oil to dip in, WOW, it is delicious. The bread is so soft and really brings out the flavor of whatever you eat it with!
8. Street Sandwiches
If you're backpacking and looking for an inexpensive lunch, the Old Town has little sandwiches for sale that are really cheap. They're really filling too! They have meats, cheese, and vegetables inside. There are a ton of choices and none of them cost much.
During my visit, one large sandwich was 17.50 Croatian Kuna which is the equivalent of roughly 2.75 USD.
9. Oranges & Other Locally Grown Fruits
The oranges grown in Croatia are great. So are all of the citrusy things: lemons and limes too. You should try them all, if possible. You can buy them and cook with them or order foods that come with them at restaurants. These were harvested locally right off of an orange tree.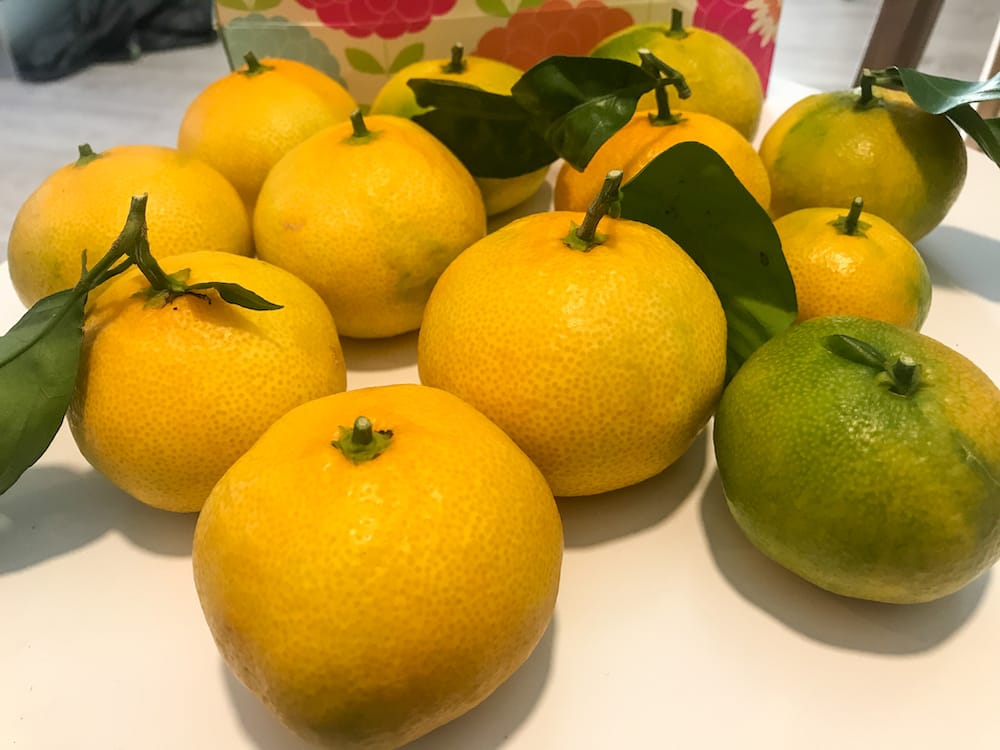 The oranges from Croatia reminded me a lot of the oranges grown in Valencia, Spain but they still tasted a little different. I think Spain's oranges were sweeter. These were a little bit sourer, but I enjoy sour things so I liked them. I was gifted a lot of freshly grown oranges from locals that I enjoyed quite a bit.
There are even pomegranates growing in Croatia. I had the pleasure of trying some of them too and they were quite good. The pomegranates grown in Croatia are huge. Definitely bigger than the ones I used to find in supermarkets back home.
10. Figs!
Croatia is a dream destination for all fig-lovers. I tasted locally grown dried figs, fig fruit bars, and even fig jam. All of them were made locally in Zadar by a good friend of mine who I met during my stay. I was honestly depressed when I finished all of it and didn't have any fig-flavored food left.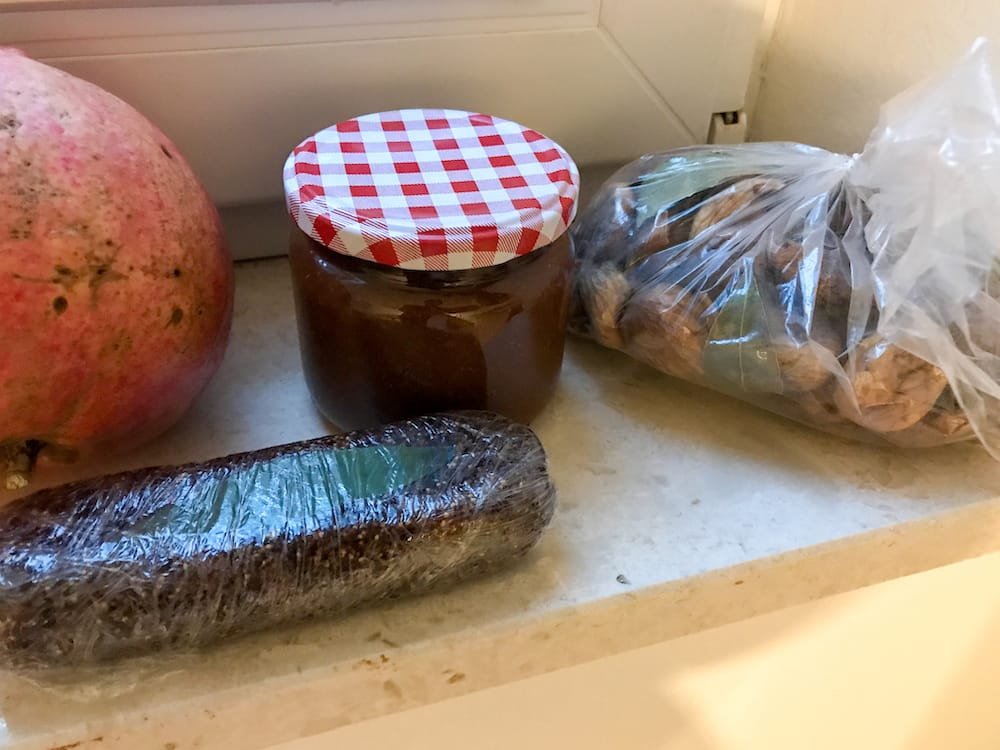 I love figs so much. I will forever remember how living in Zadar was like being in fig-heaven. <3
---
If you're planning a trip to Zadar, I hope this post has inspired you and given you ideas for different foods to try while you are there! 🙂