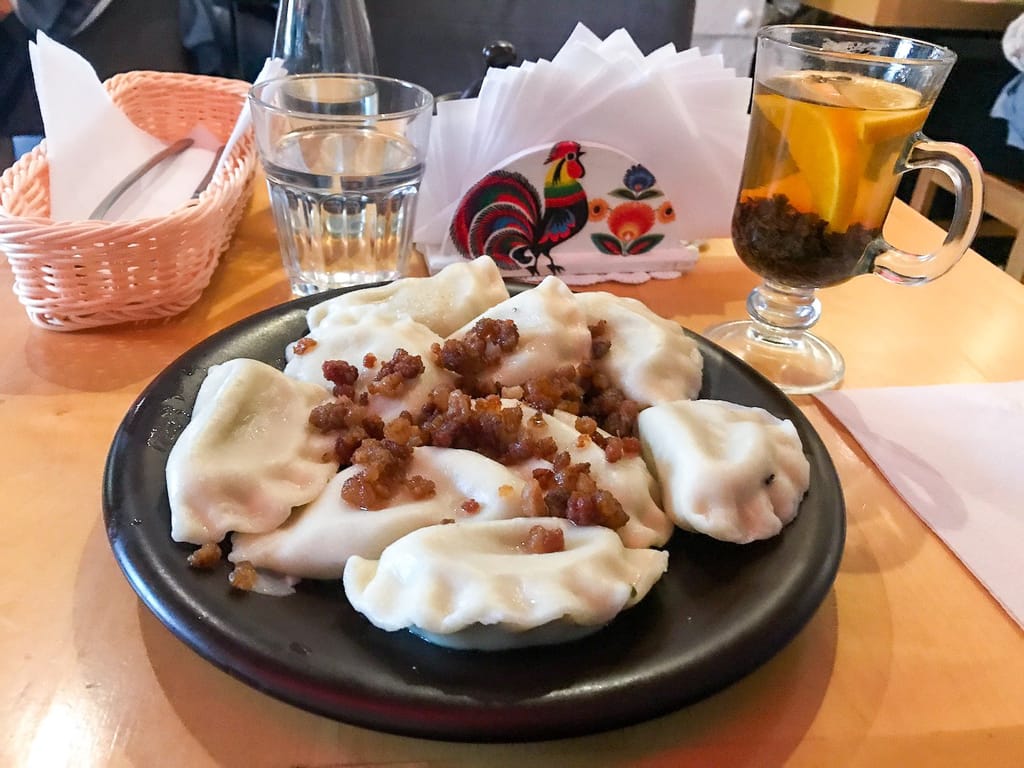 Trying new and unfamiliar kinds of food is one of my favorite things to do whenever I travel to a new place.
People sometimes ask me why I chose to travel to Warsaw, Poland when I was backpacking. The main reason I chose to visit Poland, in particular, is that before going, I knew relatively little about the country's culture.
After spending a month living in Warsaw, I had the chance to taste and sample various traditional and common Polish recipes. I think learning about a country's traditional foods helps introduce you to a huge part of their culture.
Having spent about 30 days living in Poland, I definitely grew a new-found appreciation for the many unique dishes and drinks that I got to taste while I was there.
Here are 10 things you must try when you visit Poland:
1. Pierogi
Pierogies, Dumpings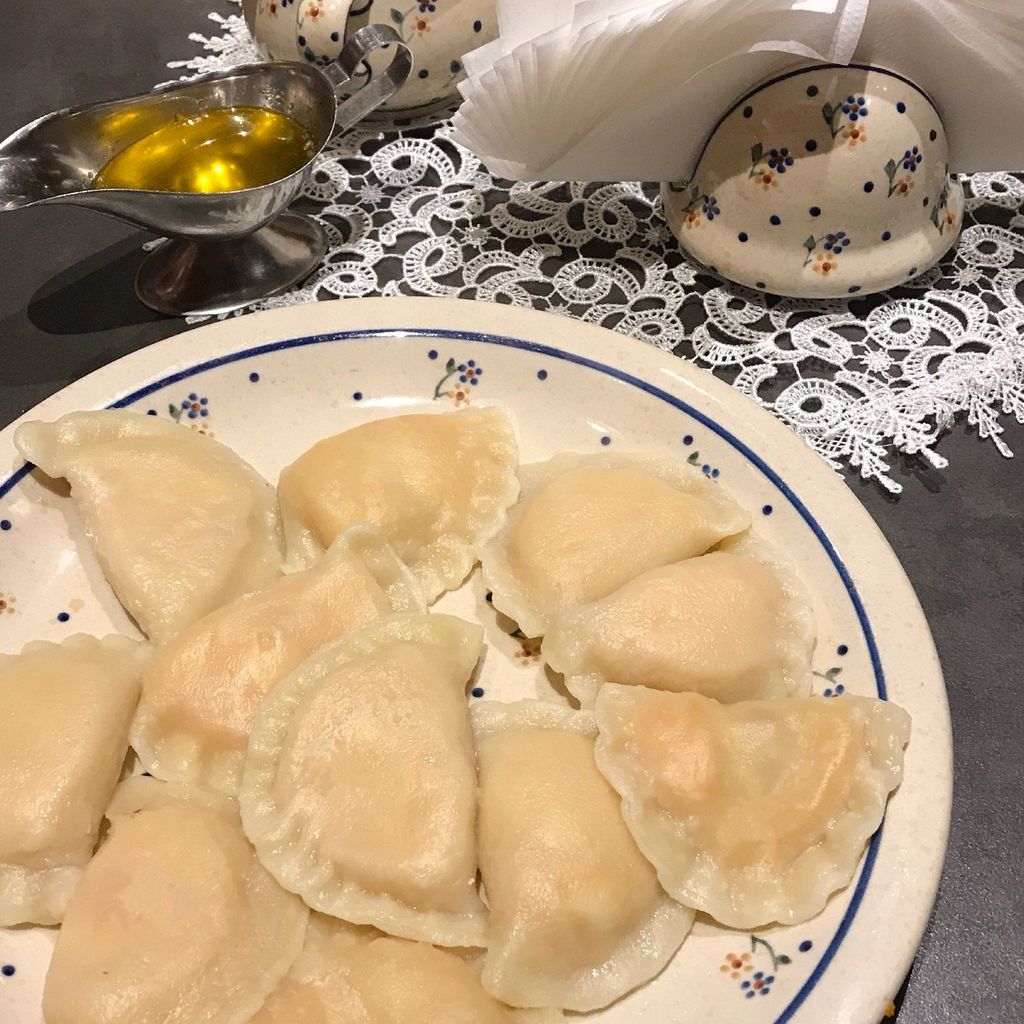 I'm sure no one will be surprised to find pierogies on my list. That's why I've decided to list them first.
To be fair, it would be an injustice to omit the famous Polish pierogi from my list when they were, in fact, a true staple in my diet during my time living in Poland.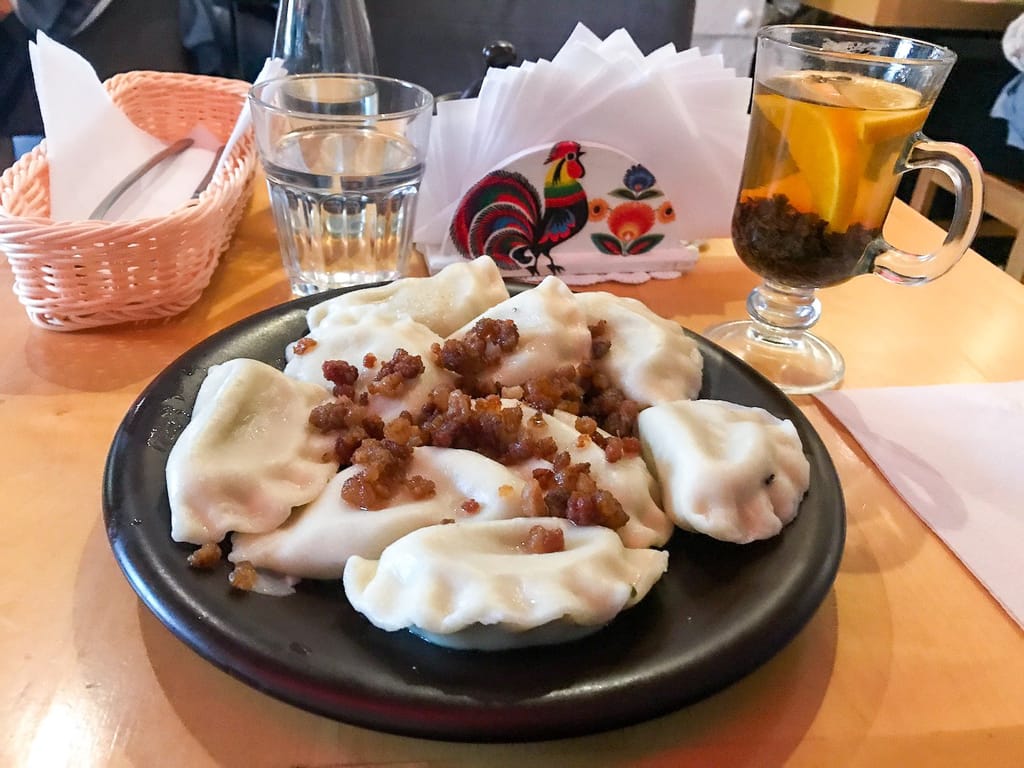 Something I learned in Poland is that there are so many different kinds of pierogies!
As you'd expect, you can order them with chicken, beef, fish, or veggies inside. However, I really didn't expect to find some other varieties like apple, strawberry, and even blueberry pierogies!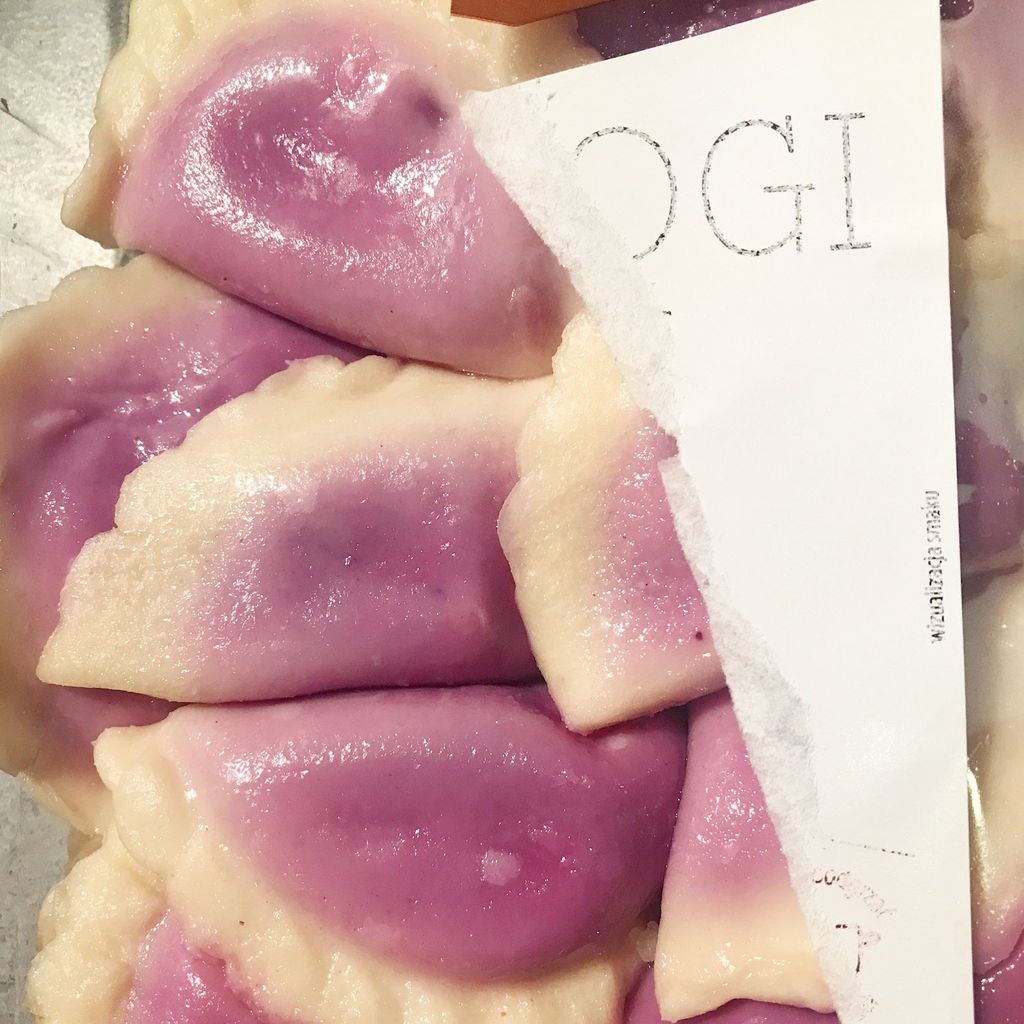 It turns out that sweet pierogi are not uncommon at all. The most popular kinds are filled with raisins, cottage cheese, and other kinds of fruit.
Pierogi are Polish crescent-shaped dumplings. They can be fried, boiled, or baked. Some other typical fillings cabbage, mushroom, potatoes, cheeses, and, of course, various types of meat.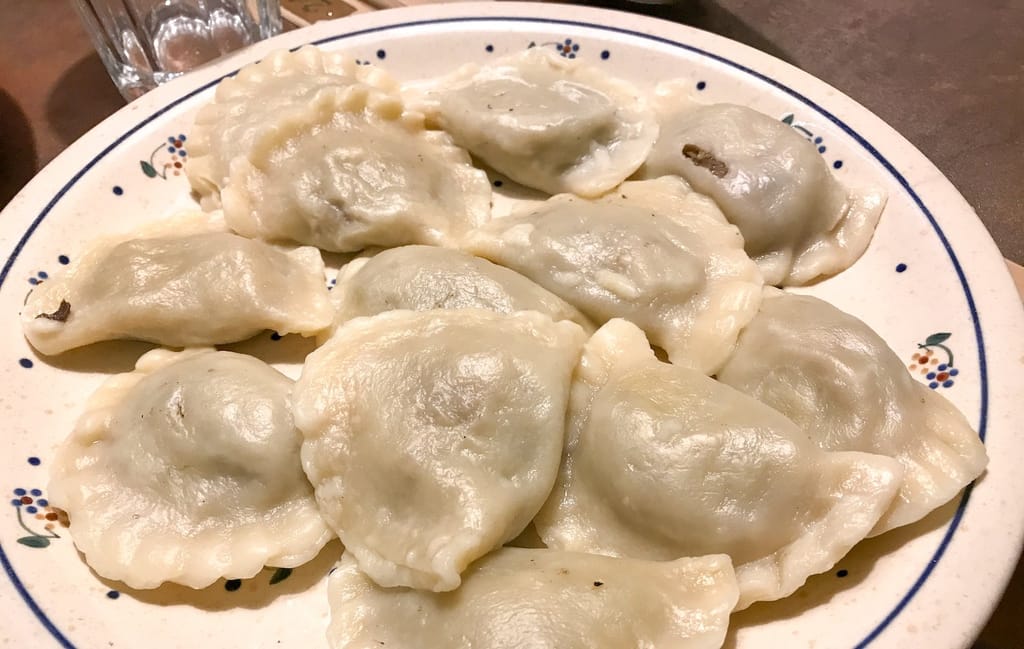 My favorite restauraunt to order pierogies from was Zapiecek Polskie Pierogarnie.
The average pierogi entree at Zapiecek costs between 30 to 38 złoty which, when converted into USD, runs between $8.00 to $10.00. Their food was delicious. I highly recommend their salmon pierogi with Camembert cheese.
2. Żubrówka Wódka
Traditional Bison Grass Polish Vodka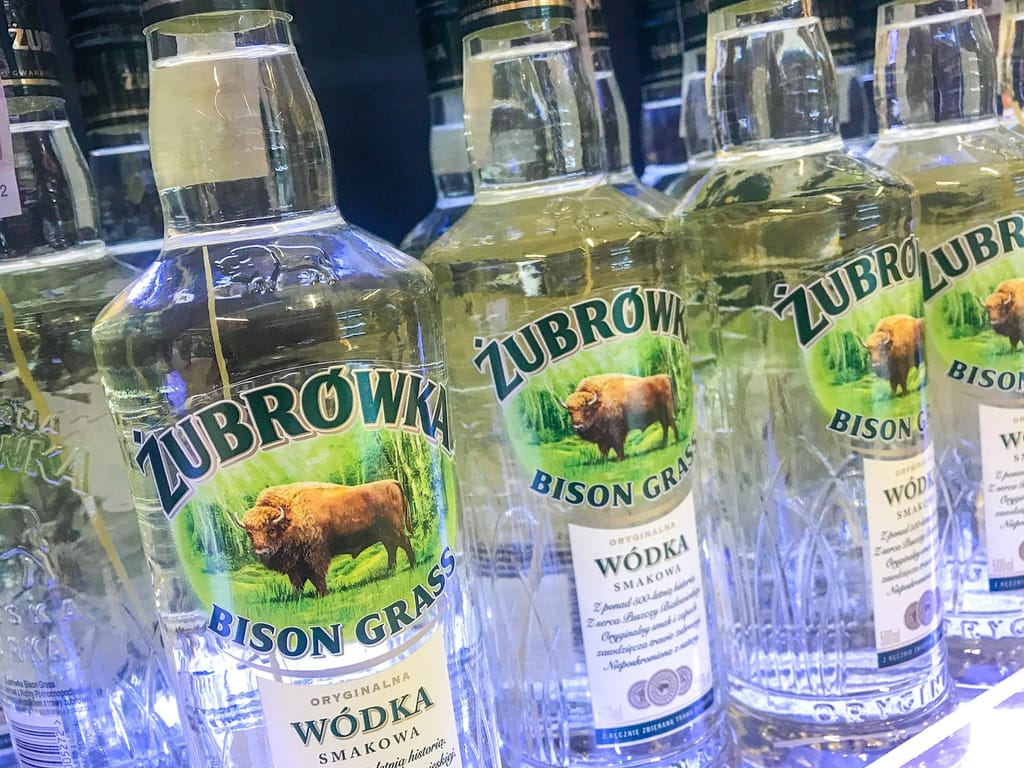 Perhaps when you think about vodka, you immediately think of Russia. Most countries known for the production and consumption of vodka lie in the "vodka belt." The "vodka belt" actually starts with Poland! Then it extends throughout Eastern Europe! Sweden is famous for Absolut vodka, which is perhaps the largest and most famous brand of vodka of non-Russian origin.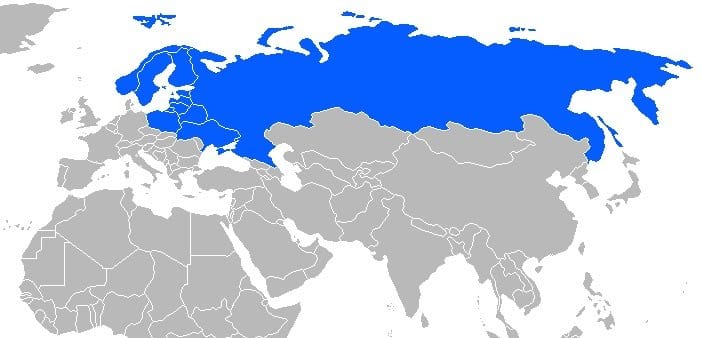 Żubrówka is one of the most popular brands of vodka in Poland. It is one of the top four best selling vodkas in the world. Each bottle comes with a blade of grass inside of it that adds an Earthy grassy flavor and aroma to the vodka.
They also make conventional vodka which is branded as Żubrówka Baiła.
This flavored liqueur's name comes from the word "zubr" which means European bison in several Slavic and Baltic languages.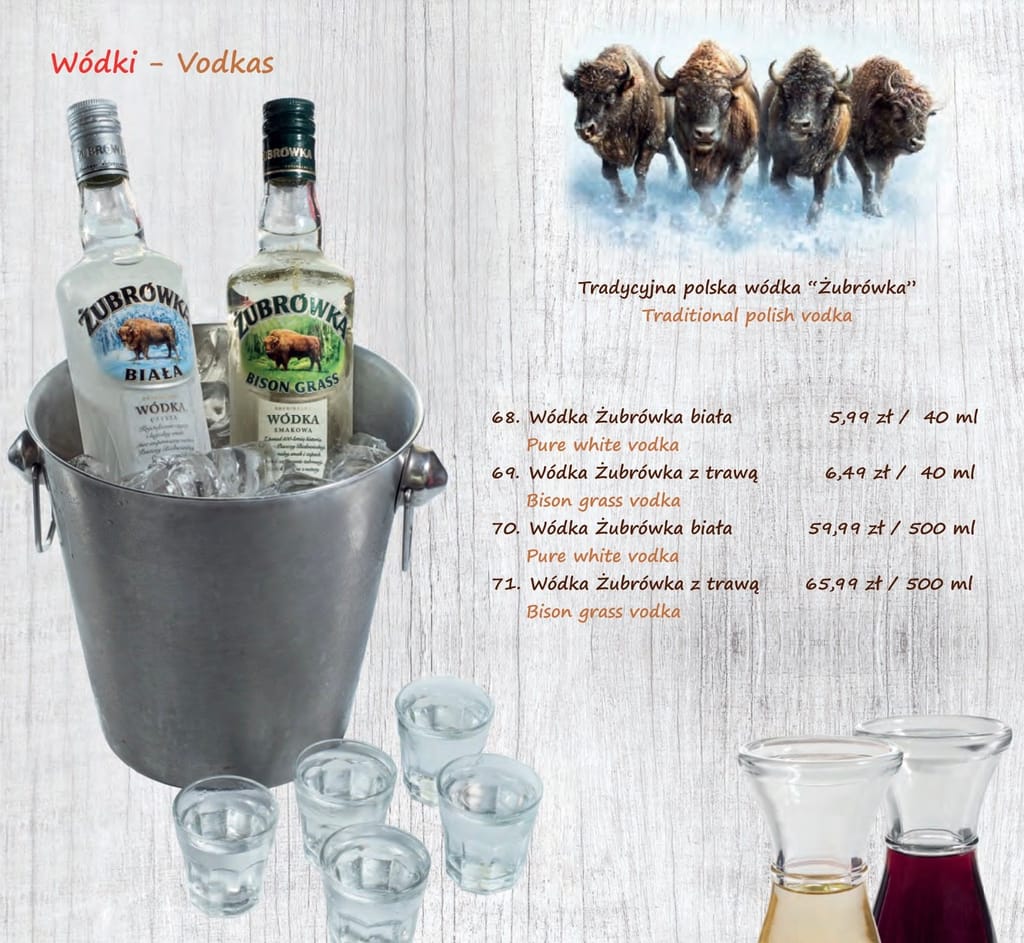 Fun fact: Before 2010, Żubrówka was illegal in the United States because the grass contained coumarin which the FDA did not allow. Now, Żubrówka makes a version from rye grain so that it can be sold in the United States. If you want to try the illegal original version, then you'll have to travel to its motherland.
Polish vodka is so popular that some of the major supermarkets I visited in Warsaw had entire aisles dedicated just to vodka, never mind all other types of liquor.
Żubrówka Bison Grass Vodka can be served chilled all on its own.
An alternative option is to mix it with apple juice.
This is known in Polish as "
tatanka"
or a "
Polish Kiss
" in English. On the recommendation of the bartender, this is what I ordered to drink
when I went clubbing alone in Warsaw
.
3. Barszcz
Beetroot Soup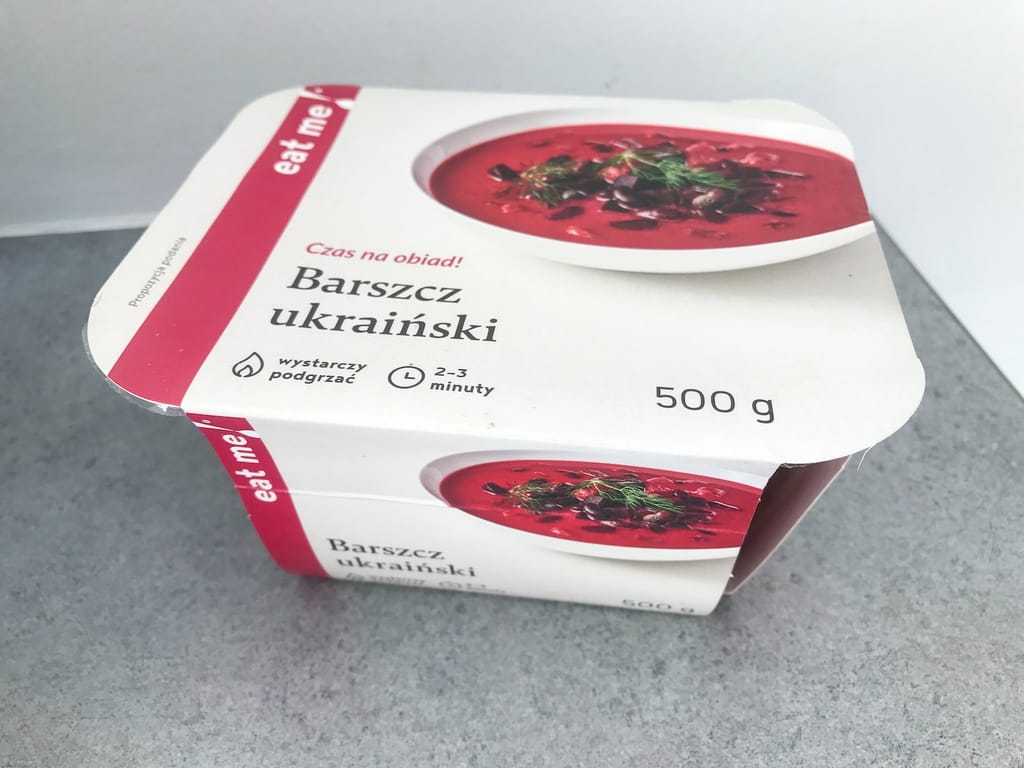 Barszcz is a beetroot soup. As you can see from the soup's name, this dish also has roots tied not only to Poland but also to Ukraine and other countries in the nearby geographical area. Known as "borscht" in English, this sour soup is common in Eastern Europe.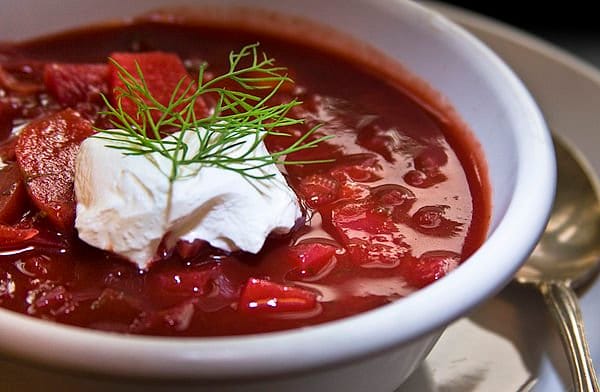 Beetroots give this soup its distinctive red color. In Poland, this soup may also be served with "uszka" which are ravioli-like dumplings filled with meat, cabbage, or mushrooms.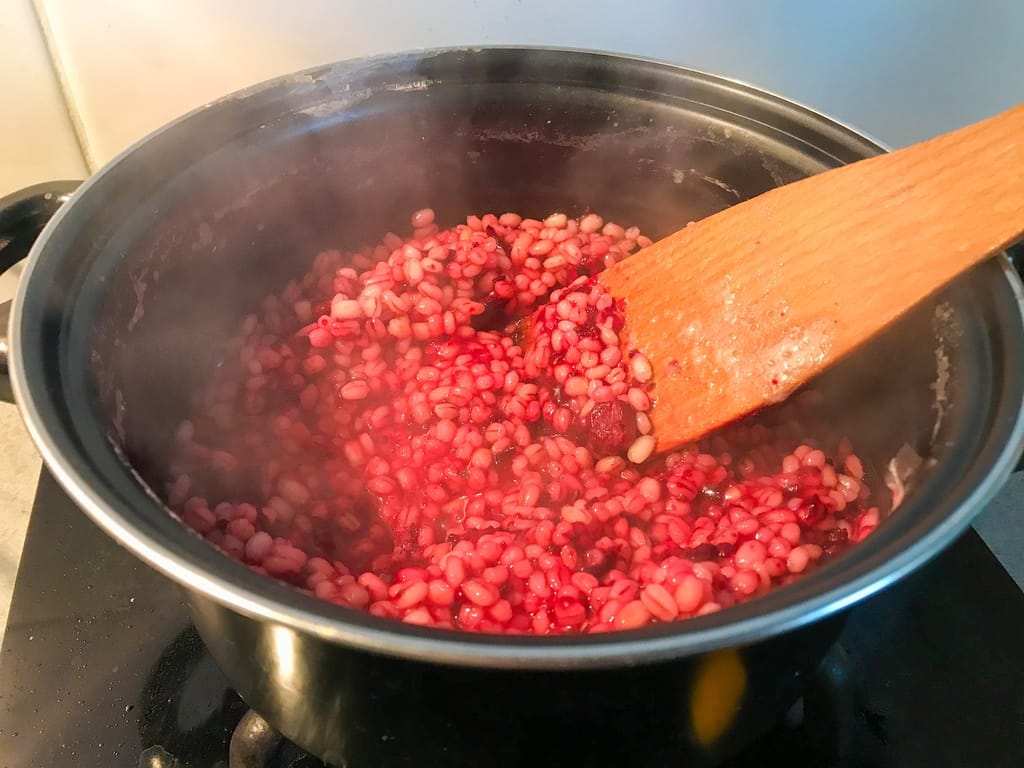 By cooking my own food in Poland and following traditional Polish recipes, I learned that beets are used for so many different types of meals there.
4. Krówki
Polish Fudge Toffee Candies
Enough of the sour stuff, let's discuss something sweet: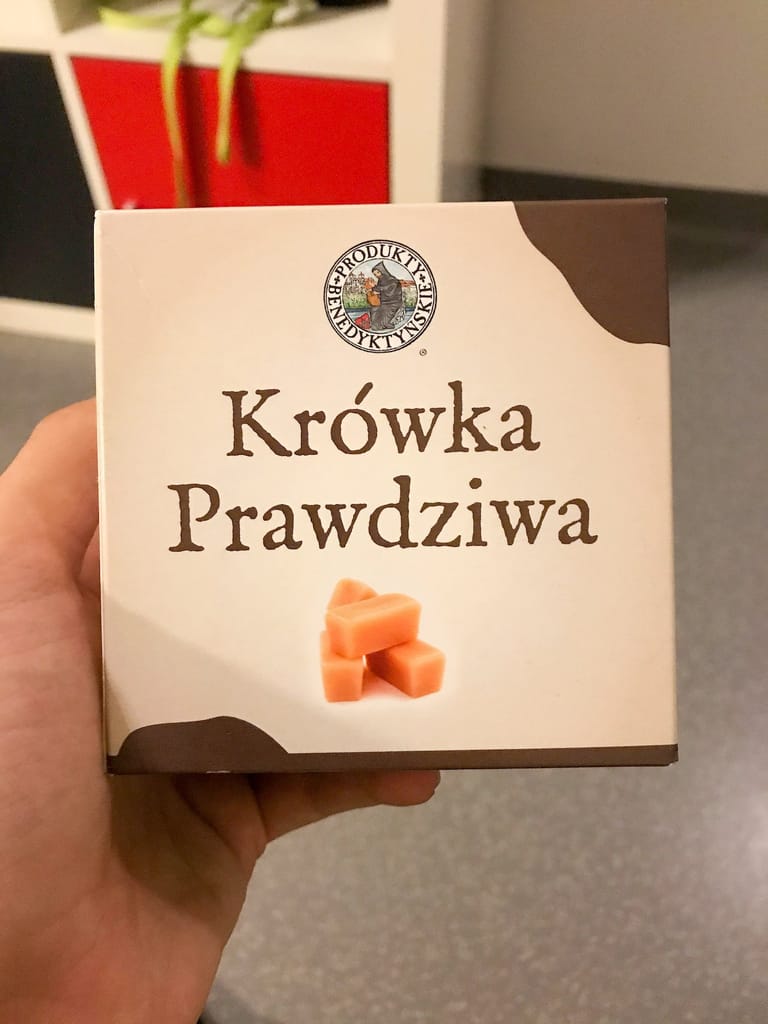 I picked up a box of Krówka Prawdziwa when I was in Poland. These sweet little candies, usually known as krówki, are a type of Polish fudge. They are semi-soft milk toffee candies. While the outside is crispy and firm, the inside is more fluid than it is solid. Krowki literally means "little cows."
Krowki are one of the most common Polish confections. Most of them are wrapped individually in white-and-yellow paper with a picture of a Holstein cow printed on them. These candies are widely known across Europe. Their popularity is something of an equivalent to the White Rabbit Creamy Candy famous across East Asia that I first encountered during my trip to China.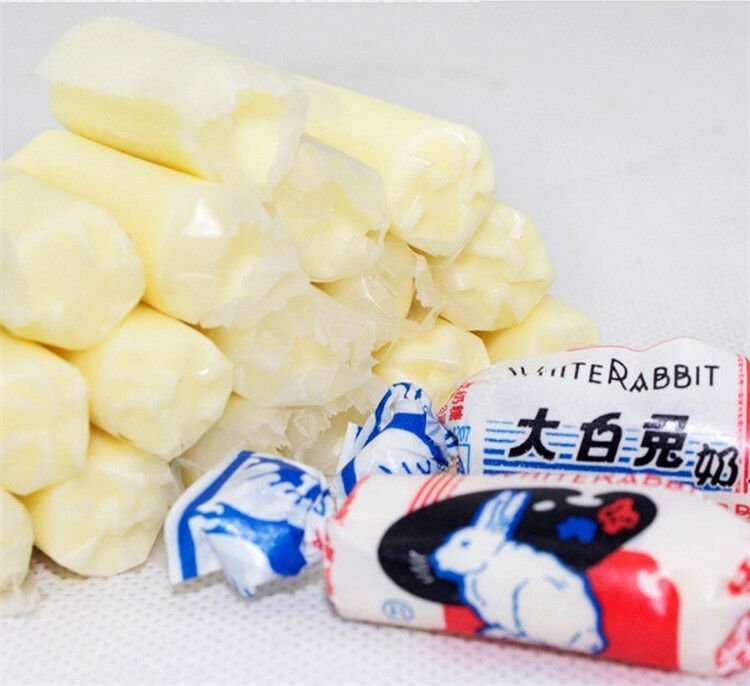 5. Cukiernia Pawłowicz: P
ączki
The Best Polish Donuts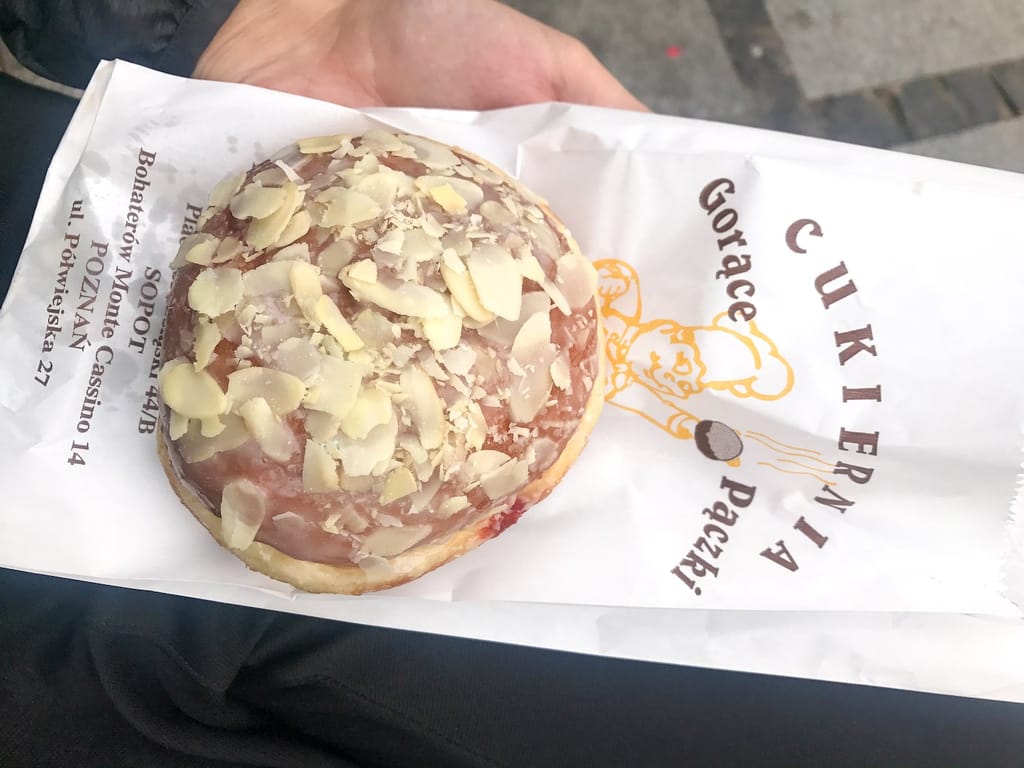 I really loved the "pączki" from Cukiernia Pawłowicz. Pączki are like donuts. Perhaps a "donut" isn't the best translation. A pączki is a typical Polish bun-cake with cream or jam inside. The shape and texture is similar to American donuts without a hole, but the flavor is more similar to Spanish buñuelos!
The ones baked at Cukiernia Pawłowicz are the best you'll find in Warsaw. Unlike a lot of donut shops in the United States, the donuts served here were baked fresh even in the evening. Still, you'll want to go early because a long line forms outside this bakery every day.
Wait in the line. It is worth it.
Their pączki are baked fresh so you can enjoy them warm. Each one is very sweet. There are many flavors to choose from. They had chocolate, cream, vanilla, cherry, avocado, and even rose jam flavor! (The rose flavor is the most famous one. It is the one served with the almonds on top!)
Each pączki is around 3.5 PLN which is just under 1 USD.
6. Naleśniki
Thin Pancake or Crêpe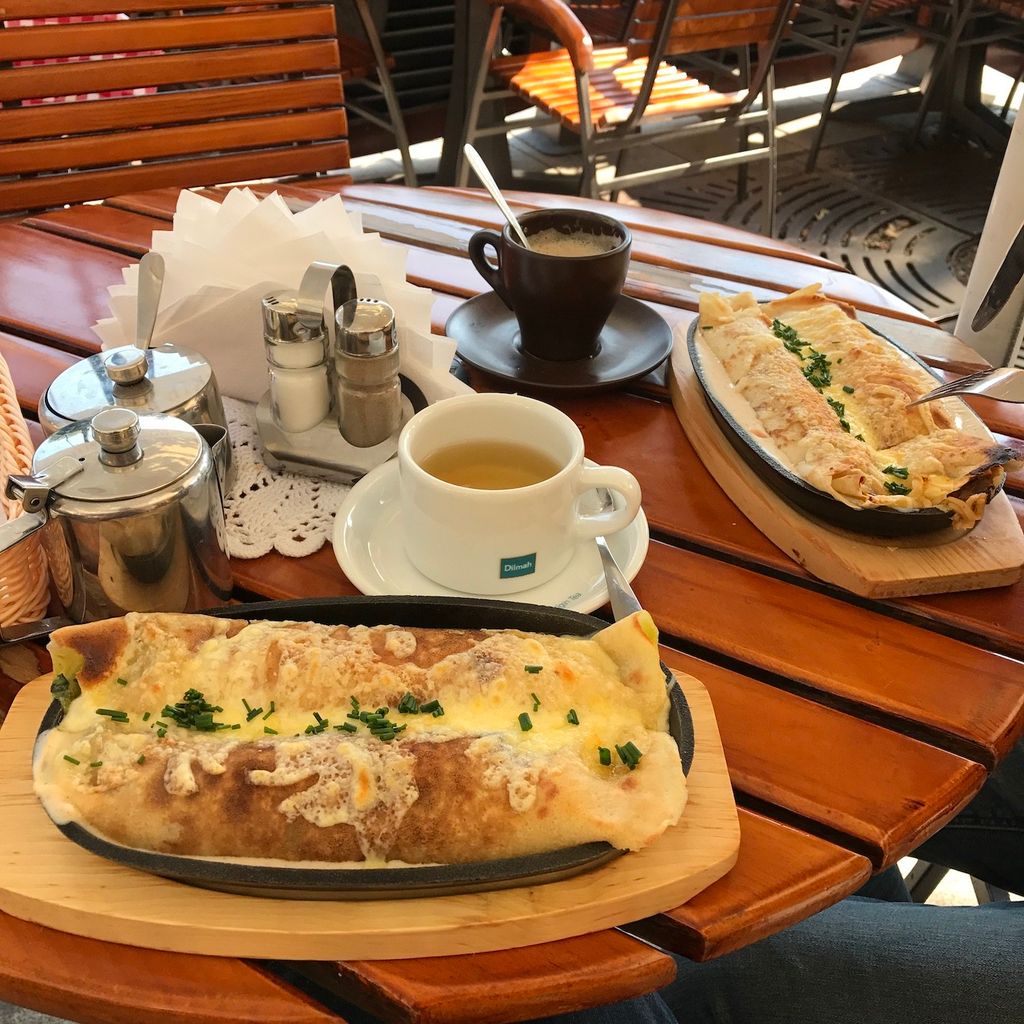 A very nice breakfast item that I tried at Gosciniec, located right in the heart of Warsaw's Old Town, was naleśniki.
At the restaurant I visited, these were crepes rolled with various fillings including:
Spinach, garlic, and white cheese
Mushrooms, onion, and cheese
Stewed pork, mushrooms, pepper, and cheese
Grilled chicken, vegetables, and cheese
I tried the one with spinach leaves and thought it was delicious!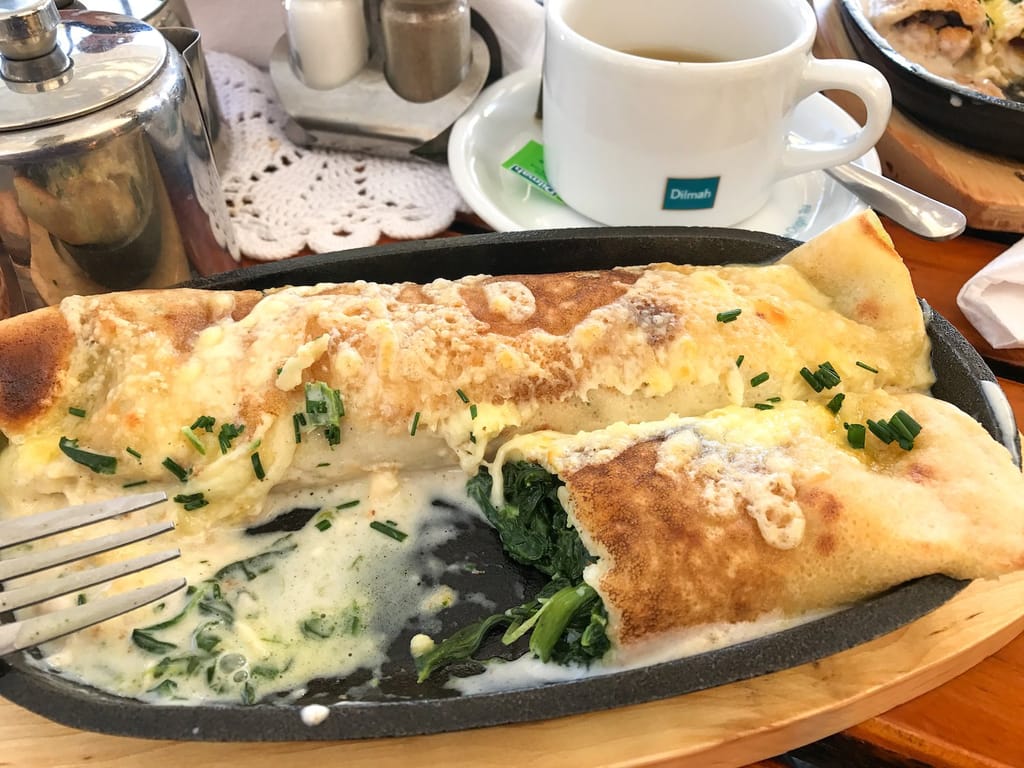 The cost to order one plate (which contained two) was 26 zł or just under $7.00 in the city center.
7. Herbata z Rumem i Goździkami
Tea with Rum and Cloves
Although drinks like Hot Toddy's are quite popular, up until two years ago, I had never actually tried a drink that mixed tea (one of my favorite things in the world) with alcohol. In fact, I'd never even considered the possibility of doing that.
Herbata z rumem i goździkami contains black tea, dark rum, and cloves. The best way I can describe this is as a spicy, warm drink that has a little bit of a bite. It's a nice drink for the fall. I ordered in the month of September when Poland was cooling down and getting a bit chilly out. I'd definitely recommend it ~ to anyone of age.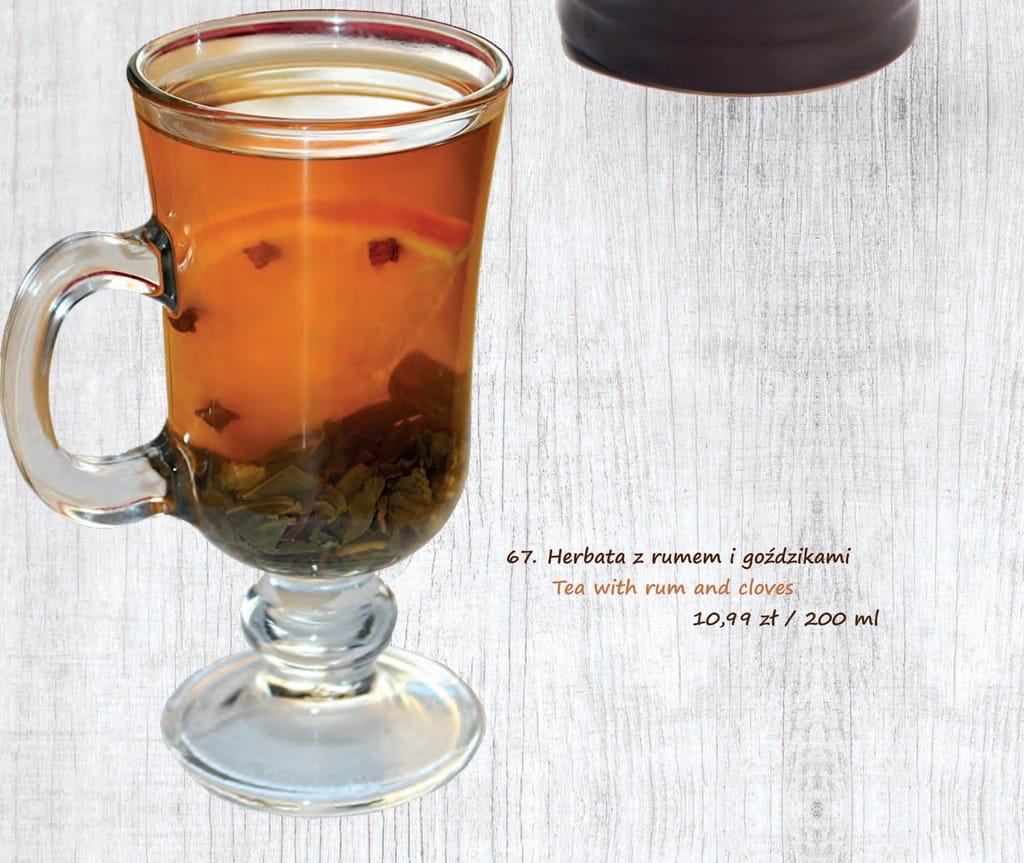 Also, another (non-alcoholic) traditional beverage that is very popular is this fruity kompot (compot). This seems to be very typical in Eastern Europe!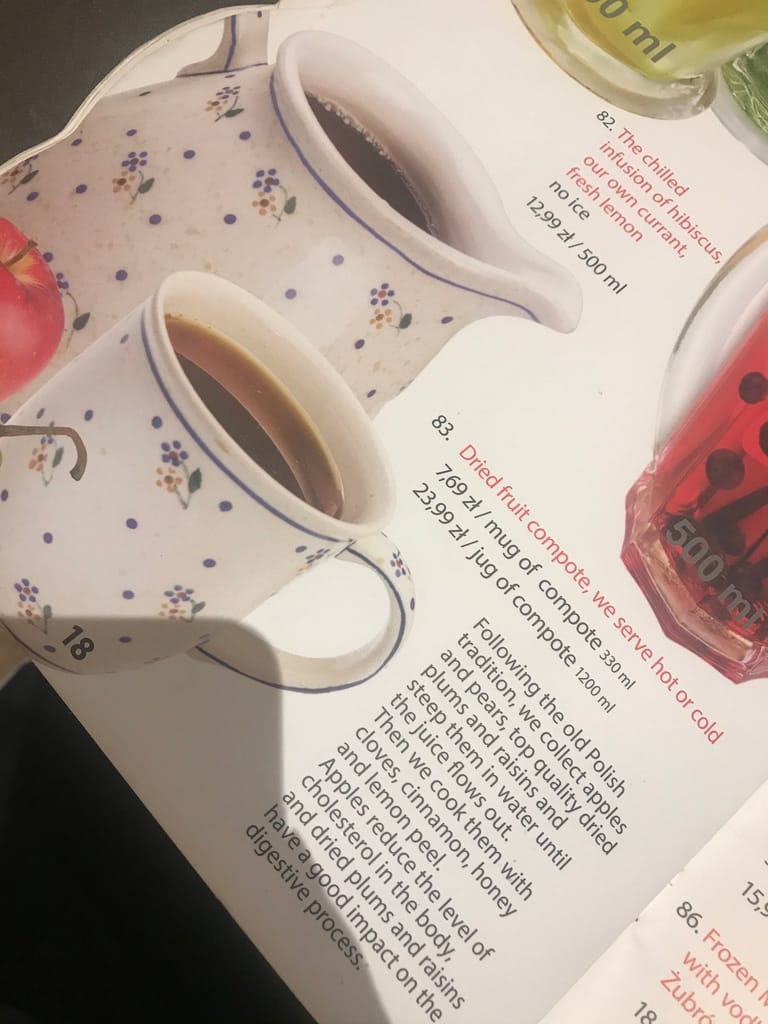 8. Śliwka Nałęczowska
Chocolate Covered Plums
For those of you who are chocolate lovers, you may enjoy trying a special Polish treat known as śliwka nałęczowska. These are dried candied plums covered in chocolate.
Each chocolate-covered plum comes individually wrapped. Considering each one contains a full plum inside, they can be quite large in size. I'm not entirely sure about the percentage of the cocoa in the chocolate, but I would say it was on the darker side.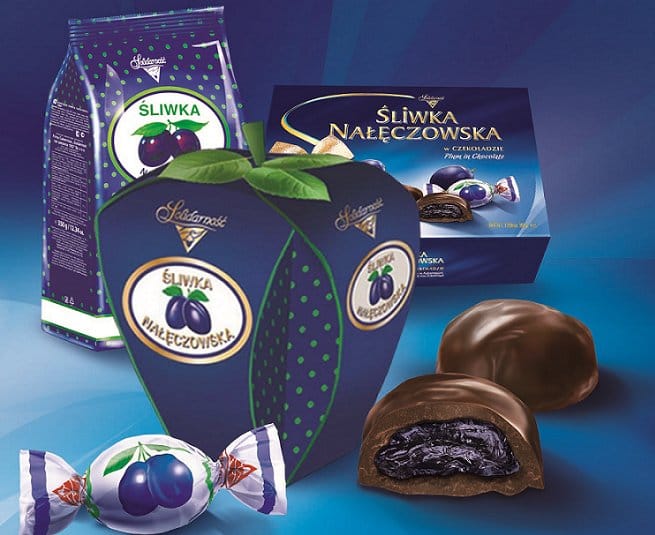 These treats have a two-layer coating. First, there is a thin coating that covers the plum in a creamy textured ganache. Next, there is an outer coating with a very thick, dark, milk chocolate shell.
The sweetness is great. It's not too overwhelming. The chocolate flavor still comes through quite nicely. The plum doesn't overpower it either. All of the flavors work together surprisingly nicely.
If you want to try them, they're available on Amazon!
9. Miód Pitny
Mead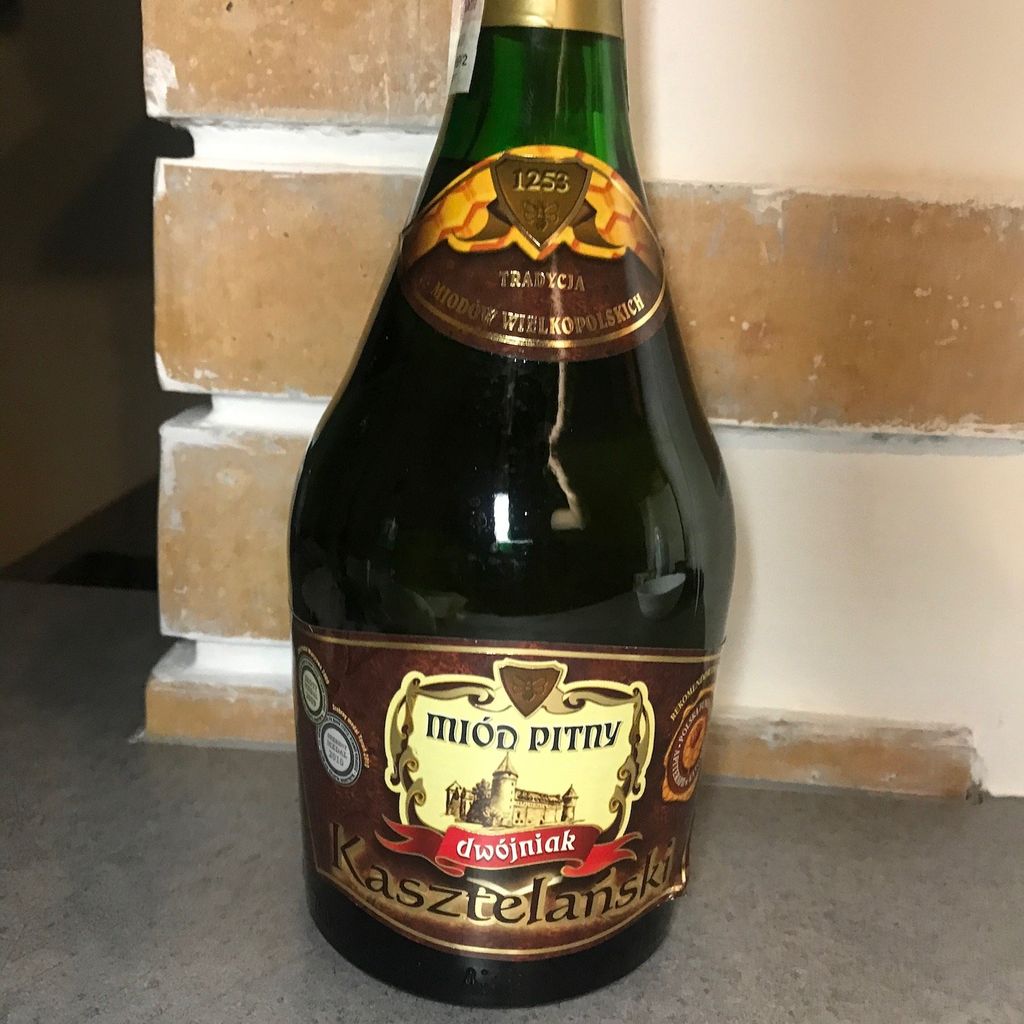 The Polish name for Mead, miód pitny, literally means "drinkable honey." Mead production and consumption in Poland is a tradition that stretches back for centuries. Mead is made through a fermentation process of honey and water. The flavor is usually enhanced with fruit, herbs, or spices.
Poland is the world's largest producer of mead.
In 2008, four traditional Polish grades of mead were established and registered by the European Union. They are as follows:
Czwórniak (one part honey, three parts water = 4 parts)
Trójniak (one part honey, two parts water = 3 parts)
Dwójniak (one part honey, one part water = 2 parts)
Półtorak (one part honey, 0.5 part water = 1.5 parts)
The classes vary depending on the ratio of honey and water used in the production. This impacts the sweetness and alcohol content. The lower the total number of parts, the stronger, sweeter and more expensive the mead.
I only tried dwójniak, but I must say it was delicious. It was so sweet!
10. Kiełbasa
Polish Sausage
The famous Polish kiełbasa is simply a sausage, but nearly every part of Poland has its own variation of how to prepare it. Kiełbasa can be produced from different types of meat, it can have different types of seasoning, and the preparation may vary!
The most popular kinds are thin, dried pork sausages with caraway seeds. This is called kabanosy. Krakowska is thicker, smoked, and has pepper and garlic seasonings. Biała is a white sausage that is sold uncooked and is ordinarily reserved for use in soups.
All of the meat dishes in Poland were delicious.
Here's another traditional dish that I never got to try, sadly.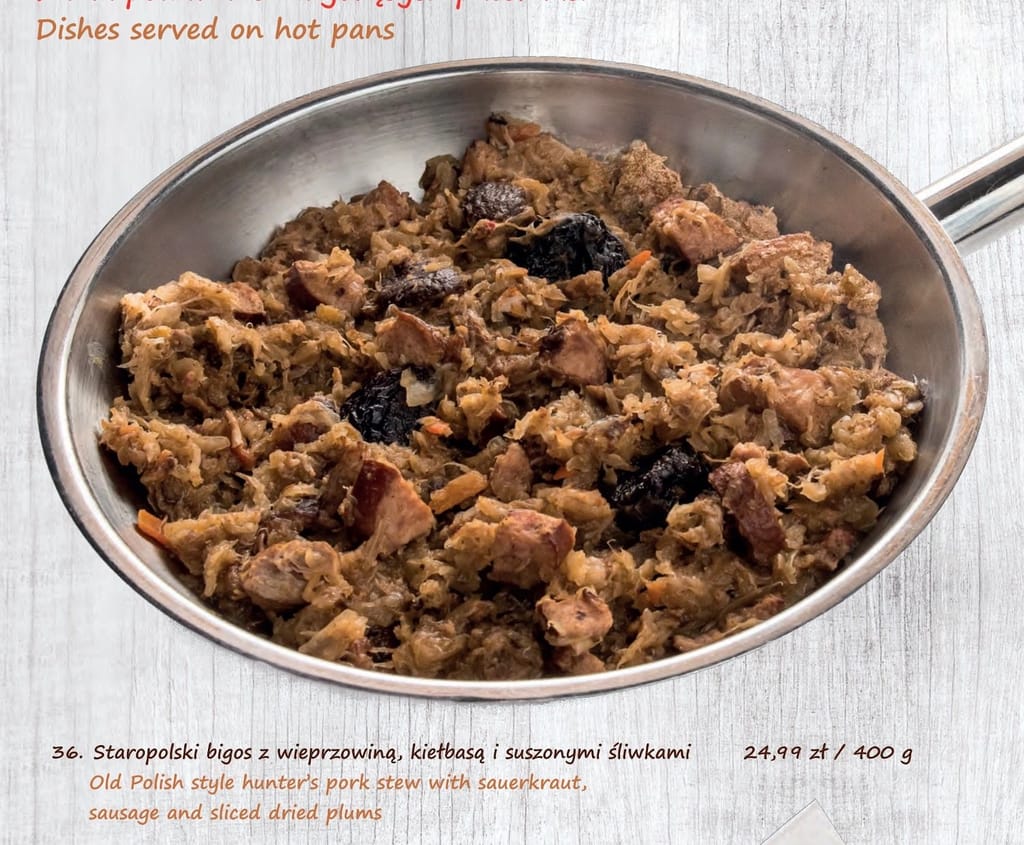 However, I did get to try these lamb chops with two sides: a little salad and a side of mashed pumpkin. Pumpkin was another very popular flavor in Poland.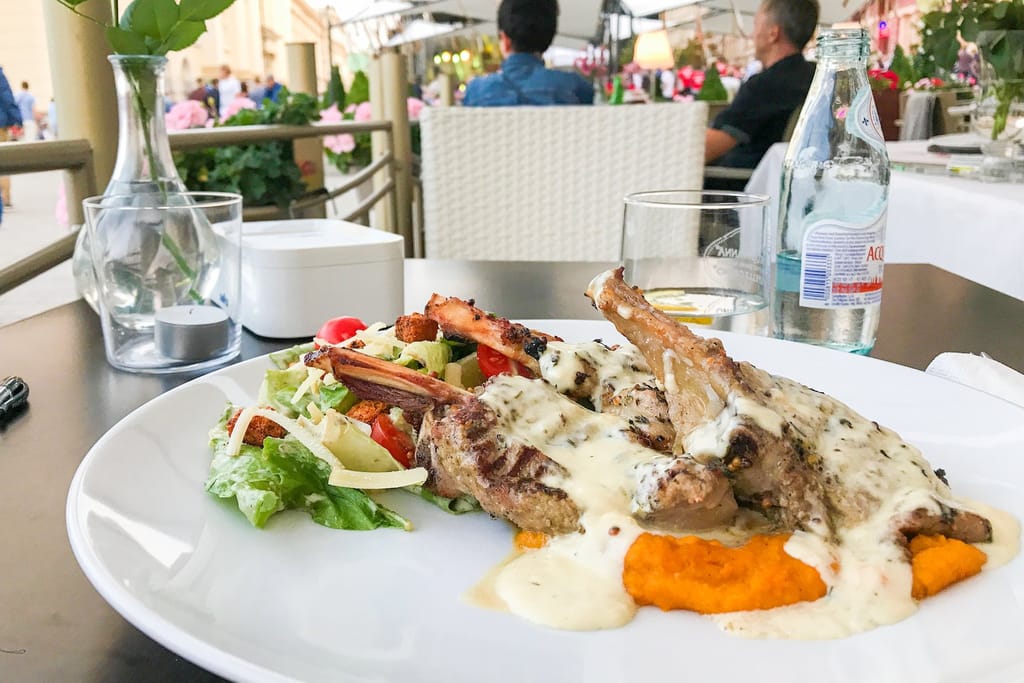 Have you ever tried anything on the list?
If you've been to Poland, what did you think of the food there?
Feel free to leave your own recommendations down in the comments!