Last Updated on April 7, 2021
This year, Amazon's Prime Day was held on October 13th & 14th. Over the last five years, Prime Day has evolved into a huge holiday for online shopping. I believe I even read somewhere that more orders are now placed on Prime Day than on Black Friday and Cyber Monday combined!
For quite some time, I've been a huge fan of eReaders. My interest in them began in 2007 after reading about "The Readius."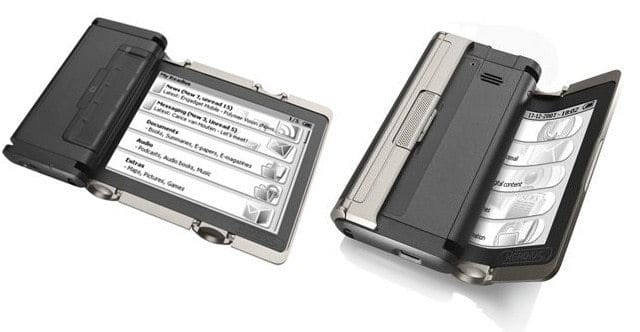 The eReader That Never Was
The Readius was a foldable e-ink eReader that was supposed to change the way people read books forever. Its main competition around the time was another eReader from Sony. Truthfully, I can't recall if Nooks or Kindles even existed back then. Maybe Kindle did, but I'm doubtful.
They certainly hadn't dominated the market the way they have today.
Although this foldable eReader never came to be, it still drew me in with the concept that I could carry my whole bookshelf inside something so tiny that could fit right inside my pocket and be carried anywhere.
Not to be confused with the LCD & OLED screens found on mobile phones, I understood early on that e-ink would offer distinct benefits for reading on an electronic device over extended periods of time. (For what it is worth, it wouldn't have mattered much to me back then since I didn't even have a basic cell phone yet back in 2007. Any screen beats no screen!)
Buying My First Nook
Fast forward a few years and in July of 2011, I finally got my first Nook. It was the Barnes & Noble Nook Simple Touch. To this day, appearance-wise, it is my favorite Nook ever released.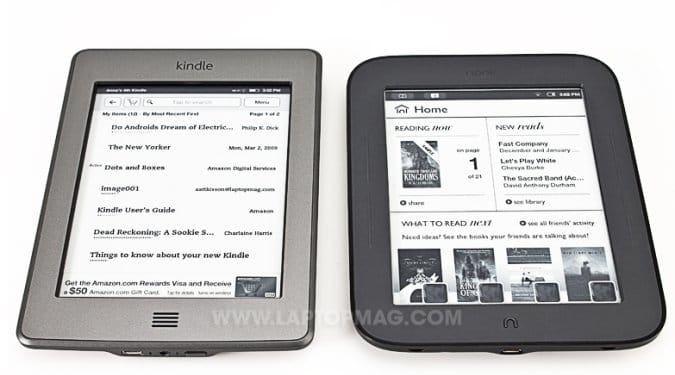 Compared to the main Kindle at the time, I thought the Nook was so much nicer looking. I much preferred the matte black Nook's rounded corners, soft-touch finish, and user-friendly OS.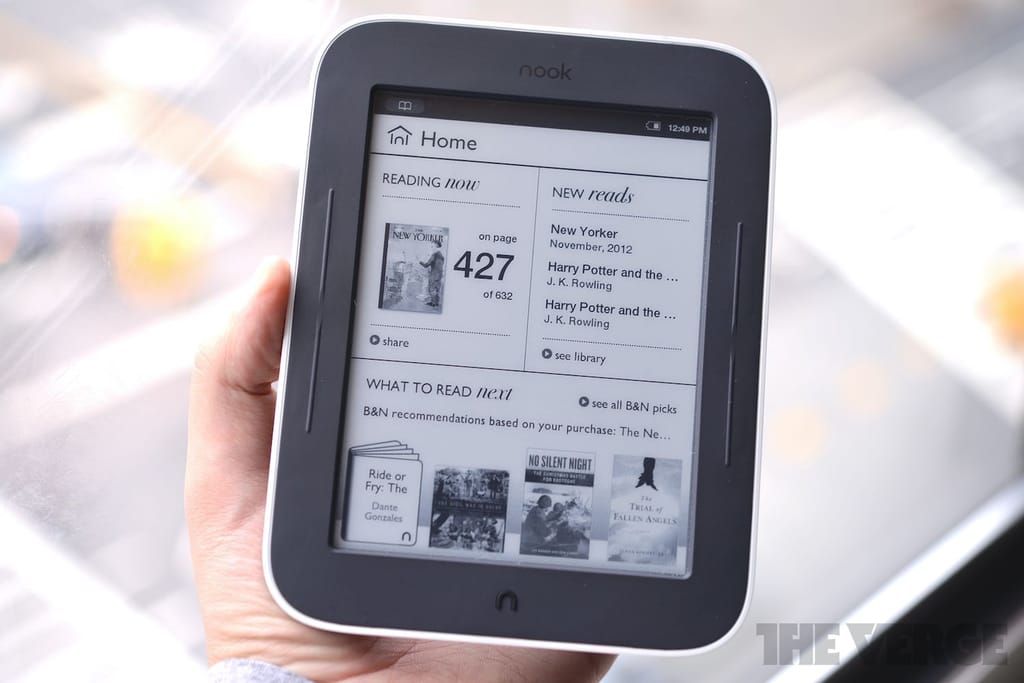 I also remember Barnes & Noble released this special edition Nook Simple Touch with a white border around it. It was supposed to be available for one day only: Black Friday 2012. My Nook was still new when this one launched so I never ended up buying it.
Upgrading My Nook
I did, however, upgrade to the Nook GlowLight 3 in February of 2018.
The GlowLight 3 was supposed to be my perfect Nook device.
My Nook Simple Touch lasted 7 years and was an all-around excellent eReader! When the time came for me to upgrade, I really expected the GlowLight 3 to be absolute perfection.
The new Nook was supposed to be an optimized device. The buttons were supposed to work better, the OS was supposed to load faster, the addition of warm and cool backlighting was supposed to make reading easier.
It turned out to be none of that.
E-Reader Ecosystem Lock-In
If I didn't leave to travel the world so soon after upgrading, I probably would have returned it. You see, the GlowLight 3 overpromised and underdelivered in just about every single way imaginable.
The new Nook's OS was slower and had significantly more glitches.
Although I considered leaving, ecosystem lock-in was a problem for me. You have to understand I had already spent nearly a decade accumulating Barnes & Noble ePub books. If I switched to another device like a Kindle, legally speaking, I'd have no books to transfer.
I'd have to start fresh. (That's one reason why it is smarter to buy paperbacks. You actually own them.)
Still, I love Barnes & Noble.
Amazon is dominating the eBook industry (and just about every other industry known to man) so if I could help Barnes & Noble out by using their device and buying their virtual products, I wanted to.
Hanging On By a Thread
One month after I moved to Spain, my Nook fell from a shelf.
All electronics are fragile and any fall, even a small one, runs the risk of potential damage. My Nook was resting on a blanket that was stored up on a shelf and it unexpectedly got moved and hit the ground. This was also its *first* fall. Unfortunately, one fall was all it took to end its ability to light up forever.
After that day, my Nook GlowLight was a Nook NoLight.
Coming from a Nook without a light, I was already used to reading without the feature. Still, you can imagine my disappointment when the entire purpose of upgrading was to have not only the normal light but also that all-new warm light.
(I was planning to use it to read in the dark on airplanes…)
No Reading Outside
Without a backlight, reading indoors became less comfortable. Naturally, I wanted to use my Nook outdoors with the help of the sunlight illuminating the screen.
Well, aside from the lack of backlighting, the Nook GlowLight 3 turned out to have one other major problem: overheating.
Ten minutes.
Ten minutes outdoors was all you could squeeze out of this eReader during a hot, summer day. After 15 minutes out in the sun (… or shade!) and you'd need to let it sit for another 30 somewhere else to cool down. Don't think it had to be too hot outside either. It would overheat in the spring and in the fall too. This model was so sensitive.
You could really only use it to read outside during the winter; precisely the time of year when you'd want to be reading outdoors.
The Self-Inflicted Curse
For nearly a decade, I was loyal to Barnes & Noble. Eagerly awaiting the announcement of new eReaders annually. I was a huge Nook fan.
(Truth be told: I still am.)
However, on Prime Day, it was hard to bypass the special offer Amazon was running.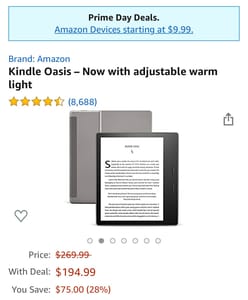 The $270.00 Kindle Oasis (their only eReader with an adjustable warm light and physical page-turn buttons) was on sale. It was selling for $195.00. ($75 off!) For an e-reader possessing all the features it touts, I felt like $195.00 was a very fair price. (Personally, I would never pay $270 for it though.)
I think it was at that very moment, right after clicking "Buy Now…", that the universe decided to punish me. My Nook was cursed.
Nook Hurt By My Betrayal
The next morning, I took my Nook out of my laptop bag to read like I do every morning. Except, when I pulled it out, I was met with a broken screen. Someway, somehow… my Nook was physically damaged.
My initial reaction was an extreme feeling of disappointment. I tried rebooting the eReader and recharging it about 100 times. Nothing was helping. I wanted it to turn on so badly. It was supposed to be my backup device in case I wanted to read any of my old eBooks. Now, that option was taken from me.
None of my books would work on my Kindle.
Of course, all the while, I knew I still had a brand new Kindle on the way so I could still read NEW books. So I didn't want to allow myself to become too upset over it. I reminded myself that I should just be glad I jumped on that Prime Day offer while I still could!
My New Kindle Oasis
Compared to my Nook GlowLight 3, the 2020 Kindle Oasis is better in pretty much every way.
Kindle Oasis 10th Gen vs Nook GlowLight 3
The Kindle's Pros:
Thinner bezels
Lighter
Ergonomic grip
Waterproof
More LED lights (for even backlighting)
Brighter backlighting (better illumination)
Support for Amazon's ecosystem
Audible & Kindle Unlimited support
Bigger screen
The Nook's Pros:
Not Amazon
Perks while shopping in physical bookstores
Soft-touch, more grippy
No extra fee to remove "special offers"
Overall, I can't even try to make a case for why this particular Nook is better…
Even if you bought the bigger and newer Nook GlowLight Plus with the 8″ screen, that model is also plagued with the same overheating issues. What good is an e-reader that can't be used outdoors at places like a beach or by the pool during the summer?
Barnes and Noble, PLEASE, step up your hardware game. I am begging you.
The Ereader Reality
Real talk: I used to view e-readers as a long-term investment. I used to tell myself that ebooks are, on average, cheaper than their paperback alternatives. So buying an e-reader should save you a lot of money in the long run, right?
Wrong.
Ereaders are actually luxury items for extra comfort.
You buy these so you can grab a book on-the-go without having to drive to a store.
You choose these because you want backlit reading without needing to use a clip-on night light.
You pick e-readers so you can carry your entire library everywhere you go.
For audiobook integration. For touch screen highlights, definitions, and bookmarks.
If saving money on books was my primary aim, I would have been far better off buying second-hand paperbacks and reselling them when I finished them.
That's not to say you can't make it worthwhile. Plenty of people either pay for inexpensive subscriptions like Kindle Unlimited or (Note: I do not condone this) obtain their books online without paying.
The Transition
Anyway, right now, the Kindle Oasis is the best eReader on the market for me from what I can tell.
More than anything, I'm so excited to finally be able to read comfortably again.
Whether you're reading in quarantine or prepping your library for future travels, I'd love to hear from you.
Any good book recommendations? Drop them in the comments!
Disclosure: The Rocky Safari participates in various affiliate marketing programs, which means commissions may be paid on select products purchased through this article. These commissions are paid at no additional cost to the consumer and help to support this website. You can read more about my affiliate disclosure on my
privacy policy
.