Last Updated on March 25, 2021
While browsing through bestselling titles at Barnes & Noble, I made the decision to purchase the new Nook Glowlight 3. I have loyally used my Nook Simple Touch from Barnes & Noble since I bought it back in 2012. For the past 2 or 3 years, I have had my eyes on a replacement device but have been holding off until now for a number of reasons.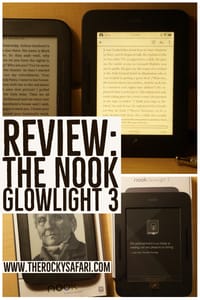 Although the big bookseller has had a rough couple of years with supporting their digital Nook department, which nearly closed altogether not long ago, I have refused to jump ship along the way. Amazon has achieved undeniable dominance in the market so I purposefully choose to support one of the last standing major brick & mortar bookstores that sells, what is in my opinion, a superior e-reader device anyway.
I know that is an unpopular opinion but I'm okay with that.
When the first Nook Glowlight came out one year after I bought my first e-reader, I was frustrated. The backlit screen had so many practical uses I could benefit from. I read a lot on dimly lit airplanes and at night. Yet, it felt wasteful to buy another e-reader so soon after my first. I chose to wait on the first Glowlight. Before you knew it, Barnes and Noble abandoned their cute rubberized Nook-design completely and released the ugly Nook Glowlight Plus. It was waterproof, dustproof, and featured a revolutionary capacitive e-ink screen. Still, I found the exterior design too unattractive to upgrade.
To my delight, Barnes & Noble decided to return to their old style when they designed this year's Nook Glowlight 3. As you can see in the picture below, the new e-reader closely resembles their 2012 Nook Simple Touch!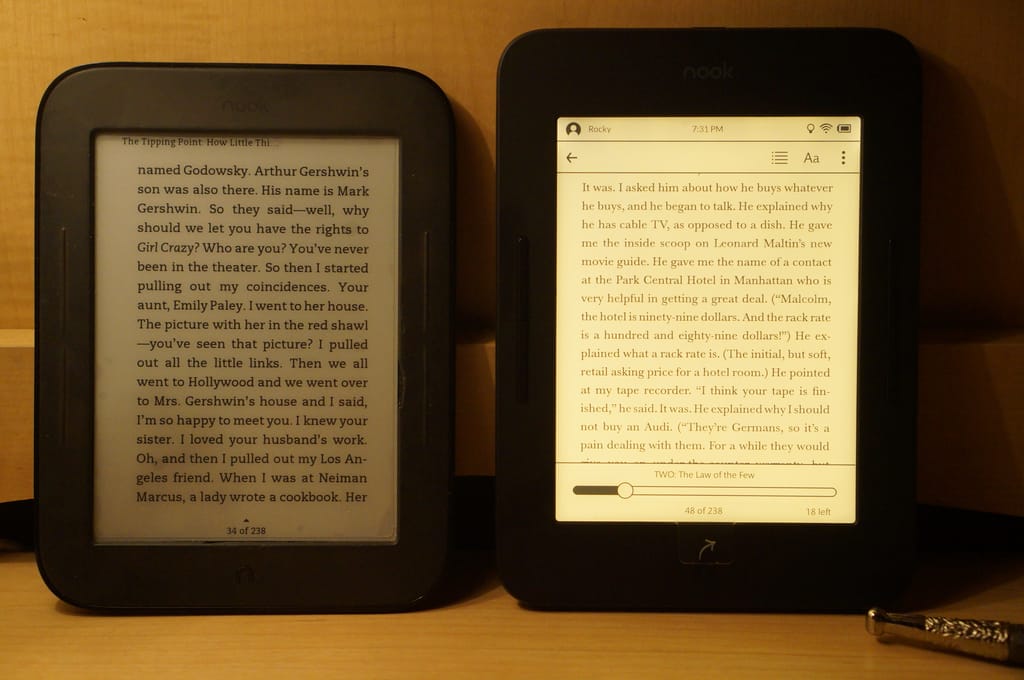 The New Nook Glowlight 3 is slightly taller, lighter, and of course, brighter! The text is crisp. The newer Carta screens have a lighter background and better contrast than the older eInk Pearl screens.
Just check out the difference! The Nook Simple Touch is on the left and the Nook Glowlight 3 is on the right. If I turn my lamp off, the Glowlight remains completely readable.
This new Nook has a unique new feature that no other e-reader has. In fact, this one difference is the very reason I finally upgraded. The Glowlight 3 has a Night Mode, which adjusts automatically throughout the day, shifting from a blue daylight color to an orangey soft white.
By reducing your exposure to intense blue light, reading on this Glowlight is supposed to have less of an impact on your circadian rhythm allowing you to sleep more normally. Blue light from digital screens has been known to disrupt sleep cycles!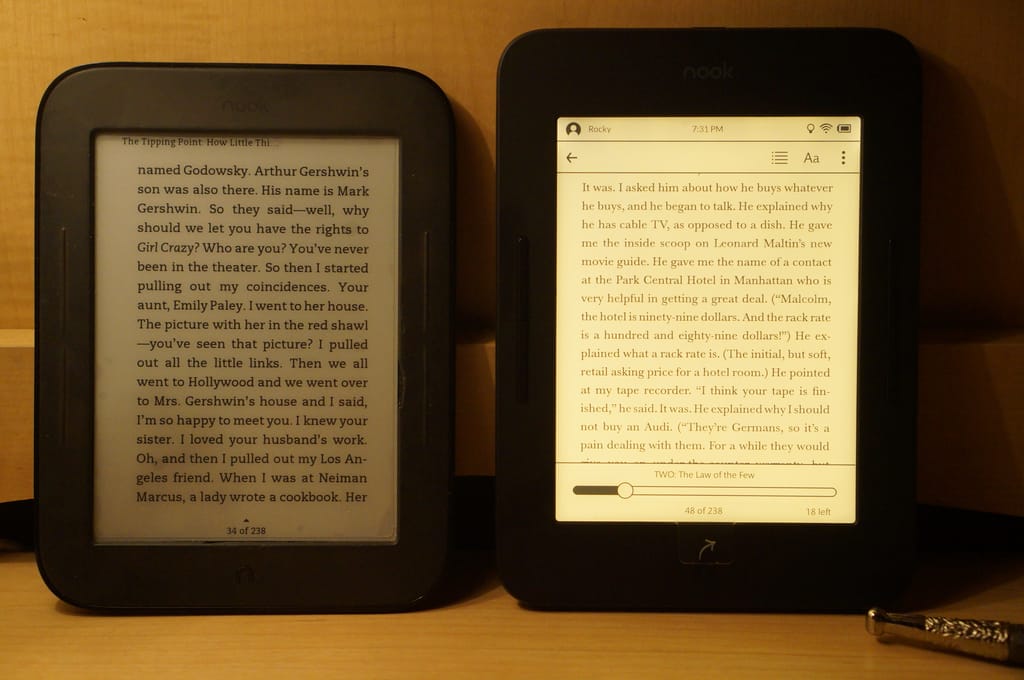 Aside from these benefits, my old Nook was starting to show its age. The battery could barely hold a charge. The screen had scratches. The plastic was peeling and missing especially on the buttons I used most frequently.
I must say, there is one thing I do not like about the new Nook Glowlight 3. The Highlight feature. How did Barnes & Noble screw up something so basic? Does no one else find it strange that the highlights are BARELY visible? There is absolutely NO way to change the color, darkness, or intensity of the highlights on the device. Check out this photo contrasting highlights on my two Nook devices. On the old Simple Touch, the highlight is dark and clearly visible. On the new Glowlight 3, you almost wouldn't know I highlighted anything if I didn't tell you. Look closely, there is a highlight. I would love to know the reasoning behind this design decision. I hope Barnes & Noble releases a software update to correct this.
Overall, I am loving reading on my backlit Nook Glowlight 3. Highly recommend this device to anyone who is considering buying one.
If you like it, put a PIN on it!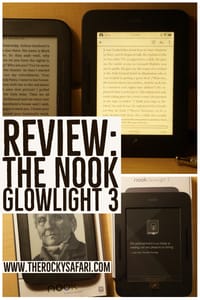 I was in no way paid or compensated for this review.