The Keret House is recognized as the narrowest house in the world.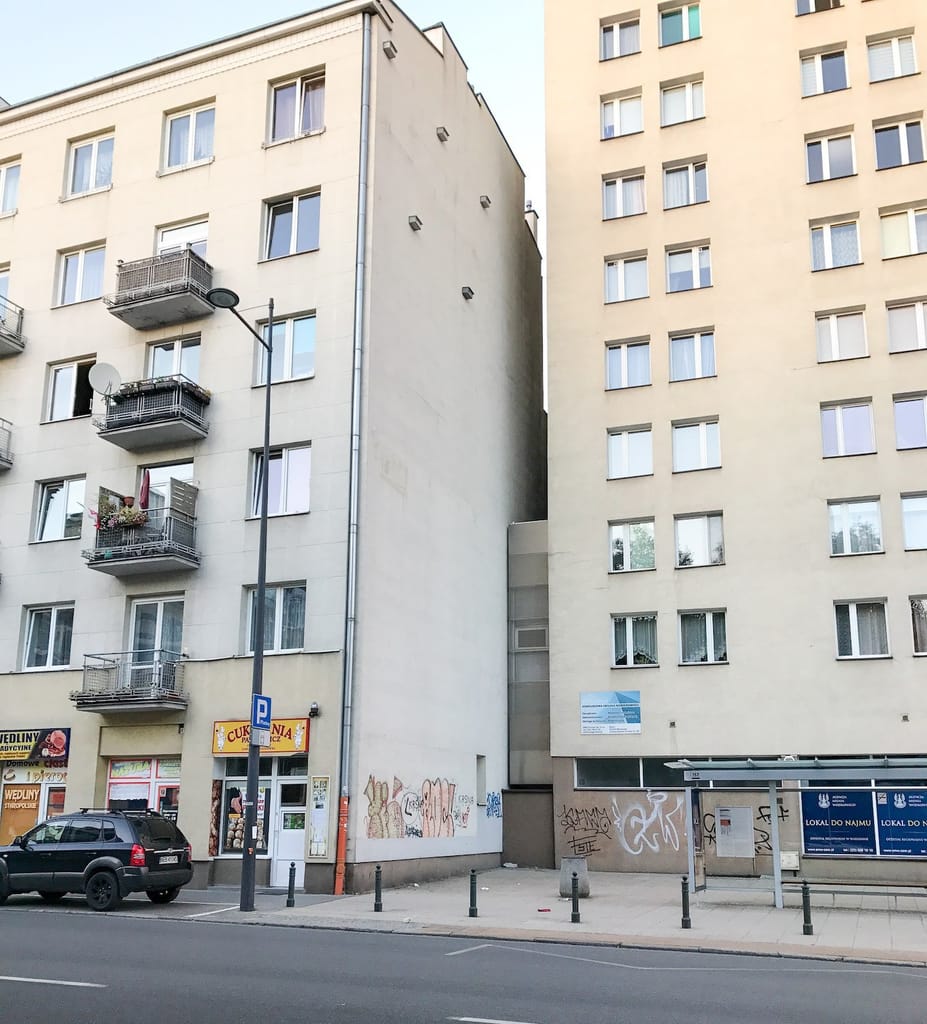 In case you missed it in the photo, we're not talking about the apartment building on the left or on the right. No, we are taking a look at the little tower that stands between the two large apartment buildings.
See it? Tucked into the small space where an alleyway once was.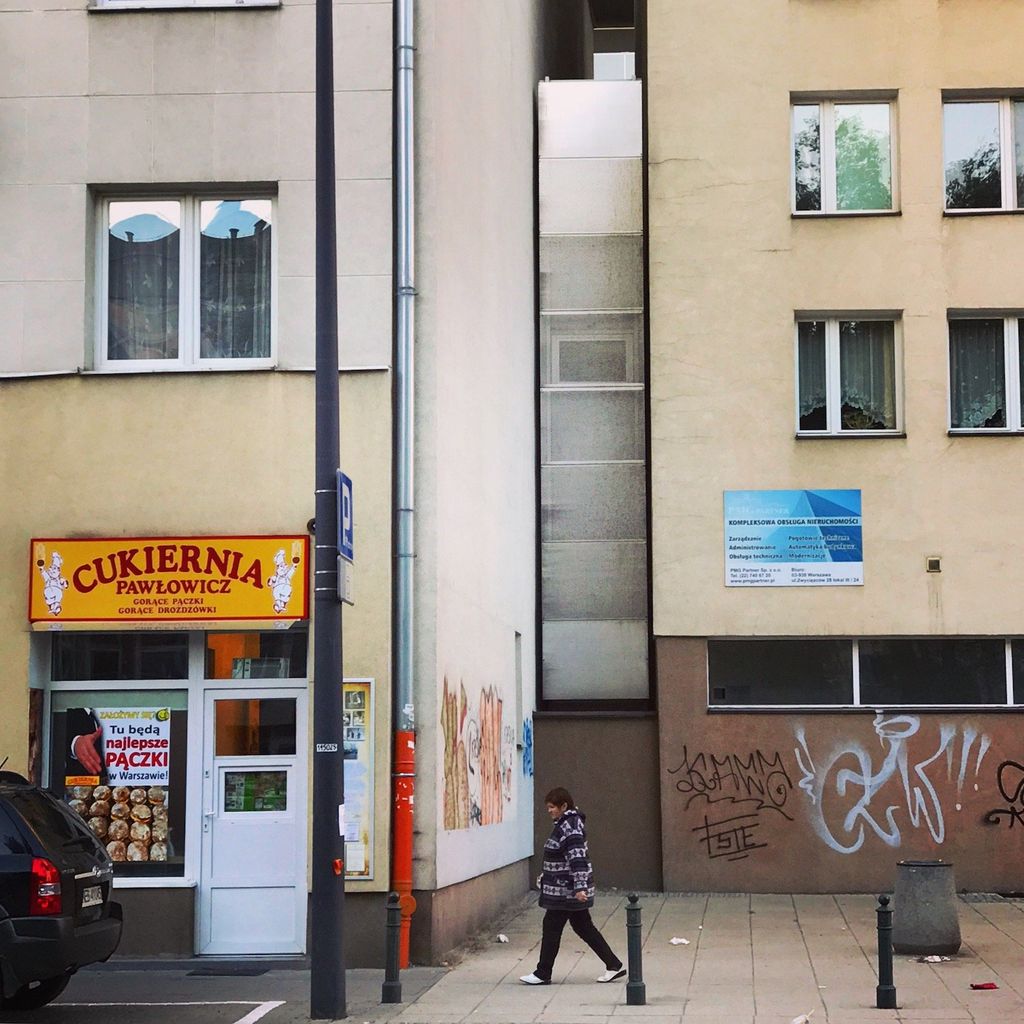 Visiting the Keret House is how I chose to spend my final day in Warsaw, Poland.
This tiny home can be seen between 22 Chłodna Street and 74 Żelazna Street. Designed by architect Jakub Szczęsny, the Keret House is classified as an "art installation" because it does not meet Poland's residential building code, even though it actually is used as a residence.
Although controversial in that regard, its construction was supported by the Warsaw Town Hall and the Polish Modern Art Foundation.
Sandwiched between two buildings from two different time periods, the Keret House in Warsaw, Poland is extraordinary.
The two-story art installation measures 60 inches (152 cm) at its widest point and 36 inches (92 cm) at its narrowest.
The Keret House is named after Israeli writer and filmmaker Etgar Keret, who was also the building's first tenant. Etgar Keret said that staying at the Keret House is like a "memorial to my family"; Both of his parents' families died in World War II when Nazi Germany occupied Poland.
Through the Artist In Residence Program (A.I.R. Program), artists are invited to stay for reservations as long as 10 days while working on personal creative projects.
As you can probably imagine, this is no ordinary home.
We are looking at what some might view as a home appropriate only for a tried-and-true minimalist. The world's smallest home leaves little space for anything but the essentials. Most might find living in such tight quarters frustrating. However, there's something admirable about living with enough space for exactly what you need and nothing more.
Originally, the architect had three different designs that were considered for this project. While design III closely resembles the Keret House as we see it today, original designs I & II looked as follows:
Design 1:
Design 2:
On the topic of the house's chosen location, architect Jakub Szczęsny explained:
"The house is located here, because it is here that two architectural layers from two historical epochs tangene. The first is a brick building on Żelazna Street – a fragment of the pre-World War II city, almost no longer existing. The second – a cooperative concrete apartment building, an element of an 'imposed structure', which was aimed at negating the previous city landscape. Their adjacency is coincidental – like many architectural structures in Warsaw.

Keret House is a perfect example of the so-called 'non-matching' in the city's urban fabric. It is a structure, which by way of contrast separates itself from its surrounding area and at the same time tries to act as its binding element. Another reason is the city's war history – the house's location is where two ghettos – the large ghetto and the small ghetto met. Only a few steps from the house stood a footbridge that connected both sealed off areas."
– Architect Jakub Szczęsny on the location of Keret House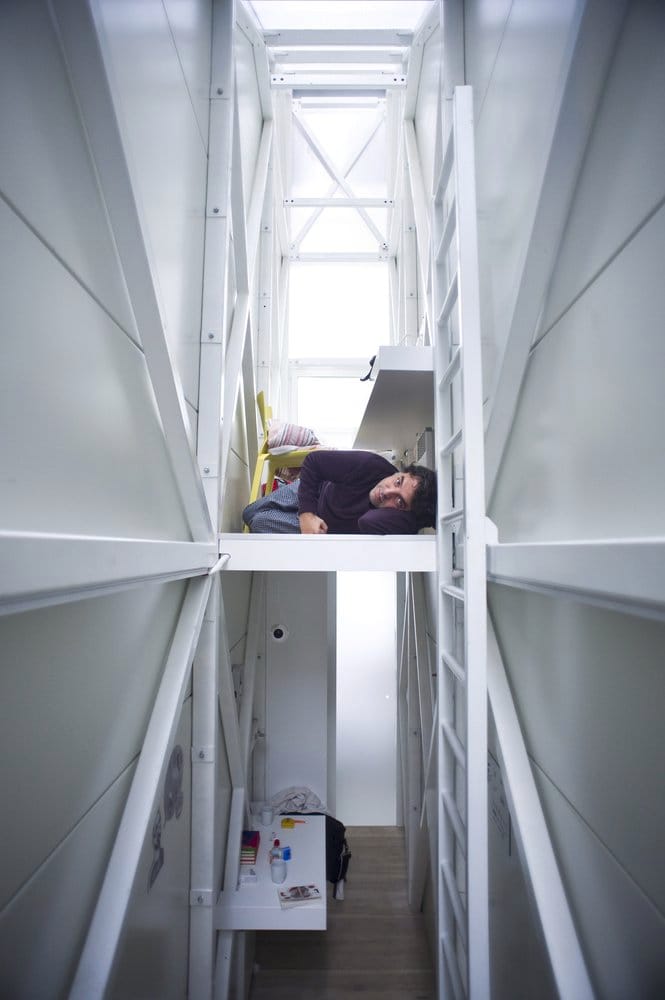 The iron structure contains two floors. Inside, there is a bedroom, a kitchen, a bathroom, and a living area. It has two non-opening windows with sunlight also entering through translucent glass panels that make up the walls.
The entire interior is painted white and electricity is obtained from a neighboring building. The house has custom water and sewage technology and is not connected to the city-provided water systems. Because of its small size, the building only accommodates a small mini-refrigerator, and occupants use a ladder to travel from level to level.
Entry is possible via retractable stairs that, when closed, become the living area.
In 2019, it was named one of the most iconic houses in the world!
To learn more about the Keret House, here is some additional information.
Tourists may reserve a 15-minute tour of the small house. The cost to tour the Keret House was 25,00 zł which was just shy of 6.50 USD when I visited in September of 2018. (Prices, availability, and currency exchange rates are subject to change.)