Last Updated on September 16, 2023
Happy New Year!
As I sit here writing this post for all of you, I'm a little bit in shock.
2021 hasn't started off the way I imagined it whatsoever. No, not even close to what I envisioned, in fact.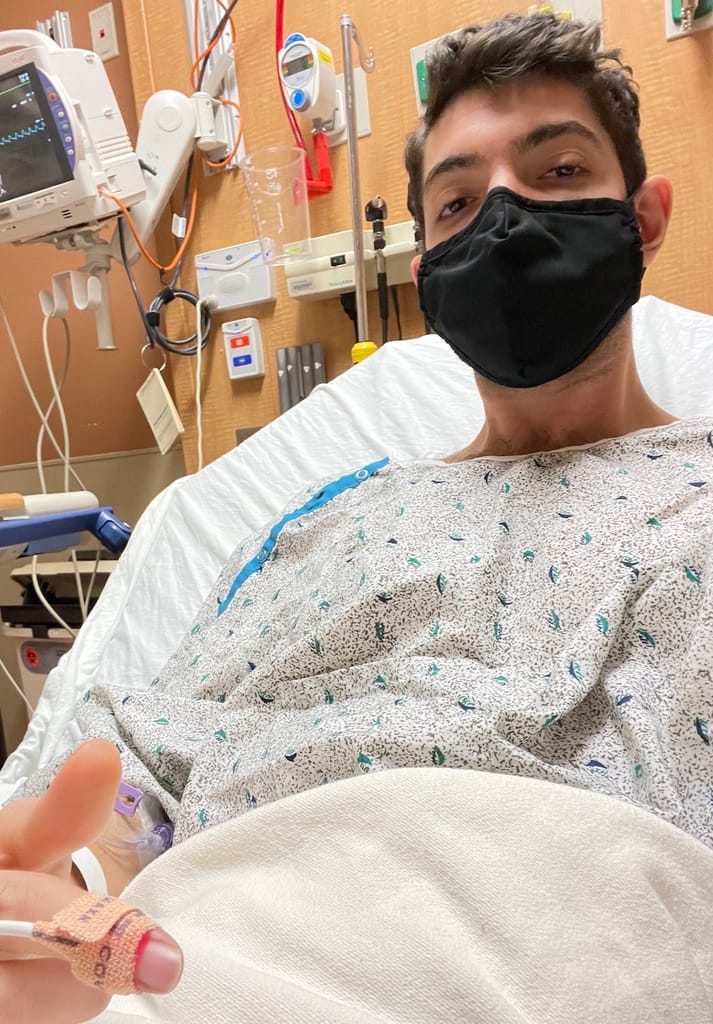 Before anyone gets too concerned, the good news is that I'm okay now.
I'm healing with each passing day and getting better already. Recovery can be a slow process but I know that if I relax and take it easy for a little while, I will heal and bounce back in no time.
Let's Rewind to December 31st:
I fully recognize that I promised in my previous post on December 31st that my 2020 year-in-review would soon be published. Clearly, that post has been delayed. Currently, I do not know exactly when it'll go live due to recent events.
I admit it is hard to feel like I have already failed to uphold the first promise that I've made in the new year. After setting many blog-related goals for 2021 on top of my commitment to have that post published days ago, it's been difficult not to look at the beginning of this new year as a big failure. I wanted to hit the ground running and instead, I've done the total opposite. I definitely caught myself dwelling on it while sitting in the hospital emergency room this weekend.
Hopefully, as you discover more details about what has happened, you will begin to understand better why things haven't gone exactly as planned.
Lessons Learned From 2020
If 2020 taught me one thing over the past year, it is the importance of our health.
The COVID pandemic served as a wake-up call to refocus on what is important here: us. Life is precious. When tragedies like a pandemic take place and our safety is put at risk, we are reminded about the importance of our relationships. We relearn to appreciate what we have while we still have it.
The coronavirus took the world by storm as it spread rapidly from country to country. It quickly created what has become the largest pandemic any of us have ever lived through. It is my hope that you are still remaining safe and healthy.
Happy New Year 2021!
On the night of New Year's Eve, I celebrated the end of what had to be the most stressful year of my life. You'd think after traveling the world and doing so many other crazy things these last few years that the one year I barely even left my house would have to have been a complete piece of cake. But, boy oh boy, would that be far from the truth.
2020 was rough for me.
The challenges 2020 posed for me were different from those I've faced in the past. A lot of these new challenges were stress-related. I think being so connected to the media in 2020 was a mistake. It can be so emotionally taxing to constantly hear about fighting, negativity, and disagreement. Between that banter and some other stuff, I felt like I had a rough year overall.
When the night finally came to celebrate the end of 2020, even though life at large would remain rather unchanged the next morning, I was still so excited for an excuse to just celebrate.
To celebrate the end of a frustrating year and to celebrate hope for a better one.
Welcoming in 2021
The next morning, on New Years Day, I woke up feeling exhausted. I needed to recover from the night prior. I was up extremely late so while I mostly felt fine, I definitely needed to catch up on my sleep. I took it easy all day and although I felt a tiny bit off, I assumed it was related to drinking on New Year's Eve since normally I don't drink alcohol.
New Years Day was mostly uneventful.
On Saturday, January 2nd, I woke up and that was when things started to go downhill real fast.
The Sudden Onset of Pain
Early Warning Signs
I woke up Saturday morning with my stomach feeling so unusual. I couldn't tell if I was nauseously hungry or extremely bloated. I thought it might be both. I walked to my bathroom, swallowed an elderberry gummy supplement for my immune system, and showered. During my shower, my stomach started to writhe in pain.
Am I really that hungry? I wondered…
The way my body was reacting felt so strange. I questioned if maybe taking that elderberry supplement on an empty stomach was giving me a stomach ache. I usually take them with food.
Eager to remedy the pain, I got dressed and made my way down to the kitchen where I whipped up a fast breakfast. I wanted to eat quickly so I prepared a rather odd breakfast. I sliced up an apple, dipped the pieces in fatty peanut butter, and had a few chips with guacamole. (I know, I know – not exactly a typical breakfast…)
Anyhow, those snacks didn't help.
Symptoms
Sorry if any of this is TMI, by the way. Feel free to skip ahead to the bottom. I'll try to keep all of the details straightforward but I want to be transparent about what happened to me since recognizing your symptoms early for something that is so serious can potentially be life-saving.
The Rapid Progression of Pain
After eating, the pain continued. My abdomen felt bloated and the discomfort was pretty severe. I tried to stay in the bathroom thinking it would soon pass, but actually, the pain grew worse and did not improve whatsoever. I stayed in the bathroom for several hours wondering what was wrong with me.
My family had plans for all of us to go out in the late afternoon but I recognized that I was in no condition to leave the house. I told my parents that I felt too unwell to go out. My mom suggested I try to exercise and move around in case it might help relieve the bloating.
I ran on the treadmill for 30 minutes and did 150 jumping jacks.
Exercising did not help.
(In hindsight, knowing what actually turned out to be wrong with me, I cringe at the thought of me pushing myself to run and jump around. We didn't know any better at the time though.)
Time for the E.R.
My pain began at 11 AM and by 4:30 PM, I was confident that something was seriously wrong. I turned to Google and based on my symptoms, my best guess was that my appendix was causing me problems.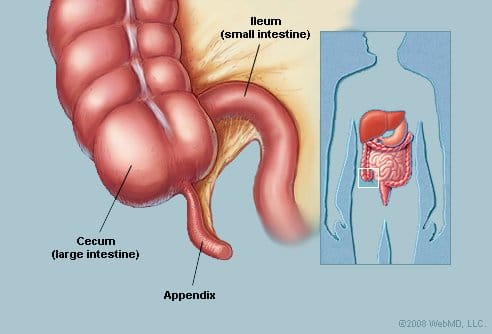 My parents returned home and we traveled to the nearest hospital where I was admitted to the emergency room. I told them about my appendix but because I mentioned to them that I had a minor sore throat (I have a very sensitive voice and I think this was actually related to talking loudly on New Year's Eve and nothing beyond that) they suspected it might be COVID-19 related.
For this reason alone, I was placed in a COVID isolation unit as a waiting area.
On the Hospital Floor in Pain
My pain grew worse and worse. After being placed into my COVID containment area, I hoped that someone would come to get me in maybe ten or twenty minutes, if not sooner. The hospital was busy and likely short-staffed due to the coronavirus.
I slid off my chair and onto the floor, curled up in pain as my right side became excruciating. No one came by for an hour and by the time a hospital person retrieved me from my room, I think I looked like I had already died.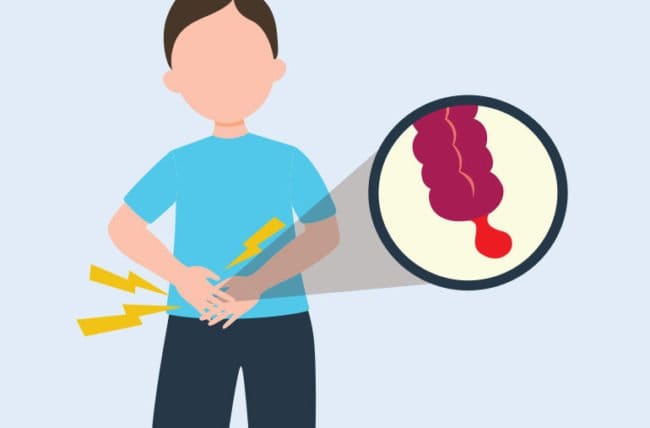 In a wheelchair, I was brought to a new room where I was promptly hooked up to an IV and prepped for tests. They told me I'd need to have bloodwork done, a COVID test, and a CAT scan of my abdomen.
Testing
The routine bloodwork and urine analysis were straightforward.
They had me take a COVID test via nasal passage swabbing. I'm not sure if this was the same thing as the ones they ran last March, but I didn't really think much of it. This was my first time getting tested and it wasn't all that big of a deal. Yeah, the q-tip went uncomfortably high up but it also was so fast I didn't mind. Maybe I just got lucky with a skilled nurse who knew exactly what to do.
The CAT scan was also new to me. I had never had one done before. I had to drink two whole bottles of a special berry-flavored barium sulfate smoothie that would allow the imaging scan to work.
The nurse was amused and told me I was one of the very few patients who had ever reported to them that I actually enjoyed the taste of the barium smoothies.
The scan itself was pretty simple. It would mechanically slide my body in and out of a short tube. A robotic voice would instruct me on when to hold my breath while the machine scanned my abdomen. The technician injected contrast fluid into my blood and warned me that my body would soon feel warm and that I might feel like I peed my pants, but not to worry about the feeling. The sensation that followed was one I could have done without.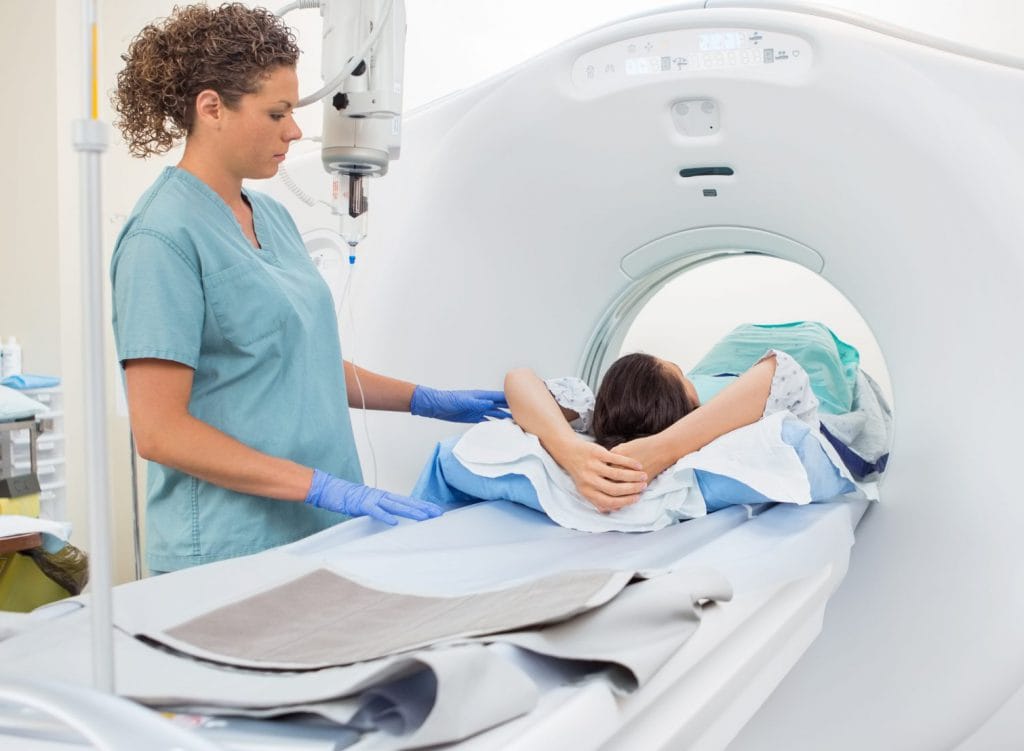 Soon after the CAT scan was complete, my blood work was processed. As a potential surgery candidate, they also processed my COVID test within one hour of taking it and let me know that I tested negative.
Yay. No COVID. One less thing to worry about.
Appendicitis
A doctor analyzed my CT scans promptly only to confirm my initial fear: I was diagnosed with appendicitis.
My appendix had not yet burst, thankfully, but surgery was really the only practical option for me.
Had I only chosen to take antibiotics or leave it alone, there'd be a high chance of it reoccurring in the future. Even worse is that should it burst, problems with your appendix can actually be lethal. It's nothing to mess around with. I didn't want to take any chances.
Mentally Processing Everything
It was just so crazy to think that at 10 AM that same morning, I felt relatively normal and that all of these symptoms hit me so suddenly! I mean, I was just celebrating New Year's Eve a day or two ago! Without a care in the world…
How could this be happening to me? I needed urgent surgery????
Facing My Fear… Again
You might recall from my post a few years ago that I have a huge fear of anesthesia. The fact that I'd need surgery again had me freaking out. I tried to remain calm as best as I could. Due to COVID, family members were not allowed to visit me in the hospital. With a dying phone, I had to communicate with my loved ones to let them know what was happening to me and that I'd be admitted overnight.
I was told I would be undergoing surgery in as little as two hours after signing the paperwork.
My Appendectomy
The surgery actually got delayed to the following morning so I waited in the hospital overnight. My family and friends were really helpful in sending me all sorts of nice messages and pictures of birds to keep my mind off of the surgery. The distractions were so welcome.
Then the nurses came in the next morning to roll me off to the operating room where I met the surgeons, anesthesiologists, and other medical staff who would be operating on me. They were all so nice and comforting. I really liked the way they handled me during the preparatory period before surgery.
No sooner after meeting the anesthesiologist, I went unconscious.
An hour later, the surgery was complete. Maybe one or two hours after that, I woke up from the anesthesia and, deja vu, just like last time in 2014…. I was weeping because I couldn't thank the surgeons and anesthesiologists for operating on me.
(Throwback to 2014…….)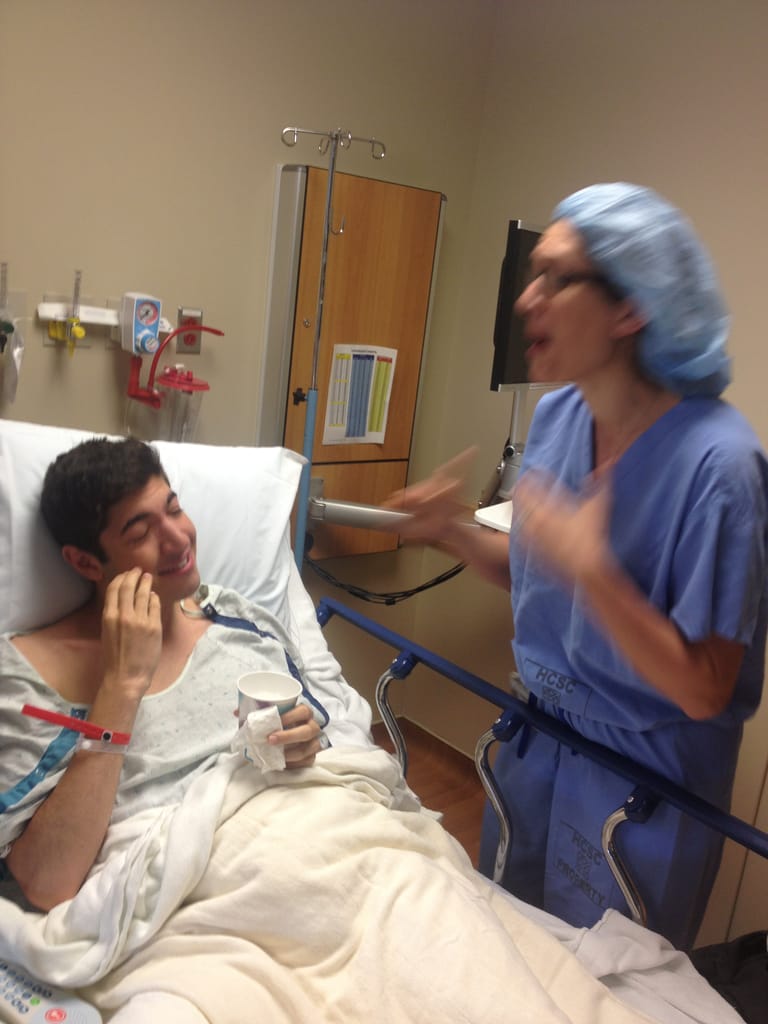 People react to anesthesia in wacky ways. For some people, it makes them angry… others get groggy… and yet others become emotional. I guess it's clear which category I fall into.
Much to the relief of my very concerned semi-sedated self, I actually DID see my surgeon while getting rolled out of the hospital to my family so even though there isn't a photo of it, I got to thank the surgeon this time!!!!!
YAY. The tears stopped pouring out of groggy Rocky's wet face and a smile formed as he left the hospital all stitched up.
Now my mind is back to normal and I'm relieved to report that my surgery went well. I am home now trying to recover from it. It's been a whirlwind these last few days and I'm doing the best I can to keep up with everything. I feel okay right now but I am really sore and my stomach is in a lot of pain from the three laparoscopic incisions.
I hope 2021 has been off to a better start for all of you…