Last Updated on March 25, 2021
Quick Links to VIPKID Resources:
Want to Teach English Online? Here is the Online Application to work for VIPKID.
I help all of my referrals ensure they have the highest chance possible of getting hired.
Check out my Free Step-By-Step Guide for the Online Application Process!
Join thousands of teachers like myself who work from home & travel around the world! Apply today!
Living a Digital Nomad Life In Greece
One of my main concerns leading up to my backpacking/digital nomad trip was the fear of internet instability and slow speeds in other countries around the world. I knew there were websites that provide information about upload speeds, download speeds, and ping (which I still don't quite fully understand) but for some inexplicable reason, I remained skeptical.
While teaching in Athens, Greece, my findings were that the Wi-Fi speeds in the capital were usually decent. The connections I used were all noticeably slower than the WiFi back at home in the United States. On most days, it was sufficient for the purpose of teaching but it was not without flaws.
There were days where the network failed. Those lessons were extremely stressful. You'd know the class was going to be problematic right from the start because the classroom would not load successfully. At the time of this trip (July 2017), this was how a failed classroom would appear.
I did have a few Teacher_IT problems sprinkled in throughout the month but the total did not exceed 2 or 3. Still, that was more than I'd gotten in the previous 8 months of teaching in the United States combined. Overall, I would say Athens is a teachable city for VIPKID Teachers who travel.
What To Do If Your Network Fails?
As a precaution, prior to my trip I purchased a global mobile hotspot. The device I own is called a Teppy! (I didn't make that up – that is actually how the company refers to their hotspots.) The Tep4G Wireless Hotspot is a little device that produces a personal Mi-Fi network nearly anywhere in the world! You just turn it on, connect to the Wi-Fi network that appears, and you're free to use the internet from anyway. You can purchase a Teppy here.
Buying a Teppy was worth its weight in gold because the ability to quickly throw up a network is EXTREMELY handy when your other connection fails and you're urgently trying to contact the VIPKID firemen to tell them you're having trouble connecting so you don't get marked with a Teacher_NoShow. On top of that, as long as the Teppy network is stable enough, you can even teach from it and avoid contacting the firemen altogether.
Teaching During the Summer Meltdown Of July 2018
At least once every summer, something horrible happens to the servers causing the entire VIPKID platform to crash. Of course, this year it happened in July while I was traveling in Greece. I was panicking because I thought my network was failing until I was able to access Facebook and realized teachers from all over the world were experiencing the same issues! No one could load their classroom.
Our classes were ultimately all marked System_Problem. Fortunately, we still receive full pay for classes with this finish type! Don't think it's as great as it sounds though. The stress of thinking you might be missing your lesson is pretty frightening.
Teaching During the Athens 2018 Attica Wildfires
That wasn't the only meltdown I taught through while in Greece. In July, there were terrible wildfires spreading throughout Athens. I still remember the morning I was teaching when Jorge came over by me to urgently tell me there were wildfires in Athens and that they were supposed to be far from us but with smoke visible from the city center. I was sitting in a just-cancelled lesson trying to research online what was happening so I could ensure I wasn't in any danger before my next lesson.
My Favorite Teaching Moments in Greece
The New Classroom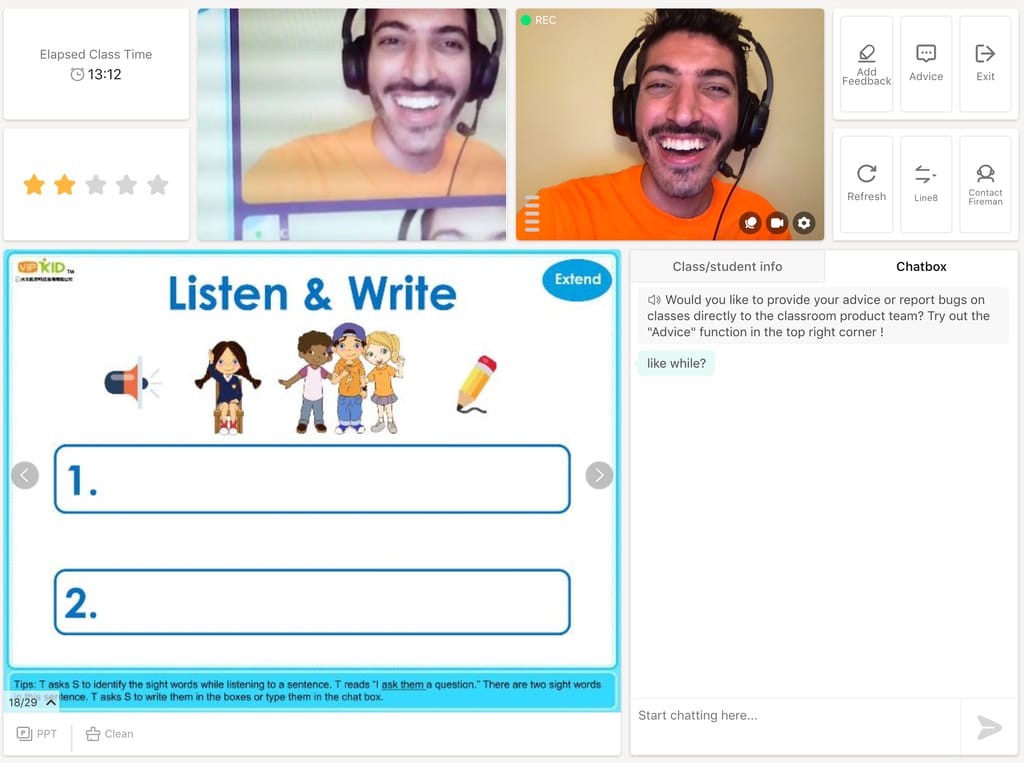 VIPKID released a new classroom format! Now lessons have HD video, the option to mute your microphone, and a new layout! I love the new update! In this photo, my student was trying to show me my own face for some reason. I had never had a student do that before!
The Wrong File Was Uploaded
I asked a student to please present her Final Project to me and when I opened the file… this happened.
"You need to find one more toy: the ax!"
I had a student make it to level 5 of his Unit Assessment where his objective was to find one more toy: the ax. I had never realized an ax was considered a toy until that day! How fun!
(Fret not: we both laughed when we saw this but I made it very clear to my student that an ax is NOT a "toy.")
In closing, teaching from Greece was a success! It worked for me, it can work for you.
WHO Travels!?! YOU DO!!!