Last Updated on September 7, 2023
After spending most of July in Athens, I started to consider the possibility of visiting one of the many Greek Islands.
People say you should absolutely visit at least one island if you're already in Greece. While most tourists choose to visit popular islands like Santorini, Mykonos, and Corfu, Jorge and I had our eyes on slightly different destinations. Because we were both traveling together on a budget, we focused on finding an island that was cheap, nearby, and easy to get to.
Ideally, it had to be an island that we could easily sail to early in the morning, spend the day on a nice beach, and then travel back to Athens at night so we could nix the expensive accommodations on the island.
Choosing Which Islands To Visit
Figuring out which islands to visit can be a daunting task.
Greece has over 6,000 islands although only 227 of them are currently inhabited. With so many islands to choose from, it can be overwhelming to weigh all of the options!
There were two islands that seemed to fit the criteria we had set for a budget-friendly day trip:
Those two islands were Hydra and Aegina.
Both islands are easily accessible from Piraeus which is one of the main ports that the ferries dock at. You can travel to Piraeus using Athen's Metro system via Line 2.
Hydra
Hydra is a special island. Cars are not allowed on Hydra so the only forms of transportation available are moving around by donkey, by bicycle, or by foot.
From Piraeus, the travel time is around an hour. From what I've gathered through my research, this island is more scenic and picturesque. You might find that there isn't too much to do. While the beaches are nice, many people complain that they are pebbly and uncomfortable. If a day on the beach is your main priority, Hydra may not be the best option.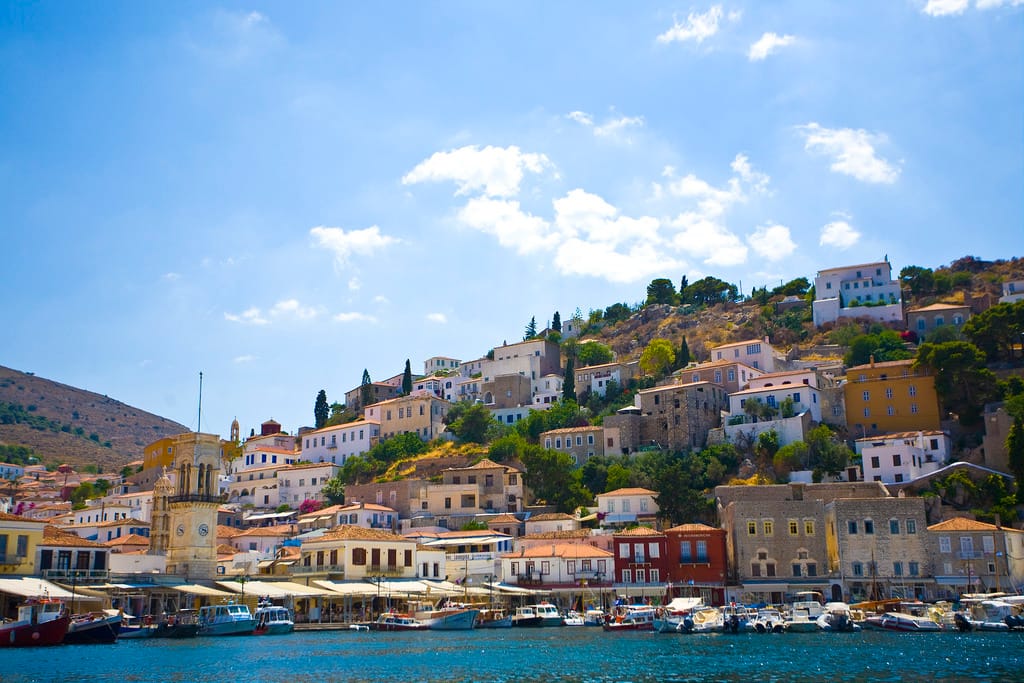 The atmosphere is supposed to be very lovely and peaceful on Hydra. I did not have the pleasure of visiting Hydra yet – but hopefully, someday I will. It looks very cute!
Aegina
In terms of travel time, Aegina is on-par with Hydra. It'll take just over an hour by ferry. It is located even closer to Piraeus so you can usually get to it quicker and even more cheaply if you leave from that port.
Aegina is said to have nicer beaches than Hydra. Rather than the rocks and pebbles, you'll find on Hydra, Aegina's sand is more of a powder. If a day on the beach is what you're looking for, a quick day trip to Aegina is probably the better option. The island has a cheap bus line that stretches across the island. I believe I read that a one-way ticket costs around 2 Euros per person.
The best beaches on Aegina are said to exist on the other side of the island from where the ferry drops you off making the bus trip well worth it. Besides the great beaches, Aegina touts the ancient Temple of Aphaia. I was blown away by how strikingly similar this temple looks compared to the Parthenon at the Acropolis in Athens. The Temple of Aphaia was something I was really looking forward to checking out in Aegina.
The End Result
While discussing with Jorge which island made the most sense for us, we *initially* decided to go to Aegina. Since a day on the beach was a high priority for the two of us, Aegina won bonus points over Hydra – even though they were closely tied.
When I called my family to tell them we'd be visiting Aegina, my mom and dad thought it sounded like a lovely day trip. My mom really encouraged Jorge and me to try our absolute best to visit Santorini or Mykonos if we could manage it because of all the great things she's heard about the famous islands. We both knew Mykonos has a world-renowned reputation for being a highly ranked gay-friendly travel destination and we both REALLY wanted to go. We seriously waited until the VERY last minute to book a trip – it was the night before and we were booking a trip for the following day. Before making our plans to visit Aegina official, we did some extra work to see what we could find for the cheapest transportation and lodging available in Mykonos.
We browsed for the cheapest ferry prices we could find – that is usually less expensive than flying – and we booked a "cheap" (maybe 2 star) hotel room near the two best gay beaches on the island. It did stretch our budget a bit more than I originally wanted, especially considering how expensive everything else was on the island itself, but it could have been a once in a lifetime opportunity for us and my parents said they wanted to see Jorge and I go and enjoy our time together so they would do whatever it would take to make it happen for us. Thankfully, we were able to get the costs down far enough that it became a viable option.
Finally, we decided to go for it. We booked a trip to Mykonos for the NEXT DAY. Traveling on short notice can be one of the cheapest ways to go about it!
It felt unreal. In a matter of a few HOURS, we'd be sailing on our way to one of the most popular GAY-FRIENDLY TRAVEL DESTINATIONS in the ENTIRE WORLD! Ahh!!!!!
Helpful? Please pin this onto your favorite Pinterest Travel Board!