Last Updated on March 25, 2021
Athens is a city FULL of cats. They are everywhere. I have never seen anything like it before in such an urban and populated area. Though I wouldn't necessarily consider myself a cat person, I will admit… I really enjoyed seeing all the gentle, little cats strolling through the streets with such poise and attitude.
While shopping in a supermarket with Jorge, I decided to buy a small bag of little Whiskas cat food. They had a normal-sized bag of cat food (shown in the photo above) as well as a larger bag. I ended purchasing this one with the rationale that it was small enough (while still being big enough) that I could carry it in my backpack everywhere I go and Jorge and I could feed every single cat we encountered.
Every. Single. One. (Oh and trust me, we did.)
This was the first cat that we fed in Athens. He was spotted a few streets away from Syntagma Square.
Little by little, we started finding more cats to feed. We showered them with kibble.
The highlight of my Greek cat feeding experience took place near one of my favorite metro stations in Athens. There was a large group of cats that just kept getting bigger – and bigger – and bigger – as we gave them all a ton of food. Probably 2/3 of the bag was consumed right there, as you shall see…
First, there was one. (Or so we thought.)
Then we spotted two adorable kittens.

Three cats had now shown up for Whiskas.
Except, soon there were four.
And then five!
We certainly didn't expect six!
A few minutes later, we had a group of seven! This was becoming cat heaven.
At this one spot, we had eight cats surrounding us all at once. Our feline friends were very excited to have food readily available. The little ones were chasing one another. Many of the cats were surprisingly friendly with us, although neither Jorge nor I ever tried to pet any of them. One or two made sure to always keep their distance. Still, feeding the cats in Athens was very exciting because we never knew when they'd stop coming!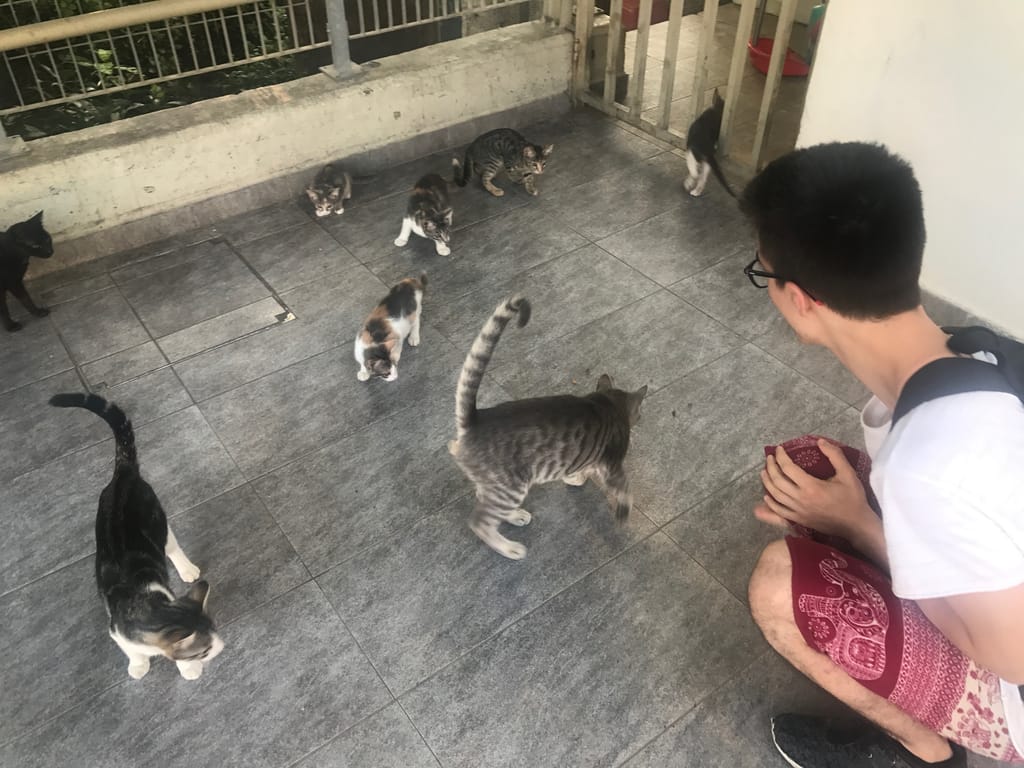 The cats were fearless. Some would brush up against you if you didn't step away and a few would even jump up at your hand if you were holding the food where they could see or smell it. I think this cat feeding action shot shows how focused some of the cats were on getting to the food first.
This adorable little guy was extremely vocal upon meeting us. It broke my heart because the way he cried for the kibble made me think he was truly starving out there on the streets. I don't know if maybe the locals sometimes feed him but he seemed so desperate to eat. My cat back at home cries the same way each morning and she definitely isn't starving. But my cat is spoiled and I trust that these yelps were a bit more genuine. We gave him a lot of Whiskas.
One night, we found two cats chilling by the famous Agora near Monastiraki. The black cat, who I'm photographed with below, actually started following us after we fed him. I have video footage on my phone of Jorge and I walking along the streets of Monastiraki at night with that cat trotting alongside us. The only sad thing is that you can't see much in the video because it was very dark and late at night.
I'll miss the cats of Athens. I hope they continue to find food in the city and meet people in the area who will provide it for them. Nothing breaks my heart more than seeing animals (and people) who are hungry. It is one of those things that I feel a sense of duty to do something about.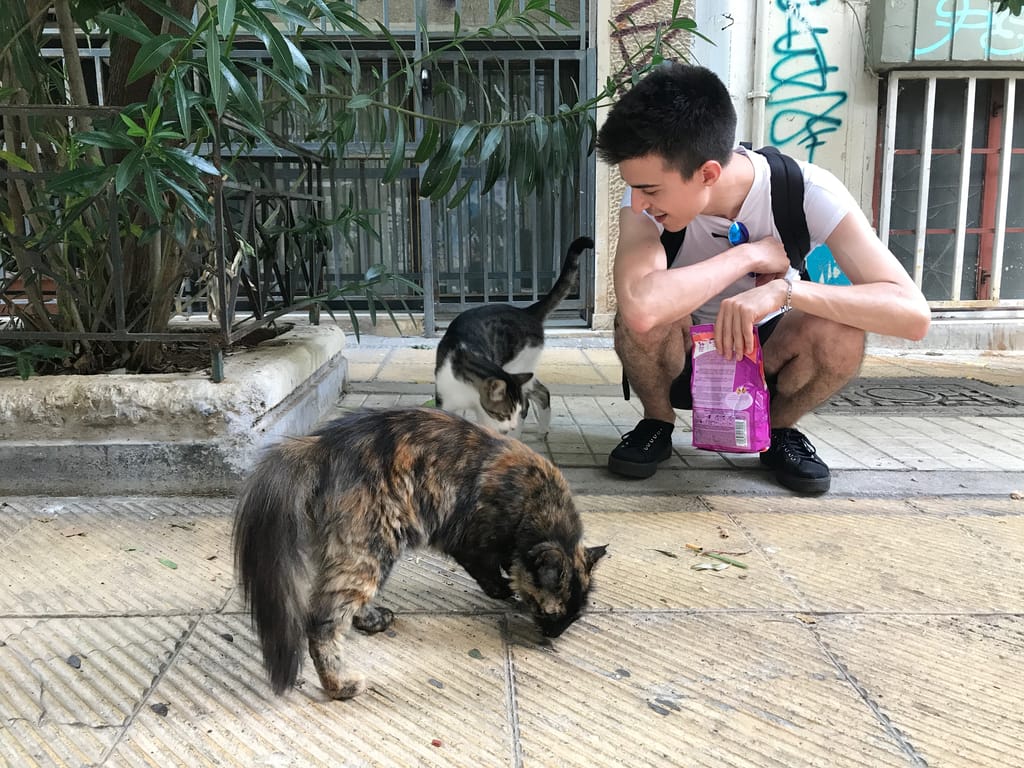 If everyone would give a little, think about the impact we could have on cats and on people! Even if you're financially strapped or living on a budget, I think we all can do our part to improve the life of someone or something else. That is one thing we should all hold ourselves accountable for.