Last Updated on February 3, 2023
I recognize that there is a possibility you may not know this yet but let me be the first to tell you: you need a Veggetti. It's true, you do! The Veggetti is a spiralizer that turns a number of vegetables into spiral-shaped veggie-spaghetti. Zucchini, squash, carrots, cucumbers, and potatoes are just a few of the many wholesome foods that can be easily transformed into healthy flavorful pasta!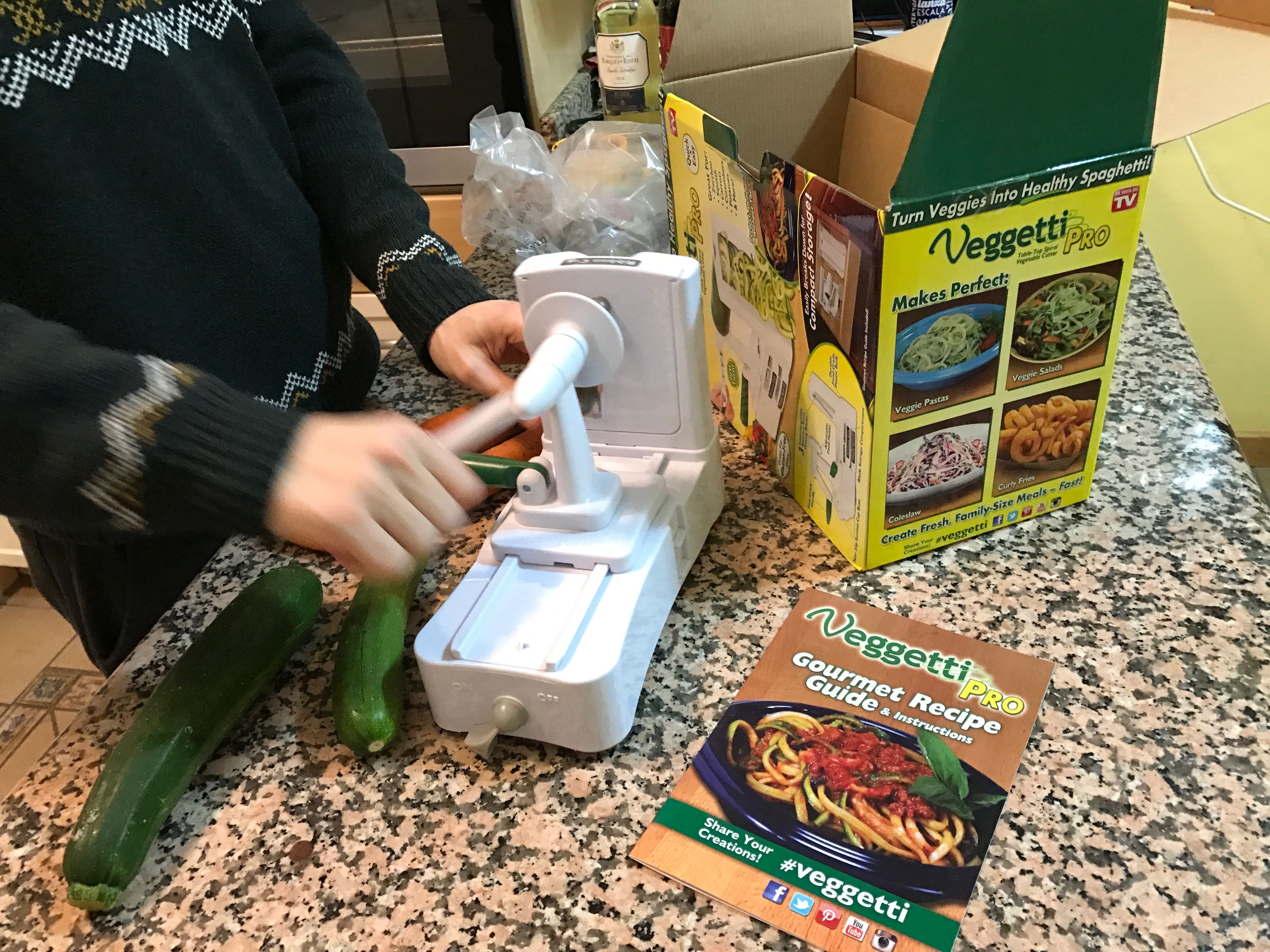 Right before the holidays, I went out on a whim and ordered not one but TWO Veggettis. OH and not just any two Veggettis. I ordered the Veggetti PRO. I had planned to give one to my mother for Chistmas and the other to Jorge's! I remember Jorge told me his mom actually seemed excited about the idea of owning a vegetable spiralizer so I figured giving her the Veggetti Pro would go well! As for my own mother, I wasn't too sure…
After wrapping both Veggettis, I put my mom's under our Christmas tree and carried the other to the suitcase I was packing for Spain. Clearly, I seriously overestimated the amount of suitcase space I thought I had available because the Veggetti Pro easily took up almost a third of my luggage. Either that or I underestimated the size of Veggetti Pro. No, it couldn't be that. Not Veggetti.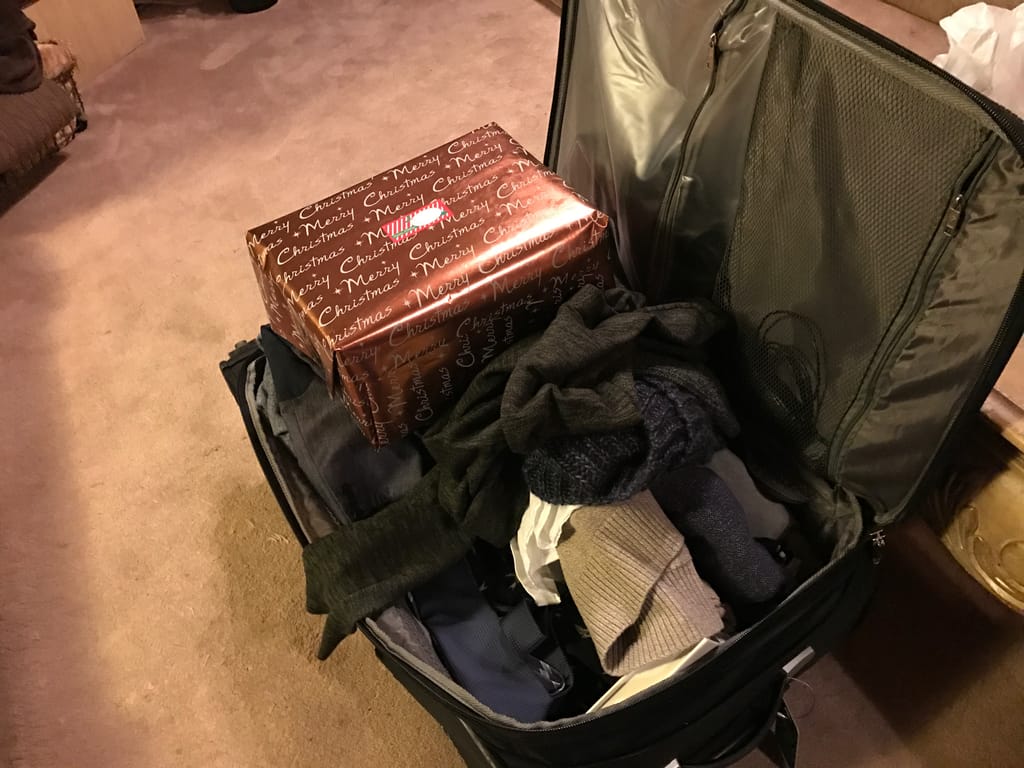 After playing a nice little game of packing-Tetris, I eventually made everything fit inside while remaining under the 50 pound weight limit. SUCCESS!
Since I couldn't be home Christmas morning due to a little (big) mistake, my family e-mailed me a video of them opening the gifts I got them. My Mom's reaction to receiving the Veggetti was comical because I think she was super confused. It's now almost a month later and I think she still has absolutely no idea what it is. Jorge's mom, to my relief, seemed excited about receiving the Veggetti Pro. Sometimes she even messages me pictures of meals she cooked with it! ?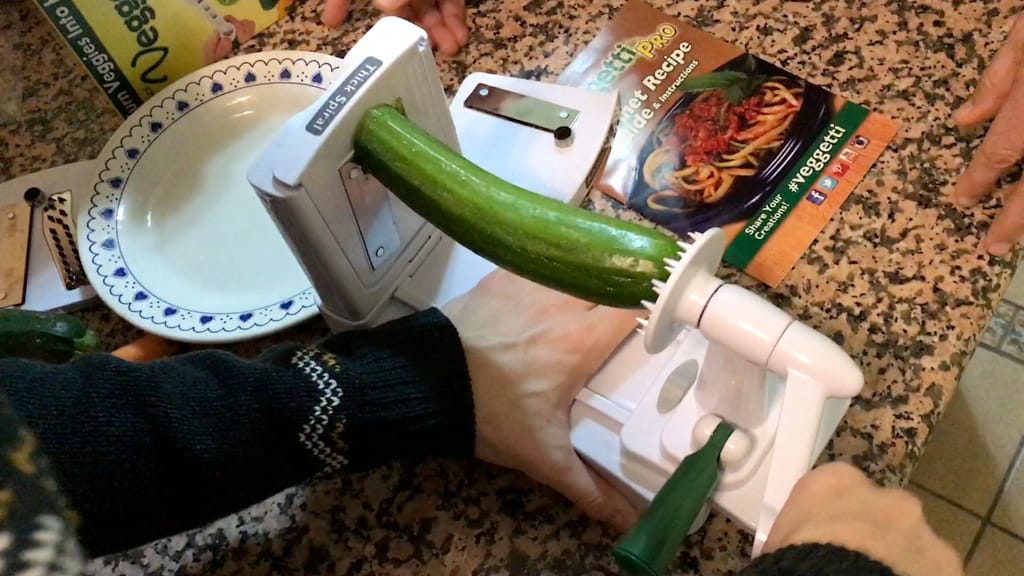 Jorge and I unboxed the Veggetti Pro to get it up and running so we could try cooking with it. Assembly was super simple (it was basically ready out of the box.) The bottom of the Veggetti Pro has a suction cup that makes it stick to the surface you're using it on. As for the blade, you can choose from one of three spiral shapes: thick spiral, thin spiral, and a ribbon blade.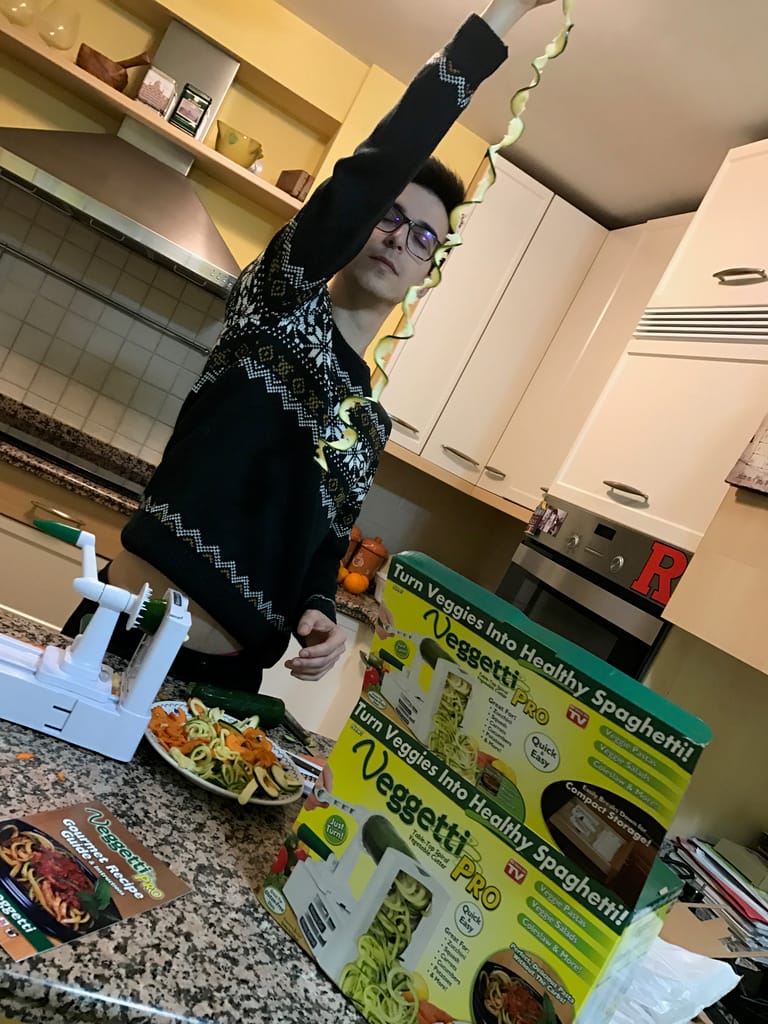 We grabbed a zucchini and a carrot to test them out. The thin spiral was, as you may suspect, the most spaghetti-like. The thicker spiral produced the pasta strand that Jorge is holding in the photo on the left. (This blade was my personal favorite!) The ribbon blade was a bit too thick for my pasta-preferences but I could totally see it being useful for making veggie-chips!
One thing I hadn't realized about the Veggetti before using it is that it essentially cuts vegetables up into one long endless spiral. So unless you go in and cut the strands yourself, you'll find yourself chewing one SUPER long piece of vegetable pasta. Cutting it up is super simple though.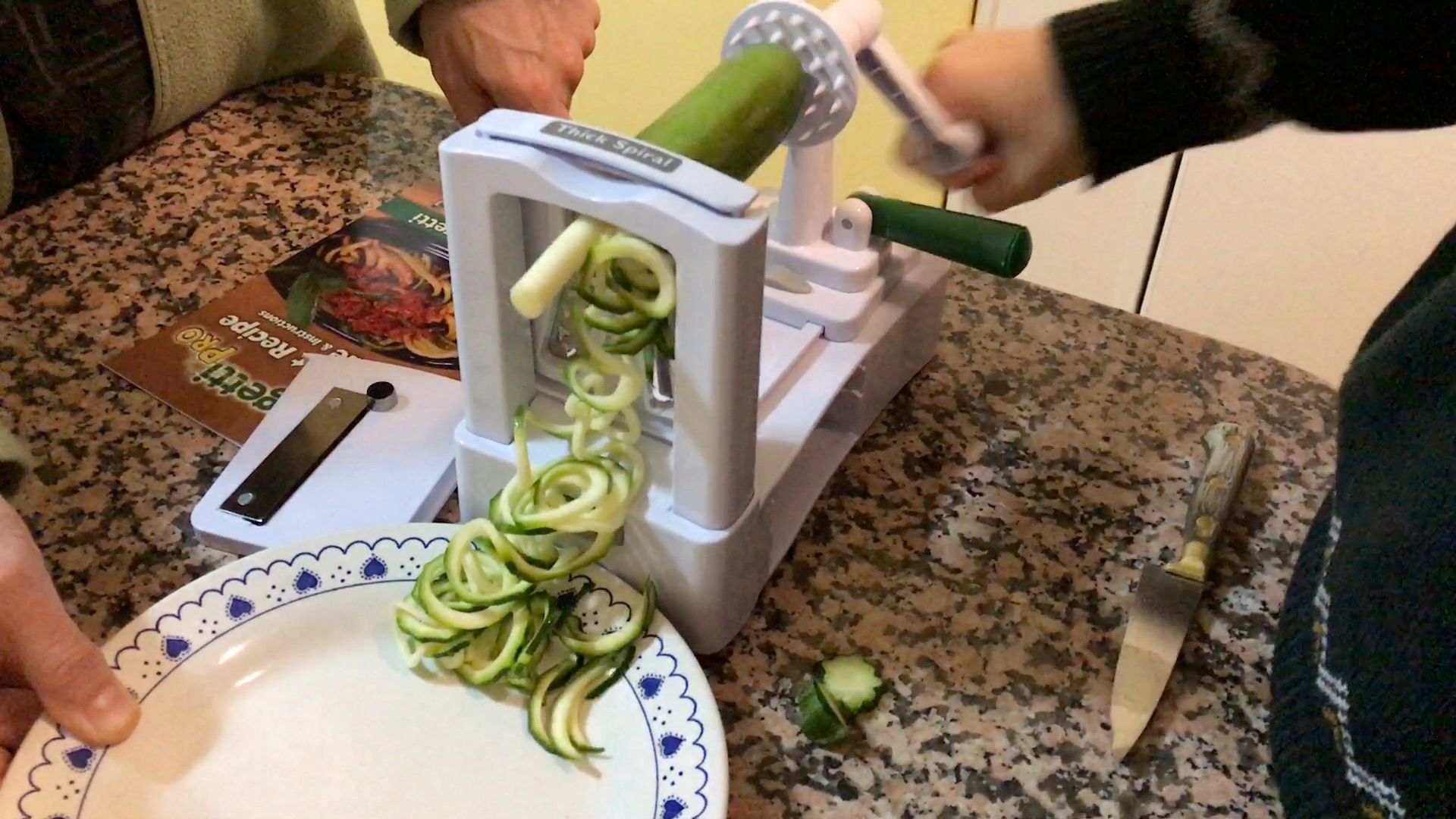 Perhaps one of the funniest parts of using the Veggetti is the leftover core that protrudes out once the vegetable has been fully spiralized. This is totally edible as it's just the core of the vegetable but its appearance isn't exactly "appetizing."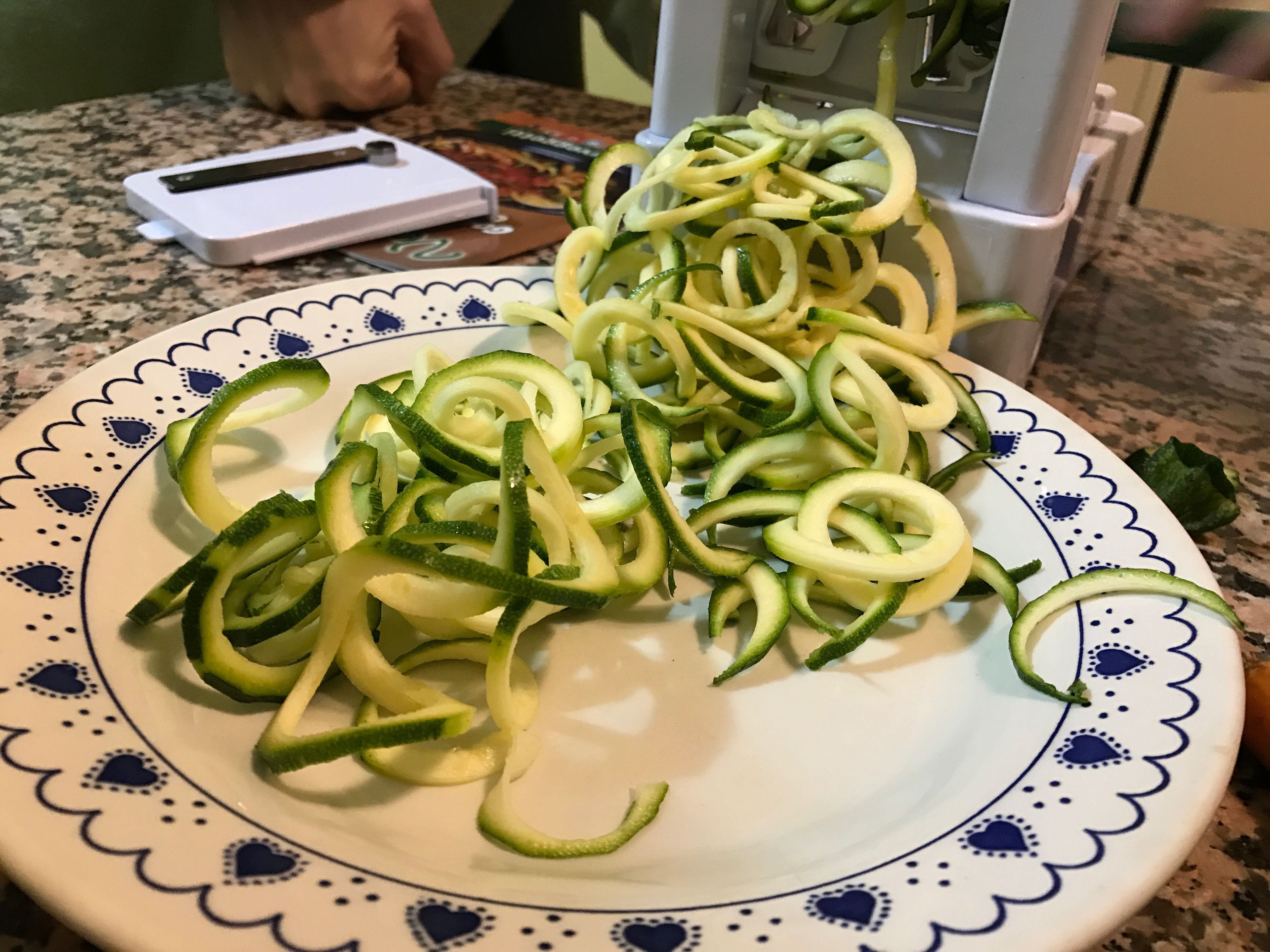 Once our carrots and zucchinis were all cut up, we threw them into a frying pan and used the little Recipe Guide Book included in the box to make a sauce for our pasta. We decided to go the simple route and cooked our Veggetti pasta in olive oil, basil, rosemary, butter, along with a few other gentle herbs. The results were terrific!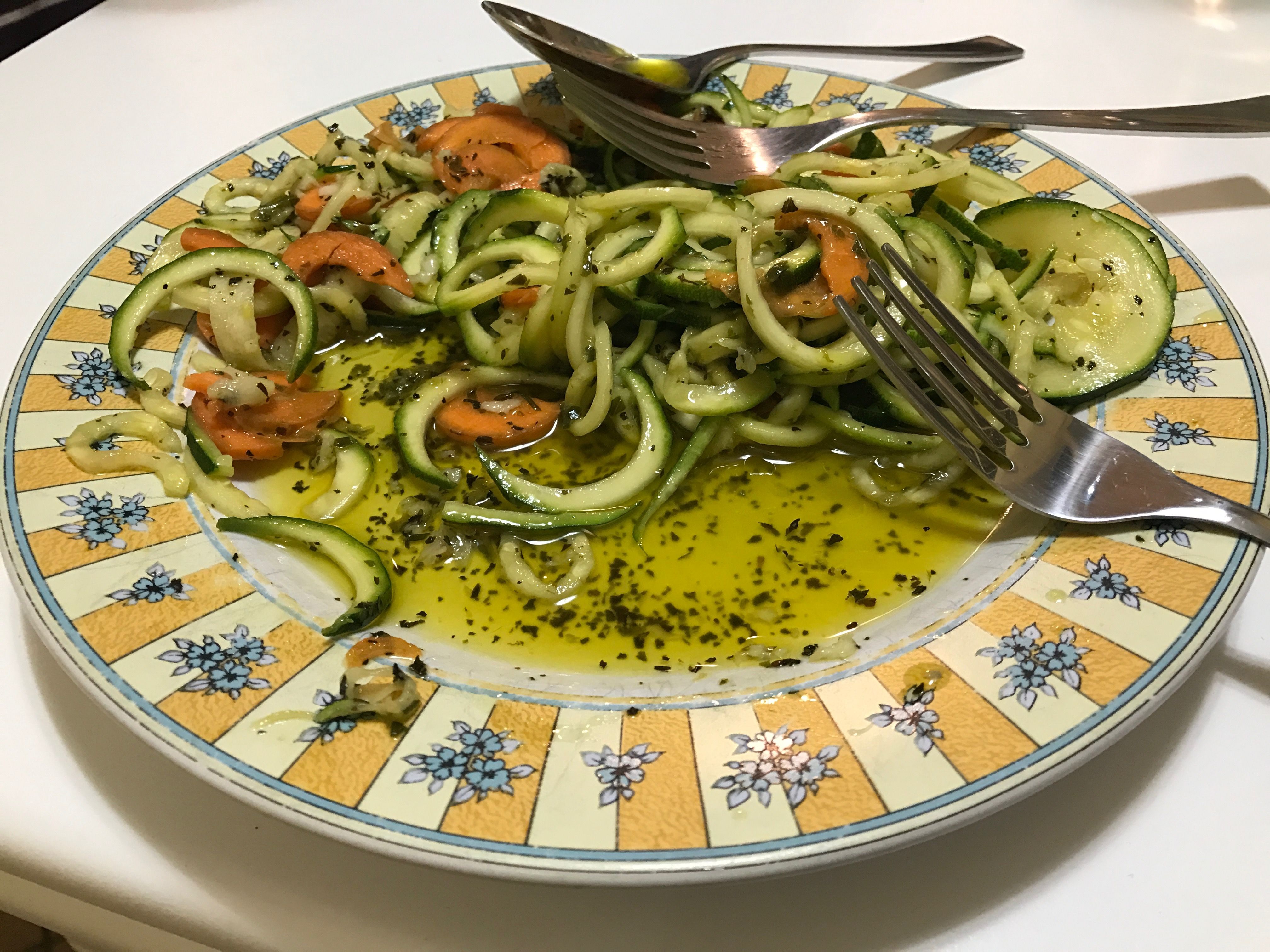 We all taste-tested the final product and were pleasantly surprised! I actually really liked it. The pasta had a slight crunch but heating it up made that less noticeable. The sauce was enough to overpower the vegetable-taste in my mouth making it actually seem a whole lot like ordinary pasta! It was in that moment that I decided someday when I have my own home, I, too, shall own my own Veggetti Pro.
---
If you are interested in buying a Spiralizer, here are a few options in price-ranked order:
Standard Veggetti (Around $10)
Veggetti Pro (Around $20)
Oster Electric Spiralizer (Around $50)
KitchenAid KSM1APC Spiralizer (Around $100)