As many of you know, I am on a constant quest to find new and exciting flavors of teas that I can enjoy. Among my current collection of loose leaf teas, some of my top choices include China's Dragonwell Green Tea and Teavana's Ruby Spice Cider Rooibos Tea. For about a year now, I have been searching for a decent brand of Matcha Green Tea with little-to-no luck… until now.
Feeling adventurous (or impulsive, whatever you'd rather call it) Amazon suggested a particular brand of Matcha Green Tea to me. The product was from a company called "Moonlit Matcha," and retailed for around $30.00. Although a bit on the expensive side, I decided to buy it anyway.
Never before have I purchased ceremonial-grade Matcha green tea. However, I knew if there was any chance of me enjoying the flavor of the Matcha, I'd need to invest in a high-quality grade of it. Previously, I purchased a Korean brand of Matcha that I am pretty sure was kitchen-grade (meant more for cooking, not so much for drinking) because the flavor was disappointing, to say the least. Perhaps that decision was foolish since the best brands of Matcha normally come from Japan.
The difference between the two teas was night and day. The Japanese ceremonial-grade Moonlit Matcha was a fine bright green powder that produced a very smooth flavor. It lacked the bitterness of the much darker green, low quality Matcha that I had previously purchased. The appearance alone was a huge indicator that I had a winner on my hands.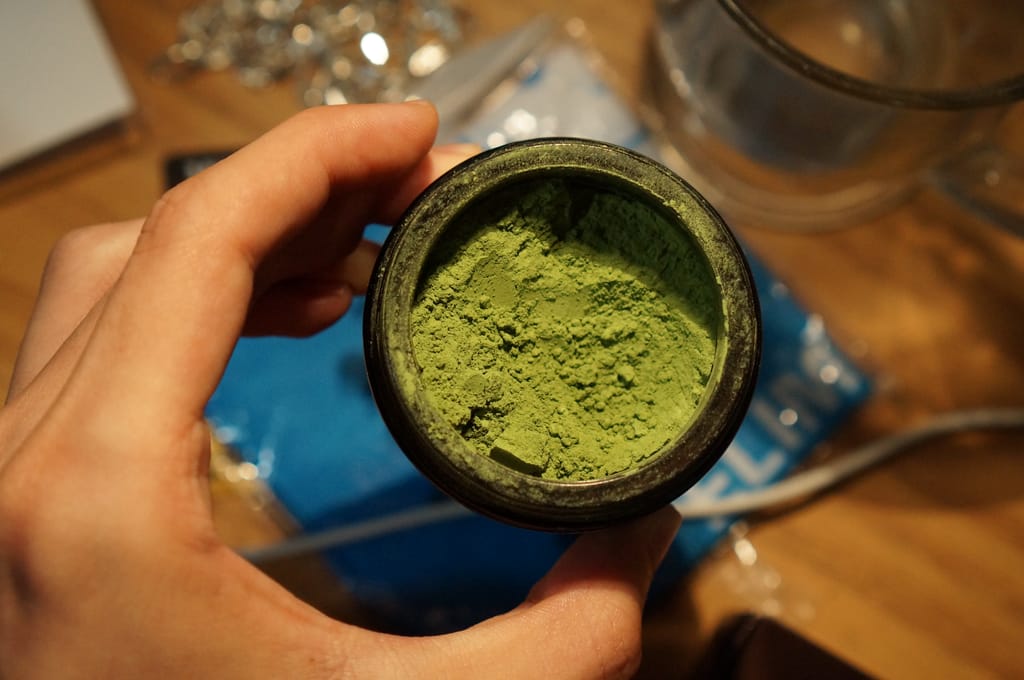 The container it came in was small. Given its price tag, I debated whether or not I would continue to restock the Moonlit Matcha once I ran out of it. However, I did some research and discovered two things that made me gain an appreciation for its size, shape, and design. First off, Matcha, once opened, only has a shelf-life of around 4 weeks. Most containers are smaller in size so that you don't end up with stale unfinished Matcha.
Additionally, the design of the container is significant for extending the shelf-life of unopened Matcha green tea. Moonlit Matcha's tea comes in a black glass container. This is by far the most effective way to block out sunlight and keep Matcha fresh for a long time. Black glass outperforms plastic containers like the one used in the Korean brand. The fine Matcha powder also has a tendency to absorb free radicals found in metal containers made of aluminum or tin. Glass is the way to go if you seek long-term freshness.
Having previously tried Teavana's ceremonial-grade Matcha, I can promise you, Moonlit Matcha's tea is 10 times better. An employee gladly taught us the whole 9-yards of heating the water to just the right temperature, the proper way to whisk Matcha, and even the Japanese tradition of spinning the completed cup of Matcha towards your guest. However, the final taste, in my opinion, was not impressive enough to make the sale.
I ultimately am extremely satisfied with Moonlit Matcha's green tea. I think it is safe to say I will continue to purchase their ceremonial-grade Matcha until a cheaper (but just as delicious) alternative is found. The bright green tea consistently exceeds my expectations with its smooth yet very bold flavor. It now competes with my other favorite teas for a spot at the front of my tea shelf.