Many cities that are close to the sea, such as Venice in Italy, remain in danger due to rising sea levels. In my previous post, I explained how climate change is putting olive production in jeopardy across the entire Mediterranean Basin. Some of the world's most historic sites could face severe damage or outright destruction as soon as 2100.
No one should be denying that climate change is real. Weather is becoming more extreme with each passing year…
You don't have to look too hard to see signs of it.
A day or two before my departure from Zadar, Croatia, I watched as the city was struck by a devastating storm that swept through after passing over Italy.
The storm caused more destruction in Italy than it did in Croatia, but it was still pretty damaging to the Croatian coastline. I watched as it carried heavy precipitation from the sea, crashing waves, and heavy winds.
By the time the storm had passed, the city seemed to be left in disarray. It broke my heart to be leaving Zadar behind so soon after witnessing the mess the storm had left behind.
Fallen leaves were everywhere, freshly planted flowers uprooted, sections of the city flooded, and a fair amount of damage to the stonework surrounding the coastline.
Weather is so unforgiving in that way. Zadar was looking so lovely just hours before the storm hit. I guess it serves as a reminder that no matter where in this world we go, we are forced to take the good with the bad. There is no such place as a true paradise on Earth.
At least, not in the traditional sense.
It was dangerous and cold conditions for anyone to be out by the water. Once the storm calmed down, I set out to evaluate the condition of things and to visit my flock of pigeons. Over the span of the month I had been living in the town, they'd gotten acclimated to my daily visits.
This new video contains an assortment of clips of my pigeons from Zadar:
Most of these clips were filmed right after the storm, although a few may have been from before.
Thankfully, I was able to locate my flock before having to leave Zadar behind. The pigeons were being blown around by gusts of wind and rain. It so sad to watch them looking so sad and so cold. It was difficult even for me to walk against the wind at times; I could really sympathize with them as I watched their attempts to fly end in vain as the wind would send them rolling back in the opposite direction.
Why are the pigeons in Zadar so friendly?
If you haven't read about the pigeons from Zadar yet, you can learn more here.
What's the story with Belle all about?
You can read that same post about Belle or watch this YouTube video about her.
Jesse, my other pigeon friend, makes guest appearances in both the article and the video.
My other pigeon friend, Jesse:
The element of the storm hitting the city, stacked on top of how sad I was to be leaving this country and these amazing birds behind, made leaving 10x harder.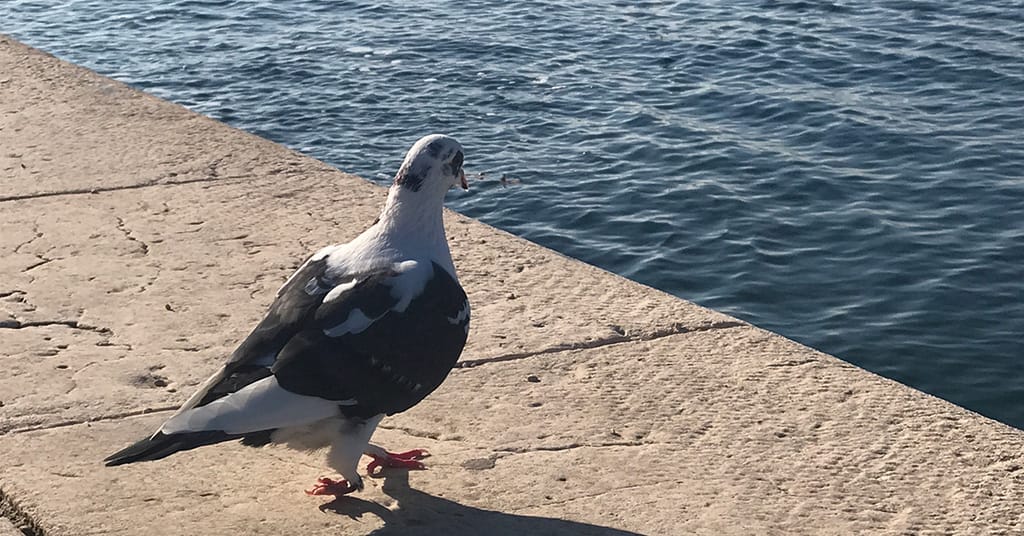 After a final goodbye, I set off for the bus station.
That day, the rain helped hide my tears as I got on a bus to leave Zadar and the birds behind as I set off for my next destination.