Last Updated on January 22, 2022
Insane! Has it really been 5 years since the day I started this blog? Where has the time gone? It's 2018 and The Rocky Safari has been online for 5 full years. The extent my blog has grown and changed since that quiet morning in 2013 is difficult to wrap my head around.
Any long-term reader has surely observed the major transformation my website has undergone these last few years! I recall waking up the morning in January of 2013 when my blog was born. I was feeling so inspired about the possibility of finally writing content publicly. Scared too. Creating The Rocky Safari blog ultimately boiled down to a decision. I wanted to improve my writing, test my creativity, and build something special.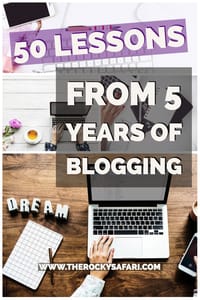 Here is a list I have put together of 50 Things I Learned From 5 Full Years of Blogging:
Blogging draws you out of your shell.
It inspires you to travel more. Nothing is more fun for me than creating a collection of memories and photographs from places I've visited and explored to look back on. It brings me so much joy to create something semi-tangible that captures my experiences and emotions from traveling.
It connects you with fascinating people all around the world. My readers have impacted my life in a major way. Your comments and e-mails bring such a smile to my face. I genuinely love hearing from you!
It encourages self-reflection and forward-thinking.
It helps you abandon an "employee mindset." You really need to be an entrepreneur to succeed in blogging. If you can sustain a long-term view on your blog, you will achieve a much higher degree of success.
It increases your risk tolerance.
It makes you face your fears. I can't tell you how many posts I've published while literally shaking from fear of what people might say or think about me. Blogging makes you feel vulnerable but the amazing thing is just how much confidence you gain from it all. I used to be so afraid to say what was on my mind. In just five short years of blogging, I have become a much stronger person today.
It allows your true colors to shine. I'm not afraid to sparkle anymore. 😉
You become more open to feedback. Your blog will fail if you don't learn to pivot.
You learn to write (and type) faster than you used to.
It teaches you to focus on a single task. In a world full of distractions, this skill is SO important. My mind goes into "zen-mode" when I write and I don't allow anything else to distract me. The same skills have aided me in school and in business. You have to learn to block out the chaos around you.
You learn to accept that it is okay to wear several hats.
Writing becomes a SUPER effective form of therapy. This blog is one of the only reasons I'm still somewhat sane.
It connects you to a diverse global community of bloggers. My network of blogging friends has impacted my life in a major way. I count on my fellow bloggers to support me just as I count on my friends from real life.
It reinforces your passions and interests.
It garners compassion from readers who understand you.
It helps you become inspired and live vicariously through others. I have a long list of bloggers who inspire me. While you might know me only as a writer, I'm an avid blog reader as well.
Blogging tests your patience and limits.
You become a source of inspiration for others.
Opportunities arise to coach new bloggers. Although this has been one of my more recent changes, I am excited that people are finally contacting me for help and guidance with initiating their own blogging ventures. If you're trying to get started, don't be afraid to reach out!
The concept of time becomes more precious.
It improves your storytelling skills.
It establishes new streams of passive income. Never in a million years would I have guessed this blog would generate money for me. Also, don't start a blog for the sole purpose of making money. Not a good idea.
It exposes your inner critic.
It teaches you how to laugh at yourself. The strangest things happen to me. At least we can laugh about them.
You become a better photographer.
It cultivates an attitude of gratitude.
It promotes a healthier personal development lifestyle. I always say, my blog is a direct reflection of my life. If it grows, it means I'm growing. If it doesn't, I might be stagnating.
Creates accountability for your own fitness and appearance. I mean, gotta look good for those followers, right? 😉
It teaches you to say "no" and stand up for yourself. People will ask to guest post and sponsor you. Sometimes these deals can be a good match for your blog but you also need to know where to draw the line.
It expands your awareness. My blog gives me a reason to continuously learn.
It helps you recognize the importance of shunning technology. You will quickly realize the importance of disconnecting from all your devices.
It gives you an excuse to embrace technology.
It forces you to seize the moment.
It pumps up your imagination.
The hard work happens before you sit down to write. Planning to create original stories can be a challenge.
Most things are like writing – if you don't sit down to do them, they won't happen.
It sharpens your attention to interface and design.
People follow people, not just blogs. If you want people to follow you, you need to become a leader.
It gives you a reason to never give up. When it comes to blogging, it is SO easy to want to quit.
You discover what people connect with and what people share in common with you will not always be what you expect.
Feelings of loneliness become less intense.
It opens the door to other opportunities. I can't tell you how many opportunities have come as a result of my online presence. I had a paid internship for 3 years thanks to a recruiter who liked my blog.
It creates a global online presence. Did you know this blog has readership from every country?
It eases the transition into writing short stories and novels.
It teaches you the technical side of web design. Without this site, I wouldn't know a thing about hosting or plugins or any of that stuff.
You come to value each individual who takes the time to read your content. Each person counts.
It promotes logical reasoning.
It encourages me to be myself, always!
Blogging inspires you to live beyond your wildest dreams.