Last Updated on September 6, 2023
It's never too late to wish someone a happy birthday!
(Even if it's ten weeks later!) Right??? Right!
This past summer, I enrolled with one of my closest friends to take Calculus at our local community college. The two of us pushed through what honestly felt like the longest (or perhaps fastest) five weeks of our lives.
My friend had never taken calc before so everything was BRAND NEW to her. For me, it was simply a well-known fact that calculus was a subject I struggled with. We were put in a position where we had five accelerated weeks to learn EVERYTHING that a student would normally learn in an entire semester. It was fast.
In the midst of that chaos, it was her birthday one day. (During Week 4 out of 5). We were so busy studying, doing homework problems, and preparing for the final that we never really got a chance to celebrate it. Plus, we said we'd celebrate again if we both passed and got course credit.
And we did both pass! Yay! But that celebration never happened either.
Immediately after the course ended, we were both swept away from one another and pushed forward on our separate paths. I began traveling to various places and was busy spending time with my boyfriend who I was just starting to date at the time. She was busy with another college class she was taking that hadn't ended yet.
And somehow, life went on. We were INSEPARABLE during those five weeks of calc – and then I never saw her again.
…Until yesterday! Ten weeks later. We were finally reunited back at Rutgers where we met up for lunch. I gave her the birthday present I made her. I put together a creeper poster with some of the photos I've taken of her since freshman year of high school. (We have this ongoing game of seeing who can take creepier photos of one another. Don't worry- it's not actually an obsession. Well, it sort of is an obsession. But in a totally-not-serious kind of way.)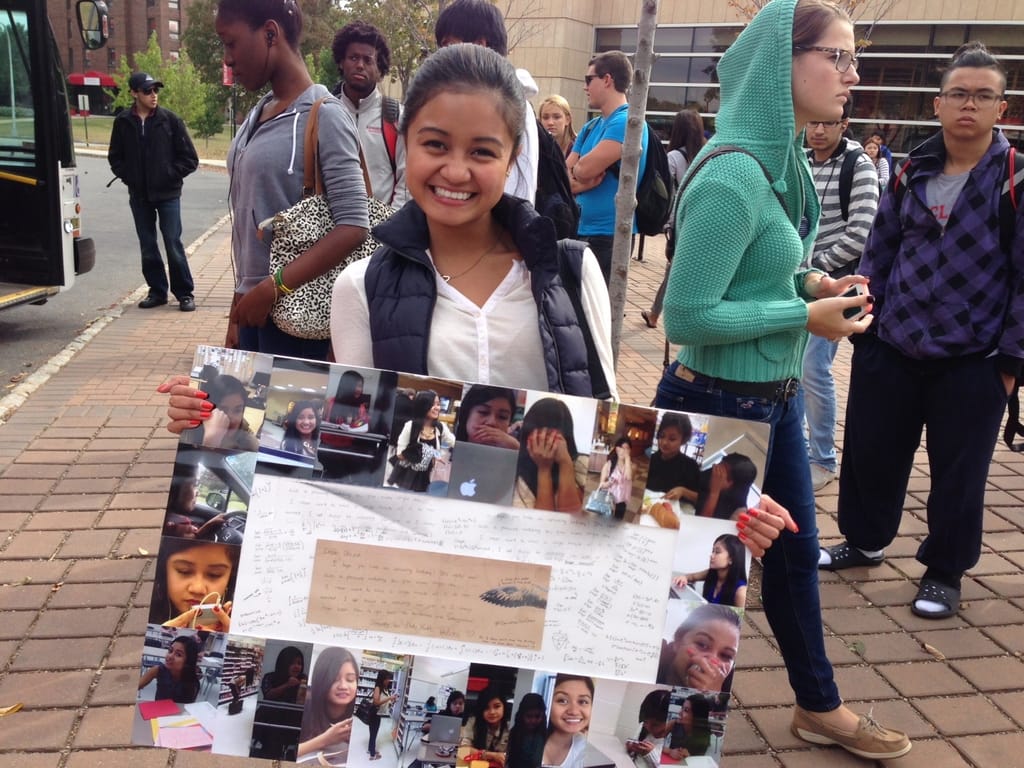 In the middle of the poster, I wrote in some of the hardest calc problems we "mastered" and added comments about the pain and misery of what we went through trying to solve them. I also gave her a Panera gift card- the one place we ate lunch at almost every single day since there was NOWHERE ELSE TO GO.
It was so funny. Every day we'd be like, "So where do you wanna grab lunch?" and the other person would respond, "Is that really a question?" As my sociology professor would discourage me from saying, THERE WAS NO FREE WILL. PANERA WAS PRE-DETERMINED. PANERA WAS DESTINY.
So yeah, now MY birthday is in two days. I wonder when we'll celebrate that one! Stay tuned.