Last Updated on March 25, 2021
Ever since my now six year old 2010 MacBook Pro hit 1,000 charge cycles last month, it has been performing worse with each passing day. Much like with my old iPhone, the battery inside no longer lasts more than 30 minutes without dying. The internal components are obsolete and fail to keep up with my daily workflow. I was able to extend the laptop's useful life one extra year by upgrading its RAM last December.
Sadly, my MacBook's age is really starting to show. My charger and replacement charger are both falling apart. (Another replacement would cost $80.00). The screen really looks outdated compared to today's standards. The laptop case is broken. The battery now desperately needs replacement (roughly another $40.00.) And to increase its read/write speeds, it would need an SSD with a greater storage capacity (maybe $100 or more.)
To say I have been hesitant about upgrading my main laptop would be an understatement. I have been saving up for months knowing that today's high-end laptops do not come cheaply. In October, when Apple's new line of MacBook Pros was announced, I was underwhelmed. I felt the upgrades were long overdue and overpriced. As expensive as they are, after using them in various Apple Stores, I have to admit I am blown away by them.
If you recall from the post I published in October, I was debating whether to purchase a new 2016 13″ MacBook Pro with Touch Bar or a refurbished 2015 15″ MacBook Pro since both are comparably priced. As much as I enjoyed the idea of having the larger screen, I decided the portability and improvements found in the new 2016 MacBook Pro lineup outweigh most of the downsides to the new Macs like the annoying loss of traditional ports.
Because supplies are still scarce, I had to track down a location that had the 13″ MacBook Pro with a 512GB SSD in stock. Not an easy task. Fortunately, there was one location in New Jersey that still had one left and the store was not too far from me. I jumped in my car and drove there to grab it. I really wanted to have my new Mac before my trip to Spain later this month. Most models of the new MacBooks are on backorder through January!
At the store, I was able to use my student discount to get $100.00 off. Not a huge difference but the discount definitely helped make the crazily expensive laptop a bit more affordable. This MacBook was definitely twice the price of the one I got 6 years ago. (It literally was twice the price.) *Turns away and cries momentarily.*
Unboxing my new late 2016 13″ MacBook Pro with Touch Bar and 512 SSD.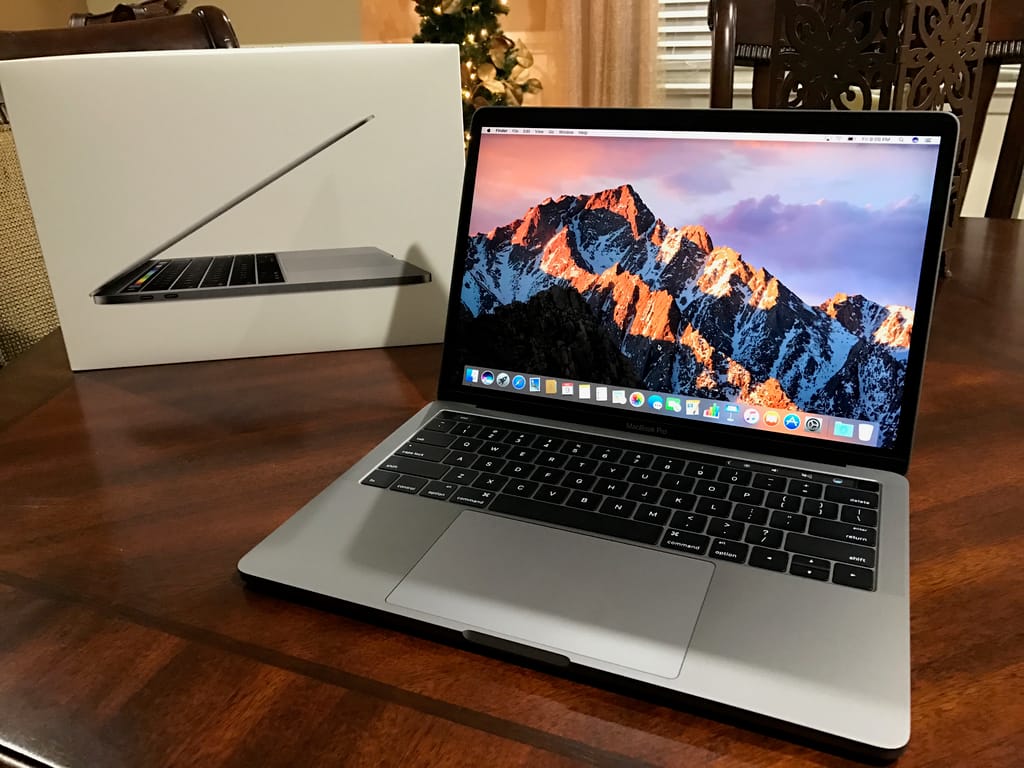 My initial reaction: WOW. It was almost shocking how thin and light this MacBook Pro is compared to my classic MacBook Pro. Its build is so solid and sturdy. It truly feels like a premium laptop. I was nervous about switching to such a low -travel keyboard because as a blogger, a keyboard is perhaps singlehandedly the most important part of any new laptop. Surprisingly, the butterfly-mechanism keyboard on these new MacBooks is REALLY good. I type a lot faster and it's actually more comfortable. Who would have guessed?
The speakers and screen are huge improvements. There is really no way to do them justice without showing you firsthand. Check out my short video above. The wide-color gamut is very evident – colors really POP. The speakers are also much more crisp compared to what I had on my old laptop.
In the photo above, my old old Mac has a case on it so this isn't the most "fair" comparison but regardless, you can see just how significant the size difference is between the two models. The new MacBook Pro really feels like it should have carried the MacBook Air title from a build standpoint. As a blogger, I think this is a really desirable design. Ultra-portable, ultra-lightweight, great keyboard, great screen – truly a blogger's dream laptop.
The Touch Bar does feel a little gimmicky, I'll admit. Touch ID makes logging in much quicker. I think I would have opted for the version without the Bar if it weren't for the fact that I'd have to settle for a weaker processor and two fewer USB-C ports. If you pay to upgrade the Touch Bar-less model's processor, the price comes to be basically the same as it is for the one with the Touch Bar. So why not just buy the one with the Touch Bar to begin with? Oh, Apple… So strategic…
As for USB-C, I am not sure how I feel about it yet. In terms of charging, I enjoy how quick it is. Right now, I do not own a SINGLE USB-C device so I really can't plug anything into my laptop. I ordered a dongle that converts USB-C to SD, MicroSD, and USB-A 3.0 for anything I need to connect be it cameras, microphones, or flash storage devices. It's a small dongle and I don't envision it being a problem to carry around inside the sleeve I ordered. Interestingly enough, I do* believe USB-C is the future. Universal compatibility should have been a standard from the beginning.
While 2016 was not easy on my wallet, I am so excited to finally possess electronics that actually work. It feels good to be caught up with the times knowing I no longer have to worry about my laptop or phone shutting off mid-project or mid-conversation. The whole iCloud inter-connectivity thing is probably the most exciting part. Blogging will be so much easier with content easily transferring from phone to laptop and vice versa.
I am really looking forward to blogging on this new laptop in 2017 and beyond. 😀