Last Updated on August 14, 2023
A few of my friends and I went to the Silk Market right outside the Yong'anli subway station in Beijing to do some shopping for souvenirs. While walking around the shops, we passed by a small little ice cream vendor. As we walked past, I made eye contact with a young gentleman standing behind an ice cream counter. He was smiling and asked if we wanted ice cream. My friends and I were on a mission to buy Fathers Day gifts upstairs so we rushed past but as we ran by, I shouted that I'd come back for ice cream after I had food.
While going from shop to shop, I kept thinking about the ice cream guy and his incredible smile. I could see something in the ice cream guy's eyes that convinced me that this was someone who I would connect with if I ever had the chance. We only saw each other for 2 seconds in passing but somehow I felt really drawn in by him.
After I bought gifts for my dad, I told my friends I wanted to go back downstairs to buy ice cream from the guy since I told him I would. I went back down and the guy seemed happy to see that I really did come back. I wanted to say something to him but I felt silly since I had no reason to assume that this guy might be gay aside from the intuitive feeling I had upon first seeing him. I got a cup of green tea ice cream and my friends jumped on board and purchased ice cream too. When I saw the way he thanked me in particular, I became more certain that this little "connection" between us wasn't just something I was creating in my own head.
I left the Yong'anli Silk Market that night wishing I could talk to him again.
The next day, my friends and I tried to go to the Sanlintun market located somewhere else in Beijing. When we arrived, we were disappointed to find that it has been closed for the past 2 years due to renovations. Considering how unfamiliar we were with the city, we really no other choice but to go back to the Yong'anli Silk Market! But hey, I wasn't going to complain! The possibility of MAYBE seeing the cute ice cream guy one more time… totally worth it.
That night, we returned to the Silk Market and I walked right back to the ice cream vendor. Sure enough, the same cute guy was there!!! 😀 I didn't actually think he'd be there again but he was! He reached over the counter and shook my hand to thank me for coming back. This time, I asked him for a few free samples to drag out my stay so I didn't have to just buy ice cream and leave. After purchasing another cup of green tea ice cream, I asked him if we could take a picture together before I left. He was happy to. Then he even asked me if he could take a picture!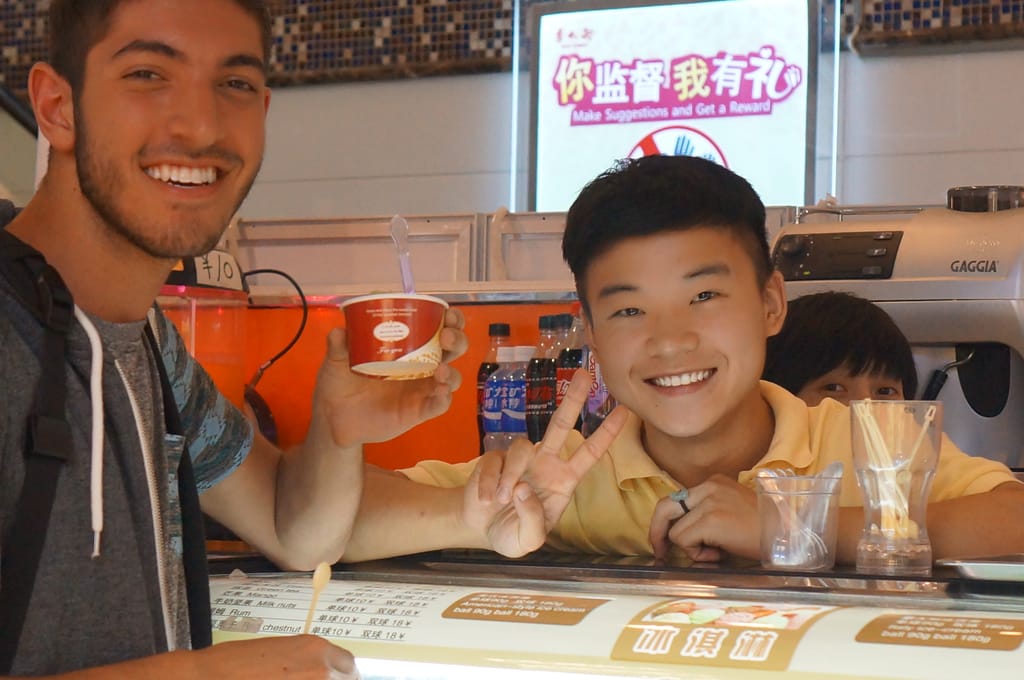 When I said yes, he came out from behind the ice cream counter and stood next to me. (I died a little.) He took out his iPhone and clicked on this pink camera app that I've never seen before. He moved a little closer so we could both be in the picture (I died a little more). He apologized for the app taking so long to open and I told him to take as much time as he needed. The camera app put a box around both of our faces and when he snapped the photo, it outlined us with little hearts. LOLLLLL!
Hahaha guess I wasn't the only one who had a bit of a crush!
Aside from the photo, all I got was his name: Chang Hai Yang.